Yes, the Grammys are all about the music. But they inevitably also feature a bunch of great dancers. And this year, those dancers seemed to play especially large roles—from Maddie Ziegler as Baby Sia to Katy Perry's shadow selves. Without further ado, here are the top five highlights from last night's show.
5. Lady Gaga danced cheek to cheek with Tony Bennett. OK, it wasn't the danciest moment of the night, but how amazing was Gaga's duet with one of music's all-time greats? Not only did both show off their legendary pipes, but they threw in a little waltz around the stage for good measure. The whole thing was pitch-perfect, literally and figuratively.
4. Pharrell showed us a different kind of "Happy." Whoa, we didn't think there was any way this song could go dark and moody, but somehow Pharrell managed to make a boppy unicorn-and-rainbow tune into an emotionally-charged anthem. It was intense. And the sweats-clad crew of dancers brought things to the next level.
3. Katy Perry went gospel. Much as we loooove us some dancing sharks, we were excited to see Katy Perry do a complete 180 from her over-the-top Super Bowl show. Her stripped-down performance of "By the Grace of God"—a tribute to survivors of domestic violence—was perfectly complemented by its sole decoration: a simple white scrim on which the shadows of two Katy-proxies danced.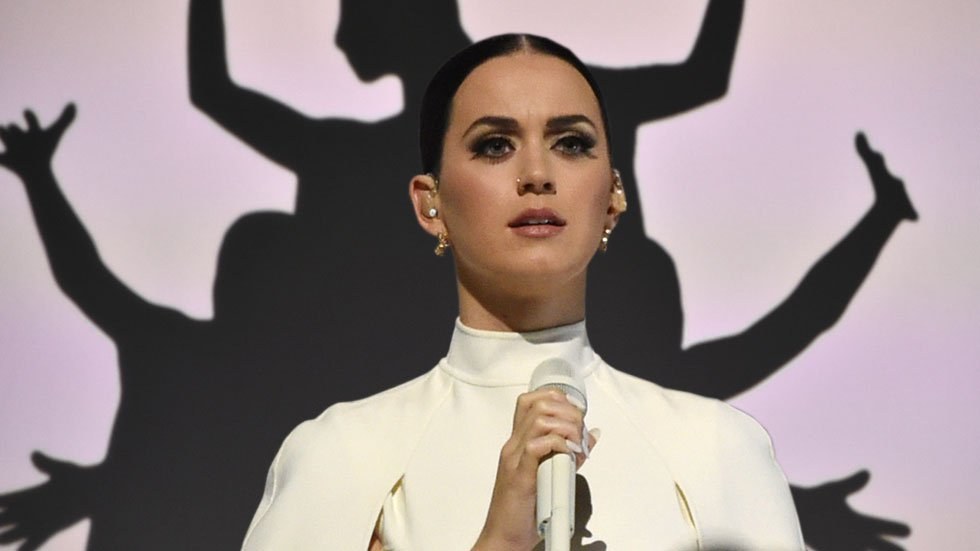 (Photo AP)
2. Madonna got her bullfighter on. Well, here's something we didn't see coming: Madonna decided to go all matador on us, performing "Living for Love" complete with a team of dancing, bedazzled man-bulls. The whole woman-on-a-giant-red-table-surrounded-by-shirtless-men thing is actually straight out of Belgian choreographer Maurice Béjart's playbook—take a look at his Boléro, choreographed way back in 1961 and still performed frequently by the Paris Opéra Ballet. Also, we totally spy Madge favorite Lil Buck among the bulls! (The Grammys performance isn't available online, but here's the official video for "Living for Love," complete with bull-dudes:)
1. SIA OMG SIA. Unsurprisingly, Sia declined to show her face during last night's performance of "Chandelier." Unsurprisingly, the amazing Maddie Ziegler was there to play Bizarro Sia, and unsurprisingly, she was fantastic. But that's not to say this act was devoid of surprises. Because grown-up dancing Sia? That was "Saturday Night Live" alum Kristen Wiig. And she was great! Turns out, Wiig actually studied ballet for several years. We loved the crazy-quirky rapport she developed onstage with Maddie. (Also, "Wiig in a wig" is our new favorite phrase.)
What did you all think? Did you love or loathe Madonna's bull-dudes? Are you currently watching the Sia performance on repeat? On a scale of 1 to COMPLETELY DEVASTATED, how sad are you that Beyoncé's performance was basically dance-free???
Oct. 15, 2012 01:46PM EST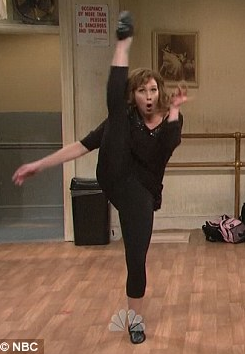 Why is Christina Applegate so amazing at everything? First, she was a total rockstar of a guest judge on "So You Think You Can Dance." Then, this weekend, she hosted "Saturday Night Live"—and proved she can (jazz) walk the walk as well as she can talk the talk in a glorious Fosse sketch.
In theory, I already knew Christina had moves. (She did headline the Broadway revival of Sweet Charity just a few years ago, after all.) But I didn't realize just how hardcore she was. Check out that to-the-nose battement!
This skit was a dance-nerd's paradise in more ways than one. I don't know why "SNL" loves crazy Fosse ladies and Tommy Tune references so much (remember Kristen Wiig doing her best Liza Minnelli last season?), but I, for one, am not complaining. And the whole premise, about kooky teachers using weird noises instead of counts? Pretty much spot-on. As Christina says: "This is Fosse, honey. We don't do 1-2-3s. We do 'ka-donks,' 'ka-doonks' and 'za-zas'!"
Check out the sketch below—then read about how to get Fosse-ified yourself.
Mar. 12, 2012 11:09AM EST
Every once in a while, Saturday Night Live shocks me by being right on my dance-nerd wavelength. (Have you seen the classic sketch "Bad Ballet"? You should.) Last Saturday, the totally bizarro—and yet spot-on—"Liza Minnelli Tries to Turn Off a Lamp" skit had me on the floor. Not only does Kristen Wiig nail it as a whackadoo Liza, but her moves aren't half bad. And there are a bunch of legitimate dance references in there! A few choice samples:
"There's gotta be like a ball on the end of a chain, remember that? Chain, ball, kick, chain!"
"Will a Fosse neck do it?"
"Look how long this cord is—Ben Vereen, it's long!"
"I'm not getting anywhere with it—it's like Tommy Tune!"
Also, her dance-off at the end with Jonah Hill is priceless. Check it out: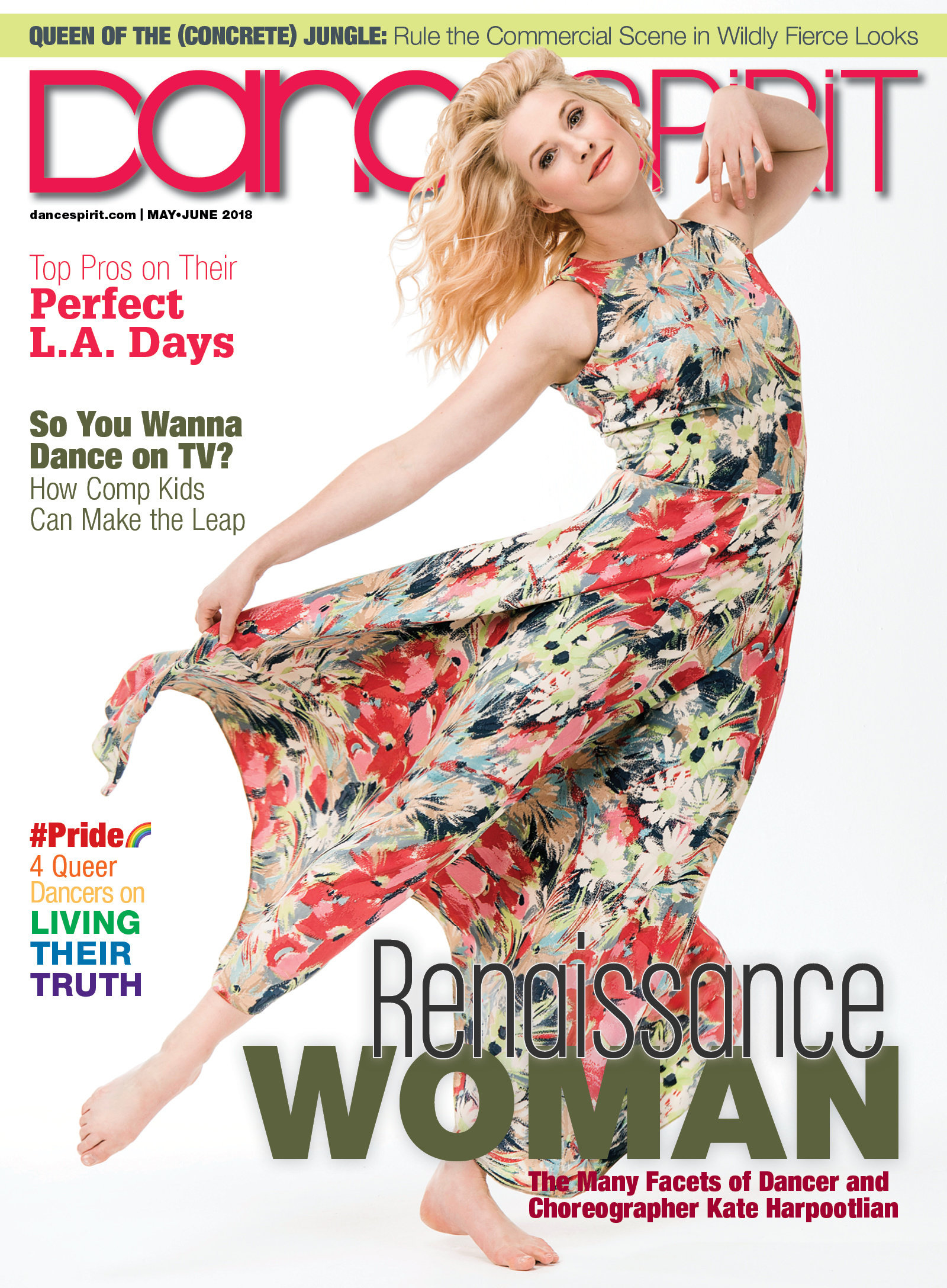 Get Dance Spirit in your inbox