Choreography
Mar. 23, 2017 12:00PM EST
Kyle Abraham is on fire. In the past few years, he's been named a 2013 MacArthur Fellow and honored by Jacob's Pillow Dance Festival and the Ford Foundation. College dance departments across the country can't get enough of the young choreographer—and neither can major dance companies: Alvin Ailey American Dance Theater, The Martha Graham Dance Company and Hubbard Street Dance Chicago have all commissioned work from Abraham. He was even the resident commissioned artist at New York Live Arts, NYC's postmodern dance hub. Dance Spirit caught up with Abraham to find out what drives his historically  and emotionally charged work. —Jenny Dalzell
"Many of my works have some sort of Pittsburgh influence in them, since that's where I'm from."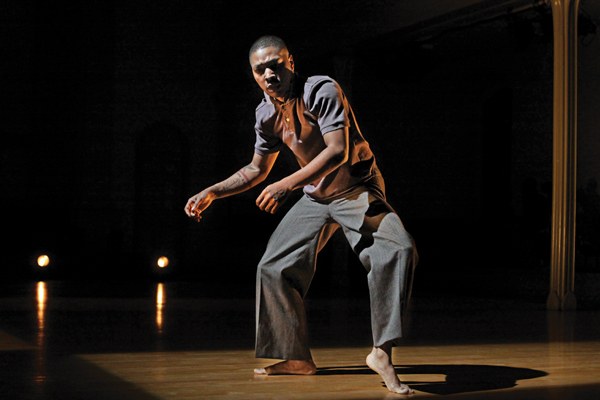 (Photo by Steven Schreiber, courtesy Kyle Abraham/Abraham.In.Motion)
"The Radio Show was initially inspired by two things: the one urban radio station in Pittsburgh going off the air, and my father, who had Alzheimer's and aphasia. I was thinking about what happens when a community loses its voice, as well as my memories of the songs I grew up listening to. The radio station had both AM and FM feeds—the AM station played old soul music, by artists like The Shirelles, and the FM station played music by Jay-Z and Kanye West. So my work was broken in two parts, using music from both stations."
"David Dorfman, whose company I danced with, always said to live in the uncomfortable and divorce the familiar when improvising or choreographing. Sometimes choreographic block hits—and when nothing is coming, you can't force it. You just have to be patient. That can be frustrating when you're paying for studio space, but patience can also be really rewarding in the long run."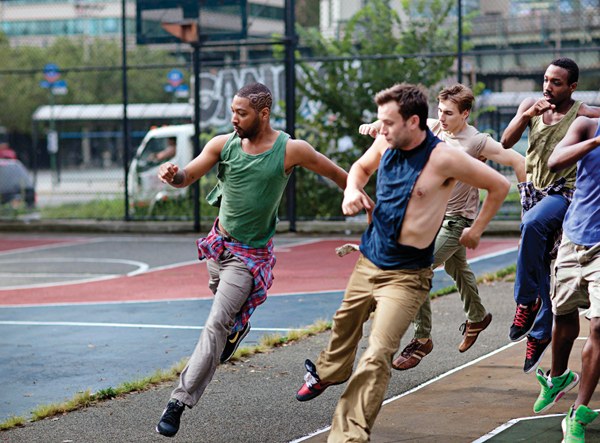 Kyle Abraham/Abraham.In.Motion dancers in Pavement (Photo by Steven Schreiber, courtesy Kyle Abraham/Abraham.In.Motion)
"Pavement evolved from looking at the 1991 film Boyz N the Hood; reading W.E.B. Du Bois' The Souls of Black Folk; and thinking about my experience in Pittsburgh in 1991, which was my freshman year of high school. I wanted to create a work that explored the time period between the film and the book, as well as the history of Pittsburgh's black community."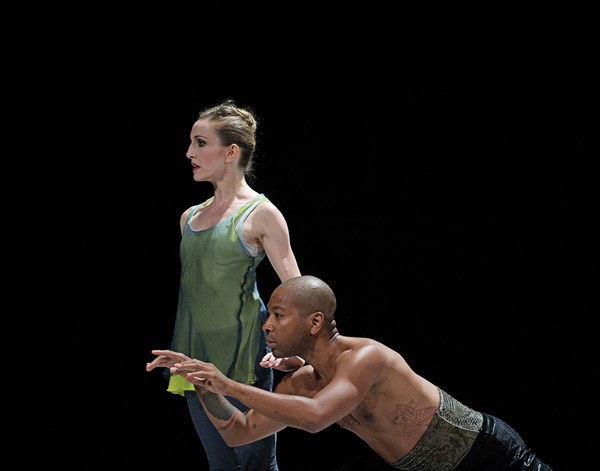 Wendy Whelan and Abraham in Restless Creature (Photo by Christopher Duggan, courtesy Kyle Abraham/Abraham.In.Motion)
"I'm a big fan of mythology, and I've been a history geek since elementary school. The piece I created for Wendy Whelan's Restless Creature, 'The Serpent and the Smoke,' came from a myth I thought I'd heard: A snake becomes enchanted with smoke and thinks it's seeing another snake. As it turns out, this myth doesn't actually exist—I made it up."
"I love working with Chalvar Monteiro, who was in my company for a little over four years, and with one of my current dancers, Tamisha Guy. I love their versatility: They're trained in Cunningham and Graham techniques, and they've worked with Kevin Wynn, who's a huge influence on my work. They're great movement generators, too."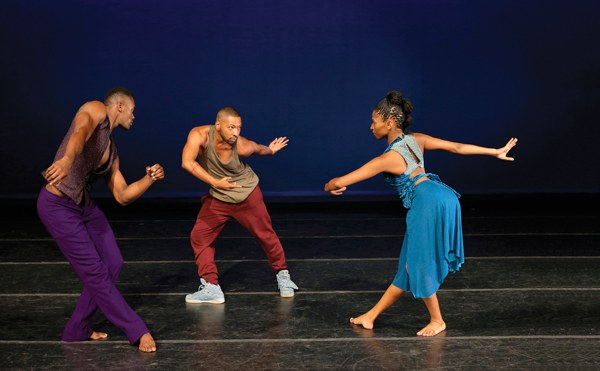 Abraham (center) rehearsing Another Night with AAADT's Jamar Roberts and Jacqueline Green (photo by Paul Kolnik, courtesy courtesy Kyle Abraham/Abraham.In.Motion)
"I created Another Night for Alvin Ailey American Dance Theater while I was making Pavement. It all stemmed from the same ideas. But Another Night was much lighter. It addressed the vitality and the community of an earlier era—the time when jazz artists like Art Blakey and Billy Strayhorn were performing in Pittsburgh."
"I was initially inspired to dance by Joffrey Ballet's Billboards, with music by Prince. I was a huge Prince fan, and I identified with the music first—that's what pulled me in to dance. I'd never experienced that before, and it stuck with me."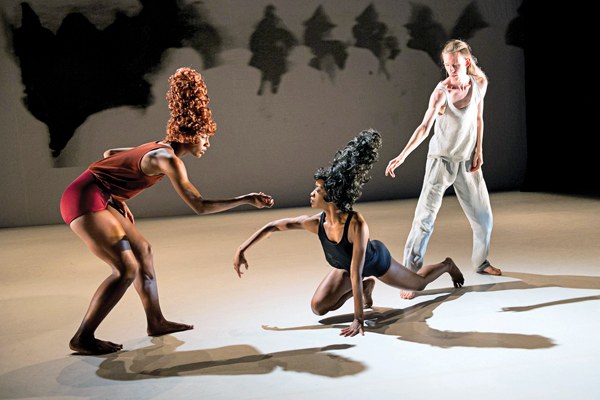 When the Wolves Came In (photo by Ian Douglas courtesy Kyle Abraham/Abraham.In.Motion)
"The repertory program When the Wolves Came In and the evening-length The Watershed were both inspired by Max Roach's album We Insist! Max Roach's Freedom Now Suite. The subject matter—the civil-rights movement, the Emancipation Proclamation and apartheid in South Africa—was tricky. I didn't want to tap into all of that too literally. Instead, I wanted to create work that nodded to the album."
Hey guys! Anyone headed to University of California, Los Angeles, this fall? How about Sarah Lawrence College? Both schools are adding amazing choreographic talent to their dance department: Sarah Lawrence welcomes prolific downtown choreographer John Jasperse as the new director of dance, while Kyle Abraham will join UCLA as a faculty member.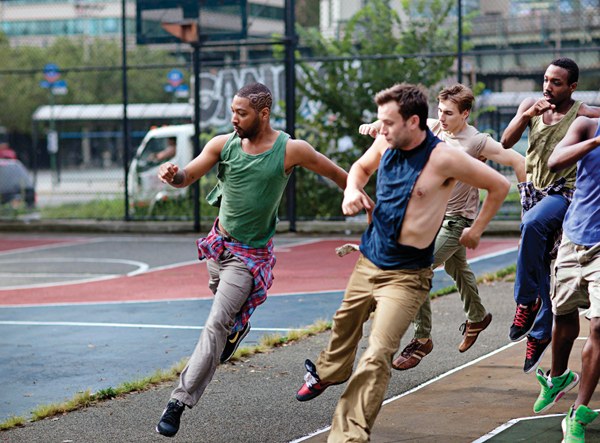 Kyle Abraham/Abraham.In.Motion dancers in Pavement (Photo by Steven Schreiber, courtesy Kyle Abraham/Abraham.In.Motion)
This is amazing news for dancers at both institutions—but it also has positive ramifications for college dance, nationwide. When departments invest in professors who can offer students a mix of theory and technique, coupled with professional experience, everyone benefits.
Cheers to everyone starting college! Tweet us at @Dance_SpiritMag and let us know how your first week has been. Curious about life as a college dancer? Be sure to check out our September issue—it's full of super helpful information, like where today's top choreographers are teaching. Not sure where to start in your college search? The Dance Magazine College Guide gives you a rundown of hundreds of options.
Happy learning and dancing!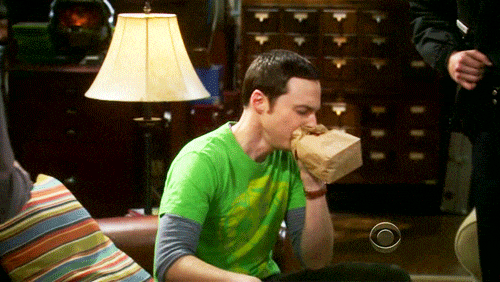 It's natural to feel a little anxious about the future. You never know where life will take you; and for you graduating—or even rising—seniors, those feelings can get pretty overwhelming right around now.
But you're not alone. Even the pros have been in your place.
This spring, George Mason University hosted the American College Dance Festival Association's Mid-Atlantic regional conference. In addition to the many master classes, rehearsals, and performances of the weekend, the highlight was the "Life in Dance" panel, where students heard from a number of dance luminaries—including Alvin Ailey American Dance Theater's artistic director Robert Battle, choreographer Kyle Abraham, and renowned dance critic Deborah Jowitt.
"As a student trying to make it in a highly competitive field, I'm worried about my future," said sophomore dance major Meredith Hermann. "But it was so inspiring to hear them say that when they were in our positions, they didn't know what was ahead of them either. They couldn't imagine it."
To help you get through these nerve-wracking times, Dance Spirit got the pros' five most inspiring quotes: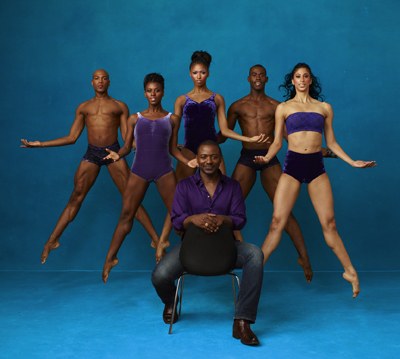 Robert Battle with members of AAADT.
Photo by Andrew Eccles
"One of the most important virtues you'll need is courage. And no matter where your journey takes you, bring that courage with you. Be open to adventure and don't be afraid of the dark." —Robert Battle
"You have to find your sense of humor. You have to find your tenacity. And remember that even on the worst days, it will get better." —Ashley Wheater, artistic director of the Joffrey Ballet
"Life takes you on its journey, and as long you have an idea of what interests you and what you love, you will be OK. You will make the right choices. Luck is a big part of it—but self determination is an even bigger part."
—Elisa Monte, director of Elisa Monte Dance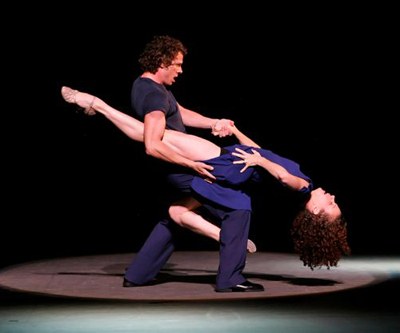 Elizabeth Parkinson and Keith Roberts in Twyla Tharp's Movin' Out. Photo by Richard Termine/CTFD
"Always have the spirit of, 'Let me see what this is.' Or, 'Could I be a part of it?' The key is staying open to new things."
—Elizabeth Parkinson, co-director of FineLine Theatre Arts
"I made my way from a girl to the dancer I am now through a series of accidents, coincidences, and surprises. You can't count on anything. I had a life I never could have anticipated, but it worked out alright—and I hope yours will too." —Deborah Jowitt
Interested in attending ACDFA's National College Dance Festival? It's June 4–7, 2014 at the Kennedy Center in Washington, DC. Click here for more info and a schedule of events.
(Quotes compiled by GMU junior dance major Nicole Montano.)
Apr. 12, 2013 10:59AM EST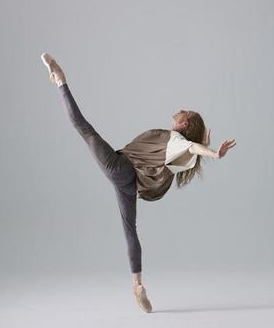 Wendy Whelan photographed by Nisian Hughes
It's time for another round of How Awesome Is Wendy Whelan? Let Us Count the Ways!
The New York City Ballet principal has always been a thoughtful dancer, interested in exploring new ways to expand her artistry. Recently she's been working on projects that even take her outside the realm of ballet. Her latest adventure, Restless Creature, is an evening of dance featuring Whelan performing new works by contemporary choreographers Kyle Abraham, Josh Beamish, Brian Brooks and Alejandro Cerrudo. The show's official premiere will be at Jacob's Pillow this August. But you don't have to wait that long to get a taste of what's sure to be an amazing program.
This Sunday, Whelan and her team will give the world a sneak peek at Restless Creature as part of the Guggenheim's excellent Works & Process series. The presentation will include excerpts from the show and a discussion with Whelan and the four choreographers, moderated by Ella Baff of Jacob's Pillow.
Naturally, this thing is totally sold out. But never fear! There'll be a livestream of the event, which starts at 3 pm EST, here.
Nov. 06, 2012 11:11AM EST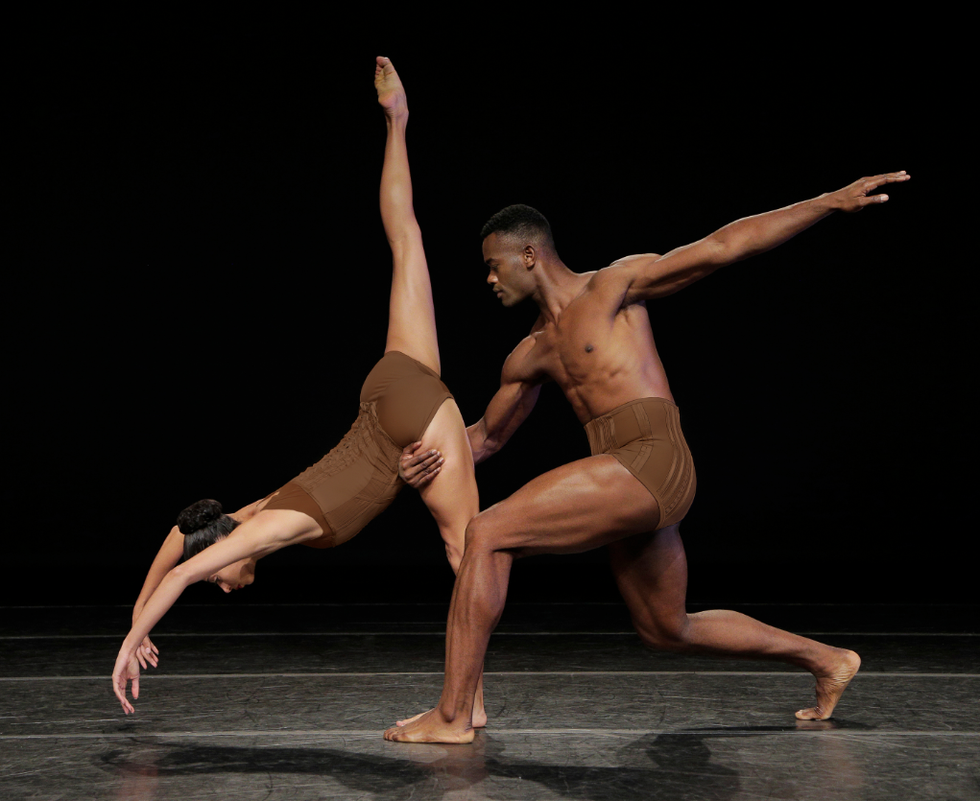 Last night, I was able to snag a ticket to Alvin Ailey American Dance Theater's "season preview" performance, a sampler of works from their upcoming New York City Center season. There was an excerpt from From Before, an earthy, polyrhythmic company premiere by legend Garth Fagan. There was the spankin' new Another Night by up-and-comer Kyle Abraham, set to Dizzy Gillespie's get-up-and-go jazz. Both pieces felt like classic AAADT fare: Vibrant, electric, seriously charismatic. Both, in other words, showed the audience a good time.
But when the company performed part of Jiří Kylián's Petite Mort, I almost lost my mind.
Are you already a Kylián fan? If not, it's time to get educated, and videos of Petite Mort are a fine place to start. (If you're a fan of "Breaking Pointe," it'll look familiar—the show included footage of Ballet West's recent performances of the piece.) Kylián, who was the director of Nederlands Dans Theater for decades, has a sleek, calligraphic style. He's especially gifted when it comes to partnering—his pas de deux are fantastically knotty and yet seamless strings of shapes. His path from point A to point B is never the obvious way, but eventually it feels like the only way.
Petite Mort is technically fiendish, and for that reason it's usually performed by top-notch ballet companies. Ailey dancers all have solid ballet training, but I wondered if this work might be a little out of their comfort zone.
How silly of me. The entire cast looked wonderful, with Jamar Roberts and Alicia Graf Mack shining especially bright. What a gorgeous, impossibly long-limbed, elegant dream team! Alicia used to be the star of Dance Theatre of Harlem, and Jamar has danced with Complexions Contemporary Ballet. Petite Mort showed off all their best classical qualities—those lines!—but they, and the rest of the Ailey cast, also brought a unique richness to the piece. These dancers weren't just taught how to move; they were born to move.
Ailey performs Petite Mort for the first time on December 7th. Get thee to New York City Center! (And for information about the rest of the season, click here.)


Get Dance Spirit in your inbox