Former comp kid (and 2013 DS Cover Model Search winner!) Hayden Hopkins grew up training in Seattle, WA, cultivating her huge social media presence along the way—she has more than 200,000 followers on Instagram alone. The 20-year-old recently landed her dream job: dancing in Cirque du Soleil's Las Vegas show Mystère. DS had her keep a diary last spring to get the behind-the-scenes scoop on what dancing in a Cirque show is really like.
—Courtney Bowers
Keep reading...
Show less
Popular
Aug. 02, 2017 04:42PM EST
This Nationals season, Dance Spirit followed four talented dancers from The Dance Awards, NYCDA, Showstopper, and Starpower for an inside look at everything that goes into the biggest competitions of the year. Next up: JT Church from Club Dance in Mesa, AZ, who competed at The Dance Awards in Las Vegas for the first time this year. (All photos courtesy Leslie Church.)
Keep reading...
Show less
Are you currently crying into your last poolside soda? Taking wistful selfies of your rapidly fading tan? Feeling generally blue because summer is—*sob*—coming to a close?
Let the Suga N Spice crew make it all better.
This Fourth of July, 10 members of the too-cute-for-words group—Amanda Kinert, Sarah Kinert, Trinity Inay, Amy Magsam, Taylor Knight, Leah Roga, Taylor Hatala, Larsen Thompson, Soraia Esteves and Kerrynton Jones—hung out together in Las Vegas. Naturally, Brian Friedman and Tim Milgram were there to choreograph and film (respectively) the fun. Naturally, the soundtrack was Fifth Harmony's "Me & My Girls." (Fifth Harmony tracks seem to bring out the best in the Suga N Spice ladies.) Naturally, the girls' candy-and-orange-soda-fueled party took over the whole Vegas strip.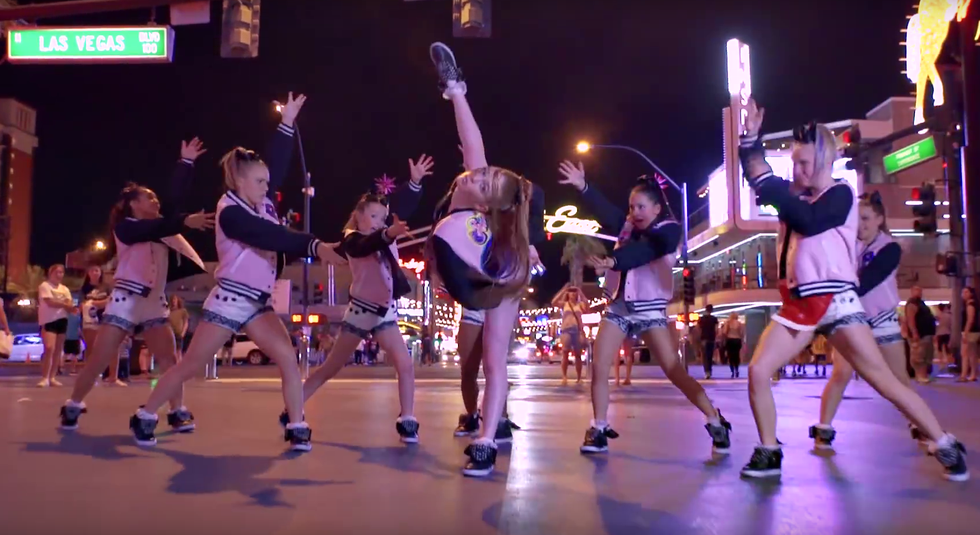 Haaaay Larsen's legs. (screenshot from "Me & My Girls")
The resulting video, which dropped yesterday, will take you right back to the glory days of summer—just in time to combat back-to-school depression. (And you'd better believe it'll give you a whole new set of back-to-studio dance #goals, too.)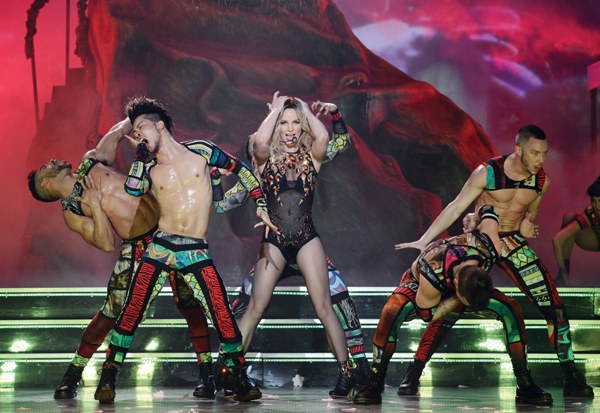 The final number in "Britney: Piece of Me" (photo by Denise Truscello, courtesy Caesars Entertainment)
In the commercial world, few gigs compare to dancing for pop icon Britney Spears. And Spears' latest project is a dancer's dream: a long-term show at Planet Hollywood Resort and Casino in Las Vegas, NV. Choreographed by Ashley Evans and Antony Ginandjar of The Squared Division, "Britney: Piece of Me" is a full-length revue of Spears' greatest hits and new works. Dancer Sarah Mitchell has performed in "Piece of Me" since the show opened last year. After a three-month break, Mitchell—who's also appeared in the film Burlesque and danced with artists including Katy Perry and 50 Cent—is back in Vegas. She documented her preparation for another stretch of Britney performances for DS.
—Jenny Dalzell
First Day Back!
Tuesday, August 12, 2014
Today I left my permanent home in L.A. to return to Las Vegas, where I rent an apartment with two other "Piece of Me" dancers, Liana Blackburn and Pam Chu. Liana and I both perform in a cabaret/burlesque show called "Harlow Gold" when we're in L.A., and Pam is one of Liana's best friends.
"Piece of Me" runs differently from other shows. We're rarely in Vegas for more than 30 days at a time, and we usually get a few weeks off between runs. Most people tend to stay at Planet Hollywood. But the three of us like cooking for ourselves, which also helps us eat healthier, so we opted to rent a furnished apartment when we're in town. And I have to say—it's very cute!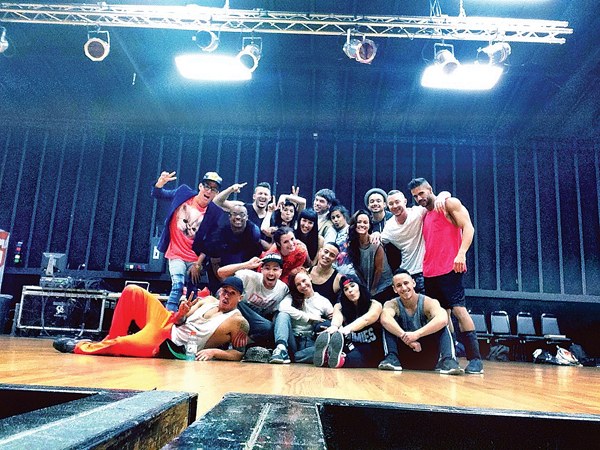 The cast in rehearsal (courtesy Sarah Mitchell)
Wednesday, August 13, 2014
This afternoon we all got to the Axis Theater at Planet Hollywood at 2 pm for rehearsal. It was so great to see everyone in the cast—it feels like it's been forever! When we were first learning the show last year, we rehearsed about 60 hours a week for two months straight. After a process like that, you practically become a family. This time around, rehearsals won't be quite as intense—but the show opens on Friday and there's a lot of work to do.
Rehearsal started with a long, much-needed warm-up, led by dance captain Chase Benz. Then, we went over every number in the show that uses props, including masks, fire rings, chairs—even life-sized hamster wheels. We had to remember our spikes on the floor and how everything flows together. The show's choreography is very intense. It's seven acts of hard-hitting jazz and hip hop, and there are barely any moments of downtime.
We also practiced a section of the show that was recently tweaked: 32 counts were added to both "Oops!...I Did it Again" and "...Baby One More Time." Even small changes to the choreography end up being pretty insane. It can take a long time to perfect.
After a full day, I got home at 10 pm. Liana, Pam and I cooked dinner—wraps with sautéed veggies, chicken, hummus and avocado. I'm allergic to wheat, gluten and soy, so we always prepare meals that are gluten-, corn-, soy-, dairy- and sugar-free. (My roommates are also dairy-intolerant.) It may sound cringe-worthy, but we've found ways to make it delicious. My new favorite is cooking with coconut oil—it adds so much flavor!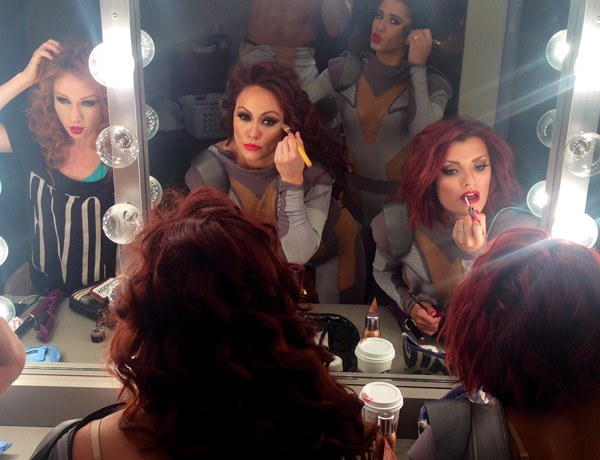 Getting ready in the dressing room (courtesy Sarah Mitchell)
Thursday, August 14, 2014
We were all feeling last night's late-night rehearsal this morning. Getting back into this schedule takes some adjusting. When we perform, showtime isn't until 9 pm, and by the time we get home, finish eating dinner and get to sleep it's about 2 am. This show is one of the most physically demanding jobs I've ever had, and the rehearsal process is like a marathon. It's crucial to stay in shape while on break—I jump-rope, practice Pilates, take dance classes and keep up my performance stamina by dancing in "Harlow Gold."
Britney joined us in rehearsal today, and she looks amazing! After a 30-minute warm-up onstage, we walked through the show and then did a full-out run. Before heading home, we visited the wardrobe department to try on our costumes in case any alterations were needed.
Friday, August 15, 2014
It's show day! Our call time this evening was 7 pm. Liana, Pam and I carpooled and got to the theater about 90 minutes early to work out and warm up. We love using the Nike Training Club app. We upload a playlist, and it tells us which exercises to do, depending on the type of workout we select.
Then it was time for hair and makeup. Ever since I started competing as a young dancer, this part of preshow prep has been my favorite. The Axis Theater has beautiful dressing rooms, and we get our own hair and makeup stations. With 10 minutes to go, I packed my touch-up bag and headed to my quick-change station on stage left. Each night, right before curtain, Britney and the dancers come together for a prayer circle. No matter what you believe, it's a moment for us all to grab hands and remember what brought us here in the first place.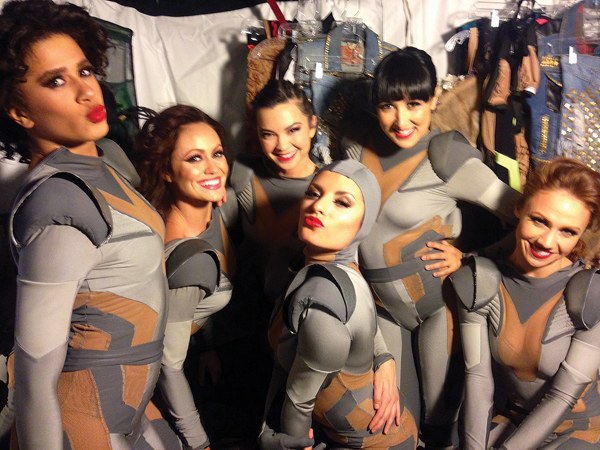 Mitchell (second from left) in the quick-change area backstage with "Piece of Me" dancers, including Pam Chu (third from left) and Liana Blackburn (far right) (photo courtesy Sarah Mitchell)
Saturday, August 16, 2014
Before tonight's show we were invited to Britney's dressing room. Today was another dancer's birthday—Nikky Paramo turned 21—and Britney got a cake for her. It was very sweet.
Performing tonight felt much better than yesterday. The first show always feels a little foreign to me. I don't know why, but after a long break, my body wants to reverse all the moves, so I really have to concentrate. But tonight I felt more grounded, and I could
really enjoy dancing.
Luckily tomorrow is Sunday, our first day off. I'm planning on not doing anything—which I think is well deserved! After years of performing, I've realized just how far rest and relaxation can go. But first, we're all headed out on the town to celebrate Nikky's birthday. I can't think of a more wonderful way to celebrate our first week back together.
I have to say I've been very proud of "So You Think You Can Dance" so far this season. There haven't been too many painfully bad auditions, plus the dancers with sob stories haven't completely outnumbered the ones without. Bravo! On the other hand, Nigel seems to be getting more and more inappropriate. (No he didn't just wrap his leg around Grandma!) Can't win 'em all, I guess.
Here are The Top 5 Moments from last night's Atlanta auditions: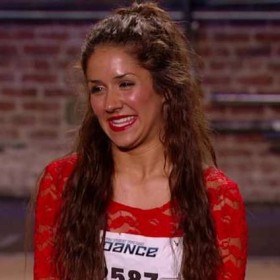 1. Audrey Case, 18, who can fart with her neck and lick her elbow. Now that's talent! But then she actually had talent—impressive, beautiful technique (and the precious little face to match). Yup, I am pretty much in love with her. And judging by their standing ovation, so were the judges. Going to go ahead and predict a spot in the Top 20 for that one.
2. The "Dragon House Crew." These roommates had similar robot/popping styles of dance, but really mixed it up in terms of how they presented themselves. Boris Penton, 23, went with classical music; Andre Rucker, 21, was just super cool and super double jointed; and then there was Cyrus "Glitch" Spencer. He was a little sweaty for my taste, but his funny faces and personality were pure awesome. Straight to Vegas!
3. Remember earlier when I said "SYTYCD" had gone easy on the sob stories? That's because they were saving up for the montage of sob stories in this episode. This dancer lives in poverty. This dancer has Tourette's syndrome. This dancer lost a loved one. I really wanted to be sad for them and enjoy their dancing, but I was having too good of a time singing along to "What doesn't kill you makes you stronger!"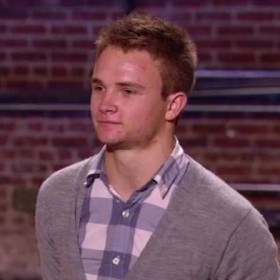 4. Country boy Asher Walker, 19, from Glade Hill, Virginia, who practices his hip-hop moves in his garage. Gotta be honest, I did not expect him to have skill at all. But then there was a little b-boying action, some serious flipping and even a "hip-hop coupé!" Yes, he's a little weird. But he's from a very small town and probably hasn't been around a lot of other humans in his life. Let's give him the benefit of the doubt.
5. You know something's a big deal when Mary gets a million "twits" about it. Damon Bellmon and Deon Lewis, who ripped off Les Twins's choreography last year, were just so cute and sincerely apologetic about their plagiarism. This year they made up their own moves, and they were impressive. In an uncharacteristic splitting up of a pair, Damon made it to Vegas, but Deon was sent packing.
The "So You Think You Can What?!" Moment of the Night: It was too hard to choose this week, so I chose 3.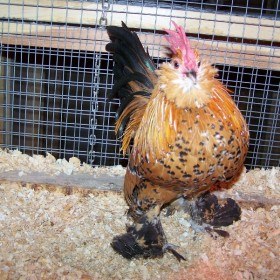 Second Runner Up: The Cat Deeley look-a-like. Mind blown.
First Runner Up: During Brittany Ortner's hometown ("Chicken Town") visit, did you see that chicken with furry boots on?
And the Winner Is: Danielle Dominguez's love dance to bacon. First we see her cooking up enough bacon to feed a small country, then she goes outside with it and tosses it over her head. She literally took a bacon shower. Gotta love bacon. See you in Vegas, Danielle.
Check back next week for the recap of Salt Lake City auditions. And don't forget to let us know if you're loving this season as much as we are!
Sep. 24, 2011 09:16AM EST
Ever wonder why so many dancers are flocking to Las Vegas to find work? Us, too. To find out what really happens in Vegas, we asked super-skilled brothers Kevin and Marcel Wilson, who've lent their dance and choreography talents to artists all along the Strip, including Cher, Wayne Brady, and Donny and Marie Osmond. Here, the Wilsons share how you can hit the career jackpot in the land of casinos and bright lights.
Opportunity knocks.
Vegas is a city built on entertainment, which translates to tons of opportunities for dancers. Stage shows run the gamut from burlesque to circus-style to dazzling large-scale productions featuring some of music's biggest stars. Many dance jobs are also created by the steady stream of industrials, conventions and corporate events.
Can you say stability?
"Shows run for a very long time, which is one of the beautiful things about Las Vegas," Kevin says. Dancers can work for several years on the same show, with one to three runs almost daily. If working with a casino-based show, many dancers can also get health insurance and other perks as a casino employee.
Specialists welcome.
Can you sing? Great! 
Try out for one of the many musical theater productions around town. Do aerial tricks? Cirque du Soleil currently has seven different shows running at various casinos. Insanely flexible? Get a gig as a contortionist. "Stilt walkers, fire blowers, aerial acts—there's a lot of specialty work in 
Las Vegas," Kevin says.
You don't need an agent.
In some cities, landing auditions can feel like cracking Fort Knox unless you have an agent. Not so in Vegas: Auditions are often advertised in local papers and many dancers are unagented.
Your dollars will go further.
Unlike NYC or L.A., where buying 
a place is often out of the question, 
Las Vegas is a city where lots of dancers get the chance to feel settled and invest in property. "Vegas is expanding so much that there are 
tons of new homes and subdivisions," Kevin says. "Dancers are able to save up and buy nice-sized homes." Proof? The median sales price for a Las Vegas home is $115,200, whereas in L.A. it's $299,500 and in NYC it's $1,080,000.
You get to learn with the masters—for free.
Since few Vegas dance studios offer classes designed for professionals, shows will bring in big-name choreographers from all over the world to teach. "It helps the dancers keep growing as performers and entertainers," says Marcel, who once assisted Jeri Slaughter during a master class for Celine Dion's dancers.
It's a great place to start your dance career.
"People come here to get their start onstage and to learn what it's like to be a professional dancer," Kevin says. "After they have that under their belts, they can take that knowledge and move to L.A." Whether you're headed for Hollywood or Broadway, Vegas is a solid place to kick off your career!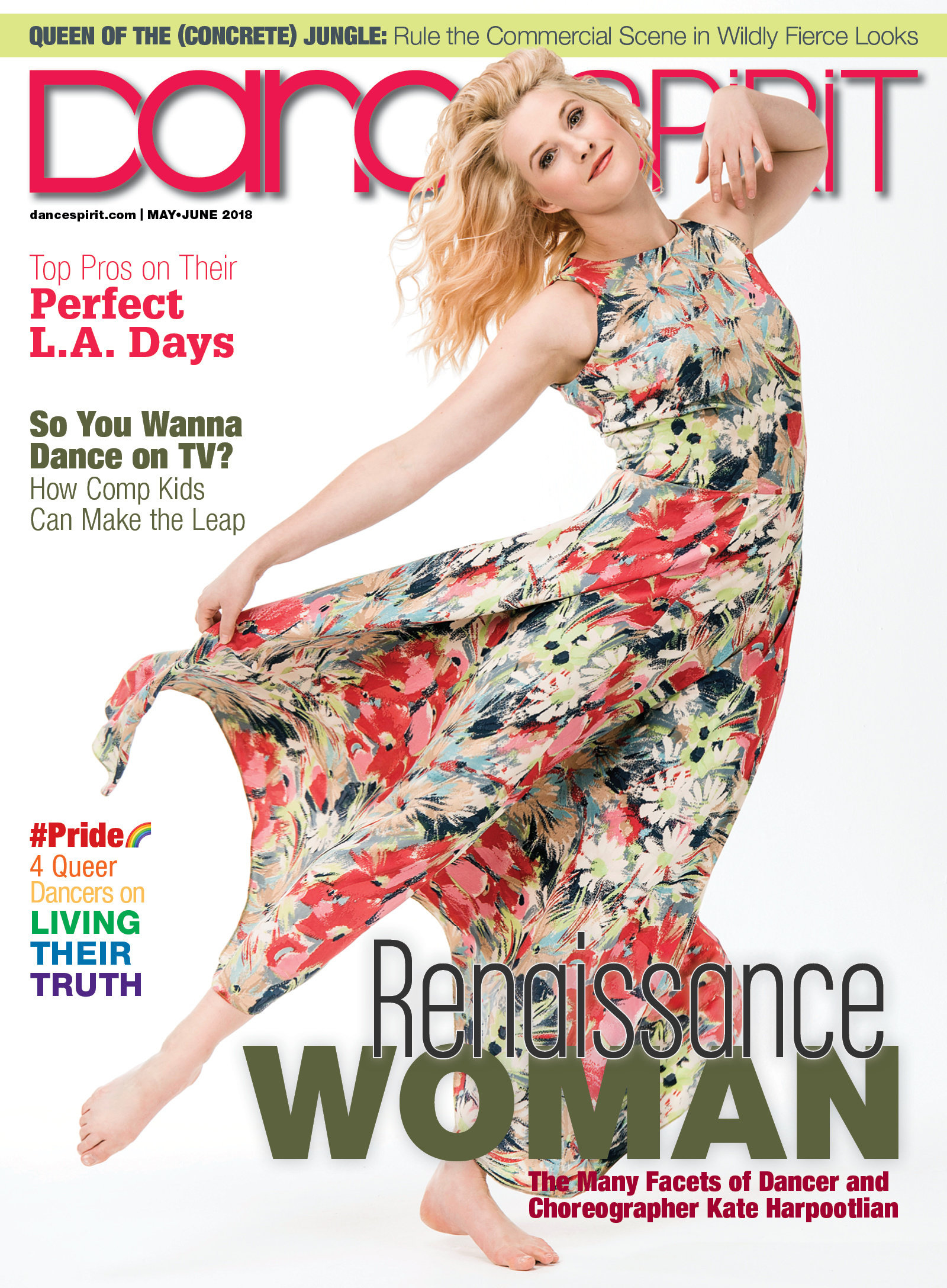 Get Dance Spirit in your inbox