Jan. 02, 2014 10:34AM EST
...Carly Rae Jepsen!
The "Call Me Maybe" singer will take over the title role of the Rodgers & Hammerstein musical on February 4.
Did you see that one coming? We didn't, either. (And a part of our hearts will always be dedicated to the lovely, Tony-nominated Laura Osnes, who's performed the role since the show opened last spring.) But we know the girl can sing. And maybe she'll have great chemistry with new stepmother Fran Drescher, who'll step into the show the same day. We'd watch that, maybe.
As always, new casting = new ghetto Photoshopping opportunities for us, yay! Cinderella with bangs—interesting: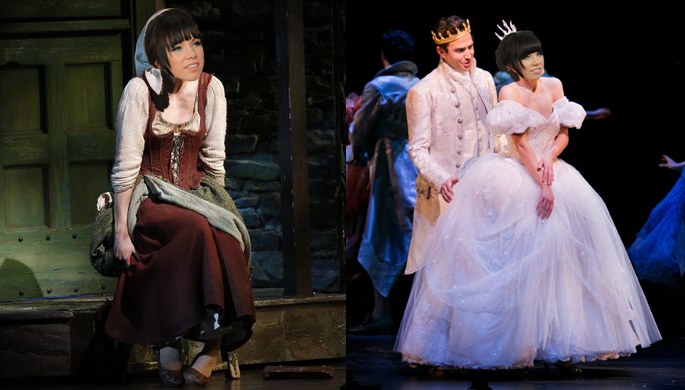 Original photos (L to R): Carol Rosegg/AP, Sara Krulwich/NYTimes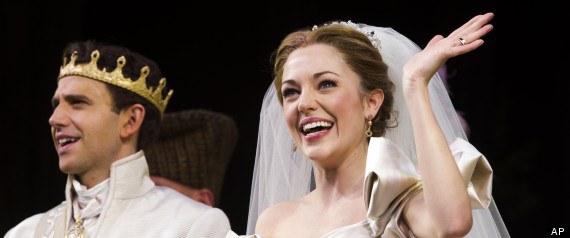 Judging by their Twitter feeds (@LauraOsnes and @SantinoFontana), you'd never guess that Laura Osnes and Santino Fontana play the starry-eyed fairytale lovers of Rodgers + Hammerstein's Cinderella. In fact—with tweets like Santino's "remember when you had chocolate on your teeth the entire 2nd act?"—you might think their characters were a bickering brother-and-sister pair!
But these 2013 Tony Award nominees are, respectively, Broadway's Cinderella and Prince Charming, and that eight-times-a-week gig makes for some priceless tweets. What do you get when you follow Santino and Laura? Well…
Pretty, pretty pictures. Let's just say that your Instagram has got nothing on Cinderella's. Laura's always posting photos (and videos, too!) from all kinds of OMG-worthy venues: rehearsals for the Tony Awards, her dressing room at the Broadway Theatre, star-studded fundraisers for Broadway Cares/Equity Fights Aids and more. If you're a Broadway buff, hers is a must-follow handle!

Hilarious Twitter one-liners. Despite the fact that he just started tweeting in February (on Laura's suggestion, apparently), Santino is a natural with 140 characters. Whether he's pairing spontaneous pictures with just the right caption or tweeting as pun-derful Herman the Fish, Santino sure knows how to work a crowd—or, um, keyboard?

Embarrassing/yucky/ridiculous backstage secrets. This princess isn't afraid to remind her prince (along with the Twitterverse) that he "belched & blew your breakfast in my face just now while waltzing at the ball." But that's not the only showtime crisis the young royals have faced. Santino recently tweeted at Laura: "Remember when I saved your dress from falling off with one hand while singing a love song and dancing? #PrinceMacGyver." I guess Broadway really is hard work—in more ways than one!
Can't get enough of these triple-threat goofballs? Watch their Broadway.com "Ask a Star" interview for even more wacky antics!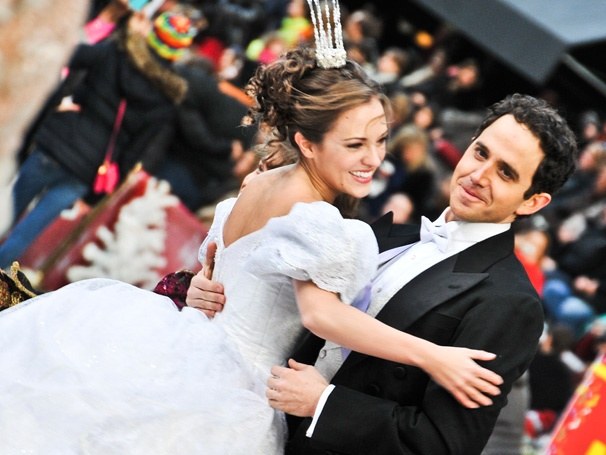 I couldn't have been more excited when I learned Cinderella was coming to Broadway. It's one of my favorite fairytales and just the thought of seeing Ella's gorgeous, sparkly ball gown in person made me giddy with anticipation. Lucky for me, DS managing editor Rachel Zar shares my enthusiasm. So we headed to the Broadway Theatre this week singing our favorite tunes from the musical. (Remember the Brandy version?!) We even considered picking up some tiaras and gowns of our own to wear, but ultimately decided we'd leave the dress ups to the kids.
Well, friends, Cinderella sure didn't disappoint! In fact, I'm already planning to see it again with my mom and sisters when they come to NYC this summer. Here are five reasons why I think you will love it as much as I did:
1. No one could've been a better Ella than Laura Osnes. I'm serious—Laura was born to play the role. She's stunningly beautiful (you know, that drop-dead gorgeous even without makeup kind of pretty), her voice is flawless and she just seems so sweet and kind. She's got so much talent it's ridic.
2. It's super dance-y. There are some seriously technical dance numbers with lots of complicated lifts and steps. And the cherry on the top? Most of the ensemble has major dance chops. Especially, Kristine Bendul. I couldn't take my eyes off her. (It's not surprising—a few of her other Broadway credits include Twyla Tharp's Come Fly Away and Movin' Out!)
3. You'll have the songs stuck in your head for days. And it's a good thing! I love that I fall asleep and wake up singing, "In my own little corner, in my own little chair... I can be whatever I want to be!" Of course, in my head I sound exactly like Laura.
4. There are costume changes like you've never seen before! You get to watch Ella transform from bedraggled to beauty twice...onstage...in five seconds. It's insane. Plus, her wedding gown has like a twenty-foot train. No joke.
5. You'll feel like a kid again. I'm pretty sure my 8-year-old self would have been in heaven.
You're dying to see it, right? Well don't delay! Buy your tickets here.
Now, here's a sneak peek. Watch Laura and the cast perform at last year's Macy's Thanksgiving Day parade: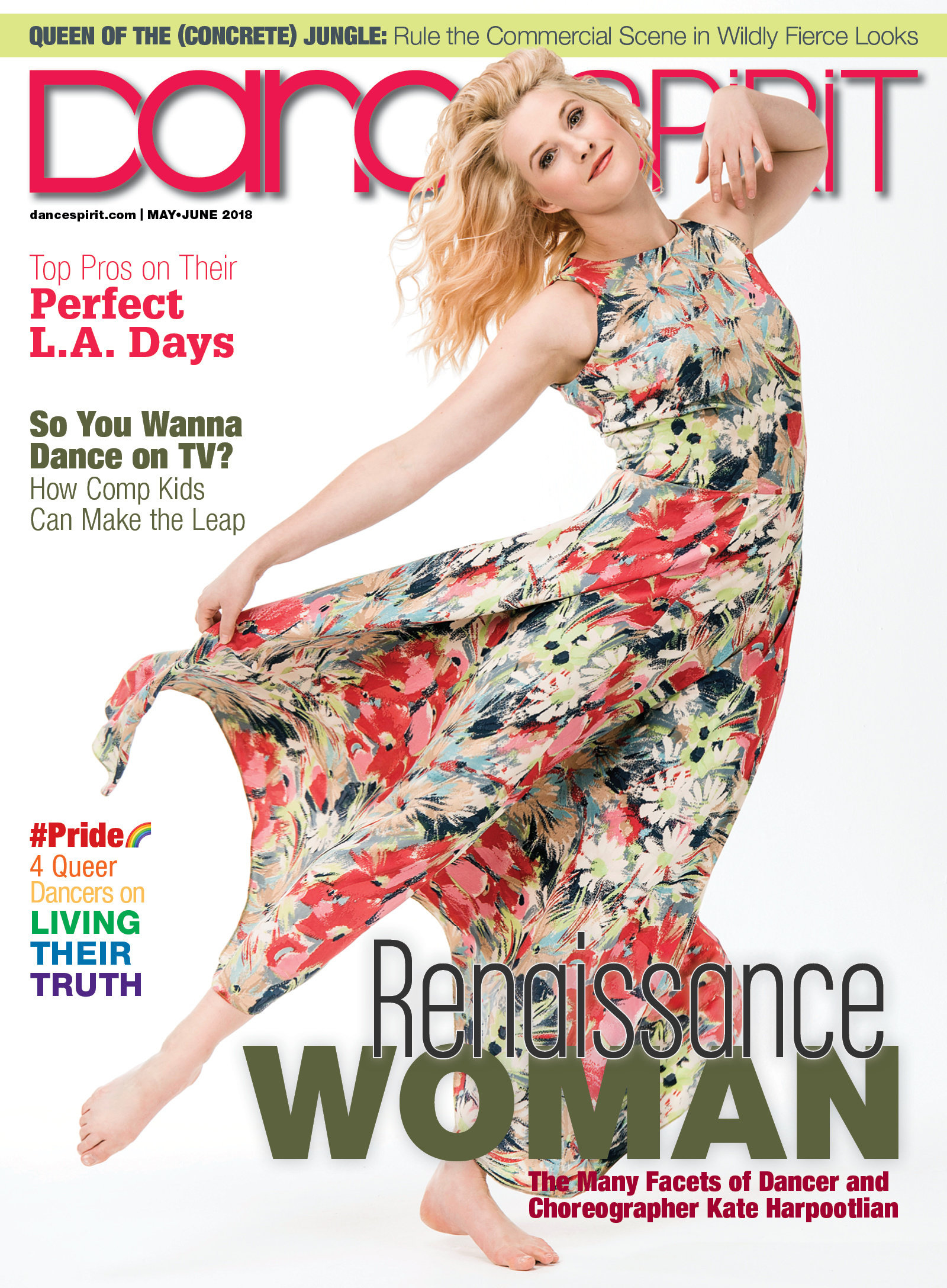 Get Dance Spirit in your inbox