Courtesy 24 Seven Dance Convention
It's hard not to gush about choreographer Lauren Adams. The always-smiling 24 Seven faculty member has a heart of gold, and the moves to match: She's a contemporary queen who can also hold her own in the ballroom and at the ballet barre. Add the fact that she's a total knockout, and it's safe to say Lauren is equal parts #goals and #girlcrush. So how does she stay so happy, healthy, fit, and fabulous? Here are her secrets.
Keep reading...
Show less
If, like us, you still can't get enough of Ed Sheeran's earworm hit "Shape of You," you are in for such. a. treat. Lauren Adams, genius choreographer that she is, created a literally sizzling samba for champion ballroom dancers (and real-life couple!) Daniella Karagach and Pasha Pashkov.
Keep reading...
Show less
Lauren Adams (Lee Cherry)
She has movie-star looks and immaculate technique, but Lauren Adams is no superficial beauty: Her greatest gift is her sophisticated choreographic mind. Adams creates deeply felt works—loved by everyone from concert audiences to comp kids—that pulse with an energy at once raw and romantic. A native of Chesterfield, MI, she trained at Shelley's Spotlight (now called Spotlight Dance Works) and went on to perform with IV Dance Company and Jason Parsons Company. Her choreography has been featured everywhere from the Jazz Dance World Congress to the Capezio A.C.E. Awards; she's taught at Broadway Dance Center, Steps on Broadway and The Juilliard School; and she's currently on faculty at 24 Seven Dance Convention. Keep an eye out for her new short film, "Running," which has screened in NYC and will be shared publicly this month. —Margaret Fuhrer
Keep reading...
Show less
I have a bit of a ballroom problem.
OK: a MAJOR ballroom problem.
I'm obsessed with high-level ballroom dancing. It's so exacting, so technical—and, in the hands (and feet) of the right dancers, so full of passion and genuine feeling.
But, yes—sometimes the ballroom world's self-tanner and sequins and hair gel can be a little...off-putting. Which is why I love, love, LOVE this new video, masterminded by contemporary choreographer extraordinaire Lauren Adams.
Set to James Bay's oh-so-soulful "Let It Go"—Adams was one of a handful of artists picked by Bay and his team to enter the #DanceOnJamesBay competition—it features gorgeous world-class ballroom dancers Daniella Karagach and Pasha Paskov. Adams pares away all the glitz of ballroom competitions; Karagach and Paskov dance in simple rehearsal clothes in an unadorned studio. And that allows us to see a) just how good they are at what they do, and b) just how powerfully they connect to the music—and to each other.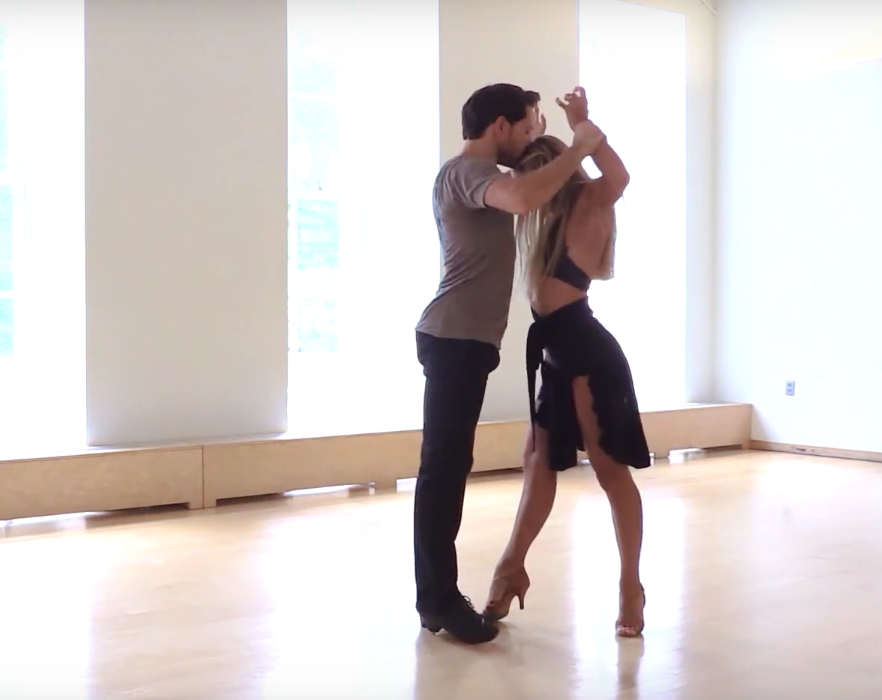 So much heat. So much LEGS. (screenshot from "Let It Go")
That connection is real. Because—get ready to swoon—Karagach and Paskov are recently married. Their chemistry just oozes through the screen, making the story they're telling even more moving.
Happy Friday, y'all:
Whether her muses are ballroom champions or some of the world's most gorgeous male dancers, Lauren Adams creates works that are elegantly vivid—they embody feelings we all feel, but in a hyper-articulate, singularly beautiful way. And the fact that top-level artists from all parts of the dance world are clamoring to work with her? Well, that makes it official: Adams is our #WCW, and we're obviously not alone.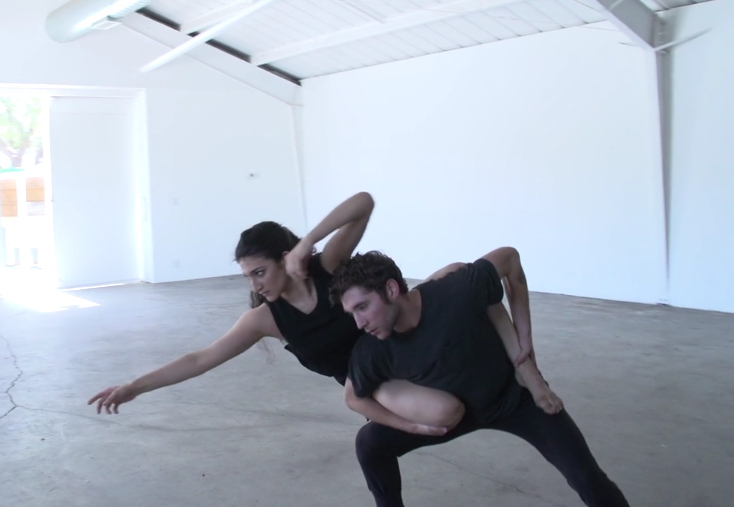 Ida Saki and Matt Luck in Adams' "For Chance" (screenshot via Vimeo)
Adams just put out a new video, "For Chance," starring two of our particular favorites, Ida Saki (speaking of #WCW) and Matt Luck. Filmed by Nathan Kim and featuring original music by Matt Morton and editing by the multitalented Luck, it's raw and poignant and SO PRETTY. It is, in other words, exactly what you need to get your Wednesday going.
Enjoy!
When I find out there is a video on the internet featuring Jakob Karr that I somehow haven't seen, my day is immediately halted. Must. Watch. Jakob.
Choreographer Lauren Adams recently released a new project she had been working on (and hinting at heavily on Facebook!). A project including Jakob Karrrrrrr!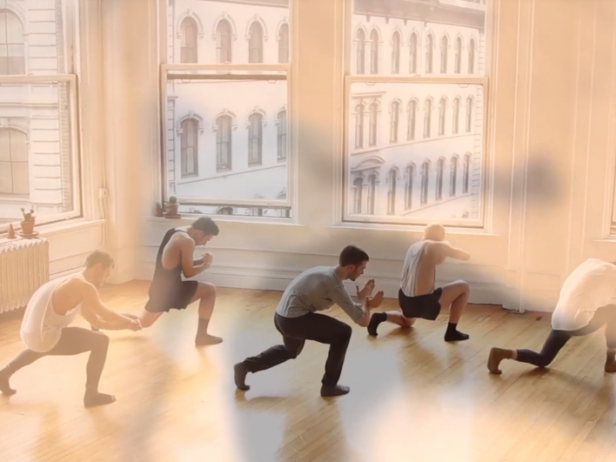 A shot from "Angel(s) on Fire"
But not just Jakob Karr. Also a whole handful of other awesome, strapping men: Jason Parsons (the bald, mysterious one), Joey Arrigo (the comp kid turned technical whiz), Corey Snide (the tapper who can also do everything else well, too), Austin Goodwin (the scruffy, captivating redhead) and Danny Tidwell (no intro needed, am I right?).
Adams directed and produced this piece, called "Angel(s) on Fire," and I keep watching it because there's so much to see. The video was filmed and edited by Allison Schultz, who does an incredible job shooting from crazy angles and layering the shots throughout the four-minute routine.
So yes, I have this love thing (from afar, of course) going on for Jakob, but I actually found myself most drawn to Corey Snide as I watched the "angels" in action. Corey, weren't you, like, just New York City Dance Alliance's Mini Oustanding Dancer? (You may also recognize Corey from our September 2013 cover—he's a Juilliard man now!)
The choreography seamlessly blends contemporary elements with tap-like movements, a boxing series and the guys playing with feathers.
Click here to watch "Angel(s) on Fire." I think you're going to like it.
Dec. 13, 2012 10:50AM EST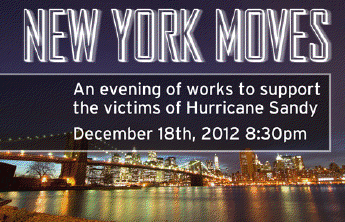 Last week, we gave Marylanders the heads-up about the Jam for Sandy, taking place this Saturday in Capitol Heights. Now there's a chance for New York dance lovers to give back to the Big Apple communities still reeling from Superstorm Sandy.
On Tuesday, December 18 at Manhattan Movement and Arts Center, more than a dozen New York-based choreographers will present works in a concert titled "New York Moves." 100% of proceeds from the evening's ticket sales will go to Sandy relief, specifically to the New York families affected by the storm.
It's a seriously impressive list of artists—including DS favorites Lauren Adams and Rhapsody James—which means it's pretty much guaranteed to be a great show, as well as a big-hearted one. Tickets are $15 ($12 for students); click here to get 'em, and to see the full list of choreographers.
Competition
Dec. 11, 2012 11:00AM EST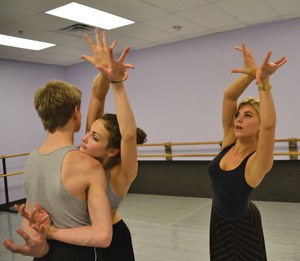 Lauren Adams guest-choreographing at Spotlight Dance Works in Chesterfield, MI (Liz Schmidt)
These days, it's common for studio owners to hire guest choreographers—often big industry names like Travis Wall and Joey Dowling—to set pieces on their competition dancers. As a dancer, working with a guest choreographer is both exciting (cool new moves from a dance celebrity!) and terrifying (what if she doesn't see my potential?). But fear not: Lauren Adams, a faculty member at 24 Seven convention and frequent guest choreographer at studios across the country, has the answers to your "I have no idea what to expect from this new person" questions.
I've never worked with a guest choreographer before. How should I prepare?
Be open and inviting. It's intimidating for us to walk into a space filled with dancers, all expecting us to create this great energy.
Researching the choreographer is a great idea—check out his or her website or work on YouTube. Having a sense of the choreographer's aesthetic will enhance your experience and help you approach the work with confidence.
My teacher always puts me in the front row for our routines. How will the guest choreographer know I'm one of my studio's top dancers?
Many choreographers hold at least one class with the dancers before they begin choreographing for them. This class works as an audition and an introduction to how we'll all work together, creatively and energetically. It gives the dancers an opportunity to warm up to us, and it helps us figure out what stylistic direction to pursue.
I also like to observe the dancers while they warm up, when they don't know I'm watching—that's the easiest and fastest way for me to assess who they are through my own lens. Then, during class, I'll choose my cast before we begin the first rehearsal.
How can I stand out?
I value an enthusiastic worker—a dancer who will not only show up on time, but early, ready and warmed up. If I see you working hard to learn the choreography from a section you aren't in, I may end up pulling you into that section. I want you to get the most out of every rehearsal, so take advantage of the process, learn everything you can and embrace the work.
I also want the dancers I'm working with to look like themselves. I don't like walking into a studio where the dancers are all wearing slick buns and the same outfit. I only get to work with you for a short time, so I need contrast to tell you apart—and I'm likely to remember the "girl with the long ponytail" or "the one in the red leotard."
How long will you work with us?
You can expect six to eight hours of work for a group piece and approximately three hours for a solo.
Who picks the music you'll choreograph to? 
I like to pick my own music. I don't usually connect with music that has been pre-selected for me.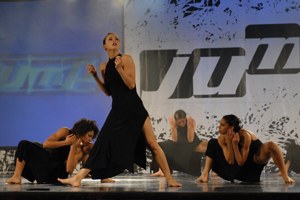 Dancers from Canada's Elite Danceworx perform one of Adams' pieces at competition. (Break the Floor Productions)
So you spend a few hours giving us choreography, and then you have to leave. What happens throughout the year?
It's important to commit to the choreography and develop the character, dynamic and texture of it over the course of the year. If something truly isn't working, it's OK for your teacher to make minor changes. Remember, the beauty of the piece lies in how it unfolds over time. Enjoy the process of investigating the work.
Do you ever reuse your work? I'm afraid we're going to go to Nationals and someone will have our same routine, Bring It On style.
I don't. Each studio is unique and I design accordingly. But some choreographers might reuse work, so be sure to have your teacher ask that your piece be exclusively yours.
Can guest choreographers say no to certain studios if they don't want to choreograph for them?
Yes. I only go to studios where the work ethic is strong. I get a weekend to create work that will be presented for a whole season, so I want to be sure I'm working with dancers who are enthusiastic, self-motivated and willing to work as hard as I am. I'm not afraid to say I won't be a good fit for a dancer if I can't get a clear vision of how I would design movement for him or her. In that instance, I'll recommend a friend or colleague who might be a better match.
Do you ever get to see your pieces performed at competition?
Yes, and I love when that happens. It's a big payoff. It's sad to put your heart into your work and only get to see the beginning stages of its development.
Have you ever been disappointed in a piece you set on a studio?
Of course. There have been times when I felt the dancers didn't stretch to their potential through the work, and that makes me sad. I always do the best I can—and sometimes my best for one studio doesn't hit me as hard as my best for another. I can learn something from every experience, including rejection and disappointment.
If you like us, will you come back?
I absolutely return to studios year after year—that's my favorite part! The dancers and the choreographer get to grow together. You come on my journey, and I get to go on yours. I care about my students, and I love getting to call them my students. I want to be better each year for them and create different work from what they've come to expect. I want to know dancers for the duration of their careers.
Get Dance Spirit in your inbox