Sep. 10, 2019 11:48AM EST
Jellicle cats, come one and all—because there's even more (and even more amazing) behind-the-scenes footage from the new Cats movie, and it is full of dancy goodness. So, paws whatever you're doing, and go watch this new BTS video right meow (and no, the cat puns aren't stopping).
Dance Videos
Jun. 18, 2019 10:15AM EST
When Men in Black: International hit theaters this weekend, audiences expected, and got, a fantastically fun reboot of the '90s sci-fi movie franchise. What they may not have expected was a literally out-of-this-world dose of dance from none other than OG "World of Dance" champions Les Twins—aka Larry and Laurent Bourgeois.
Hip Hop
Jun. 21, 2018 11:12AM EST
Unsurprisingly, Season 1 winners Les Twins have had a pretty epic year. (NBC)
"World of Dance" Season 2 is in full swing, introducing us to a new crop of jaw-dropping talents—and reuniting us with a few of the stars of Season 1, including 15-year-old dynamo Eva Igo. But what have our other Season 1 faves (Les Twins! KynTay! Swing Latino!) been up to since their big TV moment? Here's where they are now.
Dance News
Dec. 01, 2017 05:10PM EST
Les Twins dancing in MCM's holiday campaign (courtesy Lividini & Co)
No snowman is safe this holiday season because the Les Twins are on fire🔥 . "The World of Dance" champions brought loads of holiday cheer to fashion house MCM's festive new campaign, the best way they know—on the dance floor. The dancing duo is featured alongside the likes of models, singers, and songwriters including Kacy Hill (who got her start in the music industry as a backup dancer for Kanye West).
Dance Videos
Aug. 09, 2017 10:27AM EST
NBC
It seems like only yesterday that we were scream-cheering on our sofas for the very first episode of "World of Dance," amirite? And now the dangerously addictive show has crowned its first winner. (Not its last, either: It's been renewed for another season. 🙌 )
After a very busy episode in which each Division Champion danced not once, but twice—to a song of their choosing, and to a song of their designated mentor's choosing—J. Lo, Derek Hough, and Ne-Yo bestowed the show's million-dollar prize upon...
[...drumroll...]
Dance News
May. 31, 2017 10:23AM EST
Diana Pombo performing her solo on "World of Dance" (NBC)
Well, that was perhaps the fastest hour of television ever.
We knew that NBC's "World of Dance" competitor lineup was stacked, but the show's premiere episode last night gave us just a taste of the deep talent field, with performances by only seven acts. None of them disappointed. But in the words of J.Lo herself (spoken, in her case, about a gorgeously understated routine by Kinjaz): We want more. Can we have some more?
Dance News
Nov. 20, 2015 03:33PM EST
You know what I want for my birthday? A box full of supermodel Karlie Kloss and Les Twins. We could just hang out, have a dance-off, become bffs. It might sound weird at first, but really think about what hanging out with these tall and talented folks would be like: #squadgoals times one million, amirite? Also, I'm pretty small and I could definitely fit in a box with the three of them.
As it turns out, British Vogue understands that my birthday wishes must be met, so the magazine packed Karlie and Les Twins into a too-cute video that features some sweet moves and a lot of smizing...in a box.
Fashion and dance continue to feed off one another and the trend is nowhere near slowing down. And when it's especially irreverent, like this video, I can't wait to see more.
Nov. 12, 2015 11:23AM EST
Christmas came early this year, guys. And Missy Elliott is Santa Claus. In a mirrored tracksuit.
By which I mean: This morning Missy Elliott dropped the video for her new single, "WTF (Where They From)."  Like all Missy videos, it is a) awesomely weird and b) packed to the gills with the world's most amazing dancers.
To the latter point: I was able to spot—just on an initial viewing—Les Twins, Comfort Fedoke, Ivan "Flipz" Velez and 10-year-old Phoenix Lil' Mini, who appears to be Missy's new Alyson Stoner.
To the former point: There are also marionette versions of Missy and Pharrell busking in the subway, surrealist makeup looks involving copious amounts of glitter and some sort of insane hybrid between an egg carton and a cryogenic freezing chamber.
And the aforementioned mirrored tracksuit.
Basically it's a world that—like all Missy Elliott worlds—transcends the laws of physics and logic.
YAAAAAS.
If it feels like there's been a Missy-shaped hole in your heart for a loooong time now, that's because there has been: She hasn't released an album for more than a decade. (Required #TBT viewing: "Lose Control," from 2005's The Cookbook.) Welcome back, old friend.
Also: Would you rather be best friends with the "WTF" dancers, or the Bieber "Sorry" dancers? DEEP THOUGHTS.
Nov. 21, 2014 12:42PM EST
#FlashbackFriday to summer, when we were all jamming out to Meghan Trainor's "All About That Bass." OK...so I may or may not have listened to it on the way to work this morning (#nojudgement). You just gotta love a song that celebrates positive body image! Plus, it's so. darn. catchy.
This week, we got another dose of Trainor's '50s-inspired bubblegum sass with the release of her newest music video, "Lips Are Movin'." It's got everything we've come to expect from the singer: doo-wop dance moves, mod fashion, pink-galore and plenty of booty. But Trainor pulled out some secret weapons this time around. You may have heard of Larry and Laurent Bourgeois, aka Les Twins...
D'aww, brotherly love.
...If you haven't heard of these French phenoms of commercial dance, we're no longer friends. JK. (But actually—go watch all of their YouTube videos immediately.) The whole collaboration came out of Trainor's partnership with HP's #bendtherules campaign, which brought stars from YouTube, Instagram and Vine to the set of the music video. Check out the final product, and see which other celebs you can pick out:
Did you spot I.aM.mE's Chachi Gonzales?
TBH, we wish we could've seen more dancing from Chachi—and from Les Twins for that matter. Especially after we saw how much groovin' happened behind-the-scenes. Check it out:
That stuff was gold and definitely should've made it into the final cut. But, hey, we'll take what we can get, right?
Aug. 19, 2014 01:55PM EST
How'd you like to join the ranks of Les Twins? (Photo by Erin Baiano for Dance Spirit)
Quiz time: What do Les Twins, Lil' Buck, the Syncopated Ladies, Christina Ricucci, Sean Lew and the Control Freakz have in common? If you answered: DS is obsessed with all of them, you wouldn't be wrong. But on Friday, August 29, this talent-packed crew (along with some other big names in the industry) will be sharing more than just our undying love—they'll be sharing the stage.
The occasion is DanceOn Spotlight: The Ultimate Dance Experience, a free event in L.A. to support the upcoming dance movie, Breaking Through. If you haven't heard of this movie yet, it's kind of an awesome concept. Written and directed by John Swetnam (Step Up All In) and produced by John Legend, Breaking Through celebrates the YouTube generation of dancers. It will utilize a combination of found footage—namely YouTube clips of various internet-sensations—and filmed footage. (Shout out to supervising choreographer, and fellow YouTube giant, Ian Eastwood!)
Some of the filming will take place at next Friday's event. And get this: You could have a chance to be one of the dancers caught on film. Here's how it works: Submit a video of your best stuff (anything from solo to group work) to DanceOn.com. The Breaking Through team will consider all video submissions to be included in the found-footage portion of the movie, but three lucky winners will also get a chance to perform live at The Ultimate Dance Experience. Check out the clip below, where John Legend himself explains the contest, then head on over to the DanceOn.com for even more exciting details!
Get Dance Spirit in your inbox
May. 23, 2013 10:39AM EST
The Mrs. Carter Show World Tour is underway! Beyoncé and her fabulous crew are in the process of making their way across Europe (they're performing in Berlin tonight).
But while we wait for them to arrive stateside, team Bey has released a tantalizing series of video snippets that go behind the scenes on the tour. And most of the clips put Beyoncé's awesome dancers—a.k.a. our May/June cover stars!—front and center.
Here are a few of our faves:
A Serbian woman (the tour's first date was in Belgrade) fangirling out as she meets dancer Ashley Everett in the airport:
More of our dancer friends—and Beyoncé—getting pumped up and warmed up before opening night:
Les Twins doin' their thing...
...and talking about their mom!
And finally, a peek at the super-dance-y premiere of "Grown Woman" onstage, with commentary from choreographer Frank Gatson and Mrs. Carter herself:
May. 20, 2013 10:49AM EST
In our current issue, we introduce you to Les Twins, the dynamic French dancing duo who so wowed Beyoncé that she decided to make them her only male dancers. They're that good, you guys.
Now Les Twins have a new commercial, for the Beats By Dre Neon Mixr headphones. Surprise! It's amazing. (And it's set to David Guetta's earworm-y "Play Hard," so get ready to be singing that for the rest of the day.)
Take a look...
...and then go inside the making of the ad with this behind-the-scenes video:
Apr. 28, 2013 07:00AM EST
It's always fun deciding who to feature on the cover of our annual Commercial Issue. There are so many incredible, spotlight-worthy dancers who deserve to be grooving alongside Hollywood's biggest names—and this month, we're so excited and so proud to show off eight of those dancers (plus two more on the DS digital edition!).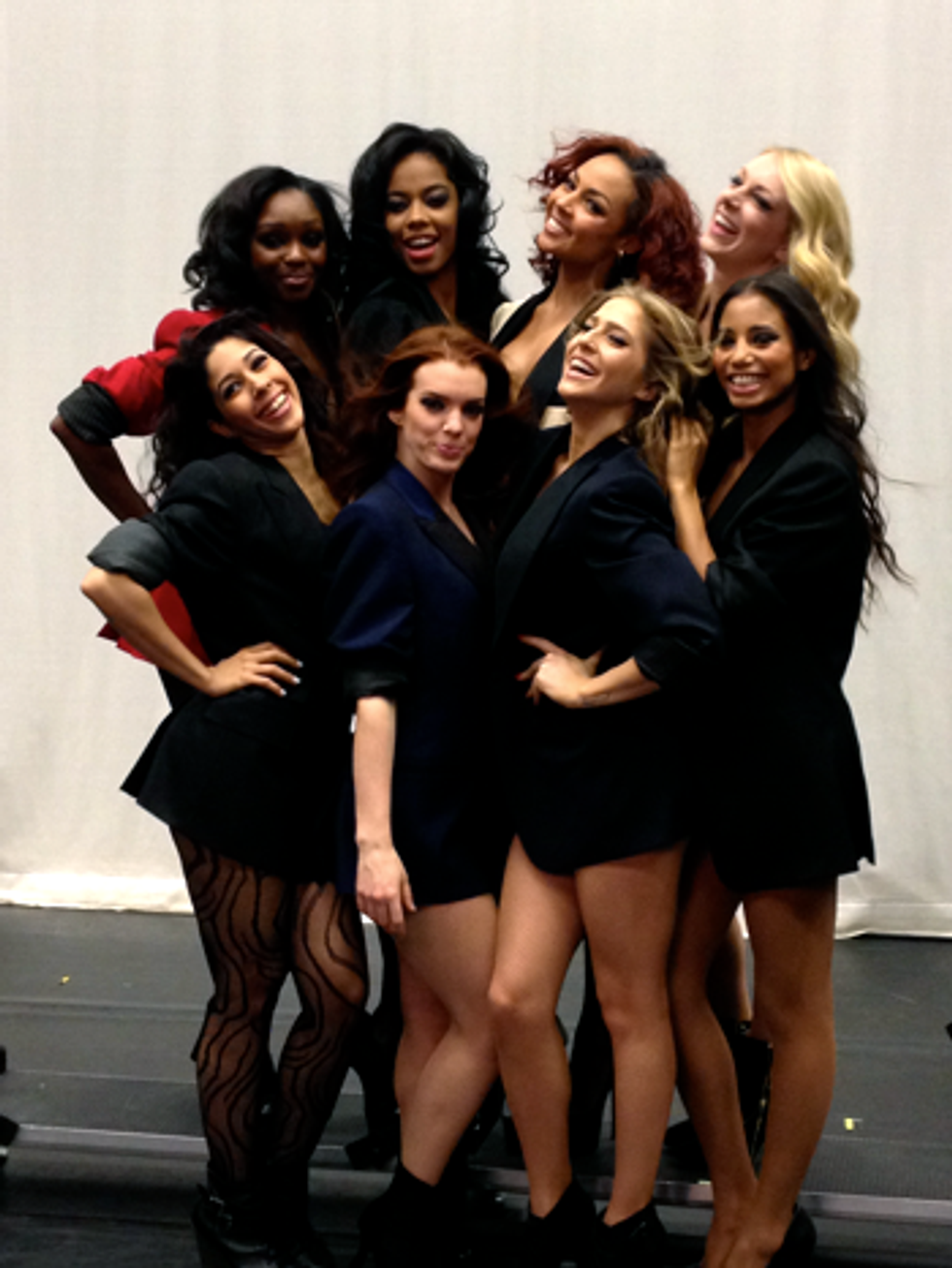 Do we even need to ask who runs the world?
Meet Beyoncé's backup dancers! These eight women (click here to read their story) and two men ("Les Twins"—read all about 'em!) just kicked off the superstar's The Mrs. Carter Show world tour, which will be making its way to the U.S. later this summer.
Naturally, pulling this shoot off wasn't easy. We somehow managed to get all 10 dancers, choreographer Frank Gatson Jr., two stylists, three hair and makeup artists, a publicist, a photographer, a photographer's assistant, a video crew and the DS staff together for five hours (on the Sunday morning of Daylight Savings Time—ouch!) at the Alvin Ailey studios in NYC...just days before the Beyoncé Camp began tech rehearsals for the tour. The shoot was completely crazy but totally worth it.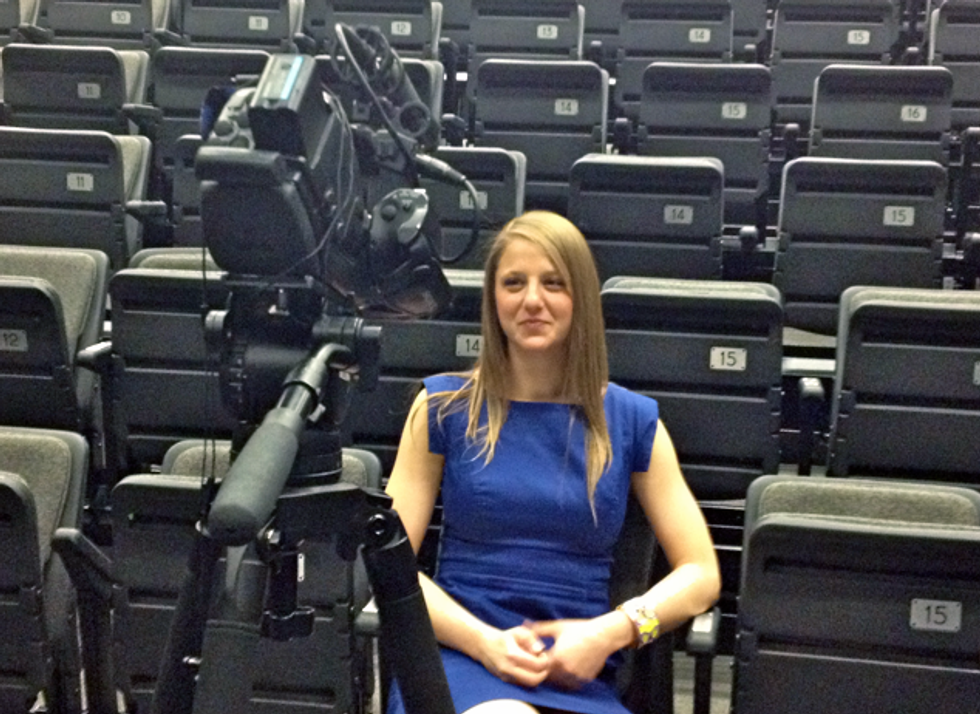 My .5 seconds of fame: being interviewed by the Beyoncé crew for her tour documentary. Gotta say, I prefer being on the other side of the camera!
Click here to see some of the best shots from the day.
Since the shoot and the magazine's release, Beyoncé and her team haven't taken a single day to rest or breathe. Here's a promo from the OMG-you-must-get-tickets tour:
And here's Beyoncé's latest commercial (featuring her lady dancers!) for H&M:
Finally, check out this killer video of all the dancers—and their fearless leader—dancing to "Grown Woman" in Paris:
What do you think of the new issue? Let us know!
Dance News
Apr. 11, 2013 12:20PM EST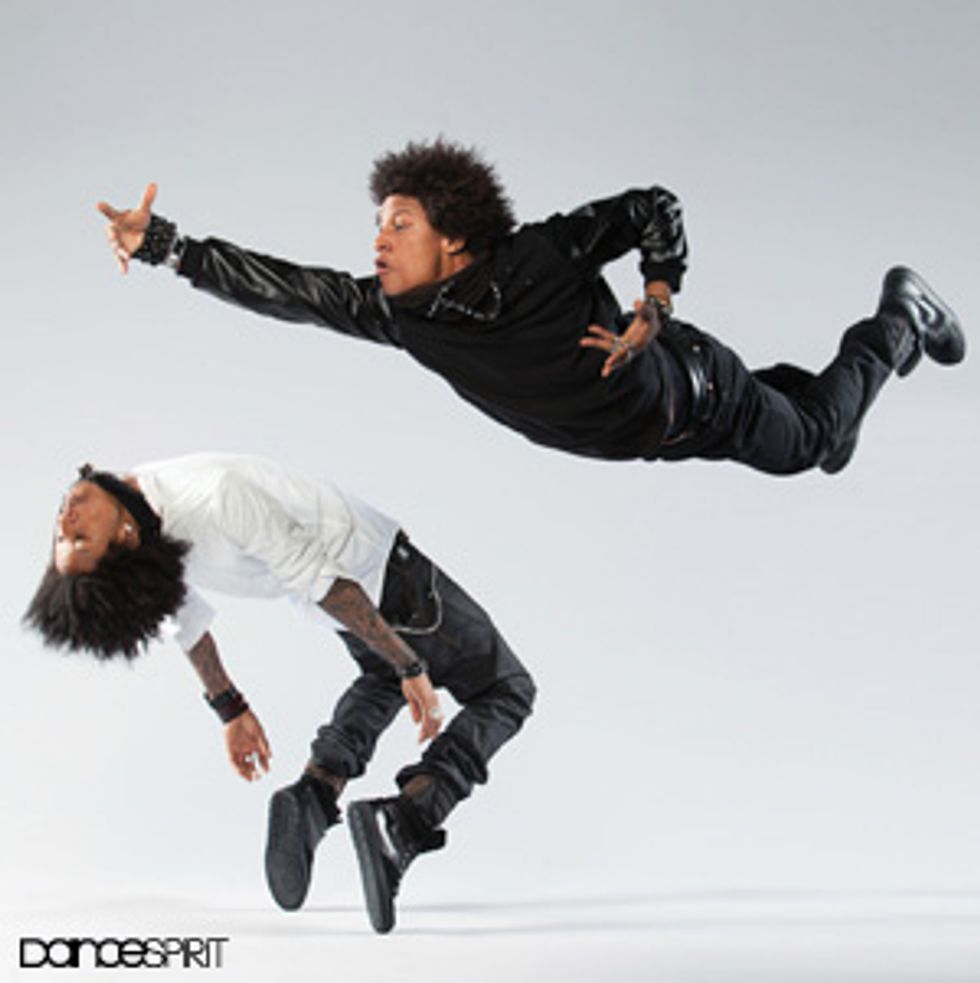 Larry (left) and Laurent Bourgeois (by Erin Baiano)
Larry and Laurent Bourgeois—known in the dance industry as "Les Twins"—are easily recognizable by their big hair, chiseled jawlines and so-far-out-there style. They wear their pants backward and topped with kneepads down around their ankles, and rock enough bling, bracelets and accessories to arm an entire competition team. The youngest of 18 siblings, these 24-year-old French party boys don't seem to take anything too seriously—and that includes their dancing. "I just freestyle," Laurent says. "I have no talent." Though Les Twins don't boast a resumé filled with training credits—they're self-taught hip hoppers—the "no talent" point is worth arguing against if you've seen them in action.
Beyoncé would certainly stand against Laurent's claim: According to her choreographer since 1997, Frank Gatson Jr., it was Beyoncé herself who spotted the twins and told Gatson to bring them onto the team. "Beyoncé is a monster," Laurent says. "That's her name—I call her that all the time. I give her power when I don't have any power left." Larry and Laurent danced alongside Beyoncé at the Billboard Music Awards in 2011 and now they'll join her on The Mrs. Carter Show World Tour as the only male dancers. "I want to bring everything onto the stage. I want to sleep on the stage," Larry says. "I just want to go out there and kill the stage."
Jun. 07, 2012 09:30AM EST
I have to say I've been very proud of "So You Think You Can Dance" so far this season. There haven't been too many painfully bad auditions, plus the dancers with sob stories haven't completely outnumbered the ones without. Bravo! On the other hand, Nigel seems to be getting more and more inappropriate. (No he didn't just wrap his leg around Grandma!) Can't win 'em all, I guess.
Here are The Top 5 Moments from last night's Atlanta auditions: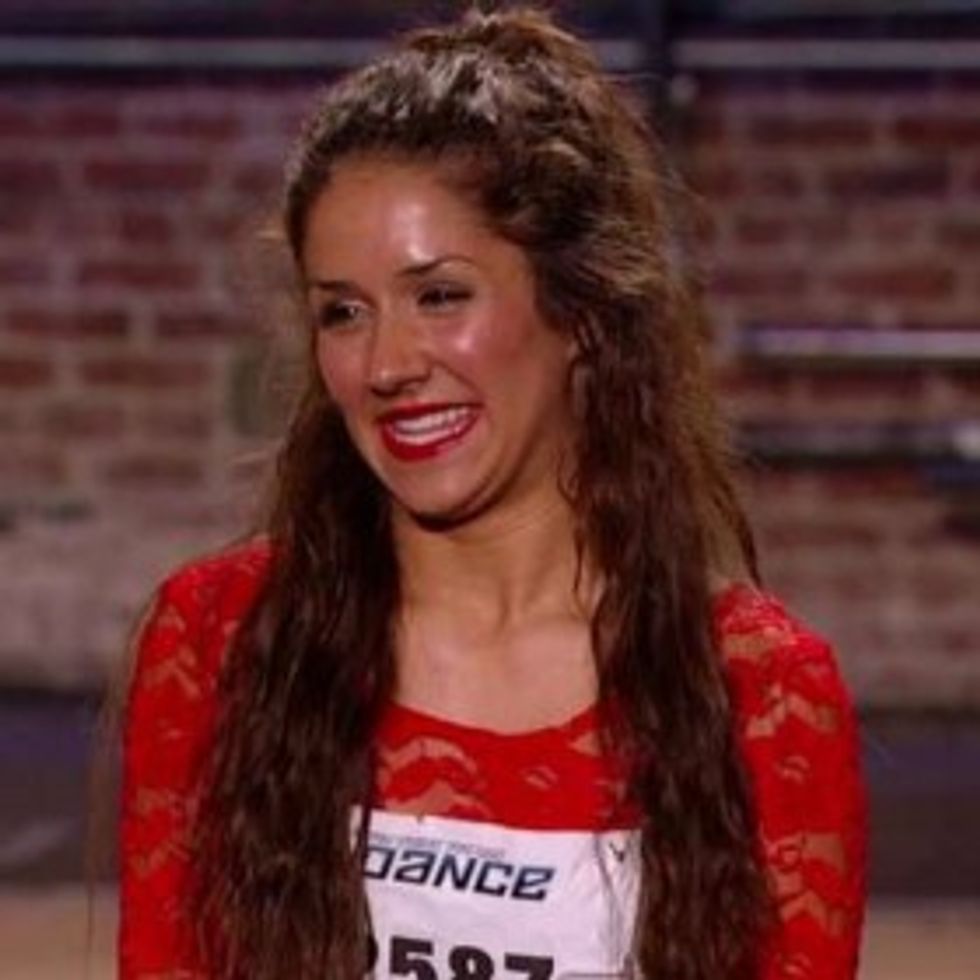 1. Audrey Case, 18, who can fart with her neck and lick her elbow. Now that's talent! But then she actually had talent—impressive, beautiful technique (and the precious little face to match). Yup, I am pretty much in love with her. And judging by their standing ovation, so were the judges. Going to go ahead and predict a spot in the Top 20 for that one.
2. The "Dragon House Crew." These roommates had similar robot/popping styles of dance, but really mixed it up in terms of how they presented themselves. Boris Penton, 23, went with classical music; Andre Rucker, 21, was just super cool and super double jointed; and then there was Cyrus "Glitch" Spencer. He was a little sweaty for my taste, but his funny faces and personality were pure awesome. Straight to Vegas!
3. Remember earlier when I said "SYTYCD" had gone easy on the sob stories? That's because they were saving up for the montage of sob stories in this episode. This dancer lives in poverty. This dancer has Tourette's syndrome. This dancer lost a loved one. I really wanted to be sad for them and enjoy their dancing, but I was having too good of a time singing along to "What doesn't kill you makes you stronger!"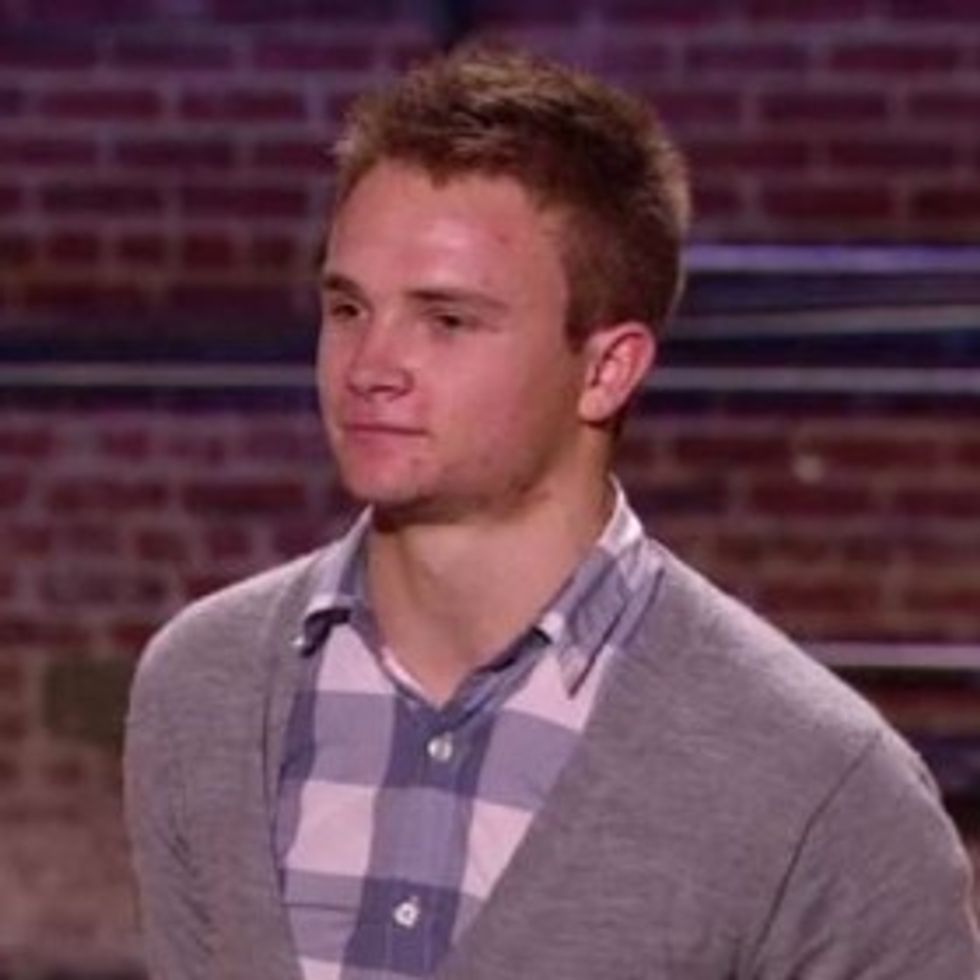 4. Country boy Asher Walker, 19, from Glade Hill, Virginia, who practices his hip-hop moves in his garage. Gotta be honest, I did not expect him to have skill at all. But then there was a little b-boying action, some serious flipping and even a "hip-hop coupé!" Yes, he's a little weird. But he's from a very small town and probably hasn't been around a lot of other humans in his life. Let's give him the benefit of the doubt.
5. You know something's a big deal when Mary gets a million "twits" about it. Damon Bellmon and Deon Lewis, who ripped off Les Twins's choreography last year, were just so cute and sincerely apologetic about their plagiarism. This year they made up their own moves, and they were impressive. In an uncharacteristic splitting up of a pair, Damon made it to Vegas, but Deon was sent packing.
The "So You Think You Can What?!" Moment of the Night: It was too hard to choose this week, so I chose 3.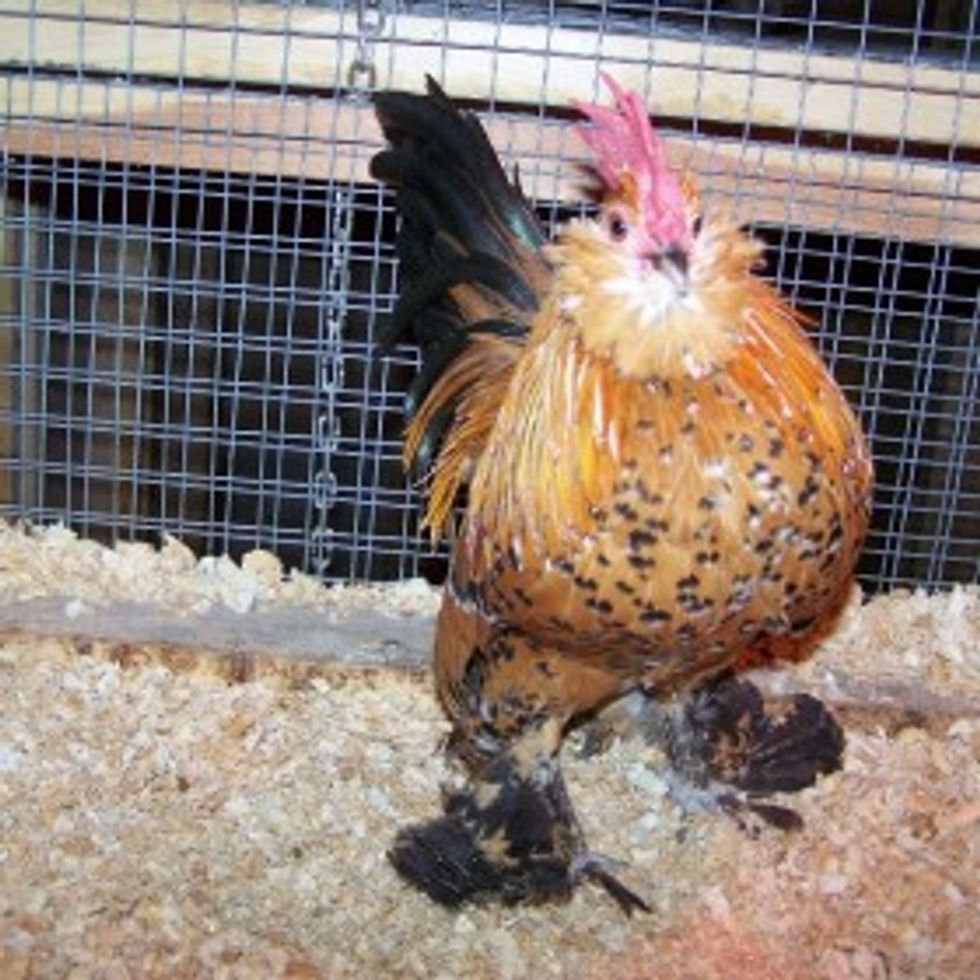 Second Runner Up: The Cat Deeley look-a-like. Mind blown.
First Runner Up: During Brittany Ortner's hometown ("Chicken Town") visit, did you see that chicken with furry boots on?
And the Winner Is: Danielle Dominguez's love dance to bacon. First we see her cooking up enough bacon to feed a small country, then she goes outside with it and tosses it over her head. She literally took a bacon shower. Gotta love bacon. See you in Vegas, Danielle.
Check back next week for the recap of Salt Lake City auditions. And don't forget to let us know if you're loving this season as much as we are!
Dance News