Mar. 23, 2017 05:32AM EST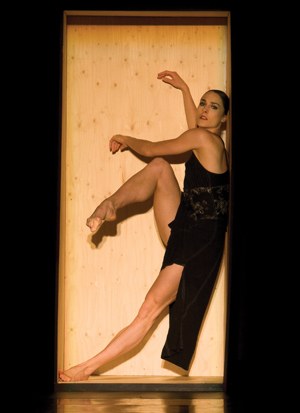 Jacoby in Lightfoot León's Softly As I Leave You (Bill Cooper)
Powerhouse contemporary ballerina Drew Jacoby's sinewy strength and magnetic stage presence have made her an audience favorite all over the world. After studying at the School of American Ballet, San Francisco Ballet School and Pacific Northwest Ballet School, Jacoby joined Alonzo King LINES Ballet at age 17. In 2005, she won a Princess Grace Award and was invited to dance with ballet superstar Sylvie Guillem. Two years later, Jacoby decided to become a freelance dancer, and formed the partnership Jacoby & Pronk with dancer Rubinald Pronk. An innovator in more ways than one, Jacoby also founded the website DancePulp.com in 2010, which features video interviews with dance stars. She began the next chapter of her dance career in August as a member of Nederlands Dans Theater.
—Gretchen Schmid
Dear Young Drew,
You may think you are wise beyond your years, but you have a lot to learn. Stay humble. Your drive and ambition will get you far, but don't let impatience spoil the journey. Try to enjoy each moment and not look too far ahead. This will be a constant struggle for you.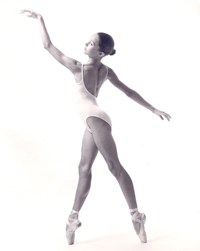 Jacoby at age 10
Remember that success is about more than just raw talent. You're blessed to have a supportive family and teachers who encourage and push you. That support network will help you through challenging times when things don't seem to be going your way. And your way is not always the right way. When a door doesn't seem to be opening for you, it's probably for the best—there's a better door right around the corner. 
Don't try to fit any mold. You'll be grateful for being different one day. You're going to experience more than you can imagine; store it all up in your heart, and be ready to share it when the time comes. 
You'll have to work harder than most, but artistic satisfaction is worth the effort. Be generous and gracious in your life, as you've been given a great one.
Love, 
Older Drew
Apr. 08, 2013 01:50PM EST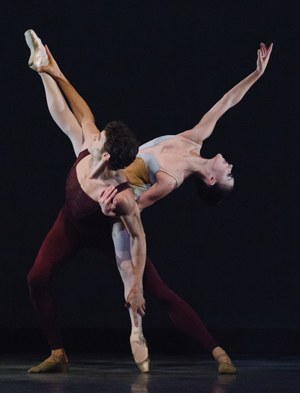 With Yann Trividic in Liturgy (by Kyle Froman)
Miami City Ballet principal Patricia Delgado seems to glow softly from within, radiating warmth and charm onstage. Add to that her crisp, refined technique, and the result is a performer who's captivating in everything from classical full-length ballets to the George Balanchine works that form the backbone of MCB's repertoire.
Born and raised in Miami, Delgado trained at Liana Navarro and Vivian Tobio Ballet School and Miami City Ballet School before joining MCB as an apprentice in 2000. By 2007 she'd become both an audience favorite and a principal dancer, and she continues to add more ballets to her impressively diverse arsenal. Catch her in action this month in Florida, where she'll perform in MCB's "Broadway and Ballet" program. —Margaret Fuhrer
Dear Young Patricia,
Right now all you want is to be a ballerina, but you are only at the beginning of a beautiful journey of self-discovery.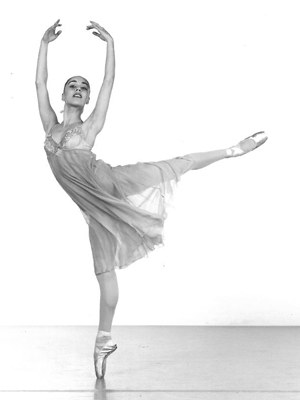 As a teenager
Being a dancer is full of unbelievable highs and difficult lows. Try not to compare yourself to others, because in the long run your imperfections are what make you special. Instead, admire and respect your fellow peers and look to older dancers for inspiration. 
Remember that there is life outside the ballet world. Reading, meditating, traveling and writing will enhance you as an artist. Finding a balance between your family and friends and your craft will help you stay grounded. Appreciate your loved ones' support. It takes a lot of dedication and sacrifice to uphold your commitment to dance!
Take care of your body. It's important to realize at this age that it should be treated nicely. Treasure every ballet class, rehearsal and performance, because each one is an incredible gift. Sharing yourself with others through movement is one of the most fulfilling and gratifying forms of expression.
Have courage when you are faced with disappointments and challenges. Time heals all; just keep believing in yourself. And trust that the words of wisdom from your teachers and mentors will all make perfect sense one day!
Love and courage,
Patricia
Jan. 10, 2013 02:00PM EST
Wes Veldink/Sabina Hillman
Dana Wilson may be one of New York City Dance Alliance's most popular hip-hop teachers, but it's hard to put her in just one stylistic box. Yes, she knows how to hit it—hard—but she can also be playful and girly. Sometimes she'll even go full-on lyrical, composing lush, fluid phrases.
Wilson was born in Aurora, CO, and trained in multiple styles at Michelle Latimer Dance Academy. At 18 she moved to L.A., and before long she was touring with Justin Timberlake and performing with Cirque du Soleil. Wilson also caught the choreography bug, assisting the likes of Wade Robson and Andy Blankenbuehler as well as creating her own work. Today you can catch her classes on the NYCDA convention circuit. —Margaret Fuhrer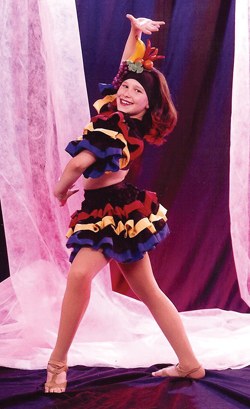 As a youngster (courtesy Dana Wilson)
Dear Dana,
You know that Justin Timberlake CD jacket you kiss every day? You'll tour with him. That Wade Robson VHS you wore out? You'll assist him. That silver screen? You'll light it up. You're doing everything right. So you have my complete permission to continue to do exactly what you're doing. But I also want to share a few truths, to save you some time and heartache.
People say: "Party too much, show up late—people won't work with you." Unfortunately, this simply isn't true. Some of the most successful dancers I know are always late. They smoke and drink backstage; they fool around with the boss. But you will be rewarded for following the rules. Don't be hurt when others are rewarded for breaking them.
Nobody is looking for a dancer who is "decent" at all styles. They're always looking for the best. Don't stop training in many genres, but master your own style, which is a combination of all of them. Take time to practice freestyling, and you will be unstoppable.
This last one is tough, because you're a "pleaser." You want people to like you; you hate conflict. But don't round off your corners to fit in. You'll lose your edge—and edge is what makes you a leader. That role will please you more than you could ever please anyone else.
Love always,
Dana Wilson
Dec. 11, 2012 01:50PM EST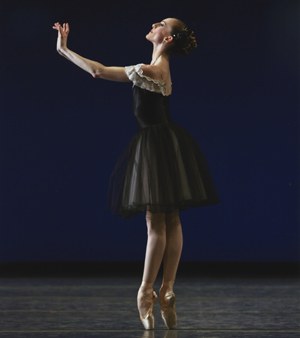 Whelan in George Balanchine's Mozartiana (Paul Kolnik)
Wendy Whelan shapes performances the way architects shape buildings: intelligently, coolly, with an eye to internal structure as well as outer beauty. Now New York City Ballet's senior principal, Whelan has fascinated choreographers and audiences alike during her nearly 30 years with the company. 
Born in Louisville, KY, Whelan began studying dance with a local teacher at age 3 before focusing more intensely on ballet at the Louisville Ballet Academy. A summer at the School of American Ballet in 1981 led to an invitation to enter the school full-time. She joined NYCB as an apprentice in 1984 and moved swiftly through the ranks, reaching principal status in 1991. 
Recently Whelan, long one of ballet choreographer Christopher Wheeldon's muses, has also begun collaborating with contemporary artists, including Stephen Petronio. Catch her in classical mode with NYCB this month—then see her perform four new contemporary pas de deux in her own concert this summer. —Margaret Fuhrer
Dear Wendy,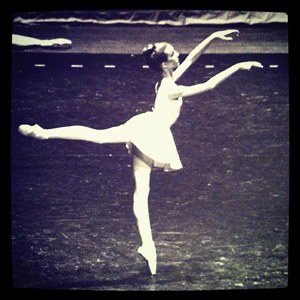 Whelan at age 12
Believe it or not, I have lots of compliments for you. I'm so proud of the way you have applied yourself personally and professionally to all your studies as a young dancer.
You've realized you must give up a lot of things other kids are doing in order to focus your mind and body on your goal. I know it's uncomfortable to feel in school like you're different from the others because you're so serious about your goals at such a young age, but this discomfort is going to pay off. Stay disciplined, keep that trust you have in yourself and remain open. And be kind to your friends, because that will pay off, too. Developing this balance early will prepare you for a long and happy career.
One thing I worry about is that you tend to "beat yourself up" more than necessary. I see this as a weakness in you, something you need to rethink. That's a lot of wasted energy you could be putting toward other parts of your artistry. All this struggling doesn't accomplish what you think it does. Once you get a handle on it, you will gain the power to face challenges with a positive attitude. Make these challenges about fun and
learning. Keep your sense of humor. Stop looking at yourself from
the outside (as a critical viewer), and look instead from the inside out (as a scientist experimenting, searching for answers). That will keep your passion alive for longer than you could ever imagine.
Dance on with joy. You are a lucky girl.
Wendy Whelan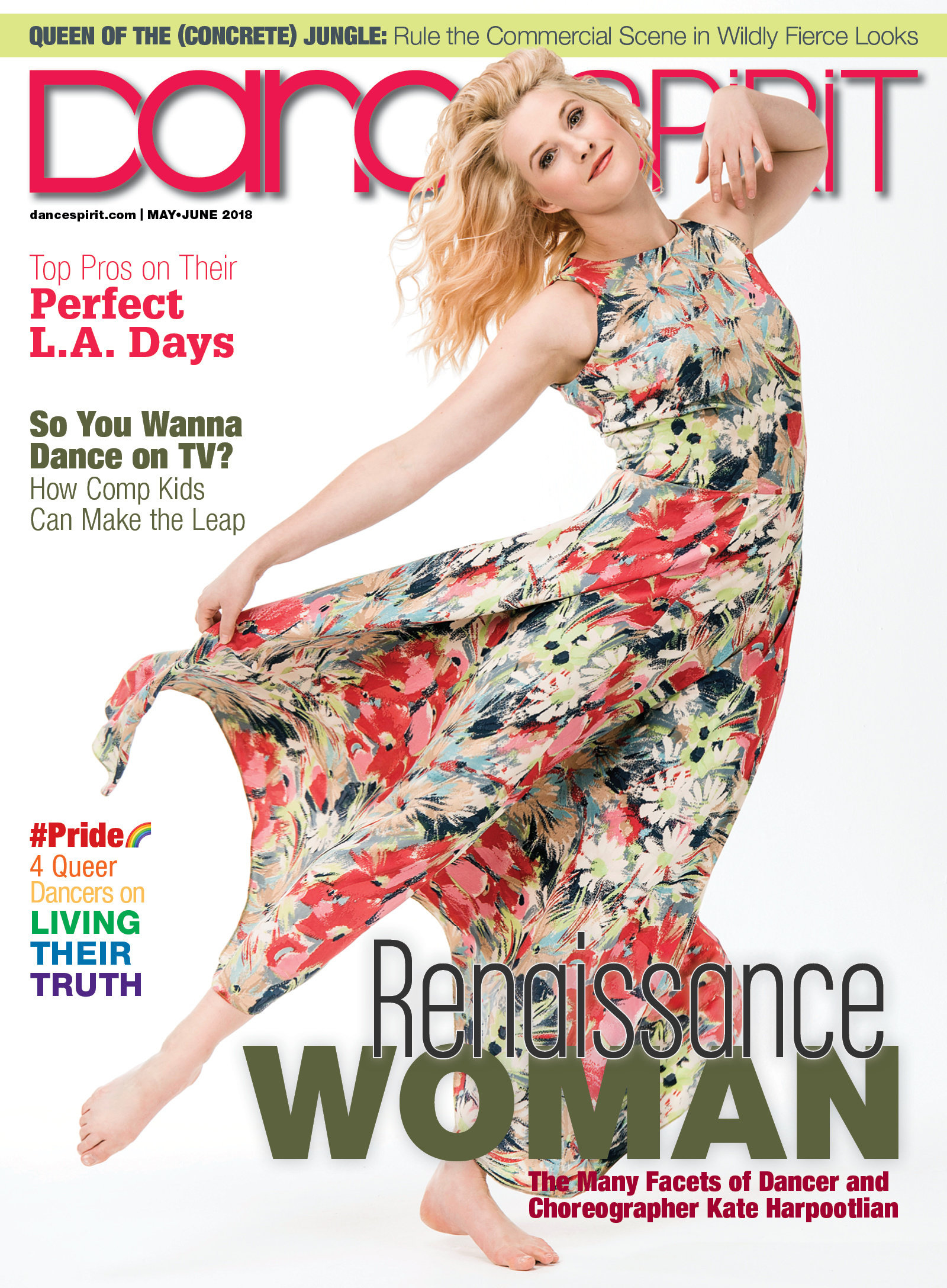 Get Dance Spirit in your inbox