When I was maybe 10, a museum near my hometown exhibited a bronze cast of Edgar Degas' Little Dancer Aged Fourteen sculpture. I went to visit her, and quickly discovered that my first impulse—to imitate her iconic fourth-position pose—was shared by dozens of other baby ballerinas. There was a whole crowd of us gathered around the statue, hanging out in fourth, snapping photos. It was almost instinctual.
Susan Stroman's brand-new musical, Little Dancer, which tells the story of the girl who inspired the statue, opens on Saturday at the Kennedy Center. In tribute, the original Little Dancer sculpture is currently on exhibit at D.C.'s National Gallery of Art. And last week, the cast of the musical—which includes New York City Ballet star Tiler Peck and our friends Juliet Doherty and Sophia Anne Caruso—went to pay their respects to Degas' masterpiece.
Naturally, they all immediately assumed fourth position. Looks like that instinct never dies.
(All photos by Margot Schulman)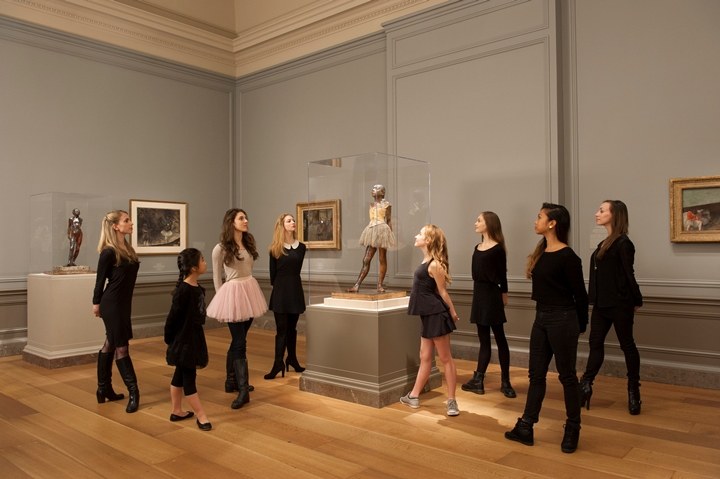 The musical's cast. Peck is adorable in her pink tutu—but did your eye go right to Juliet (third from right) and her gorgeous turnout, like mine did?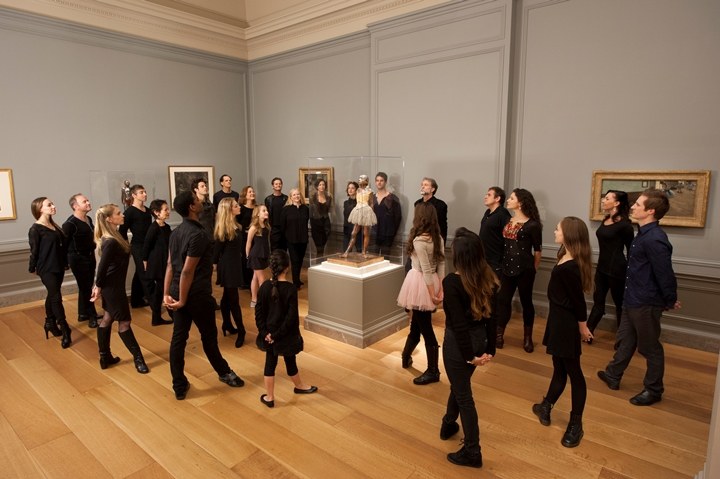 The whole company. So many Little Dancer doppelgängers!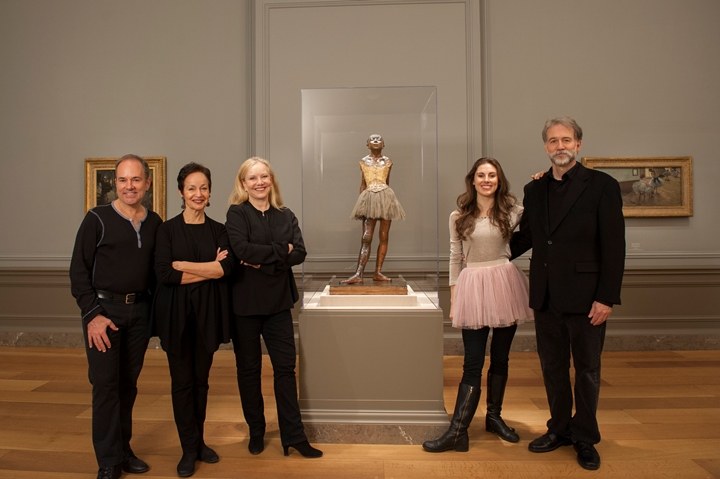 The musical's stars and creative team (from left): Stephen Flaherty, Lynn Ahrens, Susan Stroman, Tiler Peck and Boyd Gaines. Even non-dancers end up hitting some version of fourth position!
Merde (or in musical theater terms, break a leg) to the Little Dancer cast! For tickets and more info about the show, click here. Can't make it to D.C.? You can still get an insider's look at the show, via our interview with Peck about what happens when statues come to life.
Apr. 18, 2013 10:40AM EST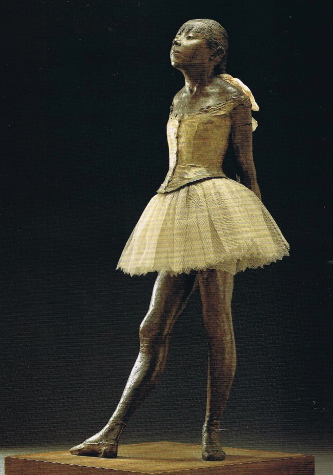 The Degas sculpture that inspired it all.
If you're an eagle-eyed reader of DS (and why wouldn't you be?), you probably noticed an interesting little aside in our April "You Should Know" story about 14-year-old prima-in-the-making Madeleine Gardella.
The pint-sized ballerina, we learned, recently participated in the workshop for a new musical, Little Dancer, directed and choreographed by Broadway legend Susan Stroman. And Madeleine's co-star in the workshop was none other than New York City Ballet principal Tiler Peck. Intriguing, no?
Well, now it's official: Little Dancer, which was inspired by Edgar Degas' world-famous "Little Dancer, Aged Fourteen" sculpture, is coming to D.C.'s John F. Kennedy Center for the Performing Arts in October 2014. The show will "weave real history and fiction" to tell the story of Marie van Goethem, the young student who inspired Degas' piece.
No casting for the show has been announced yet, but the use of talented ballerinas in the workshop wasn't a fluke: Apparently the lead roles are built for serious dancers. And let's just say no one at DS would be upset if Madeleine and Peck reprised their roles. Talk about a dream team!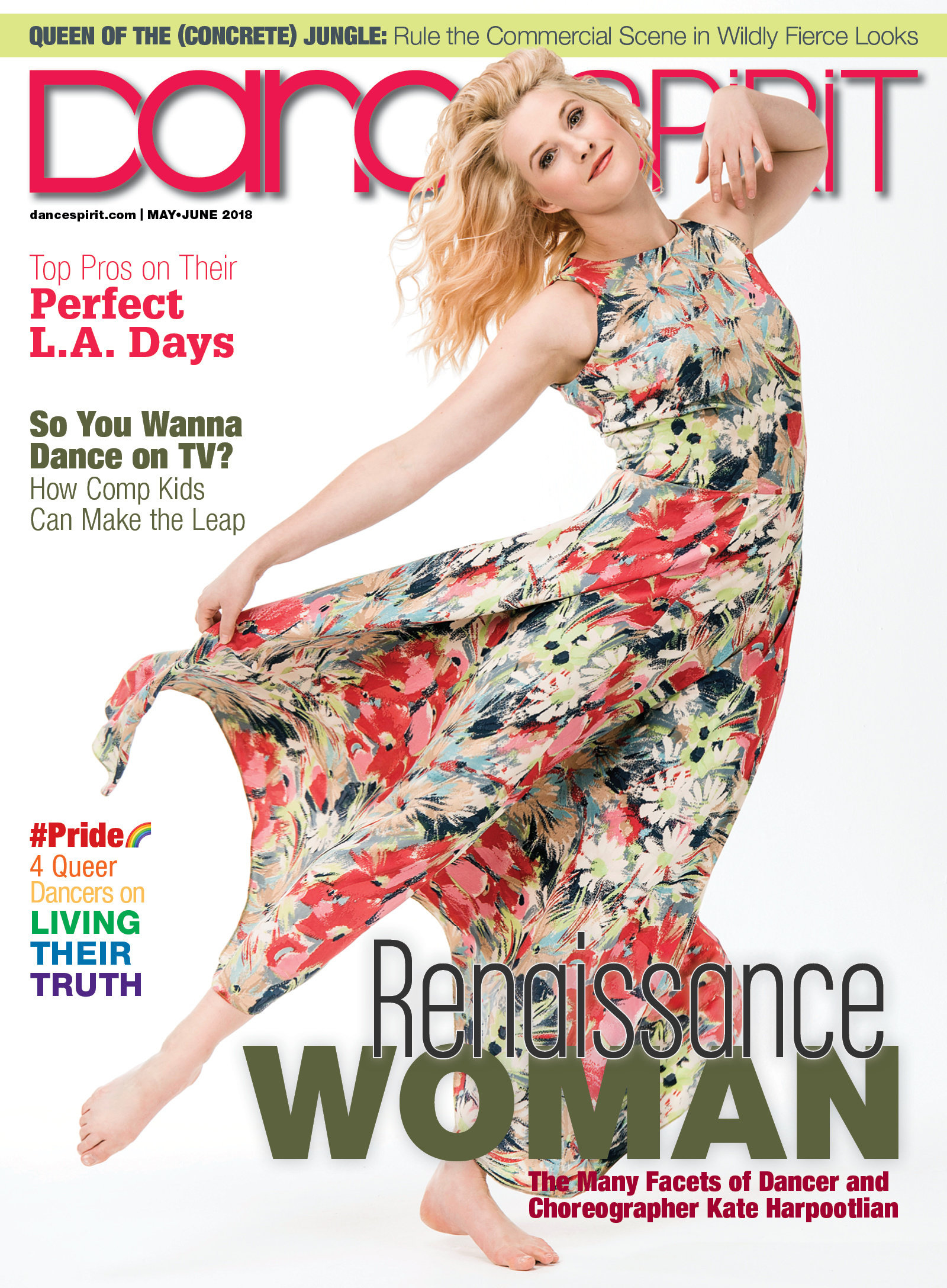 Get Dance Spirit in your inbox