In honor of "La La Land" being released on DVD April 25, Los Angeles mayor Eric Garcetti declared that same day to be "La La Land Day." Because magic is real and dreams can in fact come true, the occasion was marked with aerial dancers from BANDALOOP rappelling off the side of City Hall, performing to a gorgeous medley of Justin Hurwitz's dreamy score for the film.
Keep reading...
Show less
Mar. 23, 2017 01:34PM EST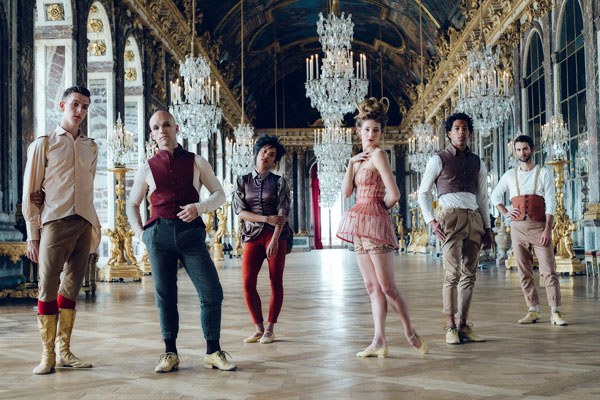 The company in the Hall of Mirrors at the Palace of Versailles (photo by Morgan Lugo, courtesy LADP)
Not many dance companies get to perform at a palace—let alone the glamorous Palace of Versailles outside Paris, the former home of Marie Antoinette and ballet enthusiast King Louis XIV. But L.A. Dance Project isn't your average dance company. They like unique spaces, unexpected collaborations and performances with a twist. Last spring, LADP danced at Versailles with a special guest: Lil Buck, who twirled around the majestic grounds in a gold coat.
The performance—an edgy mix of contemporary dance, classical ballet and street styles at a one-of-a-kind location—perfectly represents the adventurous spirit that has been attracting new and younger audiences since LADP was founded in 2012. Other examples of their out-of-the-box thinking include a site-specific work with an experimental opera company at L.A.'s Union Station, partnerships with the Ace Hotel in downtown L.A. near the company's studios and vibrant, dramatic films on the fashion and culture site Nowness.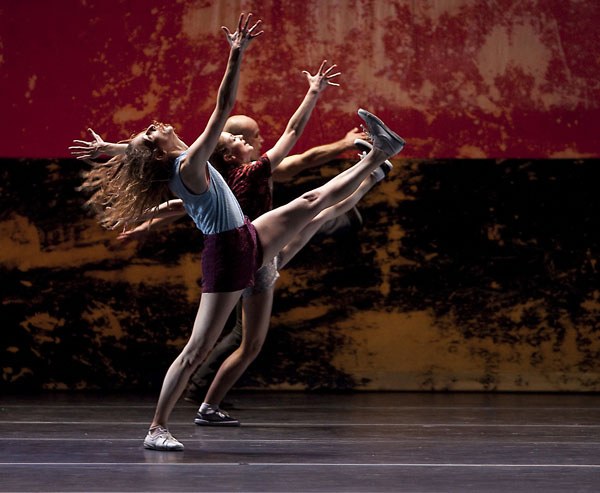 LADP in Justin Peck's Murder Ballades (Photo by Rose Eichenbaum, courtesy LADP)
From the beginning, LADP generated a lot of buzz, thanks to its ambitious vision and its big-name founding partners, including Benjamin Millepied, the former New York City Ballet principal and choreographer, and composers Nico Muhly and Nicholas Britell. But just a few months after LADP's first performance, Millepied was announced as the new artistic director of the Paris Opéra Ballet, a position he began this fall, leading everyone to wonder: Would he stay involved? And what would
become of LADP?
To answer the first question: Absolutely. His initial mission was to build a strong administrative team—including James Fayette, the company's managing director. Fayette, also a former dancer with New York City Ballet, is part of a large family of former NYCB-ers that has relocated to L.A. to be part of Millepied's vision. Other members include Fayette's wife and former NYCB principal, Jenifer Ringer, who runs the affiliated Colburn Dance Academy; and another husband-and-wife pair, Sébastien Marcovici (now LADP's ballet master) and Janie Taylor, who designs some of the company's costumes and FOR LADP, a fashion collection inspired by LADP's chic onstage outfits. 
Millepied also recruited Carla Körbes, the recently retired star of Pacific Northwest Ballet, as associate artistic director. Just two weeks after her last performance in Seattle, Körbes resettled in L.A., drawn to the LADP by its entrepreneurial spirit and impressive repertory. "It's really a 21st-century company," she says. "I've never seen a company like this before."
It's an exciting time for LADP: The group now boasts nine dancers, up from the original six. And Millepied frequently invites his dancers to be part of the creative process. "Benjamin has these amazing ideas and lets us help bring them to life," says Julia Eichten, a founding LADP dancer who's had several opportunities to choreograph. "To have that acknowledgment is amazing."
LADP is also eager to focus more energy on its hometown. "We've been touring and building rep over the last three years," Eichten says. "Now it feels like we can sink our toes in the sand a bit more in L.A." Part of that effort includes crossing paths with L.A.'s commercial-dance community. Eichten and fellow dancer Nathan Makolandra come from a competition background. Eichten is friendly with the Shaping Sound guys
(she and Kyle Robinson attended Juilliard together); Makolandra has taught class at Edge Performing Arts Center, and a few of his solo creations have appeared on "So You Think You Can Dance."
Given these successful projects, an expanding team of new talent and more innovative performances ahead—like a collaboration with the avant-garde dance and visual art duo Gerard and Kelly—it's now easy to answer the question, "What will become of L.A. Dance Project?" The answer: It'll thrive.
The Colburn Connection
Several years ago, Benjamin Millepied invited Jenifer Ringer and James Fayette
to envision a dance program for students ages 14 to 19. The result is the new Colburn Dance Academy in downtown L.A., designed to match the high standards of the Colburn School's famous music program. Its curriculum demands strong classical technique but also offers classes by top-notch commercial choreographers, like Galen Hooks. And the school takes advantage of its connection to L.A.   Dance Project.
Each Saturday over the past year, in addition to rigorous daily training with some of the top ballet teachers in the world, the 13 students of the new academy took a contemporary dance class from then–L.A. Dance Project rehearsal director Charlie Hodges. Classes were held in the LADP studios, and Colburn Dance Academy students frequently observed company rehearsals, too. "We wanted to get them out of the ballet studio mind-set," says Ringer, the former New York City Ballet principal dancer who now heads the school with her husband, fellow former NYCB dancer and LADP managing director James Fayette.
In addition to classes at LADP, students frequently get the chance to visit neighboring institutions, like the Museum of Contemporary Art and the Walt Disney Concert Hall.
"We want dancers that are willing to throw themselves into other experiences, like going to the museum and taking music lessons," Ringer says. "Those experiences will give new layers to their dancing."
The Dance Camera West Film Festival kicks off tonight in L.A., celebrating and promoting dance in film. The festival runs through June 13, though the majority of events take place this weekend. Super-cool highlights? Performances by L.A.'s BODYTRAFFIC and L.A. Contemporary Dance Company; a YouTube panel discussion with Tony Testa, Vincent Paterson, Jon Chu and Ian Eastwood; and screenings of films that feature artists like Storyboard P, Daniel Cloud Campos, Sergei Polunin, Daniel Ezralow and Pandit Chitresh Das and Jason Samuels Smith. To say the least, it's going to be awesome. (Get the full schedule here.)
This year's festival also marked the inaugural CalArts@Dance Camera West Emerging Artists Competition. Sponsored by Dance Camera West and the dance and film divisions of California Institute of the Arts, the competition welcomed films from high school and college dancers. Four winners were announced earlier this week: Ohio State University's Daniel Diller was named first runner-up for his film Up. Side. Down. exploring skateboarding movements; second runner-up Amber Schmiesing from Elon University presented Concert in D Minor, a film inspired by Mozart's life; and Palo Alto High School student Kristen Carey received special recognition for Inside My Mind, a work that dives deep into the world of Irish dancing. Juilliard dancer Nobel Lakaev took home first place and a cash prize for his film Behind Closed Doors.
The winners' work will be screened June 8 at REDCAT, in Downtown L.A. Can't make it? Watch a few excerpts from Nobel's Behind Closed Doors below. (FYI: The video goes dark for a little over a minute at 1:30...but it picks back up. Enjoy!)
Hey, "SYTYCD" fans: Want to win a trip to see the finale episode LIVE in L.A.? Of course you do! Click here to enter our "SYT" finale sweepstakes.
"SYTYCD" Season 12 auditions hit up the City of Angels last night, and from the looks of it, tWitch's #TeamStreet just got rull stacked. But before we get into our Top 5 moments from the ep., let's take a moment to appreciate contestant Mary Kate Levoir's dance dad. He b'dazzles dance costumes, and we could really just stop at that. But when he hit the audition stage and rocked his dad moves, all I could do was d'awwwwww. Happy early Father's Day, dance dads!
On that note, let's get started on the good stuff. Your Top 5 highlights, America. (Sorry, I thought I was Cat for a second. #goals)
1. Jana "Jaja" Vankova's epic comeback. We fell in love with this adorable, red-headed hip-hopper back at the Season 11 auditions, and last night, she was back and grittier than ever. Seriously, I could watch this girl robot-walk across the stage for five minutes without getting bored—she's that captivating. And when she broke from her more controlled, contained robotics to the explosively passionate krumping, she took my breath away.
2. Breaking brothers Illijaz and Burim Jusufi. I can't say I've ever seen synchronized head spins before. And while they certainly weren't in spot-on unison, it was still pretty darn impressive—especially when they both lifted their legs into a sort of retiré-like position. (Sorry for the #stage speak.) Also, is anyone else curious whether that Magic Mike moment at the end was an appeal to #TeamStreet leader tWitch??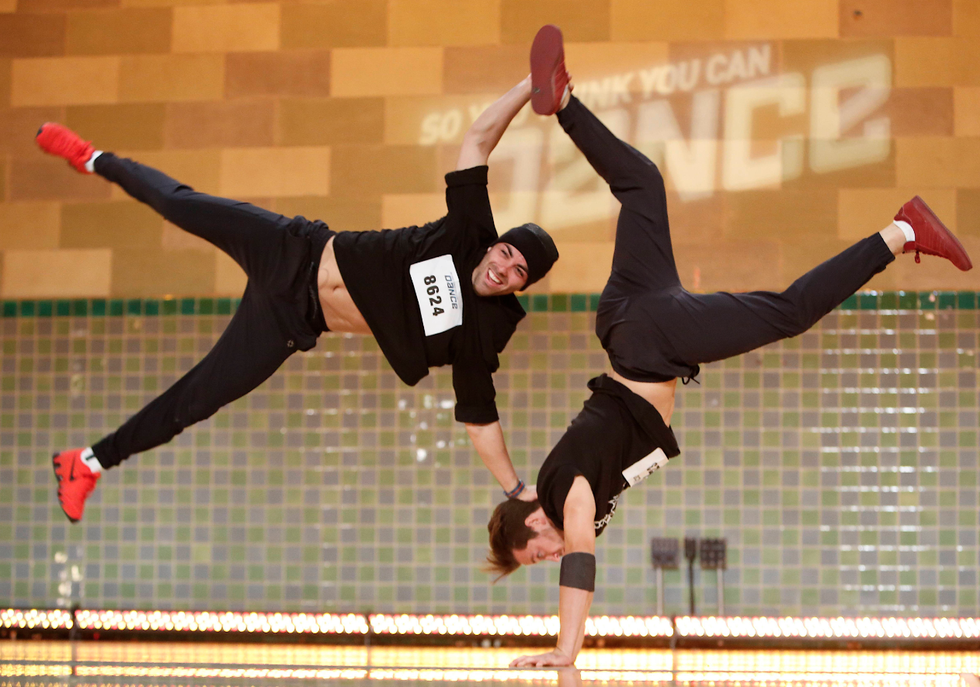 I'm sorry, WUT? (Photo by Adam Rose/FOX)
3. We got a history lesson on krumping. This obviously wasn't the first time we've seen krumping on the show. (Shout out to Season 6 winner Russell Ferguson!) But I really appreciated that "SYT" took the time to explain where, when and how the style developed, especially since it originated in South Central, L.A. Perhaps this ability to dig deeper is a byproduct of the show's new format. If so, I'm the most sold.
And I'd be remiss not to mention representative krumper James "B-Dash" Derrick—who decided to turn his life around and start dancing after seeing Rise, a documentary on krumping. B-Dash's animated krump was incredibly musical, and his sharp, aggressive movement made me feel the beat on an almost guttural level.
4. Jim Nowakowski introduced us to true beauty. Look at this Houston Ballet dancer today, and you'd think, perfect ballet body. (I mean, #legsfordays, amirite?!) You'd also never guess that Jim has gone through 11 facial reconstruction surgeries for his cleft palate. Dance helped him get through years of bullying, because it made him feel beautiful. And dang, is he ever beautiful.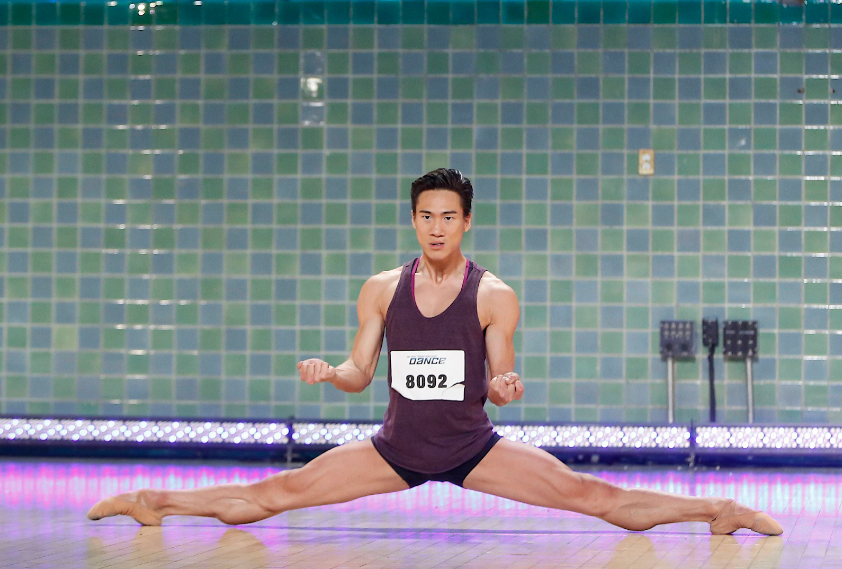 BOOM. (Photo by Adam Rose/FOX)
5. Jacy Jordan redefined bravery. After nearly losing her leg, and her life, in a car accident at age 7, Jacy refused to give up on her dreams. And that's even after doctors told her she'd never walk, let alone dance, again. While I agree with Nigel that her technique isn't quite up to snuff to compete with the show's current level of talent, there was something truly special about her movement. There was an honesty in her port de bras that a lot of more technically solid dancers could learn from. Lucky for Jacy, Paula and Jason were sold—so she's off to Vegas despite Nigel's apprehensions.
And with that, we bid adieu to L.A. auditions. QQ before I sign off: Does anyone else think the judges are going SUPER easy on contestants this season? Las Vegas call backs should be interesting. Let us know your favorite moments and thoughts on the episode in the comments, and check back here next week for a recap of NYC auditions. (Bonus: Get a sneak peek at the DS editors' trip to the NYC auditions.)
Jun. 16, 2015 07:10AM EST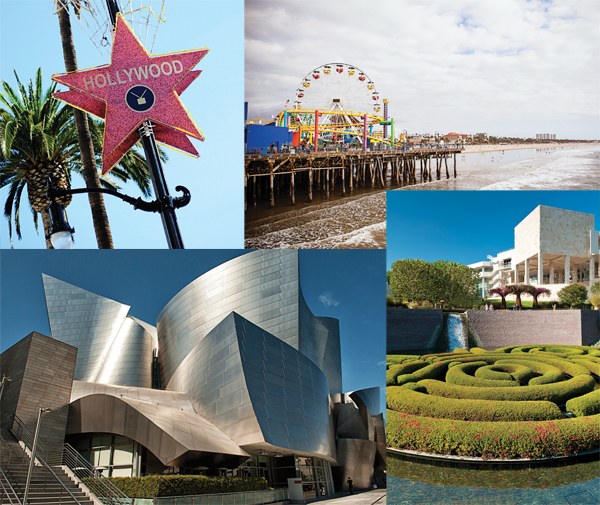 (Clockwise from top left: KPD Photodesign/Thinkstock; Filed Image/Thinkstock; Cameron Whitman/Thinkstock; Rolf 52/Thinkstock)
Whether you're planning a move to Hollywood, new in town or visiting the area for just a week, let the pros be your guide to everything L.A. Dance Spirit asked four top dancers to round up their favorite eateries, studios and things to do in the City of Angels.
—Jenny Dalzell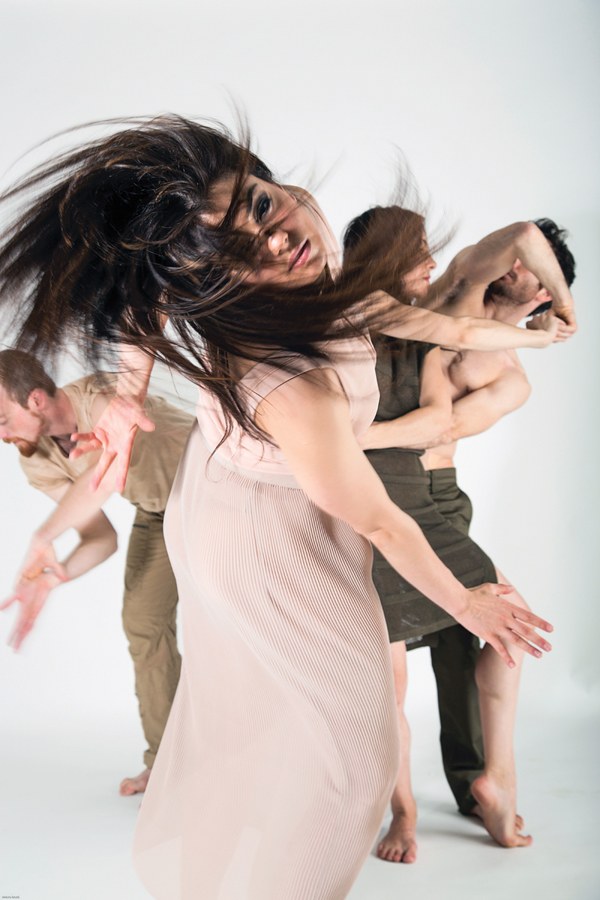 (Tomasz Rossa, courtesy BODYTRAFFIC)
Melissa Bourkas
Company member, BODYTRAFFIC
Bourkas trained at Canada's National Ballet School before getting her BFA from California Institute of the Arts. She's performed in L.A. with BODYTRAFFIC since 2011, and has also worked with Sonya Tayeh and Stacey Tookey.
Her home turf: "I live in an area called Larchmont Village. It's between Koreatown and West Hollywood, and it's full of restaurants and shops—everything you can imagine in four walkable blocks."
Her favorite restaurant: "Sqirl [720 N Virgil Ave] was initially famous for making farm-to-table jams, but the owners recently opened a restaurant in addition to the store. Lucky for me, I discovered Sqirl before it blew up—now, weekend lines can be three blocks long! When I want a special treat, I'll order the brioche toast with jam, or toast with kale, egg and tomatillo sauce—but everything is tasty."
For her green-juice fix: "The most affordable juice spot is Pressed Juicery, and it has a few locations around the city. I go to the one in my neighborhood [201 N Larchmont Blvd] and get the Greens 3 juice."
For cross-training: "I go to Equinox gyms to run, take Pilates and use the TRX system. I used to lift weights, but I found TRX is easier on my body. I also go to YogaWorks [230 N Larchmont Blvd] near my home five days a week."
Best place to see dance: "The University of California–Los Angeles' Royce Hall [340 Royce Dr] is a beautiful space, and it brings in amazing companies."
Best free weekend activity: "I love the Melrose Trading Post [7850 Melrose Ave] on Sundays. It's a massive flea market held in a high school parking lot, and it's a major
event in the city."
Her advice for getting around: "The thing about L.A. is that you really need a car. Auditions can send you running around the city, and it can take hours on public transportation. I'd suggest a car-sharing service like Uber or Lyft, but those rides can really add up, so save them for emergencies."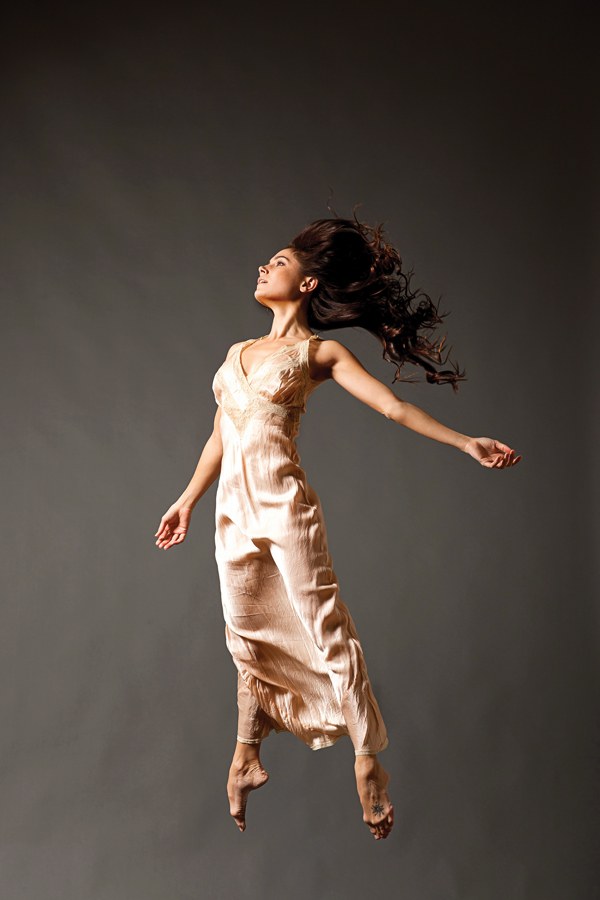 (Photo by Rob Daly, courtesy Jessica Lee Keller)
Jessica Lee Keller
Freelance dancer
After a career in NYC with Cedar Lake Contemporary Ballet, Keller caught the Hollywood bug while dancing in The Adjustment Bureau, and moved to L.A. in 2010. Since then, she's performed with the LXD on "Dancing with the Stars," appeared in Disney's Teen Beach Movie and danced with Stacey Tookey's company, Still Motion.
Her home turf: "I live in Miracle Mile, about 10 minutes from EDGE Performing Arts Center, where I teach. If you're looking for your first place in the city, NoHo (short for North Hollywood) is the best area for dancers. You can walk around easily, and there are a ton of studios."
Her favorite restaurant: "I practically live on salads and smoothies, but I also can't get enough Mexican food. My favorite spot is Mercado [7910 W 3rd St]. It has the best guacamole, and it's always a fun place to go with girlfriends—or my guy!"
When she needs a break from ballet or contemporary dance: "Street dance has opened my eyes to a whole new world of dance possibilities. I recommend trying out a new
technique at Movement Lifestyle [11105 Weddington St] or Millennium Dance Complex [5113 Lankershim Blvd]."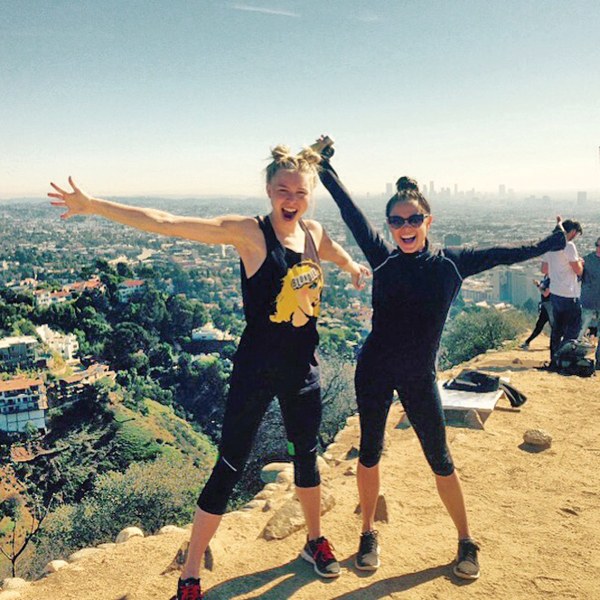 Keller (right) at the top of Runyon Canyon (photo courtesy Keller)
Her go-to to-go food: "I love Orchard Flats, a cold-pressed juicery with several locations around town. I usually get a Groundworks 1, made from beets, carrots, bell peppers, celery and ginger root. But the Orchard Vanilla Latte, made with almond milk, is perfect for when I want something smooth and creamy."
Best place to see dance: "REDCAT in downtown L.A. [631 W 2nd St] is amazing. It's an intimate space, and so many wonderful companies perform there."
Don't leave L.A. without…"hiking Runyon Canyon or walking around Malibu Canyon Park. Getting a workout and being outside at the same time is amazing. And you have to go to the beach. Listening to the ocean can be really rejuvenating."
Her advice for getting around: "If you can avoid it, don't get in a car at 5 pm. L.A. has a subway system, which runs close to a handful of dance studios."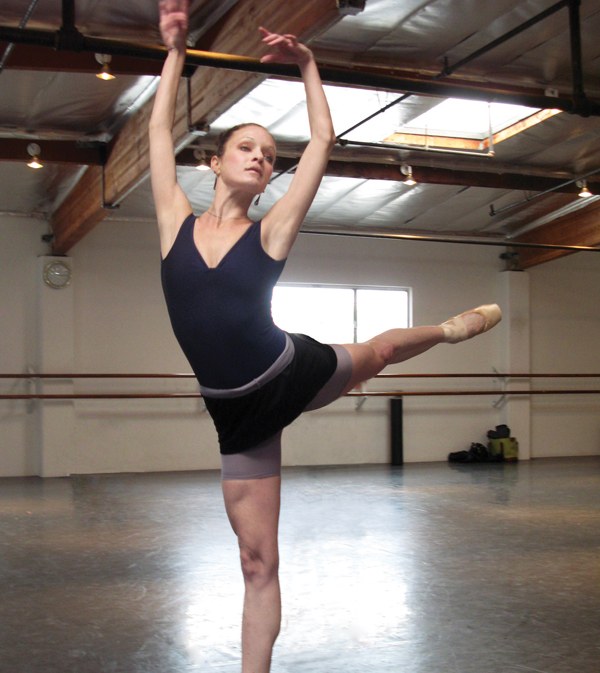 Noelle in the L.A. Ballet studios (photo by Catherine Kanner, courtesy Los Angeles Ballet)
Allynne Noelle
Principal, Los Angeles Ballet
A SoCal girl through and through, Noelle grew up in Huntington Beach, CA, and trained at Huntington Academy of Dance. She performed with Ballet Pacifica, Inland Pacific Ballet, Miami City Ballet and National Ballet of Canada before joining L.A. Ballet in 2011.
Her home turf: "I live in Hermosa Beach, just south of L.A. It's a few blocks away from the shore with gorgeous views. The laid-back vibe makes going home a nice escape from L.A. proper at the end of a long workday."
Her favorite restaurant: "RED O [8155 Melrose Ave] is a high-end Mexican restaurant, and they have a big raw-bar menu. Oysters and ceviche are my favorites, so this place is winning."
Best spot for open class: "My favorite teacher in L.A. is Reid Olson,
who teaches at Dance Arts Academy [731 S La Brea Ave] in the Mid-Wilshire area. His class energy is perfect for me—lots of dance-y combos with a musical focus. You can really kick your own butt in class, especially if you're gearing up for a hard performance."
Best place to relax: "I love a good pier. A walk along the Strand—a path by the ocean—out to the Manhattan Beach pier [Manhattan Beach Blvd] is my favorite way to decompress."
When she needs a little retail therapy: "My favorite store is called Tokyo Lifestyle [10800 W Pico Blvd] in the Westside Pavilion. It's one of those kitschy Japanese stores that sells miniature everything. I bought a $3 massager there that I use every day. My partner Alex made fun of me when I first got it, because it looks like something Barbie would use. So, naturally, I bought him one, too!"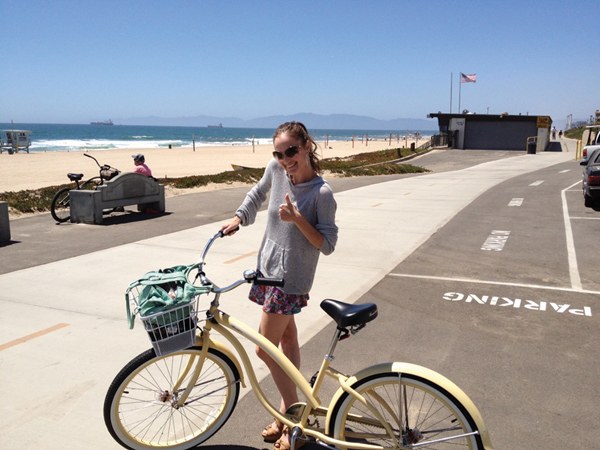 Noelle biking on the Strand (courtesy Allynne Noelle)
L.A.'s best-kept secret: "Everyone thinks 'beach' when they hear L.A., but there are actually a ton of great hiking trails. I like the trails and parks in Malibu the best. The Backbone Trail is close to 70 miles long, and it runs through the Santa Monica Mountains—the views are outstanding."
Don't leave L.A. without…"visiting the Getty Center [1200 Getty Center Dr]. It's an iconic location with gorgeous views, and there are always great exhibits. The outside grounds are perfect for picnics, and the center has live music on the weekends. Best of all, it's free! (Except for the parking.)"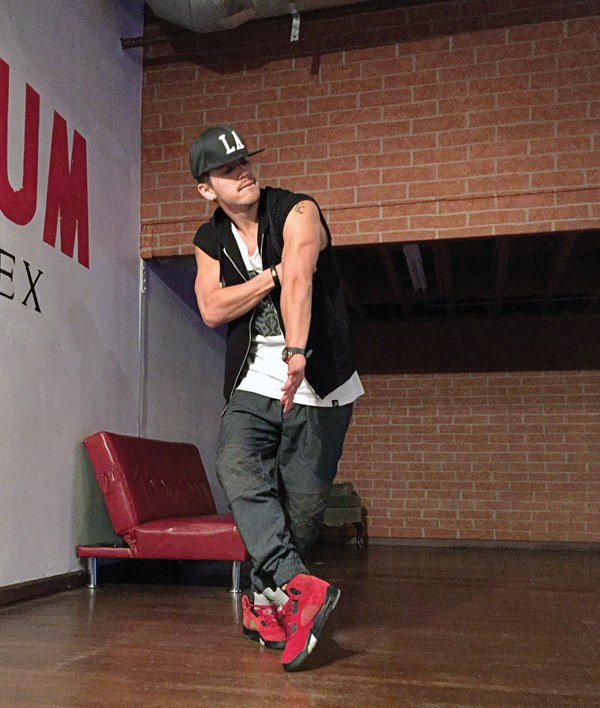 Bryan Tanaka at Millennium Dance Complex (photo courtesy Bryan Tanaka)
Bryan Tanaka
Freelance dancer
Since moving to L.A. in 2003, Tanaka has danced for Rihanna, Usher, Madonna and Mariah Carey, among others. His choreography for Beyoncé's "Video Phone" was nominated for an MTV Video Music Award.
His home turf: "After living in the heart of North Hollywood for a few years, I decided to move to Burbank, because I wanted a house and a yard. It's still close to the major dance studios, plus I have access to the 170 Hollywood Freeway, which makes it easy to get to Hollywood for auditions and gigs."
His favorite restaurant: "I love this Brazilian restaurant called Bossa Nova. Its three locations [7181 Sunset Blvd; 685 N Robertson Blvd; 10982 W Pico Blvd] serve amazing food until about 3 am, so it's a great place to grab a bite after a late performance. I always order the traditional chicken with plantains."
Favorite open class: "These days, I take a lot of classes at Millennium Dance Complex [5113 Lankershim Blvd]. And Tovaris Wilson's jazz funk class at EDGE Performing Arts Center [6300 Romaine St] is one of my go-to classes. It's challenging for me, a hip-hop dancer, because Tovaris incorporates technical elements into his warm-up and routines."
For cross-training: "I just started taking yoga at CorePower [3575 Cahuenga Blvd W, no. 222] in Studio City. Flexibility is a weakness of mine, and a CorePower class includes lots of stretching and meditation. A lot of dancers also get together and play volleyball at a park in Tujunga—another of L.A.'s many neighborhoods."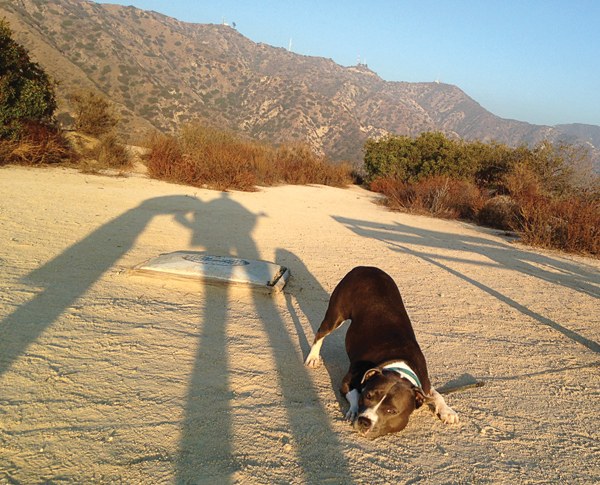 Tanaka's dog Mila loves L.A., too (photo courtesy Jaime Goodwin)
Best place for dancer spotting: "If you walk anywhere on Lankershim Blvd between Magnolia and Burbank boulevards in North Hollywood, you'll see a ton of dancers, since that's a major area for dance studios. Republic of Pie [11118 Magnolia Blvd] is a new spot in NoHo that's also really popular among dancers. It's got a great café vibe—you can get work done or have creative meetings."
Best-kept secret in L.A.: "Griffith Park [4730 Crystal Springs Dr] has amazing views of the city, but my favorite park is the Laurel Canyon Dog Park [8260 Mulholland Dr]. It's a secret gem."
You already know the many reasons dance teams rock. And being on a professional basketball dance team is even better: Not only can it potentially lead to big things (like, Paula Abdul big), you also get to perform in jam-packed stadiums at major events around the world. Like seasoned members of the Knicks City Dancers have told us, it's a seriously sweet part-time gig.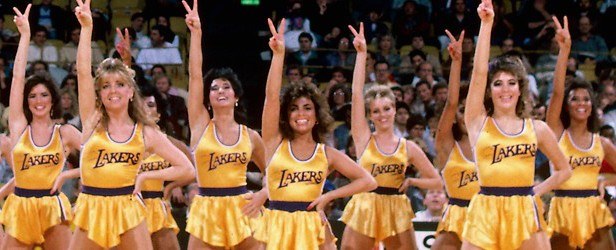 Paula Abdul, front and center. The 80s were awesome.
(photo via ultimatecheerleaders.com)
If you're over 16 and this sounds like your kind of thing (um, yes please!), get yourself to L.A. this weekend for the Laker Girls workshop. Laker Girls director Lisa Estrada and dance convention/competition Hollywood Connection are hosting an all-day clinic for dance-team hopefuls at California State University Long Beach on Saturday, June 14th. Participants will learn team choreography, experience mock auditions and meet, ask questions and hear feedback from Estrada herself.
The registration fees are a little steep ($110 if you register by Thursday, $120 at the door), but it does seem like a fantastic networking opportunity before the Laker Girls hold auditions in July.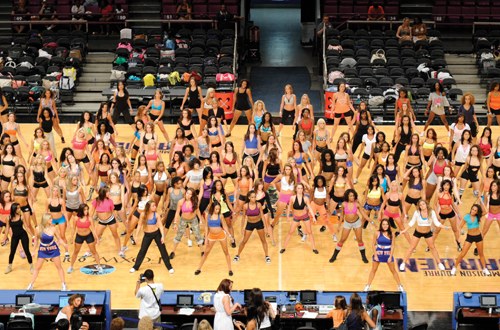 Hopefuls audition for the Knicks City Dancers—this year KCD auditions are June 21!
(photo courtesy Madison Square Garden)
Can't make it to L.A.? There may be a clinic for your city's dance team coming up verrry soon since audition season is now in full swing. The Brooklynettes in Brooklyn, NY, for instance, are hosting their second audition intensive on June 23rd before their auditions June 28th. And the Knicks City Dancers are holding four audition clinics (June 11th—that's tonight—and the 12th, 18th and 19th) before their audition June 21st.  Check out your city's team (or the city of your dream team's) website for info.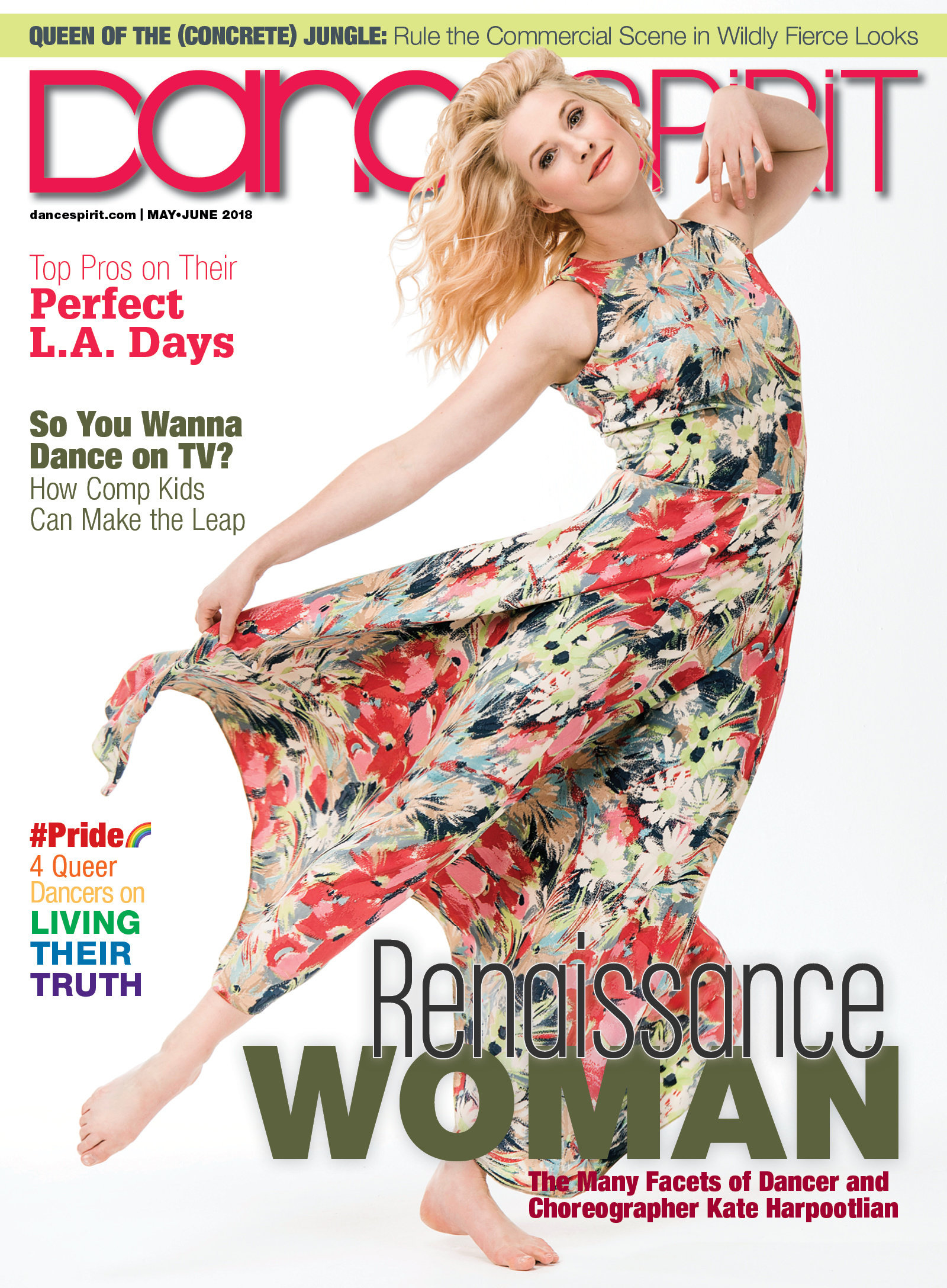 Get Dance Spirit in your inbox