Last night, basically the entire dance world got gussied up and headed to NYC's Ailey Citigroup Theater for the 60th (!) Dance Magazine Awards. How did the DMAs celebrate the big 6-0? By honoring no fewer than SIX incredible artists: Brenda Bufalino, Tony Waag, Larissa Saveliev, Wayne McGregor, Luigi and Misty Copeland. Here are the top highlights from a night that was basically all highlights.
1. We got to see three of the six awardees perform. Tap icons Bufalino and Waag did a little soft-shoeing (and, in Waag's case, singing!) alongside dancers Felipe Galganni and Lynn Schwab in an excerpt from All Blues/Tacit/Latin, a piece originally made for the American Tap Dance Orchestra. And the one and only Copeland took our breath away in Toccare, a ridiculously sexy ballet choreographed by fellow American Ballet Theatre dancer Marcelo Gomes. Odds are, even if you haven't seen the piece live, you know it through incredible photos like this one: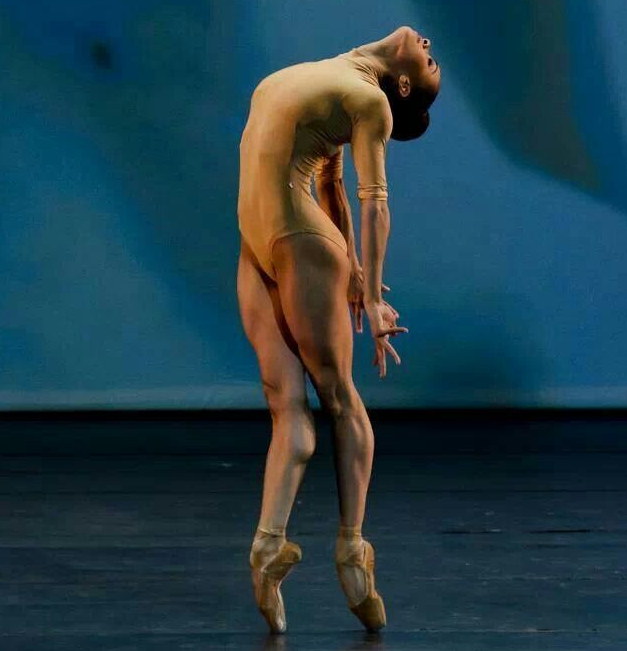 Holy legs, Misty. (photo by Liza Voll)
2. There was a world premiere. Gomes was basically an honorary awardee last night. We saw not only his Toccare, but also a brand-new Gomes ballet, La Mort d'Ophélie, starring ABTers Sarah Lane and Sterling Baca. Made in tribute to Saveliev, it was gently, dreamily melancholy.
3. We were reminded, yet again, of why we're obsessed with Wayne McGregor. Alvin Ailey American Dance Theater's Akua Noni Parker and Jeroboam Bozeman blazed through an excerpt from McGregor's electric Chroma. (You can watch The Royal Ballet perform the same excerpt here—and believe me, you should.) There really is nothing like his wiggly, wacky, wild choreography. Though McGregor couldn't be there in person to accept his award, his beamed-in acceptance speech—an eloquent tribute to all of his collaborators, and a call for support of young artists—showed off the powerful mind behind the magic.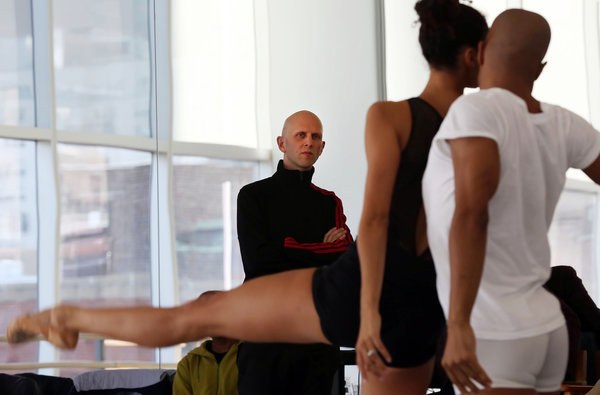 McGregor rehearsing Chroma at Ailey (photo Andrea Mohin/New York Times)
4. The whole audience did Luigi's classic warmup. The man himself is recovering from surgery and was unable to make the ceremony, sadly. But protégé Francis Roach, accepting on Luigi's behalf, got the dancer-filled crowd on their feet to do the first few familiar steps of the Luigi warmup—the perfect tribute to the jazz legend.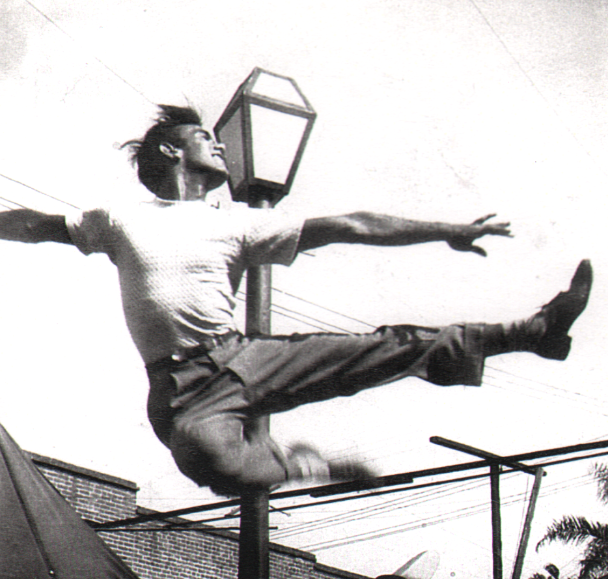 Luigi in his prime, behind the Falcon Studios in Hollywood (photo by Edith Jane)
5. Raven Wilkinson made everyone cry. The wonderful Wilkinson, who presented Copeland's award, was the only African-American dancer to perform with the Ballets Russes, and has become a mentor to Copeland. She quoted Eleanor Roosevelt—"The future belongs to those who believe in the beauty of their dreams"—and praised not only the beauty of Copeland's exquisite dancing, but also the beauty of her dream of a colorblind ballet world.
The Tony Awards (airing this Sunday night!) recognize a lot of Broadway talent: actors, directors, sound designers, lighting designers, writers, composers, and our favorites, choreographers. But we all know that the true muscle behind every amazing musical is the dancers. And they rarely get Tony nominations. (Unless they happen to be the fabulous Karine Plantadit, who earned a best featured actress nomination in 2010 for her dance-heavy role in Come Fly Away.)
Enter the Fred & Adele Astaire Awards. Each June, the Astaire Awards recognize Broadway's best of the best—in jazz, tap, or character shoes. The 2014 ceremony was held last night in NYC, and the star-studded event didn't disappoint. Here are the best moments from the oh-so-dancey evening: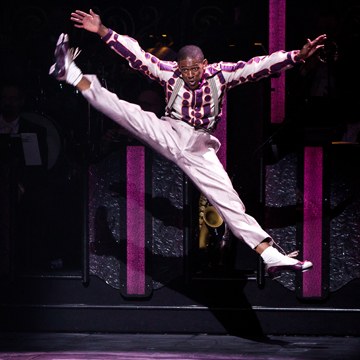 Jared Grimes in After Midnight (photo by Matthew Murphy)
1. Jared Grimes' performance. Grimes currently stars in After Midnight. He opened the show with a display of his signature lightning-fast tapping and hip-hop swag fusion that later earned him the Astaire Award for best male dancer. (After Midnight was the big winner of the entire evening: Plantadit and Dormeshia Sumbry-Edwards tied for best female dancer, and lanky Englishman Warren Carlyle won the award for best choreography. Seriously, go see this show!)
2. Angel Inniss' stellar layouts in her jazzy solo "Mr. Paganini." Man, can this senior dancer from Spotlight Studio of Dance in Maryland work a stage! Angel took home the New York City Dance Alliance Foundation's Adele Astaire College Scholarship. Congrats, Angel!
3. The presentation of the Outstanding Contribution to Dance Education Award to Luigi, the father of jazz dance (and the father of "5,6,7,8"!), and presentation of the Douglas Watt Lifetime Achievement Award to Patricia Birch. You know Patricia Birch for this choreography: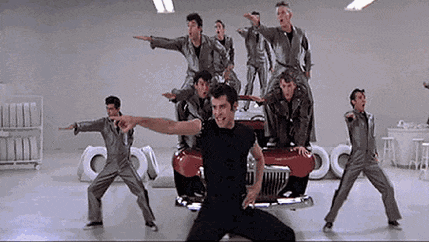 Greased Lightning! John Travolta and company in Grease
And this choreography:
Steve Martin and Gilda Radner cut a rug in "Dancing in the Dark" on "Saturday Night Live"
Of course, these are just two small snippets of this choreographer's CV, and Patricia Birch hasn't stopped moving (to quote Luigi) or choreographing. Her work can currently be seen on HBO's "Boardwalk Empire." Which brings us to top moment 4:
4. Legendary actor (and star of "Boardwalk Empire") Steve Buscemi making a surprise appearance to pay tribute to Patricia Birch for her work on the show. Best of all? We got to see a stage rendition of one of the acts from "Boardwalk." Take a look at the number in this clip from the show, and see if you can find our gal Chloe Arnold. Spoiler alert: Jared Grimes also performs!
5. Nancy Chippendale's Dance Studio tappers big finale. These teen dancers—there were more than 45 onstage!—from North Andover, MA, sure know how to stay in formation, while flapping and tapping in perfect unison. Their number "Glam" was the perfect finish to a truly glamorous event.
Let's hope Sunday's Tony Awards (8 pm on CBS) includes at least half this much dancing!
Oct. 08, 2013 12:18PM EST
The New York Dance and Performance Awards (or, as dance peeps affectionately know them, The Bessies) are a pretty big deal: They're basically the dance world's Oscars, honoring artists from all different styles of dance.
Last night, the Bessie winners for the 2012-2013 season were announced at a glittery ceremony at the Apollo Theater—and the list includes some very impressive names.
Jazz legend Louis "Luigi" Faccuito was presented with the Lifetime Achievement award.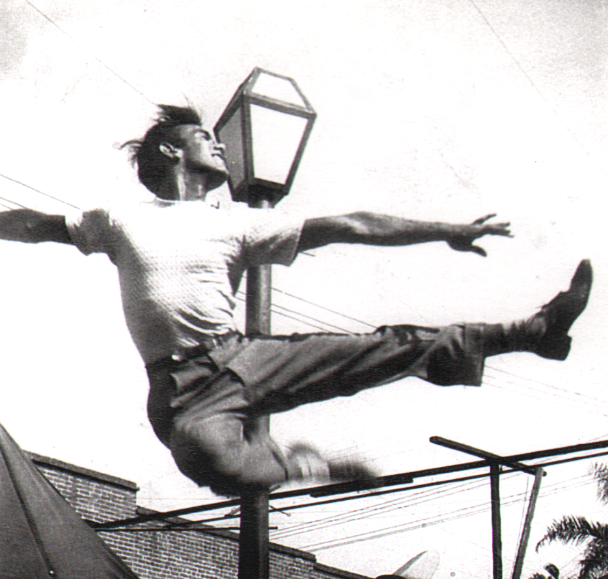 Luigi behind the Falcon Studios in Hollywood. Photo by Edith Jane.
Bill T. Jones' brilliant, joyous D-Man in the Waters won for Outstanding Revival.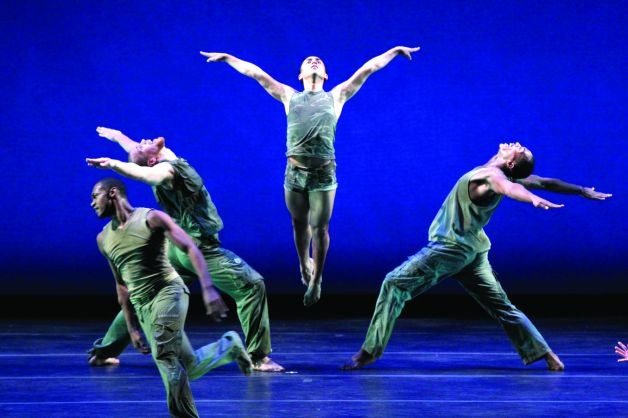 Bill T. Jones/Arnie Zane Dance Company in "D-Man in the Waters." Photo by Paul B. Goode.
American Ballet Theatre virtuoso Herman Cornejo won for Outstanding Performance for his work in pieces by Alexei Ratmansky, Mark Morris and Twyla Tharp.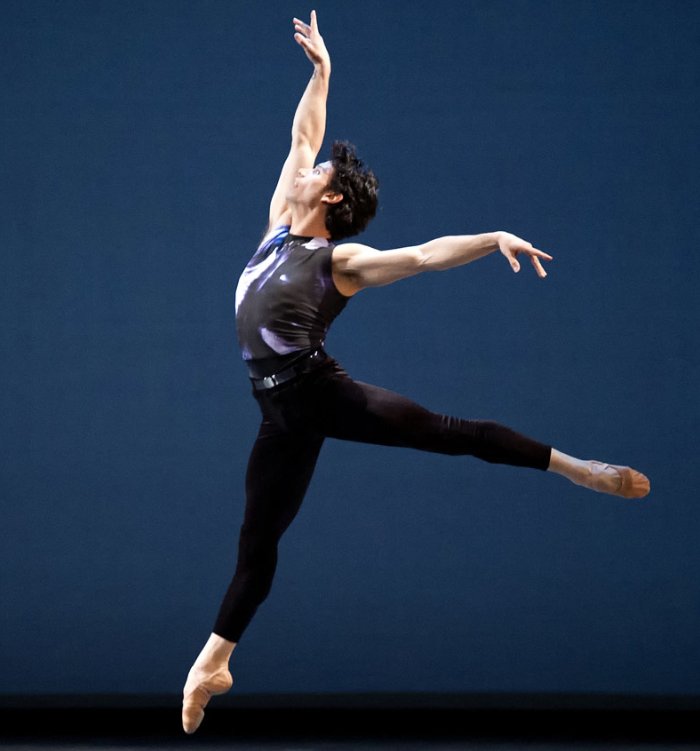 Herman Cornejo in Alexei Ratmansky's "Symphony #9."
Photo by Gene Schiavone.
The amazing Charles Riley, aka Lil Buck, and fellow jookin' sensation Ron "Prime Tyme" Myles also won for Outstanding Performance, for their show at Le Poisson Rouge.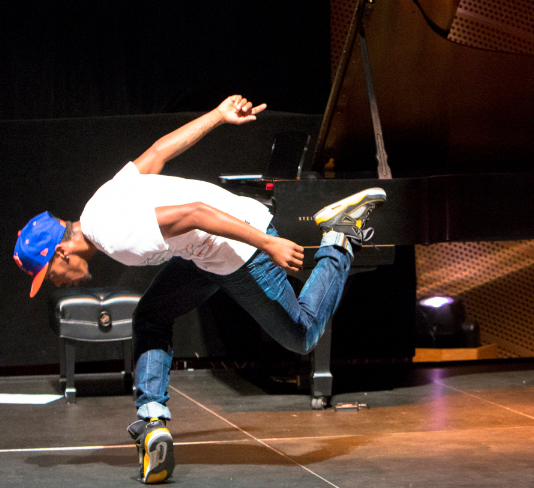 Lil Buck at Le Poisson Rouge. Photo by Alex Pitt.
Congrats to all the Bessie winners! Here's the complete list:
Outstanding Production: Michael Keegan-Dolan's Rian for Fabulous Beast Dance Theatre at Lincoln Center's White Lights Festival
Outstanding Production: Joanna Haigood's Paseo at Dancing in the Streets & Casita Maria Center for Arts
Outstanding Production: Zach Morris, Tom Pearson and Jennine Willett's Then She Fell for Third Rail Projects at Arts@Rennaissance and Kingsland Ward at St. Johns
Outstanding Production: Liz Santoro's Watch It at Museum of Arts and Design
Outstanding Revival: Bill T. Jones' D-Man in the Waters for the Bill T. Jones/Arnie Zane Dance Company at the Joyce Theater
Outstanding Performance: Sebastien Ramirez and Honji Wang in their duet AP15 at the Breakin' Convention at the Apollo Theater
Outstanding Performance: Charles "Lil Buck" Riley and Ron "Prime Tyme" Myles at Poisson Rouge
Outstanding Performance: Jaro Vinarsky in Pavel Palissimo's Bastard at La MaMa Moves! Dance Festival
Outstanding Performance: Herman Cornejo of American Ballet Theater
Oustanding Performance: Shantala Shivalingappa for her Shiva Ganga
Outstanding Sound Design: Ant Hampton and Tim Etchells for The Quiet Volume at Performance Space 122 and PEN World Voices Festival
Outstanding Visual Design: Fleur Elise Noble for her 2 Dimensional Life of Her at Under the Radar Festival at the Public Theater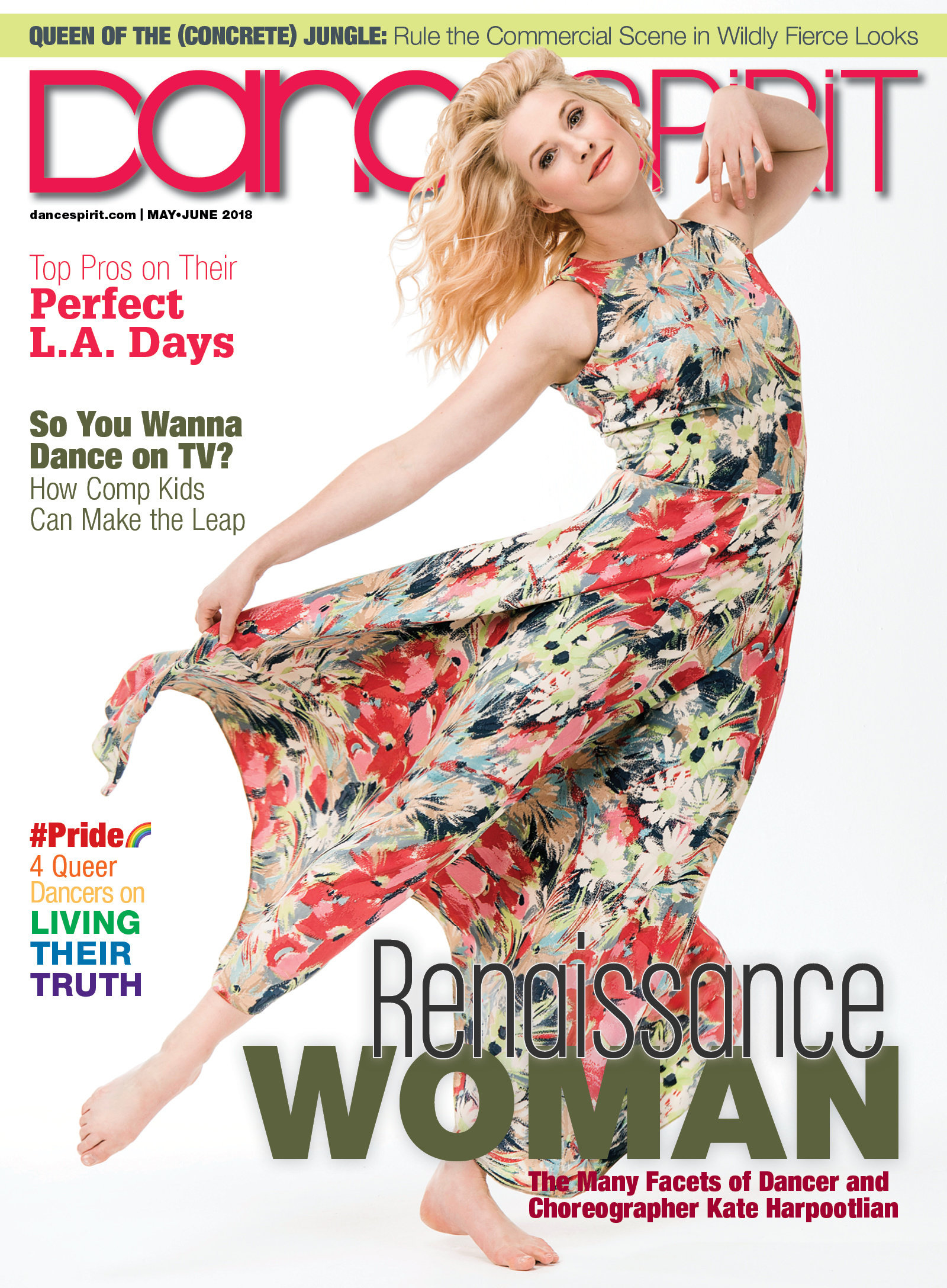 Get Dance Spirit in your inbox