Fall means many things: stepping on really crunchy leaves (so satisfying, right?), piling on legwarmers and cozy warm-ups (check out our favorites in the October issue of DS!) and the return of the beloved pumpkin spice latte at Starbucks.
But this picture-perfect season—my personal favorite, if only for the McIntosh apples—also means the return of one very special annual event: New York City Dance Alliance Foundation's Bright Lights, Shining Stars.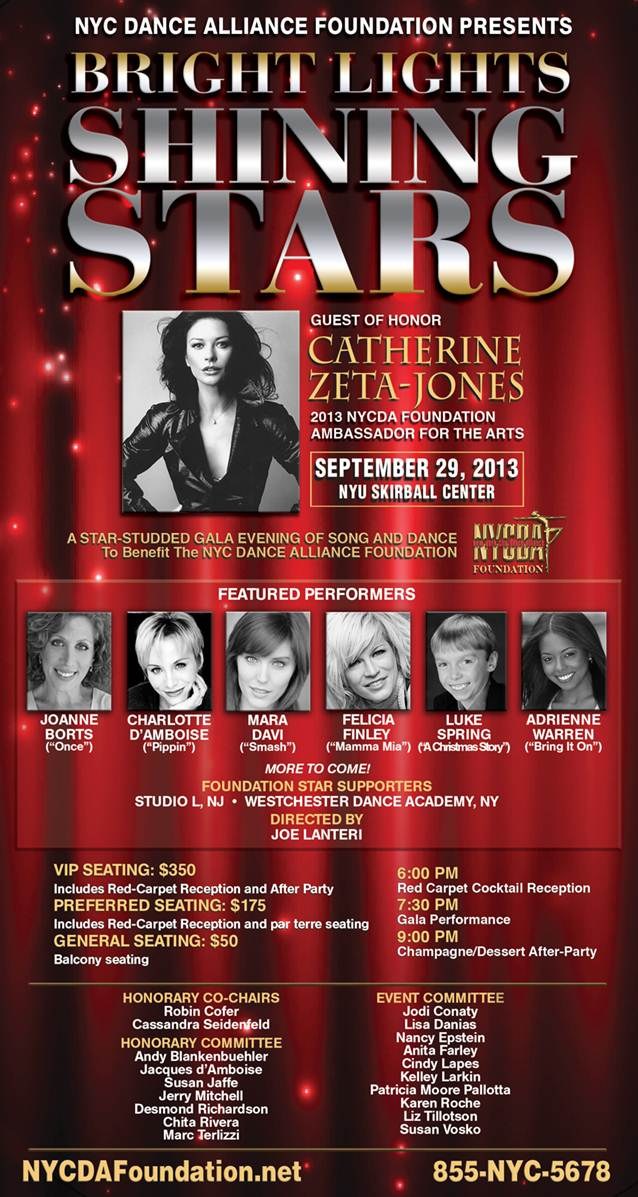 This year, the foundation is honoring mega-star Catherine Zeta-Jones, a longtime supporter of the arts and, of course, a performer herself! (Was she not to-die-for as Velma in the film version of Chicago?)
Not only will CZJ be there—surely wearing something spectacular—but there will also be performances by Charlotte D'Amboise, tiny tapper Luke Spring and Bring It On: The Musical's Adrienne Warren (loooove her).
The show will be held Sunday, September 29, at NYU's Skirball Center in NYC beginning at 7:30 pm. (But get there early for the red carpet entrances!)
Click here to get 25% off select seats.
See you there!
...and all that jazz.
Oh my goodness, you guys: What a crazy, jam-packed, INCREDIBLE week it's been here in NYC! New York City Dance Alliance finished up its Nationals last night with an epic closing gala, capping off nine days of workshop classes and competition. And talk about talent! I'm still kind of overwhelmed by all of the amazing dancers—many of them familiar faces. Here are some of my top moments from NYCDA Nationals.
-First of all, you guys already know that the NYCDA faculty lineup is fantastic. Tony Testa? Melissa Hough? Chloe Arnold? Taja Riley? Andy Blankenbuehler? Dana Wilson? Joey Dowling? Cindy Salgado? Insanity—and those are just the people who were sitting directly in front of me at the gala last night. I loved seeing them cheer on each and every one of the competitors. I especially liked watching ballerina Hough as she relished the ballet dancers—like last year's National Mini Female Outstanding Dancer, Jasmine Cruz—and I had fun looking on as hoofer Arnold got way into some of the tap performances. (Also: Everyone on faculty is ridiculously stylish. Goodness, do I wish I could pull off a crop top like Arnold, or a trumpet ballgown like Dowling.)
-As for the dancers: There were so, so many standouts! I'm having a hard time narrowing down my list. But I especially loved the ones who thought just as much about what they were conveying as how they were conveying it—who gave equal weight to artistry and technique. Mini Female OD finalist Tate McRae paired gorgeous ballet training with a powerful, emotive onstage presence. Teen Female OD winner (congrats!) Jacalyn Tatro wowed with both her incisive legwork and her smoldering, sultry demeanor—she dared you to look away. Two of our Cover Model Search finalists, Christina Ricucci and Sarah Pippin, gave super-strong performances in the Teen Female OD and Senior Female OD categories, respectively (both made the top four!). And tiny tapper Luke Spring showed off not just incredibly fleet feet, but also irresistible charisma in his solo to Michael Jackson's "Dangerous." He earned the National Male Mini OD title—and a comparison, by director Joe Lanteri, to one Mr. Corey Snide, who won his own Mini OD title 10 years ago doing a tap routine to Jackson's "Bad." It was almost too perfect.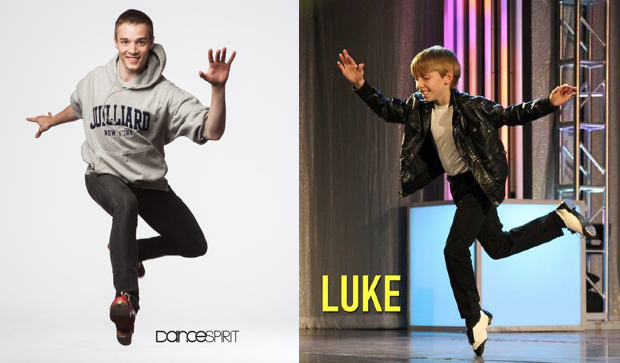 Twinning! (Left) 2004 National Mini Male OD Corey Snide, now a student at The Juilliard School, and (right) National Mini Male OD Luke Spring (left photo by Erin Baiano; right via NYCDA)
-As for the group routines: I love me some drama, but I have to say that my favorite numbers were the upbeat, hard-hitting ones, rather than the angstiest of the angsty. I was totally blown away by the take-no-prisoners ferocity (and the impressive unison) of the Westlake School for the Performing Arts dancers in their Teen group piece, "Royals."
-Let's talk about the college scholarships awarded at NYCDA this week, shall we? I was lucky enough to be part of the college scholarship audition process, so I can say from firsthand experience that the pool of college hopefuls impressed not just with their technique, but also with their eagerness and professionalism. Between NYCDA's college partners—which included the likes of Marymount Manhattan College, Point Park University and PACE University—and the NYC Dance Alliance Foundation, more than $4 million in scholarships were given to more than 50 deserving dancers. $4 million! That's a new record for NYCDA, and kind of a mind-boggling number.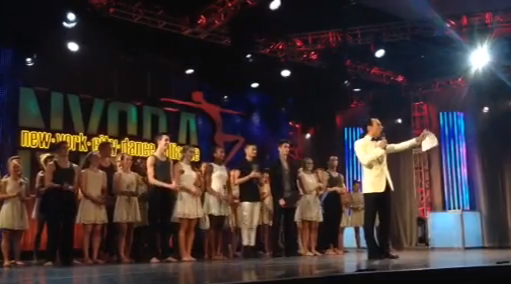 Lanteri onstage with all the scholarship winners (photo via NYCDA)
-Last but not least: NYCDA turned 20 this year! Naturally, they put together an adorable birthday video for the junior gala. But what really touched me was the number of NYCDA alums and former faculty who came out to celebrate the milestone. As Lanteri said last night, NYCDA is a real family—and once you're in, you're a member for life.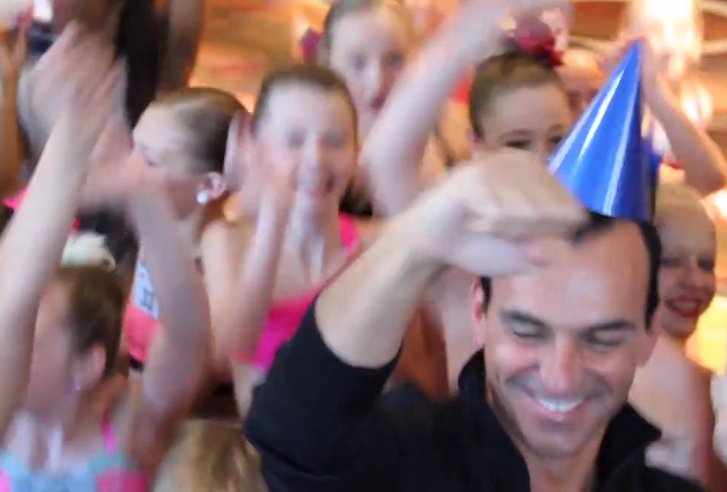 Few things make me as happy as Joe Lanteri in a party hat.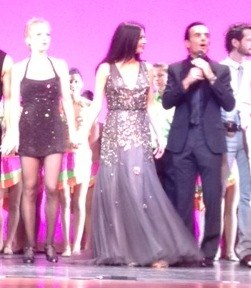 (L to R) Broadway performer Charlotte D'Amboise, 2013 Ambassador For The Arts Catherine Zeta-Jones and NYCDA Founder/Executive Director Joe Lanteri
At Dance Spirit, we love comp kids, we love college dancers, we love Broadway performers, and we especially love when all of these people come together for one exciting performance. That's exactly what happened last night at New York City Dance Alliance Foundation's gala event, "Bright Lights Shining Stars." This year's performance celebrated 2013 Ambassador For The Arts Award winner Catherine Zeta-Jones, who was looking radiant in head-to-toe sequins. But the real stars of the night were the dancers, who came from far and wide to pay tribute to CZJ.
The opening number featured one of our September 2013 cover girls, Marymount Manhattan dancer Zoey Anderson, who took the stage opposite our July/August cover guy Jakob Karr. What a great match! And later, I was so proud to spot 2012 Cover Model Search finalist Alyssa Ness and CMS winner Megan Skalla looking stunning on stage, both of whom have won generous college scholarships from NYCDA this year.
Then came the Broadway tributes, each one representing a chapter from CZJ's career. There was "Go Into Your Dance" from 42nd Street with Mara Davi of "Smash," "Hit Me With Your Best Shot" from Rock of Ages featuring Mamma Mia's Felicia Finley, and "All That Jazz" from Chicago starring Charlotte D'Amboise of Pippin.
One of the best moments of the night featured another Broadway star, tiny tapper Luke Spring, who comes back to the Great White Way this December in A Christmas Story.  The 10-year-old cutie stole the show with an improvised tap solo. The crowd went absolutely wild and gave him a standing ovation.
This year, the Foundation has already awarded $3.4 million towards talented teens' college educations—including a $10,000 scholarship sponsored by our sister magazine Dance Magazine (that went to stunning dancer Sasha Alvarez).  And last night, NYCDA handed out even more college scholarships, ranging from $5,000 to $10,000. I have to admit, I got a little choked up seeing the excitement on these dancers' faces.
All in all, it was a fabulous night to celebrate the past accomplishments of one dancer-turned-celebrity—and the futures of a whole bunch of talented kids.
If you watched the Tonys last night (you missed it? Read our recap!), there's a good chance you were totally surprised by the amazingness that is A Christmas Story, which was nominated for Best Musical.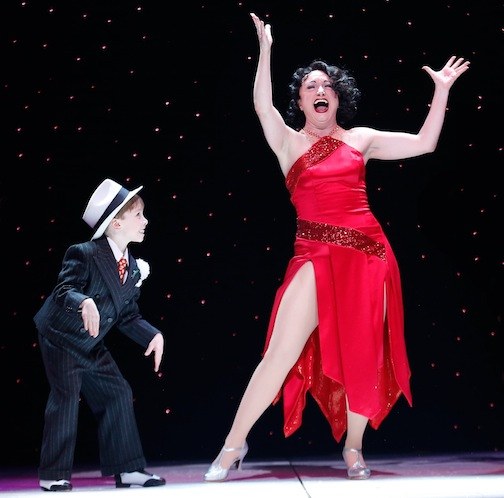 Tiny tapping sensation Luke Spring and Caroline O'Connor (photo by Carol Rosegg)
I love Broadway musicals and pride myself on having seen all the danciest shows on the Great White Way. But with the hustle and bustle of the holiday season, I missed A Christmas Story last year. After last night's performance (did you catch tiny, insanely-talented tapper Luke Spring rockin' it?), I'm dying to see the show.
The good news? It was announced today that the show will be returning to the Theater at Madison Square Garden for another limited holiday run, December 11-December 29. And tickets are on sale now!
In the meantime, watch the cast of A Christmas Story light up the Radio City stage at last night's Tonys! (Just wait for 2:56. Luke will knock your socks off!)
Jun. 10, 2013 11:59AM EST
Did you catch the Kinky Boots Awards last night? Uh, I mean the Tony Awards?
Yes, it seemed like Cyndi Lauper's high-spirited, be-spangled musical took home just about every prize there was, including Best Musical. But at the risk of sounding totally cheesy, I'd say we, the audience, were the real winners last night—because hey, it was a darn great show! Here are the evening's many high and few low points.
THE HIGHS
-Neil Patrick Harris. Can NPH host everything, ever? He was particularly awesome in the...
-...kick-butt opening number (written by Lin-Manuel Miranda and Tom Kitt). After getting shoehorned into the smaller Beacon Theater for a couple of years, the Tonys were back in Radio City Music Hall this time around—and boy, did they ever "go bigger." GO NEIL GO!
-By the way, did you catch Mike Tyson in there? Apparently he had a one-man show this year, which meant we got to see him do "choreography" and try to bite off NPH's ear. It was pretty spectacular.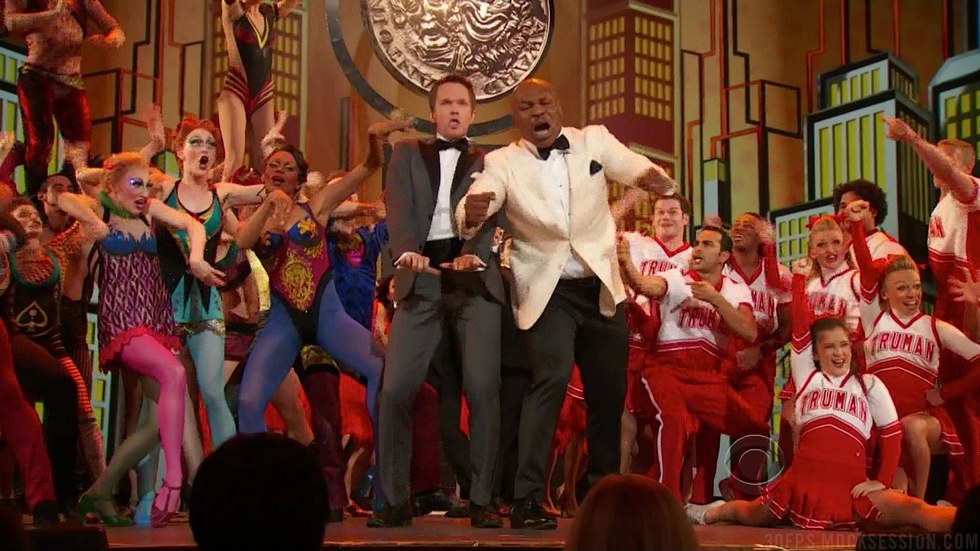 Dance, Mike, dance!
-The Matilda performance. Super-clean choreography and fabulously clever lyrics performed by some of the most talented little kids ever? Plus scooters? And Ryan Steele? It doesn't get better than that.
-Actually, here's a shout-out to all the incredible kids who performed last night. From the Annie's orphans to A Christmas Story's hooligans (Luke Spring!), they showed a level of professionalism most Broadway grown-ups never achieve. And they were cuter to boot. As NPH put it, "They're the reason this whole season seems to look like Chuck E. Cheese's."
-The mid-show musical tribute to Broadway actors and their canceled TV shows, starring Andrew Rannells, Megan Hilty, Laura Benanti and brilliantly rejiggered versions of classic songs. Just watch it again (and suck it, Will Chase!):
-Cyndi Lauper's acceptance speech, because she seemed so genuinely thrilled by the awesomeness of it all. She also happens to be the first woman to win the Best Score Tony solo, which is pretty cool. (Honorable mention goes to presenter Jesse Tyler Ferguson for screaming "Girl, you're gonna have fun tonight!" upon opening the envelope. And to Lauper's hair, last night and always.)
-Audra McDonald dropping the mic. (After helping NPH nail Lin-Manuel Miranda's awesome show-roundup rap, that is.) BOOM. What a boss.
THE LOWS
-The introductions by other Broadway characters. Fine, the Newsies boys were adorable. But the pairings of old shows with new seemed totally rando (the Rock of Ages guys introducing...Cinderella??), making the gimmick disorienting more than anything else.
-Mike Tyson's reactions to the Tyson zingers NPH sprinkled throughout the show. Mike was not amused, Neil. And he's probably not the kind of guy you want on your bad side. Just sayin'.
-Patti LuPone's dress. No. I love you, but no.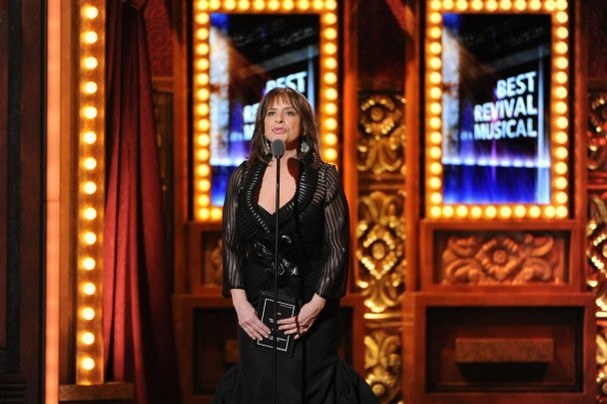 I'm sorry I couldn't find a full-length pic, because the bottom only gets crazier. (photo Evan Agostini/Invision/AP)
-Matilda not winning, like, anything. What? I mean, WHAT? OK, yes, it got Best Book and Best Featured Actor and a couple of those smaller ones they do during the commercials, but it was up for 12 nominations. Four out of 12? Did you see that performance earlier, voters??
By the way: Last week, we asked you who you thought would win the award for Best Choreography. While the actual Tony went to Jerry Mitchell for Kinky Boots, you guys were bigger fans of Andy Blankenbuehler's high-flying Bring It On choreo. Here are your results:
Andy Blankenbuehler for Bring It On: The Musical: 50.49%
Peter Darling for Matilda The Musical: 24.27%
Chet Walker for Pippin: 18.45
Jerry Mitchell for Kinky Boots: 7%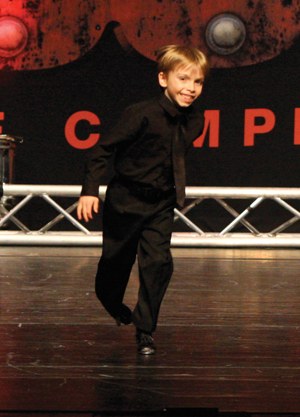 The first thing you'll notice when you see 9-year-old Luke Spring is that the pint-sized tap dancer loves to smile. He grins from ear to ear in a way that's completely infectious. In fact, Luke says if he were a superhero, he'd want his superpower to be "making people laugh."
The second reason you won't be able to take your eyes off Luke: He's a really, really good dancer, and not just for his age, but for any age. Last May, Luke opened the show at the Fred and Adele Astaire Awards in NYC, and his furiously fast tapping brought the crowd to its feet. The solo he performed? An all-improv, a capella number. "I was nervous," Luke says of the Astaire Awards. "There were a lot of people in the audience. But I just went out and made it all up. I was proud of myself, and I was excited people stood up for me."
It's no surprise Luke's got rhythm­—he comes from a dance family. Luke has two sisters: One is a dance major at George Mason University and the other performs with the professional contemporary company marInspired. It wasn't just his siblings who inspired a 4-year-old Luke to put on a pair of Capezios, though. "When I watched the movie Happy Feet, I thought it was really cool," he says. "So after I saw it, I found some tap shoes in the lost and found at the studio and started tapping. I didn't know I would be good at it."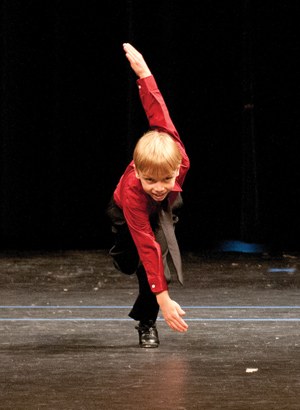 Luke started taking tap classes at Studio Bleu Dance Center in Ashburn, VA, soon afterward, and a year later he added jazz, hip hop, lyrical, contemporary and ballet to his repertoire. He also began competing in solos and group routines, as well as a tap trio with his sisters. He performs up to 14 routines at each competition he attends and is in the studio six days a week. His signature tap step is over-the-tops. "They come naturally to me," he says. But it's when there's no set choreography that Luke truly shines: He's an improv pro. "I learned a lot of steps from my teachers, and then I put them all together to make new beats and noises," he says. "I can make easy steps into harder steps by adding more sounds."
Luke hasn't even hit double digits and already he's performed on "So You Think You Can Dance" (alongside executive producer Nigel Lythgoe) and "The Ellen DeGeneres Show." While he's got plenty of time to think about the future, Luke already knows what he's after: "I want to perform on Broadway and TV and in movies, and I want to teach." For someone who was born to entertain, these goals seem well within reach.
FAST FACTS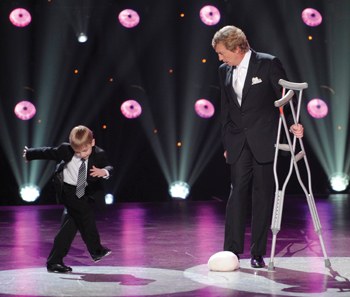 Luke performing with Nigel Lythgoe on "So You Think You Can Dance" (Frank Micelotta/FOX)
Birthday: April 10, 2003
Most-played song on his iPod: "They Don't Care About Us" by Michael Jackson
Favorite actors: Jim Carrey and Steve Martin. "They're both really funny."
Must-see TV show: "Happy Days." "I like The Fonz."
Favorite dancers of all time: Jason Samuels Smith, Gregory Hines, Fred Astaire, Gene Kelly and Chloé and Maud Arnold
Favorite food: Hamburgers. "I put ketchup, pickles, lettuce, tomato and cheese on them."
Something people don't know about him: "I like football, basketball, playing the drums, drawing and designing tap shoes."
First thing he does in the morning: Eats breakfast. "I like pancakes."
Three words that describe him: "Funny, fun, happy"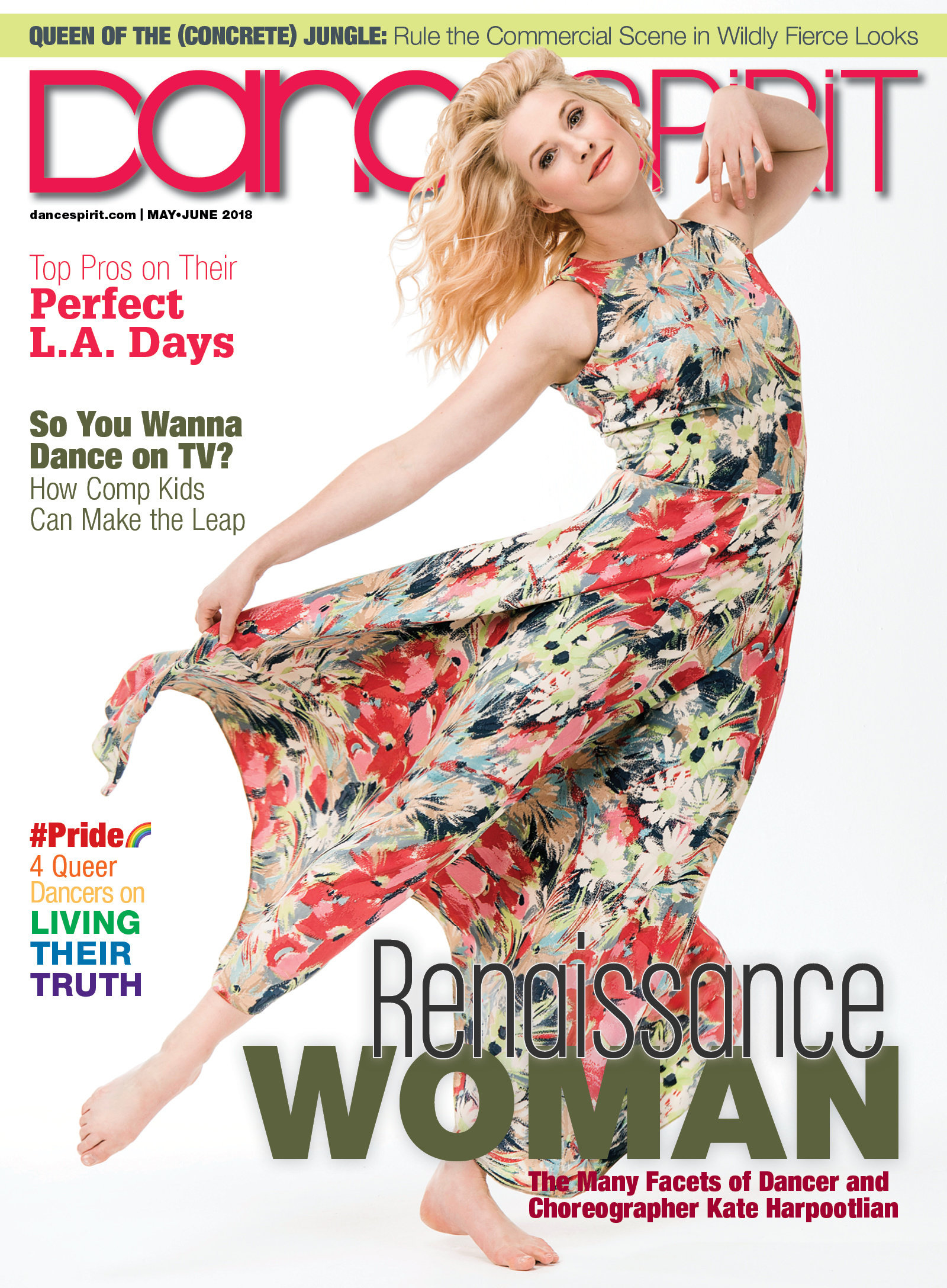 Get Dance Spirit in your inbox