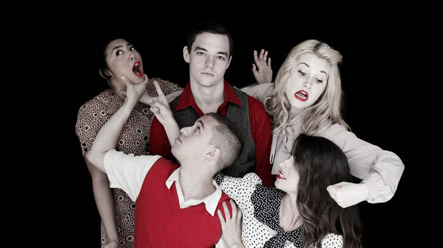 Obsessed with Billy Bell? We definitely are. If you're in the Houston, TX or Boulder, CO areas, you're in luck! Billy's Lunge Dance Collective will present their newest show "You'll Never Be Alone" at The Hobby Center in Houston August 10 and the Boulder Fringe Festival August 16-24.
Be sure to get your tickets now! And look for Billy and four gorgeous ladies from the collective modeling cozy winter warm-ups in the October issue of DS.
Read more about Lunge Dance Collective in "Life After Competition."
Dec. 08, 2011 02:41PM EST
"The first time I saw Chantel Aguirre dance was in a video," recalls choreographer Travis Wall. "My first thought was that she had crazy lines. My next thought was that I wanted to meet her." A few months later, Wall did meet Chantel, who was 18 at the time and working as an assistant at a convention. "She was quiet and reserved, but she was excited to learn," he says. "She was trained and hungry for work—she wanted to get her hands on any step, phrase or piece of choreography."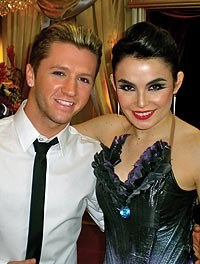 Travis Wall and Chantel backstage at "Dancing with the Stars"
Last year, when Wall was asked to choreograph a piece for the Macy's "Stars of Dance" segment on "Dancing with the Stars," he rounded up his go-to group of strikingly talented dance friends, including Jaimie Goodwin, Danny Tidwell, Nick Lazzarini and Tiler Peck—and he brought in newcomer Chantel. "Since that job, I've hired her for every single project I've done," Wall says. "Chantel does whatever you ask of her and more. She's the most professional dancer I know and she's always full-out. She has become my go-to person."
Wall isn't the only choreographer who has fallen for Chantel's quirky, ballet-based style. When Billy Bell formed his own company, Lunge Dance Collective, Chantel was one of his first members. "When I first saw her dance, I felt like I was stuck in one of those movies where everything around you freezes," says Bell, who met Chantel when she was assisting Sonya Tayeh on "So You Think You Can Dance." "She has this way of controlling a room with her focus that creates a timeless quality to her movement. It's like she's floating."
So what is it about this 22-year-old that has the industry's top choreographers dying to hire her? We sat down with Chantel to find out.
Ballet Beginnings
Chantel is one of those dancers who quite literally grew up in a dance studio. Her mother, also a dancer, owned Ballet Repertoire Theatre in Santa Cruz, CA, and Chantel was in dance classes by the time she was 2. It didn't take long for Chantel to become hooked on dancing. "My mom's studio was an amazing little competition studio, but I knew I wanted more—I wanted to do this forever," she says.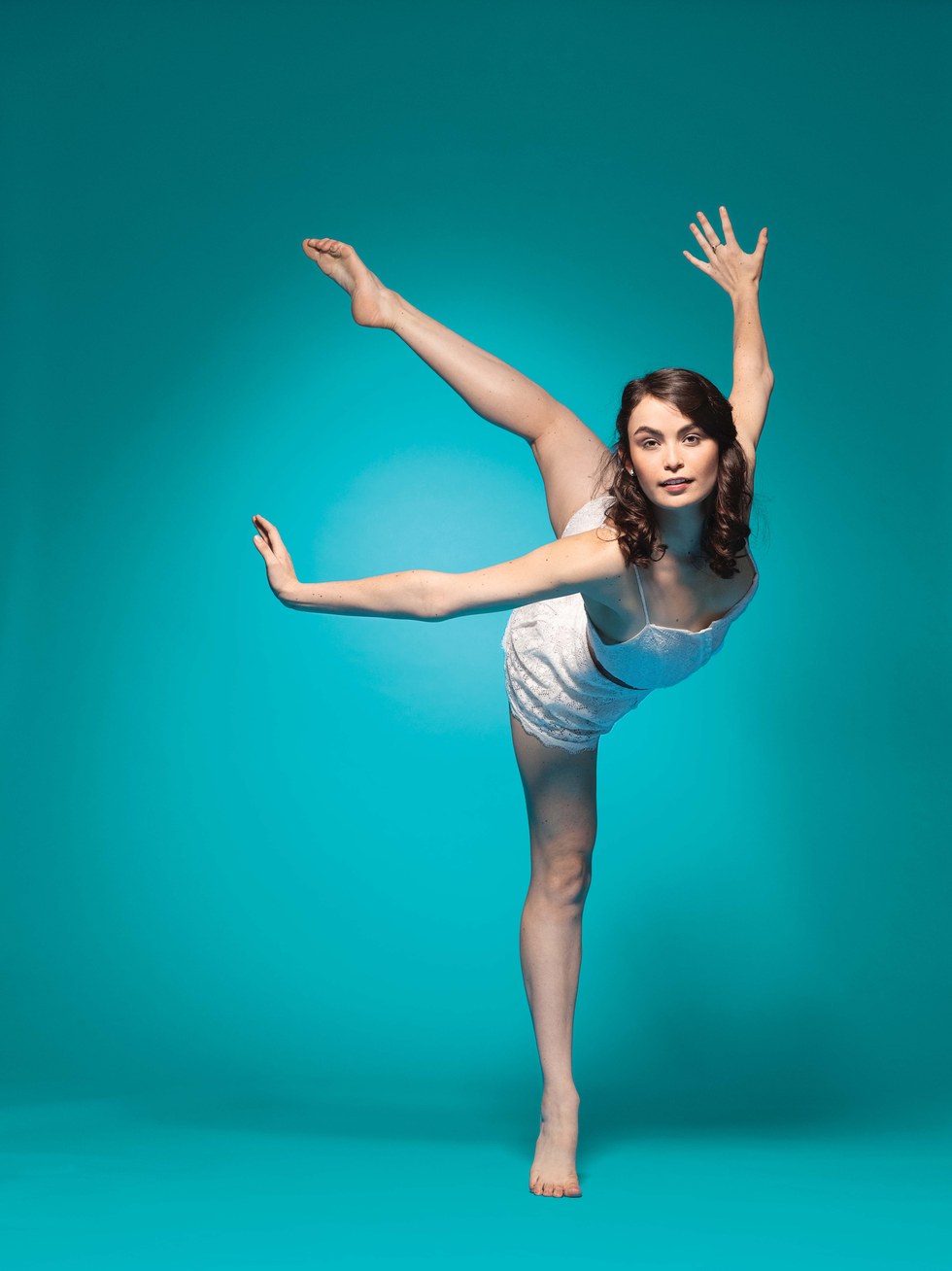 Photo by Nathan Sayers
She trained in all styles at Ballet Repertoire Theatre, but Chantel wanted to focus on ballet. At 11 she enrolled at The Studio of Classical Ballet, also in Santa Cruz. "It was always reiterated to me that you need solid technique and strong ballet skills no matter what sort of dance career you want to have," she says. In search of more intense training, Chantel auditioned for the San Francisco Ballet School during her freshman year of high school. "That's when everything changed," she says. "I was surrounded by the best dancers in Santa Cruz, but I was getting complacent. I wanted to keep getting better, and I knew I had to go beyond Santa Cruz for that to happen."
Chantel remembers being "totally terrified" at the SFB audition. "Everyone knew the combinations already because they had been in the school for years, and I wasn't even wearing the right color to the audition," she says. "I got corrected every time I did something and the teacher was on me during every exercise." To her surprise—"They must have seen potential or something," she says—Chantel was accepted to the school as a level-six student (out of eight levels).
Always Wanting More
Throughout high school, Chantel attended academic classes until 1 pm every day, and then she would commute three hours round-trip for four hours' worth of classes—all on pointe—at SFB. The work was challenging, but Chantel's drive and motivation never waned. In fact, she became more ambitious. "I didn't want to sacrifice my other training and just do ballet," she says. So on the side, the already busy girl performed with the Dance Company of San Francisco, a troupe of young artists that included future "So You Think You Can Dance" alums Nick Lazzarini and Melody Lacayanga.
The company, directed by Chris Jacobsen and Sonya Tayeh, entered local competitions, performing mostly contemporary routines. "Competing with the company taught me that competitions don't have to be all glitz, glamour and sequins," Chantel says. "We were really serious about performing, not about the awards."
Chantel did her homework in the car going to and from rehearsals, and she admits to getting "very little sleep" at the time. But this commitment to learning, training and latching on to every possible resource is what sets Chantel apart from other dancers. "My mom raised me with the belief that if you don't know exactly what you want to do, just do as much as you can. And I wanted to do everything possible," she says.
Chantel in the City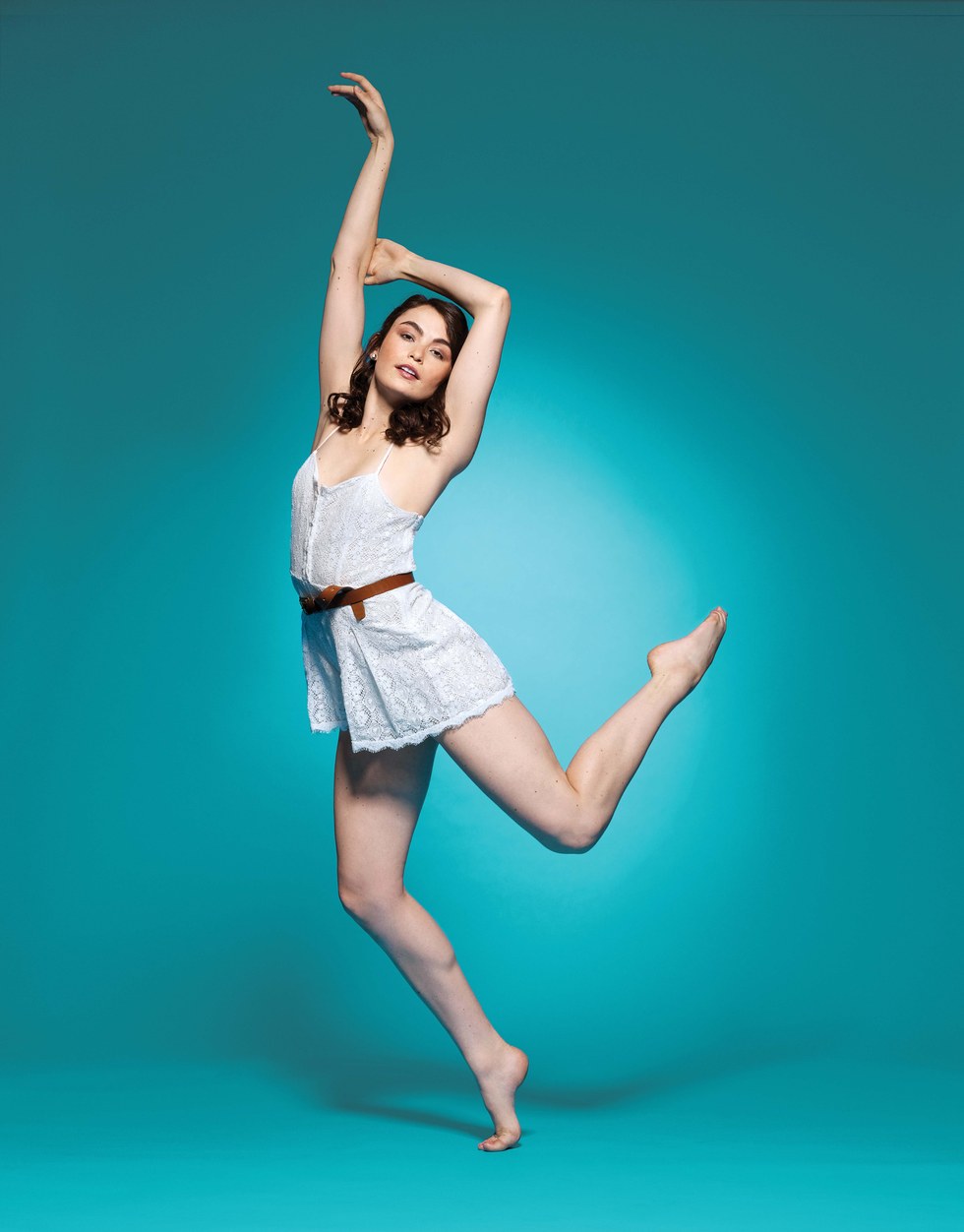 Photo by Nathan Sayers
After graduating from high school, Chantel was ready to conquer the professional dance world—but she didn't know where to start. "The hardest decision I've faced in my career was deciding where to go after high school," she says. She spent some time living with Tayeh in L.A. while she faced the ever-stressful "L.A. vs. NYC" debate. Though she says she was "too scared" to just move to NYC, ultimately that's what she did, enrolling at New York University's Tisch School of the Arts as a dance major, with a minor in business.
Chantel lived in the NYU dorms, took dance and academic classes and continued auditioning for commercial and industrial work through her Clear Talent Group agency representation. During her freshman year at NYU, she performed as a dancer in the televised Victoria's Secret Fashion Show and booked a two-week performance job at a film festival in Dubai. It was all good—but it was also too much.
"I was just going through the motions," Chantel says. "I loved school and I loved training, but I was missing jobs and auditions that I desperately wanted. I had so many conflicts, and I needed to make a decision." Chantel credits her year and a half at NYU as her "segue into NYC," but she didn't want to turn down paying jobs while her family struggled to pay for her to be in school. She took a leave of absence from college, moved into an apartment on the Lower East Side and began her full-time dance career. Soon she was performing at the MTV Video Music Awards with Taylor Swift and dancing with Justin Giles' SoulEscape company.
The Timeless Dancer
Without rigorous academic demands, Chantel fully immersed herself in dance classes and auditions. She spent another year and a half in NYC and then got a call from Tayeh, who was forming her own company in L.A. and wanted Chantel to be part of the group's first show. "Chantel is such a determined dancer—of course I wanted her with us," Tayeh recalls. "She's spirited and has so much heart, and her dancing is regal and lovely. She's well-rounded and eager. That's what makes a timeless dancer." For Chantel, the move came at the right time. "I loved NYC, but my lease was up, so I packed a few things, figuring I'd go out for the show and then come back to NYC," she says. But things didn't go according to her plan: Right after Tayeh's show wrapped, Chantel got a call to audition for the 2010 Academy Awards, and the L.A. job offers snowballed from there.
"Performing at the Academy Awards was unbelievable," Chantel says. "I remember standing onstage during a commercial break, waiting to perform, and Sandra Bullock was sitting right in front of me, looking at me. I stood on that stage and suddenly everything made sense. I knew I wasn't going back to New York."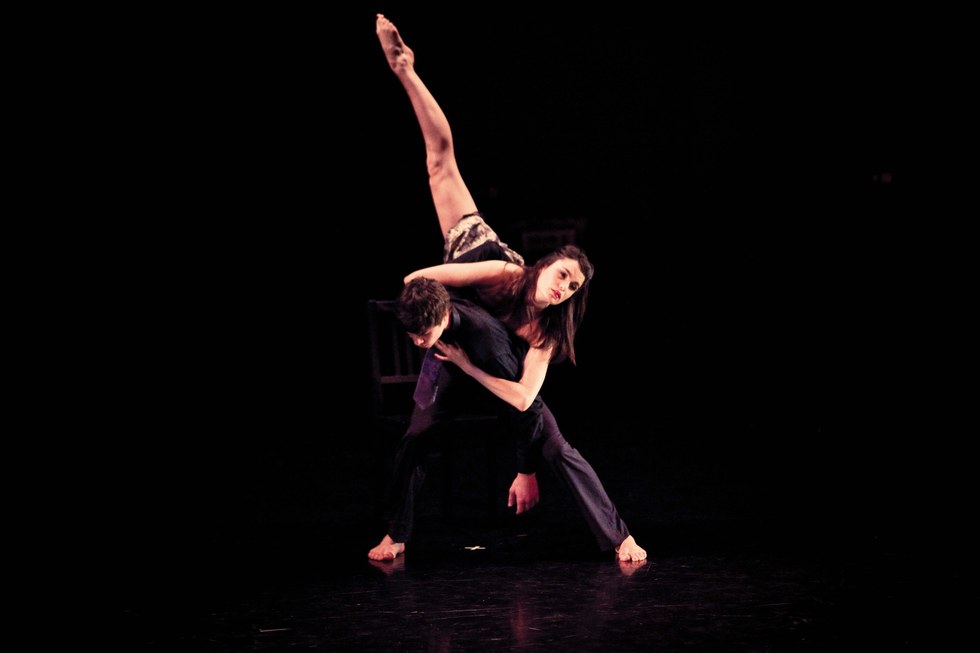 Chantel performing with Billy Bell's Lunge Dance Collective
Since moving back to California, Chantel has performed on "Dancing with the Stars" five times and at the Video Music Awards with Florence and the Machine. She is a member of Billy Bell's Lunge Dance Collective and Travis Wall's Shaping Sound Dance Company, was a featured dancer in Cristina Perri's "Jar of Hearts" music video, performed at the Billboard Awards with Beyoncé, danced at the Macy's Passport fashion shows and worked as a member of the skeleton crew for Step Up 4. Plus Chantel takes classes ("nonstop," she says) at EDGE Performing Arts Center and Millennium Dance Complex, and has started teaching at local studios and setting competition routines on younger dancers.
As Chantel continues to work hard and hone her ever-growing list of skills, the world is taking notice. When Wall held auditions for his company late last year, Chantel arrived amid hundreds of other dancers. "She stood next to Jaimie Goodwin—and everyone knows Jaimie is my favorite female dancer—but Chantel just roasted everyone in the room," Wall says. "She blew the audition out of the water. In the past year and a half, Chantel has come into a spot where everyone in L.A. knows who she is. All eyes are on her."
Chantel's Fast Facts
Birthday: May 6, 1989
Hometown: Scotts Valley, CA
Most-played artist on her iPod: James Blake
Favorite books: The Brain That Changes Itself, by Norman Doidge, MD
Favorite TV show: "Dexter"
Favorite movies: Kill Bill, Andre ("the one about the seal"), Inglourious Basterds and A Little Princess
Favorite food: Sushi
Favorite dance step: "Can I say the 'bend and snap'?!"
Dance crush: Robert Roldan
If you could work with any performer, past or present, who would it be? Dwight Rhoden. "I took a summer workshop with Dwight and Desmond Richardson, and they blew my mind. They are both such exceptionally talented geniuses. They teach
a way my body wants to move, but I'm not quite there yet."
If I wasn't a dancer I'd be… "A surgeon. It's incredible the way people can repair the human body. When I was younger I always wanted to be a doctor or a veterinarian. I used to put Band-Aids on my cat!"
Dance dream job: "I'd like to be in a professional contemporary ballet company someday, touring internationally. It's not about the money for me—it's about the creation and the positive environment."
Sep. 24, 2011 07:51AM EST
In the not-so-distant past, competition dancers had to make a difficult choice once they entered the professional world: either begin an unstable gig-to-gig commercial career in L.A., or, if they wanted the benefits of company life, ramp up their classical training and audition for ballet troupes. But today, there's a new option that offers the best of both worlds: Innovative companies that embrace comp kids' unique and eye-popping talents are springing up everywhere.
So what can you expect from these groups? A company director might hire you after seeing you dance in her class or watching a video you post online. You'll probably be doing a lot of the contemporary and jazz choreography and "tricks" that you learned on the convention circuit. (Being able to tumble and/or spin on your head is usually a plus.) And chances are you'll be dancing for or alongside a "So You Think You Can Dance" choreographer or former contestant, since many of these artists are the cream of the comp world crop.
Here are eight of the companies leading the way in this professional dance phenomenon.
SoulEscape
Founded in 2004 by Justin Giles
What began as an outlet for dancers in Dallas, TX, to perform during the competition off-season has evolved into a striking professional company. (SoulEscape recently moved to a new home in L.A.) In addition to performances all over the country, the troupe also hosts an annual summer intensive.
Home base: L.A.
Notable member: Kathryn McCormick
How to join: Auditions are usually held each summer in L.A., Dallas and NYC.
Website: soulescapethecompany.com
"It is SoulEscape's mission to provide work for dancers, eye-opening and inspiring performances for our audiences and a positive, healthy learning environment for students." —Justin Giles
collidEdance
Founded in 2004 by Erica Sobol and Chris Hale 
in NYC; "reimagined" in 2007 by Sobol in L.A.
Quirky. Passionate. Wildly diverse. These four words describe the members of collidEdance, which embraces hip-hop, jazz, ballet and break dancers, as well as writers and designers who create the company's unique costumes, postcards and programs. Together, their mission is to deliver performances that "tell a story and reach out to touch every audience," says founder Erica Sobol.
Home base: L.A.
Notable member: Nick Lanzisera
How to join: Erica primarily chooses dancers from the classes she teaches at EDGE Performing Arts Center in L.A.
Website: collidedance.com
"Our style has been described as unique, strange, musical, human, interpretive, funny, sexy and alive!" —Erica Sobol
Odyssey Dance Theatre
Founded in 1994 by Derryl Yeager
Versatility is key at ODT. Each company member performs a variety of styles, from ballet to tap to hip hop—so it's no wonder that it has become home to several "SYTYCD" Top 20 contestants. The company has more than 50 performances every year, including an annual European tour.
Home base: Salt Lake City, UT
Notable members: Brandon Bryant, Natalie Reid
How to join: Annual auditions are held in Salt Lake City, NYC and L.A.
Website: odysseydance.com
"The ODT dancers easily transition through different styles of dance, and you'll see almost every style in every production." —Derryl Yeager
Mather Dance Company
Founded in 2010 by Shannon Mather
This dynamic new group features some of the most prominent commercial dancers in the biz, and it has a companion pre-professional company for promising students. "It's my goal to take dance training to the next level and not just limit ourselves to the competition stage," says founder Shannon Mather.
Home base: Yorba Linda, CA
Notable members: Paula Van Oppen, Kherington Payne, Mollee Gray
How to join: Auditions are held in August in Yorba Linda, CA. Video submissions are also accepted.
Website: matherdancecompany.com
"In the commercial industry, dancers don't get to do the kind of performing they did in their competition studios—the duets or the crazy leaps. In this company, they can put on productions that show off those skills, while also working as commercial dancers." —Shannon Mather
Bad Boys of Dance and Pretty Girls of Dance
Founded in 2007 (Bad Boys) and 2008 (Pretty Girls) by husband-and-wife team Rasta Thomas and Adrienne Canterna
Six Bad Boys and one Pretty Girl performing stunning feats onstage: That's the recipe for ROCK the Ballet, the show that made the Bad Boys of Dance famous, which has toured almost constantly since its creation. The company is also about to premiere a tap show in Europe, and there's a new production for the Pretty Girls in the works.
Home base: Baltimore, MD
Notable members: Jakob Karr, Robbie Nicholson, Jaimie Goodwin
How to join: Video submissions are accepted. The company doesn't hold auditions.
Website: rastathomas.com
"We have dancers from the competition, concert, college and ballet worlds. It's incredible to see that diversity onstage. Plus, they're all cute." —Adrienne Canterna
DeMa Dance Company
Founded in 2009 by sisters Despina and Matina Simegiatos
This Brooklyn-based company incorporates commercial and modern dance, but it has ballet at its core. DeMa brings in guest choreographers like Tyce Diorio, Sonya Tayeh and Billy Bell, who also performs with DeMa as a guest artist.
Home base: Brooklyn, NY
Notable members: Billy Bell
How to join: Open auditions are held regularly in Brooklyn.
Website: demadancecompany.com
"We wanted to create a company that combined modern with commercial dance and therefore could claim a wider audience." —Despina Simegiatos
Lunge Dance Collective
Founded in 2010 by Billy Bell
For this new dance ensemble, location isn't an issue. LDC's dancers live across the United States and Canada and come together for short, intense rehearsal periods before shows. According to founder (and "SYTYCD" alum) Billy Bell, what makes this "collective" different from a typical company is that it operates like an agency, bringing together groups of dancers for each project based on their availability.
Home base: NYC
Notable members: Jason Glover, Kirsten Wicklund, Adé Chiké Torbert, Ryan Ramirez
How to join: Video submissions are accepted, and LDC plans to hold live auditions in the future.
Website: lungedance.com
"LDC strives to be a springboard for dancers hoping to transition into the company world of dance." —Billy Bell
Tayeh Dance
Founded in 2007 by Sonya Tayeh
We all know Sonya Tayeh as a star "SYTYCD" choreographer, but when she first moved to L.A. four years ago, she didn't even know how to get an agent—so she just called some dancers she knew and put on a show. Soon the explosive group was invited to perform in other venues, and Tayeh Dance was born. (Tayeh got an agent, too.) Tayeh is looking forward to expanding the company's performances to NYC and beyond.
Home base: L.A.
Notable members: Melody Lacayanga, Will Loftis
How to join: Tayeh invites dancers that she meets through classes, conventions and performances.
"For me, it was never just about creating choreography. It's about helping dancers evolve and making them strong, aggressive, intelligent movers." —Sonya Tayeh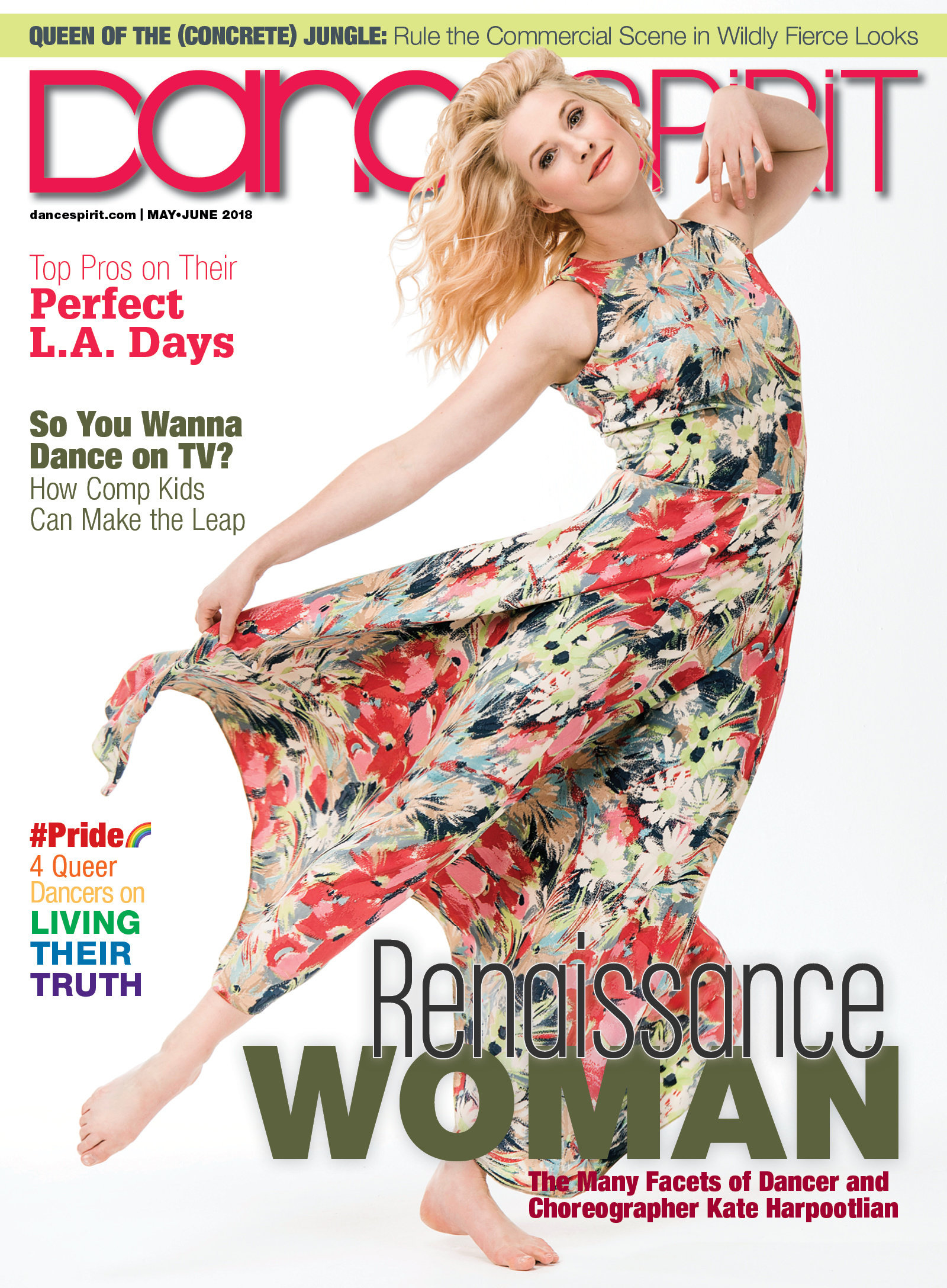 Get Dance Spirit in your inbox