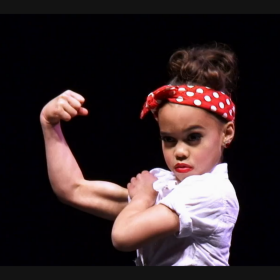 You had muscles like that at seven years old, right?
It's week two of Asia with the ALDC, and the drama surrounding this little firecracker has just begun. Here are my three most AWKWARD and AWESOME moments from last night's episode:
AWKWARD: Asia vs. Mackenzie. New girl Asia gets on top of the pyramid in her first week. Uh oh, looks like she's just earned a big fat target on her back. But no, the moms are still ganging up on Mackenzie, claiming that she's faking her injury. She loves to dance, people. She would not fake this injury! Plus, now she really wants to kick little Asia's butt. I'm going to assume that, healed or not, Mac will be back next week. Team Mackenzie!
AWESOME: Asia's solo. This is just so much better than her puppy dance from last week. She's playing Rosie the Riveter, a tough cookie just like she is. Holy muscles, Batman! This girl is fierce. Everything about the choreography is super cute—and her costume is appropriate! Can I be Team Mackenzie and Team Asia?
AWKWARD: Flaggate (a.k.a. the group number). Asia isn't doing most of the choreography, but she does get to run across the stage with an American flag. Essentially, Abby's tacking a young kid on at the end to bring the overall age of the routine down. Isn't this the same kind of thing we used to make fun of Vivi for in Cathy's choreography? But the real drama comes when apparently the flag is held up the wrong way onstage. Someone must be blamed! Was it Paige's fault or Asia's fault??? We never find out, but I'm going to go with: Who cares? They looked great.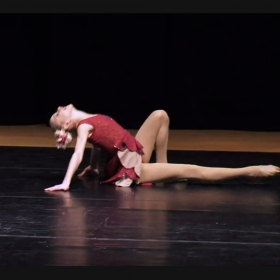 So pretty. And so not deserving of what Abby put her through this week.
AWESOME: Maddie's solo and Chloe's solo. My goodness, I love these two. This rivalry isn't anything new. We spent most of Season 1 wondering if Chloe would ever be triumphant over Maddie (spoiler alert: she was!). After months of no head to head competition, they're both onstage this week. Yippee! Chloe is elegant and clean and gets second place; Maddie is emotional and striking and gets first. Just goes to show, a little healthy competition goes a long way…
AWKWARD: I spoke too soon. Abby takes this Maddie vs. Chloe thing way too far. She kicks things up a notch by asking everyone (moms and kids) to vote for either Maddie or Chloe after watching them perform. Sigh. This does not seem like a productive activity. Maddie wins the vote by a landslide, leaving Chloe feeling terrible. Best moment: Mom Kelly votes for Paige. Hahaha. In your face, Abby.
AWESOME: Holly's defense of getting an education. Mom Melissa has decided that Maddie and Mackenzie should be home schooled, and the other moms are not pleased. Yes, sometimes home schooling is the best option, but this is clearly not one of those times, especially with little Mackenzie, who's too young to have decided whether she even wants a career in dance. Plus, she'd miss her friends! Holly does a remarkable job of explaining the seriousness of pulling kids out of school: "School's not just about busy work. It's about: Can you think? Can you be a citizen of the world and think for yourselves?" Yes, Holly! In the end, smart dancers are successful dancers.
And now (drum roll please) the QUOTE OF THE WEEK:
"Asia might be a big deal on the Internet, but so is a dog who can bark his ABCs." —Mom Christi
A dog who can bark his ABCs!? Where is this dog? Will someone send me a link, please?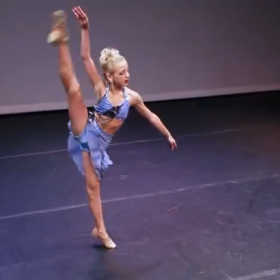 Abby Lee Dance Company goes to Nationals! Considering how awesome everyone dances, there's an awful lot of crying in this episode that I could live without. I've also chosen to ignore the Candy Apples in this recap, because they were just too annoying. (Although I did think the thirty seconds of Cathy's creepy cackle perfectly illustrated her personality.) With that said, on with my top five moments:
5. Not that Abby generally holds back when insulting her students, but Abby calling Paige stupid was below the belt. Kelly storms out. Silver lining? This means she's outside and free when she gets a call offering Paige a photo shoot. Yay Paige! We're not really sure what this photo shoot was for, but it was a nice moment in the spotlight. She really is a beautiful kid.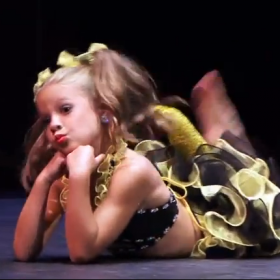 4. So there's this new trend on "Dance Moms" where Abby waits until the last minute to cast a routine. It's not fun for the girls, it's not fun for the moms and it's really not fun for me. This week, the routine in question is a solo, and the three contenders for the spot are Chloe, Kendall and Nia. In an unexpected twist, Abby makes the moms be the judges. Shocker of shockers, all the moms choose their own kids to win the part. Who will break this three-way tie? Mom Melissa, of course. (Do we think producers were upset about the lack of mom drama last week?) Melissa picks Nia! Yay Nia! I'm so proud of… wait, Abby doesn't want Nia. You mean this whole letting-the-moms-choose idea was just a ruse?! Abby convinces Melissa to choose Chloe, which makes Kendall cry. "We already knew who was going to get it," says sad-face Kendall. Excellent point. Chloe's happy to get the part, but she's feeling the pressure. And now Chloe's crying, too. I told you there was a lot of crying in this episode. Well done, Abby. Well done.
3. Maybe I'm still coming down from the excitement of meeting Maddie and Chloe last week, but I love that these two are constantly cheering each other on instead of pulling each other's hair out. They both competed solos this week, danced beautiful, and (most importantly) beat Justice! As Abby so eloquently says, "Justice has been served!" Maybe the judges were as turned off by all the fake blood in his routine as I was. Anyway, back to the girls. Chloe's beaming smile backstage while Maddie performed was just priceless. Time for crowning: Maddie got second place, and Chloe got first! Maddie was so happy for her. Mom Christi was a mess. So was I. Go Chloe! Cue the victory music.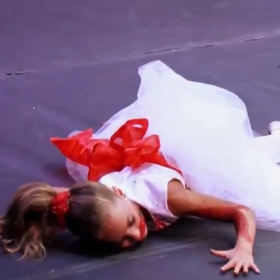 2. Remember how nothing makes me happier than seeing Mackenzie dressed up like an animal? So obviously I was thrilled when Abby announced that this week, little Mac would be a killer bee. Wait, is that the same solo music that Vivi once used? Uh oh, I sense impending drama… Luckily, Mackenzie was so darn cute that nobody stayed angry for long. Basically, she put Vivi's sad shimmying to shame. A well-deserved first place. "She's not Maddie. She's Mackenzie, and she's an amazing little dancer," said mom Melissa. Truth.
1. A moment of silence at a dance competition is a very rare thing, but Abby manages to inspire one with this week's group routine. "My Last Text," about a group of kids who die because they're on their phones in the car (creepy!) was well danced, mature and super poignant. The audience was in tears and even Cathy called it "absolutely brilliant." Not surprisingly, this number wrapped up the Abby Lee Dance Company's clean sweep. All in all, an excellent way to end the season.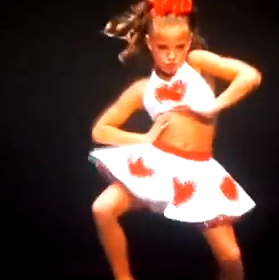 Work it, Kenzie!
Finale time! The whole crew—and I mean the whole crew—was in New Orleans for In10sity Nationals. Much of this episode was hard to watch (aka the parts featuring the moms), but, in the end, there was a ton of great dancing. Here are my top AWESOME and AWKWARD moments from last night.
AWKWARD: Abby made the girls go head to head to decide who would perform a solo at Nationals. Mackenzie vs. Asia. Brooke vs. Payton. Chloe vs. Kendall. Nia vs. Paige vs. Maddie. Each group would learn one solo, and only one kid from each match up would get to perform. Of course, this stirred up plenty of drama among the moms. The kids, however, out-matured their parents as usual and seemed fine with a little healthy competition. It was a nail biter, alright, but then the whole plan was turned on its head because of the moms and their mayhem (see below).
AWKWARD: The moms get drunk. Long story short: Mom Christi and Mom Leslie end up in an actual physical fight and Leslie then tried to beat up a producer. Obviously, they were asked to leave the show. The worst part? Their kiddos had to leave with them. Bye, Chloe and Payton. And Mom Kristie, apparently appalled by the moms, took Asia out of the equation, too. I would say I think this will teach the moms a lesson…but that would be a lie.
AWESOME: Mackenzie as "Dance Doctor." Things didn't look good for Mackenzie at the start of this episode: Abby pitted Little Mac up against Big-Personality Asia in an improv-off—and Asia crushed it. But after Asia had to leave the competition, it was up to Mackenzie to snag the title. She. Was. Awesome. I know Abby is always saying how good Asia was for Mackenzie—forcing her to step up her game—and I think she may be right. It looked like some of that Asia sass had worn off on her, and all her old tricks were still top notch. Abby might call second place the first loser, but Mackenzie was the champ of this episode in my book.
AWESOME: Where did you come from, Kendall? While it's sad that Chloe had to leave, it was nice to see Kendall have her moment in the spotlight. And I was blown away by how strong she looked in her solo! As Abby says, she's "nipping at Maddie's heels."
AWESOME: Maddie's solo. There's a reason she's unbeatable, people. This girl knows how to perform. The moms had a point when they said this choreography was designed for Maddie, and she performed it flawlessly. While it was a little expected since Chloe had left the competition, it was nice to see how genuinely thrilled Maddie was (she even looked surprised!) to be named first place. Congrats, Maddie!
AWKWARD: The Cathy came back. Sigh, but we were having so much fun without her! And, to continue avoiding doing any work herself, she's brought Blake McGrath in as a choreographer—who's sporting a strange (read: awful) neck tattoo. The kids do a good job picking up his tricky choreography…just not good enough. The Candy Apples group dance gets second to the ALDC, who killed it with an emotional tribute to Hurricane Katrina. Don't cry, Cathy!
And…the ALDC kids are the National champs!
Now, the Quote of the Week:
"Nia needs to compete for a solo with Maddie and Paige. It doesn't take a doctor to find out how that's gonna end up." —Mom Dr. Holly
That's all for this season, folks. We're left wondering: Will there be a Season 4? And with no Asia, perhaps no Chloe or Payton, and maybe even no Abby, should there be? Weigh in below!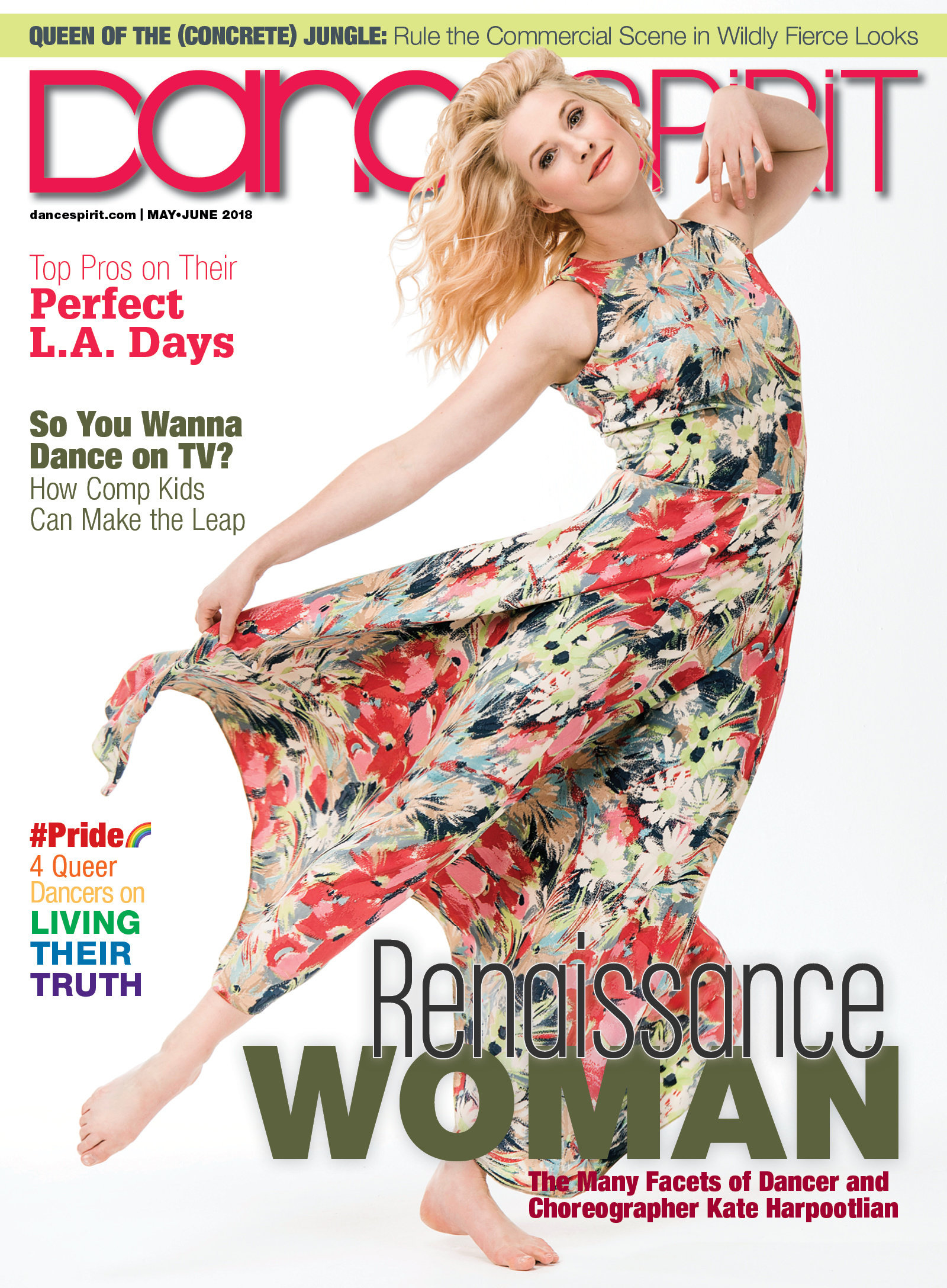 Get Dance Spirit in your inbox