So, Shaping Sound rounded out its 2015-2016 tour Monday night with one last stop in NYC. And we're already majorly bummed it's over. (Pleaseeee can we get another reality show or something in the works Hollywood?!)
Per usual, the show was INSANELY awesome. And although the plot and choreo was essentially the same as their last tour, it was certainly no less incredible seeing it again. The company's main men (Travis Wall, Nick Lazzarini, Teddy Forance and Kyle Robinson for those of you living under a rock) always promise jaw-dropping choreography, super raw emotion and almost physically impossible stunts—and they delivered.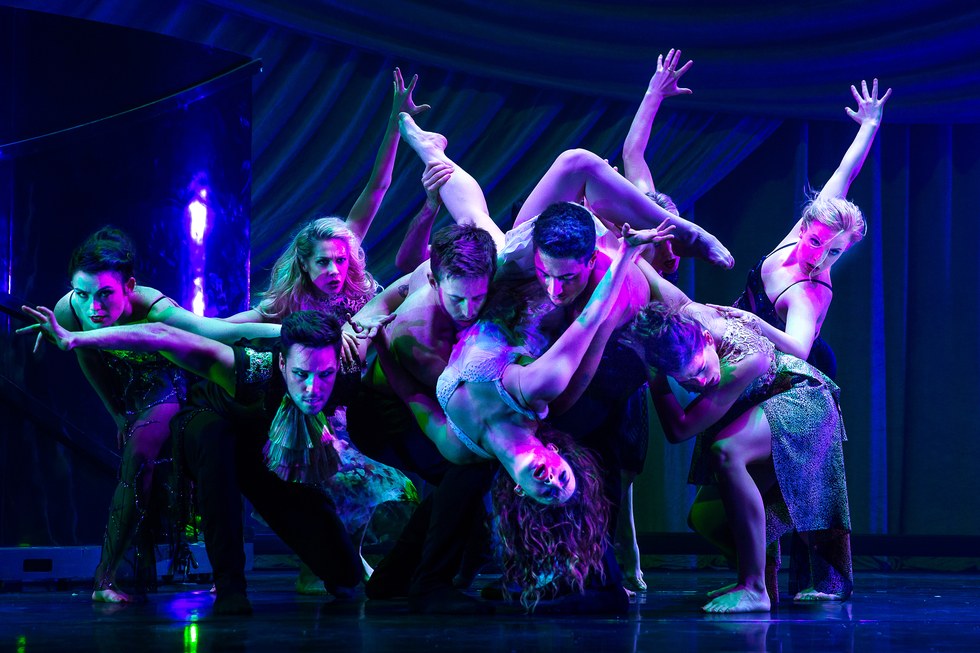 (via Shaping Sound)
A few updates this year included new cast member "So You Think You Can Dance" alum and former cover star Ricky Ubeda, which we were not mad about at all. Ricky gave us one of our favorite moments of the whole show: a gorgeous, loving and emotional duet with Travis. Seriously, it was powerful and got the biggest applause of the night by far.
Another update had Mallauri Esquibel (another SYTYCD alum and former cover star) dancing the leading role usually played by Jaimie Goodwin. We have to say, she killed it. She was vulnerable, sultry, strong and #flawless in every single number.
And we loved seeing the rest of the cast (Chantel Aguirre! Channing Cooke! Kate Harpootlian! to name a few...) back in action, too. And clearly, so did the audience as the whole cast received a roaring standing ovation at the end of the night.
The coolest part? Watching the all the dancers have #allthefeels during the last number and bows as they came to terms with closing the curtain on their last show and a super successful tour. You could totally see how much they all love to dance, and more importantly, how much they all love to dance with each other. Awww.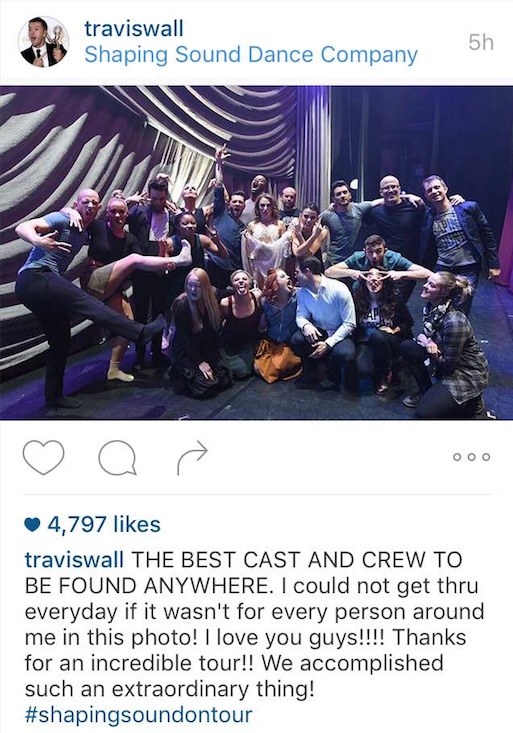 (via @traviswall)
And shoutout to the famous audience members we fan-girled out over. Oh heyyyyyy Robbie Fairchild and Tiler Peck, aka the cutest couple of all time, who just happened to be sitting a few rows over from us. Casual.
Mar. 23, 2017 07:10AM EST
It happens on every season of "So You Think You Can Dance": A performer gives a standout audition, sails through Vegas Week and then doesn't make it to the live shows. The elimination leaves the dancer in shock—and viewers wondering what went wrong.
According to judge Mary Murphy, a number of factors beyond technique come into play when they're casting the show. "Sometimes it has to do with personality, if someone doesn't come out of his or her shell on camera," she says. "And sometimes dancers just don't fit into the puzzle. We have to mix and match styles and personalities to create a well-rounded show."
While Murphy says she and the other judges always hope talented performers audition again, she's also thrilled to hear when "SYTYCD" alums choose to take different paths. "The type of audition process on 'SYTYCD'—learning from so many different choreographers—only helps a dancer grow," she says.
" 'SYTYCD' is an incredible platform," adds choreographer Mandy Moore, "but it's not the only way to springboard into a dance career. Not making it onto the show absolutely doesn't mean you can't dance professionally." Here are stories from six dancers who turned "SYTYCD" disappointment into career success.
Mallauri Esquibel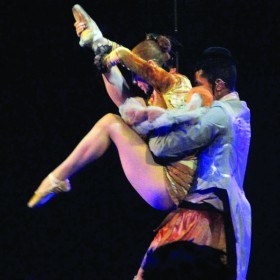 Mallauri on tour with Taylor Swift (courtesy Esquibel)
December 2011 DS cover girl Mallauri Esquibel has had a dream dance career that includes touring the country in Twyla Tharp's Come Fly Away and dancing for Taylor Swift. But on Season 2 of "SYTYCD," after receiving nothing but positive feedback throughout Vegas Week, she was the last girl cut before the Top 20. Overwhelmed with disappointment, Mallauri stopped dancing for five months. "I was 18 and I'd just moved to L.A.," she says. "This made me question whether I was even supposed to be a dancer."
She found her way back to dance thanks to Derryl Yeager, artistic director of Odyssey Dance Theatre in Utah, who invited Mallauri to join ODT after seeing her on "SYTYCD." "ODT inspired me, excited me and reminded me who I was," says Mallauri, who stayed with the company for two years.
Looking back, Mallauri has no regrets about her "SYTYCD" experience. "Everything happens for a reason," she says. "Having that reality check at the beginning of my career taught me to appreciate every triumph and every battle I've gone through to get to where I am."
Jeremy Hudson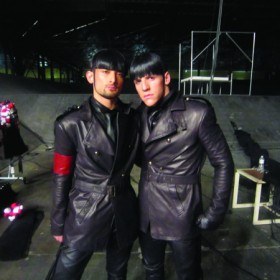 Jeremy Hudson (right) with Mark Kanemura on set for Lady Gag's "Alejandro" video (courtesy Hudson)
"During Vegas Week, I really focused on learning from the choreographers," says Jeremy Hudson of his time on "SYTYCD" Season 2. Unfortunately, he neglected to show off his personality and passion. "I didn't give much to the cameras," he says, "and that's what makes America want to vote." He ended up not getting any airtime, despite being the last guy cut before the Top 20.
Even though he didn't get any exposure from the show, Jeremy credits "SYTYCD" with increasing his drive. "I'd been auditioning in L.A. and not booking jobs, and I was starting to think, What's wrong with me?" he says. "After Vegas Week, I told myself, Dance is what I want to do, and if it's not going to happen through 'SYTYCD,' I'll make it happen myself." And he did: Jeremy recently wrapped up a tour with Lady Gaga, and has danced for Kylie Minogue and Katy Perry, and in films including Step Up 3D, Footloose and The Muppets.

Natalie Reid in costume for the Radio City Christmas Spectacular (courtesy Reid)
Natalie Reid
On Season 4, Natalie Reid and her BFF Katee Shean were the last two girls on the "Green Mile"—and only Katee advanced to the live shows. In Season 5, Natalie was cut even earlier, after failing to live up to the judges' high expectations during Vegas Week. But she tried not to let the disappointment crush her, choosing to take each elimination as motivation to improve. "I pushed myself to limits I'm not sure I would have reached if I'd made the show," she says.
Off-camera, Natalie assisted choreographer Mia Michaels during "SYTYCD" Season 4 and Mandy Moore in Seasons 4, 5, 6 and 7. "I learned I really enjoyed the behind-the-scenes choreographic process," she says. As a performer, she spent three seasons with Odyssey Dance Theatre before auditioning for the Radio City Rockettes. She's now preparing for her third Radio City Christmas Spectacular. "Being a Rockette is the most rewarding performing job I've ever had," she says. "I'm so thankful for how everything turned out."

(by Duane McKee)
Ryan Kasprzak
On "SYTYCD" Season 5, Ryan Kasprzak's choreography helped propel his brother Evan into the Top 20, and Ryan almost made it to the live shows, as well. Then, on Season 6, Ryan was cut in Vegas after a subpar cha-cha. "At first, I was crushed," he says. "But after I let go of the idea that I could have done things differently and realized how far I'd come since my first audition, I knew I'd be OK."
Already a fixture in the NYC tap and theater scenes, Ryan picked up where he'd left off. Only weeks after his "SYTYCD" elimination, Ryan was hired for the first national tour of Billy Elliot and eventually became dance captain. More recently, he choreographed TV commercials and served as assistant choreographer on NBC's "Smash." " 'SYTYCD' gave me exposure as a choreographer," Ryan says. "Seeing my choreography get praised reaffirmed the fact that I could transition into that world."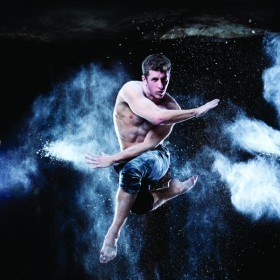 (by Michael Higgins)
Adrian Lee
One of the toughest cuts in "SYTYCD" history came in Season 7, when Mary Murphy traveled to Adrian Lee's home to let him know, in front of his family, that he wouldn't be in the Top 11. After performing with Cirque du Soleil in L.A., Adrian came back for "SYTYCD" Season 9. Unfortunately, he was cut yet again during Vegas Week. "It was upsetting because I'd always aspired to be on the show," Adrian says. "At the same time, I have only good memories of the Vegas experience. Both times, it was stressful, but super-fun."
Adrian assisted Mandy Moore on "SYTYCD" after his elimination, and Moore recently hired him for Shania: Still the One in Las Vegas, which she choreographed. Adrian danced with Shaping Sound in its first tour last summer, and he also teaches for Hollywood Vibe conventions. " 'SYTYCD' was a huge stepping stone, for both my career and my self-esteem," he says.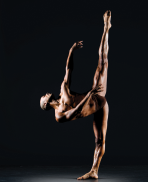 (by Richard Calmes)
Anthony Burrell
When Anthony Burrell auditioned in Season 7, he was already a seasoned professional. In fact, he'd just finished the New York City Center season with Alvin Ailey American Dance Theater. Still, he says, "I'd never done anything like the 'SYTYCD' audition, coming from the concert dance world." The judges repeatedly called him "one to watch," so he was stunned when Mia Michaels broke the news that he wouldn't be in the Top 11. "It took about two months for me to be ready to audition again," he says.
But once the show aired, Anthony started getting phone calls. "The casting director from Twyla Tharp's Come Fly Away contacted my agent," he says. "And I booked a Katy Perry tour with no audition because they saw me on TV."
Anissa Lee (Suzanne Fiedler, courtesy Lee)
Wondering how people actually book the dance world's most coveted jobs? Cattle-call auditions aren't the only route to a career: Sometimes it's about who you know—or about being in the right place at the right time. Dance Spirit asked six dancers to describe the moments when the stars aligned, allowing them to nab high-profile professional gigs.
Anissa Lee
The job: Company member, Chloé Arnold's Syncopated Ladies
How she got the gig: "I'd been taking class with Chloé at the Debbie Allen Dance Academy for about two years when she mentioned she was starting this new group—it didn't even have a name yet. I first auditioned to dance with them when I was 14 or 15, but I got cut! That was the push I needed to start taking my training more seriously—I wanted to be a part of the company so much. Over time, Chloé saw my work paying off, and I did my first show with the Syncopated Ladies at the L.A. Tap Festival in 2008."
What she's doing now: In addition to being a Syncopated Lady, Lee dances with Sarah Reich's Tap Music Project and is a regular performer at the Cosmopolitan of Las Vegas' Rose. Rabbit. Lie. supper club.
Job-booking advice: "Be nice to everyone. Tap auditions are rare—it's definitely more about word of mouth. And take class! If I hadn't been in Chloé's class at the right time, I might have missed the Syncopated Ladies train."
Tim Chester
The job: Performer, Celebrity Cruises
How he got the gig: "I majored in history in college, but while I was in school I apprenticed with Atlantic City Ballet and took dance-focused electives. Second semester of senior year, I enrolled in a costume-design class. One day, I was daydreaming and started doing a port de bras. My design professor took note—and it turned out she had a side job mending costumes for Celebrity Cruises. She heard from a producer that they needed a male dancer, and reached out to me. I didn't pause to think about it: I filmed some ballet and jazz combos and put the tape in the mail. I got the offer a week later, and was in rehearsals two weeks after graduation!"
What he's doing now: Chester owns TLC Academy of Dance in Absecon, NJ, and works as a freelance performer.
Job-booking advice: "Be versatile. We all have dance styles we gravitate toward, but you can't be afraid to try other things. The more well-rounded you are, the more jobs will be out there for you."
Tim Chester performing in Atlantic City (Suzanne Fiedler, courtesy Chester)
Emma Slater

The job: "Dancing with the Stars" pro
How she got the gig: "The 'Dancing with the Stars' producers get to know you based on your competitive credentials. By the time they contact you, they've done their research—they already have a sense of what you can do. When they reached out to me, I'd been performing with the traveling ballroom show Burn the Floor, and the 'DWTS' team had seen me in the production. They just asked me to do an on-camera interview; it was more about testing my personality than my technique. I joined the show's professional troupe for Season 14."
What she's doing now: For the past several seasons, Slater has had celebrity partners on "DWTS."
Job-booking advice: "Be ferocious in your personality. Producers and casting directors want to see confidence and energy."
Emma Slater (courtesy ABC)
Mallauri Esquibel

The job: Dancer for/assistant to choreographer Marguerite Derricks
How she got the gig: "I'd been assisting Doug Caldwell in his class at the EDGE in L.A. One
day, we were working on a combination at his house, dancing around in his living room, and Marguerite stopped by. I was marking while they talked, and she paused and said, 'Dance for me.' So I did the combination for her, right there. The next day, I got a call offering me a dance role in the movie Fame, which Marguerite was choreographing."
What she's doing now: Esquibel went on to work with Derricks on the TV show "Bunheads," the Broadway musical Wonderland and many other gigs. She's also danced for Taylor Swift and toured with Shaping Sound.
Job-booking advice: "Be prepared at any moment. Every person you meet in the dance industry has something to offer, and could in some capacity help you build a career."
Mallauri Esquibel and Teddy Forance during a Shaping Sound performance (Chris Reilly, courtesy Esquibel)
Natalie Caruncho

The job: Swing and dance captain, Broadway's On Your Feet!
How she got the gig: "I'd worked with choreographer Sergio Trujillo on the first and second national tours of Flashdance: The Musical, where I was a swing, then dance captain and finally Sergio's associate choreographer. When Flashdance was over and I was back in NYC, Sergio invited me to audition for On Your Feet! I'd missed the open call because we were still on the road, and I didn't have an agent at the time. Sergio was the one who got me in the room. He said, 'I think this would be a good fit for you, but you'll have to prove that to the rest of the team.' And they ended up hiring me."
What she's doing now: Caruncho is still happily working in On Your Feet!
Job-booking advice: "Share your joy, your passion, your fierceness—whatever is uniquely you. People want to see a human being who will be fun, committed and hardworking in rehearsal. That's how you'll get creative team members to take a chance on you."
Natalie Caruncho backstage at "On Your Feet!" (courtesy Caruncho)
Albert Blaise Cattafi

The job: Company member, Bad Boys of Dance
How he got the gig: "As a teen, I idolized Rasta Thomas. When I was 13, I emailed him,
and he actually wrote back! A few years later, I was at a competition in NYC, and after my solo, Rasta approached me in the hallway. He said, 'I'm getting some guys together to start my own company. If you're interested, I'd love for you to join us.' So, right after graduating high school, I went into rehearsals with the Bad Boys of Dance. Having the opportunity to dance with Rasta—the epitome of what a male soloist should be—at the start of my career was invaluable."
What he's doing now: Cattafi has also danced with Shaping Sound, on "Saturday Night Live" and for musical artists including Kelly Clarkson. He's currently the resident choreographer for Phoenix Ballet in Scottsdale, AZ.
Job-booking advice: "Do your research. Watch videos. If you like a show or company, see if you can take class with people in it. You can control the type of artist you want to be."
Courtesy Albert Blaise Cattafi
Apr. 25, 2011 08:50AM EST
The L.A. dance scene is bursting with talent. Here are 16 movers and shakers you absolutely need to know.
Choreographers
Get to their classes, learn their styles and figure out what they like. These dancemakers are the ones who will be teaching you choreography at auditions and on set.
Jamaica Craft: Jamaica's choreography—whether it's for Ciara, Eve or Justin Bieber—is fresh, funky and hard-hitting. She's got swagger and she knows how to bring it out in the artists she works with.
Jennifer Hamilton: After growing up on the convention circuit, Jennifer Hamilton worked her way up the industry ladder by assisting major dancemakers like Marguerite Derricks. She's worked on more than 30 films, including the 2009 Fame remake, the Austin Powers franchise and Step Brothers.
Flii Stylz: Everyone knows Chris Brown has stellar dance moves—and he gets his choreography from Flii. The dancemaker also choreographed Ke$ha's "We R Who We R" music video, and has worked with Jennifer Lopez, the Backstreet Boys and Jesse McCartney.
Jeri Slaughter: If you're a diva-in-the-making, Jeri Slaughter is the guy to call for sassy, take-no-prisoners moves. He's choreographed performances for Mariah Carey, Whitney Houston, Cher, Christina Aguilera and Leona Lewis.
Aakomon "AJ" Jones: In addition to choreographing Madonna's Sticky & Sweet tour and Center Stage: Turn It Up, AJ is also Usher's main dance man. He was the creative director for Usher's "DJ Got Us Fallin' In Love," "OMG" and "Lil' Freak" music videos.
Michael Rooney: Michael Rooney's five-page resumé reads like a Who's Who of Hollywood. It boasts such names as Fatboy Slim, Kylie Minogue and Paula Abdul, and it includes 16 choreography award nominations. Plus, Rooney has choreographed more than 80 commercials for companies such as Target, Old Navy, Cadillac, Cover Girl and Starbucks.
Directors
Headed for the big screen, small screen or music video land? Make sure these people know your name.
Hype Williams: Has directed videos for Missy Elliott, Kanye West and Jay-Z
Joseph Kahn: Works with Britney Spears, the Backstreet Boys and U2
Sophie Muller: Want to be a Harajuku girl? Muller is Gwen Stefani's video go-to.
Dancers
These dancers are referred to as "bookies" because they're working hard, auditioning like crazy and booking every job in sight. But don't think of them as your competition—use them as inspiration. They're doing something very right.
Nick DeMoura: He's got Bieber fever! DeMoura is one of the few dancers getting his groove on behind Justin Bieber on tour and in the Never Say Never feature film.
Devin Jamieson: He's best known for booking a coveted spot on Michael Jackson's This Is It tour.
Ivan "Flipz" Velez: Name any recent dance movie and it's likely Flipz is in it. Choreographers are dying to hire him for his versatility and impressive acrobatics.
Jeremy Hudson: This charming, Ken Doll–esque dancer has appeared in the Fame remake and on "Glee." He's also landed one of the hottest gigs in Hollywood: dancing backup for Lady Gaga.
Mallauri Esquibel: This fiery redhead was a featured dancer in the 2009 Fame film and in High School Musical 3: Senior Year. Now she's taking her talents to Broadway, where she's the dance captain for the Marguerite Derricks–choreographed musical Wonderland.
Shaun Evaristo: He's using his talents to reach beyond the dance realm and create a short film called Unthinkable.
Agencies
The big ones for dancers and choreographers are McDonald-Selznick Associates, Clear Talent Group and Bloc.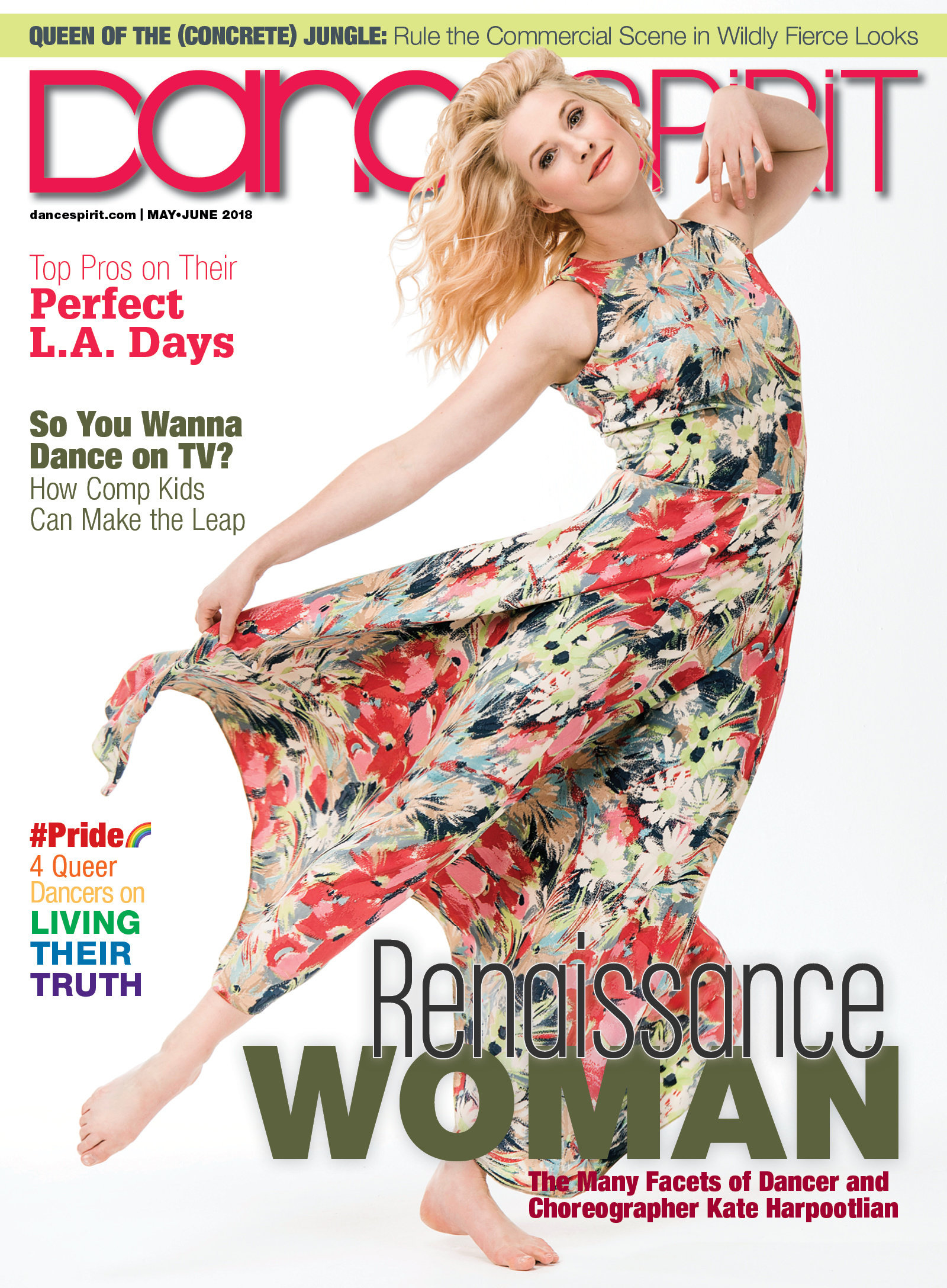 Get Dance Spirit in your inbox