Mar. 24, 2018 07:04AM EST
(Screenshot via YouTube)
What better way to ring in spring than with a beautifully minimal new video from the genius mind of Mari Madrid?
Dance Videos
Feb. 06, 2018 10:28AM EST
A scene from Keone and Mari Madrid's We Are (via YouTube)
The dance world already knows that Keone and Mari Madrid are brilliant storytellers, choreographers who can create narrative movement that moves us. But we especially love it when they use their choreographic voices to highlight important causes.
For this year's VIBE Dance Competition exhibition performance, the husband-and-wife duo created a beautiful homage to the immigrants who form the backbone of America. Inspired by their grandparents, "who came to America to make a new life for their families," and by "the many displaced humans around the world who are trying to do the same," We Are is an emotional exploration of the trials immigrants have faced—and continue to face today. Its message hits even more powerfully thanks to its innovative use of video projections (by Vibrvncy/Nick Kim) and some ingenious set design (by Brandon and John Arii).
Dance Videos
Aug. 10, 2017 10:04AM EST
Keone and Mari Madrid on "World of Dance." Mari recently opened up about her struggles with depression. (NBC)
Recently, our friends at Dance Magazine posted a thought-provoking article about the dance world's inability to address dancers' mental health. It was one of their most-read articles to date, and it encouraged dancers, parents and teachers to share their own personal stories.
That group of storytellers includes some very high-profile dancers, and we're especially thankful for their courage. We hope that their willingness to discuss such a personal issue will help younger dancers feel comfortable talking about mental health as well, and hopefully help lead to better support systems within the dance community.
Here are two big names who've been open about their struggles.
Dancer to Dancer
Jul. 26, 2017 12:06PM EST
Trae Patton/NBC
Week 2 of Misty Copeland as guest judge, week 2 of merciless cuts...How can the final episodes of "World of Dance" possibly live up to the sheer dramaaaaaaaaa of last night's episode? Well, based on the nail-biting results dished out by Copeland and Co. last night, the competition is only going to get fiercer from here. Without further ado, last night's results, as told by Kween Misty.
Dance News
Jul. 10, 2017 10:26AM EST
Joe Toreno
Yes, Keone and Mari Madrid were dance-world superstars long before they choreographed and starred in the video for Justin Bieber's "Love Yourself." But many non-dancey people—i.e., everyone from your third-grade BFF to your Aunt Linda—first fell in love with the duo after watching the Bieber vid, which currently has a casual 1.2 billion views on YouTube.
These days, Keone and Mari are busy charming even more fans as contestants on NBC's "World of Dance." And when Cosmopolitan sat down with the couple recently to talk about competing on the show, we also got some very interesting details about how the "Love Yourself" video came to be.
Dancer to Dancer
Jun. 18, 2016 01:13PM EST
You read that right, folks—Keone and Mari Madrid, aka the cutest dance couple ever, aka our flawless November 2015 cover stars, will be releasing 15 new videos (one a day!) from June 15–29. This might seem too good to be true, but leave it to the Madrids to deliver. The first handful of videos are out already, and they're obviously incredible, featuring lots of classic Madrid moves and styles. It's amazing and inspiring to watch these two continue to evolve as choreographers and artists, and this project is no doubt going to be stunning to watch. Check out the videos already released, and make sure to follow along for the next 15 days!
Dance News
Apr. 25, 2016 01:04PM EST
Keone and Mari Madrid celebrated Earth Day in the danciest way possible with the release of their latest short video, "Sound and Color." Set to the song by the Alabama Shakes, the vid honors Mother Nature and all her beauty, with the Madrids embodying planted seeds: They literally emerge from the dirt and "grow" into some gorgeously realized choreography.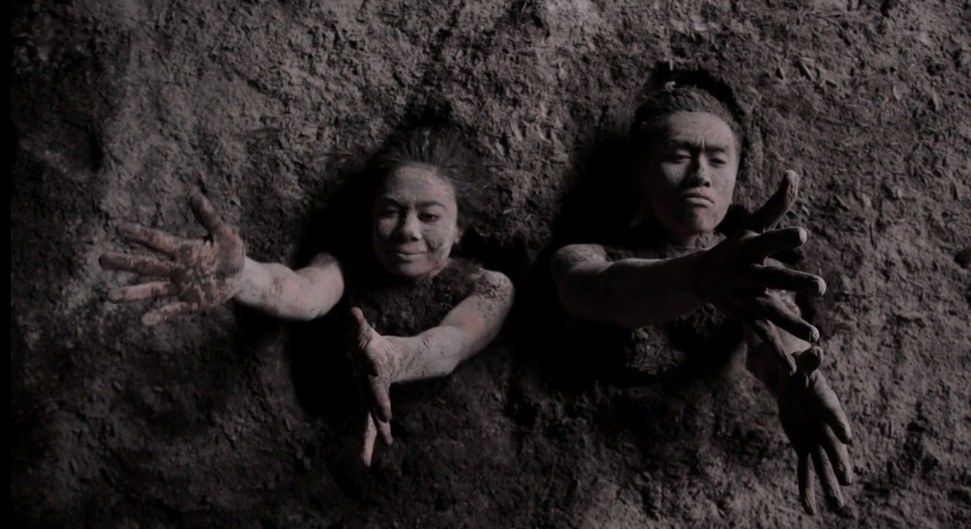 Screenshot via Vimeo
They end up covered in mud from head to toe—but leave it to our fave husband-and-wife choreographic team to make dirt look like the coolest accessory.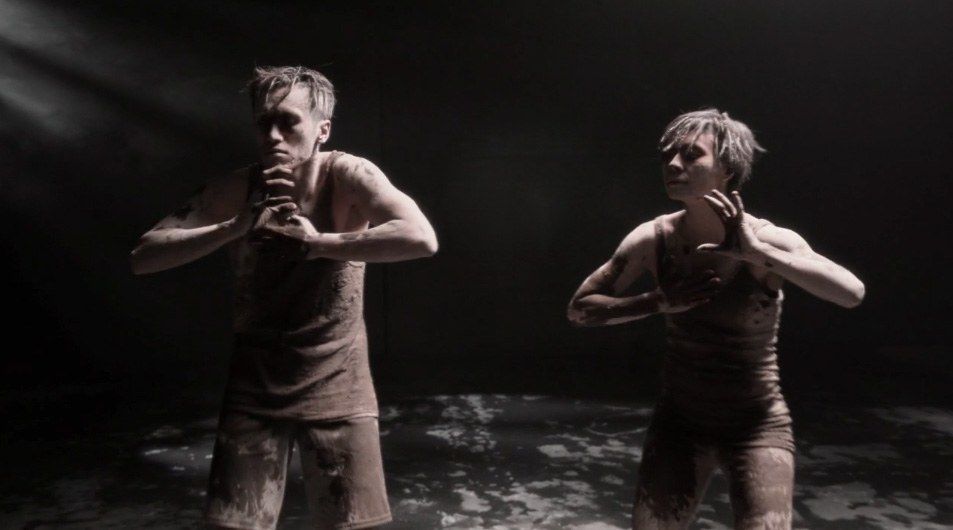 Screenshot via Vimeo
Check out the full video below, and let us know how you celebrated Earth Day!
Dance News
Feb. 27, 2016 07:00AM EST
Keone and Mari Madrid are one of the cutest dance couples around (and if you need a reminder why, refer back to our November 2015 cover feature on the two insanely talented dancer-choreographers). So, understandably, we get pretty excited when they release a new project. Their latest video, however, is unlike anything they've made before—and we're obsessed.

Who needs Left Shark when you've got Left Vid and Right Vid?! (via YouTube)
Appropriately titled "Dual," the video is split into two, with a "Right" side and "Left" side. To get the entire experience, it requires two screens (or if you're on the computer, two windows open and placed next to each other). Once the videos are side-by-side, you press play and let the magic unfold before your eyes. Keone explained to The Daily Dot: "I haven't seen a video that actually forces a user to create the experience for themselves in order to experience it correctly. We want people to see dancing as more than what you normally see." We don't want to spoil too much—experience it for yourselves by clicking both videos below!
Dance News
Oct. 14, 2015 01:44PM EST
Sep. 04, 2015 01:22PM EST
I'm just going to come out and say it: I want to see Keone and Mari Madrid choreograph a full-length narrative hip-hop show. They got their feet wet in January with Time for Love, but I think all of their adoring fans would agree with me when I say that we're ready for something bigger. They are such natural storytellers with their bodies, and they have hip-hop partnering on lock.
Case in point: Their latest performance at the En Dance Showcase in Tokyo, Japan, has a narrative arc and the emotional depth we've come to expect from their super-precise choreography. Enjoy!
Oh, and if they do end up creating a full length show sometime soon, you heard it here first!
P.S. If you love the Madrids, then you're going to loooove our November issue. Just saying...
Dance News
Get Dance Spirit in your inbox
Jan. 23, 2015 02:50PM EST
Here's the thing about Keone and Mari Madrid: They're so talented, they don't need costumes, lighting, set design or storyline to entertain their avid internet audience. Exhibit A: Just last week, we raved about "Awesome Dance Couple," a video of the hip-hop duo beasting one of their combos at Urban Dance Camp. Their choreography—and the way they dance it—are the wow factors.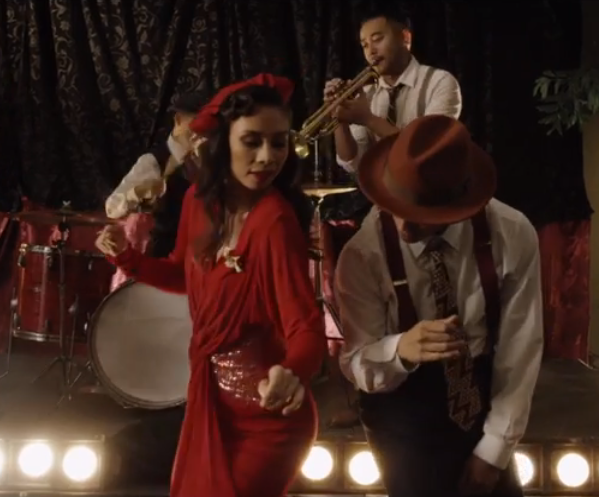 I mean, come on. #hot
But just because they can be amazing all on their own doesn't mean they shouldn't get fancy every once in a while. And man oh man, did they get fancy.
Last night—after much Twitter-prompted anticipation—the Madrids dropped their latest project: "Time for Love," an eight-minute dance short that pulls out all the stops. It's got a complex storyline, costume changes, camera angles, side lighting, backup dancers, props, time travel...everything you could ever ask for, and then some.
But the best part is, none of these added elements detract from what these two do best—dance. The choreography, which was inspired by classics like Michael Jackson's "Smooth Criminal" and Fred Astaire and Cyd Charisse in The Band Wagon, holds up to the sky-high expectations they've set for themselves. It somehow manages to be smooth and sultry, while also impossibly fast and intricate. In short: #mindblown.
Dance News
Jan. 18, 2015 07:30AM EST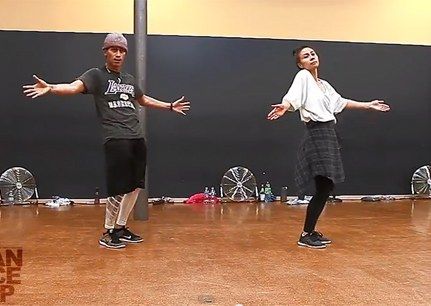 More jazz hands, please!
Once again, husband and wife hip-hop power couple Keone and Mari Madrid have blown our minds with their latest video, "Awesome Dance Couple." Filmed at an Urban Dance Camp showcase and posted earlier this week on YouTube, the couple's performance is simply delightful. Time after time, video after video, the Madrids amaze and surprise us. From rain romances to grocery-store soliloquies, no two clips are ever alike.
This week's combo is set to Royal Crown Revue's jazzy "Hey, Pachuco," which some YouTube commenters successfully pointed out is the song made famous by Cameron Diaz and Jim Carey in '90s movie The Mask. (For those of you born post Y2K, you can watch that clip here.) One thing is certain though, Keone and Mari absolutely crush any silver-screen competition. The choreography blends hard-hitting isolations with lighthearted theatricality—the Madrids at their best. Check it out below. It'll make you smile, I promise.
Dance News
Jul. 26, 2014 07:00AM EST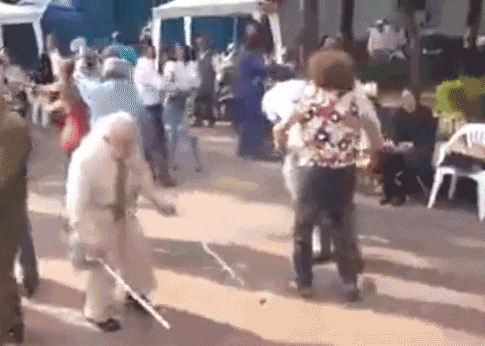 This newly viral dancing grandpa has the right idea.
First things first: Happy National Dance Day!
One of our favorite things about today is that everyone—young or old, trained or untrained, graceful or clumsy—is encouraged to drop everything and dance. And while most of us don't have canes to throw in celebration of this most glorious of days (seriously, how awesome is this guy?!), we do have something else to toss aside: our phones.
Mari Madrid and Chris Martin of Choreo Cookies really say it best in their new video, "Virtual Insanity." It asks: What would happen if we all put our phones, tablets and laptops aside for a sec? Would we find a better way to connect with one another? Call us biased, but we think the ensuing flash mob pretty much tops any text, Facebook post, tweet or Instagram.
So here's our challenge for today: Lose the phone, lose the tablet, lose the laptop (unless you're using it to learn the official NDD routines, of course), and make today all about dance!
Dance News
May. 01, 2014 11:52PM EST
Mark Kanemura and Jeremy Hudson (Joe Toreno)
Mark Kanemura & Jeremy Hudson
It's the day before Valentine's Day, and Mark Kanemura and Jeremy Hudson are holding hands at an L.A. coffee shop. The pair are talking excitedly about their plans for the holiday, which include a Newport Beach whale-watching excursion and a possible trip to Disneyland (one of their favorite places). The upcoming whirlwind weekend is just the latest in a long list of romantic adventures for Mark and Jeremy, who've followed a carpe diem approach throughout their five-year relationship.
They've certainly seized their days together, not only personally but also professionally—taking on dance jobs in tandem, like Lady Gaga's Monster Ball and Born This Way Ball world tours, as well as many of her music videos, including "Telephone" and "Marry The Night." Dying to know more? So were we.
How did your love story start?
Mark: When I was a contestant on "So You Think You Can Dance" Season 4, Jeremy was assisting choreographer Tyce Diorio. That was the first time we met.
Jeremy: It was really quick—"hi" and "bye," "nice to meet you." But once Mark moved out to L.A. from Hawaii after the show, we started seeing each other a lot, and one night we exchanged numbers, just being friendly. After we'd been talking for a while, I said, "We need to go on a date." We planned something for the following week, but we weren't sure it would happen because of our work schedules—and then we ended up on the same job! It was a big Macy's Stars of Dance number for "Dancing with the Stars."
Fate! So what was your first date?
Jeremy: Our first date was during that job, in 2009. We went out for sushi and then to my friend's house. Afterward, we sat in my car and talked for two hours. We hit it off right away, and we also started booking more jobs together. After a while, people started recognizing us as a pair and wanting us to work together.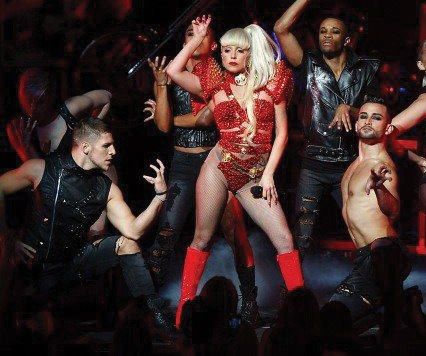 Mark and Jeremy performing with Lady Gaga (courtesy Mark Kanemura and Jeremy Hudson)
A great example of that is your longtime work with Lady Gaga. Did being on tour together accelerate your relationship?
Mark: When we booked the first tour, we were just starting to get to know each other. If only one of us had gone, the relationship might not have worked out; it was so new.
Jeremy: Dancing and traveling together and sharing everything really speeds up the dating process. We've been together for five years, but it feels like longer.
Your tour travels have taken you all over the world together. Any memorable adventures?
Jeremy: We're both super-big Disney nerds, so our mission for the Born This Way Ball tour was to see all the Disney parks around the world—Hong Kong, Tokyo, Paris, Florida. In Paris, I surprised Mark for his birthday. We got this amazing room in the Disneyland hotel with a view of the castle and watched the fireworks show from our balcony.
Mark and Jeremy are self-described "super-big Disney nerds." (courtesy Mark Kanemura and Jeremy Hudson)
Who's the romantic one?
Mark: I don't like getting surprised, but I love surprising people! I took Jeremy to Hawaii, where I'm from. It's a special place for me, and I wanted him to experience it.
Jeremy: Last year, Mark surprised me with a trip to Disney World in Florida. We stayed in the Animal Kingdom resort, and it was so awesome. A friend of a friend got us VIP treatment, so we got to meet all the characters. Amsterdam was another romantic memory—I surprised Mark by renting a boat on the canals, and we shared birthday cake with two friends from tour.
There are hordes of Tumblr pages devoted to your relationship. Is that weird?
Jeremy: One person has a tattoo of Mark's face, so once that happens, you're not shocked anymore! It's kind of weird knowing people are up in your personal life, but fans can also be supportive and super-awesome. People send us things—one of our fans sent a Christmas package with cookies.
Mark: At Disney, we get recognized a lot, even by the workers there. Gaga's fans tend to recognize us both. The diehard ones are very passionate.
What do you guys like to do on dates?
Mark: We enjoy finding good healthy places to eat, and we're boba tea fanatics.
Jeremy: We'll drive 30 minutes for a boba tea date!
Mark: We like to explore parts of L.A. we've never been to—now that we're home from tour, we can actually discover the city we live in. For my birthday last year, Jeremy took me to Santa Barbara with a bunch of friends for a wine tasting. I was completely blown away that a vineyard existed just an hour outside the city.
What's your place in L.A. like?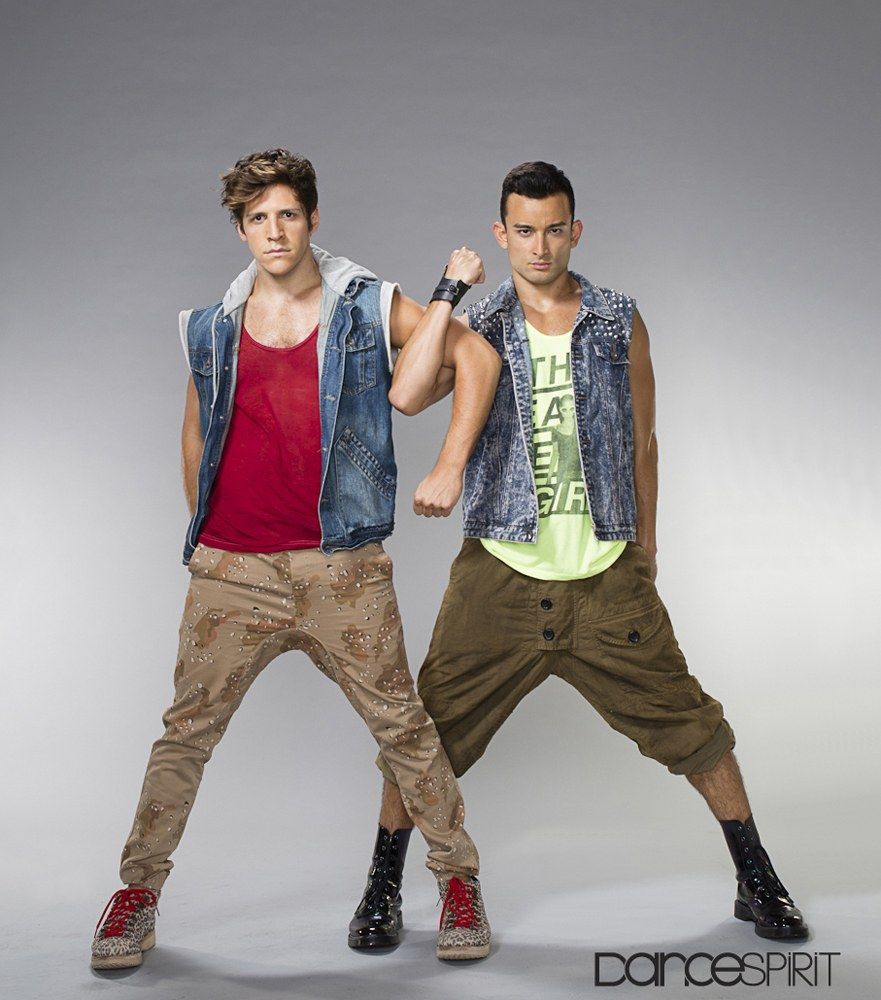 (Photo by Joe Toreno)
Jeremy: We turned one of our three bedrooms into a mini dance studio—it's a really great space with lots of natural light. That's where Mark created his "SYTYCD" couch routine for Jenna Johnson last season.
Mark: In our kitchen, we play out this fantasy of being ballroom dancers. We'll put on music…
Jeremy: …and do a full-on cha-cha. Mark's a really good partner and he'll put me in awesome lifts!
Speaking of partnering, things can get pretty racy onstage. Do you ever get jealous?
Jeremy: I might be a little jealous sometimes. Everyone loves Mark! I don't trust other people, but I do trust him.
Mark: I don't get jealous when Jeremy's partnering, but the industry can be tough in general. Since Jeremy and I are two guys, sometimes we go out for the same parts and it can create tension. Jeremy gets a lot of commercial work; I'm not as strong with my look. That took a while to get used to, but in the end, being supportive of each other really does help. You learn not to take things personally.
What attracts you two to each other?
Mark: I'm very intense and very serious. I've always been mature for my age. Jeremy reminds me to make light of things, to not take life so seriously. My head gets a little crazy, and he provides a good balance.
Jeremy: What attracted me to Mark right off the bat is that he's uniquely himself and doesn't try to be something he's not. A lot of people in L.A. conform to something, and Mark doesn't do that for anyone. He amazes me with the things that happen in his brain and his visions—it always draws me in.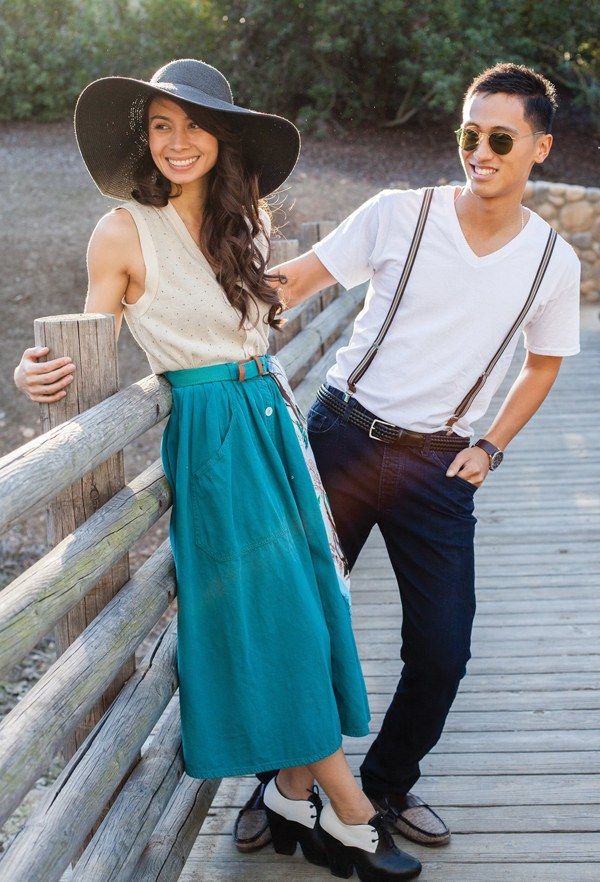 (Photo by Nicole Lewis)
Keone & Mari Madrid
Maybe you've seen them dancing on "The Ellen DeGeneres Show" or choreographing on "The X Factor," or perhaps you've spent hours watching the addictive videos on their YouTube channel. One thing's for sure: If you've seen them in action, there's no denying Mari and Keone's chemistry.
The couple first met in 2008 while teaching a workshop and quickly bonded over a shared love of the movie Anchorman, as well as their passion for dance. "Dance is such a big thing to have in common," says Keone. "We automatically have so much to talk about, and we understand each other in an artistic, emotional and physical way."
That electric connection was cemented when Keone planned an epic surprise proposal for Mari in 2011. "Keone acted like we were just going to lunch, then dropped me off at a pho place and told me to go inside alone," Mari says. "Two minutes later, one of my best friends walked in and took over for the day."
That "day" included a surprise appearance by her parents and a stroll on the beach in San Diego, which culminated in a romantic cliffside proposal by the ocean. After Keone proposed, the pair danced to Al Green's "Let's Stay Together" (a meaningful song for Mari, who used to watch her parents dance to it as a kid). "As if that wasn't enough, he had organized a surprise party to celebrate with a bunch of our family and closest friends," Mari says. "It was so much more than I ever expected."
The love fest continued at their La Jolla wedding, which Keone calls the "happiest day of my life." "The top moment for me was when Mari walked down the aisle—I broke down crying like a little girl," he says.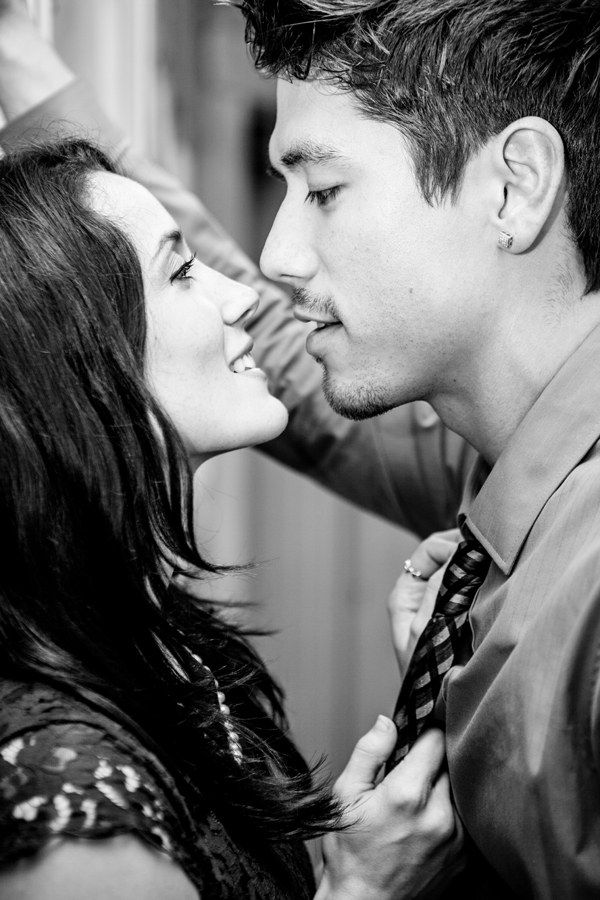 (courtesy Jamie Goodwin and Bryan Tanaka)
Jaimie Goodwin & Bryan Tanaka
This amazingly talented twosome first met through mutual dance friends, then made the romantic connection when Bryan taught a master class at Jaimie's hometown studio in Virginia. "After we met in the studio, we went to The Cheesecake Factory, and there was a lot of flirting," Bryan says. "The seed was planted."
That seed grew a few months later, when Jaimie was rehearsing with the Bad Boys of Dance in Washington, D.C., and saw Bryan perform with Beyoncé. "He got me tickets to the show, and I was hypnotized by his good looks and charm," says Jaimie. "We went out for tapas afterward, and now here we are."
That was in 2009, and it's been true love ever since—even though their hectic travel schedules make it hard for them to see each other. Both teach for various conventions, and Bryan was gone for months at a time while touring with Rihanna and Beyoncé. "That was a doozy. We had to rely on Skype," says Bryan. "Luckily, when she was on tour with Shaping Sound, I was able to travel to see her in five or six different cities."
It's clear the glue that holds them together is strong. "Our moral values and spiritual beliefs are very similar," says Jaimie. "I feel like I'm always learning when I'm around him—it's never boring." Bryan agrees: "She's continuously a reminder of what it is to be an awesome human being. She makes me want to step up and be a better man."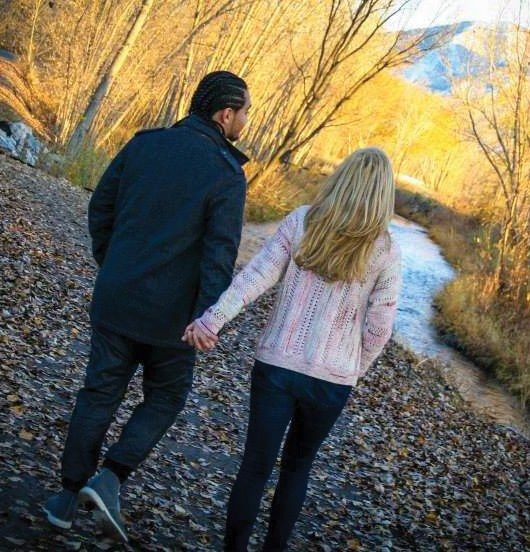 (courtesy Randi Kemper and Hefa Tuita)
Randi Kemper & Hefa Tuita
This pair was a match made in commercial dance heaven: Randi and Hefa first met in 2010 while doing an MTV Video Music Awards gig with Usher, then encountered each other again when they both landed jobs touring with Chris Brown. "We got really close on the Chris tour," Hefa says. "Randi was dance captain for the girls, and I was dance captain for the boys—it was inevitable that we would become best friends."
After several years of touring together, "friends" turned into more, and they made their relationship official in early 2013. "I love Hef because he's a really genuine, kind person who puts family first," Randi says. Hefa reciprocates the admiration: "I can trust her with anything, and we're basically the same person. It almost felt wrong not to be together."
Now these two are tackling the dance world as one, taking on teaching and choreography gigs together. They recently choreographed a music video for K-pop group Cross Gene, and they're teaching together at NUVO and JUMP conventions. "We're trying to promote ourselves as a team," Randi says. "Our point of view when it comes to dance and choreography is very similar—it's wonderful to create a career with someone you love."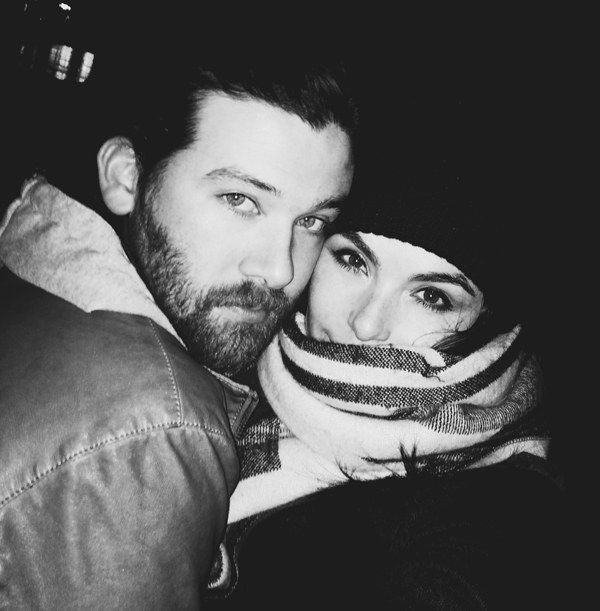 (courtesy Chantel Aguirre and Michael Keefe)
Chantel Aguirre & Michael Keefe
From hiking to watching movies to taking trips, fun is the name of the game for Chantel and Michael. "We've known each other since I was 17 and he was 19," Chantel says. "He's my best friend—our relationship is just like friends hanging out all the time."
They've found a way to translate that personal connection to the professional sphere: They spent last summer traveling to studios across the country as guest teachers and choreographers. "When you're by yourself in those situations, it can be overwhelming,but when we're together, we can help each other relax and talk through it," says Michael. "Also, our dance styles are so different—Chantel has long, beautiful lines, and I'm more staccato and rhythmic, so the combination translates to a really cool way of moving."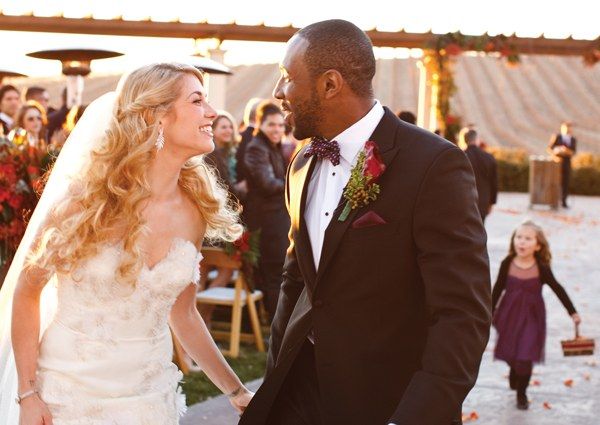 Allison and tWitch—with Weslie following close behind—at their wedding. (courtesy Allison Holker and tWitch Boss)
Stephen "tWitch" Boss & Allison Holker
You know tWitch and Allison not only as "SYTYCD" contestants and All-Stars, but also from our most popular cover story ever (September 2012)! "Seeing ourselves on the cover was incredibly surreal," says tWitch. "I've been reading Dance Spirit since I started dancing, and to be on the cover, as corny as it may sound, was a dream come true."
Allison and tWitch's love story has entered yet another exciting chapter since we last checked in: They're now Mr. and Mrs. Boss! In December, they tied the knot at Nigel Lythgoe's Villa San-Juliette Winery in front of a roster of dance friends including Lythgoe, Travis Wall, Teddy Forance, Comfort Fedoke, Courtney Galiano, Jaimie Goodwin and Bryan Tanaka. Needless to say, the dance floor was on fire all evening. "Our first dance was to 'One and Only,' by Adele, and we did a special performance with Allison's 6-year-old daughter, Weslie, to Justin Bieber's 'Somebody to Love,' " tWitch says.
Now "the Boss tribe" (as they call it) is ready for happily ever after. Says Allison, "We were always a happy couple before marriage, but now I feel as though our family is complete."
Popular
Apr. 17, 2014 07:00AM EST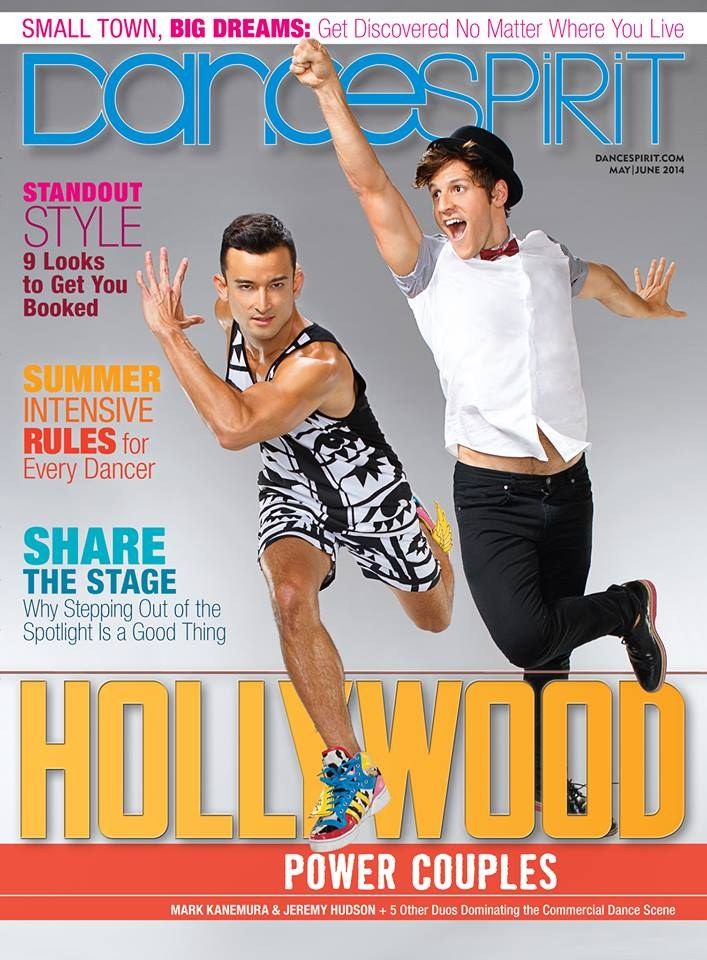 Dance Spirit's May/June 2014 issue. Shot by Joe Toreno.
The day I found out Jeremy Hudson and Mark Kanemura were dating, I sprinted across the office and practically shouted to the rest of the Dance Spirit staff, "We have to put them on the cover!" You know Mark from Season 4 of "So You Think You Can Dance," and from his work on Season 10. (The couch piece he did for Jenna Johnson was my favorite of the entire season.) You know Jeremy from...well, everyone knows Jeremy. Commercial dance insiders regularly refer to him as "the most-booked dancer in L.A.," and during our cover shoot last September, Jeremy confessed to me that he hasn't had to audition for a job in years—people just hire him.
Jeremy and Mark have each found incredible successes in their dance careers so far, but put them on a stage together and they light it up. Case in point: just about every Lady Gaga video or tour you've ever seen. (And take a look at this album of outtakes from their shoot. There wasn't a less-than-perfect picture in the entire bunch!)
It's such an honor having these two oh-so-in-love superstars on the cover of our May/June issue. We're in love with their love story. Click here to read it, and enjoy this video from their photo shoot with photographer Joe Toreno in Hollywood.
Of course, Mark and Jeremy aren't the only crazy-hot pair making their mark on the Hollywood dance scene. Dancing power duos are all the rage right now. Once you're done reading about Mark and Jeremy's journey to coupledom, enjoy the sweet stories of Jaimie Goodwin and Bryan Tanaka, Chantel Aguirre and Michael Keefe, Keone and Mari Madrid, Randi Kemper and Hefa Tuita and, of course, our September 2012 cover stars (and newlyweds!), Stephen "tWitch" Boss and Allison Holker.
Prepare to be awwwww-ed by all of it. We certainly were.
Dance News