Oct. 08, 2019 11:10AM EST
Joe Toreno/Getty Images
We may be less than two weeks into October, but Mark Kanemura—dancer, Instacelebrity, wig whisperer—has already won #SpookySeason.
How, you ask? Why, with a frightfully delightful Lizzo-meets-Elphaba dance mashup for the ages, of course. (A special thank-you, Mark, for introducing us to the #broomtwerk.)
Just for Fun
Mar. 27, 2019 11:30AM EST
Nov. 22, 2018 07:02AM EST
Happy Thanksgiving, everyone! We hope you're enjoying this wonderful day of feasting. In the spirit of the holiday, we thought we'd reflect on the dance things we're grateful for this year. Here are our editors' top picks.
Dancer to Dancer
Nov. 02, 2018 03:18PM EST
Jun. 15, 2018 08:56AM EST
Including Travis Wall, obviously! (Adam Rose/FOX)
"So You Think You Can Dance" is often a launching pad for a dancer's career. While many "SYT" alums go on to perform for iconic artists or join high-profile companies, some also become choreographers—and a few even come full-circle, making dances for the show where it all began. Here are 8 talented choreographers who got their start as "SYTYCD" hopefuls.
Dancer to Dancer
Mar. 19, 2018 11:30AM EST
Aug. 16, 2014 07:45AM EST
Courtney Galiano at the 2013 BEAT MS Dance Walk
(photo via The Beat MS)
L.A. friends: Mark your calendars for the second annual BEAT MS Dance Walk, happening September 13th. Spend a day movin' and groovin' alongside some of your favorite dancers, all while raising awareness about multiple sclerosis. But even if you're not on the West Coast, this event is something we can all get behind.
In 2011, "So You Think You Can Dance" All-Star Courtney Galiano was diagnosed with MS—a debilitating disease that affects the central nervous system. Despite the challenge she faces, Galiano hasn't let MS bring her down. She and her brother, Philip Byron, established the foundation BEAT MS (the name is a play on her family's dance convention, The BEAT Dance Tour), and last year hosted the first BEAT MS Dance Walk to benefit the National Multiple Sclerosis Society. In 2013, the BEAT MS Dance Walk in L.A. raised over $62,000 for MS research.
We caught up with Galiano about this year's walk.
Dance Spirit: The first BEAT MS walk welcomed so many dance celebs—Adam Shankman, Mark Kanemura, Comfort Fedoke, Kathryn McCormick, Jeanine Mason and dancers from "Americans Best Dance Crew" and "Glee." Are you expecting more star participants this time around?
Courtney Galiano: Last year we had over 600 people walk, and we want to continue to get as many people involved as possible. There will be lots of dancers from "SYTYCD" (including season 7 winner Lauren Froderman), dancers from VH1's "Hit the Floor" and cast members from the musical Hair—including Kristen Bell—which I just performed in at the Hollywood Bowl.
DS: So far, what have been the most rewarding aspects of the BEAT MS?
CG: Being surrounded by so much love and support, and meeting people who share my passions and challenges. I've been amazed at the number of young people fighting MS. It often seems like there's a stigma associated with the disease—people are scared to say they have it. Through BEAT MS, I'm hoping to break that stigma, because there's nothing to be ashamed or afraid of. I think the lack of discussion about MS stems from a lack of knowledge, so I hope the walk helps raise awareness and educate people.
DS: Since your diagnosis with MS in 2011, have your career goals changed?
CG: Not at all. I have good days and bad days, but sometimes I forget I even have MS. Fatigue is the biggest symptom I have to fight. I'm thankful every day for the determination that dance has instilled in me. Plus, dance really helps fight the disease: Medical professionals have started prescribing dance classes for people with MS and similar diseases that affect mobility. It just goes to show you how powerful dance really is!
DS: Is there a way for those who can't attend the walk in L.A. to get involved?
CG: Of course! You can make donations on our website, or even start your own team and recruit other people to join on social media. Anything that spreads awareness about this event and the disease helps.
If you're in Georgia, Texas, New Jersey or Florida and want to get involved, you can also check out The BEAT Dance Tour convention—a portion of every registration is donated to the National Multiple Sclerosis Society.
May. 01, 2014 11:52PM EST
Mark Kanemura and Jeremy Hudson (Joe Toreno)
Mark Kanemura & Jeremy Hudson
It's the day before Valentine's Day, and Mark Kanemura and Jeremy Hudson are holding hands at an L.A. coffee shop. The pair are talking excitedly about their plans for the holiday, which include a Newport Beach whale-watching excursion and a possible trip to Disneyland (one of their favorite places). The upcoming whirlwind weekend is just the latest in a long list of romantic adventures for Mark and Jeremy, who've followed a carpe diem approach throughout their five-year relationship.
They've certainly seized their days together, not only personally but also professionally—taking on dance jobs in tandem, like Lady Gaga's Monster Ball and Born This Way Ball world tours, as well as many of her music videos, including "Telephone" and "Marry The Night." Dying to know more? So were we.
How did your love story start?
Mark: When I was a contestant on "So You Think You Can Dance" Season 4, Jeremy was assisting choreographer Tyce Diorio. That was the first time we met.
Jeremy: It was really quick—"hi" and "bye," "nice to meet you." But once Mark moved out to L.A. from Hawaii after the show, we started seeing each other a lot, and one night we exchanged numbers, just being friendly. After we'd been talking for a while, I said, "We need to go on a date." We planned something for the following week, but we weren't sure it would happen because of our work schedules—and then we ended up on the same job! It was a big Macy's Stars of Dance number for "Dancing with the Stars."
Fate! So what was your first date?
Jeremy: Our first date was during that job, in 2009. We went out for sushi and then to my friend's house. Afterward, we sat in my car and talked for two hours. We hit it off right away, and we also started booking more jobs together. After a while, people started recognizing us as a pair and wanting us to work together.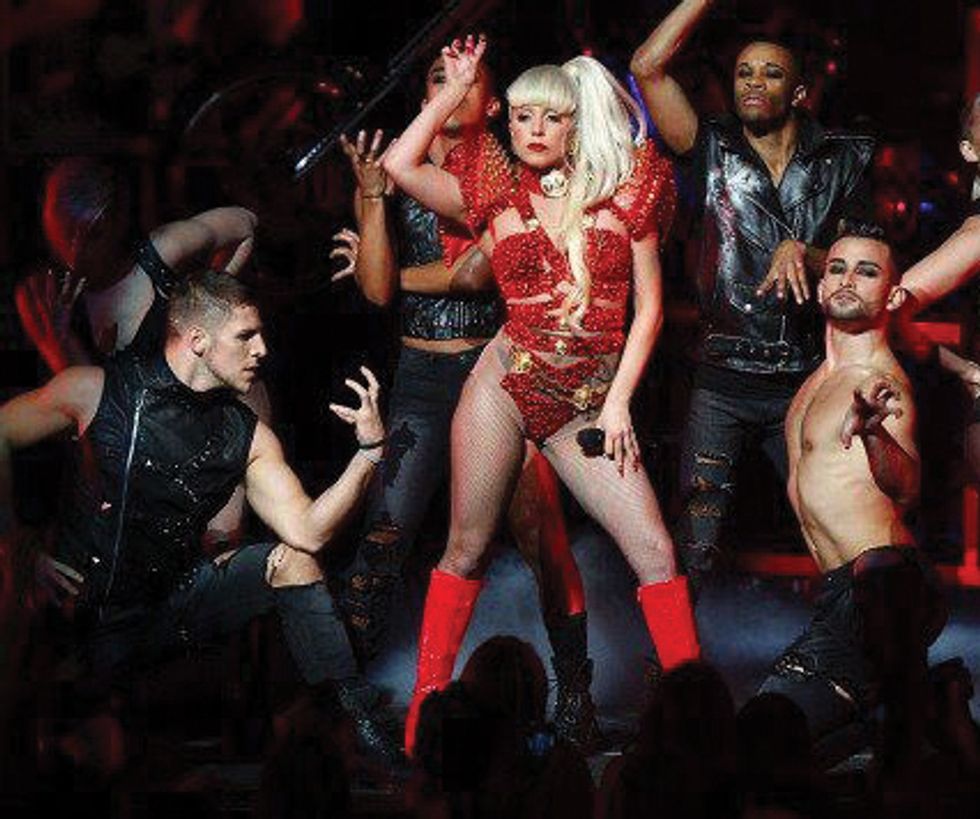 Mark and Jeremy performing with Lady Gaga (courtesy Mark Kanemura and Jeremy Hudson)
A great example of that is your longtime work with Lady Gaga. Did being on tour together accelerate your relationship?
Mark: When we booked the first tour, we were just starting to get to know each other. If only one of us had gone, the relationship might not have worked out; it was so new.
Jeremy: Dancing and traveling together and sharing everything really speeds up the dating process. We've been together for five years, but it feels like longer.
Your tour travels have taken you all over the world together. Any memorable adventures?
Jeremy: We're both super-big Disney nerds, so our mission for the Born This Way Ball tour was to see all the Disney parks around the world—Hong Kong, Tokyo, Paris, Florida. In Paris, I surprised Mark for his birthday. We got this amazing room in the Disneyland hotel with a view of the castle and watched the fireworks show from our balcony.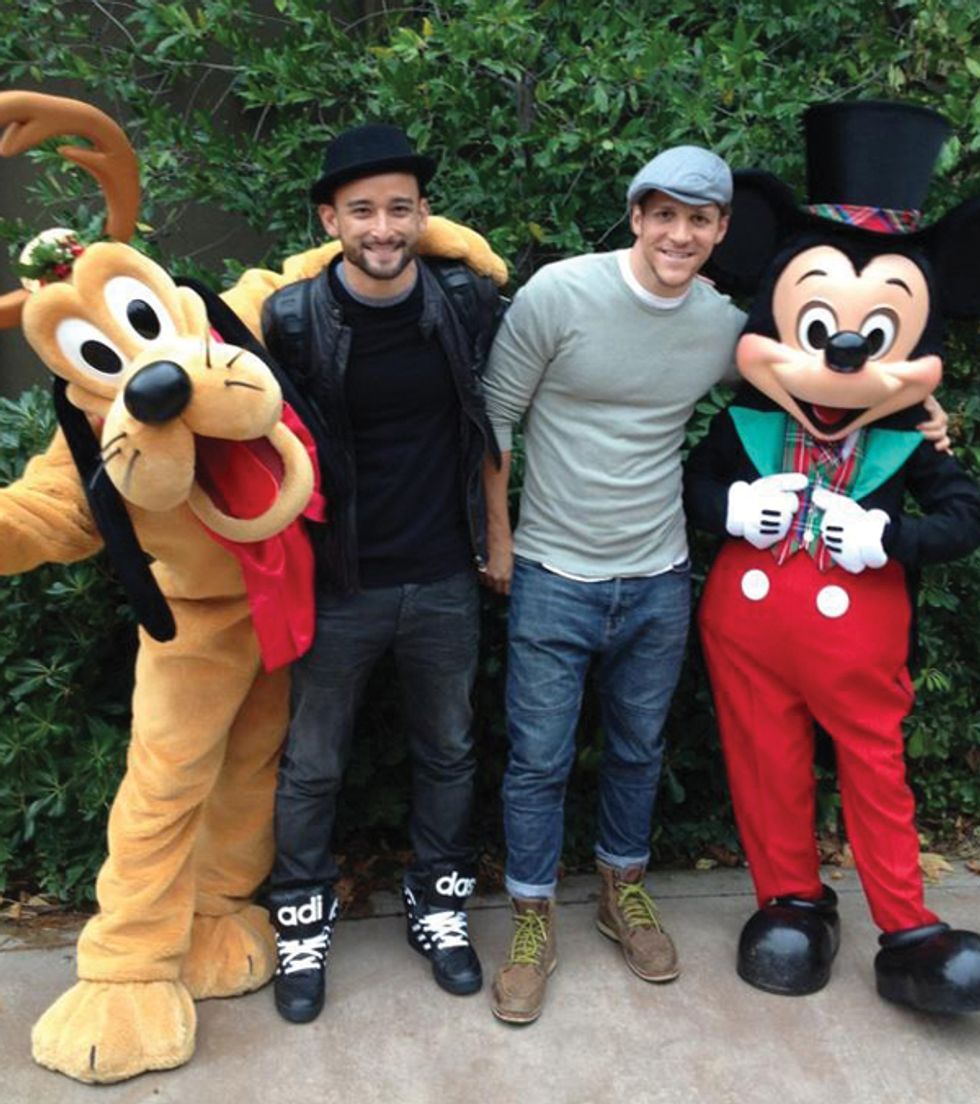 Mark and Jeremy are self-described "super-big Disney nerds." (courtesy Mark Kanemura and Jeremy Hudson)
Who's the romantic one?
Mark: I don't like getting surprised, but I love surprising people! I took Jeremy to Hawaii, where I'm from. It's a special place for me, and I wanted him to experience it.
Jeremy: Last year, Mark surprised me with a trip to Disney World in Florida. We stayed in the Animal Kingdom resort, and it was so awesome. A friend of a friend got us VIP treatment, so we got to meet all the characters. Amsterdam was another romantic memory—I surprised Mark by renting a boat on the canals, and we shared birthday cake with two friends from tour.
There are hordes of Tumblr pages devoted to your relationship. Is that weird?
Jeremy: One person has a tattoo of Mark's face, so once that happens, you're not shocked anymore! It's kind of weird knowing people are up in your personal life, but fans can also be supportive and super-awesome. People send us things—one of our fans sent a Christmas package with cookies.
Mark: At Disney, we get recognized a lot, even by the workers there. Gaga's fans tend to recognize us both. The diehard ones are very passionate.
What do you guys like to do on dates?
Mark: We enjoy finding good healthy places to eat, and we're boba tea fanatics.
Jeremy: We'll drive 30 minutes for a boba tea date!
Mark: We like to explore parts of L.A. we've never been to—now that we're home from tour, we can actually discover the city we live in. For my birthday last year, Jeremy took me to Santa Barbara with a bunch of friends for a wine tasting. I was completely blown away that a vineyard existed just an hour outside the city.
What's your place in L.A. like?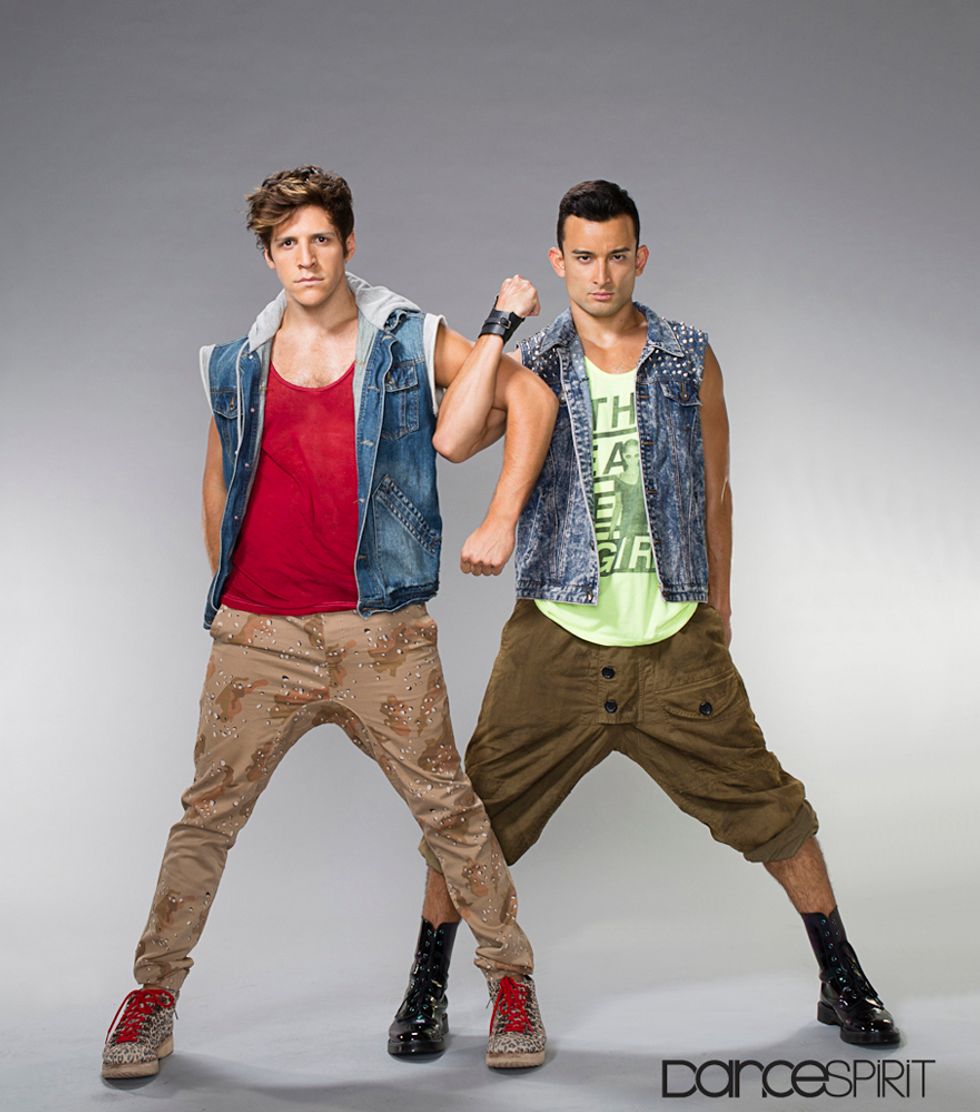 (Photo by Joe Toreno)
Jeremy: We turned one of our three bedrooms into a mini dance studio—it's a really great space with lots of natural light. That's where Mark created his "SYTYCD" couch routine for Jenna Johnson last season.
Mark: In our kitchen, we play out this fantasy of being ballroom dancers. We'll put on music…
Jeremy: …and do a full-on cha-cha. Mark's a really good partner and he'll put me in awesome lifts!
Speaking of partnering, things can get pretty racy onstage. Do you ever get jealous?
Jeremy: I might be a little jealous sometimes. Everyone loves Mark! I don't trust other people, but I do trust him.
Mark: I don't get jealous when Jeremy's partnering, but the industry can be tough in general. Since Jeremy and I are two guys, sometimes we go out for the same parts and it can create tension. Jeremy gets a lot of commercial work; I'm not as strong with my look. That took a while to get used to, but in the end, being supportive of each other really does help. You learn not to take things personally.
What attracts you two to each other?
Mark: I'm very intense and very serious. I've always been mature for my age. Jeremy reminds me to make light of things, to not take life so seriously. My head gets a little crazy, and he provides a good balance.
Jeremy: What attracted me to Mark right off the bat is that he's uniquely himself and doesn't try to be something he's not. A lot of people in L.A. conform to something, and Mark doesn't do that for anyone. He amazes me with the things that happen in his brain and his visions—it always draws me in.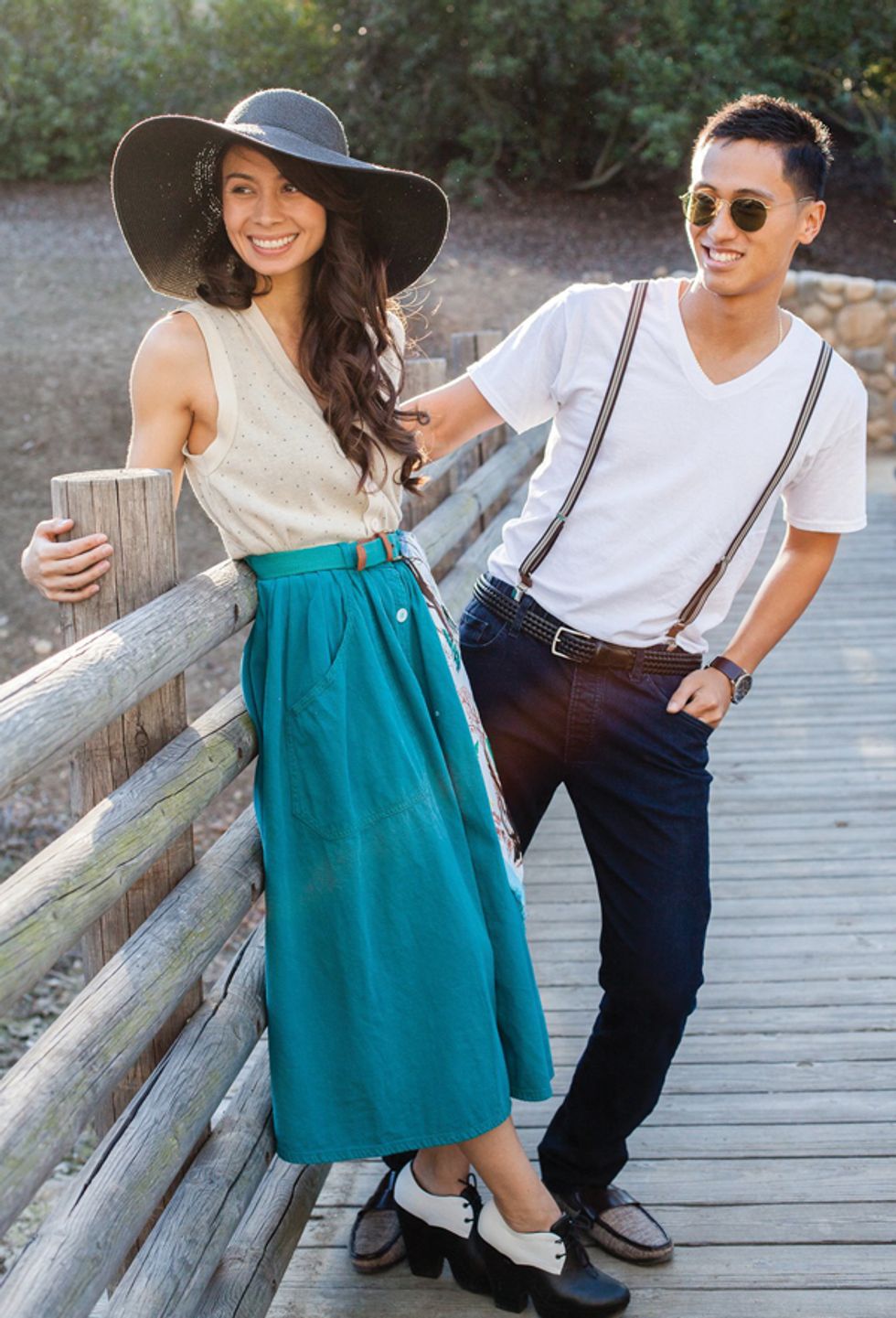 (Photo by Nicole Lewis)
Keone & Mari Madrid
Maybe you've seen them dancing on "The Ellen DeGeneres Show" or choreographing on "The X Factor," or perhaps you've spent hours watching the addictive videos on their YouTube channel. One thing's for sure: If you've seen them in action, there's no denying Mari and Keone's chemistry.
The couple first met in 2008 while teaching a workshop and quickly bonded over a shared love of the movie Anchorman, as well as their passion for dance. "Dance is such a big thing to have in common," says Keone. "We automatically have so much to talk about, and we understand each other in an artistic, emotional and physical way."
That electric connection was cemented when Keone planned an epic surprise proposal for Mari in 2011. "Keone acted like we were just going to lunch, then dropped me off at a pho place and told me to go inside alone," Mari says. "Two minutes later, one of my best friends walked in and took over for the day."
That "day" included a surprise appearance by her parents and a stroll on the beach in San Diego, which culminated in a romantic cliffside proposal by the ocean. After Keone proposed, the pair danced to Al Green's "Let's Stay Together" (a meaningful song for Mari, who used to watch her parents dance to it as a kid). "As if that wasn't enough, he had organized a surprise party to celebrate with a bunch of our family and closest friends," Mari says. "It was so much more than I ever expected."
The love fest continued at their La Jolla wedding, which Keone calls the "happiest day of my life." "The top moment for me was when Mari walked down the aisle—I broke down crying like a little girl," he says.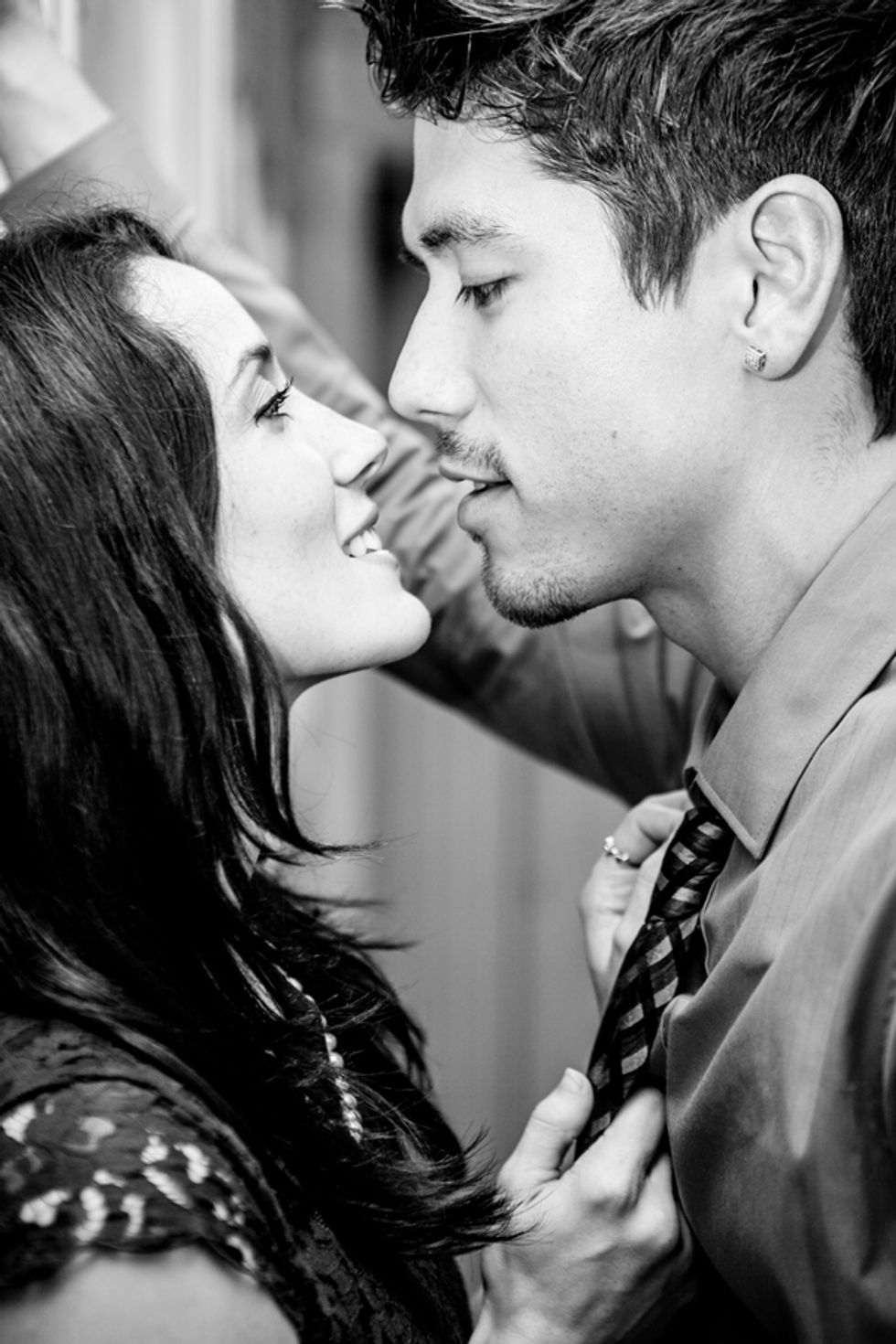 (courtesy Jamie Goodwin and Bryan Tanaka)
Jaimie Goodwin & Bryan Tanaka
This amazingly talented twosome first met through mutual dance friends, then made the romantic connection when Bryan taught a master class at Jaimie's hometown studio in Virginia. "After we met in the studio, we went to The Cheesecake Factory, and there was a lot of flirting," Bryan says. "The seed was planted."
That seed grew a few months later, when Jaimie was rehearsing with the Bad Boys of Dance in Washington, D.C., and saw Bryan perform with Beyoncé. "He got me tickets to the show, and I was hypnotized by his good looks and charm," says Jaimie. "We went out for tapas afterward, and now here we are."
That was in 2009, and it's been true love ever since—even though their hectic travel schedules make it hard for them to see each other. Both teach for various conventions, and Bryan was gone for months at a time while touring with Rihanna and Beyoncé. "That was a doozy. We had to rely on Skype," says Bryan. "Luckily, when she was on tour with Shaping Sound, I was able to travel to see her in five or six different cities."
It's clear the glue that holds them together is strong. "Our moral values and spiritual beliefs are very similar," says Jaimie. "I feel like I'm always learning when I'm around him—it's never boring." Bryan agrees: "She's continuously a reminder of what it is to be an awesome human being. She makes me want to step up and be a better man."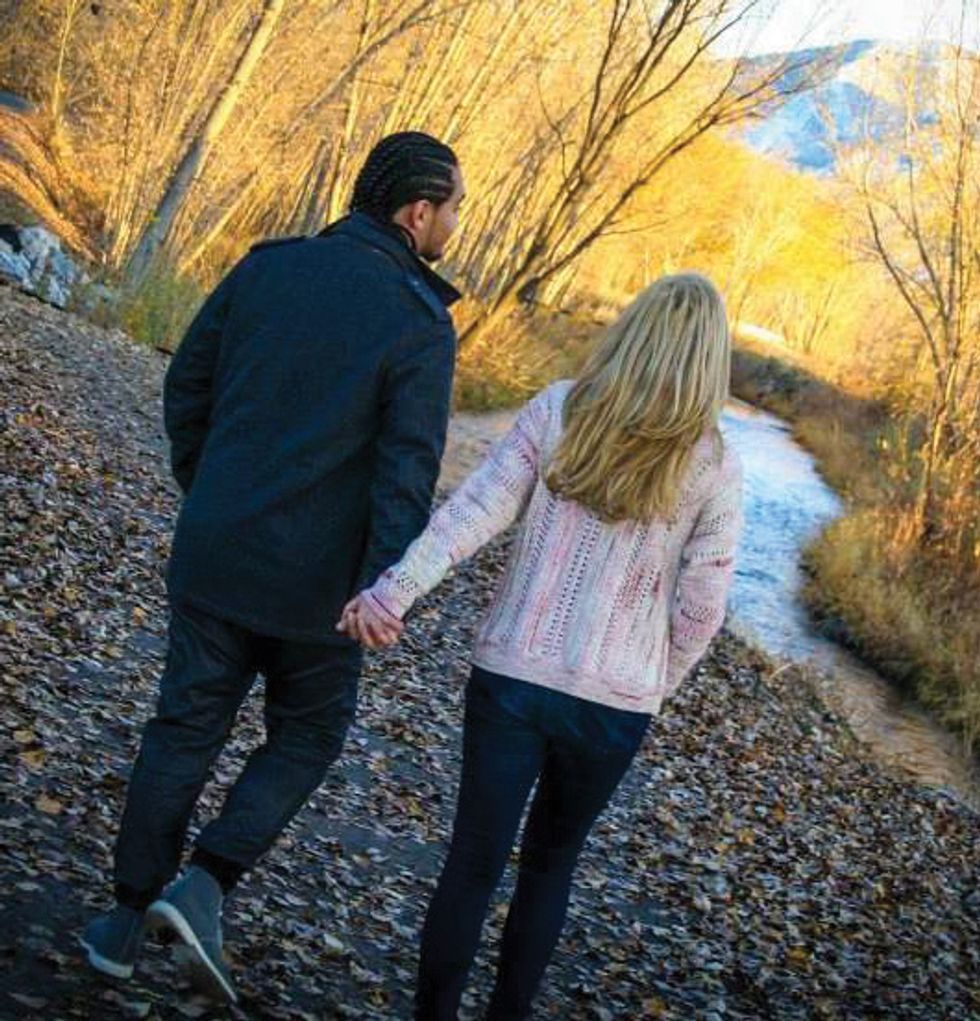 (courtesy Randi Kemper and Hefa Tuita)
Randi Kemper & Hefa Tuita
This pair was a match made in commercial dance heaven: Randi and Hefa first met in 2010 while doing an MTV Video Music Awards gig with Usher, then encountered each other again when they both landed jobs touring with Chris Brown. "We got really close on the Chris tour," Hefa says. "Randi was dance captain for the girls, and I was dance captain for the boys—it was inevitable that we would become best friends."
After several years of touring together, "friends" turned into more, and they made their relationship official in early 2013. "I love Hef because he's a really genuine, kind person who puts family first," Randi says. Hefa reciprocates the admiration: "I can trust her with anything, and we're basically the same person. It almost felt wrong not to be together."
Now these two are tackling the dance world as one, taking on teaching and choreography gigs together. They recently choreographed a music video for K-pop group Cross Gene, and they're teaching together at NUVO and JUMP conventions. "We're trying to promote ourselves as a team," Randi says. "Our point of view when it comes to dance and choreography is very similar—it's wonderful to create a career with someone you love."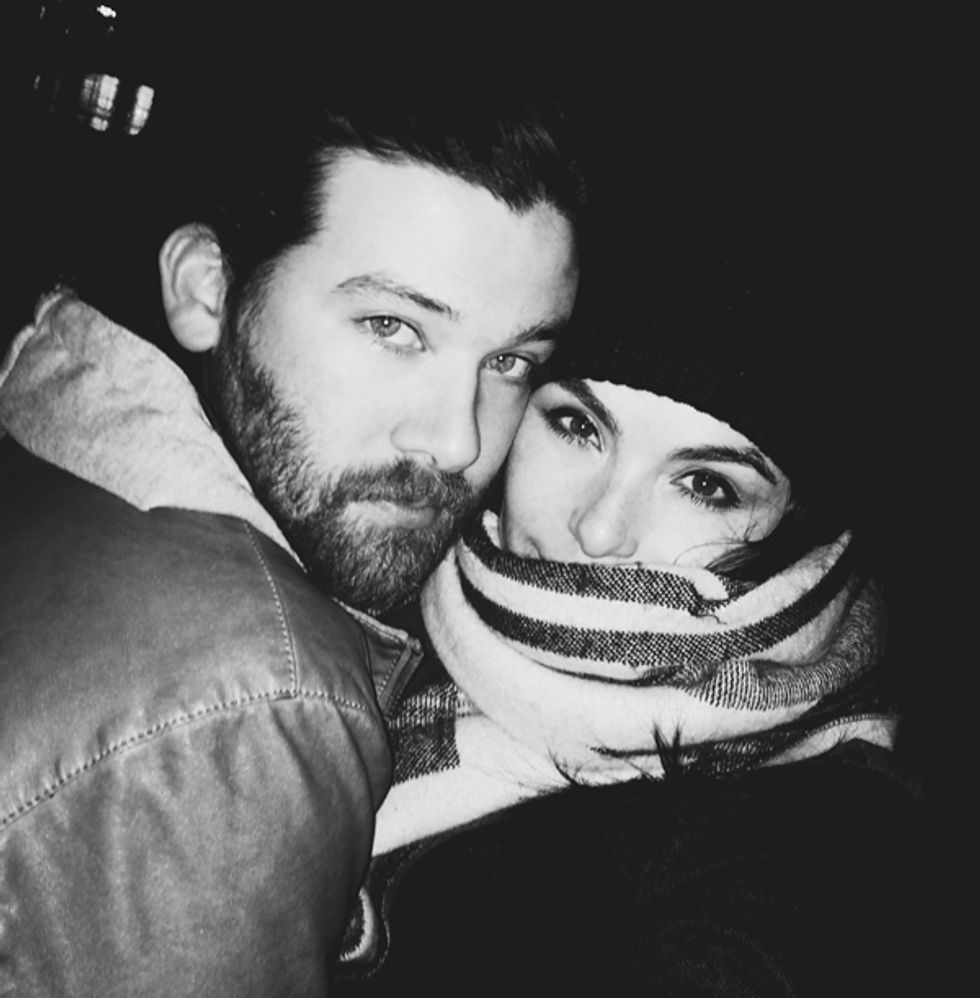 (courtesy Chantel Aguirre and Michael Keefe)
Chantel Aguirre & Michael Keefe
From hiking to watching movies to taking trips, fun is the name of the game for Chantel and Michael. "We've known each other since I was 17 and he was 19," Chantel says. "He's my best friend—our relationship is just like friends hanging out all the time."
They've found a way to translate that personal connection to the professional sphere: They spent last summer traveling to studios across the country as guest teachers and choreographers. "When you're by yourself in those situations, it can be overwhelming,but when we're together, we can help each other relax and talk through it," says Michael. "Also, our dance styles are so different—Chantel has long, beautiful lines, and I'm more staccato and rhythmic, so the combination translates to a really cool way of moving."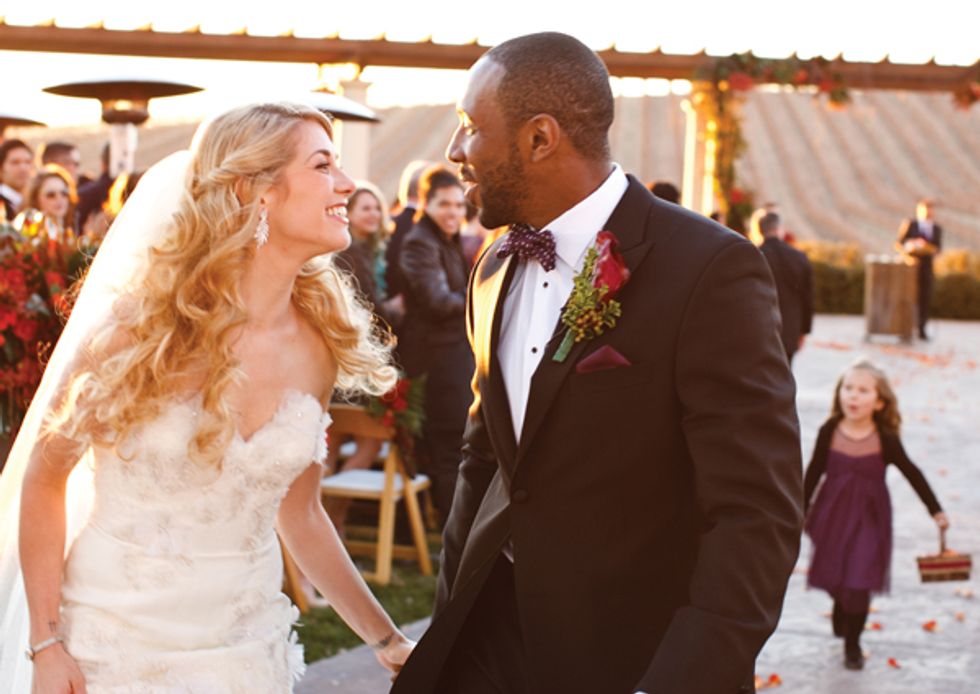 Allison and tWitch—with Weslie following close behind—at their wedding. (courtesy Allison Holker and tWitch Boss)
Stephen "tWitch" Boss & Allison Holker
You know tWitch and Allison not only as "SYTYCD" contestants and All-Stars, but also from our most popular cover story ever (September 2012)! "Seeing ourselves on the cover was incredibly surreal," says tWitch. "I've been reading Dance Spirit since I started dancing, and to be on the cover, as corny as it may sound, was a dream come true."
Allison and tWitch's love story has entered yet another exciting chapter since we last checked in: They're now Mr. and Mrs. Boss! In December, they tied the knot at Nigel Lythgoe's Villa San-Juliette Winery in front of a roster of dance friends including Lythgoe, Travis Wall, Teddy Forance, Comfort Fedoke, Courtney Galiano, Jaimie Goodwin and Bryan Tanaka. Needless to say, the dance floor was on fire all evening. "Our first dance was to 'One and Only,' by Adele, and we did a special performance with Allison's 6-year-old daughter, Weslie, to Justin Bieber's 'Somebody to Love,' " tWitch says.
Now "the Boss tribe" (as they call it) is ready for happily ever after. Says Allison, "We were always a happy couple before marriage, but now I feel as though our family is complete."
Popular
Apr. 17, 2014 07:00AM EST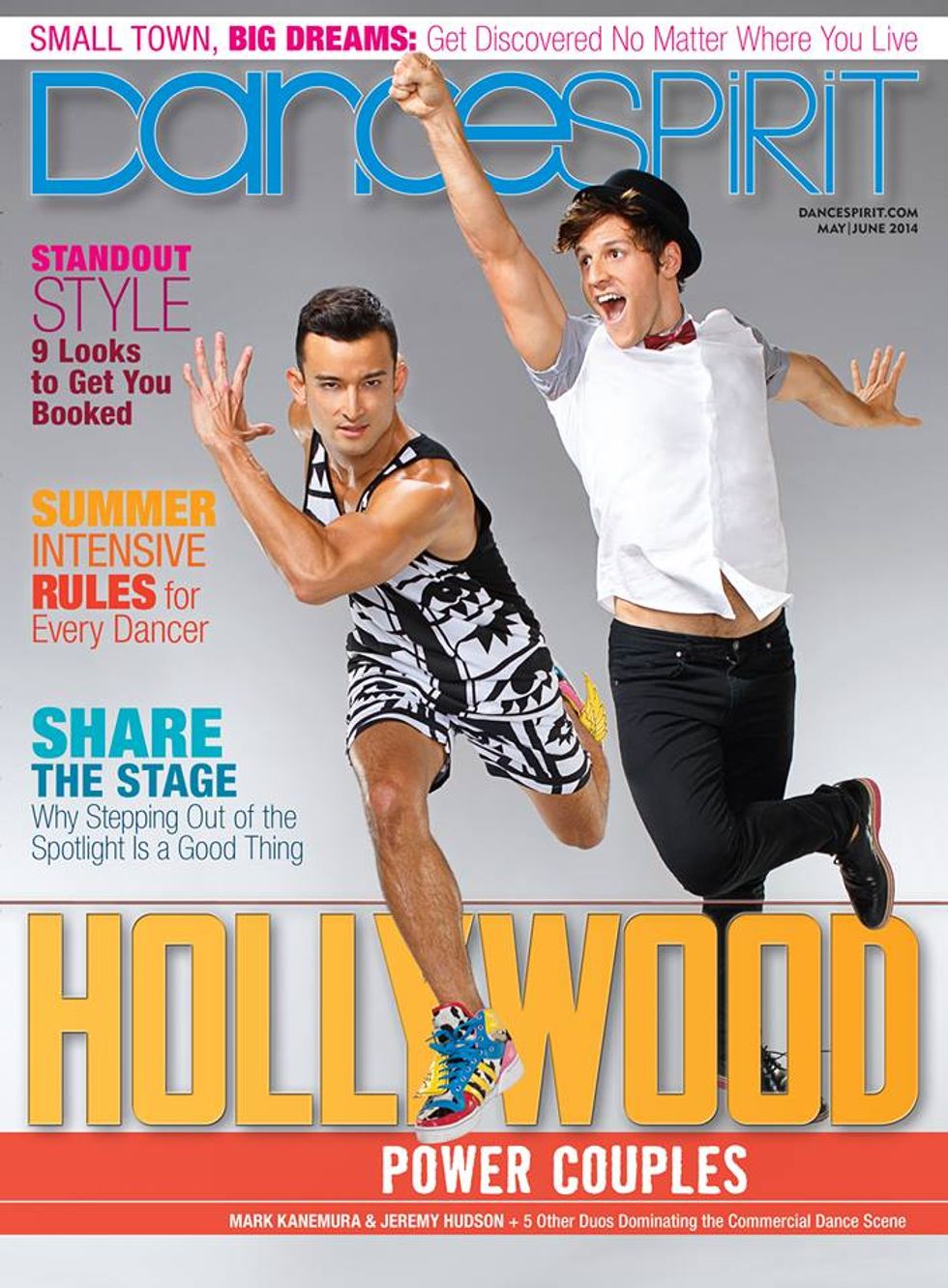 Dance Spirit's May/June 2014 issue. Shot by Joe Toreno.
The day I found out Jeremy Hudson and Mark Kanemura were dating, I sprinted across the office and practically shouted to the rest of the Dance Spirit staff, "We have to put them on the cover!" You know Mark from Season 4 of "So You Think You Can Dance," and from his work on Season 10. (The couch piece he did for Jenna Johnson was my favorite of the entire season.) You know Jeremy from...well, everyone knows Jeremy. Commercial dance insiders regularly refer to him as "the most-booked dancer in L.A.," and during our cover shoot last September, Jeremy confessed to me that he hasn't had to audition for a job in years—people just hire him.
Jeremy and Mark have each found incredible successes in their dance careers so far, but put them on a stage together and they light it up. Case in point: just about every Lady Gaga video or tour you've ever seen. (And take a look at this album of outtakes from their shoot. There wasn't a less-than-perfect picture in the entire bunch!)
It's such an honor having these two oh-so-in-love superstars on the cover of our May/June issue. We're in love with their love story. Click here to read it, and enjoy this video from their photo shoot with photographer Joe Toreno in Hollywood.
Of course, Mark and Jeremy aren't the only crazy-hot pair making their mark on the Hollywood dance scene. Dancing power duos are all the rage right now. Once you're done reading about Mark and Jeremy's journey to coupledom, enjoy the sweet stories of Jaimie Goodwin and Bryan Tanaka, Chantel Aguirre and Michael Keefe, Keone and Mari Madrid, Randi Kemper and Hefa Tuita and, of course, our September 2012 cover stars (and newlyweds!), Stephen "tWitch" Boss and Allison Holker.
Prepare to be awwwww-ed by all of it. We certainly were.
Dance News
Apr. 15, 2014 11:12AM EST
Get Dance Spirit in your inbox
Aug. 21, 2013 09:27AM EST
This week, the Top 8 were choreographed by—and partnered with—eight "So You Think You Can Dance" All Stars. I kind of love it when "SYTYCD" throws us a curveball like that. And it's a risky premise: Artists are usually at the top of their game as either dancers or as choreographers, but rarely as both at the same time. So what, I wondered as the show began, would we get? Mediocre dancing of beautiful pieces? Or vice versa? Something in the middle?
Well, a little of all of the above, it turns out. Read on for my Top 5 highlights from last night's episode.
1. Guest judge Jenna Elfman was kind of meh—but hey, she started out as a dancer! I love these kinds of discoveries. According to Wikipedia, she was in a Depeche Mode video and was also a "legs girl" for ZZ Top, whatever that means. We need concrete evidence of all this, STAT. (Wait—is she the girl on the left at 2:33 in this video? Please, please say yes.)
2. Fik-Shun and Allison's contemporary routine. It was based on society's prejudices about interracial couples—a not-so-veiled reference to Allison's relationship with a certain other "SYTYCD" All Star. Was it earth-shattering choreography? No, not really. Was the lantern theme—meant to represent the two of them "being in the dark"—especially effective? Nope. But it was a solid routine with a powerful message, and I like that Allison let Fik-Shun be himself at critical moments, playing to his strengths while carefully hiding his flaws.
3. Hayley and Dmitry's rumba. (Was Aaron's self-unbuttoning shirt earlier on actually Dmitry foreshadowing? Discuss.) There's nothing better than a good ballroom number, and it's rare that we get one that actually tells a story—in this case, the story of a woman who's just discovered her fiancé is cheating on her. The rumba suits Hayley's laser-focused technique well, though I do agree with Jenna that she could loosen up a tad. And I looooove when Mary talks dirty ballroom technique to me: "The international Latin rumba is so difficult, mainly because you can fall off-balance so easily with that type of leg action, but you [Hayley] did it beautifully." Don't stop, Mary! Don't ever stop.
4. Jenna and Mark's jazz number. Direct Mark quotes from the rehearsal footage: "I want to pull inspiration from so many different places that it's just an explosion of my head." "I'm totally not a vegetarian when it comes to dancing. I literally want it bloody. I just want it raw." "So bring out your inner Indian, and let's go to space." Somehow, all that translated to "Rich Man's Frug" by way of Lady Gaga (fitting, since Mark has been a Gaga dancer since forever) with that ineffable Markness layered over the top, and I loved every crazy moment of it. The red carpet/tongue! Amazing. And yes, Jenna looked great, although frankly it took serious effort to tear my eyes away from Mark. (Which is theoretically a problem in a routine that's supposed to be showing off the contestant...but I don't care. I love it.)
5. Amy and Travis' contemporary piece. This was Travis at his best: A classic, not-too-complicated story, with admirable, if not groundbreaking, choreography. I've also missed Travis as a dancer (at least since the end of "All the Right Moves"—R.I.P.!). And Amy is just so ridiculously great. I mean come on, those synchronized triple pirouettes that extended to second—good grief, kids!
In the end, Tucker and Jenna went home. Sad news. But at this point in the competition, every elimination is sad news.
What did you all think of the show? Did the right people go home? Let us know in the comments—and tune in next week, same time, same place for our recap!
Sep. 24, 2011 10:45AM EST
Stealing the spotlight from one of the world's biggest pop superstars is no easy task. Yet when Mark Kanemura is bending, twisting and contorting behind Lady Gaga, you can't help but stare—at him. His movement is magnetic and his edgy look is completely captivating.
The Hawaii native first gained national fame as a finalist on "So You Think You Can Dance" Season 4. Though he flew under the radar in the early weeks, Mark and partner Chelsie Hightower became top contenders after performing a Tabitha and Napoleon D'umo lyrical hip-hop routine to "Bleeding Love." Mark's convincing emotion and raw talent gained attention from both judges and audiences, and he remained in the competition until the Top 6.
After he toured with "SYTYCD," Mark's career took off almost immediately. He danced in Lil' Mama's "Truly in Love" video, followed by a 2009 MTV Video Music Awards performance with Lady Gaga. Now, Mark is a familiar face on the Gaga scene. He was a dancer on her Monster's Ball tour and appears in her videos for "Telephone," "Alejandro," "Born This Way" and "Judas." He's featured in Janet Jackson's "Make Me" music video, has performed with Katy Perry and was a lead dancer in the "Britney/Brittany" episode of "Glee." Mark also returned to the "SYTYCD" stage as an All Star during Season 7.
Read on for The Dirt from Mark!
What did you want to be when you were a teen?
A dancer! I would dream of dancing with Janet Jackson and Madonna. Waking up was the worst!
Performer you would drop everything to go see:
Prince! That man and his music are something else...
Most-played song on your iPod:
It's a tie: "Heavy Metal Lover" by Lady Gaga and "Rolling in the Deep" by Adele. YUM!
What's your biggest guilty pleasure? Watching "Toddlers & Tiaras." It's brilliant, twisted, hilarious and sparkly.
If you weren't a dancer, what would you be?
Hmmm... Maybe a geisha, maybe a zoologist, maybe a pirate? So many fun things to be.
One thing you can't live without:
SWEETS!!!!!!!!... and green tea... and my iPod... OK, that's three...but they are equally important.
Favorite city in the world:
Honolulu. There's no place like home.
Favorite dancer of all time:
I have two (sorry, I'm not following directions): Desmond Richardson (sigh) and Wade
Robson (double sigh).
What are your pet peeves?
Inconsiderate people, clutter and crayons that lose their sharpness.
Dance-wise, do you have any bad habits?
When I first started dancing, I used to pretend I was feeling sick to get out of ballet. I later realized how important ballet is.
Dancer to Dancer


Get Dance Spirit in your inbox