Mar. 23, 2017 02:52PM EST
Mar. 23, 2017 08:09AM EST
The amazing Storyboard P, who'll perform in the "Unreal Hip-Hop" program (photo Julieta Cervantes/NYTimes)
The Jacob's Pillow Dance Festival just announced the lineup for its 2014 season, and whoa, you guys: It's totally fantastic.
Every summer dancers and dance companies from all over the world descend on Becket, MA for the historic festival, which is celebrating its 82nd birthday. This year more than 52 companies will perform between June 14 and August 24.
Here are just a few of the highlights:
-Unreal Hip-Hop, a program featuring the likes of Storyboard P (check out his New Yorker profile!) and Ephrat Asherie
-Ballet 2014, a group of New York City Ballet standouts directed by amazing NYCB principal Daniel Ulbricht
-A world premiere by our friend Michelle Dorrance's Dorrance Dance group
-A "festival within the Festival" celebration of renowned choreographer Mark Morris and the Mark Morris Dance Group
And that's just the tip of the iceberg, folks. Check out the whole lineup here. We'll see you in MA in June!
Sep. 15, 2016 07:16PM EST
Mar. 16, 2015 12:34PM EST
Set your DVRs, dance nerds. Mark Morris Dance Group will be featured in a new PBS "Great Performances" presentation, and you know what that means: Two hours of pure dance-viewing awesomeness, all from the comfort of your own couch. Oh, and just a little someone named Mikhail Baryshnikov(!) will be hosting it all.
Mark Morris Dance Group in L'Allegro, il Penseroso ed il Moderato (Courtesy Kashvili)
The company will be performing one of Morris' most celebrated works, L'Allegro, il Penseroso ed il Moderato. And when I write "celebrated," I'm not exaggerating. After a performance of L'Allegro in 2013 (commemorating the work's 25th anniversary), a characteristically tough New York Times dance critic wrote, "This is choreography that speaks to the soul." So, yeah. You might not want to miss out.
In most areas, this PBS "Great Performances" will air Friday, March 27 at 9pm. Be sure to check your local listings—some cable providers are following a different schedule, and there may be a few rebroadcasts. Can't wait another 11 days? Check out this preview:
Jun. 18, 2014 10:53AM EST
June 19th marks the start of NYC Dance Week 2014—a.k.a. a huge perk for dancers spending their summer in the Big Apple. For 10 days (until June 28th), NYC Dance Week offers free(!!) and discounted dance and fitness classes throughout the city. So if you're in or around NYC, be sure to check out these highlights:
Contemporary class at The Ailey Extension
(Photo Kyle Froman)
Channel Elle Magazine's recent fashion feature and stop into an Ailey Extension class at the Ailey Studios. This Friday, TweetBoogie is holding a free hip-hop class from 6:30–8:30 pm. The Ailey Extension is also offering an extra free class to any studio newbies, and returning students can take advantage of discounted class cards.
STREB in rehearsal for Human Fountain.
(photo courtesy City Center)
Other major studios are also getting involved: Peridance Capezio Center, Mark Morris Dance Center, Ballet Academy East and Gina Gibney Dance Center are all offering free and discounted classes. But you might consider stepping out of your comfort zone—the classes are free after all. Get your flipping, tucking and Parkour-ing on with a free session at STREB@SLAM, the home of Elizabeth Streb's company STREB EXTREME ACTION.
Want to add in some fitness? There are countless Zumba, yoga and Pilates classes on the list—great for cross-training to prepare for your summer intensive. And if you have any questions about an injury or nutrition, bring them to one of The Harkness Center for Dance Injuries free Q&A and injury prevention seminars.
For the full list of events and classes in styles ranging from capoeira to Bollywood to tap to something called Ballet Gymnastics (um, yes please!), visit the NYC Dance Week website. See you in class!
Dec. 10, 2012 01:14PM EST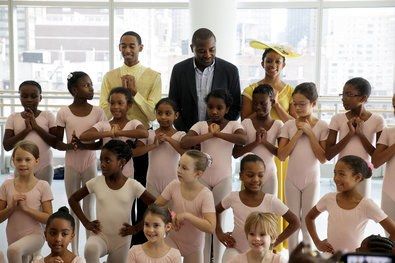 I will never stop wanting to hear about even the littlest, most mundane details of dancers' lives. I mean, let's be honest: We all have our stalker-y tendencies. But while my friends get their celebrity dirt from Us and People, I read dance companies' Facebook pages and scour dancers' Instagram feeds. They're my celebrities, and I want to know everything about them.
I love the New York Times' "Sunday Routine" column—which walks us through a Sunday in some cool person's life—because it totally encourages that kind of curiosity-driven obsessing. And when the column features a dance-world hotshot? That's doubly fun. (Mark Morris' contribution is still one of my favorite things ever.)
Yesterday, we heard about Alvin Ailey American Dance Theater director Robert Battle's Sunday. It sounds totally delightful—coffee in a Lotus garden, hanging out with the littlest students at Ailey, eating eggplant parms, watching the Food Network. Take a look. (And New Yorkers—there's still time to catch AAADT at New York City Center!)
Dec. 08, 2011 01:44PM EST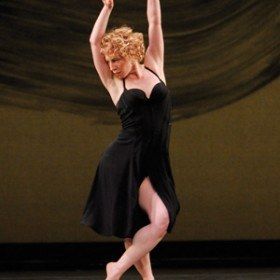 Lauren Grant in Mark Morris' Mozart Dances. Photo by Stephanie Berger.
She may be small, but Mark Morris Dance Group's Lauren Grant has a stage presence that's larger than life. Whether gliding fluidly through Morris' Mozart Dances or hamming it up as the spunky Marie in The Hard Nut (Morris' tongue-in-cheek take on The Nutcracker), she commands attention with every inch of her 4' 11" frame. Grant began her dance training when she was 3, eventually studying ballet with Irena Makkai and Inesse Alexandrov and attending summer programs at Boston Ballet and New York University's Tisch School of the Arts. After earning her BFA from Tisch, she joined MMDG in 1996 and has since appeared in more than 40 of Morris' works. Today Grant is also on faculty at the company's school (and married to fellow dancer David Leventhal). Catch her performing this month with MMDG at the Kennedy Center in Washington, D.C.  —Margaret Fuhrer
Dear Lauren,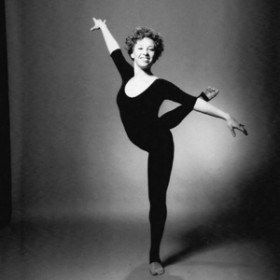 Grant's college audition photo at age 17. Photo courtesy of Lauren Grant.
From the age of 3 your love of dance has been exceptional. You've developed the confidence to follow your dream even though so many dismissed your potential because of your unconventional body type. In actuality, your petite stature will serve you well in many of the roles you'll dance.
As you continue to train, stay open-minded. Remain receptive to the information various teachers offer you. It's easy to hold on tightly to habits you learned throughout childhood. Adapt, change and grow with enthusiasm.
Never assume you are done learning. As a 15-year veteran with the Mark Morris Dance Group I still spend every day working to better my technique and artistry. When you are ready, explore the texture, quality and musicality of dance. Advance beyond focusing on the look of the steps and play with the dynamics of the entire phrase of movement.
Remember, as a dancer, your job is to communicate with your audience. You chose this field because you're comfortable speaking through your body. Be eloquent!
Dancing in a company is a social experience. As you strive for personal excellence, don't neglect the importance of learning how to dance with others. And always interact with patience, generosity and kindness.
The career ahead will be worth every bead of sweat, shed tear and sore muscle. Toi, toi, toi!
With my best wishes,
Lauren Grant
P.S. A mere bowl of Raisin Bran won't fuel you through that last attitude promenade of the Rose Adagio (which you'll perform when you're 16). Eat better!
Get Dance Spirit in your inbox