Thanksgiving is only two weeks away! And that means we've all got a certain bird on the brain: the penguin. (Wut?!) That's right, this year Mr. Turkey will have to share the spotlight with his arctic amigo—because Penguins of Madagascar is hitting theaters. You may be thinking: Sure, sure, that's great, but what does it have to do with dance? Everything, my friends, for there's a new dance in town and it's called the #PenguinShake.
In honor of the movie's upcoming release, the folks at Dream Works want to create the longest music video in the world. (Trying to rival Pharrell Williams 24-hour music video to "Happy," are we?) Their song of choice? Pitbull's hit single "Celebrate." And, to keep up with the recent music-video trend of hiring world-class choreographers, they needed to find someone pretty flippin' awesome...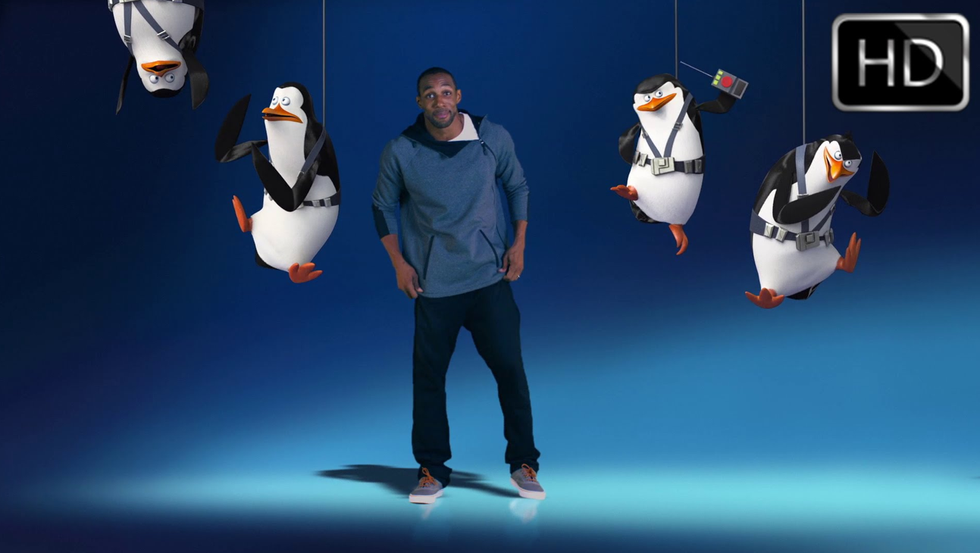 ...tWitch to the rescue!
tWitch—with his uncanny ability to make super silly look super cool—was a natural choice for the job. And his #PenguinShake does not disappoint. Check out the tutorial below!
All you've gotta do to join the longest music video in the world is 1) learn the #penguinshake, 2) film yourself performing it, 3) upload the video to Instagram with #penguinshake and 4) check the #penguinshake website 24–48 hours after uploading to see yourself in the video.
Everyone who's anyone is doing it, including animator-extraordinaire Marquese Scott:
Get (penguin) shakin'!
Why do you love dance?
Seems like a simple enough question—but try to answer it, and your mind probably runs in a million different directions. Back in August, as part of a world-wide casting call, the upcoming dance film Untapped asked the dance community to answer this question. And the result was nothing short of inspirational. Check this out:
All of the feels. Untapped, which is set to begin production in 2015, is about a troubled young girl who discovers dance as a way to release her negative emotions. It celebrates the idea of untapped potential—the fact that there may be a brilliant dancer inside each and every one of us, just waiting to burst out. (Oh, and both Jasmine Harper and Marquese Scott are involved...so there's that.)
While the official casting call has closed—they're in the process of narrowing down the Top 200 submissions—there's still a way to appear as an extra in the film. This week, Untapped launched an Instagram contest: #iamuntappedpotential. Here's how it works:
"Like" Untapped on Instagram (@untappedmovie).

Take a pic of someone who inspires you (could be more than one person).

Post the pic to Instagram.

Tag that person(s) and thank him/her for inspiring you.

Hashtag #iamuntappedpotential.

Tag two other friends and encourage them to join the @untappedmovie movement.
One winner will be randomly selected each day (and announced the following day) to receive a free DVD of the film. On November 4, a grand prize winner will be chosen to be an extra in the film, and five runners-up will receive tickets to the world premiere.
So get 'grammin'!
Quick: Imagine a dragon!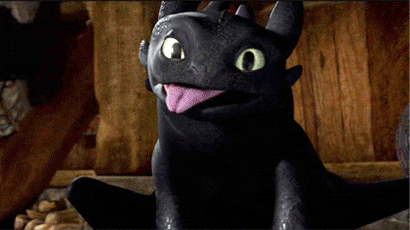 What a cutey!  (via How to Train Your Dragon)
OK, so this blog really has nothing to do with dragons. But it does have to do with fantasy, because Marquese Scott's new video "Imagine a Dragon" is unreal. [Pause for laughter.] Set to the beautiful Lindsey Stirling and Pentatonix cover of "Radioactive" by Imagine Dragons, this video perfectly captures Marquese Scott's mesmerizing quality. He and the violinist are silhouetted against the backdrop of a stunning sunset. The fact that you can only see the outline of their bodies really helps connects the two: You can sense that Scott is singing the music with his body, and that the violinist dances as he plays his instrument. This video is just more proof that hip-hop dancers and concert/jazz musicians go perfectly together. Check it out!
Animation sensation Marquese "Nonstop" Scott is at it again. (You might remember the mesmerizing video of Scott dancing to a remix of John Legend's "All of Me," or this video, which went viral in 2011.) This time, he's bringing his reality-bending style to Coca-Cola in a new commercial that's all about dance. Scott works it alongside some of his fellow Dragon House Crew members, all performing his stellar choreography. There's also an awesome all-girls section—they kill it!
Pepsi has long been known for its dance-inspired commercials (like Beyoncé's alter-ego dance-off), but it'll have to majorly step up its game if it wants to compete with this one.
Want to see more of Scott? Enter here to win a free copy of Enemy Within, a new dance film he stars in alongside ballerina Tiler Peck, modern-dance master Matthew Rushing and contemporary ballet dancer Samantha Figgins.
Oct. 23, 2013 12:09PM EST
What's better than watching a bunch of great dancers perform? Watching a bunch of great dancers from different genres perform. When the collective force of all that diverse awesomeness is applied to a single project, the result tends to be pretty incredible.
The United Artists Initiative is an organization designed around that collaborative principle. And its new film, The Enemy Within, features four dancers we can't get enough of individually: New York City Ballet's Tiler Peck, Dragon House Crew member Marquese Scott, Alvin Ailey American Dance Theater's Matthew Rushing and Complexions Contemporary Ballet's Samantha Figgins (our February 2013 cover star!). They're like the dance version of the Captain Planet team, right? It's almost hard to imagine what their crazy powers combined will create.
The Enemy Within's title refers to self-doubt, and the 20-minute film apparently dramatizes dancers' journeys to overcome their insecurities. It's scheduled for release in December of this year, but you can get a sneak peek in the trailer below. Then click here to see more behind-the-scenes footage and contribute to the movie's Indiegogo fundraising campaign.
Jan. 11, 2013 11:28AM EST
Did you know that "sign flipping" is a thing?
No, really. Apparently there are people out there doing crazy stuff with road signs.
Awesome animator (and Dragon House Crew member) Marquese Scott discovered "Flipper j" doing his thing on the side of the road a few days ago. He posted a video showcasing the guy's strange, wonderful talents, which are essentially a cross between dancing, pizza tossing and, uh, hitchhiking. About a minute into clip, Scott himself shows up, and things get even more dancetacular.
It's random. It's weird. It's amazing. It's pretty much the perfect Friday video. Enjoy!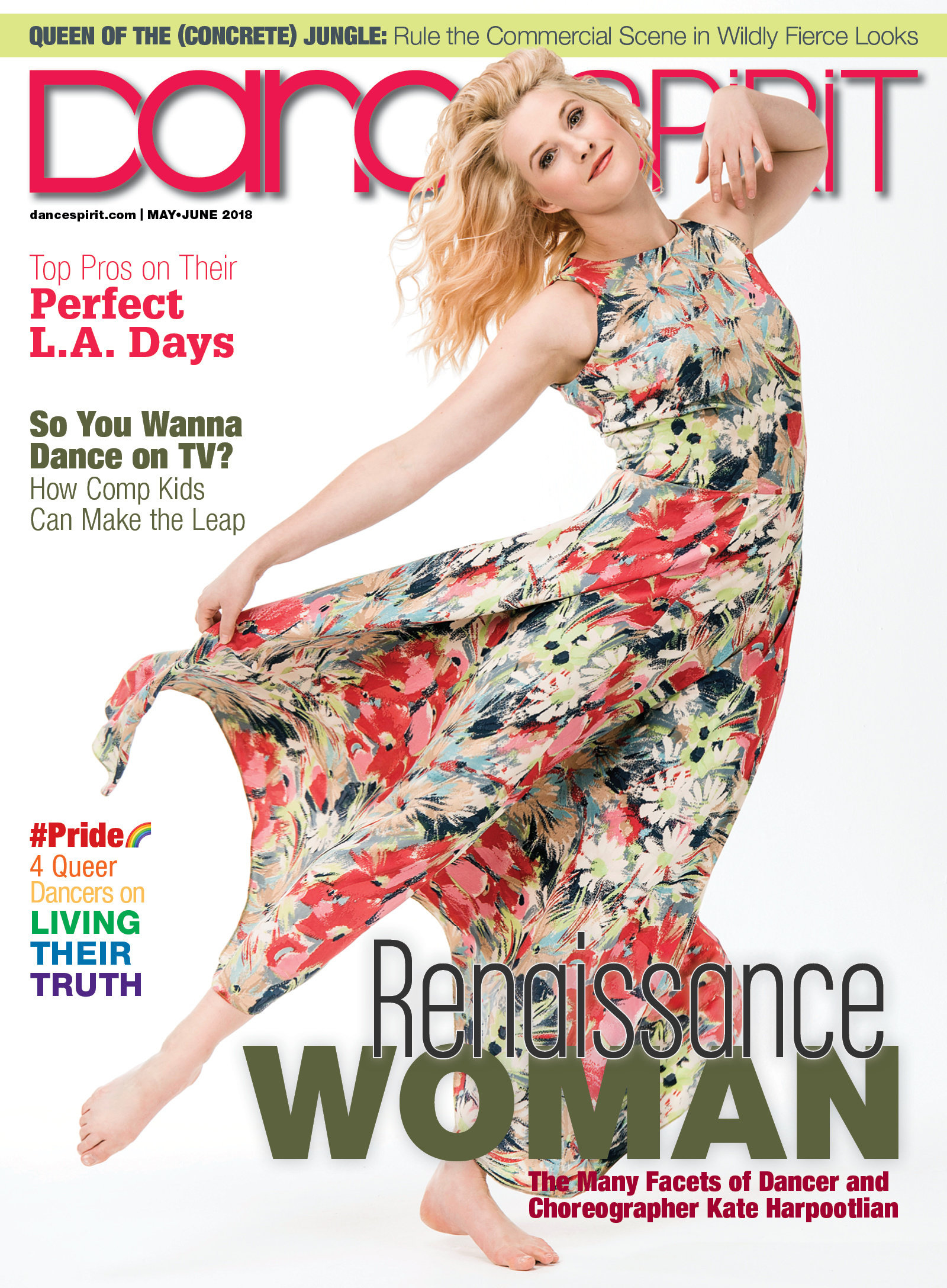 Get Dance Spirit in your inbox