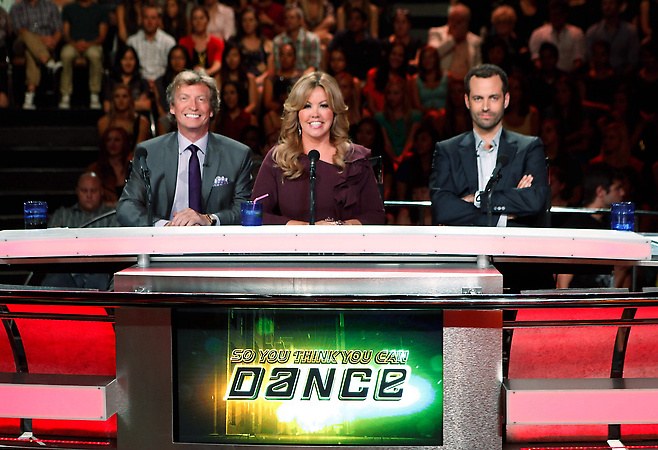 Last night on "So You Think You Can Dance" the Top 10 performed with their All-Star partners for the first time. We were thrilled to see so many of our favorite "SYTYCD" alums back as All-Stars—they really do kick the show up a notch. Joining Nigel and Mary at the judges' table was the one and only Benjamin Millepied? (whaaat? We're not complaining—just surprised). At the end of the show we found out America had voted Witney, Audrey, Chehon and George into the bottom. After dancing for their lives, Audrey (seriously?!) and George (again, what?!) were sent home. We're sad to see them go, but thrilled we'll get to see them on tour.
Here are our Top 5 moments from show: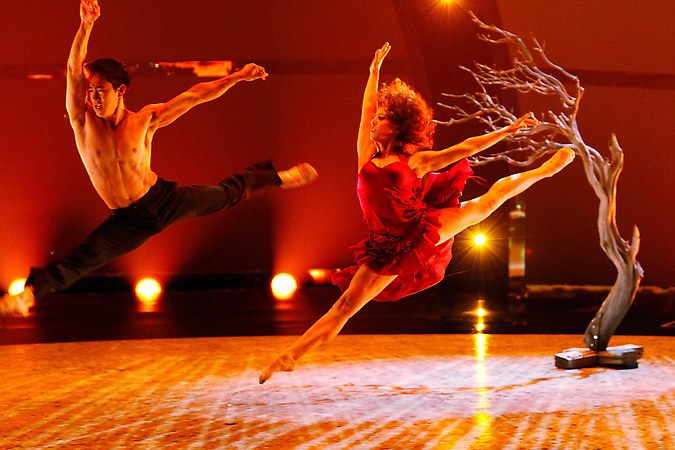 1. Eliana and Alex. Hands down my favorite routine of the night. Their technique, their steamy, subtly powerful performance, Stacy Tookey's incredible choreo—I couldn't have loved it more. Eliana is going far.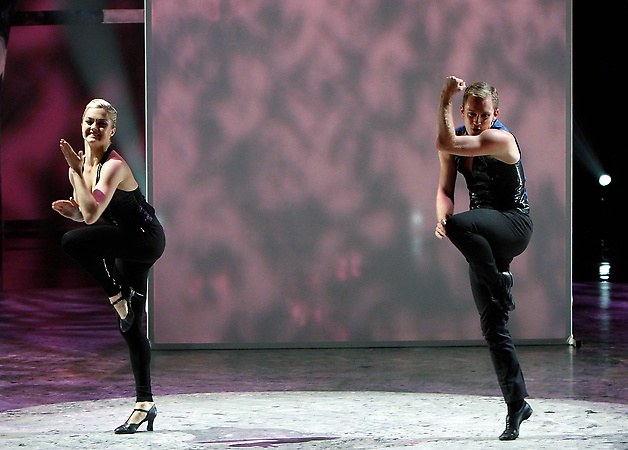 2. Lindsay and Jakob. Bravo, Spencer Liff! I was a big fan of the shadow concept and super-technical Broadway jazz choreo. I've always been on team Jakob and he really pushed Lindsay and brought out the best in her. This is a routine I would pay money to watch on the Great White Way.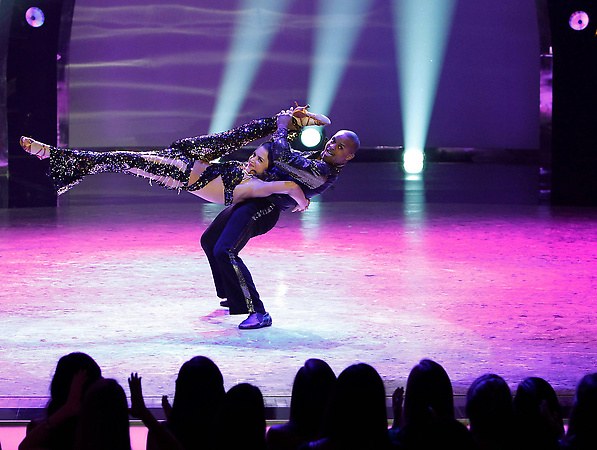 3. Tiffany and Brandon. Talk about the perfect pairing for a super high-intensity routine! Doriana Sanchez knows how to do disco right. Over-the-top energy, eleven(!) lifts and cheese-ball expressions—I was in heaven.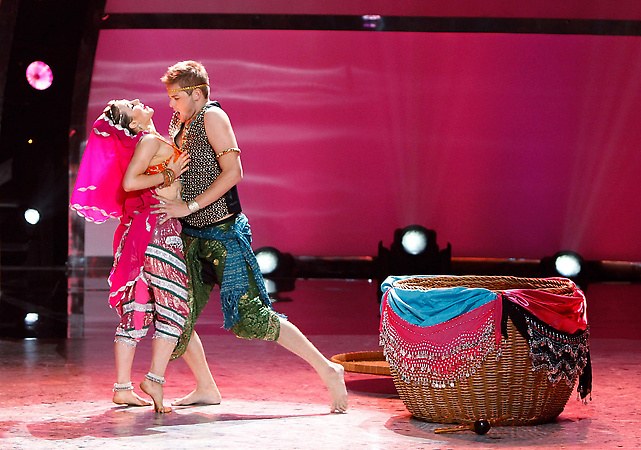 4. Will and Kathryn. Did the white boy rocked the Bollywood routine? Yes, yes he did. It was so hard to take Will serious when he was making those totally goofy faces, but I kind of loved it. He was SO excited to dance with super-sexy Kathryn and it made him completely lovable. Well done, Will.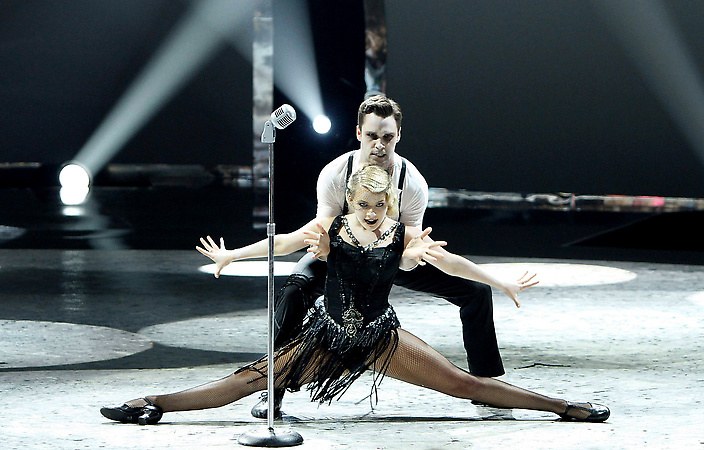 5. Witney and Nick. Wowee! That was hot! It was technical, the partnering was flawless and I really liked the choreo by Travis Wall. Witney definitely has staying power and Nick—well, we just love Nick. Obviously.
Now it's your turn! What did you think of last night's show? Did they send the right dancers home? Tell us in the comment section below!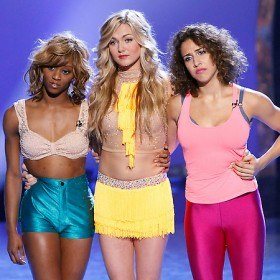 Last night on "So You Think You Can Dance" the Top 16 showed up ready to wow the judges and win America's hearts. But for two dancers, it just wasn't enough. After last week's votes, the six dancers in jeopardy were Amber, Lindsay, Eliana, George, Brandon and Dareian. The judges—Nigel, Mary and Christina Applegate—chose to say goodbye to Amber and Brandon. It's always hard to see dancers go home, but we were especially sad to see our former cover girl go. We love you, Amber!
Now for the Top 5 Moments from last night's episode of "SYTYCD!"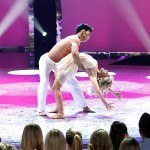 1. Witney and Chehon's contemporary routine. I'm pretty sure I've been dreaming of dancing to "I Will Always Love you" my whole life. Guess I'll just have to live vicariously through Witney (who was named after Whitney Houston?!) and Chehon. Stacey Tookey's choreo was stellar tonight—it was passionate and technical and the chemistry was so real.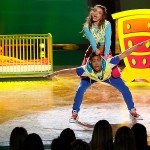 2. Tiffany and George's hip-hop routine. Nappytabs bringing their real-life impending parenthood to life? Saaa-weet! I don't have any munchkins of my own yet, but I imagine when I do I'll be dying to bust out this choreo. Plus, Tiffany handled the routine like a boss. Girl's got swag.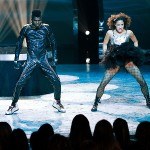 3. Eliana and Cyrus's hip-hop routine. Tabitha and Napoleon were on fire last night—great choreo and concepts all over the place. And seriously, Cyrus might really be a robot. Yes, I think he is. Plus, did you catch Eliana's stink face? Get it, girl!
4. Audrey and Matt's salsa routine. Can Audrey get any more adorable? I won't say it was the sexiest salsa I've ever seen, but I didn't really care. They're so peppy and sweet and I just want to put them in my pocket. (I'll admit, I didn't love Liz Lira's choreography.)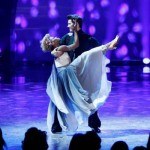 5. Amber and Brandon's jazz routine. I definitely love me a sultry, steamy jazz routine! Well done, Ray Leeper. While Brandon did look a bit awkward, losing his balance more than a couple of times, Amber was right at home. She was technically gorgeous, but it was her performance that really made me sweat. SO hot.
The "So You Think You Can Whaaat?!" Moment of the Night: Janelle and Dareian's cha-cha routine. "Call Me, Maybe"? Seriously, Pasha? I love you, but honestly, I can't take any routine seriously when they're dancing to Carly Rae Jepsen.
A big congrats to the Top 14! We're super-excited to see what they'll have to show us after the two-week break. But until then, what did you think of last night's episode? Did the judges send the right dancers home? Who's your favorite? Tell us in the comment section below!
Last night the Season 9 Top 20 took the stage in the first real competition of the season. And boy, did things get hot! Over at the judges' table, High School Musical director Kenny Ortega joined Nigel and Mary and—phew!—was I glad to have an articulate and knowledgeable judge with real dance experience weighing in on the performances.
Here are our Top 6 (sorry, I couldn't choose only 5!) Moments from last night's show: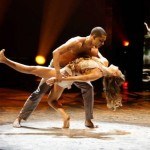 6. Tiffany and George's contemporary routine. I professed my love for Sonya last week and I'm pretty sure that after this week's routine it's turned into an obsession. Sonya's choreo is always super athletic, but I loved the emotion Tiffany and George infused into the movement. This partnership is going to do big things, people. I see them sticking around for a long time.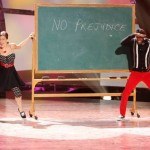 5. Eliana and Cyrus's Broadway routine. The performance was 100 percent cheese ball and I totally ate it up. For never having done choreography, Cyrus was shockingly awesome and a seriously great partner. Props to Tyce was giving them choreo that made them both look great.
4. Amber and Nick's Viennese waltz. I must admit I was a bit skeptical of this pairing at first, but they actually had some pretty great chemistry. The choreography was flowing and technical and downright dreamy. Bravo, Jason Gilkison, on a great routine. And I just have to mention Amber's hair—it was rockin'. She looked gorgeous.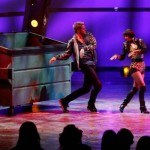 3. Amelia and Will's (character pop) hip-hop routine. This number was Nappytabs at their finest! Amelia and Will were completely committed to their characters and I couldn't get enough of them. They were slinky and funky and totally lovable. I can't wait to see more.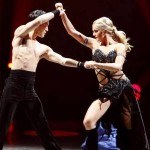 2. Lindsay and Cole's Paso Doble routine. What a power couple! And I absolutely loved Jason Gilkison's choreography. It was so strong, technical and dynamic. Are we sure Cole's not a ballroom dancer?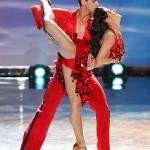 1. Audrey and Matthew's contemporary routine. Oh Travis Wall, just when I thought you'd leveled off, you give us this! I mean, Rose, Jack, the Titanic, "Unchained Melody"—it could have been a recipe for disaster, but it was brilliant! And very Mia Michaels-esque. Audrey has the feet and legs every dancer dreams of, and Matthew's performance was unmatched by any other guy.
And now, I just have to mention Tabitha's adorable baby bump! Oh my goodness, I can't even tell you how excited I am for baby Nappytabs. That child is going to be one funky little dude.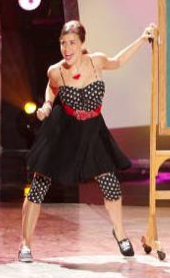 "So You Think You Can Whaaat?" moment of the night: Eliana's polka dot knee pads. Why? Why? Why? I'm still just so confused.
Now spill: Which routine was your favorite? Who did you vote for? Be sure to tune in next week to see which two boys and two girls are going home!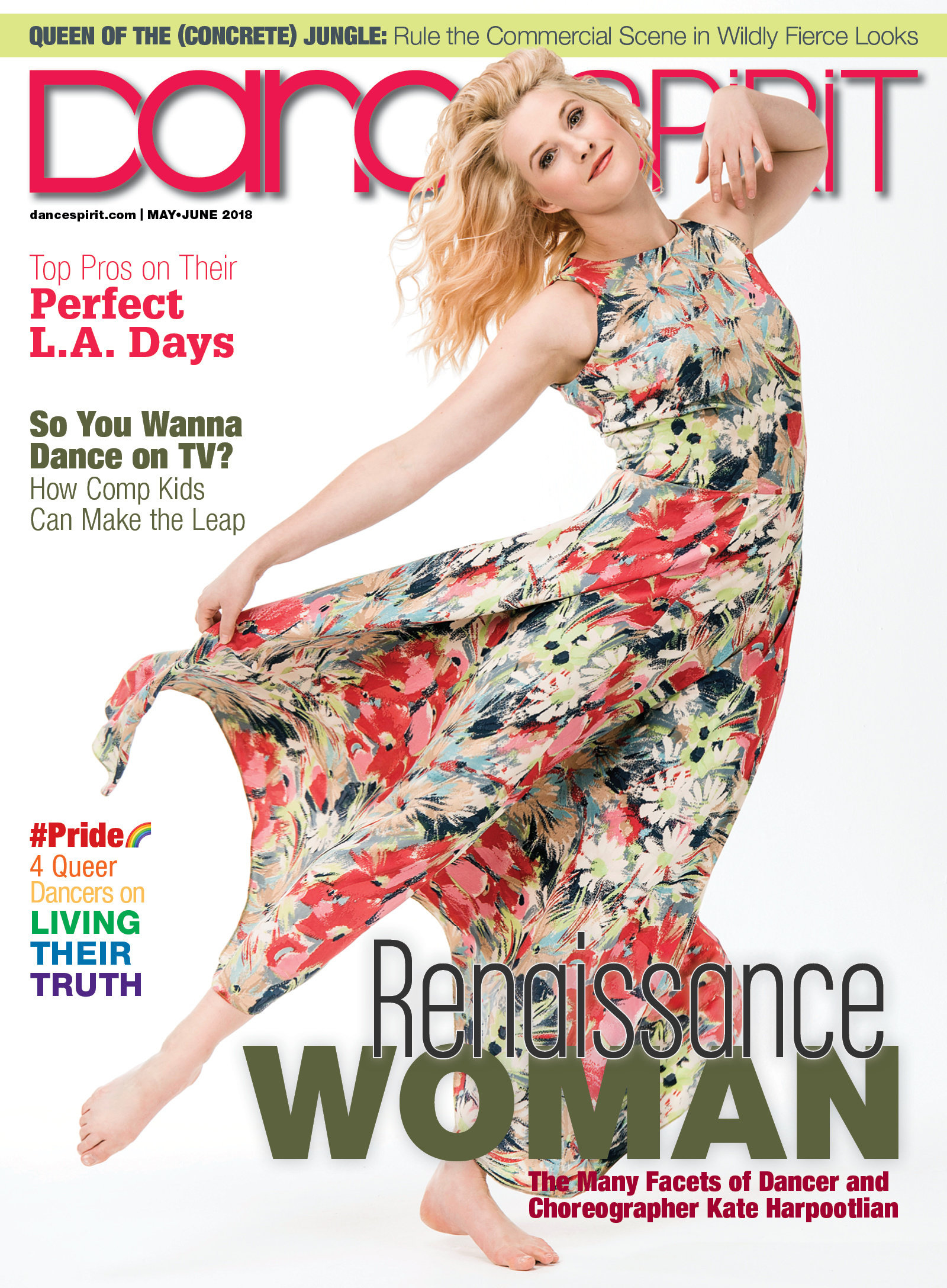 Get Dance Spirit in your inbox