Does Jared Parker look familiar? That's probably because he was the bespectacled star of this year's Tony Awards, standing out among the "Revolting Children" of Broadway's Matilda: The Musical. Until the role of Nigel in Matilda came along, 11-year-old Jared had been focusing on his ballet training at American Ballet Theatre's Jacqueline Kennedy Onassis School. He already has dance credits like The Australian Ballet's Swan Lake and ABT's The Nutcracker under his belt—and now Jared can check "outstanding Broadway debut" off his to-do list, too.
Jared Parker with the Broadway cast of Matilda: The Musical (by Joan Marcus)
"I love the live audiences on Broadway. They react differently to things every night, so the show feels different each time." —Jared Parker
FAST FACTS
Age he started dancing: 5
Who would play him in a movie? "I don't know. Maybe SpongeBob SquarePants?"
Favorite food: "I like bacon, ice cream, lobster and risotto."
Hidden talent: "I have really flexible thumbs. I can bend them back so they touch my wrists."
The best advice he's ever received: "[Matilda choreographer] Peter Darling said to tell a story when we're dancing, because otherwise we're just dancing like robots."
Dance idol: Ivan Vasiliev
Favorite dance movie: First Position
Must-see TV shows: "So You Think You Can Dance." "I also like 'American Ninja Warrior.' It has really crazy obstacle courses."
Dream dance role: Ali, the slave, in Le Corsaire
Advice for DS readers: "If anyone gives you a note, really listen to what they say."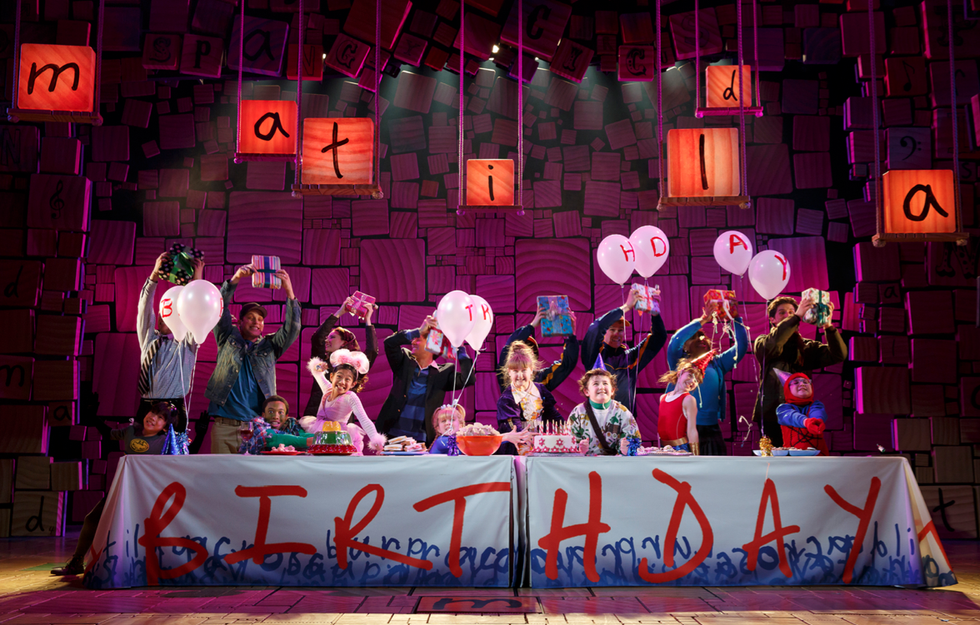 The opening scene from Matilda the Musical. Photo by Joan Marcus.
I was supposed to see Matilda the Musical when it first came out on Broadway—while it was still in previews, even.
But then I got sick, and it was the kind of sick that makes you unable to even sit in a little seat in an audience. And so I [briefly] lost my opportunity to see the show.
Meanwhile, the rest of the Dance Spirit editors saw the show without me (how rude!), and they all flipped out for it. Now, that's rare: We all have very different tastes and it's not entirely common that we all actually agree on what to obsess over. Yet here they all were, singing "When I Grow Up" and telling me all the reasons I just had to get better so I could see our shared favorite Ryan Steele (another thing we can all agree upon) fly in a swing over the audience.
It took me a while to get fully better, but as soon as I was back up and running, the first thing I did was get myself to Matilda.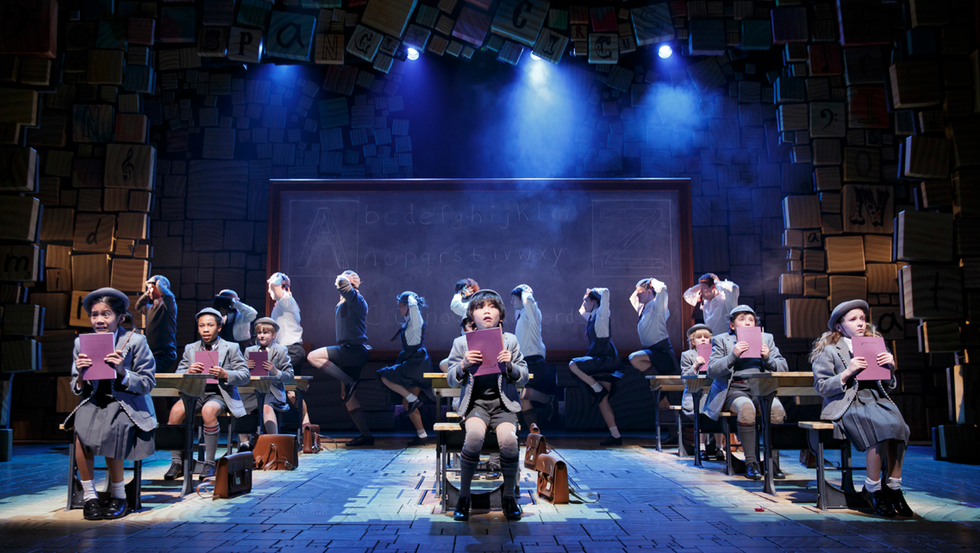 Photo by Joan Marcus.
And O...M...G...!
It's as good as—maybe better than?—everyone says. If you've seen it—or even seen glimpses of it at the Macy's Thanksgiving Day Parade or at the Tony Awards—then you understand. If you haven't seen it, please stop not seeing it. Go get tickets. It's so joyful and the kids in it are so incredible.
Speaking of the kids in the show: Matilda made news this week by announcing that the four Matildas we've grown to love and sing along with are leaving the show. We'll miss Sophia, Oona, Bailey and Milly dearly, but are pumped to meet these talented new leading ladies.
Please join us in welcoming the four girls who will share the role of Matilda: Paige Brady (10), Gabriella Pizzolo (10), Ripley Sobo (10) and Ava Ulloa (9). Paige, Gabriella and Ava are all making their Broadway debuts with this show!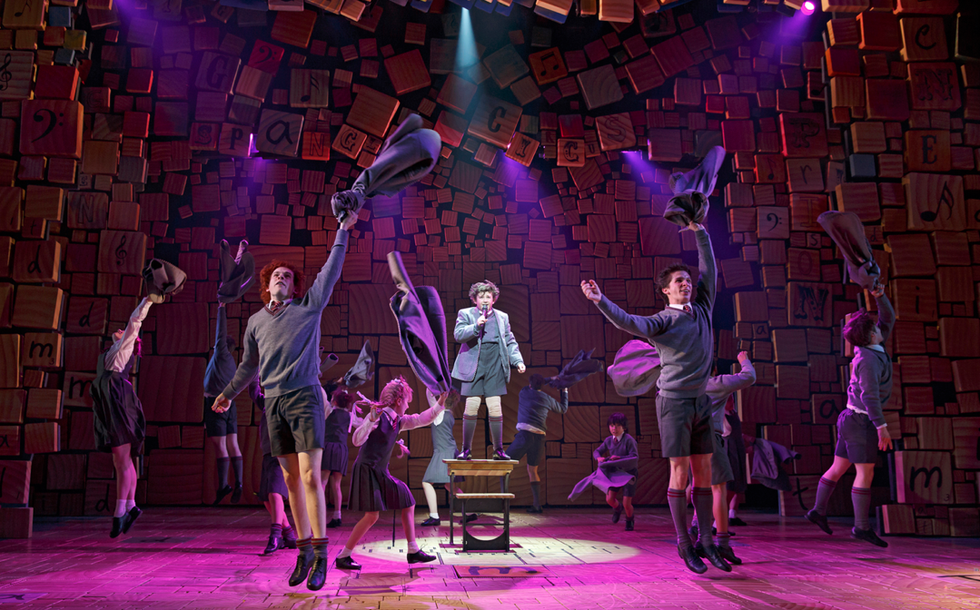 Photo by Joan Marcus.
In other Matilda headlines: Remember those catchy tunes I mentioned? They're good enough to have earned a Grammy nomination in the Best Original Score category. Congratulations, soundtrackers! (Don't tell the other nominees, but we hope you take hope the trophy.)
See the show. Learn the songs. Love the kids.
Trust me.
When I crush on a dancer, I crush hard. I look at every Facebook photo I can find, I stalk Twitter and Instagram, and I stay up way too late YouTube-ing the dancer until my eyes start to close.
Thank goodness for the internet, right?
Here's who I can't stop talking about right now...
Jeremy Hudson: He's easily the most-booked dancer in Hollywood. Jeremy, when was the last time you had to audition for something? Right, never. Because people love you and you direct book for superstars like it's nothing. Jeremy spent a long time dancing with Lady Gaga, and now he's branching out and I'm on the edge of my little seat waiting to see what his next major move will be.
Juliet Doherty: She's the love of my life. At just 16, this ballerina is wise beyond her years, and I'm so happy she's getting exceptional training at the San Francisco Ballet School. Keep an eye out, people—this one's going places. Places that probably come with the title "principal."
The Revolting Children from Matilda: It took me far too long to finally see this critically-acclaimed Broadway musical. Oh, you haven't seen it? Go now. I'll wait here while you purchase your tickets. Oh, tickets are "too expensive?" I don't care. Buy them. Figure it out. You're going to love this show, I promise. The kids are so darn talented, and the "big kids" are equally endearing. I sobbed during "When I Grow Up," and again during the curtain call, as I always do.
Jayci Kalb: Classically beautiful, exceptionally talented. Jayci's the total package.
The "Waltz of the Snowflakes" scene from The Nutcracker: Halloween is a thing of the past, which means we can officially start talking nonstop about sugar plums! No matter how many times I see it—or just hear the music—the snow scene gives me chills.
Which dancers, groups or shows are you obsessed with right now? Let me know in the comments—maybe you'll find your dance crush in an upcoming issue of DS!
Jun. 10, 2013 11:59AM EST
Did you catch the Kinky Boots Awards last night? Uh, I mean the Tony Awards?
Yes, it seemed like Cyndi Lauper's high-spirited, be-spangled musical took home just about every prize there was, including Best Musical. But at the risk of sounding totally cheesy, I'd say we, the audience, were the real winners last night—because hey, it was a darn great show! Here are the evening's many high and few low points.
THE HIGHS
-Neil Patrick Harris. Can NPH host everything, ever? He was particularly awesome in the...
-...kick-butt opening number (written by Lin-Manuel Miranda and Tom Kitt). After getting shoehorned into the smaller Beacon Theater for a couple of years, the Tonys were back in Radio City Music Hall this time around—and boy, did they ever "go bigger." GO NEIL GO!
-By the way, did you catch Mike Tyson in there? Apparently he had a one-man show this year, which meant we got to see him do "choreography" and try to bite off NPH's ear. It was pretty spectacular.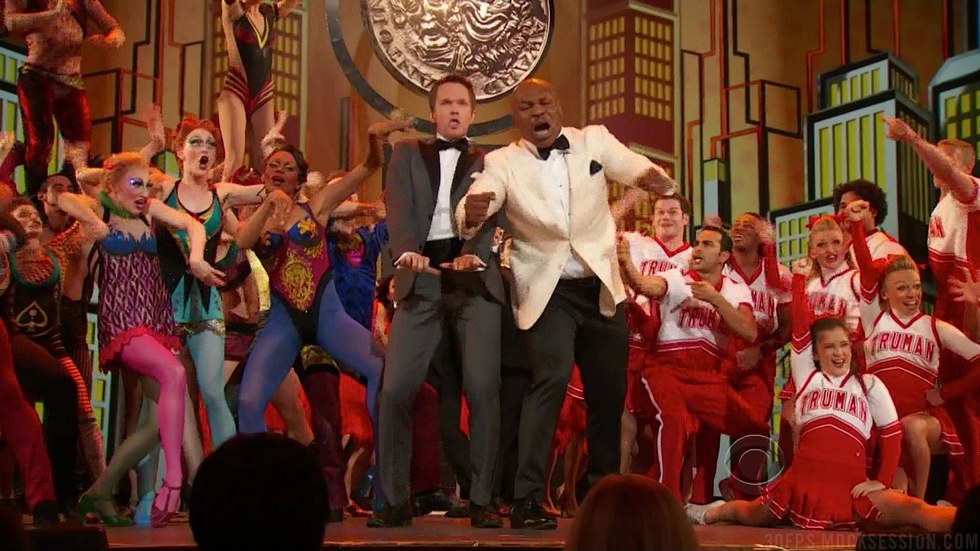 Dance, Mike, dance!
-The Matilda performance. Super-clean choreography and fabulously clever lyrics performed by some of the most talented little kids ever? Plus scooters? And Ryan Steele? It doesn't get better than that.
-Actually, here's a shout-out to all the incredible kids who performed last night. From the Annie's orphans to A Christmas Story's hooligans (Luke Spring!), they showed a level of professionalism most Broadway grown-ups never achieve. And they were cuter to boot. As NPH put it, "They're the reason this whole season seems to look like Chuck E. Cheese's."
-The mid-show musical tribute to Broadway actors and their canceled TV shows, starring Andrew Rannells, Megan Hilty, Laura Benanti and brilliantly rejiggered versions of classic songs. Just watch it again (and suck it, Will Chase!):
-Cyndi Lauper's acceptance speech, because she seemed so genuinely thrilled by the awesomeness of it all. She also happens to be the first woman to win the Best Score Tony solo, which is pretty cool. (Honorable mention goes to presenter Jesse Tyler Ferguson for screaming "Girl, you're gonna have fun tonight!" upon opening the envelope. And to Lauper's hair, last night and always.)
-Audra McDonald dropping the mic. (After helping NPH nail Lin-Manuel Miranda's awesome show-roundup rap, that is.) BOOM. What a boss.
THE LOWS
-The introductions by other Broadway characters. Fine, the Newsies boys were adorable. But the pairings of old shows with new seemed totally rando (the Rock of Ages guys introducing...Cinderella??), making the gimmick disorienting more than anything else.
-Mike Tyson's reactions to the Tyson zingers NPH sprinkled throughout the show. Mike was not amused, Neil. And he's probably not the kind of guy you want on your bad side. Just sayin'.
-Patti LuPone's dress. No. I love you, but no.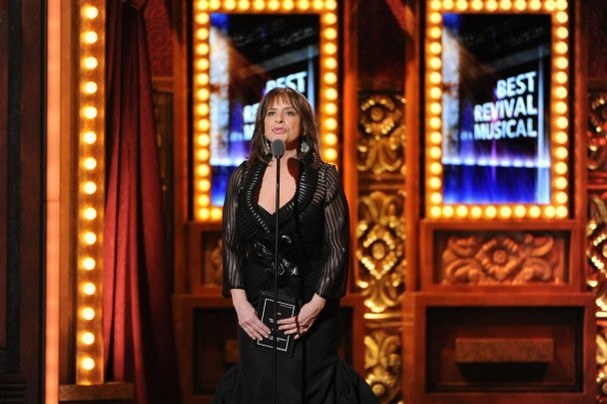 I'm sorry I couldn't find a full-length pic, because the bottom only gets crazier. (photo Evan Agostini/Invision/AP)
-Matilda not winning, like, anything. What? I mean, WHAT? OK, yes, it got Best Book and Best Featured Actor and a couple of those smaller ones they do during the commercials, but it was up for 12 nominations. Four out of 12? Did you see that performance earlier, voters??
By the way: Last week, we asked you who you thought would win the award for Best Choreography. While the actual Tony went to Jerry Mitchell for Kinky Boots, you guys were bigger fans of Andy Blankenbuehler's high-flying Bring It On choreo. Here are your results:
Andy Blankenbuehler for Bring It On: The Musical: 50.49%
Peter Darling for Matilda The Musical: 24.27%
Chet Walker for Pippin: 18.45
Jerry Mitchell for Kinky Boots: 7%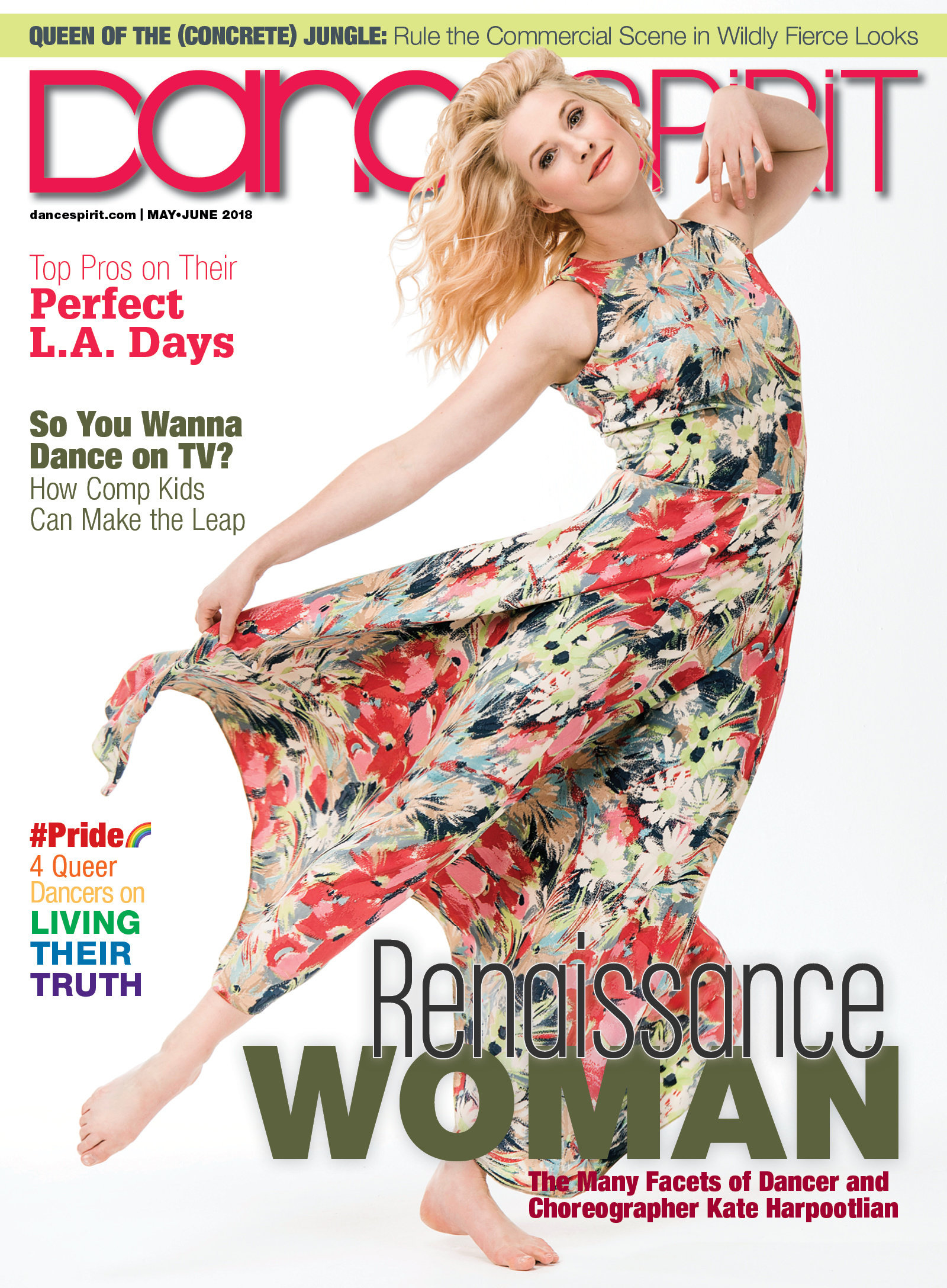 Get Dance Spirit in your inbox