Feb. 05, 2019 05:17PM EST
Travis Kelley, courtesy Kathryn Morgan
In our "Dear Katie" series, former NYCB soloist Kathryn Morgan answers your pressing dance questions. Have something you want to ask Katie? Email dearkatie@dancespirit.com for a chance to be featured!
Dear Katie,
One of the dancers at my studio is being bullied by some of the older girls. It's getting pretty bad, but I'm not sure what to do about it. Should I confront the bullies? Talk to my teacher? Stay out of it? What would be most helpful?
Emmaline
Dear Katie
Aug. 02, 2018 10:45AM EST
It's gonna be SO FETCH. (The Broadway cast of Mean Girls; photo by Joan Marcus, courtesy Boneau/Bryan-Brown)
Dance News
Jul. 24, 2018 12:28PM EST
Welcome to the fourth annual Jazz Hand Awards—aka "the Jazzies"—where we rate the danciest new shows shining on Broadway.
Dancer to Dancer
Jun. 11, 2018 01:59PM EST
The cast of "SpongeBob SquarePants" (Michael Zorn/Invision/AP/REX/Shutterstock via Entertainment Weekly)
As usual, the Tony Awards 2018 were a musical theater lovers dream come true. There's nothing better than seeing some of our favorite dancers perform their hearts out on the iconic Radio City Music Hall stage, and we were seriously inspired by the power of theater in the process.
Dance News
May. 21, 2018 04:43PM EST
May. 03, 2018 07:00AM EST
Amar Ramasar (second from right) and some of Carousel's incredible ensemble men (Julieta Cervantes)
The Broadway community was #shook on Tuesday morning as "Smash" alums Leslie Odom Jr. and Katharine McPhee announced the 2018 Tony Award nominations. (We were so happy to see our friends from Mean Girls honored with 12 noms!) But—sadly—there's no Tony Award category for ensemble dancers. Which feels especially unfair right now because this season's dancers are, in a word, killer.
So we went ahead and chose 7 of 'em who deserve Tony Awards of their own. Ladies and gentlemen, our picks for 2018's Best Ensemble Dancers:
Dancer to Dancer
May. 01, 2018 11:18AM EST
So many noms for Mean Girls, you go Mean Girls! (From left: Erika Henningsen Ashley Park, Taylor Louderman, Kate Rockwell, and Barrett Wilbert Weed in Mean Girls. Photo by Joan Marcus, courtesy Boneau Bryan-Brown.)
Happy Tony nom day, everybody! This morning, we heard the full list of 2018 Tony Award nominees, straight from the very beautiful lips of announcers Leslie Odom, Jr. and Katharine McPhee. We're especially happy that two of our faves—Mean Girls and SpongeBob SquarePants—are leading the pack with 12 nods each. And we're even more excited about the jam-packed race for Best Choreographer (Justin Peck! Casey Nicholaw! Christopher Gattelli, twice!).
Dance News
Mar. 06, 2018 12:27PM EST
(From left) Mean Girls dancers Riza Takahashi, Ben Cook, Kamille Upshaw, Jonalyn Saxer, DeMarius R. Copes, and Stephanie Lynn Bissonnette (photos by Erin Baiano)
Get in, losers. We're going to Broadway.
OK, not losers, actually—more like the bajillion die-hard fans of Tina Fey's 2004 cult hit Mean Girls, who've been wearing pink every Wednesday since a musical adaptation of the film was first teased back in 2013.
Now their world is like a cake filled with rainbows and smiles, because Mean Girls the musical, which had a trial run in Washington, DC, last fall, is set to open at Broadway's August Wilson Theatre April 8. And in a very grool twist, it turns out the show—with direction and choreography by Casey Nicholaw and a book by Fey herself—is delightfully dancey.
Cover Story
Dec. 04, 2017 03:11PM EST
Via YouTube
If you're even half as obsessed with Mean Girls as we are, you're counting the days until its Broadway debut this March. And if you need a little something extra to hold you over till then, look no further: Larsen Thompson and her squad have given us an early Christmas present in the form of a Mean Girls-inspired dance routine. That's right, they've done the impossible—they've made fetch happen...in Santa suits and 6-inch heels, no less.
Dance News
Oct. 03, 2017 11:10AM EST
Via meangirlsonbroadway.com
Get in, loser. We're going shopping—for tickets to Mean Girls on Broadway.
Dance News
Get Dance Spirit in your inbox
Oct. 07, 2016 07:00AM EST
You know how we've been teased, over and over again, with the promise of a Mean Girls musical? It happened back in 2013, prompting us to do some very aggressive Photoshopping. It happened earlier this year, when Queen Tina Fey herself talked vaguely about working on the project.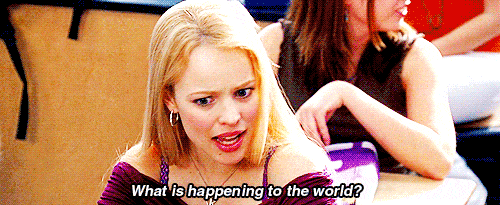 But now we have cold, hard evidence. We have beyond-a-reasonable-doubt proof. We have confirmation, via an official (blue-checkmarked and everything!) Twitter account, that our dreams are about to come true:
The Mean Girls musical is coming to Washington, DC in the fall of 2017.
WE KNEW THIS DAY WOULD COME. IT'S LIKE WE HAVE ESPN OR SOMETHING.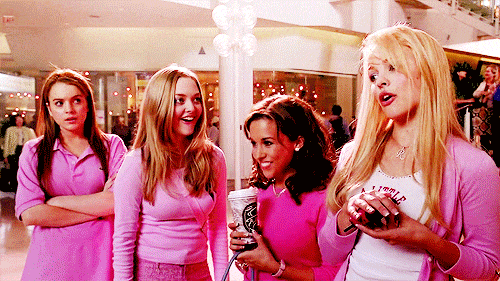 (I have a powerful urge to just word vomit Mean Girls quotes at you right now, guys. Hold me back.)
We don't yet know the theater, or the exact premiere date, or the choreographer, or anything about the cast (although there's already been plenty of speculation about who'd make the perfect Regina George.)
But we do know that this is going to be incredibly major. How major? THE LIMIT DOES NOT EXIST. (#sorrynotsorry)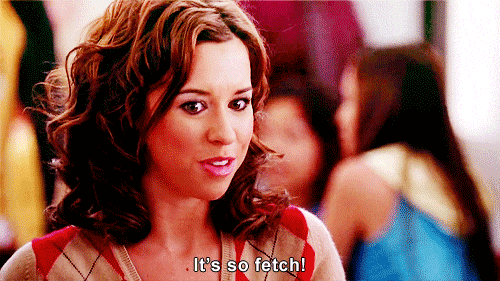 We'll be wearing pink every Wednesday from here on out in anticipation, and we're going to pretend like that's a new thing and not just a thing we've done every Wednesday since 2004.
Dance News
May. 30, 2013 10:37AM EST
Why is it that short weeks always feel the longest? If, like me, you've woken up each of the past three days thinking it was Friday, never fear, my friends: I have a video that will snap you right out of your funk.
What is this magical film, you ask? It's a supercut of all (well, most) of the great dance scenes in movies. And as if that weren't enough, it's set to "Safety Dance" by Men Without Hats.
We've got Singin' in the Rain and Saturday Night Fever and Footloose (old AND new), Dirty Dancing and Pulp Fiction and Austin Powers, even Mean Girls and Little Miss Sunshine and Silver Linings Playbook. (It looks like there might be a few music videos slipped in there too, but we're not going to complain about seeing Michael Jackson's moves anytime soon.)
Let the healing begin:
Jan. 29, 2013 11:35AM EST
The DS office has been an even more gleeful place than usual this week.
Why, you ask?
Because yesterday we heard Tina Fey has plans to adapt Mean Girls into a Broadway musical.
A BROADWAY MUSICAL!!!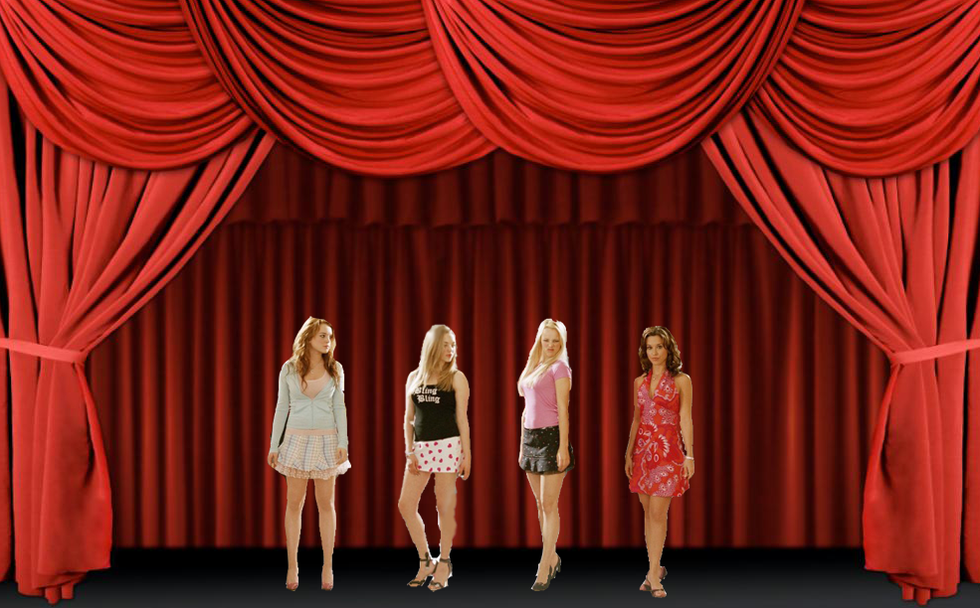 OK. Take a moment. Stop hyperventilating.
Why is this the most awesome news ever? Because here is an inarguable truth: Animated Disney films aside, few movies seem like they'd fit better on a Broadway stage than Mean Girls. Yes, the movie only features one actual song-and-dance routine—that would be the Plastics' not-so-innocent take on "Jingle Bell Rock"—but come on. Every single character in that movie is totally stage-ready. (So stage-ready, in fact, that Broadway.com chose a dream cast for the entire hypothetical show more than a year ago. Lea Michele as Regina George, aka herself? Yes please.)
Obviously, this is one show that would need some fabulous choreography. We're looking at you, Andy Blankenbuehler. Bring It On-ify this sucker!
I'm off to daydream about possible Mean Girls musical numbers. ("Regulation Hottie"? "It's Not Your Fault You're So Gap-Toothed"? I'll work on it.) In the meantime, remember:
On Wednesdays, we wear pink.
Mar. 01, 2007 04:24PM EST
A group of girls go out after practice and don't invite you. When you score a top award for your solo, you hear others whisper that you didn't deserve it. After your worst day in rehearsal, another dancer corrects your technique in front of the entire cast.
Chances are you've seen things like this happen, to yourself or someone else. Maybe you've even acted this way toward others. In a high-pressure environment where dancers are often competing against each other to be cast in the best roles, jealousy and stress can drive girls to their cattiest. DS enlisted experts to get to the bottom of the mean-girl phenomenon.
Naming the Beast
Any action that hurts someone's relationship with others—teasing, gossiping, spreading rumors or deliberately excluding someone—is called relational aggression. It can be as subtle as rolling your eyes or as overt as insulting someone's appearance in front of others or behind her back.
Experts say that relational aggression is more common in girls than boys and peaks in middle school, though research as to why this is the case has offered a number of possible reasons. Dr. Cheryl Dellasega, author of Mean Girls Grown Up, says that relational aggression tends to be more common in activities where bodies are on display such as dance, swimming and gymnastics. This leads to comparisons, jealousy and self-esteem issues. Girls who are mean to others benefit by boosting their own self-esteem—they might get a laugh from others or bond with fellow dancers by excluding or insulting someone else.
How To Respond
If you're the victim of mean comments or actions, immediately talk to someone outside the studio (a parent, an older sibling or a friend) about what happened and how it made you feel. "Come up with a plan for yourself including things you can do [next time]," says Dellasega. Some options are to walk away, say "that hurt my feelings" or make a joke.
The textbook response to bullying is to give an "I statement," such as "I felt really upset when you insulted me in front of everyone." In real life, though, that might not be the best approach, especially for teens, says Dr. Laura Martocci, a sociology professor at Wagner State University. "Oftentimes, bullies don't care, [because] they're trying to make you miserable," she explains. "It's also making [your] feelings totally contingent: 'I feel bad when you do this, so you should stop doing that because I can't feel good about myself.'"
Instead, take control of the situation by reacting in the best possible way that suits you. If you're shy, confidently ignoring mean comments can be the most comfortable response. Using sarcasm—like saying, "you don't have to blow out my candle to make yours brighter"—allows you to stand up for yourself and turn around the situation. Throwing back another insult, on the other hand, will only put a bully on the defensive and escalate the situation.
If you're confrontational, try turning your enemy into a friend by talking to her outside of the studio one-on-one, suggests Dellasega. Explain that her behavior bothers you, and ask if there is something you've done to upset her. Tell her that you'd like to try to work together instead of against each other, and keep the situation neutral by asking her what she thinks you both could do to change things. After she responds, work together to come up with some guidelines for the future. For example, if she has something to say about your performance, ask her to speak to you individually and directly, rather than talking to others about it.
When Enough Is Enough
When another dancer's behavior is affecting your happiness in class, it's time to talk to your teachers so they can address the behavior or mediate a group discussion. "Your teachers should address things as they happen—[something] as simple as eye-rolling—with that person immediately after class," says Diane Scarcella, a regional director for The Ophelia Project, a national organization that educates teens about relational aggression.
If there's a widespread problem with relational aggression in your school or studio, you'll need the leadership of instructors to change the culture. Teachers and coaches should demonstrate appropriate behavior themselves and make it a school-wide standard.
Start traditions that promote respect like applauding each other after class and making an effort to genuinely congratulate fellow dancers on a good performance or competition. Instructors at Linda Dies Dance Unlimited in Warren, PA, worked with Scarcella on a studio-wide project to curb meanness. They've adopted the motto "It's cool to be kind," and posted a mission statement including standards of respect, tolerance and understanding near the entrance of the studio. A lobby bulletin board displays dancers' positive achievements outside of dance, and they've also made it a classroom rule that dancers are not to correct each other; it's the teacher's job to give corrections, no matter how experienced the students.
Juggling Jealousy
Jealousy and insecurity are major contributors to the mean-girl phenomenon. In the dance world and the real world, there will always be someone who is better than you at something, so learn to accept your natural feelings of envy. "There's nothing wrong with looking at another dancer and saying, 'Wow, she can do that better than I can.' It's what we do with [that knowledge] from that point on," says Dr. Cheryl Dellasega. Instead of reacting to envy by putting others down, channel your envy in a positive direction. Harness those feelings to motivate yourself to work harder at achieving your own goals. Or, ask that fellow dancer to share the secrets of her success with you.
Learn More!
For more on relational aggression, check out these websites:
relationalaggression.com

opheliaproject.org

relationalaggression.net

clubophelia.com
Take the Lead
Dr. Cheryl Dellasega gives straight answers on how best to react in two common studio scenarios.
Q. What should I do if the meanest girl of all gets the lead role?
A. Ask yourself, did she get [the role] because she's mean or because she's talented? Having people recognize her abilities is going to make her feel more secure and decrease that mean behavior. However, if she gets something that everyone else wants and people treat her badly because of it, it may reinforce her thoughts of "See, I'm right. None of them are my friends anyway." It's how you respond that determines your future—if you're going to be mean and nasty to her, then [her] mean behavior is likely to continue. If you're the bigger person and say, "Hey, congratulations," or "I know you worked really hard to get that," it may improve your relationship with her. Be gracious; this scenario will repeat itself throughout life. It's important to learn that people are always going to get things that you want, and they aren't necessarily going to be the nicest people.
Q. What should I do if I get the lead and others are talking about me behind by back?
A. Win them over by helping them feel secure and recognizing that they are talented too. If you see that other girls are talking about you and are resentful of you, make a point of approaching them one-on-one and saying, "Listen, I wouldn't be where I am now without your support. I just want to thank you for being a part of this group, because we all work together to make everybody look good."
Health & Body