Do you guys remember "Smash"? I loved that show, although apparently there was a mixed critical reaction to its soapy plot line. I guess I never talked to any of those people, because I was surprised and sad when it was canceled after just two seasons.
As it turns out, there is a legion of devoted fans who have been lobbying (for the last two years!) to get some version of Bombshell, the Marilyn Monroe-themed musical that formed the backbone of the TV show, produced IRL.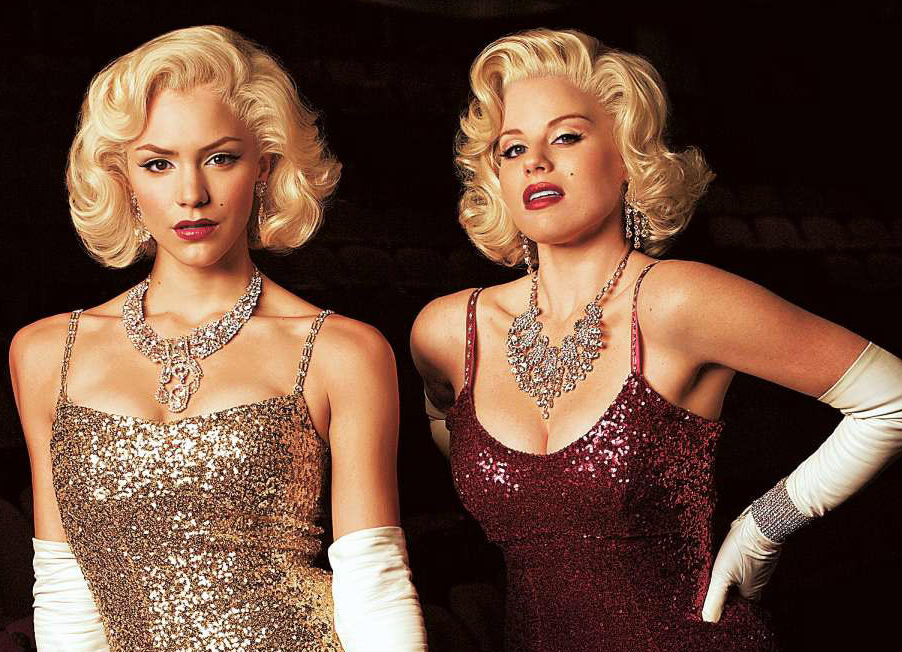 Katherine McPhee and Megan Hilty (photo via NBC)
It makes perfect sense. Cut the silly details (that, let's admit, make great TV) and stick to the musical itself. One small catch, though: Despite the fact that the majority of the songs in "Smash" were written by Scott Wittman and Marc Shaiman—the team behind Hairspray—Bombshell wasn't a fully realized musical. And funding is always an issue when you want to put on a Broadway show.
Enter "Smash" star Megan Hilty. She mentioned the idea during one of her performances, and the thing took on a life of its own. People donated money in order to be notified of ticket sales, which launched the history-making Bombshell Kickstarter. The campaign raised over $300,000—making it the most successful theater Kickstarter ever. The resulting show will be a benefit concert for the Actors Fund, and will premiere at the Minskoff Theatre on June 8.
Wittman told vulture.com that "Shaiman's Facebook followers often ask him, 'We want to put on Bombshell, can we get the rights?' And I say, 'Well, there is no Bombshell…'"
Well, now there kind of is!
Jun. 10, 2013 11:59AM EST
Did you catch the Kinky Boots Awards last night? Uh, I mean the Tony Awards?
Yes, it seemed like Cyndi Lauper's high-spirited, be-spangled musical took home just about every prize there was, including Best Musical. But at the risk of sounding totally cheesy, I'd say we, the audience, were the real winners last night—because hey, it was a darn great show! Here are the evening's many high and few low points.
THE HIGHS
-Neil Patrick Harris. Can NPH host everything, ever? He was particularly awesome in the...
-...kick-butt opening number (written by Lin-Manuel Miranda and Tom Kitt). After getting shoehorned into the smaller Beacon Theater for a couple of years, the Tonys were back in Radio City Music Hall this time around—and boy, did they ever "go bigger." GO NEIL GO!
-By the way, did you catch Mike Tyson in there? Apparently he had a one-man show this year, which meant we got to see him do "choreography" and try to bite off NPH's ear. It was pretty spectacular.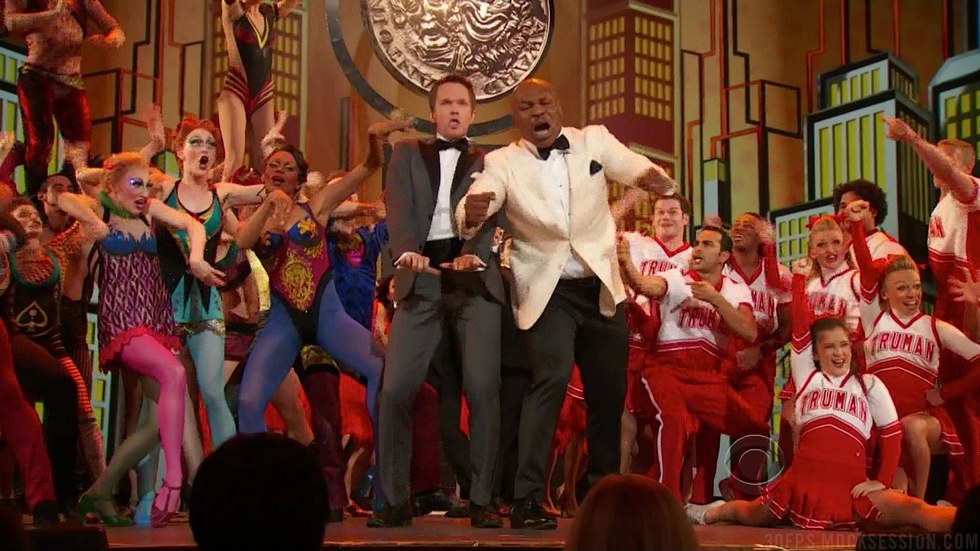 Dance, Mike, dance!
-The Matilda performance. Super-clean choreography and fabulously clever lyrics performed by some of the most talented little kids ever? Plus scooters? And Ryan Steele? It doesn't get better than that.
-Actually, here's a shout-out to all the incredible kids who performed last night. From the Annie's orphans to A Christmas Story's hooligans (Luke Spring!), they showed a level of professionalism most Broadway grown-ups never achieve. And they were cuter to boot. As NPH put it, "They're the reason this whole season seems to look like Chuck E. Cheese's."
-The mid-show musical tribute to Broadway actors and their canceled TV shows, starring Andrew Rannells, Megan Hilty, Laura Benanti and brilliantly rejiggered versions of classic songs. Just watch it again (and suck it, Will Chase!):
-Cyndi Lauper's acceptance speech, because she seemed so genuinely thrilled by the awesomeness of it all. She also happens to be the first woman to win the Best Score Tony solo, which is pretty cool. (Honorable mention goes to presenter Jesse Tyler Ferguson for screaming "Girl, you're gonna have fun tonight!" upon opening the envelope. And to Lauper's hair, last night and always.)
-Audra McDonald dropping the mic. (After helping NPH nail Lin-Manuel Miranda's awesome show-roundup rap, that is.) BOOM. What a boss.
THE LOWS
-The introductions by other Broadway characters. Fine, the Newsies boys were adorable. But the pairings of old shows with new seemed totally rando (the Rock of Ages guys introducing...Cinderella??), making the gimmick disorienting more than anything else.
-Mike Tyson's reactions to the Tyson zingers NPH sprinkled throughout the show. Mike was not amused, Neil. And he's probably not the kind of guy you want on your bad side. Just sayin'.
-Patti LuPone's dress. No. I love you, but no.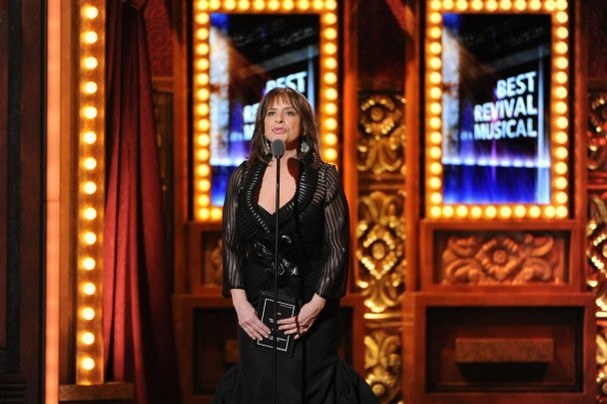 I'm sorry I couldn't find a full-length pic, because the bottom only gets crazier. (photo Evan Agostini/Invision/AP)
-Matilda not winning, like, anything. What? I mean, WHAT? OK, yes, it got Best Book and Best Featured Actor and a couple of those smaller ones they do during the commercials, but it was up for 12 nominations. Four out of 12? Did you see that performance earlier, voters??
By the way: Last week, we asked you who you thought would win the award for Best Choreography. While the actual Tony went to Jerry Mitchell for Kinky Boots, you guys were bigger fans of Andy Blankenbuehler's high-flying Bring It On choreo. Here are your results:
Andy Blankenbuehler for Bring It On: The Musical: 50.49%
Peter Darling for Matilda The Musical: 24.27%
Chet Walker for Pippin: 18.45
Jerry Mitchell for Kinky Boots: 7%
May. 14, 2013 10:47AM EST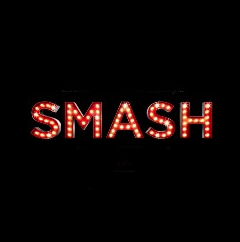 It's lights-out for the flashiest show on network television.
The show's over for "Smash." NBC's Broadway drama was cancelled last week after two seasons. And while I know, given the verrrrry mixed critical reactions to the troubled show, that not everyone's upset by the news, I'll admit it: I totally am.
Yes, the plotlines have spun completely out of control recently. (Tom hooked up with Kyle and then Kyle got hit by a car and died?? We're in full-on soap opera territory, people.) Yes, Katharine McPhee, though one of the most beautiful people in the world, has about as much charisma as an overripe banana. And yes, somebody, somewhere on the "Smash" staff greenlit Ellis. Oh, man, remember Ellis?
But. BUT. How frequently do you get to see true Broadway-caliber singing and dancing on primetime TV? "Smash" provides a super-high-visibility home for some of our favorite Broadway stars, not least among them Megan Hilty and Christian Borle (and, though his character is totally unlikeable, former Newsies dreamboat Jeremy Jordan). The original songs, most of which are by Marc Shaiman and Scott Wittman—you know, the team behind a little musical called Hairspray?—are legitimately great. And the dancing! Choreographed by Joshua Bergasse and performed by a rotating cast of crazy-talented people including the likes of Alex Wong, Meredith Miles and Spencer Liff, it's top-notch.
I'll put it this way: If we could cut out the story and condense "Smash"'s musical numbers into a weekly variety show, I'd be totally happy. But that ain't happening, folks. So it's time to say our goodbyes to the little Broadway show that couldn't.
I wanted to let you be my star, "Smash." I really did. *sniff*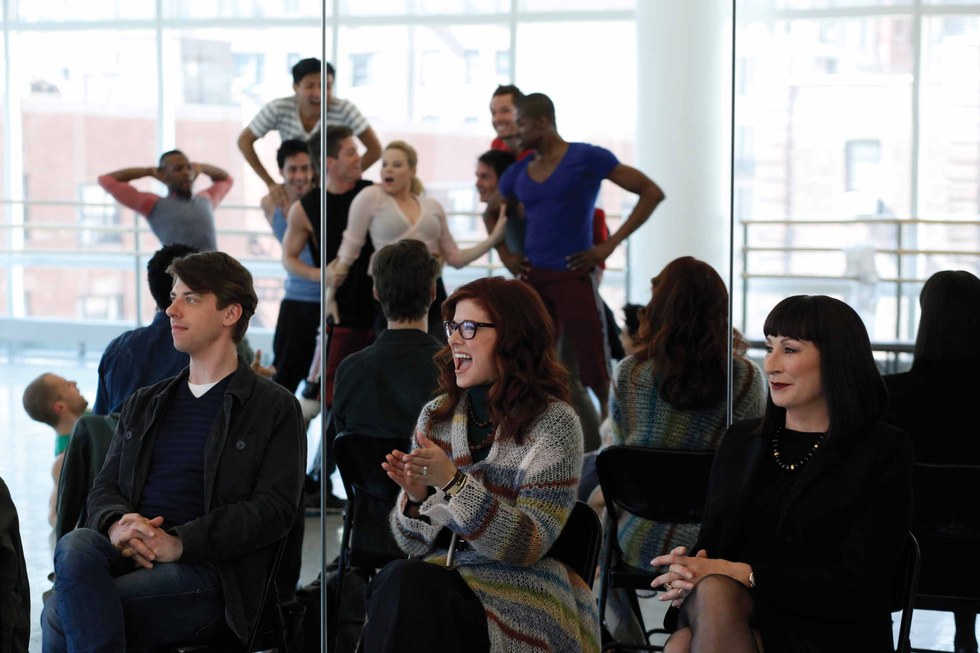 If you're as excited for tonight's premiere of "Smash" as we are—and you live in the NYC area—hurry your booty over to Broadway Dance Center for "Smash" Day! The show's choreographer, Josh Bergasse, is a regular BDC faculty member, so the studio is throwing a "Smash" bash to celebrate much-anticipated pilot episode!
Here's the run down:
Kiira Schmidt, "Smash" assistant choreographer, will be teaching Bergasse's choreography from the show tonight at BDC from 4-6 p.m.
Plus, LaDuca reps will be in attendance to raffle off a free pair of Teresa 3" shoes to one lucky student! (Best. Raffle. Ever. La Ducas are so lovely, but they cost a pretty penny.)  They'll also be giving out show bags and discount coupons to everyone in the class.
To wrap things up, there will be a free screening of the pilot episode at 10 p.m. in Studio 4. The show will be projected on the wall with plenty of popcorn and candy to share.
And let's be honest, is there anything better than watching a great dance show with other dancers? Never.
If you haven't already, be sure to check out DS editor Margaret Fuhrer's interview with one of the show's biggest stars, Megan Hilty. Then, watch the show tonight at 10/9c on NBC.
Feb. 02, 2012 11:11AM EST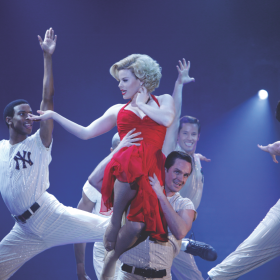 I'll admit it: I have a big ol' girl crush on Megan Hilty. The gorgeous blonde may play an actress auditioning for a Marilyn Monroe musical in the new TV series "Smash," which premieres February 6 on NBC, but she's not your typical Marilyn-esque bombshell. Hilty's an intelligent performer with a serious voice, who in real life has already had star turns on Broadway in shows like 9 to 5 and Wicked. I was able to chat with Hilty for a few minutes this morning, during one of her rare breaks from "Smash"'s busy shooting schedule. (What, you think those fabulous musical numbers just happen?) Read on for her scoop from the set—and if you haven't already, watch "Smash"'s pilot episode for free right now on nbc.com!
When did you first hear about "Smash"?
Well, last pilot season, I was looking through all the new scripts, and this one stuck out like a sore thumb—it seemed too good to be true to have a TV show about the world I grew up in! But I was a little nervous. The role they wanted me to go out for was a big dancing part, and while I took dance classes all through high school and college and am a pretty good mover, I've never called myself a dancer—it's never been my forte. Luckily, they hired this incredible choreographer, Josh Bergasse [read DS's interview with Bergasse in our February issue!]. He's our secret weapon—I swear, he's going to be the biggest star of out of everybody on the show. He does such an incredible job of telling a story through movement. And he makes me look like I know what I'm doing.
I kept seeing familiar Broadway faces pop up in the pilot. Does having lots of Broadway veterans on set help "Smash" feel more authentic?
Absolutely—and it's great that I get to do this show with all my friends! I love showing up in the makeup trailer and seeing people I've been on Broadway with, or done summer stock with, or gone to school with. "Smash" is doing it right: They're hiring all the people this show is celebrating.
What makes this show unique?
The characters in "Smash" are people you've never met before. You can relate to them, but they're not stock characters you've seen on other shows. They're all beautifully flawed: They make huge mistakes, but you're rooting for them at the same time. And of course there's the musical component, which takes the show to another level. Just as they do in a good musical, the songs drive "Smash"'s plot, expressing thoughts and feelings that the characters couldn't just say.
Jan. 18, 2012 03:14PM EST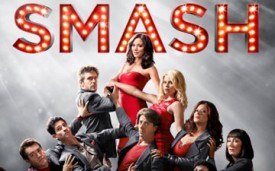 Can't wait for the premiere of "Smash," the new TV show that gives Broadway life the "Glee" treatment? You're in luck: Though the show premieres February 6 on NBC, you can download the first episode RIGHT NOW on iTunes--for free!  (It'll also be available gratis on Hulu and nbc.com beginning January 23.)
Trust us: You want to see this show. Not only does "Smash" star American Idol alum Katharine McPhee and Broadway star Megan Hilty, it also features choreography by musical theater veteran Josh Bergasse. (You'll hear more from him in our February issue.) Check it out!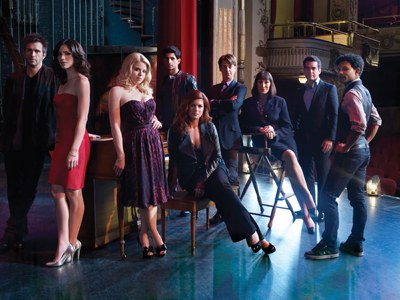 The cast of "Smash" (Will Hart/NBC)
First there was "Fame," then there was "Glee" and now there's a new you'll-want-to-sing-and-dance-along show coming to the small screen: "Smash," from executive producer Steven Spielberg. The show is about a musical composer named Tom (Christian Borle) and a lyricist named Julia (Debra Messing), who are working to get a Marilyn Monroe–themed musical off the ground. Naturally, drama ensues: Should they cast sassy theater veteran Ivy (Megan Hilty) or doe-eyed newcomer Karen (Katharine McPhee) in the leading role?
We don't know who will snag the spotlight, but we do know that any good Broadway-based show is sure to have plenty of dancing! Josh Bergasse, a musical theater veteran himself, is the show's choreographer, and he gave us the scoop on what we can expect from "Smash."
(Hint: "There's tons of music, tons of dance and tons of drama," he says.)
Dance Spirit: How did you get involved with the show?
Josh Bergasse: Michael Mayer, the director of the show's first three episodes, saw my choreography at a benefit I did at New York University. A month later he approached me about working on "Smash."
The first day of filming was so exciting. I had never been on a shoot that was quite so big! The dancers and I felt really great about the number we were filming, but I was nervous as to how it would read on camera. The footage is gorgeous—everything pops.
DS: How much dancing is in the show?
JB: Each episode has at least one big dance number, and some episodes have more. I have a core group of 10 dancers I use, and I call in more dancers for bigger numbers.
DS: What is the choreography like?
JB: It's a mix of classic Broadway, contemporary, hip hop and old–Hollywood musical–style numbers. The script calls for all kinds of different things, like routines with Marilyn and the male cast members and routines at a hip and edgy rock show.
DS: The show includes some great actors but many of them aren't dancers. Are you still making them dance?
JB: Yes, even the non–dance-trained cast members are dancing! They're handling it beautifully and are having a blast.
DS: What is your advice for DS readers who want to dance on a TV show?
JB: Get an agent. It's tough to get into some auditions without one. It also helps to be fluent in many different styles of dance. On our show, for example, you never know what style will be needed from one episode to the next.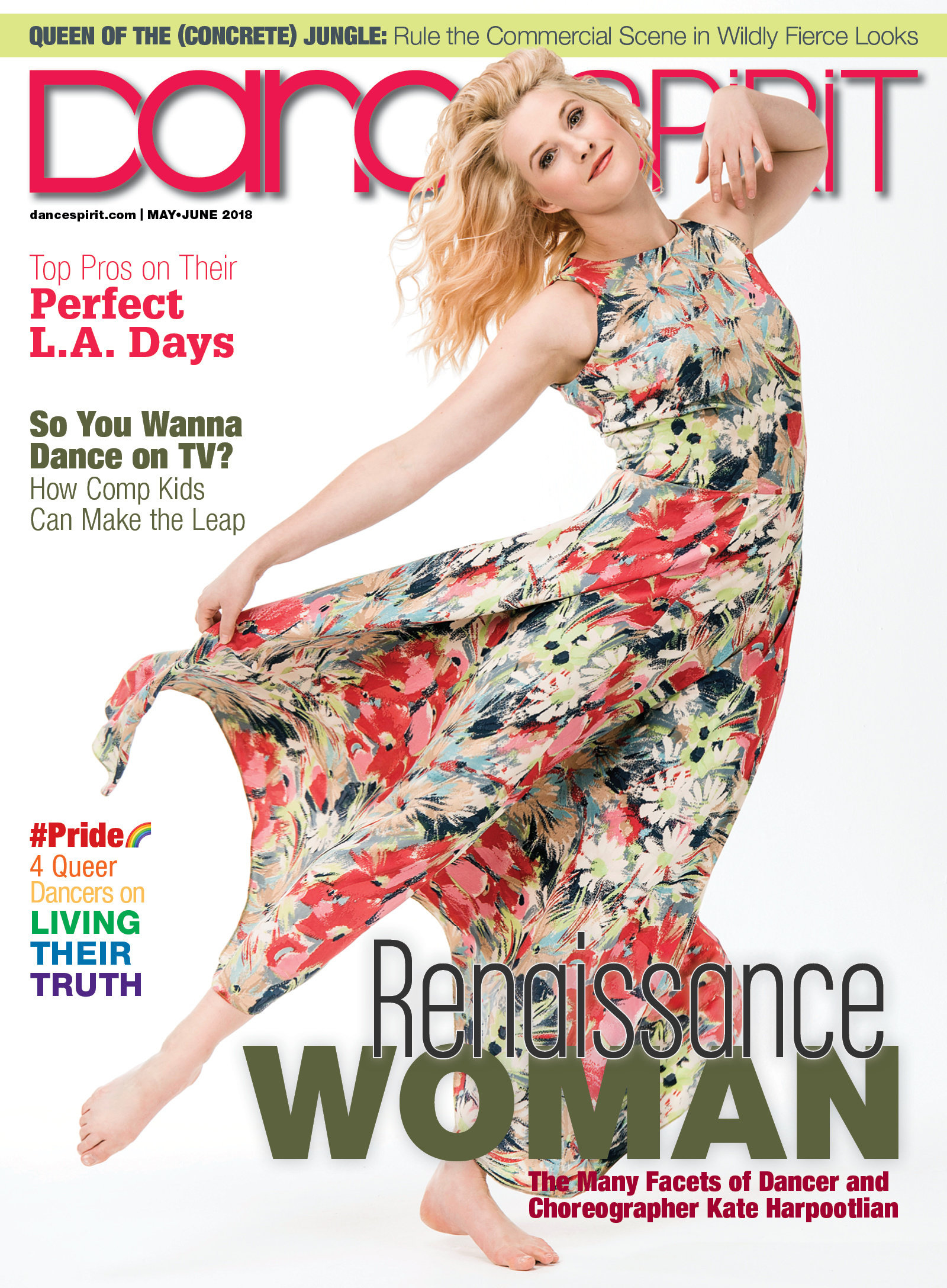 Get Dance Spirit in your inbox