We are so excited to introduce this year's three Cover Model Search finalists: Hannah Bettes, Alyssa Ness and Megan Skalla!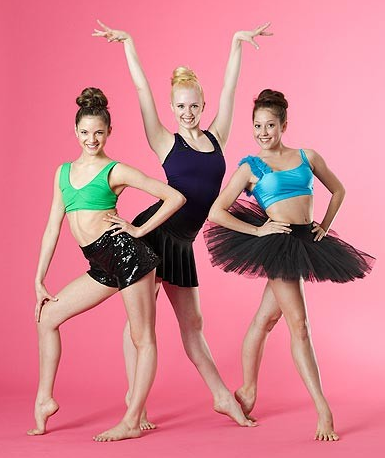 All three girls are fabulous and we had a blast with them during their time in NYC this April. You can read all about the three talented dancers in the July/August issue of DS (it should be in your mailbox any day now!), and then click here to check out the official CMS site.
Look at photos of the finalists, watch their solo videos and get a behind-the-scenes peek at their trip to NYC.
Then comes the hard part: Pick your favorite dancer!
Are you in love with Alyssa's extra-long extensions? Totally digging Megan's spunky personality and archy feet? Or maybe you've got a thing for Hannah, who makes beautiful ballet look easy.
We know it's tough, but take a look around, and then decide who you want to see on the October cover of Dance Spirit. You only get to vote once, so make it count!
This just in:
The three finalists for this year's
Dance Spirit Cover Model Search
competition have officially been notified, and they'll be coming to NYC next month for their big photo shoot (plus a Broadway show, a day of classes at Broadway Dance Center and so much more)!
We'll introduce the three finalists in the July/August issue, so be on the lookout. (A few hints: They're all teenagers, they're all crazy talented and they're all super smart.)
Didn't make the cut this year? That's OK! We're already prowling the dance scene for next year's finalists—and you could be one of them!
Entering is nice and easy. Here's what to do:
Upload your best solo video. (You'll need to create an account if you don't have one already, but that only takes about two seconds. Like we said: eeeeeasy!)

Enter a brief description to go with your video. We want to know your name, age, dance studio and a bit about why you're so great. Your dancing will tell us the rest.
Last year's winner was Hayden Hopkins. Here's what she had to say about the CMS experience.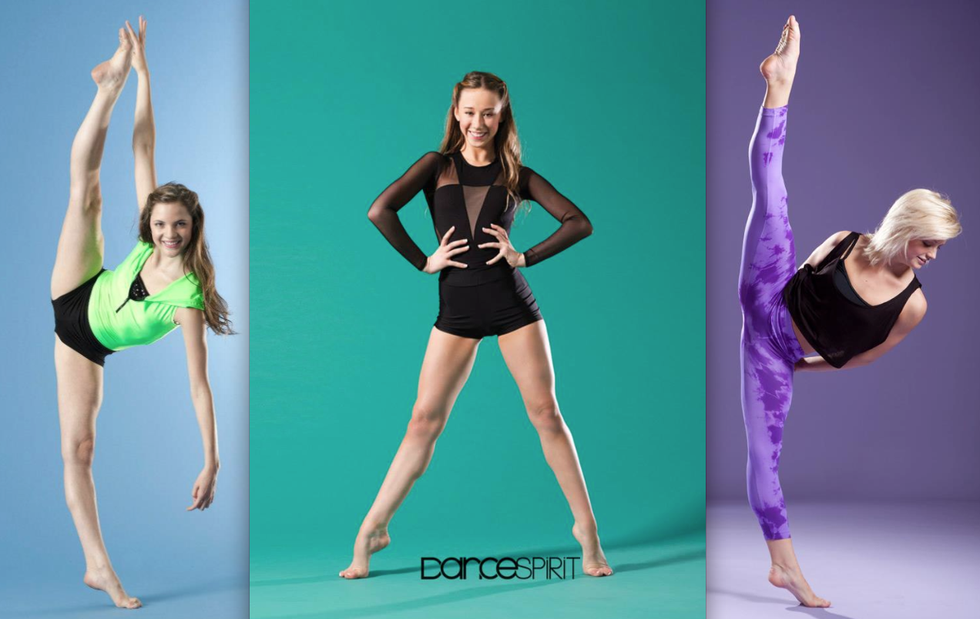 Our last three Cover Model Search winners: Megan Skalla, Hayden Hopkins and Kaitlynn Edgar. You could be next! (Photos by Nathan Sayers and Erin Baiano)
Good luck!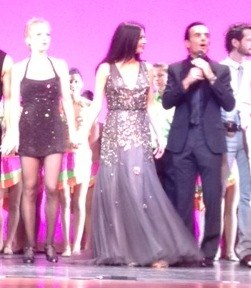 (L to R) Broadway performer Charlotte D'Amboise, 2013 Ambassador For The Arts Catherine Zeta-Jones and NYCDA Founder/Executive Director Joe Lanteri
At Dance Spirit, we love comp kids, we love college dancers, we love Broadway performers, and we especially love when all of these people come together for one exciting performance. That's exactly what happened last night at New York City Dance Alliance Foundation's gala event, "Bright Lights Shining Stars." This year's performance celebrated 2013 Ambassador For The Arts Award winner Catherine Zeta-Jones, who was looking radiant in head-to-toe sequins. But the real stars of the night were the dancers, who came from far and wide to pay tribute to CZJ.
The opening number featured one of our September 2013 cover girls, Marymount Manhattan dancer Zoey Anderson, who took the stage opposite our July/August cover guy Jakob Karr. What a great match! And later, I was so proud to spot 2012 Cover Model Search finalist Alyssa Ness and CMS winner Megan Skalla looking stunning on stage, both of whom have won generous college scholarships from NYCDA this year.
Then came the Broadway tributes, each one representing a chapter from CZJ's career. There was "Go Into Your Dance" from 42nd Street with Mara Davi of "Smash," "Hit Me With Your Best Shot" from Rock of Ages featuring Mamma Mia's Felicia Finley, and "All That Jazz" from Chicago starring Charlotte D'Amboise of Pippin.
One of the best moments of the night featured another Broadway star, tiny tapper Luke Spring, who comes back to the Great White Way this December in A Christmas Story.  The 10-year-old cutie stole the show with an improvised tap solo. The crowd went absolutely wild and gave him a standing ovation.
This year, the Foundation has already awarded $3.4 million towards talented teens' college educations—including a $10,000 scholarship sponsored by our sister magazine Dance Magazine (that went to stunning dancer Sasha Alvarez).  And last night, NYCDA handed out even more college scholarships, ranging from $5,000 to $10,000. I have to admit, I got a little choked up seeing the excitement on these dancers' faces.
All in all, it was a fabulous night to celebrate the past accomplishments of one dancer-turned-celebrity—and the futures of a whole bunch of talented kids.
Sep. 10, 2012 05:41PM EST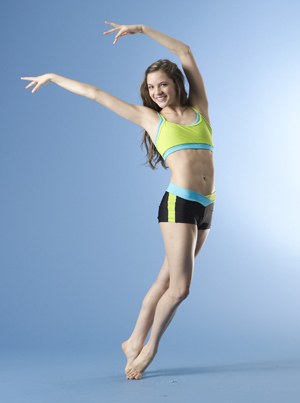 by Nathan Sayers
When Megan Skalla traveled to NYC as a Cover Model Search finalist back in April, the DS editors were blown away by her stellar dancing and sweet, sincere personality—and clearly, you were, too. After more than 10,000 total votes (a CMS record!) and a race so close it came down to the final nail-biting minutes, Megan stood out from the pack and took home the title.
When Megan left us, she was getting ready to head to prom and was still unsure about her summer plans. Since then, this 16-year-old has been tearing up the competition scene. She placed in the top three senior solos at The Event Nationals in Las Vegas and then headed to New York City Dance Alliance Nationals in NYC. Her solo was breathtaking, accentuating all her best qualities: long legs, pristine technique and an emotional stage presence that demands attention. The NYCDA judges were impressed and awarded her first runner-up Teen Outstanding Dancer.
Megan's ability to transfix an audience will surely earn her plenty more wins in her final two years of high school, but we know she's got the talent and drive to make it far beyond the competition scene and into a successful career. We caught up with Megan to get her take on all the latest events in her life.
Dance Spirit: How did it feel to win first runner-up at NYCDA? 
Megan Skalla: It was surreal. When it came down to Jordan [Pelliteri] and
me, I thought it could go either way, and I would have been happy either way. When they called my name for first runner-up, I was so excited, but at the same time, it was hard knowing that I came so close to winning. There were a lot of mixed emotions, but overall, it was a really good feeling.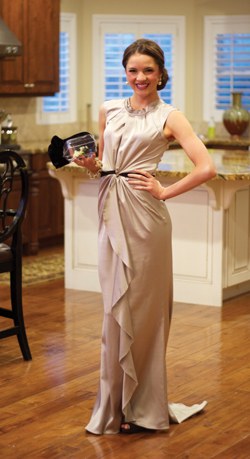 Ready for the prom
DS: How have you grown as a dancer since the CMS trip? 
MS: I feel like I've gotten stronger and gained more confidence. Nationals made me realize that I'm a good dancer and I can accomplish things. This year I want to try even harder so I can go even further at NYCDA.
DS: What was it like to be a CMS finalist? 
MS: There are really no words to describe it. It's been such a cool experience, and it was so fun to be able to meet Hannah [Bettes] and Alyssa [Ness]. It's been amazing to get my name out there and to reach such a huge audience.
DS: How did your school friends react when you told them you'd made it to the final round of competition? 
MS: They were like, "Oh, well you're going to win." But that was just because they're not dancers—they didn't understand how good Hannah and Alyssa are!
DS: You got so many votes! How'd you get the word out?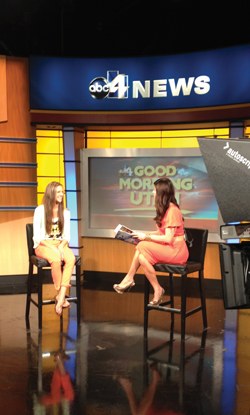 Being interviewed on a local news show
MS: It was mostly through Facebook and trying to get other people to post it to Facebook, too. Jakob Karr even posted about me! I was like, "Holy cow, Jakob Karr knows who I am?!" Also, the press person from my studio, The Dance Club, got me an interview with The Salt Lake Tribune, so there was an article in the newspaper about the competition. Then, our local news channel did a morning show clip on me.
DS: What was it like being interviewed on TV? 
MS: I wasn't sure what to do because I'd never done a live interview before. I never knew where to look. But it wasn't as scary as I thought it would be. I thought they'd be asking me all these hard questions, but they didn't.
DS: What's your advice for future CMS hopefuls? 
MS: Just be yourself. Send the best video you have, but know that there are many girls who enter, so if you don't get it, try again next year. If you do become a finalist, don't be scared or timid when you go to NYC for the photo shoot and the classes. There's nothing to lose. Go for it, and give it your all.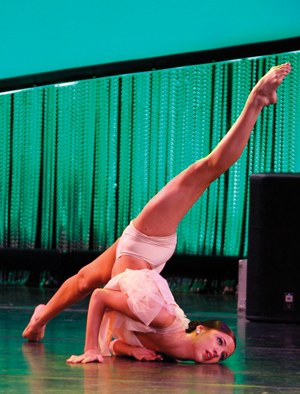 Performing at New York City Dance Alliance (ProPix/courtesy NYCDA)
I am so honored and thrilled to be chosen as the Dance Spirit Cover Model Search winner! This whole experience has been wonderful.
Thank you to everyone who took the time to vote for me. I am so grateful for your support and love. Also, thank you to Alyssa and Hannah. You are both beautiful inside and out, and I'm so glad I got to meet you in NYC. You made this experience inspirational and unforgettable. And many thanks to the Dance Spirit editors and staff. You're the best! Most of all, I want to thank my family for all you have done to support me in achieving my hopes and dreams. 
This has been a once in a lifetime experience, and I'm so happy I could share my love for dance with the DS readers. Thanks again, an good luck to the future CMS finalists!
Love always,
Megan
Jun. 15, 2012 05:44PM EST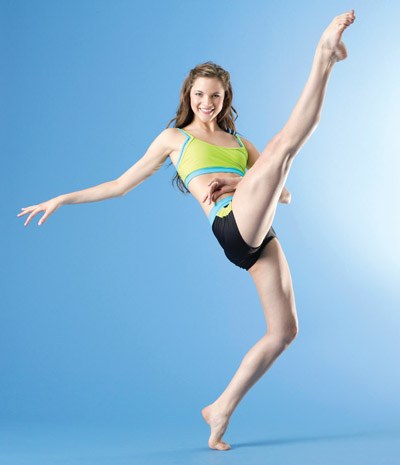 When watching Megan Skalla dance, several things are immediately obvious. She has legs for days and the archy feet to match. Her core is rock-solid, and her sweet smile is contagious. But the longer you spend with her, the more something else becomes clear: Megan's got sass. Whether it's a sharp shoulder roll during a hip-hop class or an intense stare during a sky-high développé, there's a certain something extra that makes this 16-year-old pop. And her steadfast devotion to dance means she's only getting better.
Megan started dancing when she was 3 at a small ballet studio near her hometown of Draper, UT, and was hooked immediately. At 7, she switched to a new studio, Pulse 31, and started to compete, but she still wasn't dancing as much as she wanted. Finally, she came to The Dance Club in Orem, where she currently trains. She takes ballet, jazz, tap, hip hop, contemporary and lyrical, and sometimes supplements her training with private ballet classes at nearby Barlow Arts Conservatory. "I've always loved ballet," says Megan, who has attended summer intensives at Pacific Northwest Ballet School on scholarship for the past two years. "It's the foundation for everything, and it makes me a stronger dancer in other genres."
Though she dances from morning until night, Megan admits to boogying through her kitchen when she gets home, and would still do more if she could. "There's a dance company that's a big deal at my high school, but there just aren't enough hours in the day to do both," she says. Devoting her time to The Dance Club, she says, is more conducive to her goal of dancing professionally. The studio is full of mega-talented dancers, and Megan shines among them. Her secret? "In class, some dancers will avoid going across the floor with someone they think is better than they are," she says. "But I like to go across the floor with the best dancer in class. That way, I can push myself to come up to her level."
Megan's strategy is working. She won the Teen High Score Solo award at New York City Dance Alliance regionals and was a Top 10 Outstanding Dancer finalist at NYCDA Nationals. She has performed as Clara in the Radio City Christmas Spectacular and was one of four Capezio NYCDA Model Search winners. As for the future, Megan knows one thing for sure: She's going to keep dancing. "I want to go to college for dance, maybe to Brigham Young University, Marymount Manhattan or Juilliard," she says. "But I still have a while to decide." Until then, she'll stick to her busy schedule. "It's a lot of late nights and early mornings," she says. "But it's worth it. I wouldn't give it up for anything."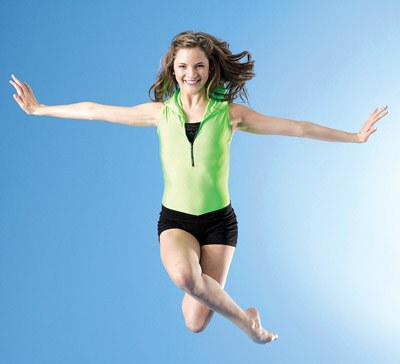 FAST FACTS:
Birthday: March 6, 1996
Favorite food: Pasta
Most-played on her iPod: "I Won't Give Up" by Jason Mraz
Dream dance role: "It would be really fun to be a Rockette. I want to do the Rockette summer intensive this year."
Three words that describe her dancing: "Soft, passionate, aggressive"
Dream dance company: Complexions Contemporary Ballet
Favorite dance movie: Step Up
Who would play her in a movie: Nina Dobrev from "The Vampire Diaries"
First thing she does in the morning: "Hit the snooze button so I can sleep for 10 more minutes."
Favorite dancers of all time: Travis Wall and Joey Dowling
Hidden talent: "I like to sing, but I'm only OK. I'd like to take voice lessons."
Performer she'd die to work with: Celine Dion
Must-see TV shows: "Pretty Little Liars" and "The Lying Game"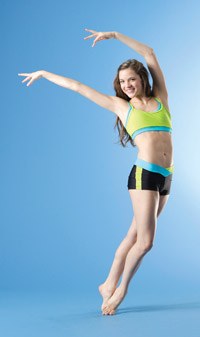 WHAT PEOPLE ARE SAYING ABOUT MEGAN:
Allison Thornton, Megan's teacher at The Dance Club: "Megan has the body that every dancer dreams of: long legs, beautiful feet, great extension. But the best thing about Megan is that she knows how to use it all. She works really hard, and as good as she is in rehearsal, she's even better onstage. Megan is very humble. She always has a smile on her face, she gets along with the other girls and she's easy to work with. She's a good person who has been blessed with great talent."
Joanna Numata, street jazz instructor at Broadway Dance Center: "The first thing I noticed about Megan were her beautiful lines. She also had a really good, positive energy during class. She took direction and corrections well, which is so important."
Love Megan? Go to dancespirit.com//cms to vote for her!
Click here to read all about Alyssa Ness!
Click here to read all about Hannah Bettes!
Jun. 15, 2012 09:32AM EST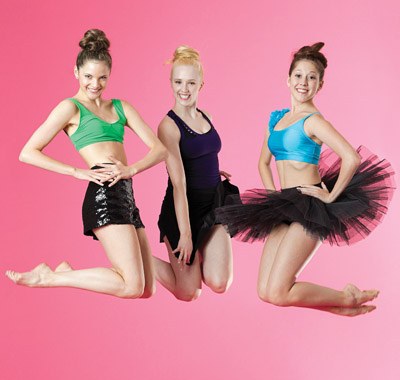 Megan, Alyssa and Hannah (Photo by Nathan Sayers)
Each year, the Dance Spirit editors spend hours watching the videos dancers have uploaded in the Cover Model Search competition on dancemedia.com. And while that's always entertaining—you superstars have some great technique and stellar stage presence!—what we really look forward to is the week when the three editor-selected finalists travel to NYC to take classes at Broadway Dance Center, pose for a DS photographer, catch a Broadway show and show off their solos.
So when Hannah Bettes, Megan Skalla and Alyssa Ness arrived in Manhattan, we couldn't wait to get to know them better. Naturally we'd done our research beforehand: We knew Hannah was the ballerina, Megan was the sweet one from Utah and Alyssa was the alluring blonde. We knew they collectively had some of the pointiest feet and longest, bendiest legs we'd ever seen, and we knew they were all talented, hard-working and oh-so-dedicated to dance. What we didn't realize was just how much these three would shine in class, light up in front of the camera and go full-out when performing. Let's just say we were pleasantly surprised. This year's finalists are going places, starting—for one of them—with the October cover of Dance Spirit.
Now the decision is in your hands—and we're glad, because if we had our way all three would be on the cover together. Read about Megan, Alyssa and Hannah, and then go to dancespirit.com//cms to watch their solos and to see even more photos. Pick your favorite (good luck!) and cast your vote beginning June 15.
Click here to read all about Alyssa!
Click here to read all about Hannah!
Click here to read all about Megan!
Vote for your favorite finalist at dancespirit.com/cms!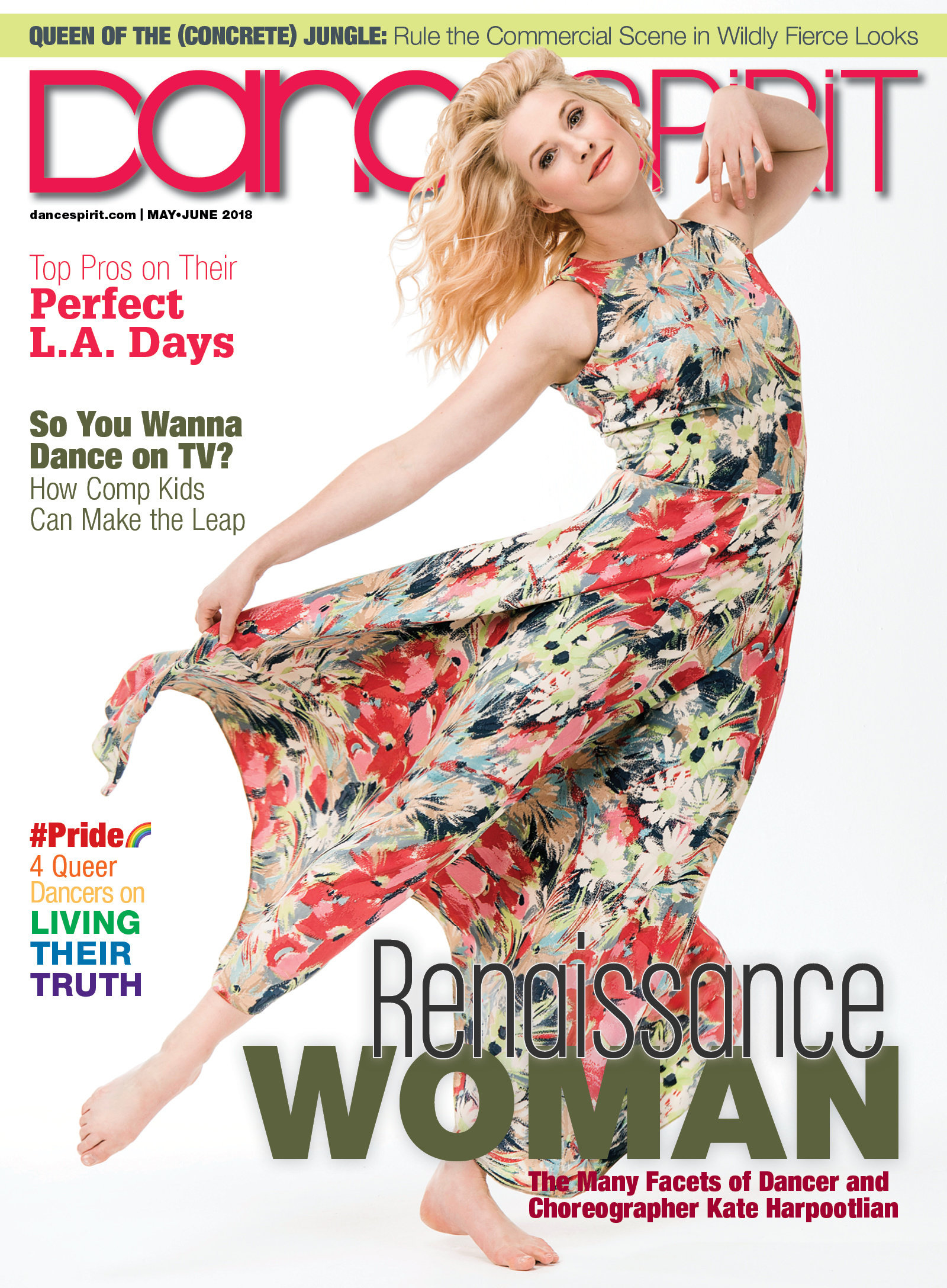 Get Dance Spirit in your inbox