Mar. 23, 2017 07:57AM EST
It's #BeyDay (Beyoncé, y'all!) and we're celebrating here at Dance Spirit.
First, this.
Then, this:
You know Chloé Arnold, Her Holiness of tap, has worked with Beyoncé before, right? Maybe it's because they both have the "é" in their names. (BRB, renaming myself Alisoné, and perhaps I can get the hookup, too.)
The video—which has everyone here at the DS office dying to put on our tap shoes right this very second—also features former Dance Spirit cover girls Melinda Sullivan and Maud Arnold as part of the Syncopated Ladies. This isn't the first time this girl group has taken on a pop hit and made it sound even better.
I think we can officially state this for whatever record someone is keeping: Tap has never been hotter.
P.S. Who run the world? Girls. But, duh.
Dance News
Nov. 15, 2016 11:38AM EST
Lesley Rausch with Jonathan Porretta in Balanchine's Prodigal Son (Lindsay Thomas, courtesy Pacific Northwest Ballet)
From meditation to Pilates to Drake playlists, no two preshow rituals include exactly the same ingredients. But just like bakers following a recipe, most dancers follow a very specific—and very important—routine before every performance. We asked six pros to share what they do precurtain to make sure they're at their best onstage.
Dancer to Dancer
Mar. 14, 2016 10:21AM EST
Pretty much anything Chloé Arnold and her Syncopated Ladies get their hands/taps on is bound to be fantastic. But the crew seems to have a special affinity for Beyoncé—as confirmed back in the day by Queen B herself (remember the Share Heard 'Round the World?), and as confirmed once again yesterday by the group's latest video, "Formation."
The Ladies' take on Beyoncé's internet-melting hit doesn't involve much in the way of fancy production values. That's not the point. Instead, we get two delicious minutes of unflinchingly bold, ingeniously musical tap choreography that just dares us to look away. It's the perfect showcase for the unique voices of the dancers—Chloé and Maud Arnold, Anissa Lee, Assata Madison, Orialis Ashley, Melinda Sullivan and Melissa Tannus—who are, as ever, brilliant.
The best part? At the end of the video, we see clips of women from studios around the world performing the same routine. It's the Syncopated Ladies' way of wishing us all a happy Women's History Month, and it's exactly what we all need for #MotivationMonday.
Dance News
Jan. 22, 2016 10:40AM EST
Hello all you lovely, creative people! Are you possibly the world's next choreographic genius? Do you want $15,000 to produce your very own show? Of course you are—we've seen how much talent y'all have!—and of course you do. Which makes us especially happy to announce that the 2016 Capezio A.C.E. Awards competition is now accepting submissions.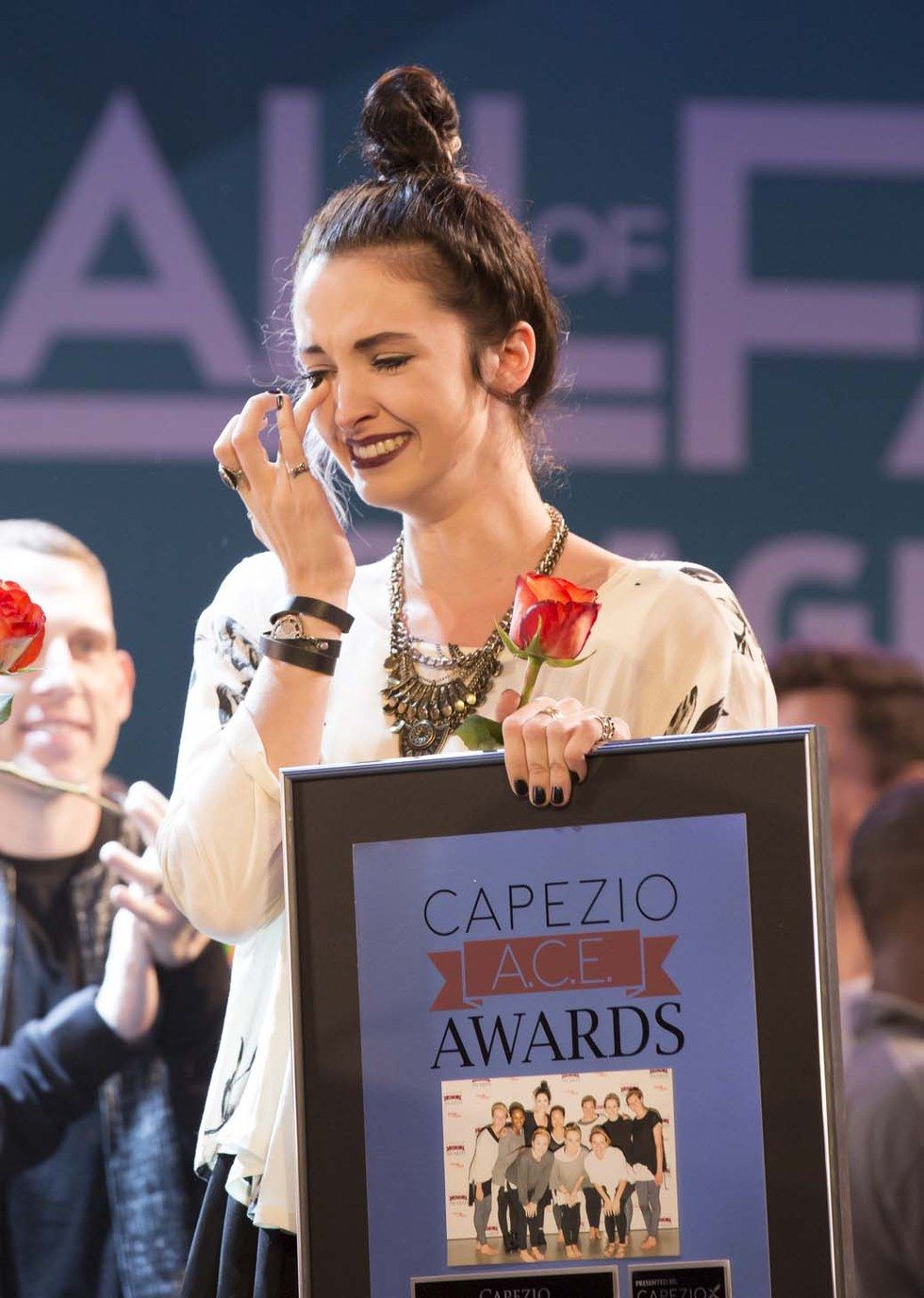 Here's last year's winner, Kirsten Russell, receiving her prize. YOU WANT TO BE THIS HAPPY! (photo by Joe Toreno)
A little background: Each year, the A.C.E. (Award for Choreographic Excellence) Awards invites 15 gifted dancemakers to present their best work at the Dance Teacher Summit. Three winners from that group, chosen by reps from Capezio and Dance Teacher magazine, receive funds to produce a full-length show, with $15,000 being the top prize. And in case you're wondering just how legit the A.C.E. Awards are, please note that past winners include Travis Wall, Peter Chu, Al Blackstone, Melinda Sullivan and Talia Favia. BOOM.
Anyway, entering the contest is easy: Just upload your best choreography video to dancemedia.com anytime between now and May 2. 15 semifinalists will get to present their choreo at the NYC Dance Teacher Summit, which will be held July 29–31; winners will be announced there. Questions? You can find all the rules and regulations (plus more delicious details about the prizes) here.
Get uploading, everybody. And if you need a little inspiration, take a look at last year's winning entry, Kirsten Russell's brilliant "Islands":
Dance News
May. 12, 2015 12:40PM EST
If you count yourself among the "Mad Men"-obsessed, this is probably an emotional week for you. On the one hand, you're stoked for Sunday's series finale, and you've already started planning your 1960s-inspired menu for the big event. (Ambrosia salad and shrimp cocktail, anyone?) But parting is such sweet sorrow, and you might not be ready to say "goodbye."
"Game of Thrones" fans need not feel such nostalgia; as long as George R.R. Martin keeps writing those books (which, albeit, is not a certitude...), there will be plenty more Sunday night suspense for them. (Disclaimer: Said fans should definitely be 17+!) But considering the fact that almost all the good characters have bit the dust, it's not all smiles and giggles for "Thrones" fans either.
So how do you console the melancholy TV viewers of America? Give 'em what they love: music, tap dance and PUPPIES! Syncopated Lady (and 2012 Capezio A.C.E. Award-winner) Melinda Sullivan teamed up with jazz chamber ensemble Rozalia, fellow percussionist Aaron Serfaty and her dog Wobbles to create a "Mad Men"/ "Game of Thrones" mashup, "Mad Game."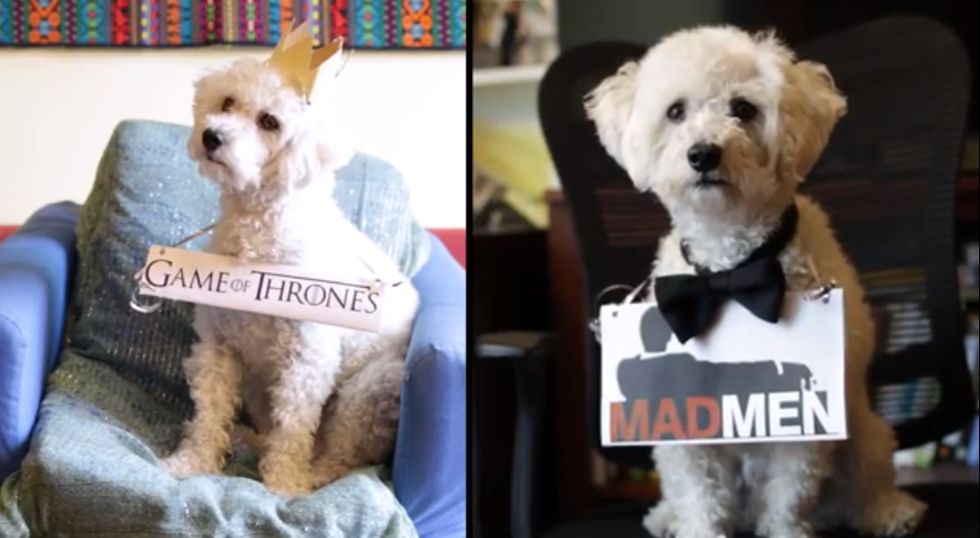 I can't.
Notice how I said, "fellow percussionist"? That's because this video really emphasizes the role of tapper-as-musician. Sullivan dons a head set, just like the rest of the performers, and the video doesn't only focus on her or her feet. It also focuses on Serfaty's hands, on pianist Nikos Syropoulos' fingers and on the bows of the cellists and violinist. That means that it's often just the crystal clear sounds of Sullivan's taps, accenting the appropriately epic combo of iconic theme songs, that let us know she's still there, tappin' away. Check it out!
Dance News
May. 08, 2014 03:26PM EST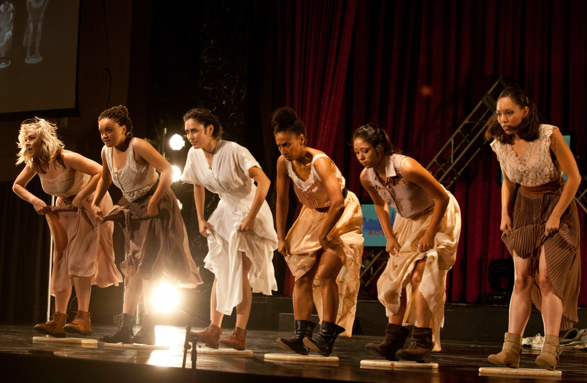 Winner Melinda Sullivan (third from left) at the 2012 Capezio A.C.E. Awards (photo by Matthew Murphy)
We've been getting super pumped up about this year's Capezio A.C.E. (Award for Choreographic Excellence) Awards for the past several months: We've been reminiscing about past winners—like Travis Wall, Melinda Sullivan, and Peter Chu—and encouraging you to put your stuff out there.
Well guess what guys, the deadline for submissions is May 28...just 20 days away! But never fear: That's still plenty of time because the submission process is so darn easy. Here's all you've gotta do:
Select one video of your choreography (no longer than five minutes and featuring at least five dancers, ages 16+).

Click here to register for dancemedia.com (if you haven't already).

Go to the submission page here, and then click "Enter Contest."

Upload your video!
Pretty easy, huh? Now here's the fun part: Fifteen finalists (selected by Capezio and Dance Teacher reps) will travel to NYC and present their work at the A.C.E. Awards during the Dance Teacher Summit this summer. The competition is August 2, when a distinguished panel of judges will pick the winners of three fantabulous awards:
The Capezio A.C.E. Award (the big'un): $15,000 production budget toward your very own show in NYC (!!!)

First Runner Up: $5,000 production budget

Second Runner Up: $3,000 production budget
Quick! What are you waiting for! Submit your choreo now, and you can get in on all of this fun:
And who knows, maybe next year at this time we'll be reminiscing about you. Good luck!
Dance News
Apr. 16, 2014 12:04PM EST
Here at DS, we're huge fans of Chloé Arnold's Syncopated Ladies. We've been in love with them ever since they gave Rihanna's "Where Have You Been" a tap-tastic makeover back in 2012. I mean, talk about girl power: Arnold and her ladies (including her sister Maud and Melinda Sullivan—both former DS cover models) bring the strength AND the sexy every time they perform.
Their recent tribute to Beyoncé (set to "End of Time") was certainly no exception. Yep, that day we learned some basic math: Beyoncé + The Syncopated Ladies = pure magic. Queen Bey agreed, and she posted this on her Facebook wall on January 9: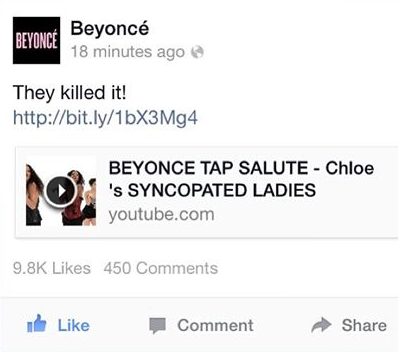 To thank Beyoncé for the shout out, the Syncopated Ladies got to work on another tap tribute, this one set to "Flawless." They released the video earlier this month, and we may or may not have stopped watching it since...
Syncopated Ladies, you truly are flawless.
Dance News
Jul. 19, 2013 10:54AM EST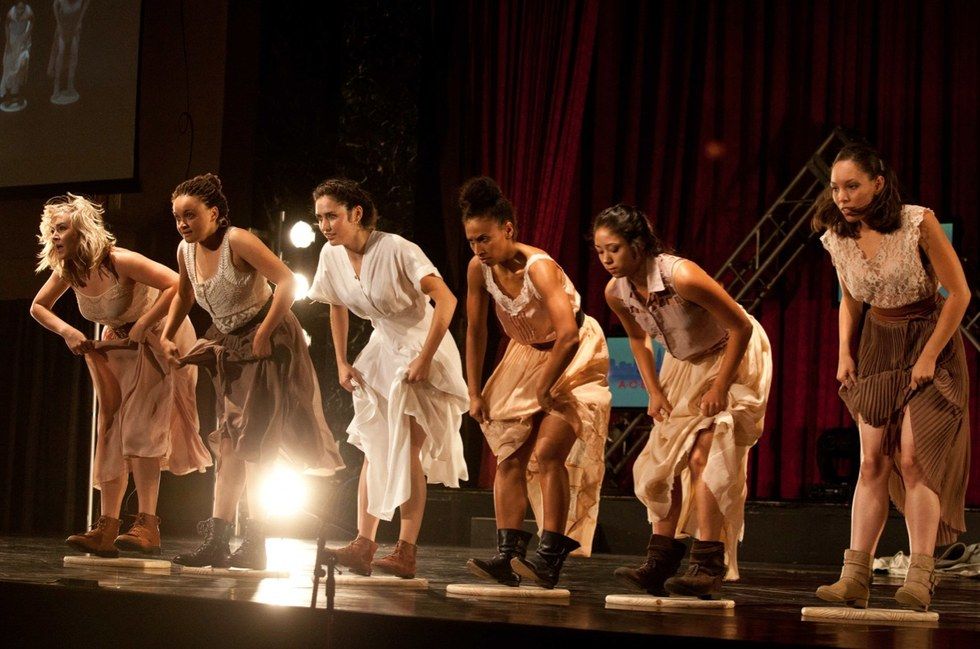 Melinda Sullivan (third from left) and crew at the 2012 A.C.E. Awards. Photo by Matthew Murphy.
It's not too hard for us to pick out up-and-coming dancers when every competition we attend is sure to have several standouts. Emerging choreographers, on the other hand, are relatively difficult to find, because creating high-quality work is expensive and logistically tricky.
That's why we love the Capezio A.C.E. (Award for Choreographing Excellence) Awards. Each year, the competition brings a bunch of talented choreographers to NYC to present their best works. And the prizes? Oh, just multiple thousands of dollars to go toward shows in the Big Apple. NBD.
This year's A.C.E. Awards competition will be held August 6 at the midtown Hilton in NYC. But August 5-8, the top three choreographers from last years' awards will be putting on their own shows just a few blocks away, at the Ailey Citigroup Theater.
2012 grand prize winner Melinda Sullivan will present her work on August 5 and 6, and first runner-up Dana Foglia and second runner-up Bree Hafen will share a program on August 7 and 8. Sullivan's piece, Gone: A Sound & Theatre Project, tells a story through tap, sanding and contemporary choreography; Foglia's I Am...We Are showcases her signature sexy, hard-hitting style; and Hafen's Positive Space "explore[s] the themes of humanity, home and healing through movement."
Intrigued? Click here to find out more and get tickets.
Apr. 11, 2013 09:30AM EST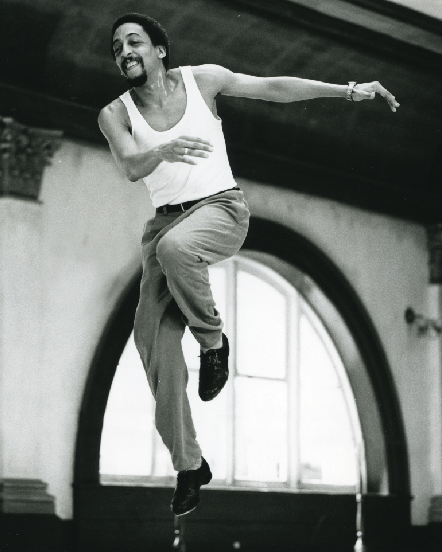 Gregory Hines in White Nights (photos via Dance Magazine Archives)
L.A.-based tap dancer Melinda Sullivan has hoofed her way through tons of tap jams. But she recalls one particular jam session she attended as a teenager especially fondly, because of a surprise guest: tap legend Gregory Hines. "He just showed up at the old Debbie Allen studio and danced with us," she says. "He was so famous, yet really down-to-earth, jamming alongside us, having conversations with his feet. During his last solo, he danced right out the door. It was a magical exit."
Hines' humility and charisma were only part of what made him such a legendary tapper, and the perfect role model for tappers today. This summer marks 10 years since Hines' untimely death (he died of liver cancer at age 57), but many dancers still hope to emulate his success as a tapper, mentor and true triple threat. Incorporating Hines' style into your own dancing is the perfect way to take your tapping to the next level. Read on for suggestions from the pros.
What Hines did: Hines pushed the athleticism of tap to a new level. His dancing was unpolished, grounded and free-flowing. "He flew through the space," says Anita Feldman, assistant professor at Hofstra University's Department of Drama and Dance. "He was really physical."
Make it your own: Emulate Hines' expressive movement style by putting as much energy into your upper body as your feet. And try to eat up as much space as possible.
What Hines did: Hines was always searching for new ways to connect with audiences, like embracing popular music. "In the movie Tap, Hines dances to rock music, not the typical tap music of the 1930s," Feldman says. "Other times, he made statements by not using music at all."
Make it your own: Next time you're perfecting your tap solo, embody Hines' artistically adventuresome spirit. Play something unexpected or go a cappella.
What Hines did: Hines' tap prowess launched his career as a successful actor on film, television and Broadway. "Gregory Hines is why I crossed over into musical theater and TV," says Sullivan, who's toured nationally with Cats and competed on "So You Think You Can Dance" Season 7. "I try to be an entertainer like he was."
Make it your own: Try adding an acting class to your roster. "It takes more than being amazing with your feet to have the kind of stage presence Gregory Hines had," says NYC tapper Lisa La Touche, who was inspired by Hines to study acting. "Being theatrical makes you more marketable."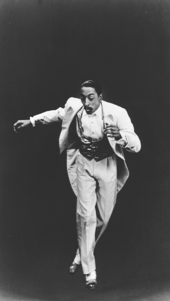 Hines performing at The Grand Prospect Hall in Brooklyn
What Hines did: Hines used other styles to amp up his tapping. It wasn't unusual to see him throw an impressive jump or pirouette into the mix. In a classic scene from White Nights, Hines even dances alongside ballet virtuoso Mikhail Baryshnikov using a blend of ballet, tap and jazz. "He epitomized the artistic extension of tap," Feldman says.
Make it your own: When planning a tap routine, try thinking of your favorite moves from other styles. Adding a cabriole or even a layout can make your choreography more exciting.
What Hines did: Hines coined the term "improvography" to prove that tap-dance improvisation deserves the same respect as choreography. "He wasn't happy that tap dancers weren't always given credit for their work, especially if it was improvised," Feldman says.
Make it your own: Sometimes, your best work can come when you're just going with the flow, making bold, unplanned choices. The more time you spend improvising, the easier it will become.
What Hines did: Hines was a true role model, helping tap flourish by sowing seeds of encouragement. "He was a mentor to everyone, not just the best tappers," La Touche says. "During a master class he once said, 'All you need is a pair of tap shoes to be part of this community.' "
Make it your own: Share your love for tap with others. Ask to be a teacher's assistant or to help out younger dancers at your studio. "He made me feel like I was a gift to tap dance," La Touche says. "Now we've got to make each other feel that way."
Hines' Place in History
During the 1980s and early '90s, Gregory Hines' starring roles in major motion pictures, including The Cotton Club, White Nights and Tap, as well as Broadway's Sophisticated Ladies and Jelly's Last Jam, continued the revitalization of tap as an art form. Before the '70s, tap hadn't been in the spotlight since the big band era of the '30s and '40s. "After a gap in tap dance's history, Hines helped bring it back into popular culture," says tapper Melinda Sullivan. "He made it fashionable."
Tap
Jul. 31, 2012 11:55AM EST
The theme at this year's Dance Teacher Summit Capezio A.C.E. Awards?
Girl power, baby.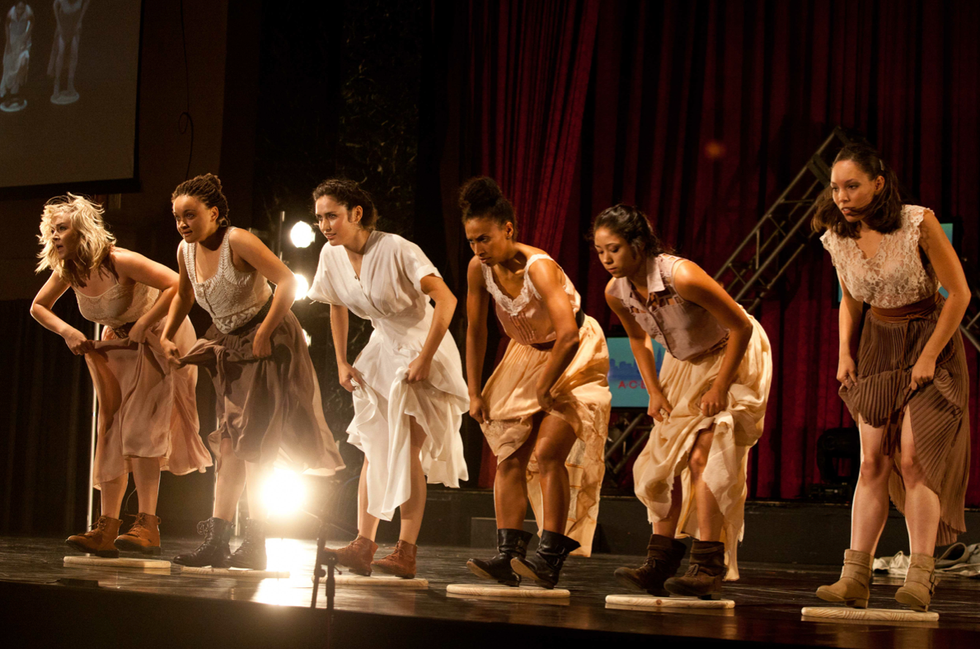 For the first time in the choreography competition's history, all three top prizes went to women.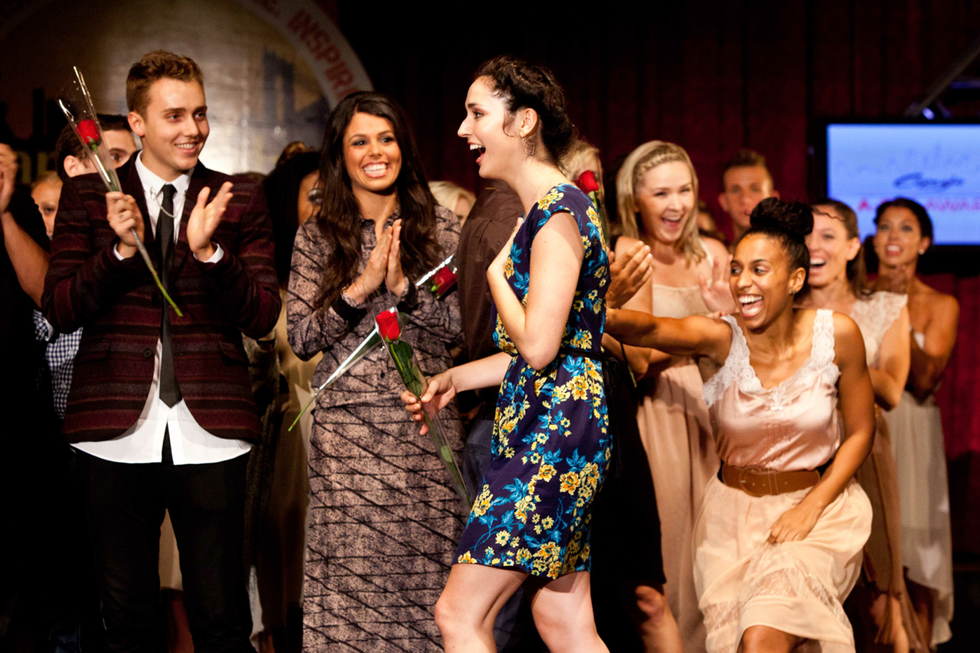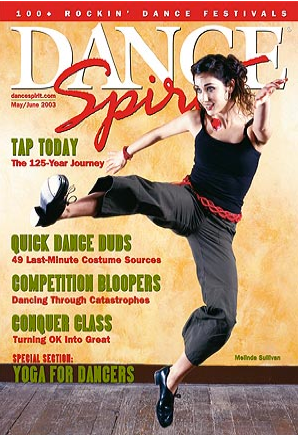 Taking home the night's top award—a $15,000 production budget to go toward a show in NYC—was tapper (and former DS cover girl!) Melinda Sullivan.
Sullivan's piece, "Gone," wasn't quite a tap number since there were no tap shoes in sight. But there was a whole lot of rhythm, some serious syncopation and some awesomely-intricate sand dancing on a big canvas blanket. Watch Melinda's winning piece here.
We can't wait to check out Sullivan's show next year in the Big Apple.
The evening's first runner-up award went to Dana Foglia, another DS favorite, for her quirky routine called "Ribbons," featuring a massive group of black-and-white-unitard-clad dancers.
Nabbing the second runner-up prize was Bree Hafen, the adorable mom who auditioned for "So You Think You Can Dance" this season. Her number, "Terminal Soul," was a hit on the comp scene last year and included the always-lovely Madi Hicks.
To recap: Women rock. Keep choreographing, ladies. We love your moves. And congratulations to all of the A.C.E. Award participating choreographers!
Dance News
Get Dance Spirit in your inbox