It's #BeyDay (Beyoncé, y'all!) and we're celebrating here at Dance Spirit.
First, this.
Then, this:
You know Chloé Arnold, Her Holiness of tap, has worked with Beyoncé before, right? Maybe it's because they both have the "é" in their names. (BRB, renaming myself Alisoné, and perhaps I can get the hookup, too.)
The video—which has everyone here at the DS office dying to put on our tap shoes right this very second—also features former Dance Spirit cover girls Melinda Sullivan and Maud Arnold as part of the Syncopated Ladies. This isn't the first time this girl group has taken on a pop hit and made it sound even better.
I think we can officially state this for whatever record someone is keeping: Tap has never been hotter.
P.S. Who run the world? Girls. But, duh.
Lesley Rausch with Jonathan Porretta in Balanchine's Prodigal Son (Lindsay Thomas, courtesy Pacific Northwest Ballet)
From meditation to Pilates to Drake playlists, no two preshow rituals include exactly the same ingredients. But just like bakers following a recipe, most dancers follow a very specific—and very important—routine before every performance. We asked six pros to share what they do precurtain to make sure they're at their best onstage.
Keep reading...
Show less
Pretty much anything Chloé Arnold and her Syncopated Ladies get their hands/taps on is bound to be fantastic. But the crew seems to have a special affinity for Beyoncé—as confirmed back in the day by Queen B herself (remember the Share Heard 'Round the World?), and as confirmed once again yesterday by the group's latest video, "Formation."
The Ladies' take on Beyoncé's internet-melting hit doesn't involve much in the way of fancy production values. That's not the point. Instead, we get two delicious minutes of unflinchingly bold, ingeniously musical tap choreography that just dares us to look away. It's the perfect showcase for the unique voices of the dancers—Chloé and Maud Arnold, Anissa Lee, Assata Madison, Orialis Ashley, Melinda Sullivan and Melissa Tannus—who are, as ever, brilliant.
The best part? At the end of the video, we see clips of women from studios around the world performing the same routine. It's the Syncopated Ladies' way of wishing us all a happy Women's History Month, and it's exactly what we all need for #MotivationMonday.
Hello all you lovely, creative people! Are you possibly the world's next choreographic genius? Do you want $15,000 to produce your very own show? Of course you are—we've seen how much talent y'all have!—and of course you do. Which makes us especially happy to announce that the 2016 Capezio A.C.E. Awards competition is now accepting submissions.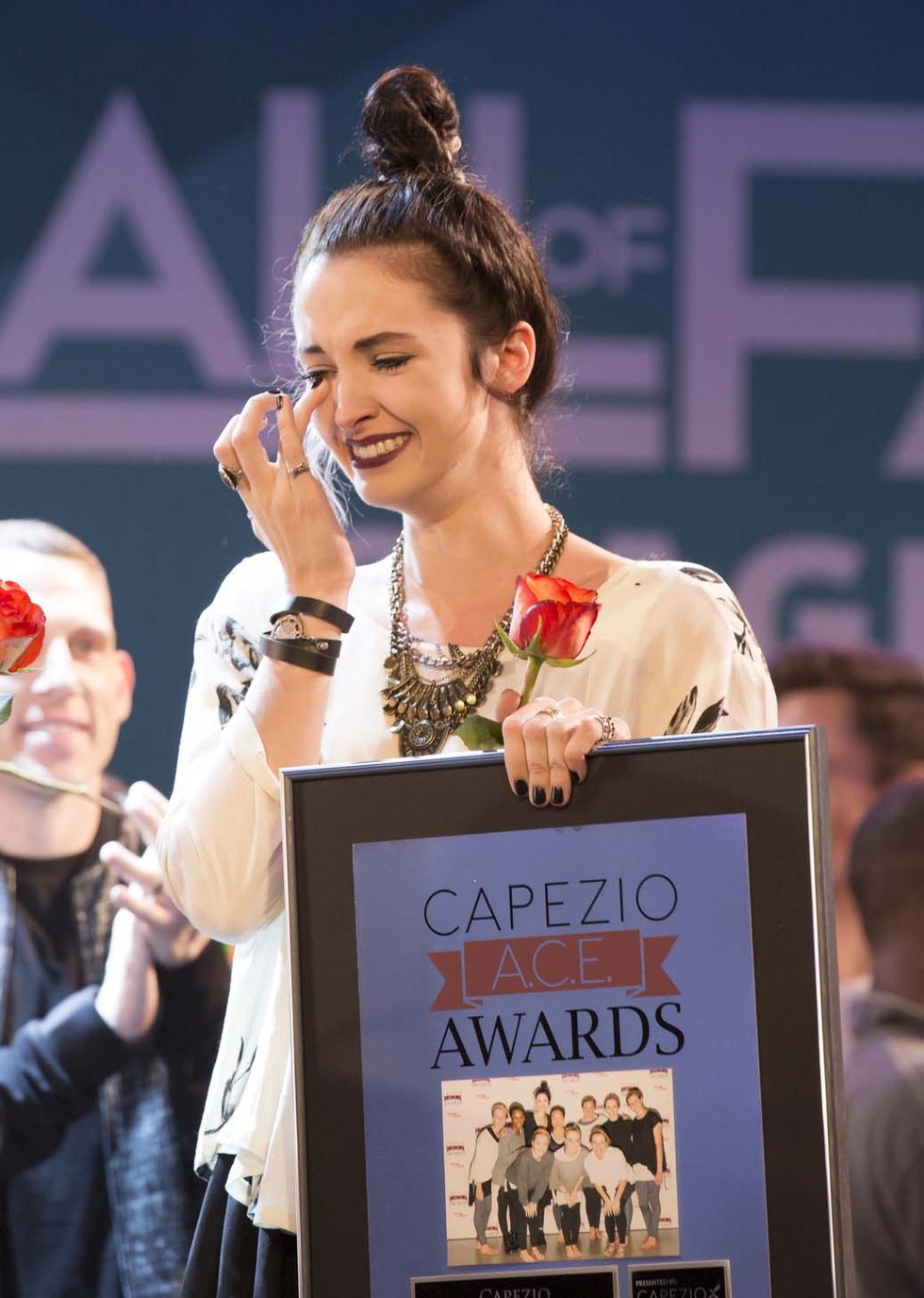 Here's last year's winner, Kirsten Russell, receiving her prize. YOU WANT TO BE THIS HAPPY! (photo by Joe Toreno)
A little background: Each year, the A.C.E. (Award for Choreographic Excellence) Awards invites 15 gifted dancemakers to present their best work at the Dance Teacher Summit. Three winners from that group, chosen by reps from Capezio and Dance Teacher magazine, receive funds to produce a full-length show, with $15,000 being the top prize. And in case you're wondering just how legit the A.C.E. Awards are, please note that past winners include Travis Wall, Peter Chu, Al Blackstone, Melinda Sullivan and Talia Favia. BOOM.
Anyway, entering the contest is easy: Just upload your best choreography video to dancemedia.com anytime between now and May 2. 15 semifinalists will get to present their choreo at the NYC Dance Teacher Summit, which will be held July 29–31; winners will be announced there. Questions? You can find all the rules and regulations (plus more delicious details about the prizes) here.
Get uploading, everybody. And if you need a little inspiration, take a look at last year's winning entry, Kirsten Russell's brilliant "Islands":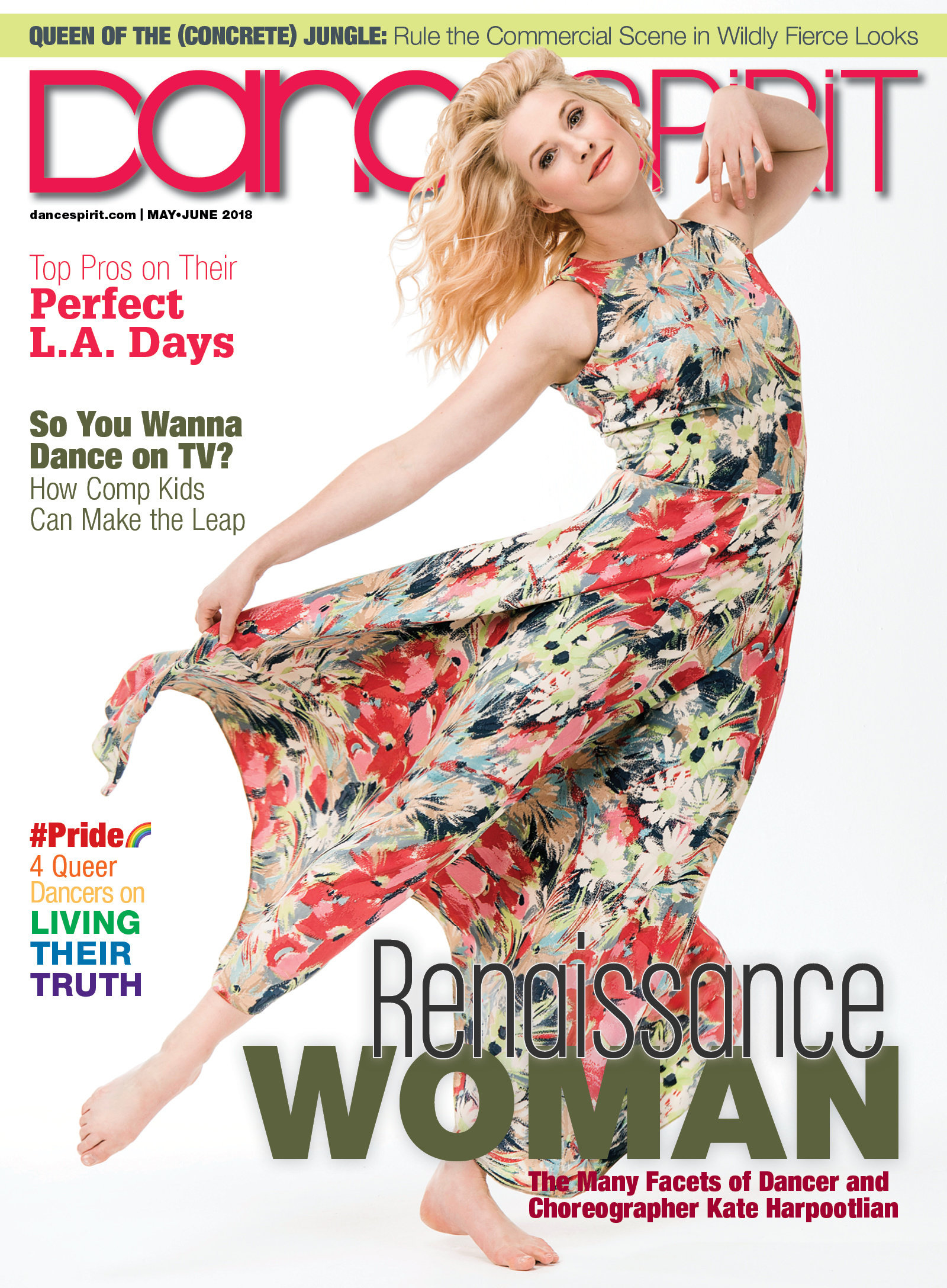 Get Dance Spirit in your inbox