How do you sum up an evening that includes performances of stage-shaking passion; heartfelt speeches that make you laugh and then make you ugly cry; and an inescapable sense of beautiful, joyful, warm-and-fuzzy #dancerlove?
You can do it the way legendary Merce Cunnigham dancer Valda Setterfield did it last night: By declaring that there's nothing better than being in a room full of dancers, whom she called the world's bravest, most generous souls. (Not too shabby.) Or you can do it in six words: Welcome to the Dance Magazine Awards.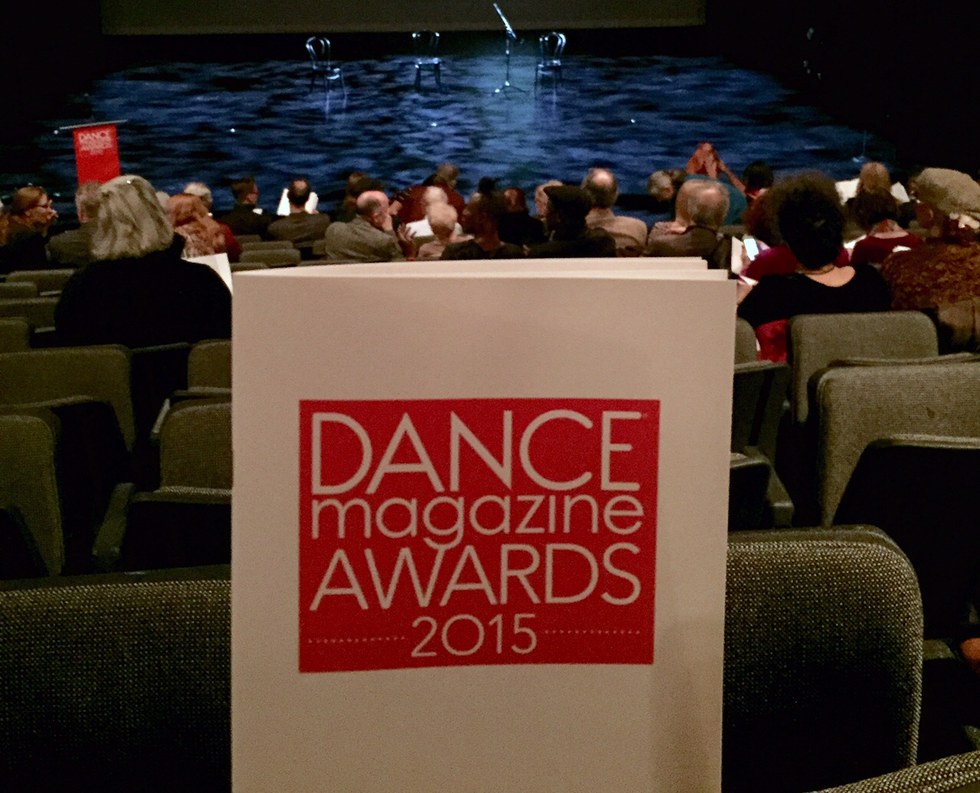 Yay!
Last night's ceremony marked the DM Awards' 61st anniversary, and this year's crop of honorees included luminaries from all corners of the dance world. None other than Mikhail Baryshnikov graced the stage to present the evening's first award to Karen Kain, one of the National Ballet of Canada's loveliest ballerinas and now its artistic director. Kain was one of the first people Baryshnikov met after he defected from Russia, and the two have kept up a beautiful friendship for decades—though Baryshnikov lamented in his speech that he was too short to ever dance with her. (That honor went, instead, to slouches like Rudolf Nureyev.)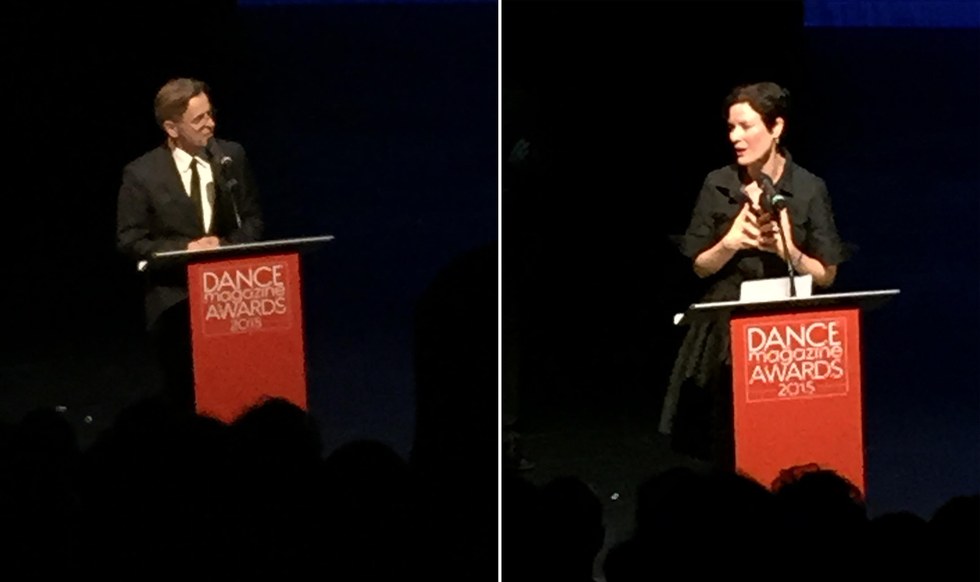 Baryshnikov and Kain: BFFLs.
Also representing #teamballet was honoree Marcelo Gomes, the gorgeous American Ballet Theatre principal and choreographer who charms the heck out of both audiences and his adoring ballerinas. We were treated to a pas de deux from Gomes' recent premiere for ABT, AfterEffect—lushly danced by Cassandra Trenary and Thomas Forster—that put Gomes' deep understanding of the intricacies of partnering on display. And recently retired ABT star Julie Kent made a sweetly teary speech in which she noted that even babies "immediately feel safe in Marcelo's arms, just as I do." D'awwwwww.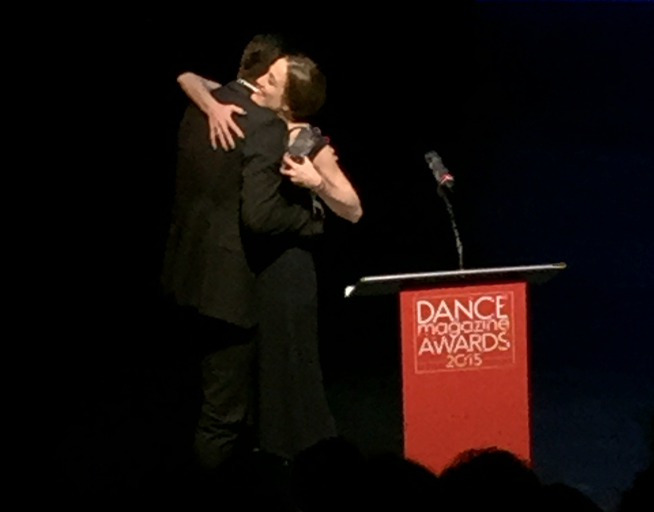 Kent in her safe place
Setterfield (wearing the world's most amazing plaid pantsuit ensemble) paid tribute to David Vaughan, a dancer who basically invented the job of "dance archivist" and has served in that role for Merce Cunningham's company since 1976. Now 91, Vaughan shows zero signs of slowing down: In his lovely acceptance speech, he talked about the fact that his old friend, dance artist Pepper Fajans, had convinced him to return to the stage next month. May we all be that awesome in our tenth decade.
We saw a vividly drawn excerpt from honoree Jawole Willa Jo Zollar's Walking with 'Trane—a  musing on John Coltrane's legacy—performed by Zollar's company, Urban Bush Women, which is celebrating its 30th anniversary this year. Zollar spoke movingly about the fact that reaching a "point of stability" in one's career was actually a bad sign: On a heart monitor, ups and downs indicate a pulse, while death is a stable flatline. She urged everyone to embrace life's natural rises and falls—though now, she added, whenever she's feeling low, she can look at her Dance Magazine Award and say, "Jawole Willa Jo Zollar, you are a bada**." FACT.
The highlight of highlights for me, though, was watching flamenco virtuosa Soledad Barrio blaze through Solea, accompanied by three masterful musicians (and the "Olés!" of the appreciative crowd). Tattooing the stage with her heels, slicing the air with her arms, searing our souls with the depth of her passion, Barrio illustrated exactly what the DM Awards are all about (Charlie Brown): honoring the most extraordinary of extraordinary dance artists, the people whose brilliance is life-enhancing and life-affirming and, sometimes, life-changing.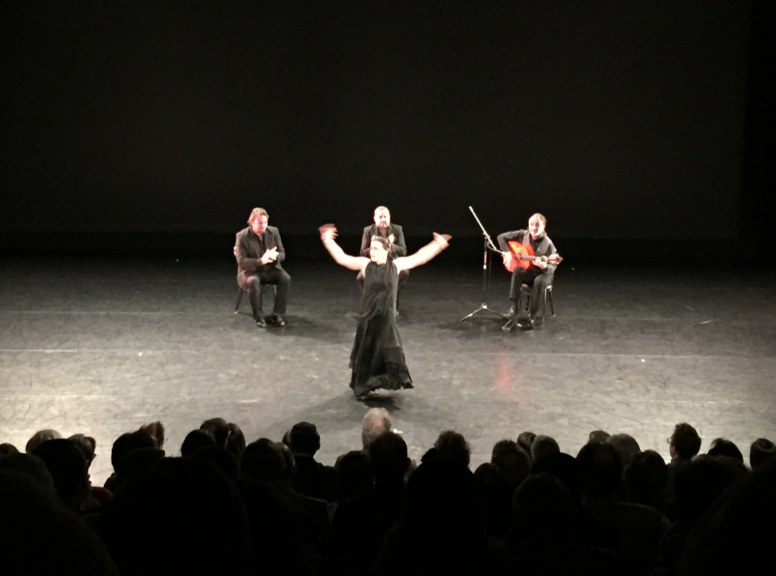 Olé, Sole!
Check out video highlights from the awards here:
Nov. 15, 2011 11:53AM EST
"You have to love dancing to stick to it. It gives you nothing back, no manuscripts to store away, no paintings to show on walls and maybe hang in museums, no poems to be printed and sold, nothing but that single fleeting moment when you feel alive." —Merce Cunningham
When modern dance legend Merce Cunningham died in 2009, a few months after his 90th birthday, the dance world was forever changed. Two years later, we're about to feel another major shift: Respecting Cunningham's wishes, the Merce Cunningham Dance Company will officially disband this month, with the final performance of the company's 40-city Legacy Tour falling on New Year's Eve in NYC.
Cunningham was a pioneer in dance, digital media and art. His professional dance career began when he joined Martha Graham's company in 1939, and in 1953 he formed MCDC, for which he went on to choreograph more than 130 works. Cunningham collaborated with numerous artists, including Andy Warhol, Robert Rauschenberg and his longtime companion, John Cage. Dance luminaries like Paul Taylor, Trisha Brown, Lucinda Childs, Karole Armitage and Jonah Bokaer trained with him.
In addition to the company's final tour, the Legacy Plan includes extensive documentation of Cunningham's works, so that other companies can continue to learn and perform them. Daily classes in Cunningham Technique will also be held at New York City Center beginning in April 2012. A chapter in dance history might be ending, but the legacy of Merce Cunningham will live on.
DS asked Cunningham's dancers and friends to share their Merce memories.
Andrea Weber, current MCDC member
"I loved getting rehearsal notes from Merce. His feedback was subtle—he would give one line, maybe a month into the process. He left you a lot of space. I've been performing RainForest, one of the pieces we brought back for the Legacy Tour, and I can't help wondering what advice he would've had for me. Lisa Boudreau, who has danced the role, mentioned that he once said, 'No stillness exists without movement, and no movement is fully expressed without stillness.' I've been so charged by that statement."
David Vaughan, MCDC archivist
"I'm very moved by the company's spirit of camaraderie right now. Everyone is working to show Merce's work at its best wherever we go on this Legacy Tour, and the performances are wonderful because of it."
Julie Cunningham, current MCDC member
"Working for Merce taught me more than I could ever have imagined. He would ask us to do incredibly difficult movements, and we would try them without doubt, because he made you feel you could achieve anything. Now whenever I face challenges, I remember that I have accomplished the impossible."
Kimberly Bartosik, MCDC member from 1987–1996, now artistic director of daela 
"One of the most memorable moments during my time dancing with Merce was the day after John Cage's sudden death. At that time, Merce was creating Enter, and he was working on a solo for me. I remember him calling me into the studio, and feeling the air thick and empty with loss, and thinking how much I wanted to say I was sorry. But that wasn't what he wanted or needed. He needed me to dance. It was through movement, then and always, that we communicated."
Robert Swinston, MCDC Director of Choreography
"As a young man Merce was known for his jump—you can see that in photos, a still point in the air. When I joined the company, Merce was 60 and didn't have that jump anymore, but he still had an animal alertness and a great intensity. Taking class with him was exhilarating. He always found a way to push you beyond your limits. One of his favorite lines was, 'Clearly it's impossible, but we'll do it anyway.' "
Silas Riener, current MCDC member
"Split Sides is probably my favorite piece to dance, and the one I worked the most on with Merce. One time Merce was working on a solo I do in Split Sides, and he was trying to get me to do something I didn't fully understand. He ended up saying that I should dance like I was swatting at mosquitoes. It was a hilarious, illuminating moment—I didn't know he would use language like that, but it was exactly right."
Carol Teitelbaum, Faculty Chair of the Merce Cunningham Studio
"I always enjoyed watching Merce's dances from the wings. One in particular sticks in my mind: Pictures. There's a section about two-thirds of the way in when the stage comes alive, with one duet here, another there and individuals following solo trajectories in the thick of things. I would tear up each time seeing the dancers I knew and loved transformed into a moving image of humankind going about the activities of everyday life: the teeming richness of life made manifest."
How To
Mar. 11, 2011 12:25PM EST
Today the contemporary dance family tree has all kinds of offshoots, but its base includes four modern dance branches: the techniques created by Martha Graham, José Limón, Lester Horton and Merce Cunningham. Even if you don't consider yourself a modern dancer, getting to know these foundational styles will make you a stronger, more versatile performer, and once you've been exposed to them you'll find it easier to absorb the styles of contemporary choreographers. Here's what you need to know about these fundamental modern techniques.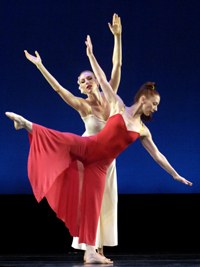 Katherine Crockett (back) and Blakeley White-McGuire in Martha Graham's Diversion of Angels. Photo by Sara D. Davis.
Graham Technique
Martha Graham, considered one of the mothers of modern dance, formed her company in 1926. Her choreography stems from an emotional and personal place, and so does Graham technique. "The visceral physicality needed to dance the work connects to inner feelings," says Virginie Mécène, director of the Martha Graham School of Contemporary Dance.
The Look
Three signature moves define Graham technique: the contraction, the release and the spiral. The Graham contraction is a C-curve of the spine. The release is the response to the contraction, which returns the spine to a neutral position or opens the breastbone to the sky. The spiral is a twisting of the torso that starts at the pelvis and then moves up the body. Combinations of these three movements "allow the dancer to project out into space," Mécène says.
Graham's Legacy Lives On
After 85 years, the Martha Graham Dance Company is still performing and touring. While students of the Martha Graham School often join the company, those who've studied Graham technique have also gone on to work with Buglisi Dance Theatre, SYREN Modern Dance, Ballet Hispanico and Bill T. Jones—to name just a few!
Did You Know? Cate Blanchett's character in The Curious Case of Benjamin Button was a Graham dancer, and was doubled by real-life Graham company member Katherine Crockett.
Limón Technique
Mexican-born José Limón moved to NYC at the age of 20 and studied with modern dance pioneers Doris Humphrey and Charles Weidman. Later he formed his own company and developed a distinctive style. "Limón technique is not codified—there aren't movements and positions that you always do," says Alan Danielson, school director at the Limón Institute. "For José it was about the infinite possibilities of dance."
The Look
A Limón class emphasizes breathing through the body and expanding your range of motion. "We work on bouncing, swinging and percussive movement," Danielson says. "Timing, shape and energy are all important factors."
Limón's Legacy Lives On
The Limón Company performs and tours regularly. Those who've studied at the Limón Institute or performed with the company have gone on to join Mark Morris Dance Group and Doug Varone and Dancers. Jennifer Muller of Jennifer Muller/The Works is also a Limón alum.
Did You Know? Limón's most famous work—The Moor's Pavane (1949), based on the story of Othello—has been performed by many ballet companies, including American Ballet Theatre and Pacific Northwest Ballet.
Horton Technique
Lester Horton formed the Lester Horton Dancers in 1932, and you'll probably recognize the names of its biggest stars: Alvin Ailey and Carmen de Lavallade. "Horton's goal was to create a modern dance technique that was also anatomically corrective," says Ana Marie Forsythe, chair of The Ailey School's Horton department. "His studies of ballet and other techniques taught him that dance usually breaks down the body. He wanted to fix that."
The Look
Horton technique classes include flat backs, lateral stretches, leg swings, deep lunges and falls. "Students learn how to sustain positions without injury," Forsythe says. "The falls are dramatic and exciting, but a safety net is built into each one."
Horton's Legacy Lives On
Horton technique classes are offered all over the country, and there are several companies based on the Horton style, including Alvin Ailey American Dance Theater and Copious Dance Theater.
Did You Know? Alvin Ailey's Revelations prominently features shapes from Horton technique.
Cunningham Technique
Merce Cunningham studied at the School of American Ballet and danced in Martha Graham's company before forming his own troupe in 1953. His choreography emphasizes clarity, control, dynamic range and multidirectional use of space—and so does his technique. "Merce used class to experiment with dancers and discover new possibilities," says Robert Swinston, director of choreography at the Merce Cunningham Dance Company.
The Look
In a Cunningham class, your upper body and lower body will often be doing totally different things. "He worked the legs separately from the torso," Swinston says. "There are leg movements that look classical, but then the torso moves in opposition to the legs in a non-classical way."
Cunningham's Legacy Lives On
Cunningham died in 2009, but MCDC will continue to perform until December 2011. Many former Cunningham dancers, including Karole Armitage and Douglas Dunn, went on to form their own troupes. There are also some European companies that use Cunningham technique as the basis of their choreography.
Did You Know? Cunningham frequently collaborated with famous artists, including Andy Warhol, John Cage and Robert Rauschenberg.
Emily Macel Theys, former associate editor for Dance Magazine, lives in Washington, D.C., and is the communications manager for the Liz Lerman Dance Exchange.
Sep. 01, 2009 02:08PM EST
Spectacular control and effortless extensions separate longtime Merce Cunningham Dance Company member Holley Farmer from the crowd. A late bloomer, it wasn't until age 16 that Farmer began taking ballet classes with Hae Shik Kim at the Fig Garden Dance Studio in Fresno, CA. She was a natural. After dancing with the Theatre Ballet of Canada and in Toronto's production of The Phantom of the Opera, Farmer returned to California to perform with the Oakland Ballet. She was unexpectedly diagnosed with a stress fracture in her fifth lumbar vertebra, but she used her recovery time to complete a B.F.A. at the Cornish College of the Arts, then an M.F.A at the University of Washington. It was at the latter that Farmer first met Merce Cunningham, who was in residence there. In 1996, she was asked to become an understudy with MCDC, and in 1997 she joined the main company. Farmer's body of work with the troupe earned her a New York Dance and Performance Award (a "Bessie") in 2004. After a rewarding career with MCDC, Farmer recently began working with another dance trendsetter: Twyla Tharp. —Marisa Graniela
Holley Farmer with Koji Mizuta and Silas Riener in Merce Cunningham's Nearly Ninety (Anna Finke)
Holley!
Don't accept that apprenticeship at the bakery. I know it seems like a good idea—a job that maybe, one day, will get you to France. But trust me, you'll get to see France without that apprenticeship. You'll get to dance at the Paris Opéra—twice!
Keep hope for your dance career alive. Right now, as the oldest and biggest in your dance class, you feel totally awkward. Even the 10-year-olds write you off. (Well, you did show up to your last recital already wearing your tutu. Promise me you'll put it in a garment bag next time!)
But soon, something important is going to happen: Your teacher is going to give you the keys to the studio. And there, alone, you'll work out why you can't do lame ducks and why you love jetés. You'll fall on your butt and lose track of time. You'll discover that your greatest gift is your love of movement.
So here's what to do if you want to eat croissants in Paris, not make them:
1) Nurture your talent. Surround yourself with people who remind you why you love to dance.
2) Figure out your body's strengths and weaknesses. Work on that core!
3) Start writing letters and filling out scholarship applications now. Opportunities don't grow on trees.
4) Study other arts and cultures. The world needs dancers with a point of view—so find one!
Don't bail on me now, Hol. I'm counting on you!
Bonne chance,
Holley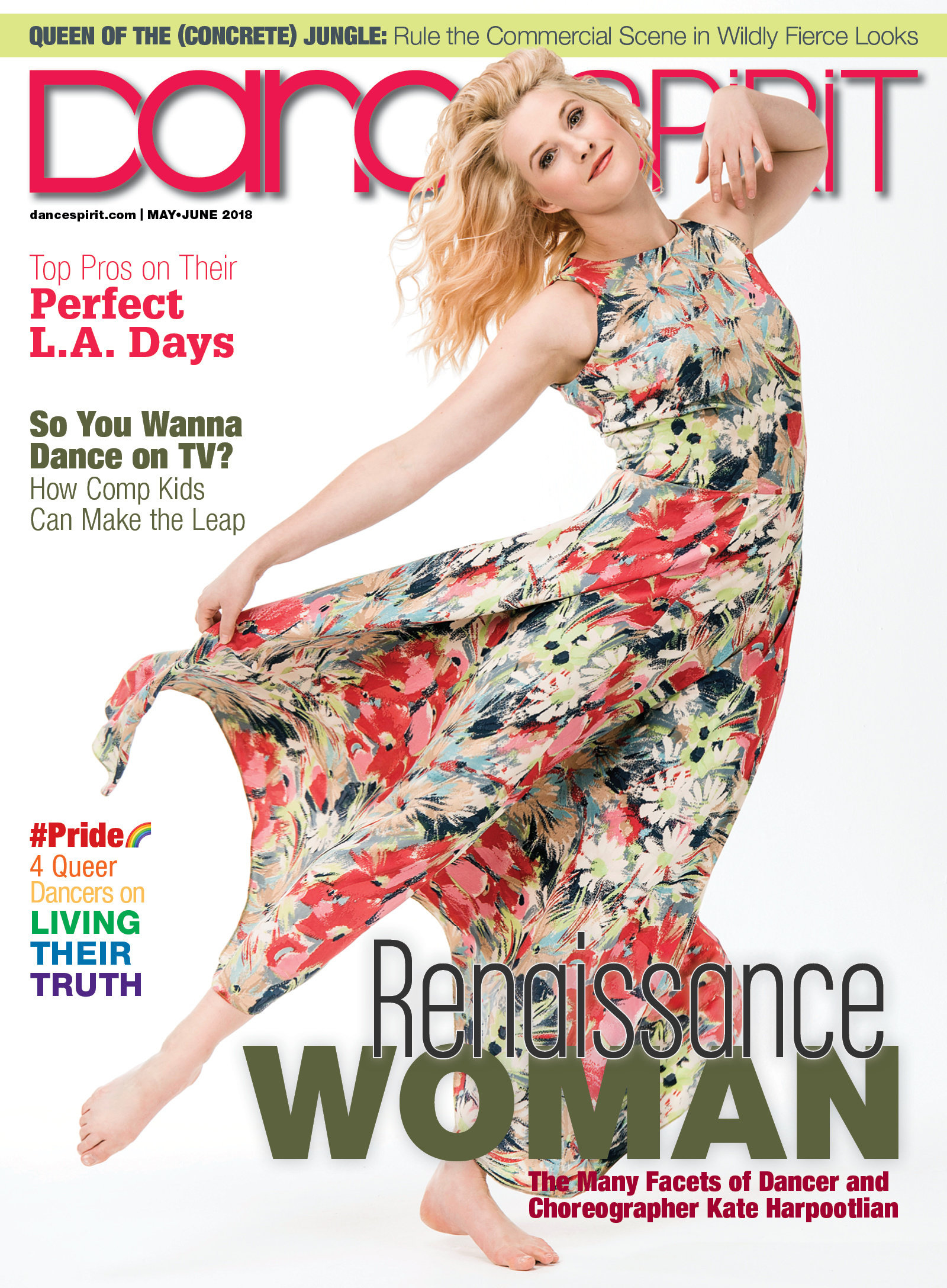 Get Dance Spirit in your inbox