Wowza.
Last night's "Dancing with the Stars" episode—round one of the two-part finale—was a lot of things. Fully clothed was not one of them. We got a 90-minute show chock full of makeout sessions, bare chests, lingerie, and gold unitards. Oh, yeah, and a whole lotta dancing. This show meant business: Each of the four remaining couples took the stage twice. Here are the top moments you may have missed:
James Maslow and Petra Murgatroyd's onstage kiss: From the rehearsal clips it wasn't exactly clear who was directing whom, especially when James choreographed a passionate kiss mid tango. The performance itself was pretty steamy (the kiss was no exception), and featured a bare-chested James under a silver blazer. (I'm not complaining.)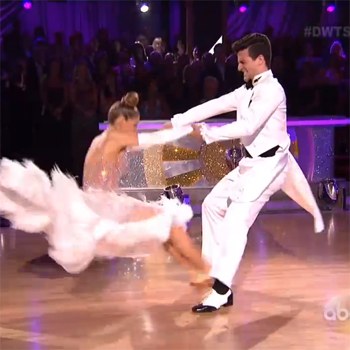 Are we sure Mark's OK?
Mark Ballas' injury: When we saw Mark at the top of the show, his arm was in a sling, and in the behind-the-scenes footage before his quickstep with Candace Cameron-Bure we found out why: Rehearsing with a strained rotator cuff Sunday morning, Mark went down after a bad lift and was rushed to the hospital. He took it like a champ though, and during one of last night's commercial breaks, he was cleared to dance.
The awkward video when figure skaters Tara Lipinski, Evan Lysacek, and Kristi Yamaguchi talked about Meryl Davis', um, blossoming, since dancing with Maksim Chmerkovskiy, plus the duo's sizzling freestyle. Forget Romeo and Juliet's bedroom scene—this routine took passion to a whole new level. Maks was shirtless, Meryl was in lingerie, and even co-host Erin Andrews asked why they didn't make out at the end—they so wanted to. (I, however, would like to know why the gorgeous Meryl didn't point her toes?)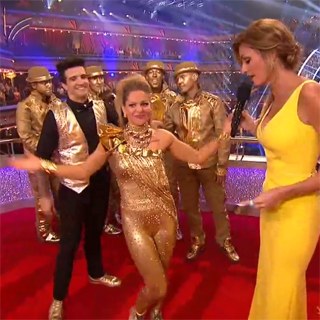 I want one.
When DJ Tanner (yes, Candace was introduced that way!) and Mark took on Center Stage:  I may prefer Cooper Nielson's choreography to Jamiroquai's "Canned Heat," but Candace looked stellar in that gold unitard, and Mark didn't collapse—everybody wins!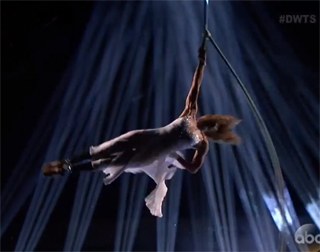 Amazeballs.
Amy Purdy's ridiculously amazing aerial feat. During Derek Hough and Amy's freestyle routine set amid what seemed like 18 fog machines, Amy took to the sky—literally. Seriously: She spun around in the air holding a rope with ONE HAND. I don't think I was the only one whose jaw dropped.
The results: Only three couples can perform tomorrow night during the two-hour finale event. Ultimately, James and Petra bid adieu. Something tells me America will miss James' torso.
Be sure to tune in tonight at 8pm/7pm central for the finale!
Edward Villella, a former dancer with New York City Ballet and one of the most celebrated American danseurs (not to mention the former artistic director of Miami City Ballet), is returning as co-artistic director of "Shall We Dance on Ice"—a show that features both ballroom and ice dancing. Villella has been choreographing for ice dancing, of late, so he seems like the right guy to bring a critical eye to the show.
"Shall We Dance on Ice" will feature several champion ice dancers, including everyone's favorite from Season 18 of "Dancing With the Stars." That's right, Season 18 winner Meryl Davis and skating partner Charlie White (the two also happen to be the first Americans to win a gold medal in ice dancing...nbd) will appear on the show, along with fellow Olympic ice dancing champions Marina Anissina & Gwendal Peizerat and a host of other top skaters from around the world.
Of course, Meryl has proved her chops on the ballroom dance floor, too. Here's hoping she'll join her former "DWTS" partner Maksim Chmerkovskiy and our friend Chelsie Hightower, along with the other dancers appearing on the show.
Tune in to ABC on Saturday, March 7, at 4:00pm EST to catch the action.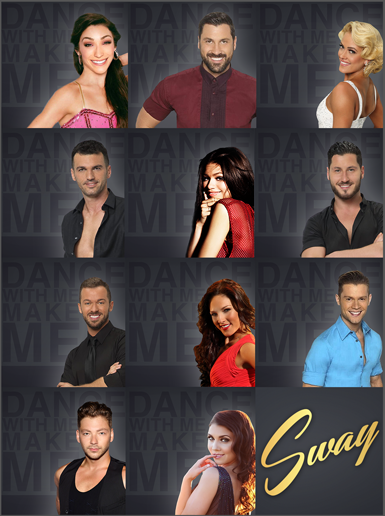 Ballroom—it's so hot right now. Thanks to shows like "Dancing with the Stars" and "So You Think You Can Dance," fans can't seem to get enough of that quick-steppin', fox-trottin', Viennese-waltzin' goodness.
This July, past and present "DWTS" pros Val and Maks Chmerkovskiy and Tony Dovolani capitalized on this popularity with their live show, Sway: The Dance Trilogy, which brought together some of the hottest stars on the ballroom dance scene. Yesterday, the three announced Sway 2.0, which will have a one-week run in Westbury, NY, this December. And just wait 'til you hear about this cast.
Naturally, Val, Maks and Tony will perform, alongside a handful of other ballroom beasts—like "SYTYCD" Season 10 contestant Jenna Johnson(!!). Plus, Val's bringing back his former celeb partner, Zendaya (you may have heard of her...), and Maks is bringing back Meryl Davis. Pretty stacked, if you ask me.
SWAY 2.0 runs December 17 to December 21 at The Space at Westbury. Meryl Davis will only perform on Wednesday, December 17, and Zendaya will only perform on Sunday, December 21, so choose carefully! Click here to view showtimes and purchase tickets, and then check out the promo video below:
"Dancing with the Stars" announced its cast for Season 18 earlier this morning, and holy moly we're excited. Not only did our suspicions about Olympians competing for the mirror ball trophy come true, but the list of athletes involved is even better than we had hoped.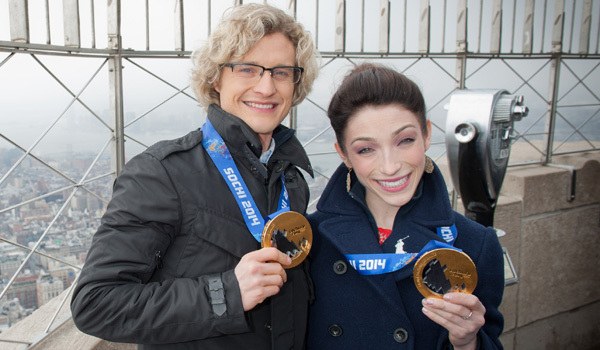 Charlie White and Meryl Davis sport their gold medals at the Empire State Building last week. Photo via OK! Magazine.
First up is Meryl Davis and Charlie White, Sochi's ice dancing gold medal winners (USA! USA! USA!), though they won't be paired together—Meryl will dance with Maksim Chmerkovskiy (#TeamMaksyl ...eh, we'll work on that one) and Charlie will dance with Sharna Burgess. Next is Paralympian Amy Purdy, a snowboarding champ who is also a double amputee. She'll be paired with the unstoppable Derek Hough (is there anything he isn't doing these days?).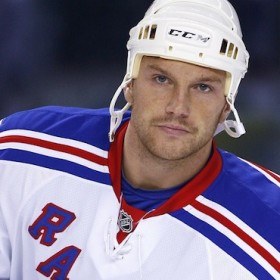 Sean Avery, before he retired from hockey. Photo by Larry MacDougal/The Canadian Press
Dancing with Karina Smirnoff is Sean Avery, the NHL dreamboat who's played for the New York Rangers, the Detroit Red Wings, the Los Angeles Kings and the Dallas Stars. Rounding out the sports category is Diana Nyad, a long distance swimmer who is the only person in history to go from Key West to Cuba—that's 110 miles—without stopping and braving sharks, jellyfish and exhaustion. Let's just say her partner, Henry Byalikov, better bring it.
Of course, what would the show be without a smattering of TV celebs? This season does not disappoint. Two words: Winnie Cooper. Another two words: D.J. Tanner. That's right, Danica McKellar from "The Wonder Years" and Candace Cameron Bure from "Full House" will be going neck and neck in just two weeks. Winnie Danica will dance with Val Chmerkovskiy and D.J. Candace will work with Mark Ballas.

(R to L) Kevin Arnold (Fred Savage) and Winnie Cooper (Danica McKellar) in "The Wonder Years"; D.J. Tanner (Candace Cameron Bure) in "Full House"
Cheryl Burke will be paired with Drew Carey, whom I can't believe hasn't been on the show yet. And Real Housewife of Atlanta NeNe Leakes (also known as Roz Washington on "Glee") will be swept off her feet by Tony Dovolani.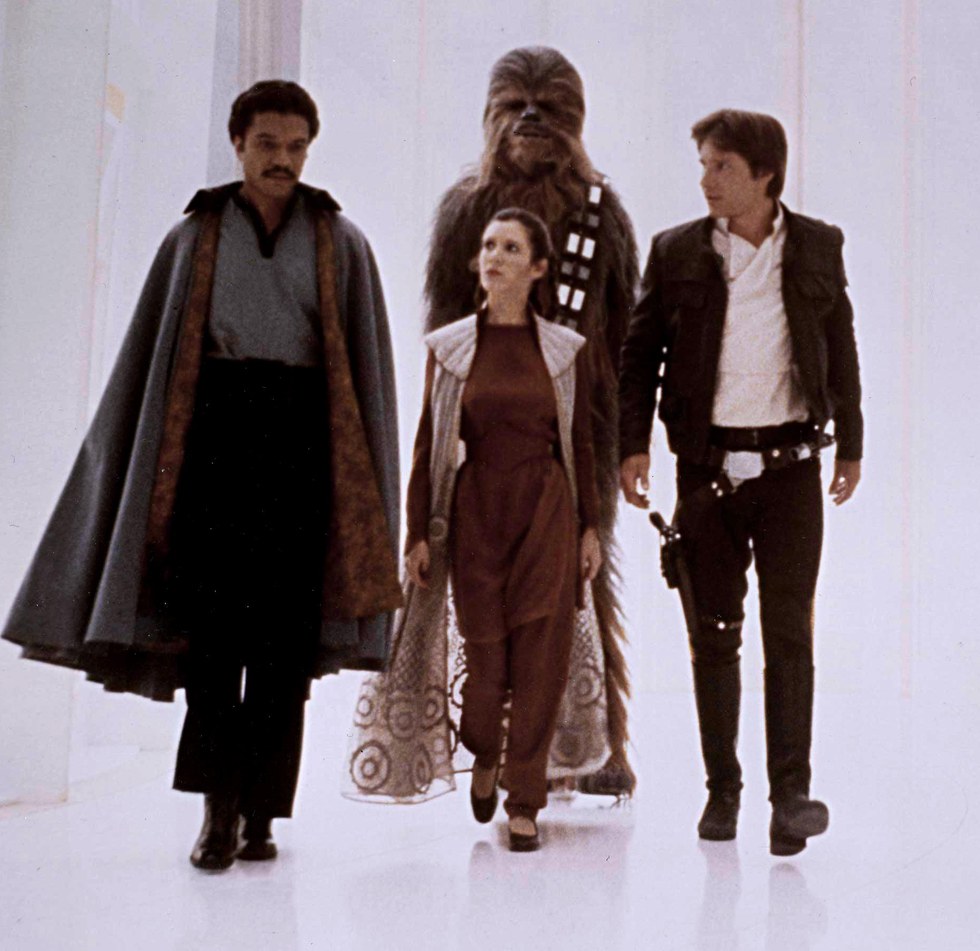 (L to R) Lando (Billy Dee Williams) with Princess Leia (Carrie Fisher), Chewy and Hans Solo (Harrison Ford)
Star Wars nerds rejoice: Billy Dee Williams (you know him as Lando Calrissian) will also dance, paired with British musical theater vet Emma Slater.
Cody Simpson is the youngest competitor. At 17, the Aussie pop singer will dance with Witney Carson, the Season 9 "So You Think You Can Dance" bombshell from Utah. And James Maslow, the 23-year-old sweetheart from Nickelodeon's "Big Time Rush" will be competing with Peta Murgatroyd. From the looks of this picture of the duo out on the town earlier this February, it may be a match made in "DWTS" heaven: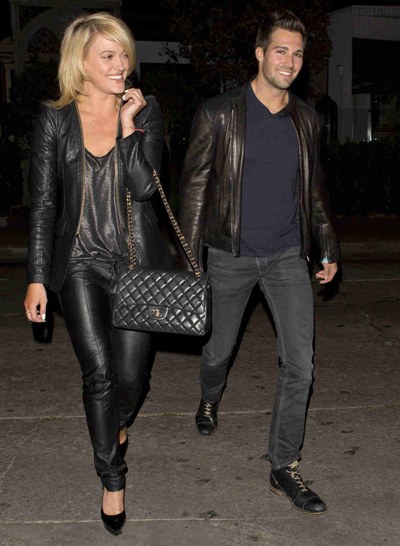 Peta and James leaving a restaurant in West Hollywood in early February. Photo by SPW/Splash News
All in all, it's going to be a great season. Who are you most excited to see? Any early predictions? Don't forget to set your DVRs (or just tune in!) for the two-hour season premiere, March 17 at 8 pm ET on ABC.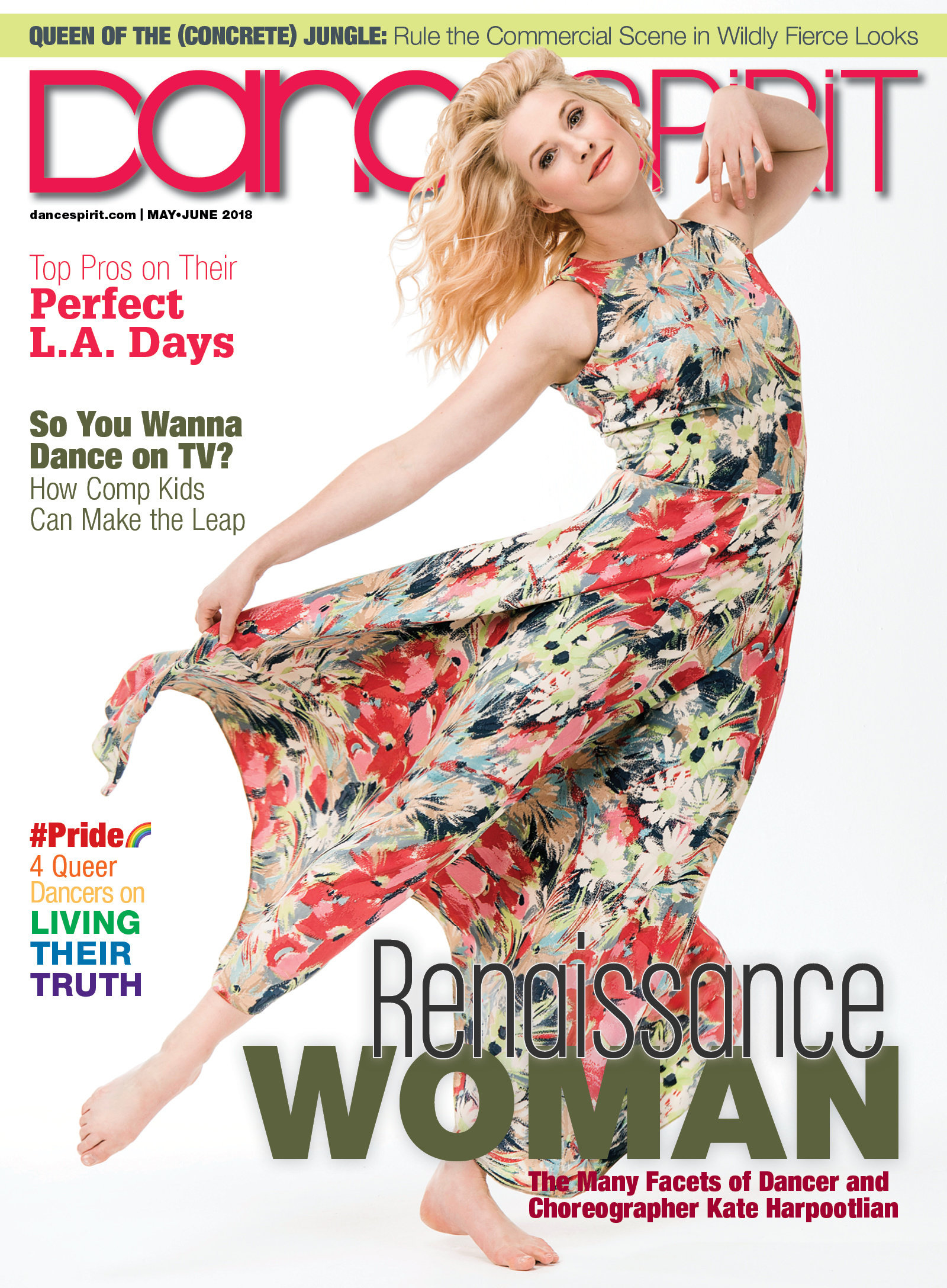 Get Dance Spirit in your inbox