Jul. 03, 2019 02:30PM EST
Michaela de Prince and Daniel Camargo (courtesy Dutch National Ballet)
Have we mentioned that we love ballet movies? Thankfully, Dutch National Ballet just gave us something new to look forward to. The company announced today that filming is now underway for Coppelia, a new star-studded fusion of animation and ballet set to be released at the end of 2020. And, wait for it... Michaela DePrince will be dancing Swanilda, with DNB principal Daniel Camargo as her Franz.
The standout cast also includes DNB principal Igone de Jongh, former Bolshoi and Royal Ballet star Irek Mukhamedov, Dutch dancer and actor Jan Kooijman and English prima ballerina Darcey Bussell.
Ballet
Mar. 14, 2018 09:51AM EST
We bet the news added another foot of height to Michaela's amazing jump. (Photo by Michel Schnater)
Remember back in 2015, when it was first announced that the extraordinary memoir of extraordinary ballerina (and Dance Spirit cover star) Michaela DePrince would be made into a film? Remember the happy dance you did upon hearing that news?
Well, take that happy dance, multiply it by 10, and add some fierce voguing moves to it: We just found out the director of DePrince's biopic is none other than Madonna.
MA. DON. NA.
Dance News
Jan. 31, 2018 10:08AM EST
A still from DePrince's Chase QuickPay spot (via YouTube)
Gorgeous Dutch National Ballet soloist Michaela DePrince is no stranger to fabulously dancey ad campaigns. (Hello, Jockey.) But her new spot for Chase QuickPay—which you probably noticed during the Grammy Awards Sunday night, and about every five minutes since—might be our favorite Michaela ad to date.

Dance Videos
Nov. 23, 2017 07:00AM EST
Happy Thanksgiving, dance friends! Since today is a day for reflection and gratitude (and eating...so much eating), I asked my fellow Dance Spirit editors to tell me the dance-world things they're most grateful for. Here's what they had to say:
Dancer to Dancer
Apr. 03, 2017 07:45PM EST
Apr. 13, 2016 03:13PM EST
It's always recycle day with me, but apparently April 18–24 is World Recycle Week—and H&M wants you to get on board. To make you super excited about recycling, and the very real positive impact it has on the planet, the company teamed up with singer M.I.A. to create a dance-tastic video featuring everyone from bone breakers to ballerinas grooving for a good cause.
See if you can spot DS faves Michaela DePrince and Yanis Marshall, along with many other dancers.
You can even catch a glimpse behind the scenes in this video:
Oct. 10, 2015 07:00AM EST
Can't get enough of our September 2015 cover girl, Michaela DePrince? #Same. Well, luckily for everyone, DePrince recently performed at the 2015 Women in the World summit in London, and a video of the performance was made available to the public! She said to the crowd, "I dance to bring joy to the audience. I never let them see my pain, but only my excitement." File that under reason number 12,756 why we love her. Check out the full video from the event below, as well as some beautiful images. For full coverage, click here.
(Photo Katie Booth, via Women in the World)
(Photo Katie Booth, via Women in the World)
Sep. 17, 2015 09:45AM EST
Photo by Michel Schnater
Chances are, you're already obsessed with Michaela DePrince. The 20-year-old has been a bona fide star ever since her appearance in the 2011 documentary First Position. She's ferociously talented, for starters, and fans can't get enough of her knockout facility and relentless drive. But her story—as detailed in the recently released Taking Flight, which she coauthored with her mom, Elaine—is also the stuff of fairy tales: DePrince started out as an orphan in Sierra Leone and ended up a world-class ballerina. Huge talent + huge story = media catnip, and over the past few years DePrince has gotten tons and tons (and tons) of press.
Aug. 24, 2015 10:53AM EST
Many of us first fell in love with Michaela DePrince after seeing her onscreen. The 2011 Youth America Grand Prix documentary First Position captured DePrince as a teenage ballet hopeful with an incredible story—and seriously incredible talent. It was enough to hook anybody with feelings and/or eyes.
DePrince in a First Position publicity shot (via First Position's website)
Fast-forward four years: DePrince has developed into a gorgeous artist; is gracing the cover of the current issue Dance Spirit; has a contract with Dutch National Ballet, where she's already dancing soloist roles; and is the author of a beautiful memoir, Taking Flight. Now, in a full-circle moment, that memoir—which traces her journey from a Sierra Leone orphanage to the international ballet stage—is getting a film of its own. Which means it's time for a whole new group of dance lovers to discover Michaela's story onscreen.
Breathtaking. (from DePrince's DS shoot; photo by Michel Schnater)
You might have noticed a sentence about the film tucked into DePrince's cover story. As of this morning, we have a little more information about the MGM project: Respected director Sanaa Hamri—best known for her Jay-Z, Mariah Carey and Prince music videos, the film Sisterhood of the Traveling Pants 2 and the (fantastic) Fox drama "Empire"—has been tapped to direct. Which makes us all the more excited to see the finished product.
No word yet on expected release date, but you'd better believe we'll be following this one closely. Stay tuned!
Aug. 12, 2015 05:19PM EST
Get Dance Spirit in your inbox
Oct. 01, 2014 02:50PM EST
Tiler Peck in Little Dancer (photo by Matthew Karas, Courtesy The Kennedy Center)
You know the sculpture: A young girl in a tutu stands in an open fourth position, gazing up in awe as if she's watching a prima ballerina leap before her. But you probably don't know the story behind the sculpture—the story of ballet student Marie von Goethem, who, at age 14, became the muse of renowned artist Edgar Degas. This month, Marie's tale will come to life onstage at Washington, D.C.'s Kennedy Center, in Little Dancer, a brand-new musical directed and choreographed by Susan Stroman. None other than New York City Ballet principal Tiler Peck will star as Marie. Peck is no stranger to the world of musical theater: She first played Gracie Shinn in Stroman's revival of The Music Man on Broadway at just 11 years old. Dance Spirit caught up with Peck to find out more about Little Dancer.
Dance Spirit: How does working on this show compare to your experience when you were younger?
Tiler Peck: The Music Man was such a surprise for me. I don't think I really grasped what Broadway meant. Now, being in Little Dancer means so much more. Not only am I working with Susan Stroman again, but Rebecca Luker, who was also in Music Man, is playing Marie's older self. It's like I've come full circle.
DS: What's challenging about playing a young girl?
TP: Well, it's just like doing Romeo and Juliet. No one who plays Juliet is actually her age. The key is your mannerisms and the way you hold yourself. I've also been looking at tons of Degas' works, and I've been reading as many books as possible to find out about Marie's life. She was very witty!
DS: Why should people see the show?
TP: For dancers, the show is easy to relate to because you see Marie face so many of the challenges that both young dancers and professionals go through today. And Broadway people will love the music. It's so beautiful; you just have to dance to it.
DS: What's the best part about being in Little Dancer?
TP: Marie is a starring role, and the whole show revolves around her. Getting to create the part—being the first person ever to play it—has been so special.
Taking Flight
A crumpled, torn magazine photo of a ballerina sparked a 4-year-old orphan's dream of becoming a professional dancer. That orphan was Michaela DePrince, now a rising talent at Dutch National Ballet. (You may know her from the 2011 documentary First Position.) DePrince's new memoir, Taking Flight, recounts her incredible journey from war-torn Sierra Leone to the ballet world. There are moments that will leave you in tears—yet her inspiring story (co-written with her adoptive mother, Elaine DePrince) is one you'll never forget. —Sophie Moyer
Dance Spirit spoke with DePrince about her writing process.
(Courtesy Random House Children's Books)
The events you describe early in the book are unfathomable. What was writing about them like for you?
I wrote everything in small snippets—thoughts, memories, feelings.
They were like bits of clay that I handed to my mother, who organized them and turned them into a beautiful piece of art. In a way, it was therapeutic—I was able to get all of the happenings out of my head and onto paper. But even more therapeutic was reading the final product. Although it all came from my memory, it still moved me to tears.
Why did you write Taking Flight?
I'm especially interested in reaching kids who are feeling hopeless because their life circumstances aren't ideal. I want to inspire them to grab onto a dream and find ways to make it come true.
Have you met the woman who inspired your own dream—Magali Messac, the former Pennsylvania Ballet dancer on the Dance Magazine cover you found in Sierra Leone?
I've communicated with her online, but I haven't actually met her in person. We live so far away from each other—she's in Washington State and I'm in the Netherlands! Oddly, though, without having met her, I still feel like she's not real—just the ballerina in the picture.
Where do you see yourself in 10 years?
Right now, I'm with the Dutch National Ballet, and love everything about it. I'd like to stay here as long as possible, and I hope I'll rise through the ranks. I'd also like to start a free school for the arts in Sierra Leone. I feel deeply about the children there who lack opportunities—I want to share my good fortune with them.
Jul. 29, 2013 11:32AM EST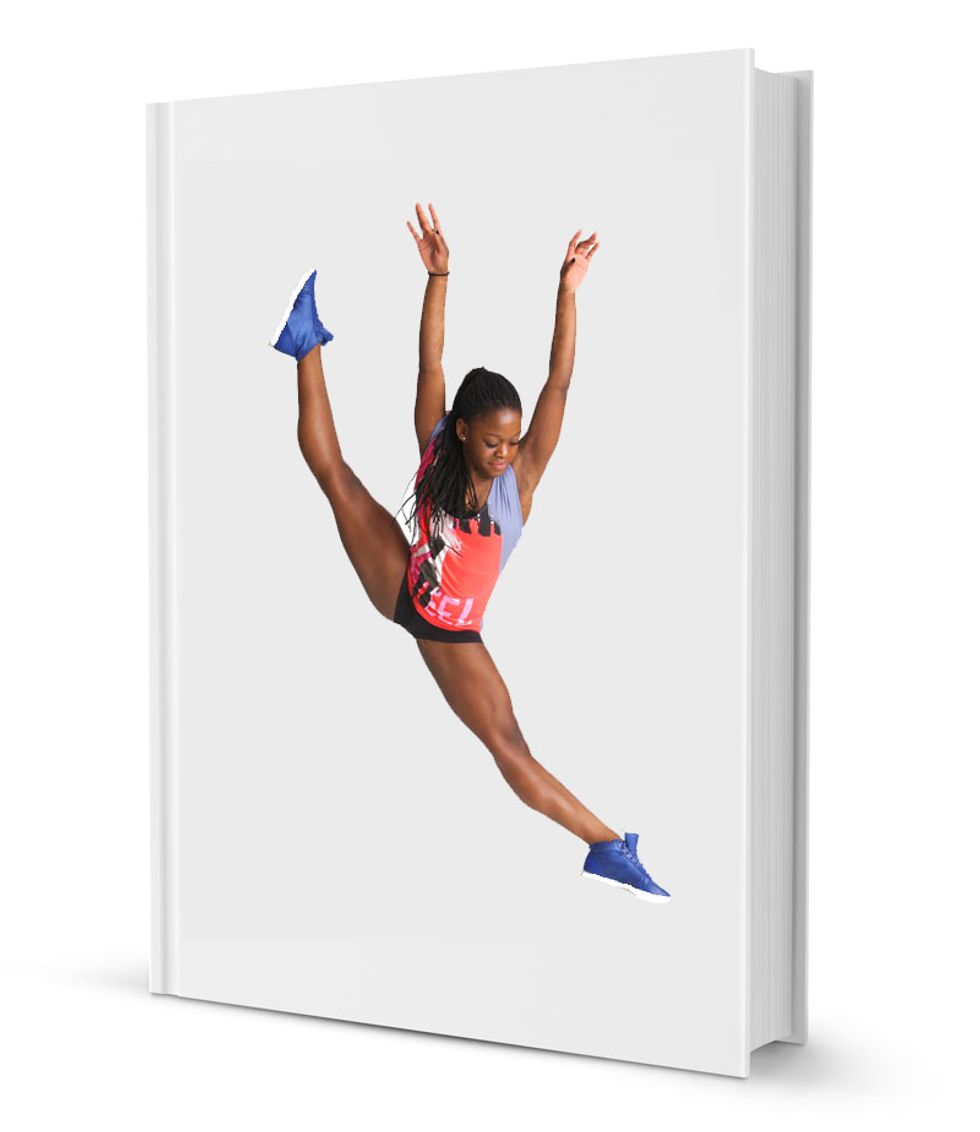 Not Michaela's book. (Photo of Michaela by Yaniv Schulman.)
People just can't stop telling ballerina Michaela DePrince's incredible story. And now the world will get to hear it in her own words: Random House Children's Books has acquired the 18-year-old dancer's memoir.
Michaela, who grew up an orphan in war-ravaged Sierra Leone before being adopted by an American couple, will write the book with her adoptive mother, Elaine DePrince. She'll discuss not only her amazing survival story, but also her path to the world of professional ballet. (She danced with Dance Theatre of Harlem last season, and recently joined Dutch National Ballet's junior company.) Look for the book in the fall of 2014.
Survivor, dancer, writer—what can't this girl do?
Jul. 25, 2013 11:09AM EST
I love photographs that capture not only beautiful dance positions, but also the feeling of dance—that crazy kinetic kick you get watching somebody move.
Photographer and former contemporary ballet dancer Jesús Chapa-Malacara has figured out a cool lighting technique that allows his images to do that perfectly. They're artfully blurred, conveying a sense of movement—but that amazing moment when everything's fully stretched and pointed is still in perfect focus.
It gets even better: He's recruited a group of gorgeous ballet models, most of whom are members of American Ballet Theatre. The roster currently includes Michaela DePrince, Jared Matthews, Yuriko Kajiya, James Whiteside, Sterling Baca, Elina Miettinen, Sean Stewart, Cassandra Trenary and Patrick Yocum, and it's growing quickly.
Chapa-Malacara is hoping to create an art book, Esprit de Corps, out of his beautiful images. And he's turned to Kickstarter to help him raise the funds he needs to do so. Take a peek at a few of his photos below—then check out his campaign here.
[portfolio_slideshow nowrap=0 thumbs=true timeout=4000 showtitles=true showcaps=true showdesc=true]
Apr. 02, 2013 10:40AM EST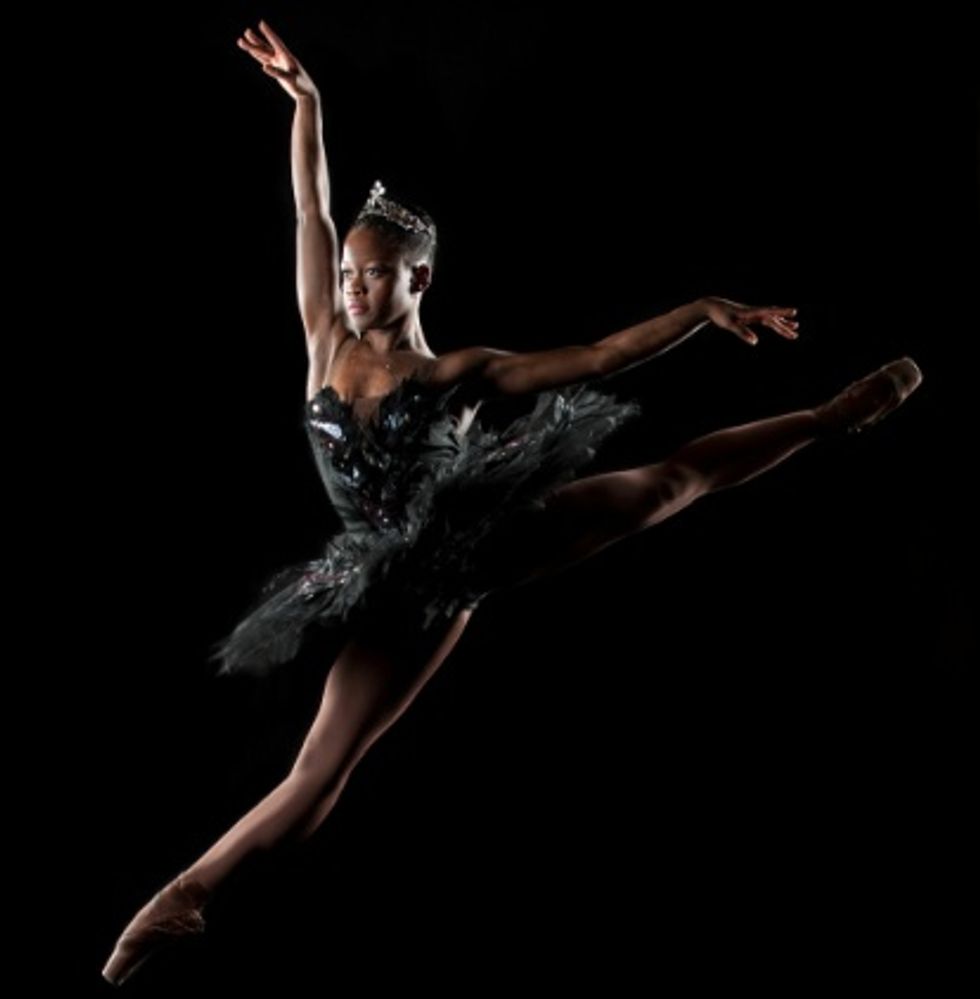 I wish I were this cool. (photo by Rachel Neville for Dance Theatre of Harlem)
Another day, another accolade for the ever-awesome Michaela DePrince!
Michaela was just named one of Women in the World's 25 Under 25. To which we say: Duh.
Still, considering that the list also includes Oscar-nominated Beasts of the Southern Wild star Quvenzhané Wallis and fashion blogger extraordinaire Tavi Gevinson—pretty impressive!
The timing is fitting, too: Michaela is about to perform in NYC for the first time with Dance Theatre of Harlem, which she joined last year. New Yorkers can catch DTH at Lincoln Center's Rose Theater next Thursday-Sunday. And Michaela fans in Tampa, Baltimore, Philly, D.C. and several other cities can see her during the last leg of DTH's tour, which runs through June.
Congrats, Michaela!


Get Dance Spirit in your inbox