Nov. 10, 2016 10:39AM EST
However you feel about Barack and Michelle Obama, one thing is clear: They can dance. Like, actually dance. And man, are we going to miss that.
Since it's Thursday, let's take a walk down memory lane and revisit some of the current First Couple's dance highlights.
We love how sweet the two of them are when they dance together.
And we love that President Obama will do things like sit down for a chat with world-class dancer Misty Copeland.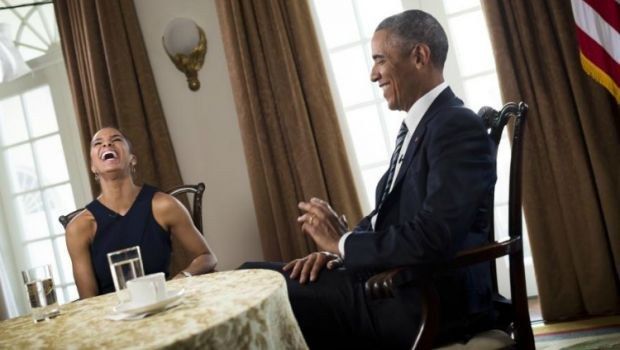 Screenshot via time.com
But tbh, this post is really a fan letter to Michelle.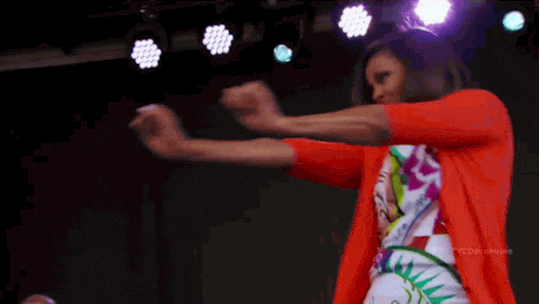 Because she made dancing a central part of her "Let's Move" campaign.
And broke it down on "Ellen," alongside the likes of Travis Wall and tWitch and Kathryn McCormick, to promote her #GimmeFive challenge.
And showed off her seriously classic mom moves on "Fallon."
And that's just the tip of the iceberg.
Thanks for perhaps the danciest presidency ever, Obamas. Never stop.
Dance News
Feb. 22, 2016 11:26AM EST
Hello, friends! Are you having a bit of a rough Monday? Let 106-year-old Virginia McLaurin fix that for you.
Correction: 106-year old dancing queen Virginia McLaurin.
Actually, no—that still doesn't convey the fabulousness of this grand lady. Let's go with: 106-year-old PRESIDENTIAL DANCE PARTNER and TOTAL ROCKSTAR Virginia McLaurin.
Over the weekend, the impossibly cool centenarian—she was born in 1909!—came to the White House for a meet-and-greet with Barack and Michelle Obama, arranged as part of Black History Month celebrations. While the Obamas are pretty impressive dancers themselves, they could hardly keep pace with McLaurin, who turned the visit—a longtime dream of hers—into a bona fide dance party.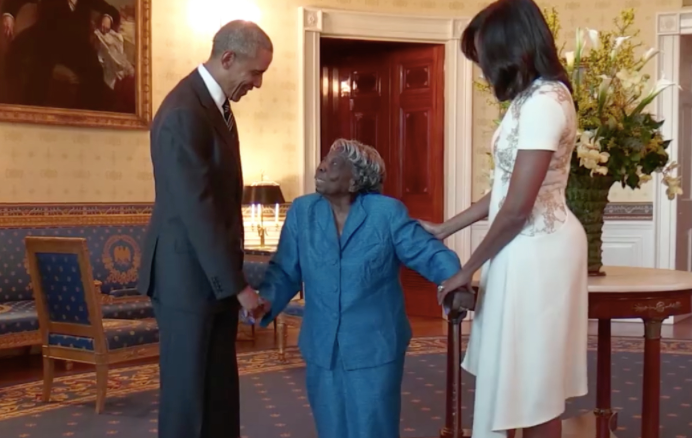 #GOALSGOALSGOALS (via Facebook/The White House)
"What's the secret to still dancing at 106?" the President asked McLaurin. Her answer: "Just keep movin'!"
Amen.
It's the best, happiest, wonderfulest thing you'll see all week. Case of the Mondays: CLOSED.
Dance News
Apr. 03, 2015 12:18PM EST
How do we love Michelle Obama's moves? Let us count the ways:
-We love them when she's center stage with the President in an insanely gorgeous gown at the inaugural ball. Fancy dancing!
-We love them when she's breaking it down with a bunch of Disney characters in support of her "Let's Move!" campaign. Cartoony dancing!
-We love them when she's doing choreography—namely, the #GimmeFive dance, especially when the scenario involves her bestie Ellen DeGeneres and a bunch of "SYTYCD" alums. Healthy dancing!
-Most of all, though, we love them when they're classic MObama mom moves, which she first showed off on Jimmy Fallon's show back in 2013. MOM DANCING!
Yes, we have to tip our hats to Fallon for showing the world the wonderfulness that is the first lady's momography. Last night, to celebrate the crazy virality of MObama's #GimmeFive campaign (haaay Beyoncé!), Fallon and Obama gave us round 2 of "The Evolution of Mom Dancing." It was quite possibly even more glorious than the first edition: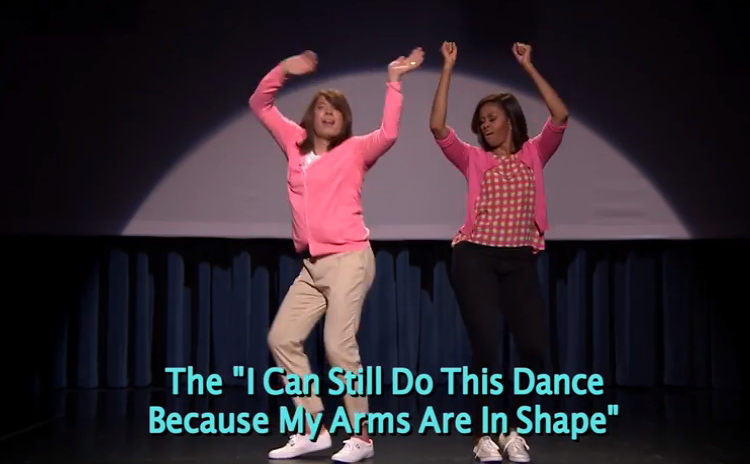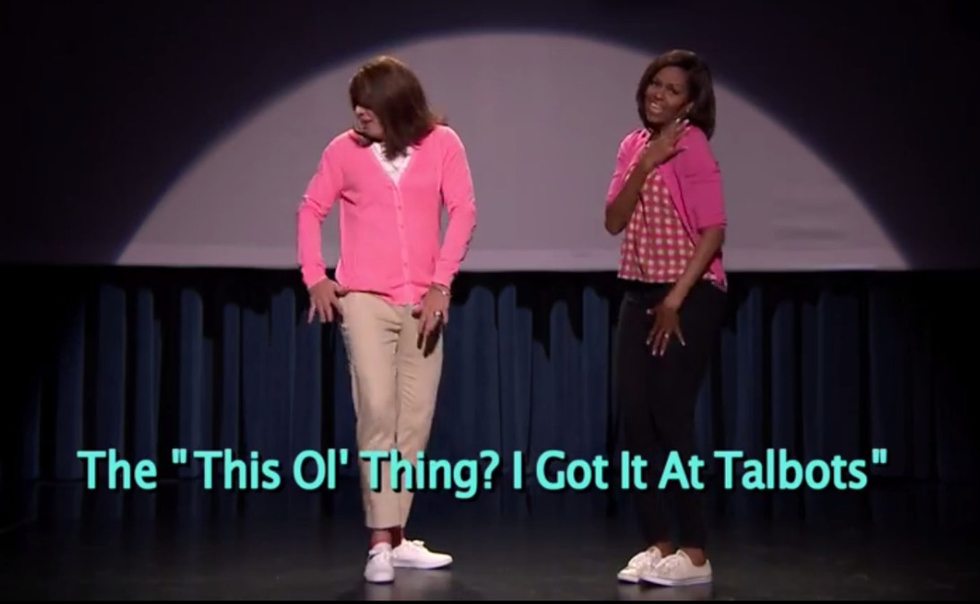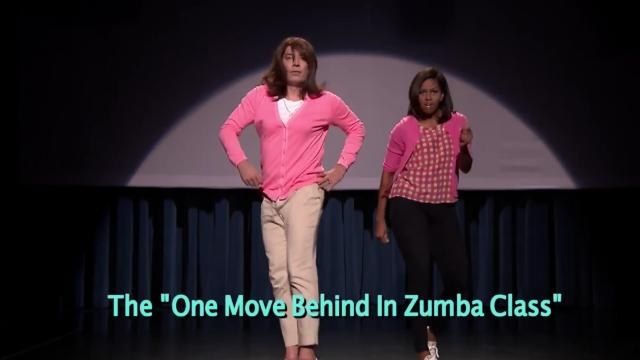 (Though, lbh, there's no way Michelle "Even Mom Choreo Can't Make Me Look Bad" Obama would ever be one move behind in Zumba class.)
Happy Friday, everybody!
Dance News
Mar. 21, 2015 07:00AM EST
Here's a riddle for you: What happens when you bring together the First Lady of the United States, one of the funniest women on TV and some of the country's most celebrated commercial dancers?
This. This is what happens.  (Photo by Amanda Lucidon, via the White House)
On Monday, First Lady Michelle Obama got together with fellow dance-lover Ellen DeGeneres to talk about her #GimmeFive challenge. In celebration of Let's Move's fifth anniversary, she's asking Americans everywhere to show off five ways they stay fit and healthy. Among those who've accepted the #GimmeFive challenge? Umm...Beyoncé:
NBD. But the First Lady had a different challenge in mind for Ellen: a dance-off of sorts. She challenged Ellen to learn the brand-new #GimmeFive Dance—and to perform it on the show. And, as you can see, they had some serious backup: "So You Think You Can Dance" All-Stars Travis Wall, tWitch Boss, Jasmine Harper, Robert Roldan, Kathryn McCormick and Marko Germar. Phew. No pressure, at all.
See how it all went down!
(Btw, we love Mrs. Obama's vocal support of dance as a central part of a healthy lifestyle.)
Dance News
Jul. 20, 2014 07:00AM EST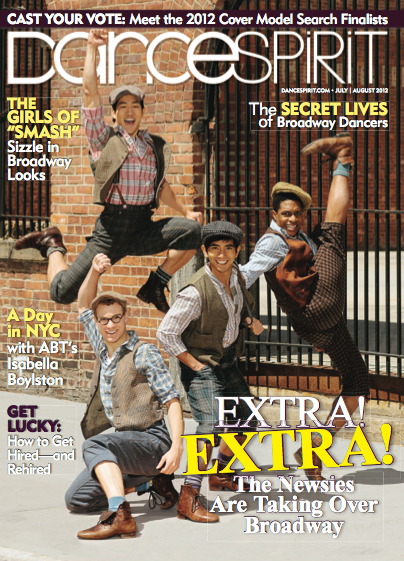 We love these guys so much we just HAD to put them on our July/August 2012 cover. (Photo by Jacob Pritchard)
Have we mentioned lately that we're obsessed with the Broadway show Newsies? OK, maybe we have once or twice (or maybe it was three times). But can you blame us? I mean, Disney sure knows how to put on a completely dance-tastic show. If you've seen it, you can probably relate to that overwhelming desire to get up out of your seat and seize the day right alongside these über-talented dancers.
Disney has capitalized on that urge as a part of its new "Get Up and Go" campaign. The idea behind it is pretty self-explanatory: It's about using dance—specifically Broadway dance—to get kids moving. Since December, Newsies cast members have been visiting participating NYC schools to talk to students about healthy living and to teach them some of the choreography from the show. (Jealous!)
This week, Disney released a free online tutorial with Newsies choreographer Christopher Gattelli teaching a section of "Seize the Day." Now you don't have to be in one of those NYC schools to get in on the fun! Oh, and they got none other than Michelle Obama to introduce the tutorial. Super casual. If you think about it, it makes sense—"Get Up and Go" has a similar mission to the First Lady's "Let's Move" campaign.
The cast will also include live tutorials in select cities as a part of their upcoming national tour. And this is just the beginning: Disney plans to continue "Get Up and Go" with Aladdin and The Lion King in 2015.
Look out for Gattelli and select cast members on "Good Morning America" this Tuesday, July 22. They'll be teaching the choreo to a live audience in NYC's Times Square. And in the meantime, check out the tutorial below, and get dancin'!
Dance News
Jun. 13, 2014 11:47AM EST
Whatever your political leanings, you've gotta give it up for a politician who's willing to dance on national television. And Jimmy Fallon seems to be especially good at getting politicians to do just that.
A couple of years ago, to celebrate Father's Day, Fallon came up with a delicious little sketch called "The Evolution of Dad Dancing," which he performed solo on Late Night with Jimmy Fallon...
...and it spawned a meme that A) just won't quit and B) has somehow become the perfect dance vehicle for politicians. First Lady Michelle Obama showed off her Mom Dancing to promote her "Let's Move" campaign last year...
...and last night, in honor of Father's Day, New Jersey Governor Chris Christie joined Fallon for part two of "Evolution of Dad Dancing" on The Tonight Show. While Christie's moves might not be the most dextrous—frankly, they make us a tad uncomfortable—we've got to give him an A for effort. (And for his excellent fist pumping. Dude's from Jersey, after all.)
Happy Father's Day weekend, everyone—and thanks to all the dance dads out there!
Dance News
Mar. 11, 2013 11:03AM EST
Justin Timberlake's new album comes out next week, which means pretty much the entire world is in a JT frenzy right now. Naturally, he hosted "Saturday Night Live" this weekend—for the fifth time!—where he showed off the full extent of his crazy triple threatness. But leave it to Buzzfeed to come up with a gif collection that shows off the side of Justin we know and love best: his dancing. (Duh.)
Even the best dancers can be made to look totally ridiculous in 3-second clips, and JT is no exception. Buzzfeed rounded up 32 of Timberlake's most awesomely awkward moments. Here are a few of our favorites. (Anybody else hoping that he might re-create these on Jimmy Fallon sometime, à la Michelle Obama?)
The "Tighty Whitey Shirt Shake":
The "Pow Pow Shimmy":
The "*NSYNC Body Roll"
[did I do this in a ballet summer program talent show? maybe.]:
The "Don't-Look-Now-But-Madonna-Is-Behind-You" Twist:
And the "Timberlake Tornado":
Feb. 25, 2013 11:51AM EST
We're huge fans of Michelle Obama's "Let's Move" campaign. And when the First Lady combines her passion for physical activity with her undying support of the arts, there's usually some super-dance-y amazingness. Throw Jimmy Fallon (in mom drag!) into the mix and what do you get? The evolution of the "mom dance."
What's "mom dance" you ask? Let us, er, Jimmy and Michelle, show you.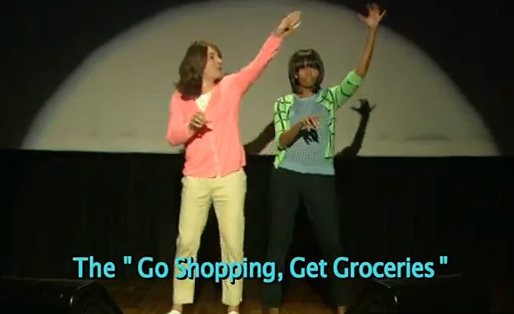 You start off nice and slow—just like you're walking down the aisle at the supermarket. You can do that, right?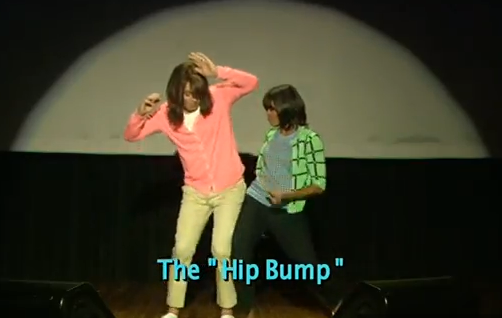 Then, grab a friend for a little hip bump action.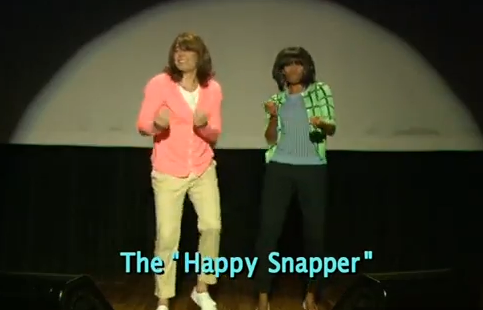 And let's not forget one of my personal faves, the "Happy Snapper." You've gotta snap it—snap it good!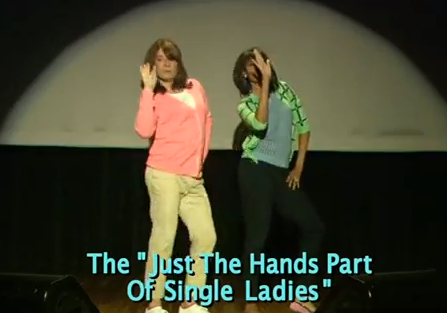 No dance would be complete without a little "Single Ladies" action—but only the hand flip. If you're feeling really advanced, add a few hip rolls.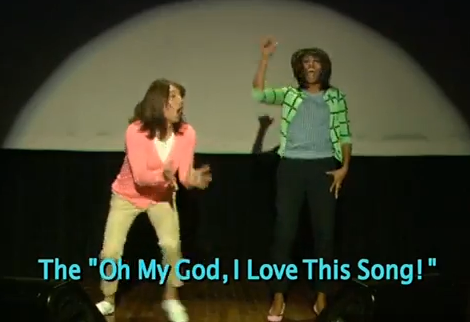 You know the "OMG! Best. Song. Ever!" feeling? Yeah, dance it out.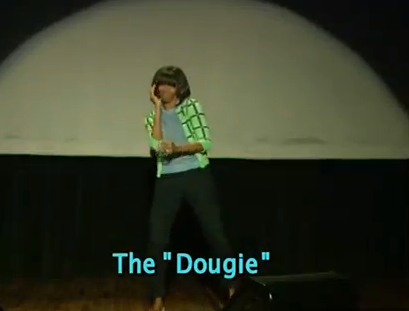 And for the grand finale? Wrap things up with Dougie. (Looks like Jimmy needs the First Lady to teach him how to Dougie.)
Now that you know a few of the steps...Cue music!
Looks pretty awesome, right? Grab your mom (and dad!) and get moving! And be sure to let us know how it goes in the comments below!
Dance News
Jan. 22, 2013 11:43AM EST
(Warning: This post isn't all that dance-y. But it does involve a little dance, and a lot of adorableness.)
However you feel about politics, it's hard not to love first couple Barack and Michelle Obama.
Last night, at the Commander-in-Chief's Ball following the inauguration, the pair took the stage—just the two of them—to dance as Jennifer Hudson crooned "Let's Stay Together," which is apparently one of our President's favorite songs.
There was no fancy footwork, no Dougie-ing or "Gangnam Style"-ing. But it didn't matter. They looked so natural and happy, step-touching along, singing the lyrics to each other, laughing at little inside jokes. It was like the wedding first dance every couple hopes to have—except, you know, in front of a televised audience of millions.
(Also, Michelle's Jason Wu dress was gorgeous. You know how she does.)
Anyway, in case you missed all that cuteness, here's the video. Enjoy!
Nov. 07, 2012 12:19PM EST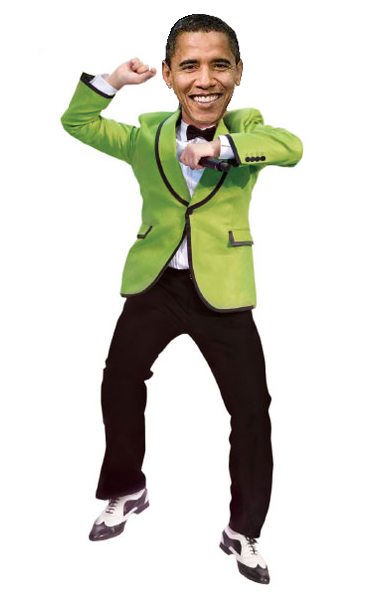 Unsurprisingly, everything today seems to be all-election, all the time. We figured we'd jump on that bandwagon, especially since we just heard a bit of dance-related political news too good to pass up.
Namely: How will Barack Obama celebrate his re-election at the Inaugural Ball? By doing the Gangnam Style dance—maybe. (Hopefully?)
Obama told a New Hampshire radio station that he was pretty confident he could "do that move," at least, though the ball probably isn't "the appropriate time to break that out." He might, however, do it "privately for Michelle." Bow chicka wow!
Seeing as Michelle has already showed off her amazing Dougie, can we put politics aside and all agree that this is one presidential couple with moves? (And if our 44th president does, in fact, bust out his invisible horse dance at the ball, can we also all agree to put that meme—once so brilliant, now so, so tired—to rest? Thank you.)
Get Dance Spirit in your inbox
Feb. 13, 2012 01:11PM EST
I love that Michelle Obama is getting kids across the country off the couch with her "Let's Move!" campaign.  From supporting a redesign of the food pyramid to encouraging families to get active together, she's making a serious difference in the way Americans think about health. And she's a big fan of dance, too! Back in September, she kicked off the White House Dance Series by bringing young dance students from across the country to her home for a one-of-a-kind dance show and lessons from the stars of Alvin Ailey American Dance Theatre, Paul Taylor Dance Company, Billy Elliot the Musical, The Washington Ballet, Super Cr3w and New York City Ballet. (Check out a video here.)
But on Saturday, the First Lady Showed off her own dance skills, and it was awesome! At the ESPN Wide World of Sports Complex at Walt Disney World, she talked to kids and their parents about the importance of healthy living, and made friends with a few Disney stars: Debby Ryan, Roshon Fegan, Doc Shaw and Kelsey Chow. They all joined together to do The Platypus Walk dance with Perry the Platypus from Phineas and Ferb. Simple as these moves may be, there's no question that our first lady's got rhythm!
Dance News