However you feel about Barack and Michelle Obama, one thing is clear: They can dance. Like, actually dance. And man, are we going to miss that.
Since it's Thursday, let's take a walk down memory lane and revisit some of the current First Couple's dance highlights.
We love how sweet the two of them are when they dance together.
And we love that President Obama will do things like sit down for a chat with world-class dancer Misty Copeland.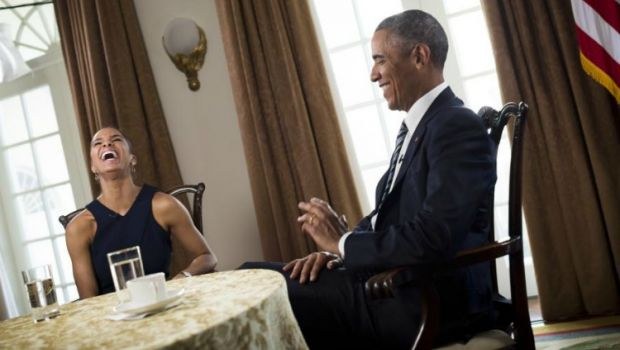 Screenshot via time.com
But tbh, this post is really a fan letter to Michelle.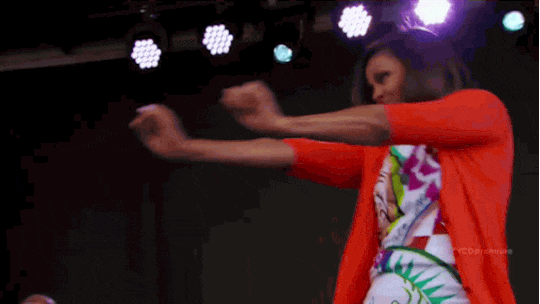 Because she made dancing a central part of her "Let's Move" campaign.
And broke it down on "Ellen," alongside the likes of Travis Wall and tWitch and Kathryn McCormick, to promote her #GimmeFive challenge.
And showed off her seriously classic mom moves on "Fallon."
And that's just the tip of the iceberg.
Thanks for perhaps the danciest presidency ever, Obamas. Never stop.
Hello, friends! Are you having a bit of a rough Monday? Let 106-year-old Virginia McLaurin fix that for you.
Correction: 106-year old dancing queen Virginia McLaurin.
Actually, no—that still doesn't convey the fabulousness of this grand lady. Let's go with: 106-year-old PRESIDENTIAL DANCE PARTNER and TOTAL ROCKSTAR Virginia McLaurin.
Over the weekend, the impossibly cool centenarian—she was born in 1909!—came to the White House for a meet-and-greet with Barack and Michelle Obama, arranged as part of Black History Month celebrations. While the Obamas are pretty impressive dancers themselves, they could hardly keep pace with McLaurin, who turned the visit—a longtime dream of hers—into a bona fide dance party.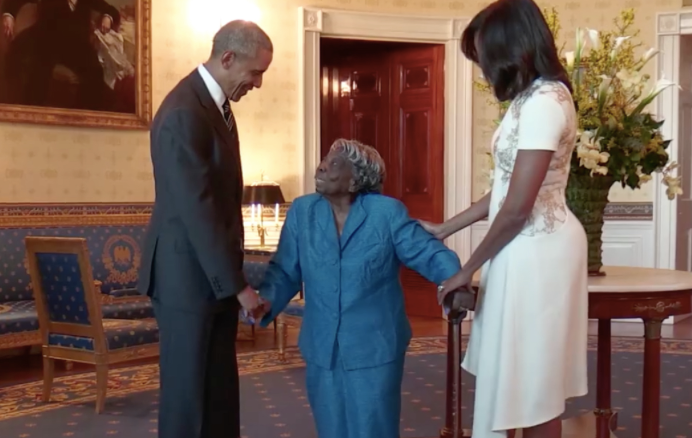 #GOALSGOALSGOALS (via Facebook/The White House)
"What's the secret to still dancing at 106?" the President asked McLaurin. Her answer: "Just keep movin'!"
Amen.
It's the best, happiest, wonderfulest thing you'll see all week. Case of the Mondays: CLOSED.
How do we love Michelle Obama's moves? Let us count the ways:
-We love them when she's center stage with the President in an insanely gorgeous gown at the inaugural ball. Fancy dancing!
-We love them when she's breaking it down with a bunch of Disney characters in support of her "Let's Move!" campaign. Cartoony dancing!
-We love them when she's doing choreography—namely, the #GimmeFive dance, especially when the scenario involves her bestie Ellen DeGeneres and a bunch of "SYTYCD" alums. Healthy dancing!
-Most of all, though, we love them when they're classic MObama mom moves, which she first showed off on Jimmy Fallon's show back in 2013. MOM DANCING!
Yes, we have to tip our hats to Fallon for showing the world the wonderfulness that is the first lady's momography. Last night, to celebrate the crazy virality of MObama's #GimmeFive campaign (haaay Beyoncé!), Fallon and Obama gave us round 2 of "The Evolution of Mom Dancing." It was quite possibly even more glorious than the first edition: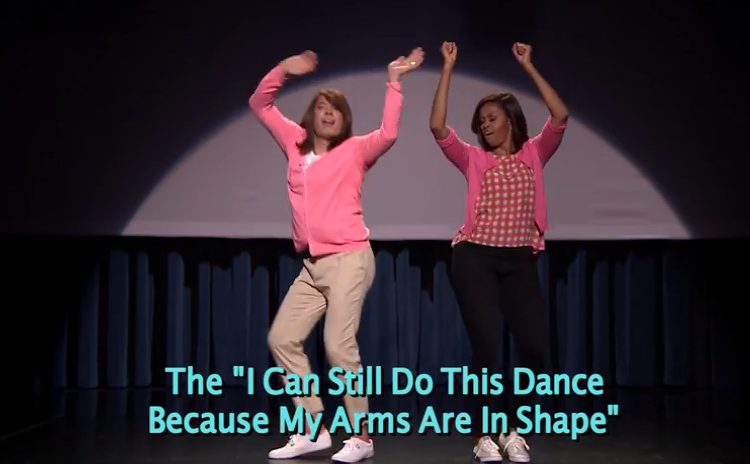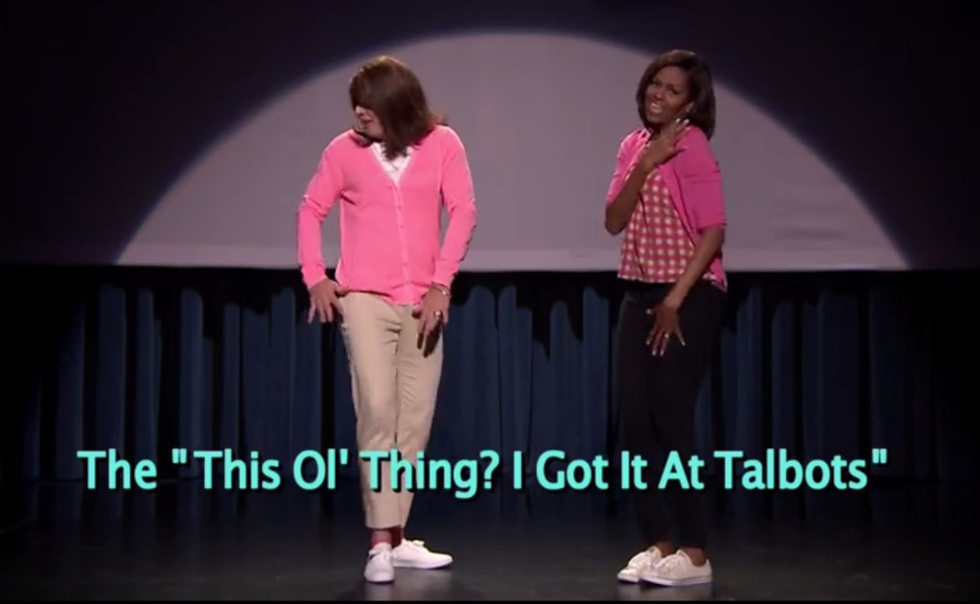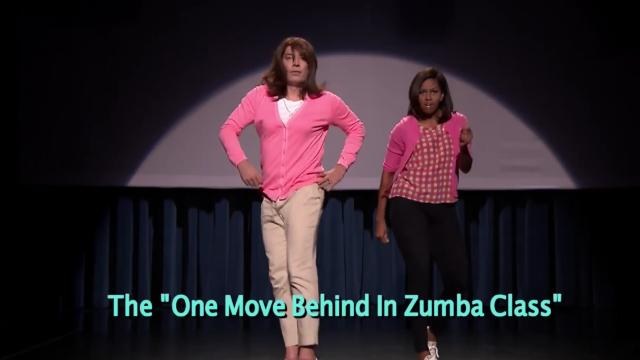 (Though, lbh, there's no way Michelle "Even Mom Choreo Can't Make Me Look Bad" Obama would ever be one move behind in Zumba class.)
Happy Friday, everybody!
Here's a riddle for you: What happens when you bring together the First Lady of the United States, one of the funniest women on TV and some of the country's most celebrated commercial dancers?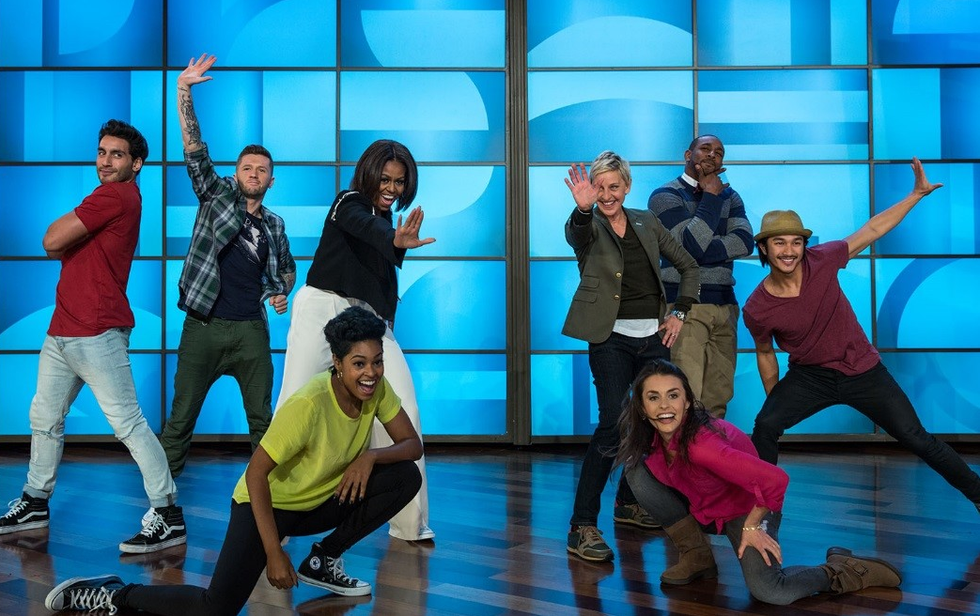 This. This is what happens.  (Photo by Amanda Lucidon, via the White House)
On Monday, First Lady Michelle Obama got together with fellow dance-lover Ellen DeGeneres to talk about her #GimmeFive challenge. In celebration of Let's Move's fifth anniversary, she's asking Americans everywhere to show off five ways they stay fit and healthy. Among those who've accepted the #GimmeFive challenge? Umm...Beyoncé:
NBD. But the First Lady had a different challenge in mind for Ellen: a dance-off of sorts. She challenged Ellen to learn the brand-new #GimmeFive Dance—and to perform it on the show. And, as you can see, they had some serious backup: "So You Think You Can Dance" All-Stars Travis Wall, tWitch Boss, Jasmine Harper, Robert Roldan, Kathryn McCormick and Marko Germar. Phew. No pressure, at all.
See how it all went down!
(Btw, we love Mrs. Obama's vocal support of dance as a central part of a healthy lifestyle.)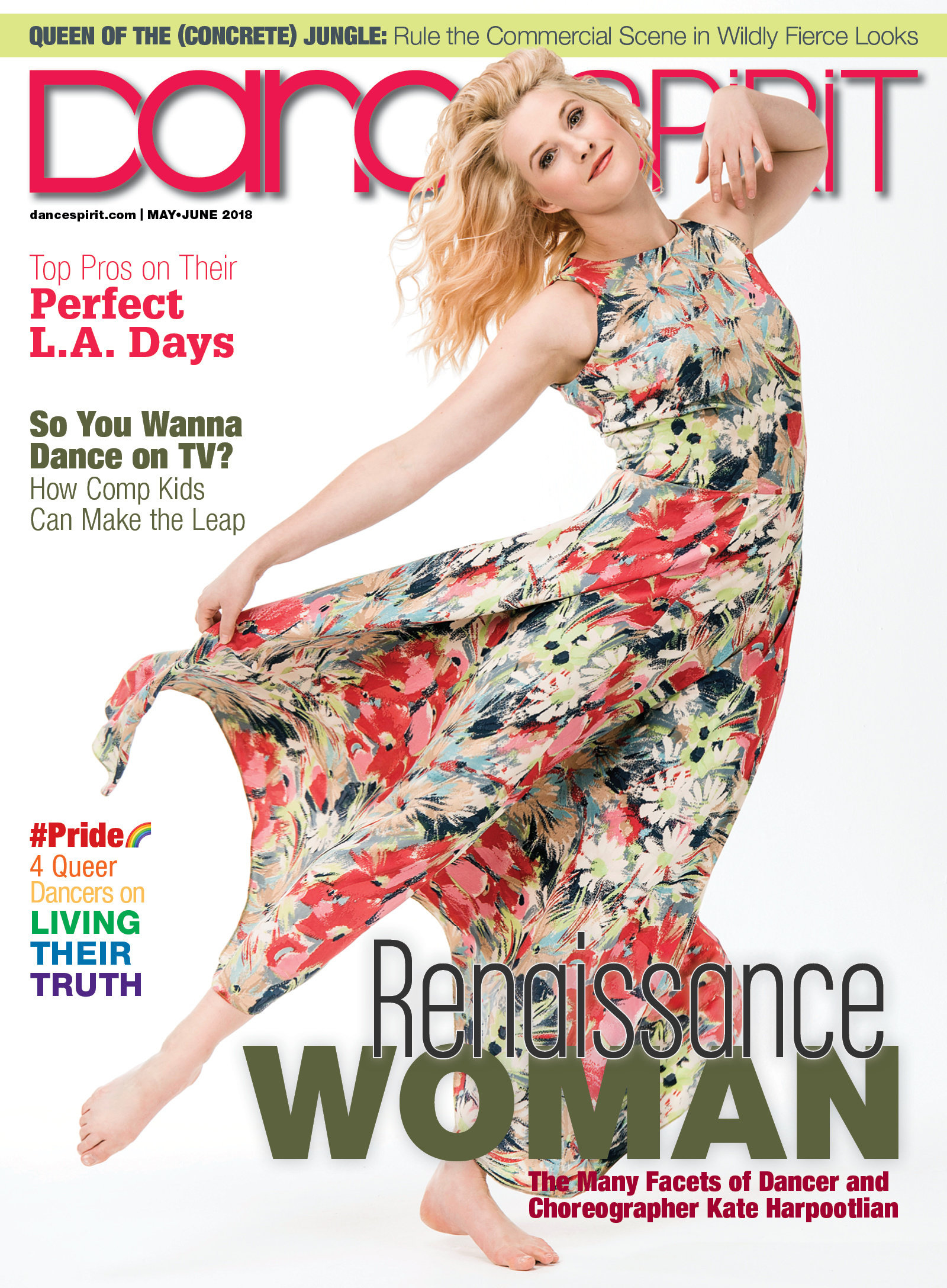 Get Dance Spirit in your inbox