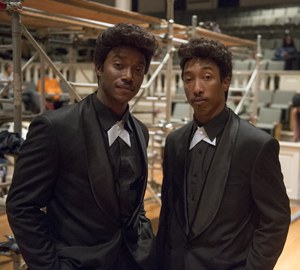 Aakomon Jones (left) and assistant choreographer Codie Wiggins on set of Get on Up
(courtesy Universal pictures)
Move over, Jersey Boys. There's a new jukebox movie in town, and this one gets a whole lot funkier. Get on Up, starring Chadwick Boseman as the Godfather of Soul, James Brown, hits theaters today.
This is one dance movie you shouldn't miss. OK, OK, so it may not be a dance movie the way Center Stage is a dance movie (though Get on Up choreographer Aakomon Jones did create the moves for Center Stage: Turn it Up—in addition to his work for Usher, Madonna and Janelle Monae), but Get on Up is chock-full of smooth—and did we mention funky?—moves, amazing performances and fascinating historical tid-bits. You might even literally leave the theater dancing: At the screening I attended, a guy stood up and danced in his seat during the end credits. (Even Lil Buck couldn't resist!)
What went into recreating Brown's legendary concert performances? I caught up with Jones to find out.
What excited you most about taking on this project?
The fact that it was James Brown was the biggest selling point. But the team was also unbelievable—from the director, Tate Taylor, to the producers, Brian Grazer and Mick Jagger. I had to be a part of it.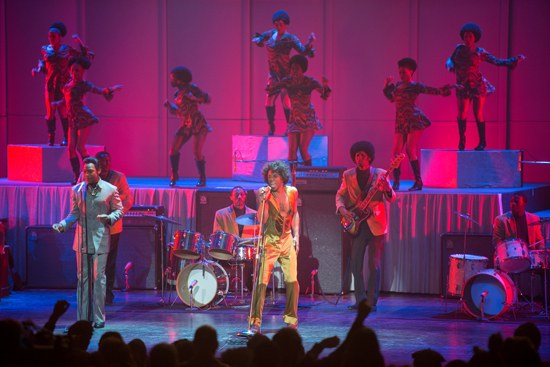 A still from Get on Up
(courtesy Universal Pictures)
How did you handle Brown's iconic performances? Did you try to recreate the dances from archival footage, or did you want to infuse the choreography with your own style?
I tried to stick to the performance references, because I wanted the film to be as accurate as possible. That being said, we weren't going for a carbon copy. It's a heightened reality. But any creative license I took came from the vocabulary of James Brown. If I sprinkled any extra moves in here or there—I took from moves I'd seen him do. The research for this film definitely started long before we started rehearsing. When working on a project like this you have to dig deep and look closely at the video footage.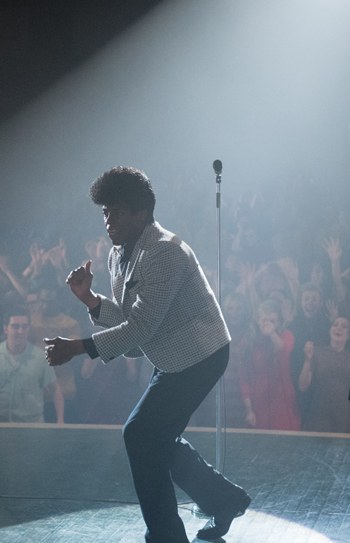 Chadwick Boseman as James Brown in Get on Up
(courtesy Universal Pictures)
Chadwick Boseman did so much dancing. Was there a dance double?
We did hire a double for one scene—but it wasn't for a performance. Instead, the double—dancer Marc Innis—filled in a body: At one point, James Brown walks past a younger version of himself, and we didn't want it to be digitally added in post-production. Every dance you see—every split, slip, glide, mashed potato, drop to the knees—is all Chadwick.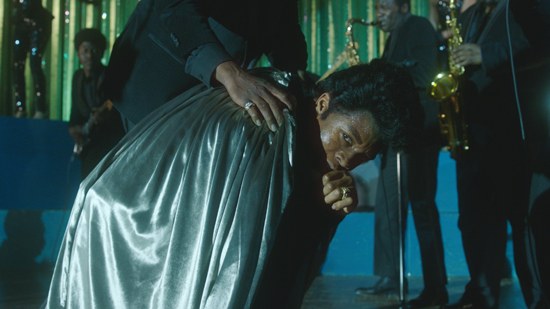 Boseman as James Brown
(courtesy Universal Pictures)
I've read that Chadwick didn't come in with any sort of dance background. What was most challenging about that process?
James Brown embodied pure, natural talent. It's hard to teach that in such a short period of time. We only had thirty days. We started with two-hour sessions, five days a week, but that grew to four-hour sessions, and then six-hour sessions seven days a week. His footwork really started getting good! What Chadwick did struggle with wasn't the splits or the sliding. It was having to do so many moves at the same time. James would have four or more things going on at the same time—working the mic, stomping his heels, snapping his fingers, using his lower body. And then he'd be singing on top of that.
Watch the trailer for Get on Up below, and then check your local movie listings for show times.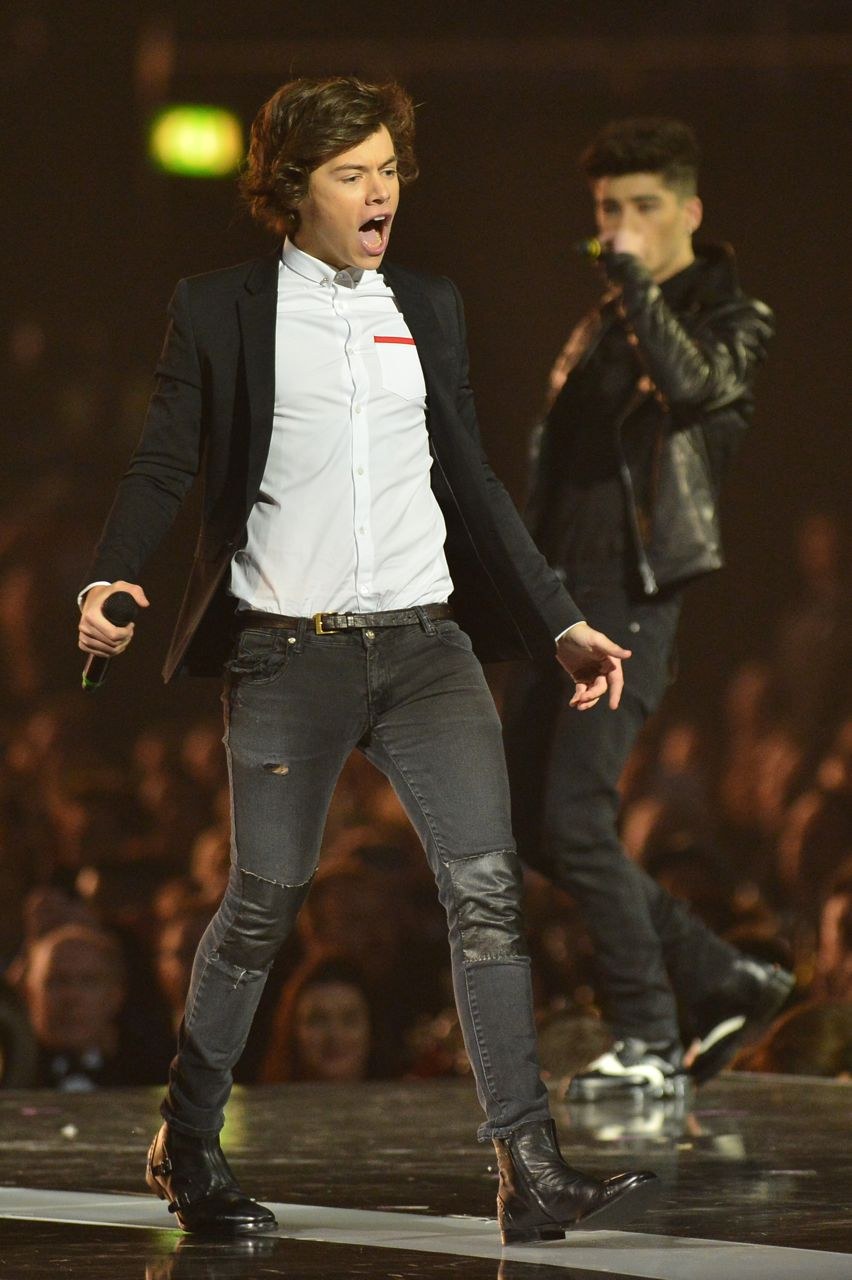 Harry Styles is ready to upgrade his onstage steps. Less standing, more sauté-ing? (AFP/Getty Images)
The British accent? Guess again. The wild mop of brown locks? Nope! All right, all right, it's kind of a trick question. The correct answer is: ballet!
British tabloid The Sun reported late Sunday night that my favorite One Directioner has decided to take up ballet. "That's the Achilles' heel in Harry's training. He can't dance and neither can any of the 1D boys—their choreographer recognised early on that they shouldn't dance on stage," said a source.
So what spurred Harry to catch the ballet bug (other than the many Internet jabs about his onstage, um, gracelessness)? In an interview last month with Q magazine, Mick Jagger revealed, "I alternate between gym work and dancing…I'm training for stamina." Instantly, the worldwide blogosphere was on fire with stories squealing that ballet must be the secret to a long and healthy rock-star life. Harry is apparently convinced, too: "Harry wants a career spanning decades like Mick's and to have that he recognises that fitness, health and developing his body is the key," The Sun's source said.
Of course, all of us at DS already knew that dance keeps you young and happy, but we're psyched to see another celeb jumping on the ballet bandwagon. Maybe we'll see Harry and fellow heartthrob Ryan Gosling taking class together some time? A girl can dream!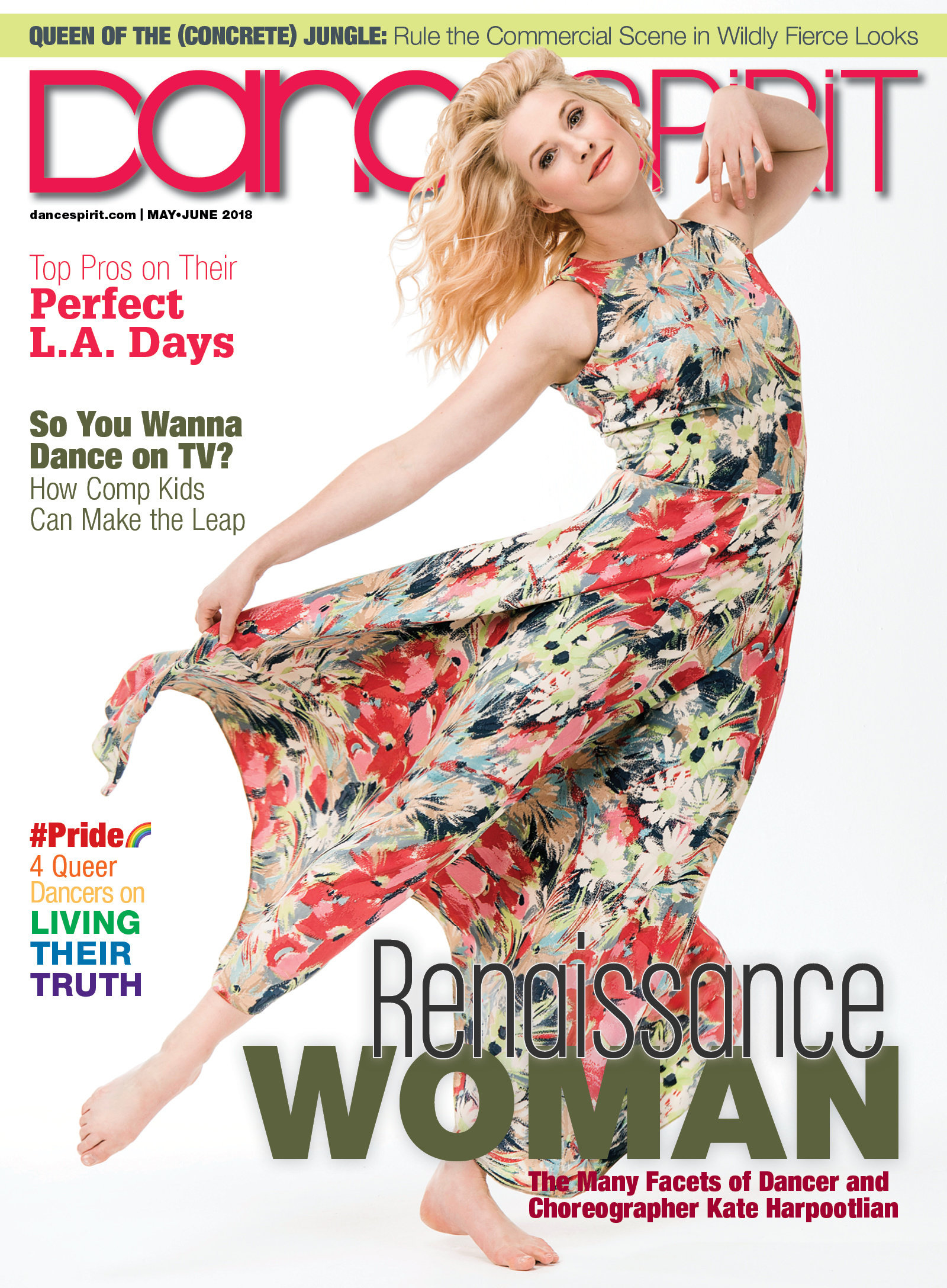 Get Dance Spirit in your inbox