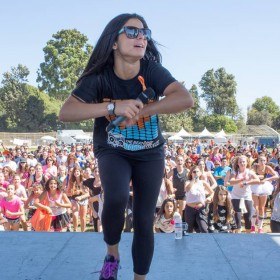 Courtney Galiano at the 2013 BEAT MS Dance Walk
(photo via The Beat MS)
L.A. friends: Mark your calendars for the second annual BEAT MS Dance Walk, happening September 13th. Spend a day movin' and groovin' alongside some of your favorite dancers, all while raising awareness about multiple sclerosis. But even if you're not on the West Coast, this event is something we can all get behind.
In 2011, "So You Think You Can Dance" All-Star Courtney Galiano was diagnosed with MS—a debilitating disease that affects the central nervous system. Despite the challenge she faces, Galiano hasn't let MS bring her down. She and her brother, Philip Byron, established the foundation BEAT MS (the name is a play on her family's dance convention, The BEAT Dance Tour), and last year hosted the first BEAT MS Dance Walk to benefit the National Multiple Sclerosis Society. In 2013, the BEAT MS Dance Walk in L.A. raised over $62,000 for MS research.
We caught up with Galiano about this year's walk.
Dance Spirit: The first BEAT MS walk welcomed so many dance celebs—Adam Shankman, Mark Kanemura, Comfort Fedoke, Kathryn McCormick, Jeanine Mason and dancers from "Americans Best Dance Crew" and "Glee." Are you expecting more star participants this time around?
Courtney Galiano: Last year we had over 600 people walk, and we want to continue to get as many people involved as possible. There will be lots of dancers from "SYTYCD" (including season 7 winner Lauren Froderman), dancers from VH1's "Hit the Floor" and cast members from the musical Hair—including Kristen Bell—which I just performed in at the Hollywood Bowl.
DS: So far, what have been the most rewarding aspects of the BEAT MS?
CG: Being surrounded by so much love and support, and meeting people who share my passions and challenges. I've been amazed at the number of young people fighting MS. It often seems like there's a stigma associated with the disease—people are scared to say they have it. Through BEAT MS, I'm hoping to break that stigma, because there's nothing to be ashamed or afraid of. I think the lack of discussion about MS stems from a lack of knowledge, so I hope the walk helps raise awareness and educate people.
DS: Since your diagnosis with MS in 2011, have your career goals changed?
CG: Not at all. I have good days and bad days, but sometimes I forget I even have MS. Fatigue is the biggest symptom I have to fight. I'm thankful every day for the determination that dance has instilled in me. Plus, dance really helps fight the disease: Medical professionals have started prescribing dance classes for people with MS and similar diseases that affect mobility. It just goes to show you how powerful dance really is!
DS: Is there a way for those who can't attend the walk in L.A. to get involved?
CG: Of course! You can make donations on our website, or even start your own team and recruit other people to join on social media. Anything that spreads awareness about this event and the disease helps.
If you're in Georgia, Texas, New Jersey or Florida and want to get involved, you can also check out The BEAT Dance Tour convention—a portion of every registration is donated to the National Multiple Sclerosis Society.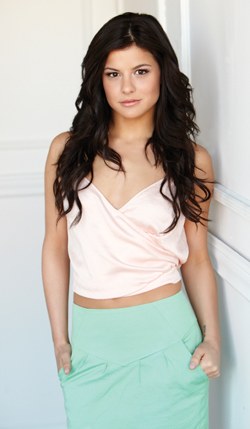 The "So You Think You Can Dance" tour is an unreal experience. During the three months on the road, we perform almost every night in sold-out venues filled with thousands of supportive fans.
The "SYTYCD" Season 7 tour, in the fall of 2010, was going amazingly well until October. That's when the lower half of my body started to feel numb. It's difficult to describe the feeling (or non-feeling) exactly, but it was like a mix between pins and needles and when you get Novocain at the dentist. During the same time, I started to get an electric sensation down to my toes when I put my chin to my chest. Although I couldn't think of a particular moment of injury, I figured maybe I had herniated a disc. After all, we were doing six performances a week, which was hard on our bodies.
Since I never experienced pain during these episodes—the symptoms were always just nagging discomforts—I didn't mention any of this to a doctor. I tried to overcome the feelings as best I could, with regular stretching and body care. By mid-March, I thought I was getting better because I began to regain feeling in my legs (though I never felt 100 percent). But then later that year my entire right side started to go numb. That's when I realized something was seriously wrong.
My grandmother has multiple sclerosis, a chronic autoimmune disease that affects movement, sensation and bodily functions. I watched her live with the disorder and knew many of the symptoms of MS overlap with the symptoms of a herniated disc, like the numbness and tingly feelings I was having. So when I finally went to the doctor over Christmas, I asked to be tested. I had a gut feeling I had the disease, but he said he doubted my test results would come back positive. There have been no studies proving MS is hereditary, although some studies show that many people with MS have family members who have the disease.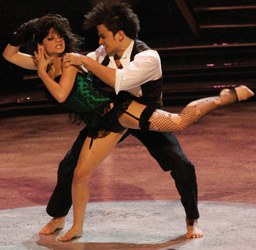 Performing a jazz routine with Mark Kanemura on "SYTYCD" Season 4 (Kelsey McNeal/FOX)
I got a series of MRIs done, and my inkling was correct: The films showed plaque on my spinal cord and lesions on my brain, confirming MS. When the doctor told me the news, I was upset, but I also felt a sense of clarity. I had a diagnosis and could start treating the disease. My first question was, "Will it affect my dancing?" But my doctor said, "The best thing for you is to keep dancing and keep your muscles strong." I definitely didn't have any objections to that!
At first, I was apprehensive about sharing the news of my diagnosis. This disease comes with the assumption that you'll get progressively worse and perhaps eventually become immobile. (MS attacks the myelin covering your nerves. Without that, your brain can no longer convey messages along the nerves to your muscles, which stops the muscles from working.) I was afraid people would think I could no longer do the things I've always been able to do or that they wouldn't hire me.
However, because of advances in medicine and research, there are many things a person with MS can do to prevent this from happening. I get an injection called Rebif three times a week. Rebif is used to prevent episodes of symptoms and slow the development of disability in patients with relapsing-remitting MS, which is the type I have (my grandmother has primary-progressive MS). Rebif isn't my favorite thing, but it's what I need to keep myself healthy, along with eating right and exercising.
I occasionally experience certain symptoms, like tingling or feeling off-balance, if I'm upset or stressed—stress is one reason relapses occur. But I'm currently in remission and able to dance. Since I was diagnosed, I've filmed episodes of "Glee," I've danced with Al Pacino in a new movie called Stand Up Guys (that was a whole lot of awesome!) and I've performed on "Dancing with the Stars." I was in the Rock of Ages movie, and I've traveled with "SYTYCD" doing Season 9 auditions. Plus, I started my own dance convention with my family called The BEAT. Some of the teaching faculty are former "SYTYCD" contestants, including Stephen "tWitch" Boss, Allison Holker, Dominic "D-Trix" Sandoval, Robert Roldan, Ade Obayomi and William Wingfield. I found out about my MS diagnosis the day after our first BEAT event in NYC. I was grateful for the timing. The BEAT gives me a chance to surround myself with family, friends and dance no matter what course MS takes.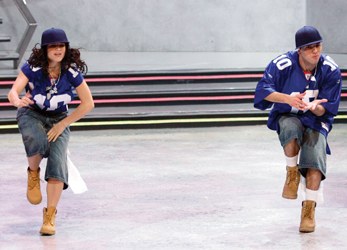 Performing a hip-hop routine with Gev Manoukian on "SYTYCD" Season 4 (Kelsey McNeal/FOX)
After receiving my diagnosis, I decided I wanted to help raise awareness about MS, so my brother and I teamed up with the National Multiple Sclerosis Society and started a foundation called BEAT MS. Now a portion of every BEAT registration will go toward the organization, which funds MS research. The society also provides people like my grandmother with nurses, helps pay for costly MS medication and hosts the MS Walk every year all over the U.S. This year my friends on both coasts took part in the walk and raised more than $20,000.
I have good days and bad days, but I've learned a lot about life that I don't think I would have otherwise. Since MS is an anxiety-driven disease, I'm trying to stop worrying (I'm a worrywart by nature) about my future. I'm also learning not to obsess about my past, wondering what I could have done better. I'm working on enjoying the now.
During the "SYTYCD" tour in 2008, I got a tattoo across my feet that, when I stand in first position, reads, "I walk forward with certainty that my dance is secure." Those words apply to my life now more than ever.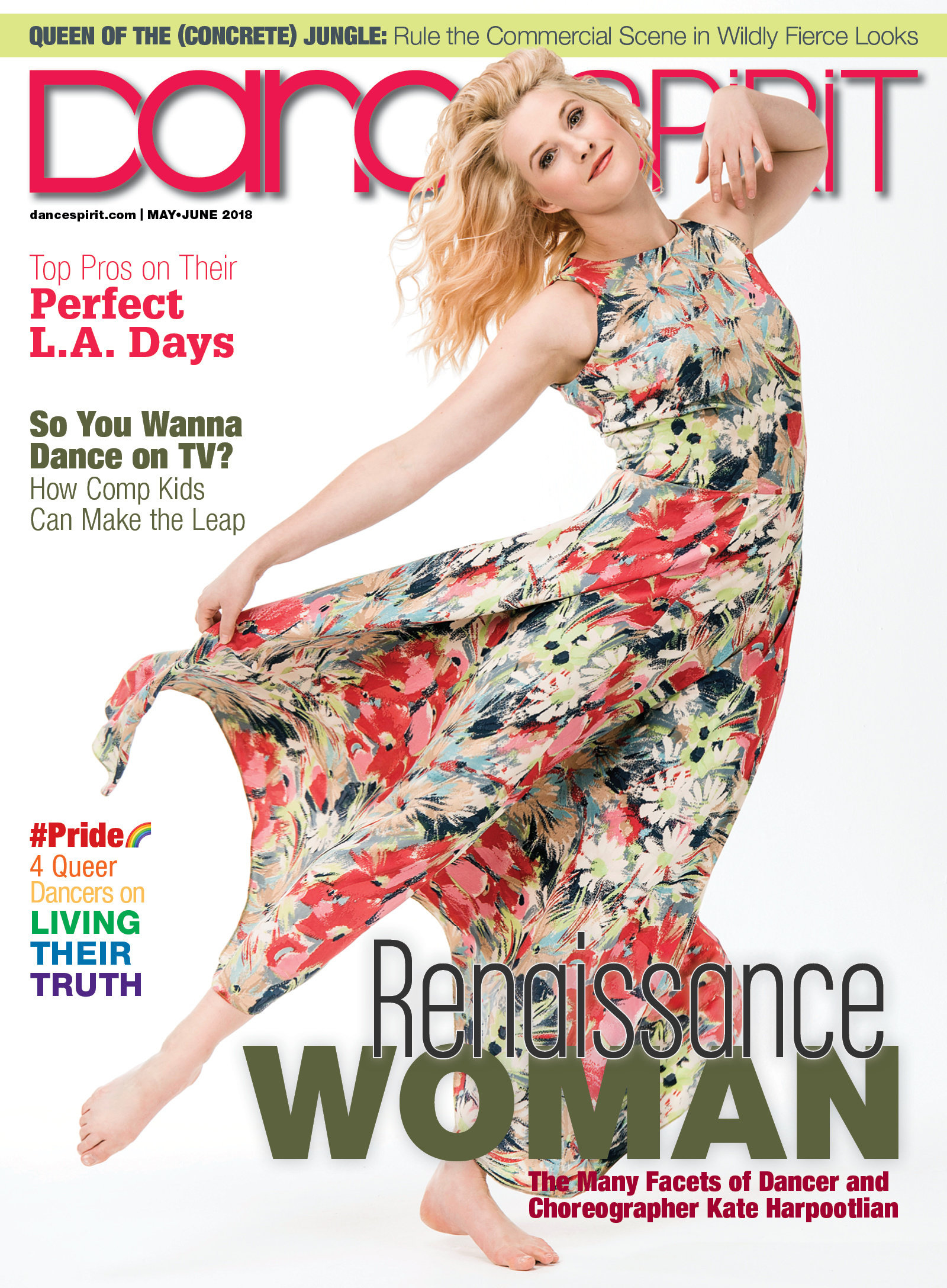 Get Dance Spirit in your inbox