Musical Theater
Feb. 13, 2019 12:13PM EST
Kelli O'Hara as Kate/Lilli Vanessi with the cast of the Kiss Me, Kate revival (courtesy Polk & Co.)
The classic Cole Porter musical Kiss Me, Kate dazzled audiences when it first opened on The Great White Way in 1948. It went on to win the very first Tony Award for Best Musical, and it's seen London and NYC revivals almost every decade since. Tomorrow (Valentine's Day!), previews begin for its latest Broadway revival, this time by Roundabout Theatre Company. The high-energy romantic comedy based on Shakespeare's The Taming of the Shrew features iconic tunes, including "Too Darn Hot," "So In Love," and "Another Op'nin, Another Show," and the revival will star Broadway veteran Kelli O'Hara as Kate/Lilli Vanessi, Will Chase as Petruchio/Fred Graham, and Corbin Bleu as Lucentio/Bill Calhoun. There will also be brand-new choreography by Warren Carlyle. Dance Spirit got the inside scoop on the production from dancer Christine Cornish Smith, who will also be understudying the role of Lois Lane/Bianca.
Keep reading...
Show less
Musical Theater
Jan. 31, 2019 03:14PM EST
Jan Horvath with vocal students at Steps on Broadway in NYC (courtesy Horvath)
You've been perfecting your technique for years, and now you're thinking about auditioning for musicals—but how are you supposed to conquer acting and singing, too? While dance may be your number-one strength, that doesn't mean you can't bring some serious skill to the table with your vocals and your ability to portray a character. We asked singing and acting coaches about some of the most common challenges dancers face—and their tips for tackling them.
Keep reading...
Show less
Broadway vet Cameron Adams, dancing Warren Carlyle's choreo from "She Loves Me" (screenshot via YouTube)
Okay, y'all: It's time to call it like it is. You've now been home from school for several days. You've spent some QT with the fam, gorged on all of the holiday goodies, and are finally starting to get just the sliiiiiiiiiightest bit tired of staring into space doing *~nothing~*. You've entered the little-understood (but super-prevalent) state called Winter Break Boredom. This calls for a boredom buster—and boy, do we have a great one for you.
Keep reading...
Show less
Low-quality screenshot, high-quality dancing. (via TheaterMania)
Well, we knew on an abstract level that Broadway's-golden-age guru Warren Carlyle would produce incredible choreo for the upcoming Broadway revival of Kiss Me, Kate! We just didn't know it would be THIS incredible.
Keep reading...
Show less
Nia Sioux and her co-star from North Carolina Theatre's production of Aladdin and His Winter Wish (courtesy North Carolina Theatre)
Nia Sioux has been entertaining audiences with her fab dance skills since 2011, when "Dance Moms" first aired. Now, two music videos and an acting gig (on the daytime TV series "The Bold and the Beautiful"), later Sioux is proving that she's more than just a triple threat—she's a star. And last week when Sioux debuted in North Carolina Theatre's production of Aladdin and His Winter Wish, she was every bit that star. Sioux opened up to Dance Spirit about her transition from comp kid to a triple threat and offered advice for young dancers hoping to follow in her footsteps.
Keep reading...
Show less
Oct. 06, 2017 12:06PM EST
Whether you're a musical theater buff or someone who lives for the Step Up franchise, you have to admit that dance movie scenes are often (all too) representative of real life. Here are five of our favorite scenes that, despite being silly and/or fantastical, somehow manage to reflect how we feel.
1. Did you just get cast in your dream role? Ace a test? Is "You Can't Stop the Beat," from Hairspray, running through your mind right now? It's an amazing anthem to sing to yourself when you feel unstoppable.
2. The warehouse dance scene in the original Footloose is legendary. This is how we deal with casting disappointments when nobody's watching.
3. "Good Morning," from Singin' in the Rain is so cheerful that it's easy to forget the song is sung by exhausted people who have just pulled an all-nighter. But anyone who says they don't do a victory dance when they come up with a great idea is lying.
4. Does the audition scene in Flashdance perfectly capture all of our audition anxiety? YES. But like any successful dancer, Alex shows exactly why she's unique—and it wins her a spot at a prestigious art school. Also, her high-cut leo and legwarmers are everything.
5. "We Go Together" from Grease perfectly encapsulates our feelings at the end of the school year or a summer intensive, or after a show closes: We're both relieved and sad that everything is over, but we know we've had an amazing bonding experience with our friends and colleagues.
Want more Dance Spirit?
Dec. 01, 2014 06:30PM EST
Putting a new spin on Annie, a show from the 1970s—which in turn was based on a comic strip from the '20s—is no easy feat. After all, it's hard to think of little orphan Annie without her signature red hair and old-timey catchphrases. When the latest film version of Annie hits theaters this month, though, it'll be a totally fresh (but equally loveable) take on the iconic musical, with the lead role played by Oscar nominee Quvenzhané Wallis. (Jamie Foxx and Cameron Diaz also star in the movie, which was produced in part by Jay-Z and Will Smith.) Choreographer Zach Woodlee, whom you know from "Glee," revamped the classic dance numbers. Dance Spirit caught up with Woodlee and Wallis to get the inside scoop.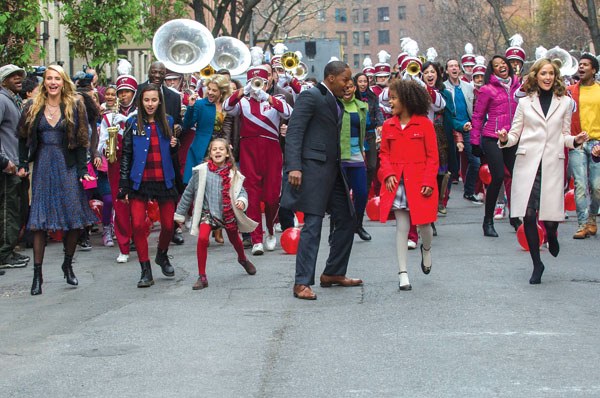 Quvenzhané Wallis (far right) and the cast of Annie (photo by Barry Wechter, courtesy Sony Entertainment
Dance Spirit: What's your favorite scene in the new film?
Zach Woodlee: Definitely "Hard-Knock Life." Director Will Gluck wanted it to be very athletic, so there's a lot of tumbling and throwing mops and brooms around. The hardest part was getting the girls to toss and catch the props while singing—and without flinching. I wish I had worn earplugs for rehearsals. There was so much clattering and banging!
Quvenzhané Wallis: That part was hard—we all kept hitting each other! Luckily, we figured it out. But my favorite part is "I Think I'm Gonna Like It Here," when I go to see where Jamie Foxx's character lives, and I sing and dance while exploring the house.
DS: What were rehearsals like?
ZW: A lot of movement came out of the girls themselves. The rehearsal space looked like someone had put a kitchen and janitor's closet inside a dance studio—it was filled with everything you could imagine, from feather dusters to hula hoops to pogo sticks. When we'd take a 10-minute break, the girls would play with all the props, and then I'd incorporate that into the choreography.
DS: Quvenzhané, what was most challenging about playing Annie?
QW: Remembering all the choreography. But I really like dancing, so it was fun. I'd love to do another role with dancing.
DS: Zach, did Quvenzhané have a lot of dance training coming in?
ZW: She didn't, though her older sister dances, and sometimes they'd practice together. Her mom also helped out: In one of Cameron Diaz's songs, the script dictated that the girls were to play double Dutch—but I didn't know how to do it. The next day on set, Quvenzhané's mom ended up teaching all of us!
DS: What do you love most about this Annie?
QW: It takes place in the present, and it's really upbeat. And I love the music—this version has hip hop and R&B. And there are new songs, too.
Save the Date!
You won't want to miss the other musical making its way to the silver screen. Into the Woods—the Tony-winning classic that weaves all of the best fairy tales into one adventure—hits theaters Christmas day. The film's cast includes the legendary Meryl Streep, Broadway baby (and former Annie!) Lilla Crawford and Pitch Perfect's Anna Kendrick. And it's directed by Rob Marshall, who's no stranger to bringing Broadway to Hollywood: He directed the Oscar-winning film version of Chicago. Visit movies.disney.com for more info.
Fact: Musicals are the best.
And sometimes, those of us who are obsessed need a little bit of musical theater to get us through a tough day. For me, that usually means switching to the Newsies channel on Pandora. But now I have another option: Broadway veteran Joshua Sherman's series of short online musical films.
Sherman's four 4-minute videos, called Charmers, feature original music, lyrics and choreography—and they're just super cute. My favorite is "Curiosity" in which a librarian, Ryan Kasprzak ("Smash," Billy Elliot), is taught a thing or two from a tap-dancing student, Ryan VanDenBoom (Annie).
Check it out:
Other videos include Kelly Buck (High School Musical) and Lillias White (Fela!). You've gotta love seeing these pros from different shows coming together to create something new. Watch them all at JoshuaShermanPresents.com.
Jun. 11, 2013 03:44PM EST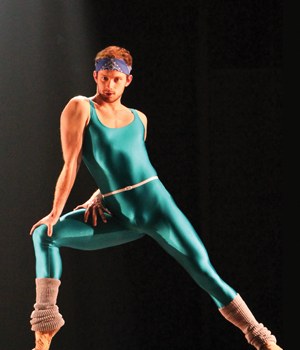 Jakob Karr in Flashdance: The Musical (DRGPhotography)
Jakob Karr, with his amazing extensions, and Kamille Upshaw, with her captivating stage presence, made names for themselves by snatching up award after award on the competition circuit. The two were hired for their first professional dance jobs in 2007—performing together during the halftime show of an alpaca auction in Virginia. And from there, their paths continued to cross: They both moved to NYC for college and then traveled internationally with Rasta Thomas' Bad Boys of Dance. But this past year, Jakob and Kamille switched gears and joined the touring cast of Flashdance: The Musical. Now the two friends are officially in love…with musical theater. "From the first day, I just thought, this feels right," says Jakob. "This is something I could love doing over and over again."
It's not unusual for competition dancers to discover they're destined for musical theater. And with the number of dance-heavy shows on Broadway today, technical dancers are more in demand than ever before. But it takes far more than a killer solo and an impressive collection of platinums to make it on the Great White Way. Read on before you book your ticket to the Big Apple.
Dance This Way
So what kind of dancers do Broadway casting directors covet? Annie choreographer Andy Blankenbuehler says the key is versatility, which many comp kids have in the bag. "The biggest asset young competitive dancers have is the ability to mimic a choreographer's style," he says. "At a convention, students take class from five or six teachers, each with very different styles. They're smart enough to adapt accordingly."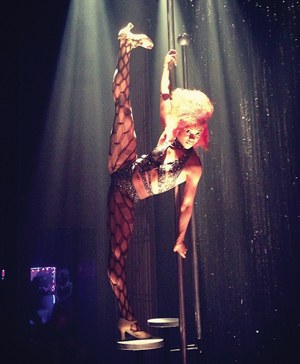 Kamille Upshaw in Flashdance: The Musical (Courtesy Kamille)
Being a smart dancer also means knowing your strengths and understanding what kind of dancing is expected from you at an audition—a lesson Jakob learned the hard way. "My very first audition was for Mary Poppins, and it was so humiliating," he admits. "They made us tap, and I'm probably the world's worst tapper. When I had to perform for the casting directors, I just did time steps over and over again. Believe it or not, I didn't get the job." Do your homework before the big day, and take classes in any styles you're unfamiliar with so you won't be taken by surprise.
Sing Out
No matter how many dance styles you've mastered at your studio, don't expect a job offer unless you can carry a tune. "I can maybe hire one person per show who can't sing. Maybe," says Blankenbuehler, who's worked on productions including In the Heights and Bring It On: The Musical. And rocking out in the shower or along with your car radio doesn't quite cut it. "Just as your body is your instrument for dancing, your vocal cords are your instrument for singing, and you have to know how to work them," says former comp kid and "So You Think You Can Dance" alum Ariana DeBose, who's currently in the ensemble of Motown: The Musical. "Find a vocal coach," she says. "Then choose at least three songs and work on them until you can present your best you no matter what."
Kamille walked into the Flashdance audition—her first musical theater audition—armed with only one semester of voice lessons from The Juilliard School. But she decided confidence would be her greatest weapon. "I figured they were looking for someone who could sell the performance," she says. "You don't need to be able to belt like Whitney Houston to be in an ensemble. Even if you don't feel like you have the best voice, prepare something that showcases your personality." For Kamille, that was Estelle's "American Boy." Jakob's first audition song? " 'Happy Birthday to You,' " he says. "I was as clueless as they come, but the next time I had a song prepared. And now I see a vocal coach whenever I'm in New York."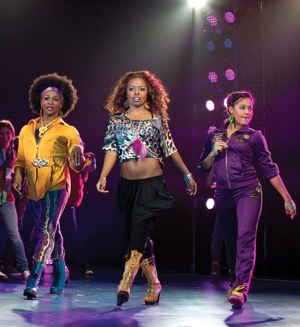 Ariana DeBose (right) in Bring It On (Joan Marcus)
Acting 101 
While some studio kids may have taken voice lessons in addition to dance class, there's a third component they must master before being a true triple threat: "You have to be a performer," Blankenbuehler says. "In a musical, dancers won't necessarily have to sing solos, but they will always have to project emotions."
Newsies dancer John Michael Fiumara, a past New York City Dance Alliance Senior Outstanding Dancer, says the hardest thing about his transition to musical theater was getting into character. "I never really thought of myself as a musical theater person, but just to be safe, I took voice lessons throughout my dance training," he says. "The biggest challenge for me in Newsies was understanding the story and imagining myself as my character, Specs. But the directors told me they chose me because they liked the flavor I gave to the role and the look on my face when I danced." Unfamiliar with acting? Sign up for a class or join a local community theater production.
Create Connections
Even if they've never had an acting or singing lesson, competitive dancers have a built-in resource many others don't: a wide network. "It's amazing how many people I danced with at competitions who are doing Broadway right now," John says. "Competing as a kid gives you so many connections to help you get there." Blankenbuehler, who teaches at NYCDA conventions nationwide, commends the rare dancer who approaches him to ask about upcoming auditions. "The resources are there—you just need to take advantage of them," he says.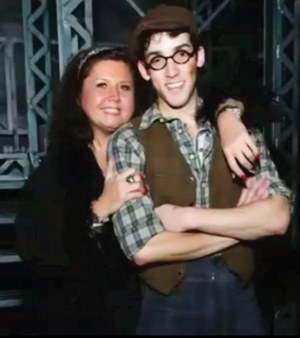 John Michael Fiumara with childhood teacher Abby Lee Miller on the Newsies set (courtesy John)
Once you've left the competition circuit, viewing every audition as a chance to expand your network will make lasting impressions that may lead to more auditions. John auditioned twice for Newsies to no avail, but the casting directors remembered him and called him back for a third, invitation-only audition when the role of Specs opened up. And a casting director from an unsuccessful audition for the show Memphis called Ariana back to audition for what would become her Broadway debut, playing Nautica in Bring It On. "That's how a lot of auditions happen," Ariana says. "You go in for one thing and you don't get the job that day, but they'll like you for something else. That's why I never turn an audition down."
"You're probably going to get a lot of 'no's' before you get a 'yes,' " adds Kamille, who auditioned for many shows while taking a short break from the Flashdance tour this spring. "This industry is hard. You audition more than you work."
Nailed It
After countless auditions and callbacks, nothing beats the feeling of finally nabbing that role. "I got the call and had to leave for the Flashdance tour the next day," Kamille remembers. "There were so many emotions happening at once. But jumping into it like that has been one of the highlights of my career."
If you're a comp kid who's caught the Broadway bug, these dancers prove it's never too late to start tuning your vocal cords, brushing up your acting chops and getting into musical theater auditions. "I didn't grow up singing or acting—I was at a ballet barre in a dance studio," Jakob says. "But with musical theater, I get to do what I love and get paid for it. I'm a part of this world now, and I hope to be part of it for the rest of my life."
Get Dance Spirit in your inbox
Only 17 days, 8 hours and 13 minutes until Rock of Ages hits theaters! Can you tell I'm excited? But when director Adam Shankman, Julianne Hough, a very muscle-y Tom Cruise, awesome dancing and rockin' 80s hair collide, only good things can happen. Dance Spirit got a hold of some newly released photos from the film (including some behind-the-scenes action.) Check them out below. And for more reasons that Rock of Ages totally rocks, read DS's May/June issue.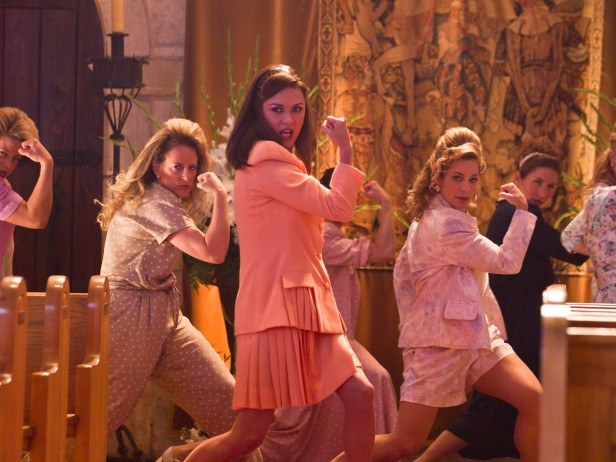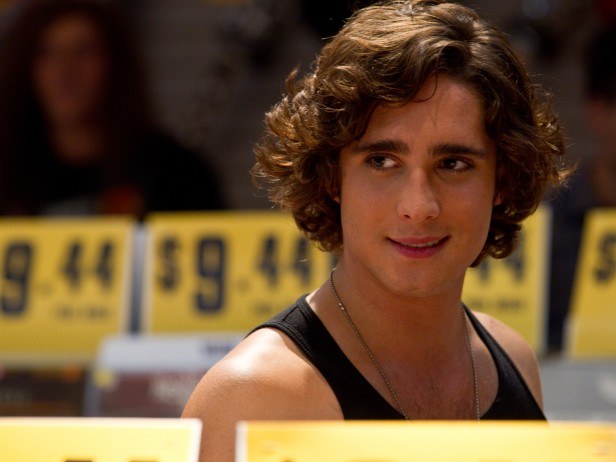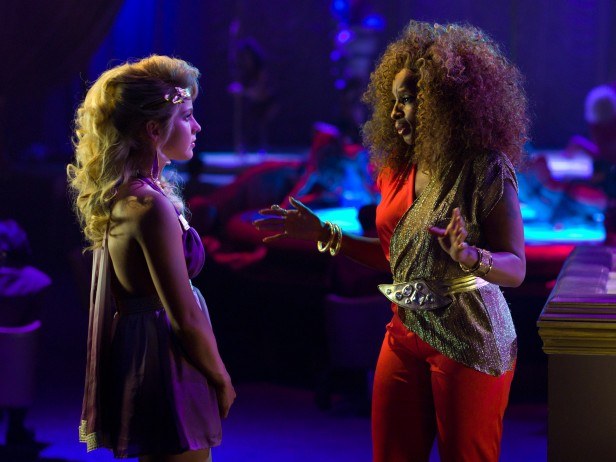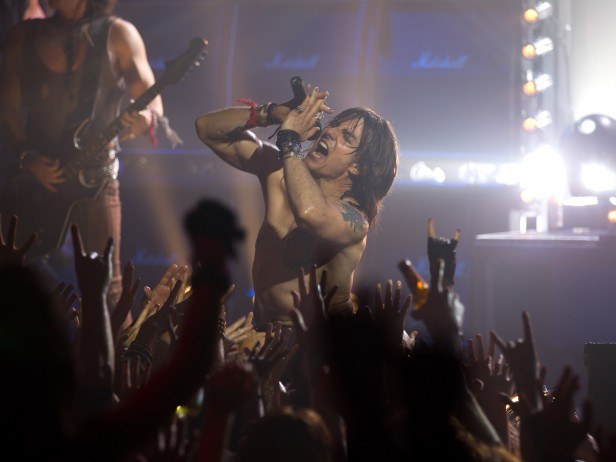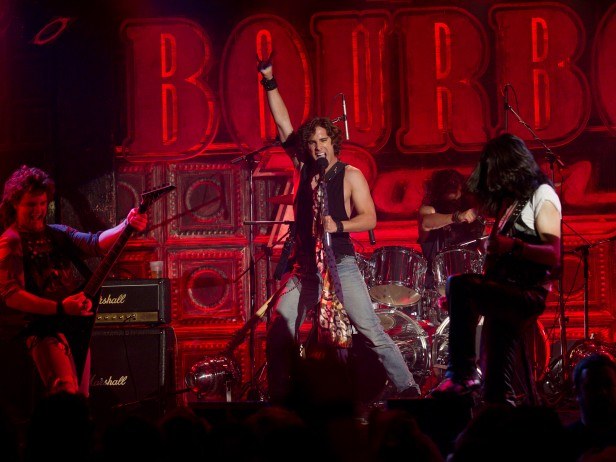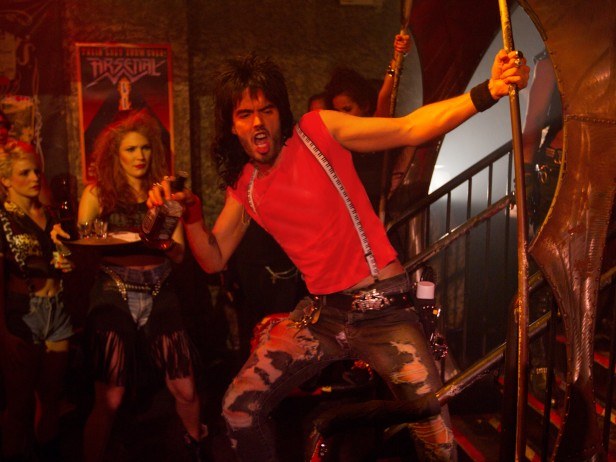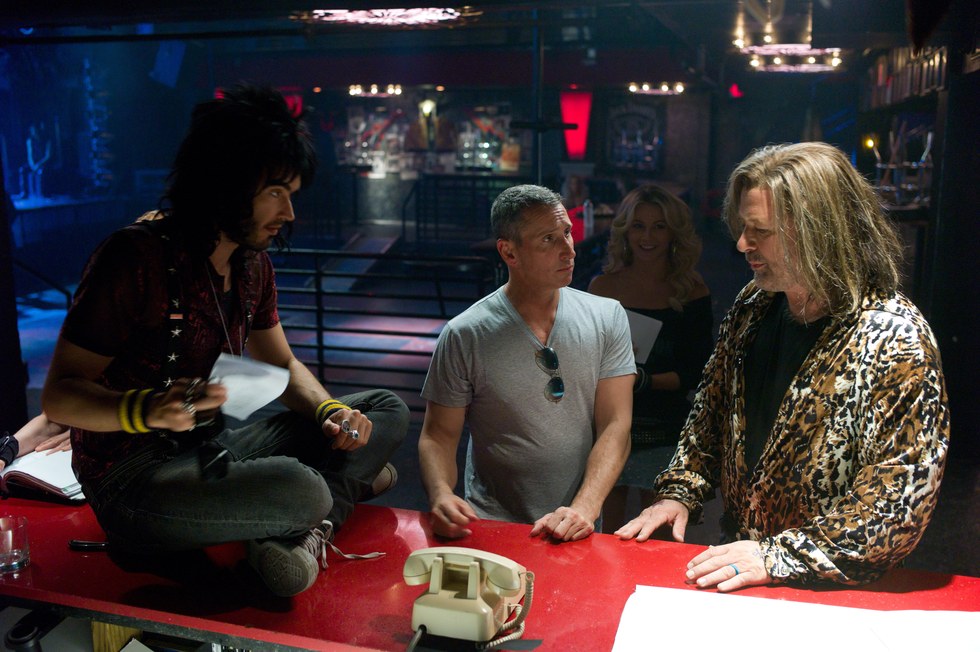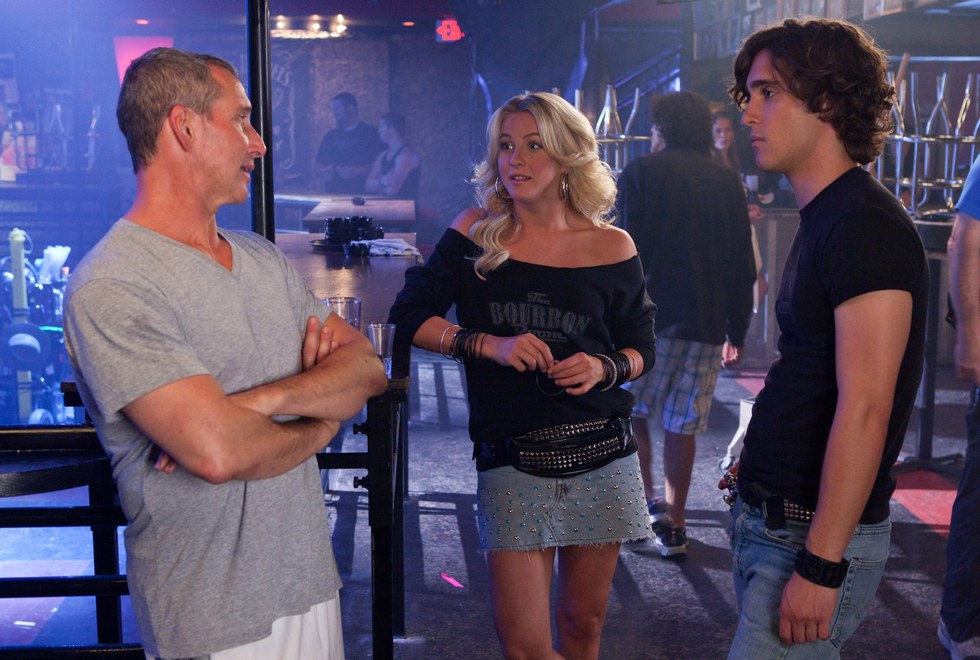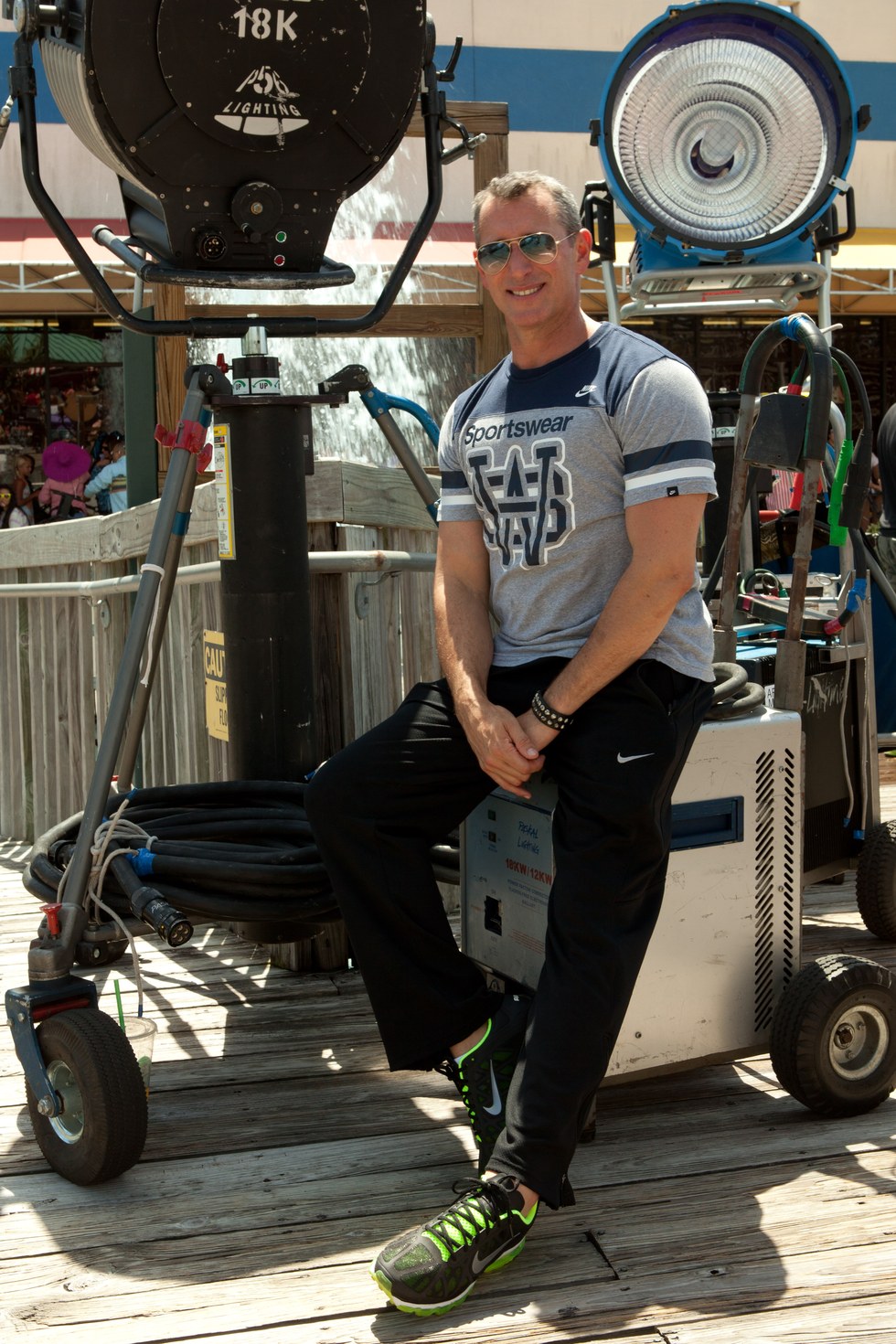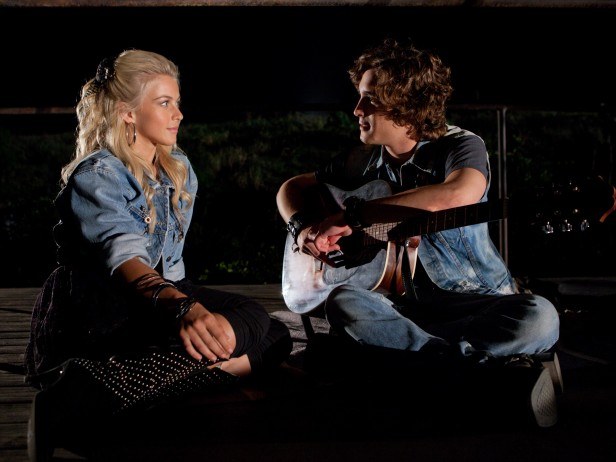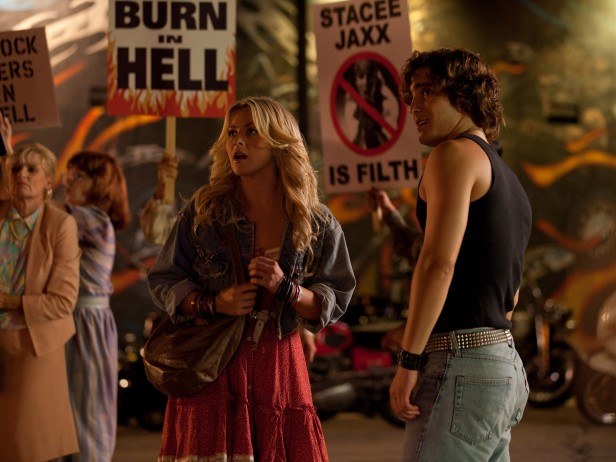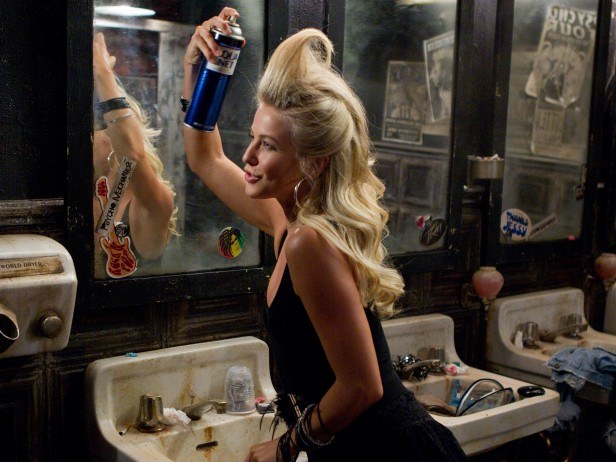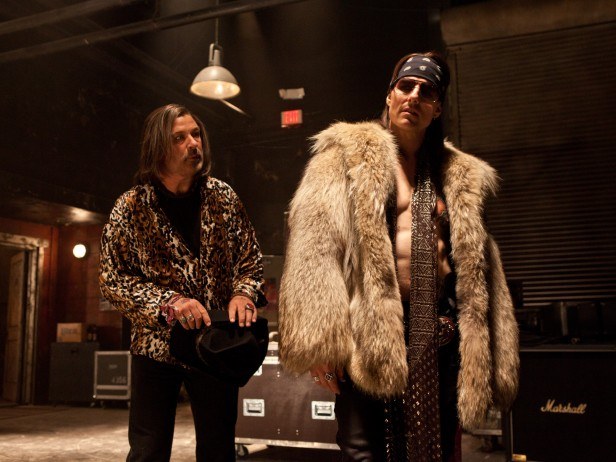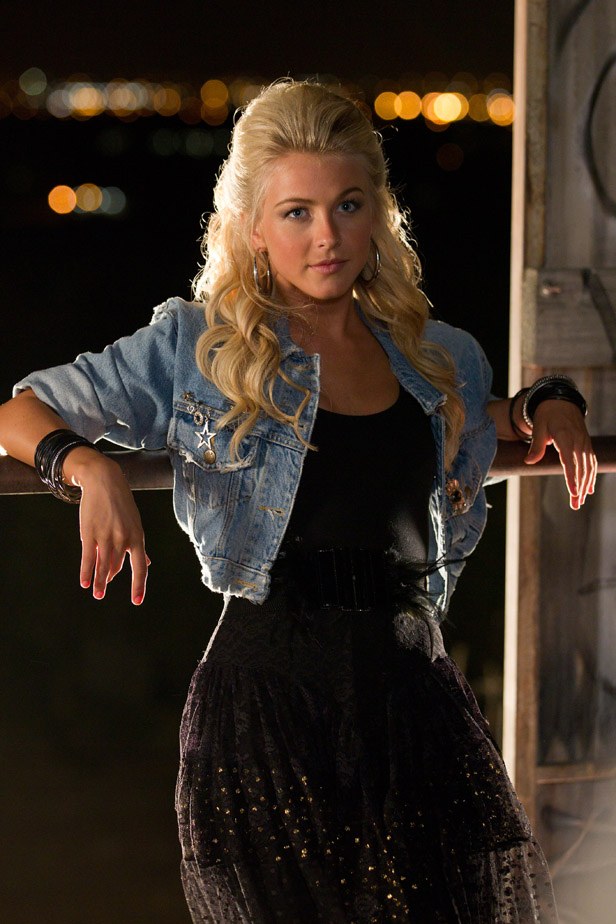 Mar. 13, 2012 03:59PM EST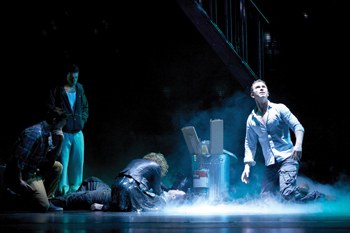 Sam Wheat (Richard Fleeshman) and the cast of the West End production of Ghost:The Musical (Sean Ebsworth Barnes, courtesy the Harman Group)
There's no question that Patrick Swayze plus Demi Moore plus a pottery wheel equals one of the most romantic scenes in movie history—but what if they broke into a love ballad as they sculpted that clay? Swoon! That and so much more will be going on in Ghost: The Musical, opening on Broadway this month (though without the movie's actors). The classic story follows Molly Jensen, whose husband, Sam Wheat, is murdered and then trapped between the world of the living and the dead. Only phony psychic Oda Mae Brown can help the couple reconnect and prove that true love never dies.
The show debuted on London's West End last July. And now, with many new cast members and amped-up musical numbers, Ghost is coming to the Great White Way. Dance Spirit talked to Australian choreographer Ashley Wallen—who's worked with the likes of Kylie Minogue and The Black Eyed Peas—about his Broadway debut, and how he added a music video vibe to one of the most iconic love stories out there.
Dance Spirit: How is choreographing a Broadway show different from projects you've worked on in the past?
Ashley Wallen: I usually work on music videos, commercials and film, where I'll have one week of rehearsals before shooting. It's been so great to be able to rehearse for five weeks, then tech for four, then be in previews for four before we even open. It gives me the chance to get to know the cast and everyone who's working on the show. Plus, I just love musicals.
DS: Was it hard to add dance to this love story's plot?
AW: Yes, because Ghost is such a well-known film that doesn't have dancing in it. But the writers have come up with really contemporary pop music that still tells the story. The main characters will have intimate moments that open up into these great big dance numbers.
DS: What styles of dance did you use?
AW: There are loads of different styles. It's mostly contemporary, but with a theatrical feel. Then there are the scenes on the streets of NYC, which have a slick, jazz-based style.
DS: Do you have a favorite number?
AW: "I'm Outta Here," which is Oda Mae's fantasy about having $10 million. We just went to town on it. It's the only number in the show with the whole cast onstage. The 17 new dancers are so great that I've been able to update the steps from what the previous cast did in London. It's like a really fun music video.