Jul. 10, 2018 10:01AM EST
Dancers tackling Nappytabs' intricate choreo at The Academy (Adam Rose/FOX)
After four speedy rounds of solo auditions, we've arrived at The Academy!
If you've been living in "So You Think You Can Dance" Land for a long time (shout-out to everyone who was alive and watching back when Nick Lazzarini won Season 1 in 2005), The Academy is the new Vegas Week, when the narrowed-down group of dancers who impressed the judges in NYC and L.A. get thrown to the wolves. (This year, as we found out in last night's ep, Academy sessions happened at the Dolby Theater in L.A.) They're put through grueling choreography rounds, where they're tasked with picking up choreo super fast, then performing it, then hoping not to get cut, and then moving onto the next style—learn, rehearse, repeat.
This week, the choreographers on deck were husband-and-wife dream team Tabitha and Napoleon D'umo and ballroom wizard Jean-Marc Généreux. But first, we kicked things off with a prelim in which the 70 Academy dancers did solos for Nigel, Mary, and Vanessa. Those performances determined whether or not they'd move on to the choreography rounds. And the judges weren't playing—Nigel said he was ready to "break a few hearts."
So, how'd the first Academy episode play out?
Dance News
Jun. 06, 2018 09:37AM EST
Season 9's Top 10 girls performing to "Where The Light Gets In," choreographed by Travis Wall (Adam Rose/FOX)
"So You Think You Can Dance" has everything a dance show needs: crazy judges, incredible talent, famous choreographers, and heartwarming stories. Whether you're on your second season or your 15th, if you're a true "SYTYCD" fan, you can relate to the following signs of true-blue fandom.
Dancer to Dancer
Feb. 01, 2015 05:54PM EST
The dance gods must have been smiling when Tabitha and Napoleon D'umo first met at the University of Nevada, Las Vegas. Who would have guessed that an army veteran from California (Napoleon) and a cheerleader from New Jersey (Tabitha) would join forces and eventually take over the commercial hip-hop world?
(Photo by Jennifer Johnson, courtesy the D'Umos)
Since the two started performing with the dance crew Culture Shock in the 1990s, they've been inseparable, working with artists including Madonna, Beyoncé and Jennifer Lopez. They've also choreographed for "America's Best Dance Crew" and "Dancing with the Stars," though they're most known for their work on "So You Think You Can Dance," which has earned them two Emmy Awards. When they're not designing new pieces for their dancewear line Nappytabs, you can catch the couple (and parents of two-and-a-half-year-old son London) on tour with Monsters of Hip Hop and Velocity Dance Convention and Competition. —Jenny Dalzell
Dear Teenage Tabitha & Napoleon,
Slow down. We know that the future seems like an eternity from now. But from where we're sitting, the last 20 years feel like only a moment. So don't waste an hour—make every second count. You're busy, and it can be challenging to make enough time for anything or anyone. But make time for family.
Remember that life is pretty simple—it's we who insist on making it complicated. Stay focused on the positive things and the rest will fall into place. Make decisions with your heart; it knows more than you do.
If you fall out of love with what you're doing, don't be afraid to move on. And failing once doesn't mean you'll fail every time. You will fail, however, if you don't learn from your mistakes.
Fight for what's important to you, but be conscious of your approach when speaking up. If you speak out of anger, odds are, your message won't be heard as clearly. And never let the envy you might feel for another turn into jealousy or hatred. Instead, use that energy as motivation to work harder.
Get ready for a wonderful adventure. In college, you'll meet your best friend and the love of your life.
xoxo,
Nappytabs
P.S. Adults are always telling you that hard work pays off. They're 100 percent right.
Mar. 18, 2014 12:31PM EST
It's totally Derek Hough's year. From winning an Emmy and choreographing at the Olympics to competing this season on "Dancing with the Stars" and performing on a North American tour with sister Julianne, Derek seems to be checking almost everything off of a very full bucket list.
Oh, and did we mention he's starring in a dance movie?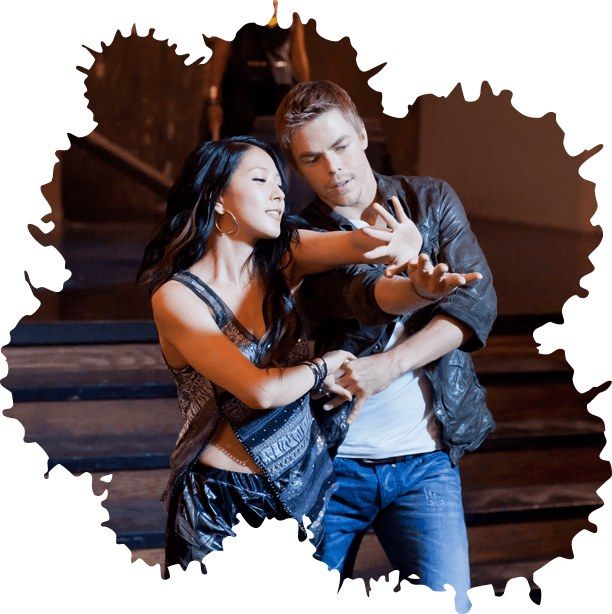 BoA and Derek Hough in Make Your Move
Make Your Move (which you may remember in its earlier stage as Cobu-3D) opens nationwide April 18. In it, Derek plays Donny, a tapper from New Orleans who falls in love with Cobu dance crew member Aya, played by K-Pop singer BoA. Once these performers meet and realize they're not supposed to be together (because of family disputes), they must find a way to work it out. Essentially, it's Romeo and Juliet, West Side Story and a little Save the Last Dance rolled into one. (Fitting, since MYM's writer and director Duane Adler was the screen writer for both Save the Last Dance and the original Step Up.) We caught up with Adler to get the inside scoop:
Wait a second...Derek Hough taps?
Yes! When I first met Derek, he read the script and said, "Duane, you know I'm not a tapper." He said he hadn't tapped since he was about 13. But we talked about it and he just became a workaholic. He started taking tap lessons, and now he's tearing it up.
We know Allison Holker is in the film—will we recognize any of the other dancers?
Chloé Arnold has a cameo in the movie during a big tap number, along with Toronto tapper Shawn Byfield. Nick Gonzalez is also in it, and Napoleon and Tabitha D'umo choreographed.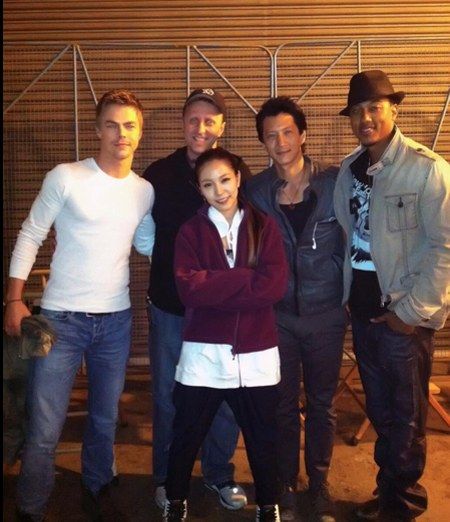 (L to R) Derek Hough, Duane Adler, BoA and other MYM cast members Will Yun Lee and Wesley Jonathan
How is this movie different from Save the Last Dance?
These characters are older and more mature—they're 20 somethings, out of school and out of their homes. In Save the Last Dance, they're still in high school and in the safety of their own homes. I'd call Save the Last Dance a realistic, urban drama with some dance. But Make Your Move really harkens back to movie musicals of the past. The action doesn't stop for a dance scene—it's all integrated.
Derek is everywhere these days. Now, after working with him, do you think he's the Gene Kelly or Fred Astaire of our time?
It's hard to think he's not. The sky is the limit for him. And with the dancing he does in this movie, you really forget he's the guy on "DWTS." Derek's energy on set is contagious. Sure, his career is in its early stages. But if there's a dancer today with Fred or Gene's potential, I think it's him.
Want more? Take a look at Make Your Move's trailer below—and get ready for April 18. It's gonna be awesome!
Dance News
Feb. 14, 2014 11:24AM EST
Chocolates, flowers, teddy bears, greeting cards—they're all fine. But what really gets our hearts fluttering? Dance, duh. OK, more specifically, we're in love with dances about love.
So to celebrate Valentine's Day, we collected some of our favorite romantic duets from a show we also happen to love: "So You Think You Can Dance." We dare you not to get chills with at  least one of these love-tastic routines (even you, bitter cynics).
1. This Season 5 Travis Wall routine, danced by Jeanine Mason and Jason Glover, really pulls at our heart strings (or rather, chains):
2. Nappytabs never fails to show us that hip hop can be romantic, and this Season 4 routine, danced by Joshua Allen and Katee Shean, is no exception:
3. What could beat a husband and wife duet? Here's Ashleigh and Ryan Di Lello's Season 6 Travis Wall routine:
4. We're suckers for young love, so we just swoon over this Season 7 Travis Wall routine, danced by Lauren Froderman and Kent Boyd:
5. But our favorite romantic routine (because it's just too darn adorable) has to be this Season 10 Jean-Marc Généreux waltz, danced by the winning due Amy Yakima and Fik-Shun:
Happy Valentine's Day!
Dance News
Sep. 04, 2013 09:25AM EST
You voted last night, right? I hope so, because it was your last chance!
Last night, Season 10's Top 4 contestants—Amy, Fik-Shun, Jasmine and Aaron—duked it out dance-style for the title of America's [Latest] Favorite Dancer, a $100,000 prize and, what we think is the best part, a spot on the December cover of Dance Spirit.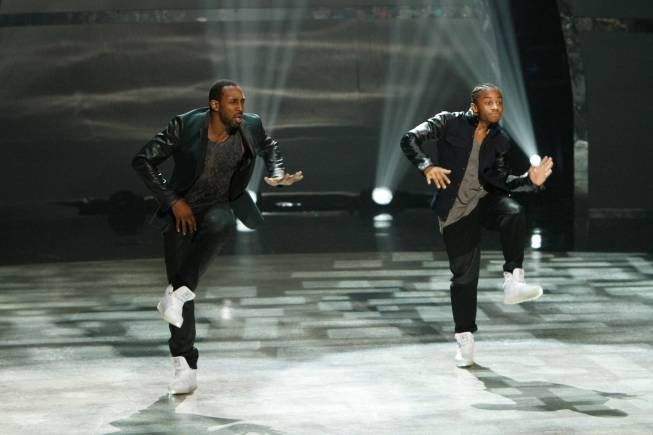 These two...I can't get enough! (Photo courtesy FOX)
As always, the evening included plenty of highs (Gabby Douglas didn't have much to say as a guest judge, but she's the cutest ever and rocked that yellow dress!) and a few lows (the moment when tWitch and Fik-Shun's duet ended and I was sad because I wanted it to go on forever).
Here are my Top 5 Moments from last night's performance finale:
1. Aaron and Amy's jazz fusion routine. Ray Leeper, where did this choreo come from?! I adore Ray and I think he's one of the greatest men in the entire competition and convention industry. (Seriously, sweetest, most genuine guy ever, plus he's always so beautifully tan.) This was a total deviation from his usual jazzy stuff and it really worked on these two. Hot Amy killed it in that costume and is Aaron a dream partner or what?
2. Jasmine and Comfort's hip-hop routine. Fun fact: The entire DS staff watched last night's episode together. And we're a chatty bunch, so we sort of missed the intro to this routine and all the rehearsal footage. By the end, after watching All-Star/my hip-hop alter ego Comfort booty pop her way through this piece, we all looked at each other and asked, "Wait, who choreographed this?" We were psyched to see NappyTabs giving their piece a standing O from the audience. This routine was all about girl power and Jasmine worked it hard, keeping up with Comfort juuuuust fine.
3. tWit-shun/Fik-witch. Oh my godddddd. You're familiar with my love for tWitch by now. And then these two together? It was just so good. One of the DS editors said tWitch and Fik-Shun looked like Will and Jaden Smith up there, having the best time ever. Right? Right. This piece was the funnest.
4. Amy and All-Star Robert falling in contemporary love. Thank you for this, Stacey Tookey. I love Amy. I looooove Robert. I loved them together and enjoyed being taken into the happy-magical world they created onstage.
5. Mark Kanemura's back! Mark Kanemura's back! His choreography for his piece with Jenna a few weeks ago was possibly my favorite of the entire season. And while I actually didn't adore last night's piece for Jasmine and Amy quite as much, I do love that Mark is potentially becoming a regular choreographer on the show. I also love that he used Jasmine and Amy to "tell the age-old story of Siamese twins from the fierce jungles of Saturn." What? Doesn't matter. Mark, you are the quirkiest and we love you for it.
Bonus #6: No one was eliminated last night! It was just a fun, enjoyable show where everyone was safe and got to dance full-out. Though is it just me or are these dancers starting to look tired? Get them massages, stat, Nigel!
Fess up: Who got you to pick up the phone last night? Any predictions for next week? I've got mine, but I'll keep them a secret for now. OK fine, I won't: Looking at last night's performances as well as the entire season leading up to the performance finale, I think Amy and Fik-Shun are worthy of the America's Favorite Dancers title.
Agree? Disagree? Tell me in the comments!
Dance News
Jul. 02, 2013 10:54AM EST
Who's excited for "So You Think You Can Dance" tonight?? The lovely and hilarious Christina Applegate is returning to guest judge, plus we'll find out which two dancers will be first to leave the competition. It promises, in other words, to be quite a show.
To get you even more pumped up, here's FOX's nifty time-lapse video from last week's episode. It shows the Top 20 preparing for that stellar Nappytabs opening number—getting made up, rehearsing, goofing around—and then speeds through the whole routine from a few different camera angles, so you can see some of the behind-the-scenes action. Take a look!
Jan. 10, 2013 11:24AM EST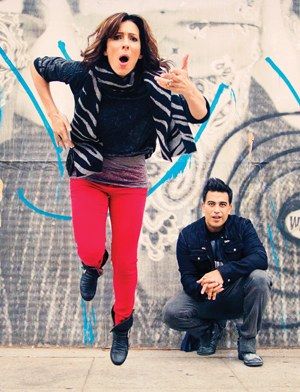 Tabitha and Napoleon D'umo may pull a goofy face from time to time—but only when appropriate! (by Jennifer Johnson)
You may have fierce hip-hop moves—but do you have the face to go with them? When it comes to hip hop, the right attitude can make or break your performance. Skilled dancers use their facial expressions to bring choreography to life, but sometimes figuring out exactly what to do with your face can be tricky. Should you glue on a goofy grin or go for a smug smirk? Can you pull off a classic "stank face"? Should you? We asked some of hip hop's hottest dancers, teachers and choreographers for their tips on how to make powerful, effective expressions part of your dancing.
"Smiling is OK! Hip hop doesn't have to be hard all the time. But whatever face you use, it needs to be confident. Weak doesn't work in hip hop." —Leslie Scott, hip-hop teacher at EDGE Performing Arts Center and Millennium Dance Complex in L.A.
"A 'stank face' is great if you're in a crew—but it often doesn't work in the commercial dance world. It can come across as mean or ugly if it's not natural. Work on achieving that kind of intensity without sticking on a stank face." —Tabitha D'umo, choreo-grapher on "So You Think You Can Dance"
"Don't think about it too much. That can make your expressions seem contrived and stiff." —Napoleon D'umo, choreographer on "SYTYCD"
"Don't look like a deer in the headlights. Another look to avoid? The one that says, "I don't want to be here!" That's one of the worst things you can do." —Bryan Tanaka, commercial dancer
"Have an intention when you dance. I'm usually really animated, but I don't think specifically about my face as much as I think about the lyrics of the song I'm dancing to." —LS
"There's a fine line between feeling it and faking it. Hip hop is about letting go and connecting your whole body to the music, face included." —TD
"Steer clear of overly sexy faces. That's not what hip hop is about. I'd rather see a teen dancer smiling because she's genuinely enjoying her performance than one who's trying to look provocative." —LS
"Remember that dance is an unspoken language. You need to tell a story with your face as well as your body. Pay attention to how other dancers use their expressions; then find what works for you." —BT
"Be authentic. I have my students stare at their faces in the mirror while I ask questions that trigger memories, like, 'How do you look when you're heartbroken?' or 'How do you look on prom night?' That way, they learn to connect their facial muscles to real emotion instead of just mimicking facial choreography." —LS
"Film yourself during rehearsal. That's the best way to really see what your face looks like while you dance. Cameras don't lie." —ND
"Your face can make or break your dancing. It's what sets the professionals apart from the rookies. I've worked with some artists who may not be the best dancers but their performance faces are amazing and fun to watch." —BT  
What's a "stank face"? Leslie Scott says: "The 'stank face' is an exaggerated frown, with the mouth turned down. So many people do nothing but that. It's not always the best way to engage an audience."
How To
Sep. 12, 2012 12:10PM EST
I don't really know how to explain this video to you. It's one of those pieces of genius that sounds so wrong in theory, yet is so right in practice.
Here's the best I can do: It's a Harry Potter spoof that re-imagines Harry and Voldemort's big climactic battle as that awesome Alex Wong/tWitch hip hop piece from "So You Think You Can Dance" Season 7. And Cat Deeley is played by Ron Weasley. And the dancing is actually totally sick. And Nappytabs have already Tweeted about it. And it is my new favorite thing, ever.
Confused? Get out of your mind (nyuk nyuk) and just watch. You're welcome.
(And when you're done, click here to check out more videos by The Hillywood Show, the masterminds behind this amazingness!)
Aug. 13, 2012 10:41AM EST
Did you hear? Hip-hop choreographers Tabitha and Napoleon D'umo welcomed their first baby boy, London Riley, over the weekend! And we couldn't be happier for the new parents.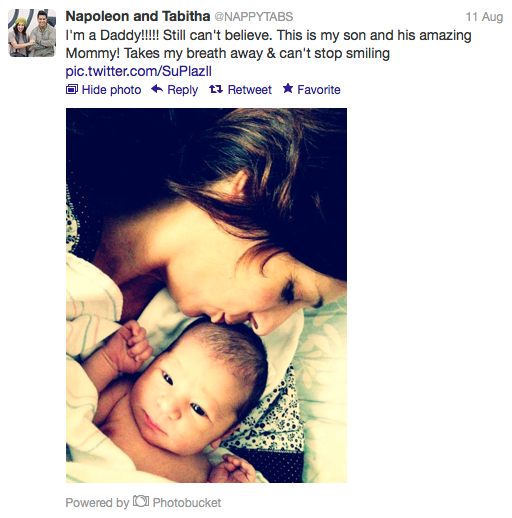 Pretty sure he's going to be the funkiest and best-dressed lil' man around. From all of us at DS, congratulations D'umo fam!
Dance News
Get Dance Spirit in your inbox
Jul. 19, 2012 08:33AM EST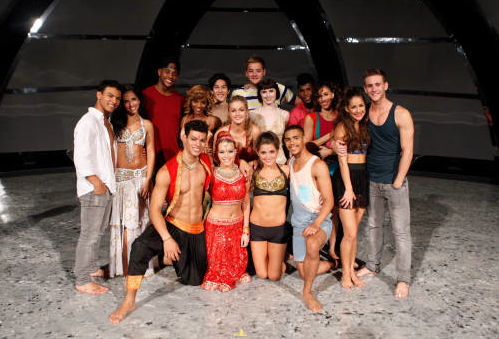 Last night on "So You Think You Can Dance," the Top 20 became the Top 16. The six dancers who received the lowest votes "from America" were Janaya, Alexa, Witney, Nick, Daniel and Chehon. The judges chose to save Witney and Chehon from elimination, and so we said goodbye to the other four. Major bummer. What happened, Alexa?
But the show wasn't a total sadness-fest. There was a bathtub! There was a "big sexy tomato." (Adam Shankman's words) named Cat Deeley, looking ravishing in bright red. ("Take a bite, why don't you," Cat quipped back at Mr. Shankman.) And best of all, there was a preview performance from the dancers of the upcoming Step Up Revolution, which opens in theaters July 27 and is guaranteed to be awesome.
Oh and if you think Kathryn McCormick, the film's leading lady, is super hot (which she is—this is not a debate), get excited for the November issue of DS. And if you think tWitch is the hottest male dancer of all time (also not a debate), you're in luck even sooner: He just may be all over our September issue.
On with the Top 5 Moments from last night's episode of "SYTYCD!"
1. The awesome Marilyn Manson opening number featuring the entire Top 20. The sequined outfits the dudes were wearing? The red-hot ladies with their crazy headpieces? Oh Nappytabs, you've done it again. It was sort of Afro Jazz meets hip hop meets Thriller and I totally dug it. Also, there were fog machines. You simply cannot go wrong with fog machines. Plus, I appreciated that all the dancers really blended. I wasn't focused on one dancer the entire time, even though Cyrus was kind of the routine's front-man. They all worked really well together.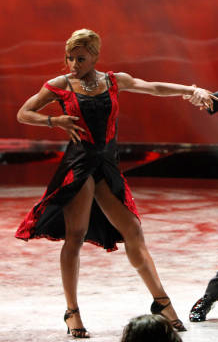 2. Amber's arms. Oh, she did a tango last night? Cool. I barely noticed. For all I know the girl could've been wearing tap shoes and shuffilng up a storm. I could not take my eyes of her killer, oh-so-defined upper body. She's awesomely ripped and I want to be just like her. But yeah, she did do a tango, and it was pretty great. My ballroom expertise (that's a slight exaggeration) tells me that she nailed the quick, fancy footwork and her upper body was nicely pulled up and controlled. Well done, former DS cover girl.
3. Amelia and Will's Sonya Tayeh routine. While I always love Sonya's choreography, this routine was interestingly un-Sonya. I appreciated that Amelia quite literally threw herself into every single move, and Will seems like a fantastic I-will-always-be-there-to-catch-you partner. They're a good team and they're one of the few couples that can get through a routine without it looking quite so choreographed. All the other couples seem nervous, hesitant and really focused on every single specific move. But these two blew through the choreo effortlessly. As Mary told Will, "you were just in it."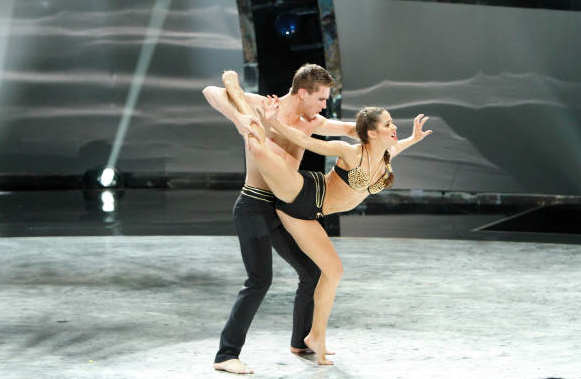 4. Audrey and Matthew, are you serious? These two are dynamite! Between last week's Titanic routine and this week's Sonya Tayeh number, they've solidly established themselves as two dancers to beat. This week, Audrey managed to be fantastically fierce, despite her sweet little braid and rhinestone-bedazzled bra. And Matthew, rocking the guyliner, has mastered the art of partner eye contact. These two rocked it last night. Dare I say they're my favorites at this point in the competition?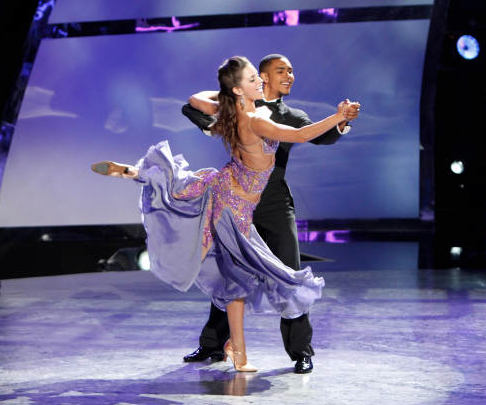 5. Tiffany's lilac-colored Foxtrot costume. It was so sparkly and gorgeous. I could not take my eyes off this dress! I'm not normally one to rave about the ballroom routines on "SYTYCD," but I thought The Tiffster and George did a pretty swell job with this one. But also, the dress. Where can I get it? It's very versatile, and I would be able to wear it out dancing, and to work, and at dinner parties and running in Central Park. I would never take it off.
The "So You Think You Can Whaaat?!" Moment of the Night:
Adam Shankman, I respect you and I enjoy the way you manage to layer so many tops each night (a shirt, a vest, a tie, a cardigan, a blazer, another vest, a sequined brooch...it all just keeps layering)—but please reel it in with the tears and the overly-dramatic statements. Every routine makes this guy cry. Every dancer seems to get a standing ovation. When he told Amelia her lines were "perfect" I was semi-baffled. Yeah, she's great, but from what I saw she needs to work a little harder to get those legs fully extended and those feet fully pointed. So to call her perfect? Seems a little over-reaching, Adam. Not every routine has to be OMG-the-best-thing-ever, and not ever dancer is the most incredible one you've ever seen onstage. Just keep it real, OK?
Congratulations to the Top 16! We're psyched to see what you have in store for us next week. Until then, what'd you think of last night's episode? Did you like having all the good stuff crammed into one show? Are you wicked pumped to see Step Up Revolution next week (the answer is yes)? And do you think America and the judges got it right by eliminating Alexa, Daniel, Janaya and Nick? Tell us in the comments!
Dance News
Jan. 27, 2012 02:42PM EST
You can only imagine our excitement this morning when we saw this: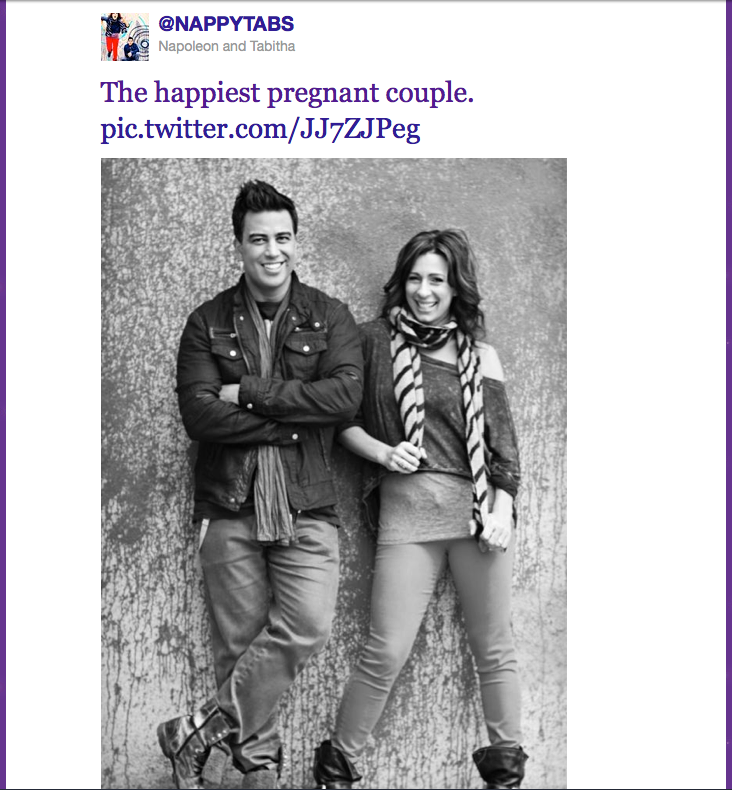 Congratulations, Tabitha and Napoleon! We couldn't be happier for them. And let's be honest, this kid is going to be AWESOME.
So, without further ado...
Dance Spirit's 5 Wishes for Baby Nappytabs:
1. That you have great rhythm. (We're not that worried).
2. That you never spit up in the rehearsal studio.
3. That Mom and Dad design an infant Nappytabs line just for you (and our future children).
4. That Dance Spirit will be your first interview.
5. That you'll love dancing as much your parents do.
Wishing all the best to the happy couple! Click here to read about how they met and fell in love.
Dance News
Jan. 11, 2011 10:45AM EST
You know the story: A beautiful young woman meets a charming young man. They eye each other shyly from across the stage. He asks her to dance. She says yes. Three acts of pas de deuxing later, they are getting hitched and the audience is applauding wildly through 10 curtain calls. (Extra points if he's a prince, of course.)
Onstage, love is a many-splendored thing. But offstage, for some dancers, life is equally as romantic. In honor of Valentine's Day, here are a few of our favorite real-life love stories.
Julie Diana and Zachary Hench, principals at Pennsylvania Ballet
Where they met: It was the year 2000. Julie Diana and Zachary Hench were both dancers at San Francisco Ballet. The moment they set eyes on each other, they were infatuated. When the company took a tour to Barcelona, Zachary decided it was time for a first date. He chose the Temple of the Sagrada Family—a gorgeous landmark by architect Antoni Gaudí that Julie adored.
When they fell in love: "I've always loved Zach," Julie says. "He has an amazing sense of humor. He's charming and charismatic and a lot of fun." Says Zachary, deadpan: "I just thought you were hot."
The proposal: In 2005, Zachary got permission from Pennsylvania Ballet artistic director Roy Kaiser to do a special curtain call after a performance of Romeo and Juliet, which he and Julie were starring in. "Julie has always been a Shakespeare fan. She was an English major," Zachary says. When the curtain came down, one of Zachary's friends snuck him the engagement ring. He and Julie were onstage lying on the tomb, where their characters had just committed suicide. Julie had no idea what was going on—she suspected nothing.
The curtain rose to thunderous applause, and she and Zachary stood to take their bows as usual. But then Zachary knelt on one knee and offered her the ring. "I forgot I was onstage and wrapped my legs around his torso," Julie remembers. "The audience wasn't sure what was going on, so I held out my ring finger and pointed to it, and everyone went nuts!" The couple still gets letters from fans who remember the show. "Zach is not big on public displays of affection, so to do this in front of 3,000 people—he got points for that," Julie says.
The wedding: In the summer of 2006, Julie and Zachary tied the knot on a beach in Hawaii, surrounded by 40 of their closest friends and family members.
Anna Trebunskaya and Jonathan Roberts, competitive ballroom superstars
Where they met: Eleven years ago, Jonathan and Anna were both in need of new ballroom partners. Jonathan had seen Anna in competitions and was amazed by her. He managed to score a tryout with her in NYC—but it was a total disaster. "We were coming from different approaches," Anna explains. "I was born in Russia and he was born in California. He thought I was a cold-hearted Russian and I thought he was a stuck-up American!" For Jonathan, it was incredibly disappointing. "I had practiced for that tryout because she was a much better dancer than I was. But after five minutes, she said she didn't like my posture and didn't like my feet. She was very direct." In spite of the frustrations, Jonathan and Anna had two more tryouts together and eventually decided to give it a shot—and a glorious professional partnership was born.
The first date: Anna and Jonathan never went on a "first date." Rather, they found themselves having dinner together after practices to talk about their progress. Conversations became more personal and meaningful. Pretty soon their artistic partnership blossomed into a romantic one.
The proposal: On Valentine's Day in 2002, Jonathan took Anna to lunch. Afterward, he brought her to a park bench. It was a very muddy day, but Jonathan insisted on getting down on one knee. "I was nervous," he remembers. "We spent so much time together that I felt like she would say 'yes,' but you never know what might happen. That's what a guy has to do—put himself out there." Anna had no idea Jonathan was planning to propose that day, but there was no doubt in her mind that he was the man she wanted to marry. She said "yes" immediately.
The wedding: That same year, the couple wed in Jonathan's hometown in northern California. Jonathan's dad officiated the intimate ceremony in front of just 12 guests. The next day they held a large reception with 150 friends and family. But Anna says it wasn't anything fancy. "Everyone expected us to do a big production, but I just wanted to look pretty on my wedding day," she says.
Sarah Ricard and Seth Orza, Pacific Northwest Ballet
Where they met: These lovebirds met at a School of American Ballet summer course in NYC when they were 13. It was the summer romance teenagers dream about. "Seth was my first kiss," Sarah says. "Then we parted ways." They attended the same summer course together for two more years and remained friends until 1997, when they both stayed for SAB's year-round program.
When they fell in love: Seth was hanging out in the lounge of SAB's dormitories after Thanksgiving break when Sarah walked in. "She came in and I just knew I was in love with her," he says. "I even remember what she was wearing—a blue vest, jeans, and her hair was very curly. She looked beautiful."
For Sarah, there wasn't one particular moment. "It was my first love and it continued to work between us," she says. "Our relationship just kept growing."
The proposal: By October 2006, Seth was dancing for New York City Ballet and Sarah had just retired from the company. Seth had been planning to propose for months. He made reservations at the River Cafe, a restaurant in Brooklyn with beautiful city views. He arranged for a Town Car to pick them up—but a mini-van showed up instead. "I was like, 'Oh, no, this is not going to work out,' " Seth remembers. "But we got there, and I took her to the docks. Then everything was perfect, and I proposed."
The wedding: A year later, Seth and Sarah got married in Napa, CA. As for the honeymoon? It was spent in an empty 300-square-foot-apartment in NYC. Sarah had come out of retirement and joined Pacific Northwest Ballet with Seth, and the two were mid-move to Seattle, where the company is based.
Jackie Sleight and Dave Carter, L.A. mainstays
Where they met: Dave never thought he'd be a dancer—it was just something he loved to do. But after college, he decided to give it a shot. He moved to L.A. from San Luis Obispo, CA. At the time, Jackie was teaching at Dupree Dance Academy and was one of the hottest teachers in town. "I was overwhelmed that this woman had all this power," Dave remembers. "I said, 'That's the woman I want to take class from.' I took her class and basically fell in love." The two started dating in 1987—but kept it a secret from their friends for a year and a half. "We knew it was real, and we didn't want it to seem 'too L.A.,' " Jackie explains.
The proposal: Dave and Jackie had a very romantic courtship. Jackie sent Dave on scavenger hunts around L.A. They went to Disneyland. They wrote poems for each other. So when one of their friends showed up at Jackie's door dressed like a mafioso and demanded she "get in the car" to go to dinner with Dave, Jackie didn't suspect this date would be different from any of the other creative dates they had arranged for each other. But it was. That night at an Italian restaurant, Dave asked Jackie for her hand in marriage. She gave an emphatic "Yes!"
The wedding: Just like the explosive events at the couple's competition/convention L.A. Dance Magic, Jackie and Dave's wedding was the party of a lifetime. They tied the knot on October 6, 1990, and the wedding dance was a hit. Dave's mom is a ballroom dancer, so the couple took ballroom classes in preparation and rehearsed quite a bit. ("We had a show to do!" Dave jokes.)
Tabitha and Napoleon D'umo, in-demand choreographer duo
Where they met: Tabitha and Napoleon met in college at the University of Nevada, Las Vegas, in 1992. At the time, Napoleon was impressed by
Tabitha's maturity. But Tabitha found Napoleon shallow. "I thought he was a total jock player, but very attractive," she says, with a laugh. What changed her mind? They sat next to each other on a flight and had their first meaningful conversation.
First date: Napoleon may have been a ladies' man, but Tabitha was the first woman he took on a real date. "I took her to Red Lobster because I had no money," he remembers. Dinner may have been modest, but Tabitha was smitten. The two start dating right away.
The (first) proposal: Napoleon saved his money and bought a ski trip for himself and Tabitha in 1994. He planned to propose during the vacation. But as soon as they took off, he knew she had figured out his grand plan. He decided the time wasn't right and never popped the question. "When I went back to work, everyone was like, 'Where's the ring?' " Tabitha says.
The (second) proposal: One year later, Napoleon decided it was time to try again. He and Tabitha had a dance gig in Italy and decided to enjoy a mini vacation afterward. They took a train to Venice, where Napoleon planned to propose on a gondola. "But the gondola driver was so rude and everything was really stinking," he says. The mood was killed, so Napoleon waited again. "For six days, I had this ring burning a hole in my pocket," he says. Every time they went to the airport, the ring would set off security, and Napoleon would have to quietly tell the guard he couldn't pull the ring out or Tabitha would see. Finally, in Rome, Napoleon took Tabitha to a fountain two miles from their hotel—but when they got there at midnight, it was packed with tourists, so they went to dinner instead. Would Napoleon ever find the right moment? Oh, yes.
Tabitha recalls: "We went to dinner, and he bought flowers from one of the guys walking by. Then we went back to the fountain. He told me to close my eyes and make a wish. While my eyes were closed, Napoleon placed the ring in the fountain."
Napoleon: "What did you wish for?"
Tabitha: "That we would be together forever."
Napoleon: "I wish we'd be together forever too."
When she opened her eyes, he pulled the ring out of the fountain and got down on one knee. The tourists around them started clapping and cheering.
The wedding: One year later, the pair got hitched in Las Vegas. "We're theatrical people, and we love to put on a show," says Tabitha. "All of our friends are entertainers, so we made our wedding party do a little dance."