Site Network
Dec. 10, 2018 09:01AM EST
Photo credits, clockwise from bottom left: Peter Mueller, Courtesy Cincinnati Ballet; Jayme Thornton; Jochen Viehoff, Courtesy Stephanie Troyak; Karolina Kuras, Courtesy National Ballet of Canada; Natasha Razina, Courtesy State Academic Mariinsky Theatre; Kim Kenney, Courtesy Atlanta Ballet; Jim Lafferty; Arian Molina Soca, Courtesy Pennsylvania Ballet; Altin Kaftira, Courtesy Dutch National Ballet; Scott Shaw, Courtesy Shamar Wayne Watt
What's next for the dance world? Our annual list of the dancers, choreographers and companies that are on the verge of skyrocketing has a pretty excellent track record of answering that question.
Here they are: the 25 up-and-coming artists we believe represent the future of our field.
Keep reading...
Show less
Just for Fun
Jun. 12, 2018 04:55PM EST
"Off Kilter" has real dancers playing dancers. Still courtesy CBC Arts.
"It just...always looks better in my head."
While that might not be something any of us would want to hear from a choreographer, it's a brilliant introduction to "Off Kilter" and the odd, insecure character at its center, Milton Frank. The ballet mockumentary (think "The Office" or "Parks and Recreation," but with pointe shoes) follows Frank (dancer-turned-filmmaker Alejandro Alvarez Cadilla) as he comes back to the studio to try his hand at choreographing for the first time since a plagiarism scandal derailed his fledgling career back in the '90s.

Keep reading...
Show less
National Ballet of Canada principal Svetlana Lunkina being amazing (via Instagram)
Yes, we all know dancers are strong. But sometimes it takes a truly epic workout video to remind us JUST HOW INSANELY STRONG they actually are.
Behold, National Ballet of Canada principal Svetlana Lunkina's oh-so-casual pre-class exercise:
Keep reading...
Show less
Popular
Oct. 04, 2017 10:33AM EST
A screenshot from San Francisco Ballet's 2015 World Ballet Day live stream
World Ballet Day is BACK, dance friends! Tomorrow, October 5, five top-notch ballet companies—The Australian Ballet, the Bolshoi Ballet, The Royal Ballet, The National Ballet of Canada, and San Francisco Ballet—will host a 22-hour (!) live stream, bringing viewers inside their classes, rehearsals, and backstage preparations. Ten additional ballet companies will join the hosting orgs for guest appearances. It's the fourth year we've been gifted this ballet present, and 2017's version looks to be bigger and more beautiful than ever before.
Keep reading...
Show less
It's Sunday, which means it's time to zen out, especially with the craziness of Thanksgiving just around the corner. And what better way to do so than watching a beautiful dance video? Dance photographer Karolina Kuras, who photographs the National Ballet of Canada, was recently profiled by Cottage Hill Magazine, covering everything from her photography career, her background in dance and how she gets the perfect shot every time. Check out the lovely video below, and catch the full feature here!
How do you sum up an evening that includes performances of stage-shaking passion; heartfelt speeches that make you laugh and then make you ugly cry; and an inescapable sense of beautiful, joyful, warm-and-fuzzy #dancerlove?
You can do it the way legendary Merce Cunnigham dancer Valda Setterfield did it last night: By declaring that there's nothing better than being in a room full of dancers, whom she called the world's bravest, most generous souls. (Not too shabby.) Or you can do it in six words: Welcome to the Dance Magazine Awards.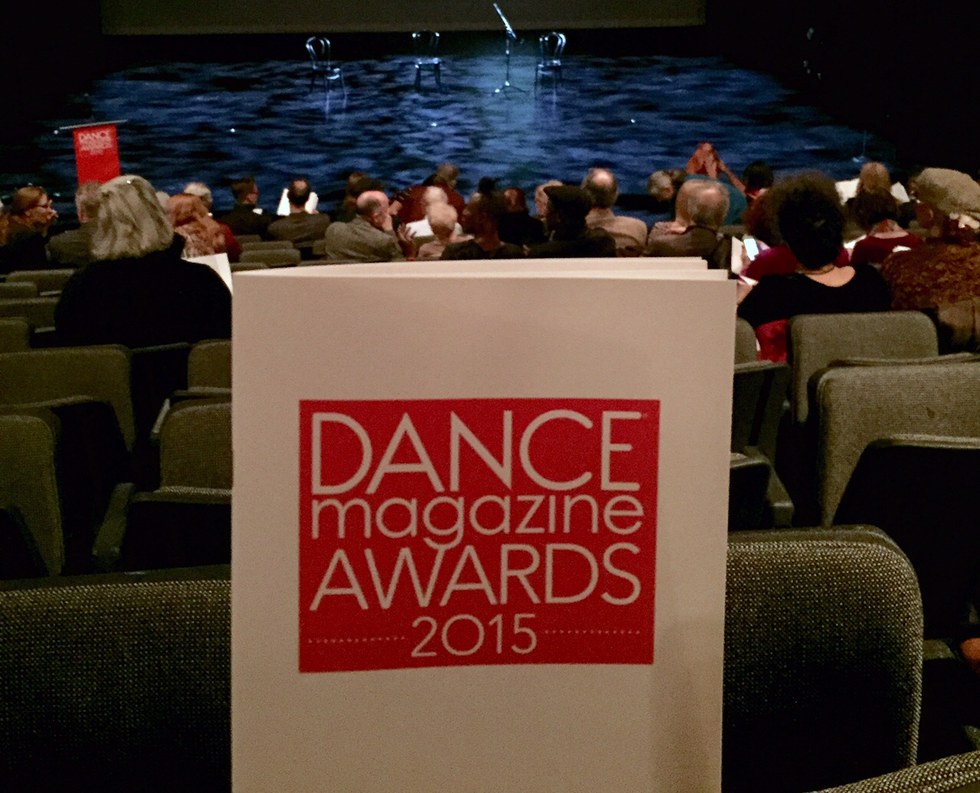 Yay!
Last night's ceremony marked the DM Awards' 61st anniversary, and this year's crop of honorees included luminaries from all corners of the dance world. None other than Mikhail Baryshnikov graced the stage to present the evening's first award to Karen Kain, one of the National Ballet of Canada's loveliest ballerinas and now its artistic director. Kain was one of the first people Baryshnikov met after he defected from Russia, and the two have kept up a beautiful friendship for decades—though Baryshnikov lamented in his speech that he was too short to ever dance with her. (That honor went, instead, to slouches like Rudolf Nureyev.)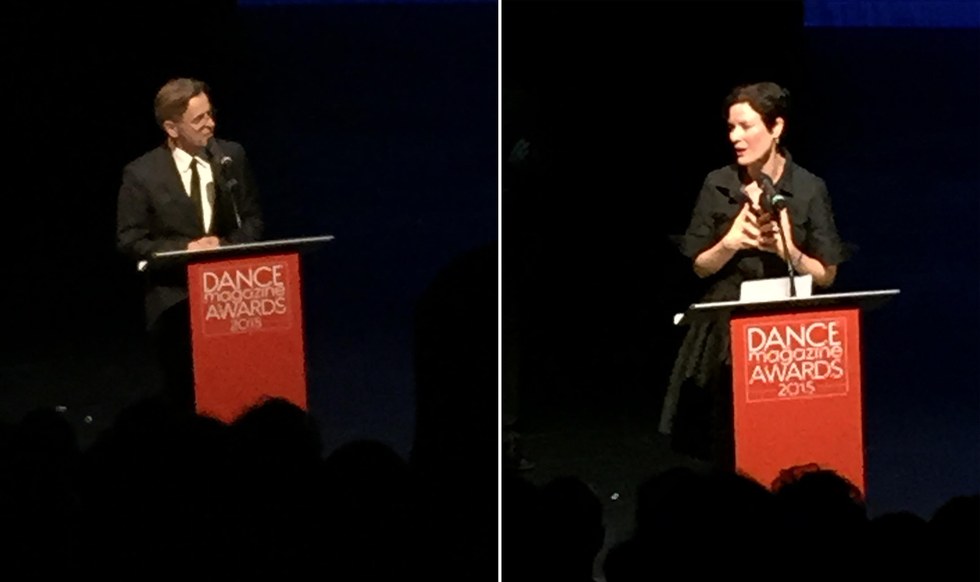 Baryshnikov and Kain: BFFLs.
Also representing #teamballet was honoree Marcelo Gomes, the gorgeous American Ballet Theatre principal and choreographer who charms the heck out of both audiences and his adoring ballerinas. We were treated to a pas de deux from Gomes' recent premiere for ABT, AfterEffect—lushly danced by Cassandra Trenary and Thomas Forster—that put Gomes' deep understanding of the intricacies of partnering on display. And recently retired ABT star Julie Kent made a sweetly teary speech in which she noted that even babies "immediately feel safe in Marcelo's arms, just as I do." D'awwwwww.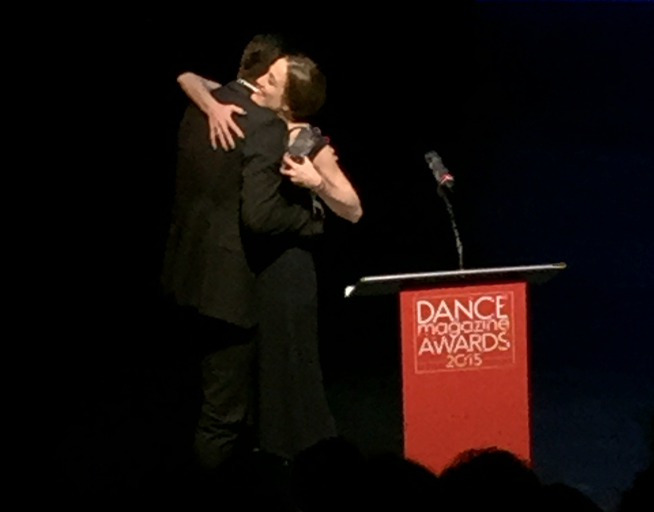 Kent in her safe place
Setterfield (wearing the world's most amazing plaid pantsuit ensemble) paid tribute to David Vaughan, a dancer who basically invented the job of "dance archivist" and has served in that role for Merce Cunningham's company since 1976. Now 91, Vaughan shows zero signs of slowing down: In his lovely acceptance speech, he talked about the fact that his old friend, dance artist Pepper Fajans, had convinced him to return to the stage next month. May we all be that awesome in our tenth decade.
We saw a vividly drawn excerpt from honoree Jawole Willa Jo Zollar's Walking with 'Trane—a  musing on John Coltrane's legacy—performed by Zollar's company, Urban Bush Women, which is celebrating its 30th anniversary this year. Zollar spoke movingly about the fact that reaching a "point of stability" in one's career was actually a bad sign: On a heart monitor, ups and downs indicate a pulse, while death is a stable flatline. She urged everyone to embrace life's natural rises and falls—though now, she added, whenever she's feeling low, she can look at her Dance Magazine Award and say, "Jawole Willa Jo Zollar, you are a bada**." FACT.
The highlight of highlights for me, though, was watching flamenco virtuosa Soledad Barrio blaze through Solea, accompanied by three masterful musicians (and the "Olés!" of the appreciative crowd). Tattooing the stage with her heels, slicing the air with her arms, searing our souls with the depth of her passion, Barrio illustrated exactly what the DM Awards are all about (Charlie Brown): honoring the most extraordinary of extraordinary dance artists, the people whose brilliance is life-enhancing and life-affirming and, sometimes, life-changing.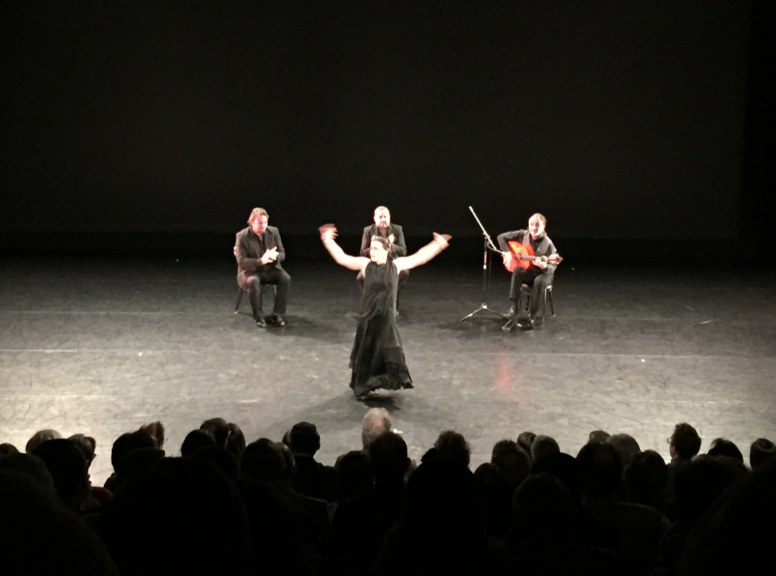 Olé, Sole!
Check out video highlights from the awards here:
It's no secret that we're as obsessed with pretty costumes as we are with the pretty dancers who wear them. There's just something so magical about following the life of a tutu, or going behind the scenes to see how costume shops take their creations from the page to the stage. Costumes also hold a special place in every dancer's heart.
Which is why, when we stumbled upon this Fashion magazine article, we did a little happy dance. Fashion followed National Ballet of Canada principal Greta Hodgkinson (who's celebrating her 25th year with NBoC and her 20th year as a principal in the company) into the wardrobe room—and had her round up her favorite costumes of all time. Which was no small feat, considering Hodgkinson has danced pretty much every principal role in NBoC's classical repertoire. NBD.
Keep reading...
Show less
Is there anything more mesmerizing than watching a ballerina prep her pointe shoes? We're endlessly fascinated by the destruction, alterations and care that go into achieving that perfect fit.
In this video, National Ballet of Canada first soloist Jenna Savella gives us a glimpse into her own preparatory process. Darning, three-quartering and shaving the sole—it's all there.
Even though these videos aren't meant to be a tutorial, they still serve as a lovely demystifying tool. Not every professional dancer is born with banana feet that are made to spend eight hours a day on pointe. They cut, strip, sew and bend to find their perfect fit—and most switch their shoe a few times throughout their career, as their feet change.
So the next time you feel like flinging your pointe shoes against the wall in frustration, watch this video for inspiration and just remember that it takes time and work to make them feel like an extension of your body.
All dancers know that the right combination of foods can provide that extra boost of energy they need for a long class or performance. We all have our own particular favorite fuels, and these four lovely ballerinas from the National Ballet of Canada shared their go-to recipes with The Coveteur.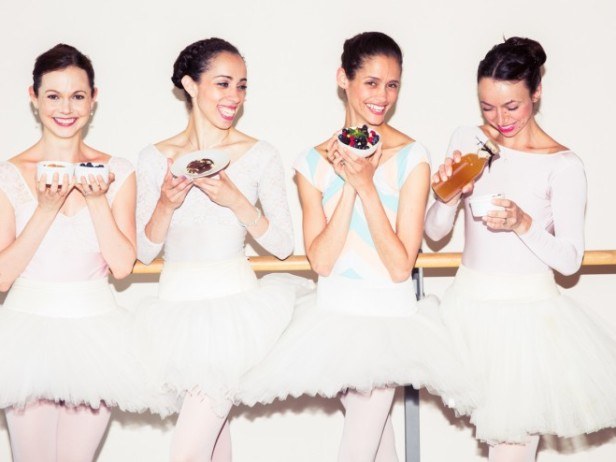 (From left) Jillian Vanstone, Jordana Daumec, Tanya Howard and Andreea Olteanu of the National Ballet of Canada (photo via The Coveteur)
The recipes themselves are great and super easy to prepare, and the pictures—we can't stop looking at them. Seriously, all we want right now are ten plates of eggs and fruit salad.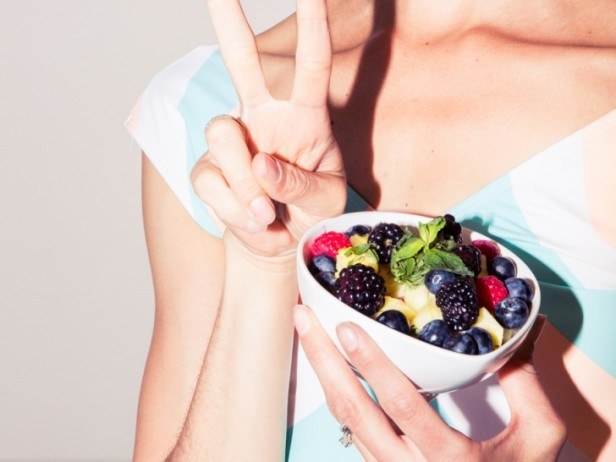 Yes, please. (Photo via The Coveteur)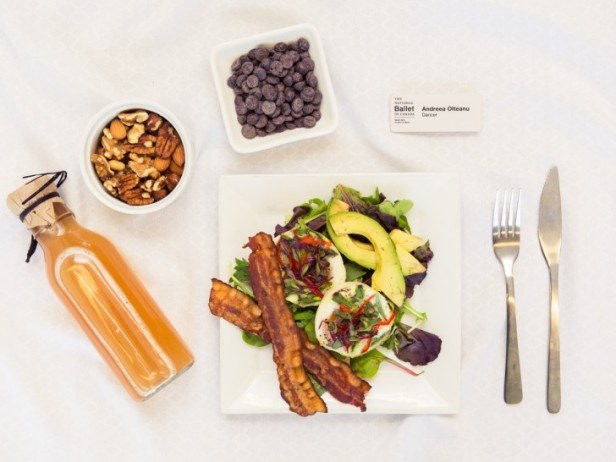 Also yes, please (three plates of this, actually). (Photo via The Coveteur)
Get Dance Spirit in your inbox
We told you it was coming—and now it's finally arrived!
Today is the first-ever World Ballet Day, which means it's time to watch dancers from five of the world's greatest companies—the Australian Ballet, the Bolshoi Ballet, the Royal Ballet, the National Ballet of Canada, and San Francisco Ballet—taking class and rehearsing. The up-close-and-personal experience is provided by an ongoing live stream. Each company is taking over the stream in turn, with the feed beaming first from Australia and then traveling across the world until it reaches San Francisco.
Actually, my tenses are a little off here: As I write this, the Australian, Bolshoi and Royal Ballets have already had their moments of live stream glory. But never fear: The whole thing will be available to watch on YouTube for 48 hours once SFB's section concludes. And even after that grace period, various highlights from the extravaganza will remain up online.
Right now The National Ballet of Canada is up at bat—take a look! And please apologize in advance to your teachers, because I'm guessing it's going to be hard to get any work done today...
It seems like everywhere you look—from Broadway shows to the Radio City Christmas Spectacular—dance performances are getting more and more high-tech. A top-notch production isn't complete without a giant LED screen or an elaborate video system, creating effects directors could only dream about five years ago.
That's definitely true of Christopher Wheeldon's fanciful ballet Alice's Adventures in Wonderland, which uses all kinds of clever digital projections to bring the fantastic weirdness of Wonderland to life. I caught the National Ballet of Canada's performance of Alice's Adventures in NYC last night, and I was blown away by all the amazing technological tricks involved.
Here's the thing, though: The parts of the show that really made me say "wow" didn't involve that kind of modern-day wizardry. Yes, the video projection that makes it look like Alice is in free-fall down the rabbit hole is beautiful. But it's the ingeniousness of the wooden puppet version of Alice, who swims gracefully through that digital sea, that makes the moment stick in the memory. (The puppet designer knows his ballet, too: Puppet Alice has beautiful turnout and extension!) Yes, the digital playing card parade that marches across a giant screen brings us immediately into the Queen of Hearts' world. But it's the tutus worn by the dancer "cards"—with each stiff skirt shaped like either a diamond, heart, spade or club—that makes that world seem richly real.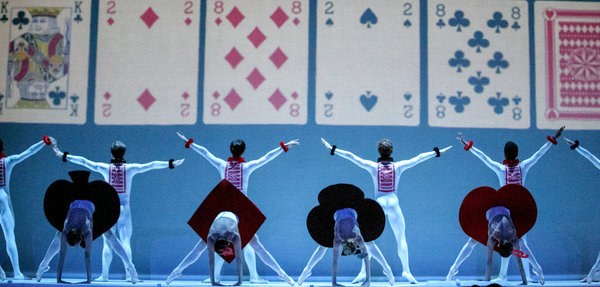 National Ballet of Canada in Alice's Adventures (photo by Bruce Zinger)
Interestingly, one of the most vivid characters in the show is played not by a dancer, but by a bunch of disembodied puppet parts: the Cheshire Cat. His head and tail and legs rarely appear onstage at the same time, but so clever is the puppetry that we're immediately able to understand why Alice is captivated by him.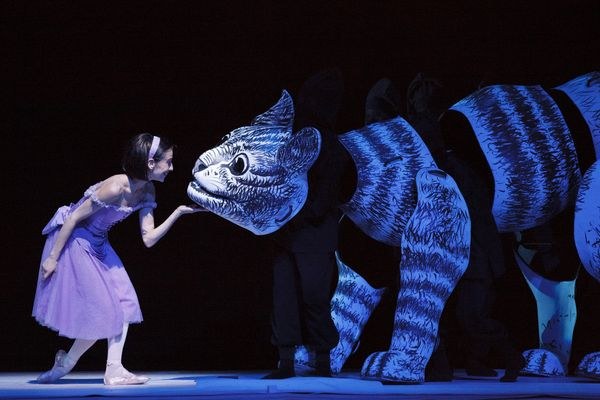 Alice (Sonia Rodriguez) with the Cheshire Cat (photo by Bruce Zinger)
I'll never resent a show for using spectacular digital effects. They're awesome, and they're helping the dance world move into the future. But there's nothing like good old-fashioned stagecraft to delight your inner 5-year-old. And 5-year-olds are tough critics.
So, this is super-duper awesome: October 1st will be the first ever World Ballet Day! I know, I know—it's not like you need another reason to celebrate the most elegant of art forms. But this is going to be a pretty amazing celebration.
Five of the world's biggest ballet companies have teamed up to offer a crazy-good live streaming event on the 1st. Each of the troupes—the Australian Ballet, Bolshoi Ballet, Royal Ballet, National Ballet of Canada and San Francisco Ballet—will host a four-hour stream, with the link passing across time zones from Melbourne to San Fran. We'll get peeks at all kinds of classes and rehearsals—windows into what ballet company life is like around the world. We'll see, in other words, how all these companies speak the same ballet language with different accents.
Where did this idea come from? Well, remember last year, when the Royal Ballet hosted a nine-hour behind-the-scenes live streaming marathon? This is a replication of that idea on a larger scale. And don't worry about waking up in the middle of the night to watch what's happening in Melbourne: The whole day's stream will be repeated on YouTube, just as the Royal's broadcast was, for catch-up purposes. (And if you really miss the boat, select highlight clips will still be available after that.)
More information about World Ballet Day is apparently coming soon—stay tuned! In the meantime, check out the official trailer below, and read a little more about the project here, here, here and here.
Nothing says "happy Friday" quite like beautiful ballet men, am I right?
The National Ballet of Canada just put out a video featuring three of its male dancers showing us what they can do. Since those dancers are principals Guillaume Côté and Piotr Stanczyk and first soloist Keiichi Hirano, "what they can do" is pretty extraordinary.
While we like to joke about "man candy"—and don't get us wrong, these are some very attractive (not to mention shirtless) guys—what's most striking here is the dancers' combination of athleticism and artistry. You can see, often in gorgeous slow motion, the moments when the two intersect. It's movement that truly moves you.
Have a great long weekend, everyone!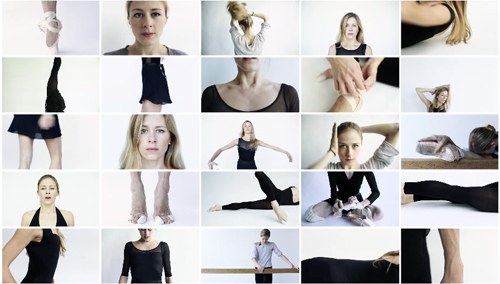 A screen shot of Christopher Wahl's The Heather Project
Best thing the Easter Bunny brought us this year? A video project starring gorgeous National Ballet of Canada principal Heather Ogden. It's a super-cool portrait created by photographer Christopher Wahl, who describes it this way: "An extension of my still portrait work, The Heather Project is a photographer's view of the moving image, as if to point the camera but not press the button."
Now live on the website TheHeatherProject.org, 25 small photographs of the ballerina come to life, opening into larger and longer videos, and giving us a glimpse of Ogden's daily routine. It's easy to get lost on the site for hours—you just have to check it out.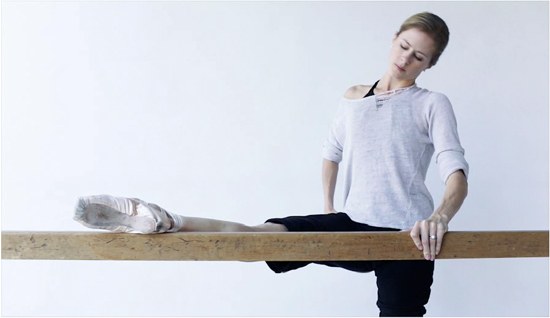 A still from one of Wahl's extended vignettes
Dec. 09, 2013 10:57AM EST
About a year ago, National Ballet of Canada principal Guillaume Côté teamed up with Krystal Levy Pictures and director Ben Shirinian to create the short film "Lost in Motion." It's an exploration of the unique powers of the ballet dancer's body—and Côté's body is, um, a pretty amazing specimen.
Now the same team has released a sequel to that first video. "Lost in Motion II" stars Côté's equally gorgeous wife, NBC principal Heather Ogden. It's swirly and swoony and totally hypnotic—pretty much guaranteed, in other words, to cure your case of the Mondays:
And in case you didn't see the original (or just want to watch it again, which, we don't blame you): Here it is. Enjoy!