Sep. 20, 2019 03:24PM EST
You and your bestie are going to dance right through this list. (Getty Images)
ICYMI: National Dance Day is tomorrow, September 21! We're sure you already know all about the official NDD challenge and the big events happening in L.A. and Washington DC. But there are plenty of outside-the-box celebration options, too. Here are nine bonus dance-filled ways to get festive tomorrow.
Dancer to Dancer
Sep. 05, 2019 10:26AM EST
#4: The official routine was choreographed by Matt Steffanina (center)! (Courtesy American Dance Movement)
Did you hear the news, dance friends? National Dance Day has moved! Rather than falling at the end of July (as it has since 2010), going forward the holiday will be held on the third Saturday in September—September 21st this year. And that means you still have a little more than two weeks to plan your celebrations.
NDD 2019 promises to be bigger and better than ever. Here are five reasons to get hyped about our favorite holiday.
Popular
Jul. 09, 2019 07:48PM EST
NDD routine dancers (from left) Chelsie Hill, Jashaun Gamble, Tatiana McQuay, Matt Steffanina, Hannahlei Cabanilla, Criscilla Anderson and Will Simmons (courtesy American Dance Movement)
Grab your dancing shoes and put on those thinking caps—the dance video we've been waiting for is here!
American Dance Movement (formerly known as Dizzy Feet) just released this year's Official National Dance Day (NDD) routine, and it has us feeling electric.
The routine is choreographed by none other than Matt Steffanina (who's casually the most-followed dancer in the world, thanks to his 10 million YouTube subscribers), and set to the high-energy Dua Lipa/Silk City collab "Electricity."
Dance News
Jun. 06, 2019 10:02AM EST
Dancers celebrating National Dance Day (via Instagram)
Back in 2010, "So You Think You Can Dance" producer Nigel Lythgoe established National Dance Day, an annual celebration of all things dance and a fundraiser for the dance education nonprofit then known as the Dizzy Feet Foundation. Since then, NDD has become a phenomenon. Each year, dancers and dance fans have learned an official NDD routine, showed up in droves for high-profile NDD events at the Kennedy Center and Segerstrom Center for the Arts, and hosted countless NDD parties of their own—always on the last Saturday in July.
But there are big changes afoot (see what we did there?) this year. The 2019 celebration will jump forward a few months on the calendar, to Saturday, September 21st. And Dizzy Feet has undergone an evolution of its own, with a new focus on the health benefits of dance, a new collaboration with the American Heart Association, and a new name: American Dance Movement.
We caught up with Lythgoe to talk about the reasons for all the ch-ch-ch-ch-changes.
Dance News
Jul. 03, 2018 11:05AM EST
Start by learning this year's official routine, choreographed by Mandy Moore. (via YouTube)
It's the most wonderful tiiiiime of the year—and by that, we don't mean the winter holidays (obviously), or even the Fourth of July (though yes, tomorrow is the day to wear your most patriotic leotard). Nope: We're talking about the approach of National Dance Day! On July 28th, dancers and dance fans from across the US of A will celebrate this art form we all love so much. And there are tons of ways for you to get in on the dance action.
Dance News
Aug. 02, 2017 04:42PM EST
This Nationals season, Dance Spirit followed four talented dancers from The Dance Awards, NYCDA, Showstopper, and Starpower for an inside look at everything that goes into the biggest competitions of the year. Next up: JT Church from Club Dance in Mesa, AZ, who competed at The Dance Awards in Las Vegas for the first time this year. (All photos courtesy Leslie Church.)
Popular
Jul. 24, 2017 10:43AM EST
Dancers celebrating National Dance Day 2016 in Boston (via YouTube)
Happy (almost) National Dance Day, everybody! 2017's "Dance Christmas" falls on Saturday, July 29—and there are all kinds of ways for you to join the party.
Dance News
Mar. 23, 2017 06:59AM EST
Dancers (including director Damian Woetzel, right) rocking out at the Vail International Dance Festival. Photo by Caitie Kakigi.
National Dance Day is this Saturday, July 27—and the town of Vail, Colorado, home of the awesome Vail International Dance Festival, is celebrating in style with a three-hour dance-a-thon fundraiser. (It'll benefit four dance-y organizations, including the Festival.)
While anyone and everyone is invited to participate, the event boasts some serious dancelebrities, too. There'll be performances by Vail IDF artists Tiler Peck, Robert Fairchild and Lil Buck, and internet sensation Matt Harding (from the great/hilarious "Where the Hell is Matt?" series) will be filming for his next video during the event. Not sure your moves are up to par? Lessons in everything from hip hop to line dancing will also be given throughout the day.
The dance-a-thon will run from 4-7 pm at the Solaris Plaza in Vail Village. But non-Coloradans can get in on the National Dance Day fun, too! Click here to learn the official NDD routines, and visit the NDD Facebook page to find dance-y events happening near you.
Jul. 30, 2016 07:00AM EST
At long last, our favorite day of the year has arrived: National Dance Day! Even though we know all of your lives are all dance, all the time, there's still something special about having an entire day devoted to the greatest thing ever. (And we especially love to see how everyone celebrates on social media!) If you aren't hyped yet, then you will be after watching the official 2016 National Dance Day choreo video, with some of our favorite "SYTYCD" all-stars (and Mackenzie Ziegler) leading the way. Check it out below, and make sure to tag us in all of your adventures on Instagram. Happy dancing!
Jul. 25, 2015 11:00AM EST
Happy National Dance Day, fellow dancers! We asked you the other day how you'd be celebrating our favorite holiday, and while it seems like a lot of you will be taking classes, performing and dancing anywhere and everywhere you can, we're here to suggest an alternative: Ballet binge-watching marathon, anyone?
Nothing's more frustrating than searching for a ballet on YouTube only to find a bunch of short clips. Well, we've done the hard work for you! Behold, our National Dance Day YouTube roundup of the best ballets presented in their entirety. Excuse us while we sit in a dark room with a bowl of popcorn for the next 8 hours:
1. Paris Opéra Ballet performing Jerome Robbins' Dances at a Gathering
This beautiful, light and energetic piece by Robbins is set to a gorgeous Chopin piano score. The stunning étoiles of the Paris Opéra Ballet effortlessly dance their way through this technically demanding choreography—and they do it with grace, musicality and presence.
2. Paris Opéra Ballet performing George Balanchine's Agon
Another stunning display of artistry from POB. This Balanchine classic is widely considered to be one of ballet's most timeless, masterful works.
3. The former Kirov Ballet performing Swan Lake
Yulia Makhalina absolutely shines as Odette/Odile in this Kirov Ballet production of Tchaikovsky's classic Swan Lake.
4. Svetlana Zakharova and Roberto Bolle in Giselle
Superhuman Zakharova and her drool-worthy feet are picture-perfect in the Bolshoi's version of Giselle. Throw Roberto Bolle and his star quality into the mix and you've got an hour and a half of ballet brilliance.
5. George Balanchine's Tchaikovsky Pas de Deux 
The sublime Darcey Bussell and Zoltán Solymosi dance Balanchine's 8-minute piece, filled with excitement, fish-dives and fouettés.
Get Dance Spirit in your inbox
Jul. 26, 2014 07:00AM EST
This newly viral dancing grandpa has the right idea.
First things first: Happy National Dance Day!
One of our favorite things about today is that everyone—young or old, trained or untrained, graceful or clumsy—is encouraged to drop everything and dance. And while most of us don't have canes to throw in celebration of this most glorious of days (seriously, how awesome is this guy?!), we do have something else to toss aside: our phones.
Mari Madrid and Chris Martin of Choreo Cookies really say it best in their new video, "Virtual Insanity." It asks: What would happen if we all put our phones, tablets and laptops aside for a sec? Would we find a better way to connect with one another? Call us biased, but we think the ensuing flash mob pretty much tops any text, Facebook post, tweet or Instagram.
So here's our challenge for today: Lose the phone, lose the tablet, lose the laptop (unless you're using it to learn the official NDD routines, of course), and make today all about dance!
Jul. 24, 2014 07:40AM EST
I've gotta say, " So You Think You Can Dance," last night's show was a little underwhelming. On a scale of 1 to 10, the Top 16's talent level is about a 13. But the choreography—on average—scored close to a 6 in my book. Obviously, there were the exceptions, like Mandy Moore's routine to "Foolish Games" by Jewel (#throwback!), and Nakul Dev Mahajan's spirited Bollywood number, "Dilliwaali Girlfriend." But a lot of the show was just, eh. So, let's just skip to the good, shall we? Here are my top five highlights from last night's show:
Bridget, Carly, Jacque, Jessica, Marcquet, Ricky, Rudy and Teddy in Travis Wall's routine to "Love Runs Out" (photo Adam Rose/FOX)
1. The group routines. Beginning with Mandy Moore's jazzy and sultry "Take Me to the River," the large and mini group pieces were the clear highlights of the evening. Travis Wall's band of outlaws dancing to One Republic's "Love Runs Out" was particularly captivating: The grittiness and raw intensity read really well on screen. After the performance, Nigel mentioned the Emmy Awards—could this be Travis' year (again)?
Work it, Tanisha! (photo Adam Rose/FOX)
2. Tanisha Belnap. This girl. Like guest judge Misty Copeland noted, it was clearly Tanisha's night. Not only did her performance in Dave Scott's "Good Kisser" completely kill it, her featured role in Sonya Tayeh's group number to Bjork's "So Broken (Live)" showed a completely different side of this young artist. She may have been in the bottom six this week, but this firecracker clearly isn't going home anytime soon.
3. Cat Deeley's one liners. It seems like Cat always knows just what to say, even when a duet totally tanks. But when things go well, Cat's humor is on point, and her jokes last night did not disappoint. From the line after Travis Wall's "The Leaving Song"—"Talk about getting up on the wrong side of the bed!"—to her Waynes World-esque scene change and her note about Ricky Ubeda's "guy-liner," the British babe had me laughing through it all.
Mary Murphy, Nigel Lythgoe and Misty Copeland (photo Adam Rose/FOX)
4. Misty Copland as a guest judge. Last night, the American Ballet Theatre soloist continued her reign as best guest judge. Her criticism was spot on, and her corrections were specific enough for each dancer to apply next week. Also: Can I please have your arms, Misty?
5. Baby pictures! The episode included footage of each dancer as a tiny mover and shaker. Needless to say, everyone was adorable. But I'd like to make two special shout-outs: Jacque's pink fur get-up and Emily's march to her own drum. Awwww!
Bridget and Emilio—and the bed. But why was it even there?
(photo Adam Rose/FOX)
We'll miss you Marcquet and Brooklyn!
(photo Adam Rose/FOX)
Of course, there were also a few awkward moments last night. And I'm not just talking about Brooklyn and Marcquet's untimely leave from the show. (I know, I know, almost everyone has to leave at some point. But Marcquet had the chops to go all the way, and Brooklyn's hip-hop performance in Willdabeast's choreography showed her jaw-dropping versatility. #Unfair.) But the real awkwardness? The useless bed post in Travis Wall's "The Leaving Song," as well as the chair in Dmitry Chaplin's "I Put A Spell On You." We've asked what competition judges hate to see the most in dancers' routines, and uncorrelated and unused props almost always rank near the top. So what gives?
Next week, four(!) dancers will have to leave at the end of the show. Bummer, right? In the meantime, what did you think of last night's episode? What was your favorite moment? Let us know in the comments, and come back next week for our recap of the Top 14 episode.
Jul. 21, 2014 10:32AM EST
It's National Dance Day time! The annual event, launched in 2010 by Mr. Nigel Lythgoe and his Dizzy Feet Foundation, will be held on Saturday, July 26 this year.
Dancers getting their groove on in L.A. at NDD 2012 (photo Valerie Macon/Getty Images North America)
As always, there are plenty of ways for you to get in on the celebrating. If you're based in or around L.A., NYC or Washington, D.C., you're in particular luck: There'll be large-scale events in each of those three locations. The flagship L.A. celebration, held in Grand Park, will run from 10 am to 3 pm and include classes in all kinds of styles, from hip hop to salsa to afro-cuban dance. In NYC, you'll be able to rock out with fellow dancers at Lincoln Center plaza beginning at 4 pm. In D.C., there'll be a series of performances and demonstrations at The Kennedy Center starting at 4 pm, celebrating the 24th anniversary of the Americans with Disabilities Act—and led by AXIS Dance Company, which is renowned for its physically integrated dance.
If you're not near one of those metropolises (metropolii?), though, no worries! There are all kinds of other dance events happening across the country. Click here for the full list.
And no matter where you are, you can always participate in NDD by learning one of the official routines and posting your video to the Dizzy Feet Facebook page. We've included the instructional videos for this year's routines below. (The advanced number features choreography by Chris Scott to Mark Ballas' hot new single "Get My Name"—not too shabby.)
Have fun celebrating, everyone!
Beginner routine
Beginner routine (seated)
Advanced routine
Jul. 27, 2013 07:00AM EST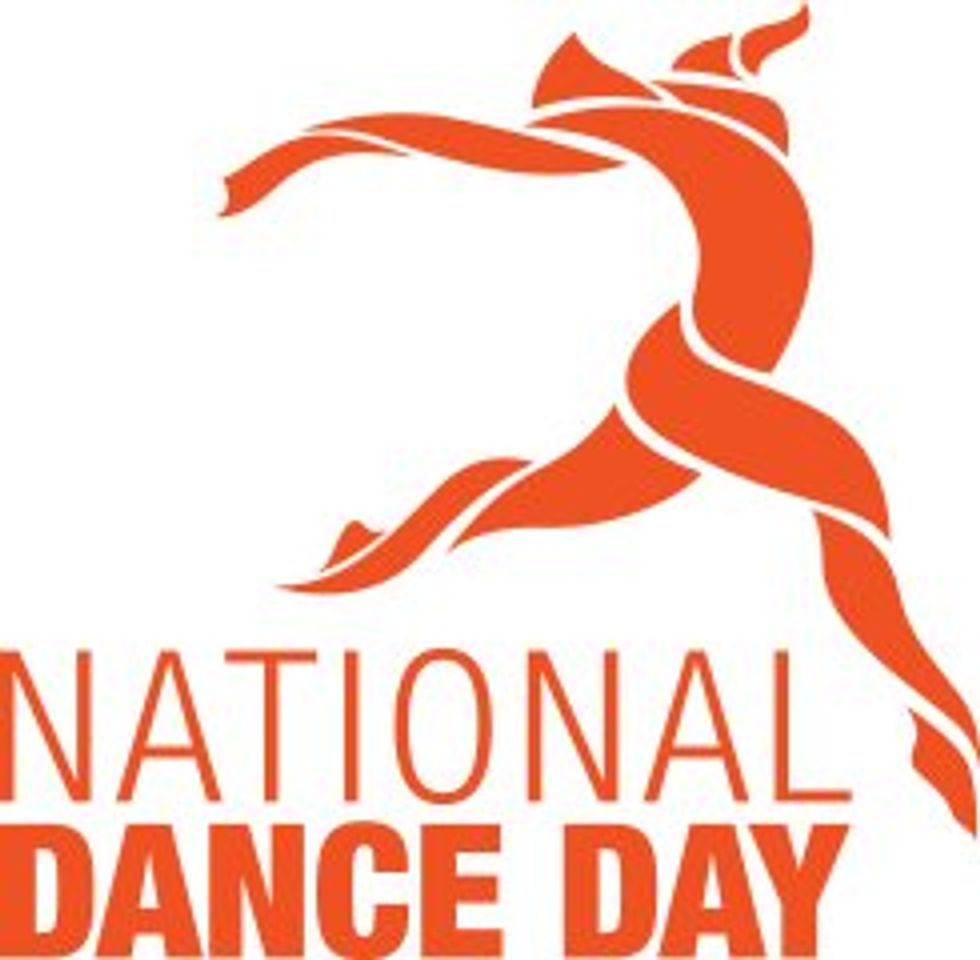 Today is 
National Dance Day
! We're sure you already knew that—you learned the
official NDD routines
weeks ago, right? (Or at least watched
Nappytabs and Baby London perform
them!)
Well, now it's time to gather all your friends (dancers and non-dancers alike!) and have a giant dance party. How do you pull this off? With Dance Spirit's NDD Playlist, of course!
These gotta-get-up-and-dance songs—a mix of new and classic favorites—are bound to get the party started. Enjoy!!
"The Power of Love" by Celine Dion.

"Womanizer" by Britney Spears

"Run the World (Girls)" by Beyoncé

"The Edge of Glory" by Lady Gaga

"A Little Party Never Killed Nobody" from The Great Gatsby soundtrack

Anything and everything by Pitbull

"You Don't Know You're Beautiful" by One Direction

"You Can't Stop the Beat" from Hairspray

"Get On Your Feet" by Gloria Estefan

"Dancing Queen" by ABBA

"Can't Hold Us" by Macklemore/Ryan Lewis

"Crazy in Love" by Beyoncé

"I'm a Slave 4 U" by Britney Spears

"Please Don't Stop the Music" by Rihanna

"Don't Stop 'Til You Get Enough" by Michael Jackson

"Boogie Shoes" by KC & the Sunshine Band

"No Diggity" by Blackstreet

"Motown Philly" by Boyz II Men

And of course, "I Gotta Feeling" by The Black Eyed Peas. Mazel tov!
Now you tell us: Which song would you add to the playlist? Which is your fave?
Dance News
Jul. 27, 2012 11:45AM EST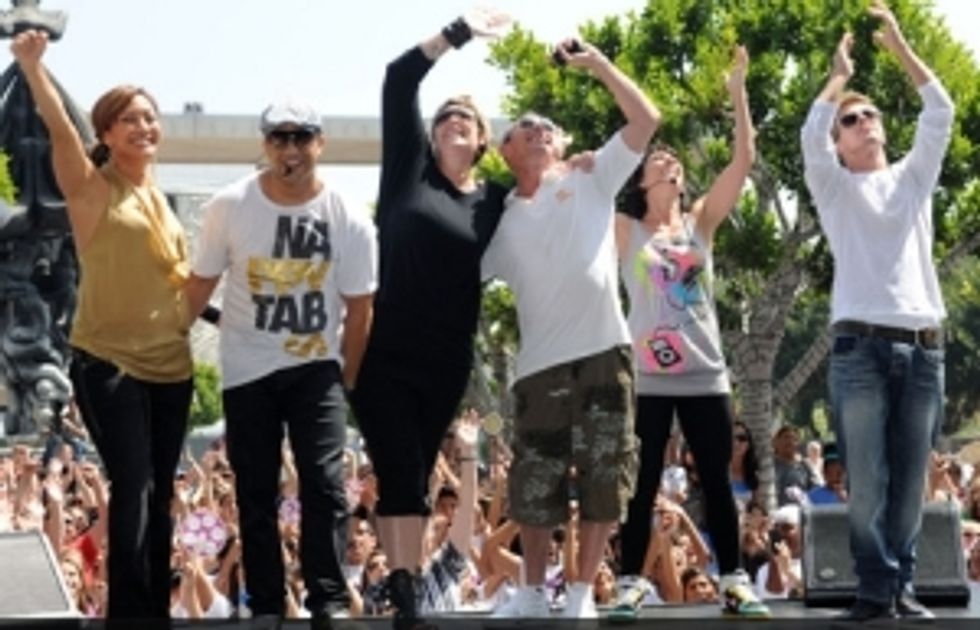 It's almost here! The dance world will celebrate the third annual National Dance Day tomorrow, July 28th, and there are all kinds of ways for dance fans to get in on the fun.
First of all: Have you learned the two official NDD routines yet? Check out the hip hop number, taught by "So You Think You Can Dance" alum Lauren Gottlieb with assists by fellow "SYTYCD"-ers Lauren Froderman and Brandon Bryant, and the Everybody Dance routine from Zumba Fitness. There's still time to upload your own videos of both routines!
West Coasters in particular have NDD options galore. From 10 am to 12 pm tomorrow, join The Dizzy Feet Foundation at Grand Park in Los Angeles for your chance to perform both the group routines with a host of fellow dancers. Then stick around for a bunch of free dance classes and performances, running until 2:30 pm.
That evening, head over to Dizzy Feet's Celebration of Dance Gala at the Dorothy Chandler Pavilion. The show will feature performances of classic "SYTYCD" routines (Mia Michael's "Bench" routine, anyone??) plus guest appearances by the likes of Alvin Ailey American Dance Theater, American Ballet Theatre and The LXD. Get your tickets here.
Are you on the other side of the country? No worries: The National Museum of Dance in Saratoga Springs, NY, is hosting its own NDD celebration on Sunday, the 29th at 2 pm. The two-hour "dance-a-thon" will be led by top instructors from all over. To cap things off, there'll be a hot ballroom performance by Ricardo Sophin and Iraida Volodina, who've appeared on "Dancing with the Stars."
There are all kinds of local events going on, too. Poke around to see what's happening in your neck of the woods—or throw your own NDD party!


Get Dance Spirit in your inbox