We like it when dancers are able to express their love for dance. We love it when dancers are able to use different media to express that love. The National Dance Foundation offers dancers the opportunity to convey their passion for dance with its annual essay and poster contest. Entrants who submitted posters were asked to portray what dancing looks like to them, and essay contestants submitted essays discussing why dance is so important and how it's helped them in other aspects of their lives.
Major props to Petra Tuzun, Leah Krissin, Anisha Tamang, and Ella Mars, who won the poster portion of the contest, and to Jonah Taylor and Aliyah Daniel, who won the essay portion. Check out the winning submissions below—and be prepared to be blown away by the talent.
Keep reading...
Show less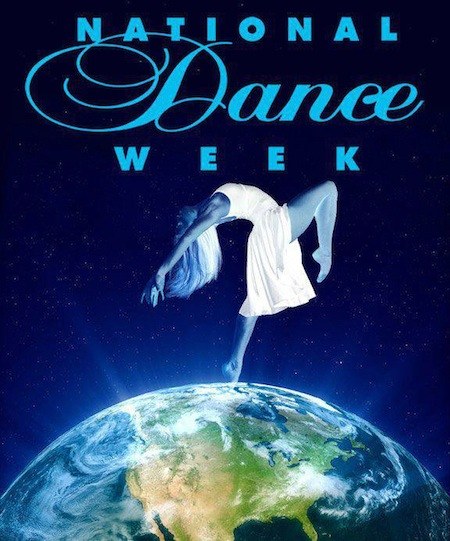 It's the most wonderful tiiiiiiime of the year...or it's about to be: National Dance Week officially kicks off tomorrow, and runs through May 4.
How can you get involved in the fun? Let us count the ways! First of all, studios and organizations have planned celebrations ranging from traditional performances to full-day festivals. Visit the National Dance Week website to find out what dance-tastic events are happening in your area.
And no matter where you live, be sure to participate in NDW's third annual dance mob contest. The rules are simple: Start by learning this year's official routine, created by choreographer extraordinaire Gregg Russell. Then teach it to a group from your studio or school, or even just a bunch of dance-inclined friends. Make a video of your posse performing the routine, upload it to YouTube, and submit the link to the official NDW site. Winners will be chosen in the following categories: most votes, most interesting location (get out of that dance studio!), most creative, most participants, and best spirit.
The deadline for submissions is June 4, so get on it, everyone! Check out the official choreography below:
It's pretty obvious that we here at DS LOVE dance (I mean, duh, right?). But there's nothing cooler than when other dancers (and dance lovers) take a second to pause and reflect on why they also love dance. And what dance means to them. And why they work so hard to do what they do. It keeps us inspired and reminds us of how special this art form is.
National Dance Week is one of our favorite ways to celebrate dance-spiration. And although this year's has already come and gone, the winners of the campaign's poster and essay contests have just been announced—and we're feelin' the love all over again. A huge congrats to Aliyah Daniel, Ananda Daniel, Valdon Daniel, Chloe Landry, Kaitlyn Molito, Morgan Prior, Lauren Reynolds and Emma Wilson!
Answering the question "What does dance look like," the winning posters are gorgeous interpretations of what dance can be, while the essays are beautiful musings on the questions "Why is dance so important and how has it helped you in other aspects of your life?" and "Why is dance so important to individuals and communities that we should all take a week celebrating it?"
Last year's winners were a tough act to follow, but this year's posters and essays are just as moving and every bit as stunning. Take a look at the winning entries:
Morgan Prior, age 16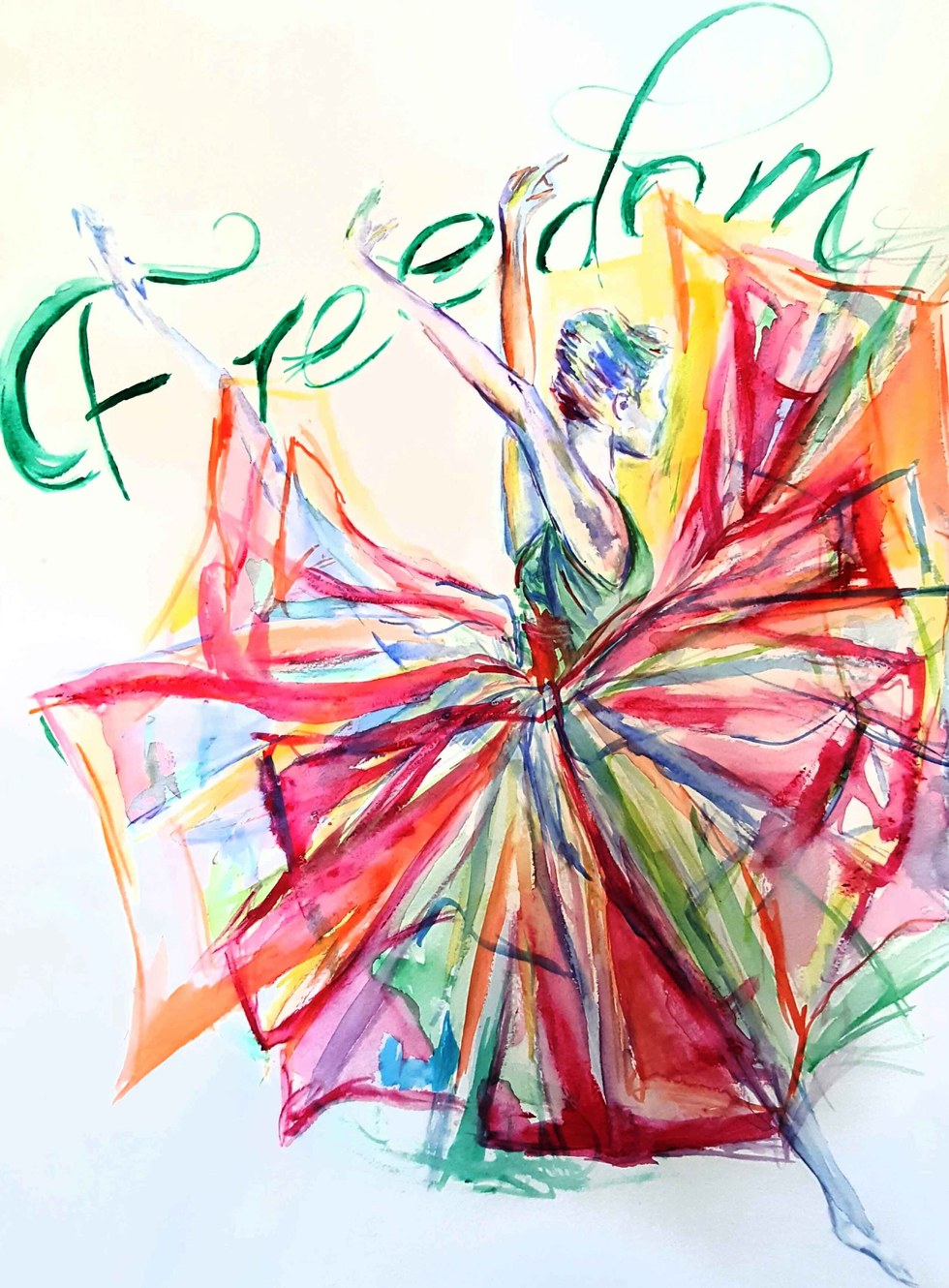 Ananda Daniel, age 10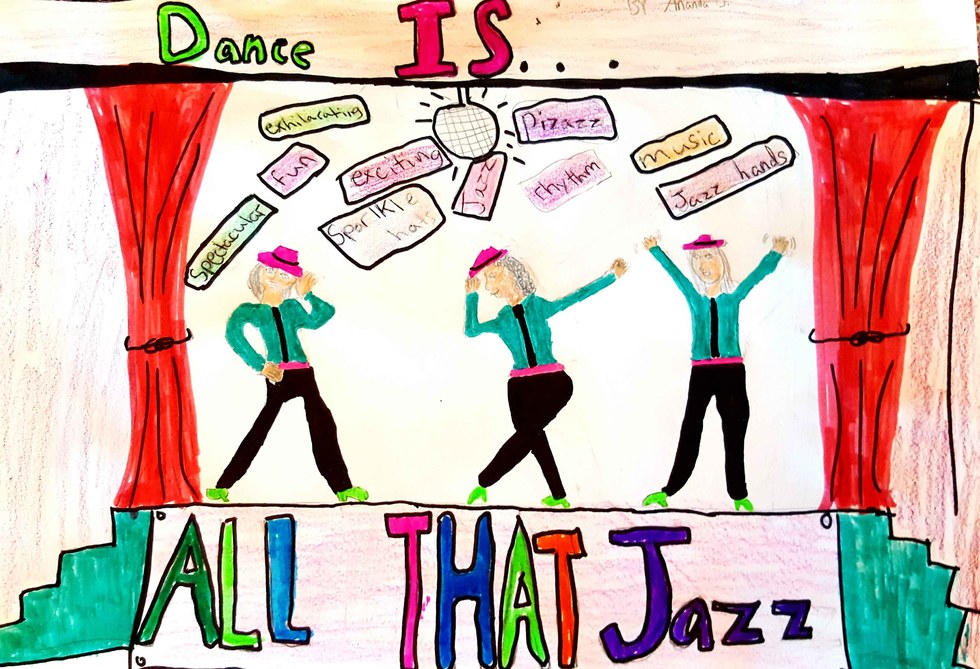 Chloe Landry, age 14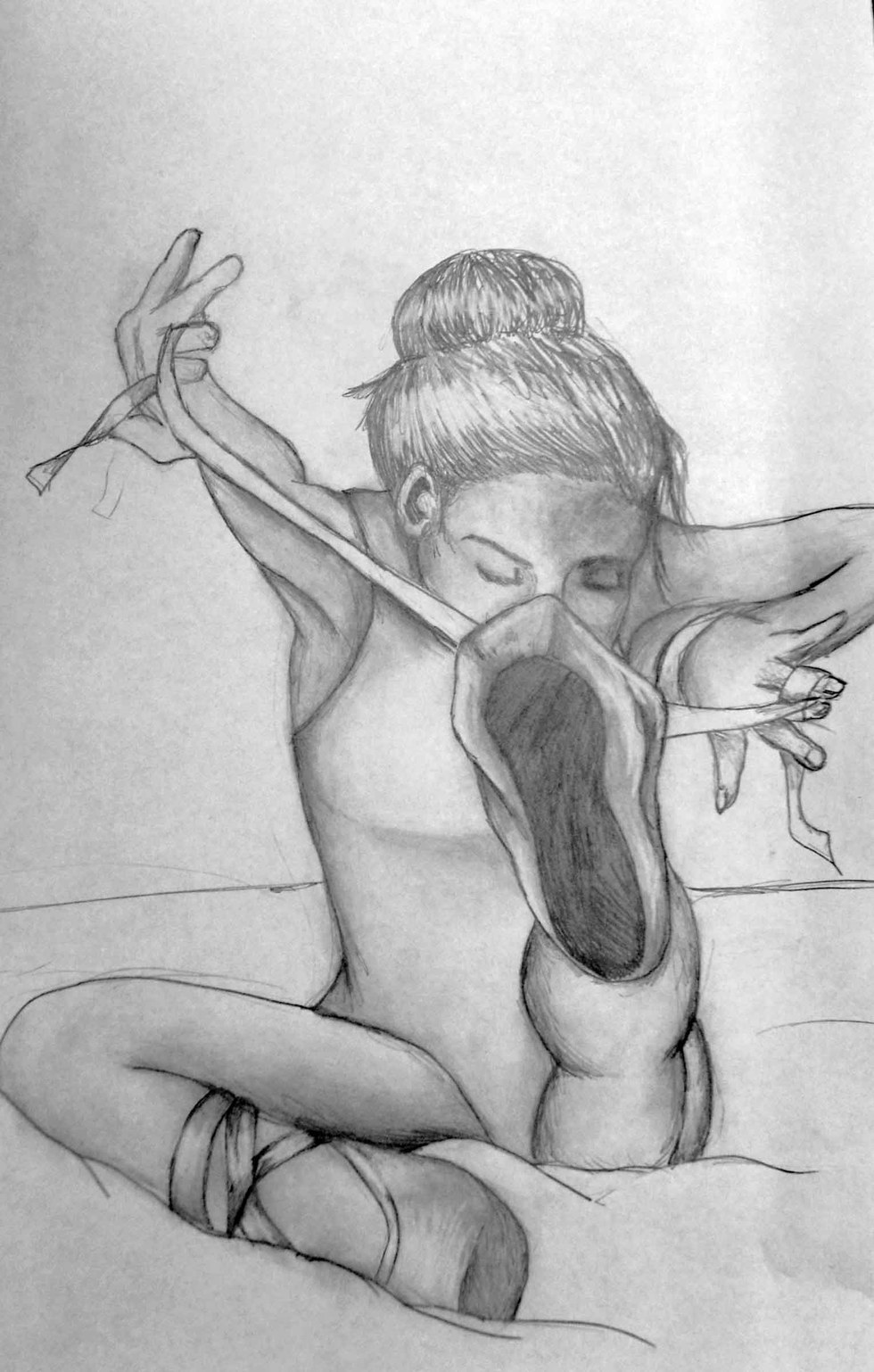 Lauren Reynolds, age 14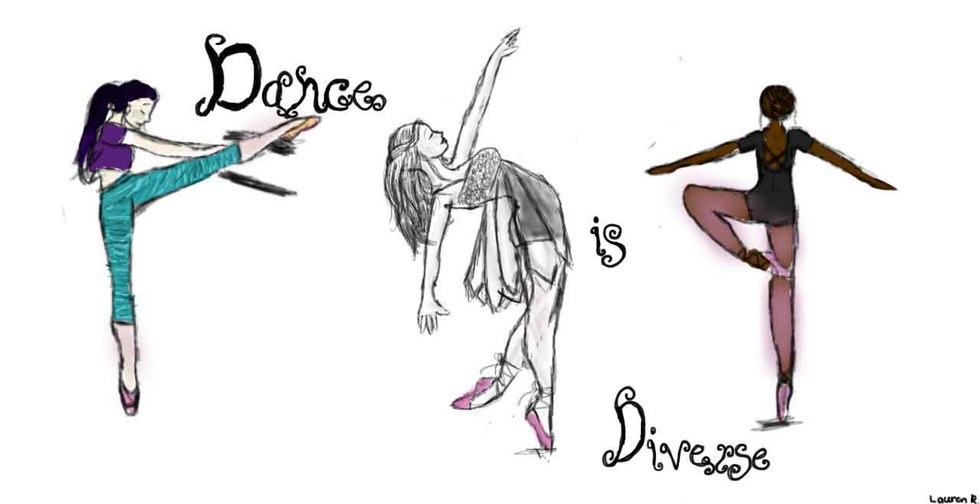 Aliyah Daniel, age 14
Dance is very important. It can inspire you. Dancers can tell stories. You can express your feelings through dance. It can even help with sports and other physical activities.
Dance is important for a plethora of reasons. For example, it is a form of personal expression. It's a way to have fun. Also, you can exercise and feel good about yourself.
Dance is a form of personal expression. It's not something that needs to be taught. You do it on your own. Nodding your head to the beat of music and tapping your foot to the beat are natural reactions to music. When you hear music, many people feel like moving. So, dance is personal. It's unique to you!! We should dance to the beat of our own drum.
Also, dance is fun. Whether it be your favorite song or one you haven't heard of before, dance is something you can share. Group and line dances are also fun as well like the "Macarena" and the "Cupid Shuffle." You get to do these dances with friends and family. You can see the happiness on their faces.
Dancing is a form of exercise. Today, obesity is at an all-time high. Burning calories and extra fat through dance is a great solution. Now, Zumba, aerobics and other dance styles are more common than ever. Dance helps you to maintain an active lifestyle. It keeps you moving.
Dance can help with social interactions and problem solving too. When you are learning a routine, all the dancers need to work together. You are dependent on one another. Dance helps you to develop friendships. These friendships can last a lifetime.
Dance is life.
Emma Wilson, age 11
Dancing is a part of me. To me, a day without dance is like a day without sunshine. Dance helps me to succeed in all of my other everyday activities. When I dance I can take my mind off of everything else. But most importantly, I can make dreams come true!
Dancing has helped me to succeed in other aspects of my life. For example, at dance, I need to train myself to not get frustrated and to learn from my mistakes. If a dance teacher gives me a correction, I take it like receiving a present, and happily fix it. I've learned to take that enthusiasm and apply it in other important parts of life, especially school. If I realize that I'm wrong, I simply take a breath and start over because the answer won't become correct unless you work hard and fix it. Just like in dancing, you won't learn a certain step by hoping for it, you need to practice it. I truly believe that dancing has helped me get where I am now in school, band and growing up.
When I walk into a dance studio, it feels like everything that happened to me that day flows out of me. It's like getting to start over and have a fresh start. If I had a rough day I can just forget about it and be happy again. Nobody judges you by the way you move your body. Everyone has their own way to express themselves, to rise to the top, and to fly!
Those who dance can truly bring joy to others. Although there are many people in this world that don't take dance lessons, everyone can dance. If you're someone who can, you need to spread the happiness you feel when you dance. That is one of the magical powers of dance. You can easily spread happiness through it and bring joy to others. This is another thing that dancing helps me to do in life. If I'm frustrated, overwhelmed, or even scared I can just dance and let all of it out. Then, I can be happy again. So many people dream of going to see a ballet at Lincoln Centre, but you can make those dreams come true just by dancing alone in your living room for someone. Dancing is really just a dream that keeps on growing and coming true!
I dance because it clears my mind, it helps to strengthen me in other parts of my life, and dancing makes dreams come true! Dancing is magical!
Kaitlyn Molito, age 14
I take a breath, the spotlights hit, and the music starts. I pour my soul into a routine as I'm up on the stage with friends close enough to consider family. As the lyrics resonate in my mind and I move my body in intricate ways, I am living. In my heart I have always known that the essence of being alive is dancing. Dance is important because it's the segway to another world; a world where the stress is relieved and the pressures of life are whisked away. It's a world that welcomes self-expression and creativity with open arms. Dance gives me a break from reality; it's like a mystical door to an alternate world. Dancing has given me the confidence to conquer obstacles in all aspects of my life. If I'm having a bad day, or feeling as if I'm just not good enough, I remember the empowerment I feel when dancing. I think about how I can grace the stage and display passion through my facials or through a particular way of kicking my foot. When I ponder on all of these things, I realize that I do have a place in this world. My place, as I've come to find out, is on the stage. Performing has taught me that if I can expose my deepest emotions to whole audiences of people, I can surely overcome any hardships life throws at me. Throughout the teenage years, it can be extremely difficult to love yourself. Distorted ideas of perfection stemming from edited photoshoots have allowed a whole generation of young girls to be self-conscious about how they are perceived by society. Dance is the one consistent factor in my life that has ensured me that I'm beautiful in my own way, and that I don't need to fit any certain mold to be extraordinary. When I take that bow and the awe-struck audience cheers, I know that there is nothing in this world I can't do.
Valdon Daniel, age 12
Dance is very important. It can inspire you. Dancers can tell stories. You can express your feelings through dance. It can even help with sports and other physical activities.
Music can inspire you to dance. Dance can inspire people to move and be happy. Praise Dance can inspire people to worship God. Dancers can inspire people to express themselves and their feelings. Group Dancing can inspire people to join you. Finally, dance can inspire people to feel free.
Dancers can tell a story. It is universal. Dance is appreciated around the world. When you dance you can be graceful or tough. Dance is living art. It is a vivid demonstration that uses creativity. Dancing can make connections by interpreting feelings while telling a story.
You can express your feelings through dance. Dance can make people excited by allowing them to move freely. Dancers can make people sad by the way they dance. Each dance movement expresses emotions. Dancers can decide the tone of the dance. I feel ecstatic when I dance.
National Dance Week has come and gone, but there's still NDW stuff to be celebrated: The winners of its essay and poster contests were recently announced. Congrats to Taylor Mason, Autumn Endris and Alonni Reid on their prize posters, and to Esmeralda Ramos and Julia Andretta on their top essays! Check out their winning submissions below.
(A quick refresher: Essays were supposed to answer one of two prompts—"Why is dance so important in your life and how has it helped you in other aspects of your life?" or "Why is dance important enough to both individuals and communities that we should we take a week to celebrate it?"—and posters were supposed to address the topic, "What does dance look like?")
Taylor Mason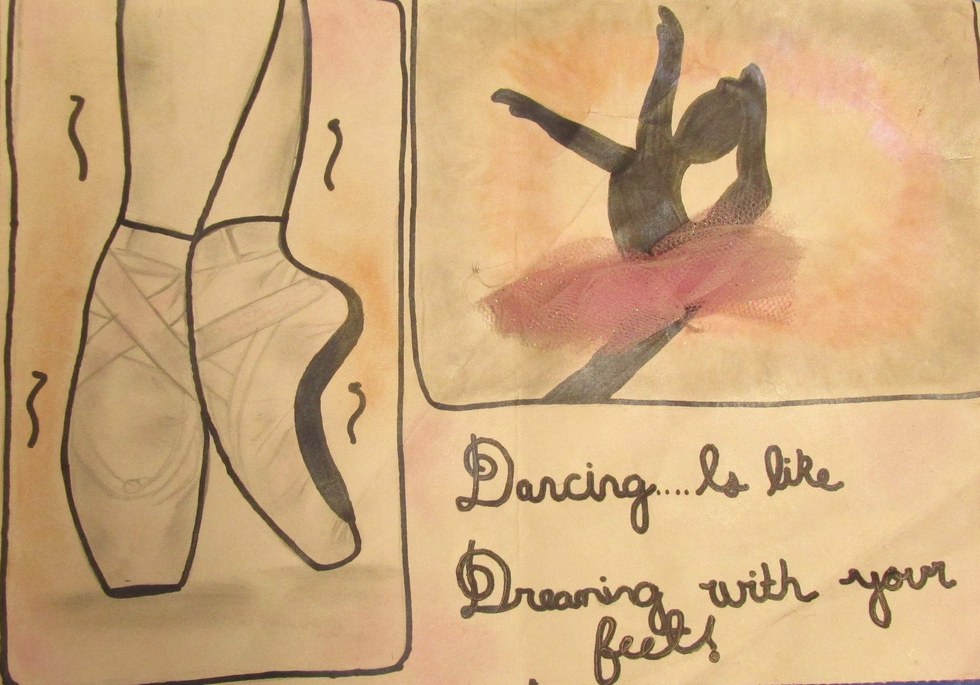 Autumn Endris
Alonni Reid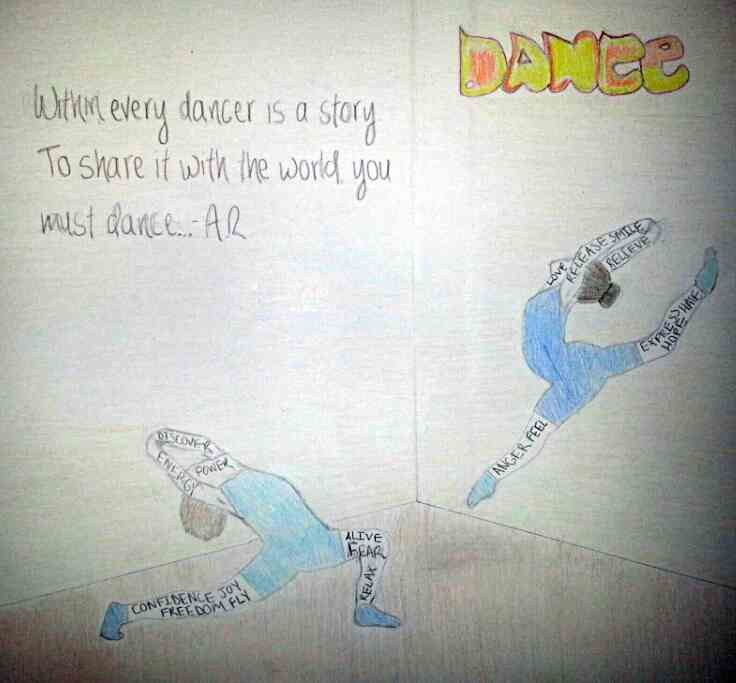 Esmeralda Ramos
It is hard for me to describe what dance has given me. I consider myself clumsy and not the best dancer but really I do not think that matters anymore. Dance has just given me that confidence.
Why is dance important to me and how does it affect other aspects of my life? Dance was never an option for me. I was so afraid of other people looking at me, watching me speak and definitely I would of never thought I would ever dance in front of a crowd, but guess what? For some reason I was put in this position and I am so thankful for whatever the reason was that put me here. I do not consider myself a great dancer but I just fell in love with dancing. Dance just boosted my confidence from 0-100.
When I walk in the studio I just leave everything at the door, I forget about all my problems, all my worries, and I just dance it all away, and suddenly I realize all my pressure and problems are gone. As I walk out my problems do not come back. They just disappear.  Dance had taught me many things; one of all those things I learned is how to manage my problems. If only I would have known dance was going to change my life so much in such a positive way...
Dance is important to me for so many reasons, because it helps me relax, it relieves my stress, my pressure, it gave me the confidence I need and even a different lifestyle.
Julia Andretta
I am a dancer. I do not dance because I want to, I do it because I need to. I tell a story through the movements of my body. I dance because it takes my mind off tings for a while. I get this amazing feeling through the movements of my arms, and from the rhythm of the music. I am an artist, athlete, and a dreamer.
Every time I dance, I turn into a better person. Dance temporarily takes away the pain of harsh world, outside of those studio windows. Dance enables me to find myself but to also lose myself at the same time. Dance helps you express yourself through music, without being judged. The world doesn't care if you can't dance, excellent dancers are not great because of their technique, they are excellent because of their passion to dance. Passion is a natural feeling/ emotion we get when musical notes flow through your mind.
The music empowers you to dance, no matter how your feeling. There is many styles of dance that help you express your feelings. For example, I love performing lyrical, if I have had a rough month, or so. The music speaks to me. The music lets me feel the moment, and within that moment you create a sculpture of yourself that lasts for a lifetime. Studies show that dance is a therapeutic activity that helps with mind, and body actions. Dance helps me calm down after a stressful day. To me, dance acts as a companion who always understands.
Students who dance communicate with the music, and movements in ways non- dancers can understand. Life isn't about waiting for the storm to pass, its about learning to dance in the rain. Dancing makes dreams come true, whether it be to win, to fly, to conquer, or to thrive.
Dancing is dreaming on your feet.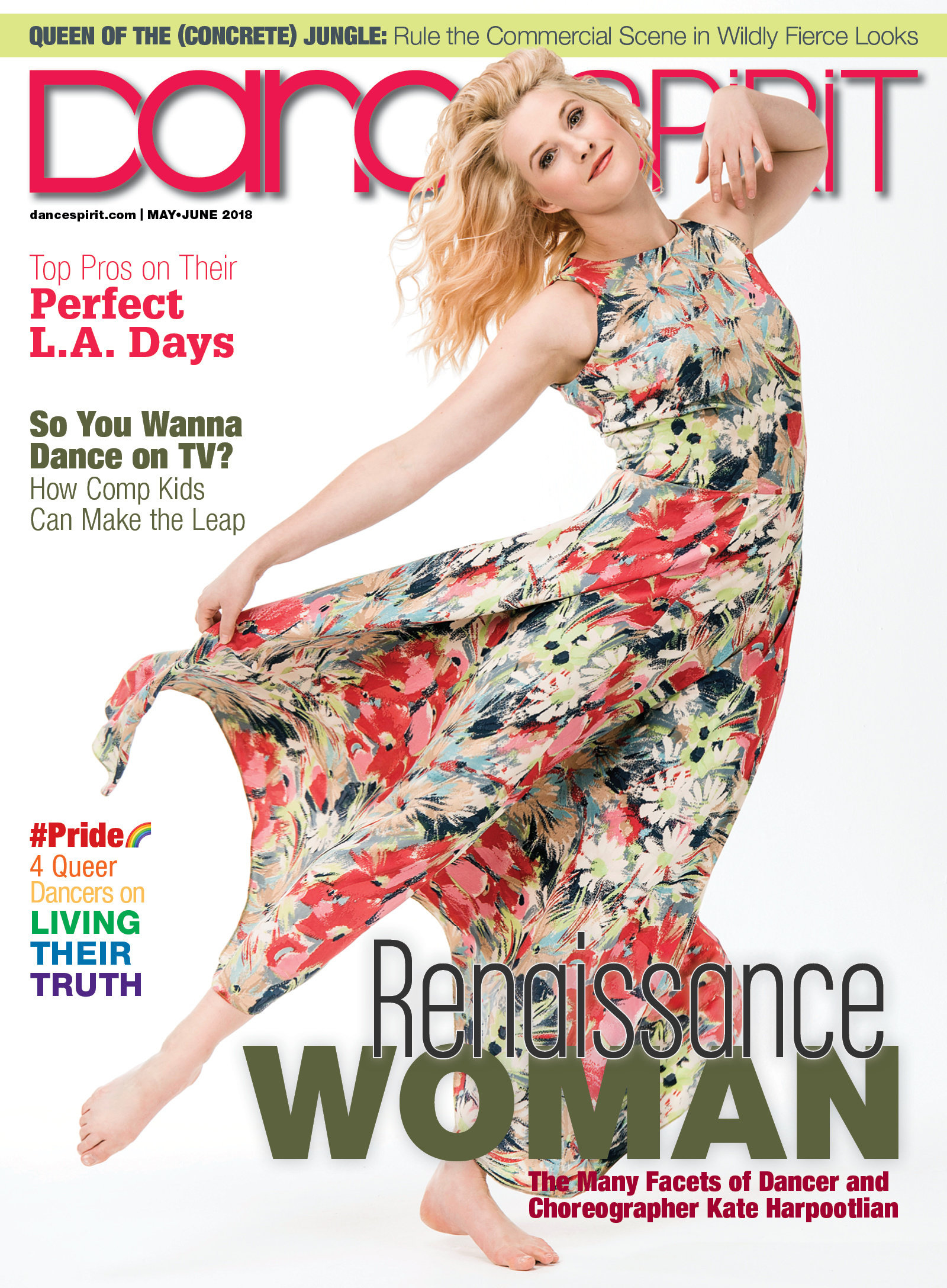 Get Dance Spirit in your inbox