Tavaris Jones dancing with the Cleveland Cavaliers' Scream Team hip-hop crew
We always love a good halftime performance. And we LIVE for halftime performances involving talented kids. (Fingers and toes crossed that Justin Timberlake follows Missy Elliott's lead and invites some fabulous littles to share his Super Bowl stage.)
So obviously, our hearts completely melted for 5-year-old Tavaris Jones. Tavaris may have just started kindergarten, but during Monday night's game between the Cleveland Cavaliers and Golden State Warriors, the Detroit native danced with the panache of a veteran pro at halftime.
Keep reading...
Show less
Apr. 15, 2015 10:58AM EST
The first clue that the Brooklynettes aren't your average dance team is what they're wearing. They're more likely to strut onto the Barclays Center court in wedge sneakers than heels; their graphic black-and-white uniforms are urban chic, not girly-girl cute (though, to be fair, they're known to sport a sequin or two).
But then the dancers start to move. And as they blaze through high-octane, hard-edged choreography by an industry A-lister, you realize that this isn't just the best-dressed dance team you've ever seen. It's the best dance team you've ever seen, period.
In fact, the Brooklynettes—who've been entertaining Brooklyn Nets fans since the team's move from New Jersey to Brooklyn, NY, in 2012—are changing what it means to dance for the NBA. Their top-notch dancers are attracting big-name choreographers, artists who aren't otherwise associated with the dance team world. And their every move reflects the diversity, creativity and grit of the borough they call home.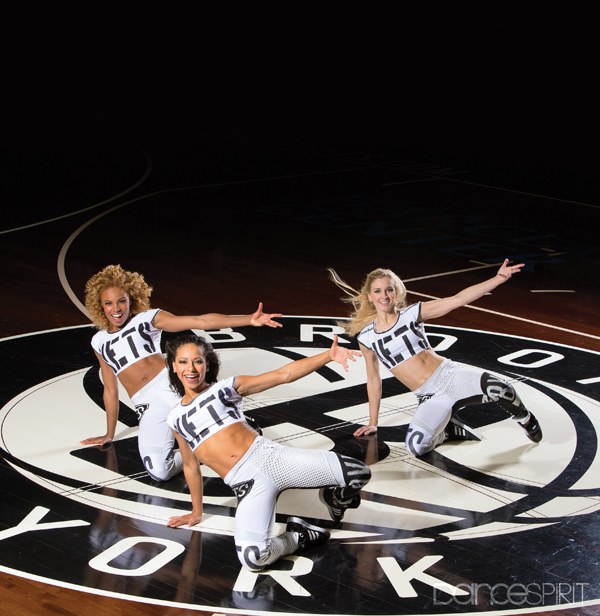 (From left) Liz Chestang, Amanda Robinson and Anna Smyczynski (photo by Erin Baiano)
That Brooklyn Feel
When it was first announced that the New Jersey Nets would become the Brooklyn Nets, Adar Wellington—coach of the team then known as the New Jersey Nets Dancers—knew some major changes were in order. "We wanted to reimagine the dance team so it truly represented the city," says Wellington, whose own impressive dance career includes
several seasons with the NJ Nets Dancers and tours with Rihanna and Ashanti. "Brooklyn is so cool and effortless, and it has this edgy, rough feel to it."
To Brooklyn-ify the renamed Brooklynettes, the artistic crew made hip hop the team's new foundation. "When you think Brooklyn, you automatically think hip hop," says current Brooklynettes captain Amanda Robinson. "In keeping with that, our choreography is very street, very gritty." But the team also wanted to incorporate the borough's myriad other musical influences. "Around here, there's everything as far as
music goes," Wellington says. "We've got jazz, we've got Latin, we've got swing. And it was important to us to recognize that diversity in our routines."
The resulting melting-pot-with-an-edge style not only separates the Brooklynettes from other pro dance teams—it actually puts them right in line with commercial industry trends. "What the Brooklynettes are giving you is what people are seeing in television, film and music videos right now," says frequent Brooklynettes choreographer Tanisha Scott, who's worked with Rihanna and Beyoncé.
The Big Apple's Best
The NYC move also put the team in the middle of one of the dance world's busiest hubs. "New York dancers are the cream of the crop," says second-year Brooklynette Liz Chestang. "They're hungry, they're competitive and they're plugged into the commercial scene." Team auditions now attract some of the city's—and, therefore, some of the world's—most talented dancers. "We routinely have 400 girls show up, and they've all worked with top artists in dance, theater and film," Wellington says. Unsurprisingly, the dancers who make the cut are a seriously impressive bunch. They're smarties, too: Nearly all of them are college graduates. The current team boasts women with degrees in everything from psychology to advertising, not to mention dance and choreography.
The NYC move also made it easier for the team to bring in high-caliber choreographers, since many of the industry's biggest names spend a lot of time in Gotham. And the Brooklynettes' stellar dancers have proved a powerful draw for heavy hitters who might otherwise have hesitated to enter the dance team world. At a Nets game today, you might see choreography by the likes of Scott, Luam, Rhapsody James or Derek Mitchell. "The Brooklynettes are at a technical level you don't usually see in a dance team," Mitchell says. "Adar wanted to change people's expectations about half-time show choreography, and that really lit my fire. With the Brooklynettes, it's less about cheerleading and more about performance."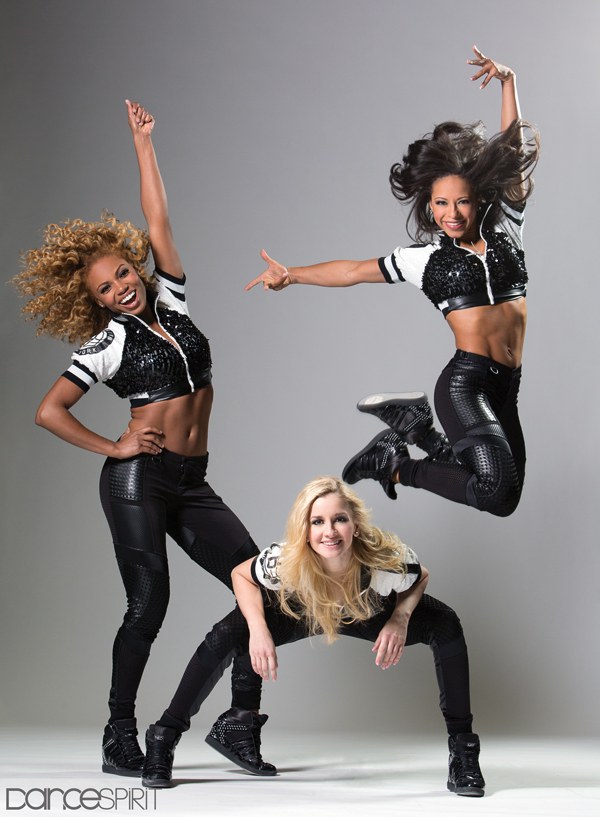 (From left) Chestang, Smyczynski and Robinson (photo by Erin Baiano)
Beyond Center Court
Being a Brooklynette isn't only a prestigious job—it's also a launching pad to other prestigious jobs. Because when it comes time for Brooklynettes choreographers to hire for other gigs, they frequently turn to team dancers. Scott, for example, recently brought on a Brooklynette to tour with Sean Paul. "When you see these choreographers at auditions for outside jobs, you have an automatic leg up," Chestang says. "You feel more comfortable, like, 'Luam knows my face! She's seen me dance—she knows what I can do.' "
Last summer, Wellington herself was the hookup: She assisted choreographer Danielle Flora on the Judd Apatow film Trainwreck, starring Amy Schumer, and several Brooklynettes earned dance roles. "It was insane—we were on set with Amy and Judd and Bill Hader!" Robinson says. (Look for the film in theaters this summer.)
Real-World Appeal
While the dance world is, unsurprisingly, excited about the Brooklynettes, the team has earned plenty of mainstream admirers, too. And that's kind of the point—to be a group every Brooklyn fan can love. "When you go to a Nets game, nobody leaves to get hot dogs when the girls are about to perform," Scott says. "Even people who just came for the basketball can sense the strength the dancers radiate."
Dancing for Hip-Hop Royalty
It's not uncommon for Beyoncé and Jay-Z to be sitting courtside at a Brooklyn Nets game. And it's not uncommon for the Brooklynettes to dance to a Bey or a Jay song. So what's it like to perform a routine for the very stars whose music is blasting over the sound system? "It's a totally surreal experience," Brooklynettes coach Adar Wellington says. "To have Beyoncé sitting right there while you're dancing to 'Yoncé'—I mean, you have to make sure that routine is extra amazing. But both of them are always so excited and supportive."
So, About Those Uniforms
The mastermind behind the Brooklynettes' truly covetable uniforms is David Dalrymple, a designer who's worked with Britney Spears, Mary J. Blige and (you guessed it) Beyoncé. "He does an amazing job bringing the culture of Brooklyn's different neighborhoods to the court," says Brooklynettes captain Amanda Robinson. "They're glamorous and sophisticated," adds coach Adar Wellington, "but they still have a little edge, a little toughness."
Meet the Dancers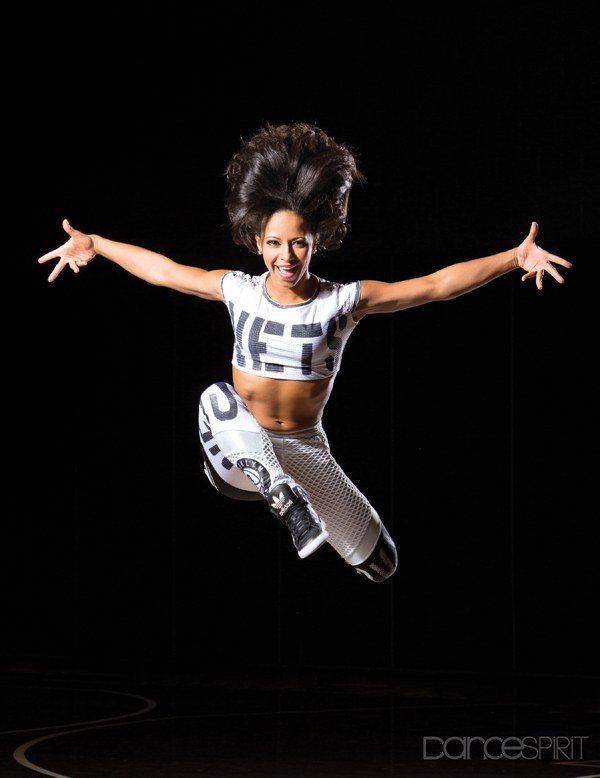 (Photo by Erin Baiano)
Amanda Robinson
Years on the team: 4
Hometown: Piscataway, NJ
Training: "My mom first put me in dance classes when I was 3 so I'd learn discipline, but then I fell in love with it," Robinson says. She spent several years at the School of American Ballet, dancing children's roles in New York City Ballet productions of George Balanchine's The Nutcracker and A Midsummer Night's Dream. She also trained and competed in "a little bit of everything" at her local studio through high school.
College: The College of New Jersey, where she double-majored in psychology and communication studies. "My experiences in college prepared me to act as an ambassador, which is a big part of being a Brooklynette," she says. "By participating in college discussions and debates, I learned to have a voice and be comfortable in my own skin."
Perks of being a Brooklynette: "I'd never been outside the country before joining the team, but with them I've visited nine countries in four years. Everyone loves this team—I remember seeing a little boy in Paris with a Nets shirt on. The brand is that powerful and that cool."
Call her "Captain": Robinson was made captain this season, and it's "a very hands-on job," she says. "I run most rehearsals, and frequently I help tweak the choreography, making sure it's crowd-pleasing, high-energy and fun."
When she's not dancing: Robinson is a fitness model and trainer. "In college,
I never liked working out," she says. "But now I love the rush that you get, the feeling that you've accomplished something."
Advice for Brooklynettes hopefuls: "At the audition, let your true self shine. Don't try to be someone you're not. Be genuine."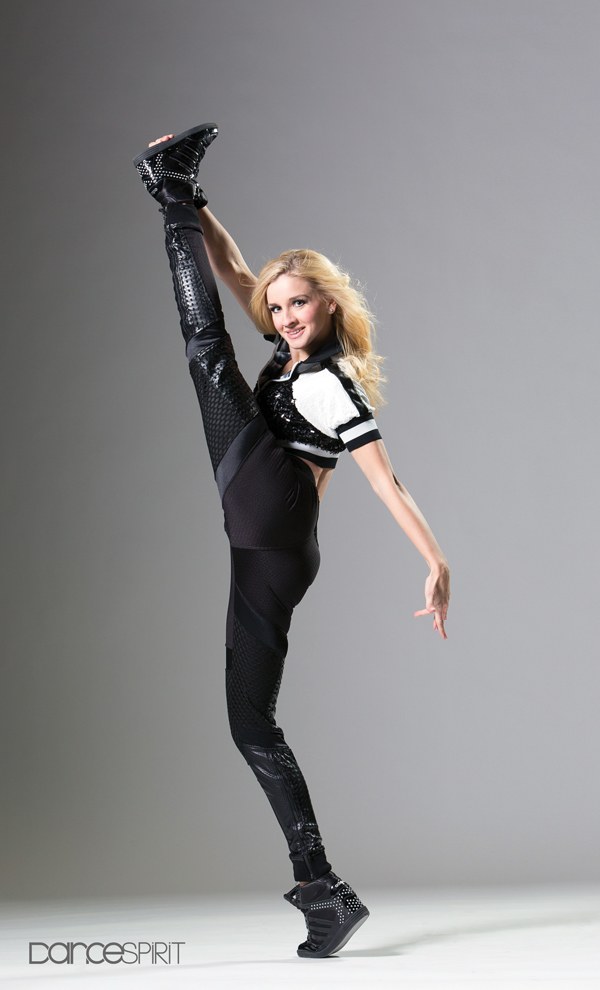 (Photo by Erin Baiano)
Anna Smyczynski
Years on the team: 1
Hometown: She was born in North Carolina, but spent most of her childhood in her family's home of Warsaw, Poland.
Training: Smyczynski started out training and competing in "disco dance" in Poland. "It's a style that's really popular in Europe, though people in the U.S. might find it a little strange," she says with a laugh. "It's like techno combined with jazz—you do really fast movements to really clubby music." She came to the States to study dance at California's Idyllwild Arts Academy her junior year of high school.
College: Smyczynski graduated from New York University's Tisch School of the Arts with a degree in dramatic writing and a minor in English literature. "I've always been passionate about writing," she says. "I also joined NYU's dance team. That's when I learned about the Brooklynettes. I spent hours watching their videos online!"
Perks of being a Brooklynette: "Our roster of choreographers is so impressive. These are people I used to take class from at Broadway Dance Center—and now they're making work for me. It's such a personal interaction."
Screenplay dreams: "I wrote a screenplay for my thesis at NYU. It's a story based on my own experiences growing up in Poland—a family drama. I'm planning to submit it to a few competitions, and hopefully it'll make it to Hollywood someday."When she's not dancing: Smyczynski spent much of this past year applying to PhD programs in comparative literature. "I like that comp lit is strictly academic—it uses a totally different part of my brain," she says. "Later on, I'd like to find a job in the academic community."
Advice for Brooklynettes hopefuls: "Always believe in what you're doing. Don't let anyone put you off track. You can make things happen—it's about will, not just talent."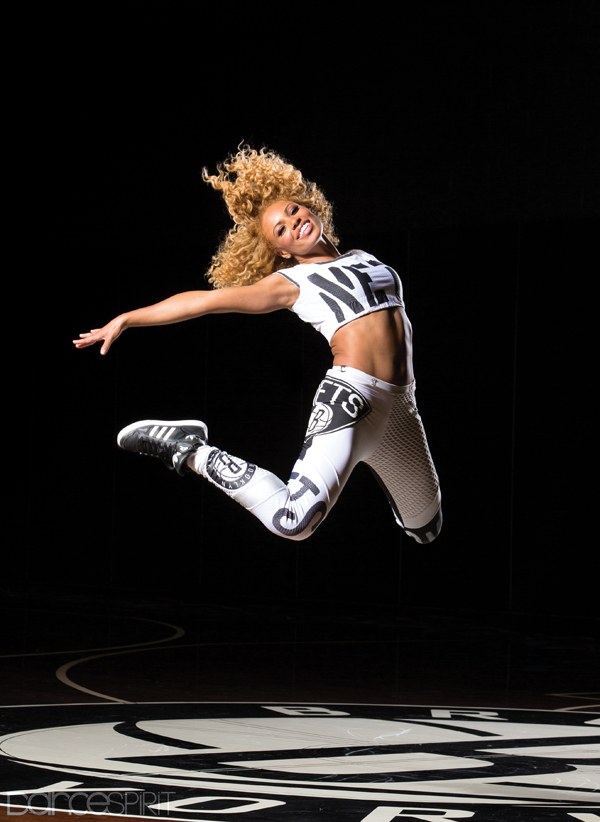 (Photo by Erin Baiano)
Liz Chestang
Years on the team: 2
Hometown: Cleveland, OH
Training: Chestang grew up studying ballet, modern, jazz and hip hop at a local studio, and traveling to summer programs at places like The Rock School for Dance Education in Philadelphia and The Ailey School in NYC.
College: Ohio University, where she earned a BFA in dance performance and choreography. "College taught me how to take care of my body," she says. "I came out really knowledgeable about kinesiology and injury prevention. I also took film and art history courses—it's important to have that dialogue with people in other parts of the art world."
Perks of being a Brooklynette: "Performing at the Barclays Center is amazing. The space is fantastic, and you're dancing for these incredible fans who love not just the Nets, but Brooklyn itself."
Her All-Star moment: Last year, Chestang was chosen to represent the Brooklynettes on the NBA All-Star Dance Team during All-Star Weekend. "They only picked one dancer from each of the 30 NBA dance teams, so I was really honored to be selected,"
she says. "It was awesome meeting interesting women from all over the country."
When she's not dancing: "I love to travel. My first overseas job was dancing in a casino in Macau, and I definitely caught the travel bug. Since then I've been to Thailand, Malaysia, Singapore, Tokyo, the Caribbean and South Africa."
Advice for Brooklynettes hopefuls: "Train like crazy. And take lots of different classes to improve your versatility. Yes, we do a lot of hip hop, but we also have Afro-Caribbean and jazz numbers."

(From left) Chestang, Robinson and Smyczynski (photo by Erin Baiano)
Audition Advice
The Brooklynettes don't mess around when it comes to auditions—because with hundreds of hopefuls showing up at Barclays Center each June, they can't afford to.
The artistic crew actually whittles the initial group of 300 to 400 dancers down to 150 within the first 30 minutes, after watching everyone do a basic across-the-floor combination. Another cut is made after the remaining dancers learn a routine based on choreo from the previous season. The current Brooklynettes are there to help the newbies on this first day of auditions—but on the second day, when a guest choreographer teaches a brand-new combo, the returning members are auditioning, too. And the 30 who remain after the second day's cut go on to a three-day bootcamp, where they're further drilled in choreography and technique, and go through a formal interview process. "Basically, we want to see if you have the work ethic to handle this job," says Adar Wellington, the team's coach. After all that, the final group of 18 to 20 dancers is selected.
How can you make sure you're ready? Take one of the Brooklynettes Audition Intensives, which are offered in the weeks leading up to the audition. "You'll learn the choreo we'll teach at the auditions," Wellington says, "and we'll break down what you should wear and answer FAQs." Find more info at brooklynettes.com.
Apr. 15, 2015 10:57AM EST
Yes, they're cute. But the Brooklyn Nets Kids, who perform at Nets basketball games throughout the year, are so much more. Many of these little ones, who range in age from 6 to 13, have resumés full-grown dancers would covet. And all of them have the kind of charisma that can't be taught.
"These kids keep me cool," says Tanisha Scott, who coaches and choreographs for the BNK. "Dance-wise, they're just as good as the adults—because they're already going to conferences and workshops and doing music videos. They know anything and everything about the dance scene."  —Margaret Fuhrer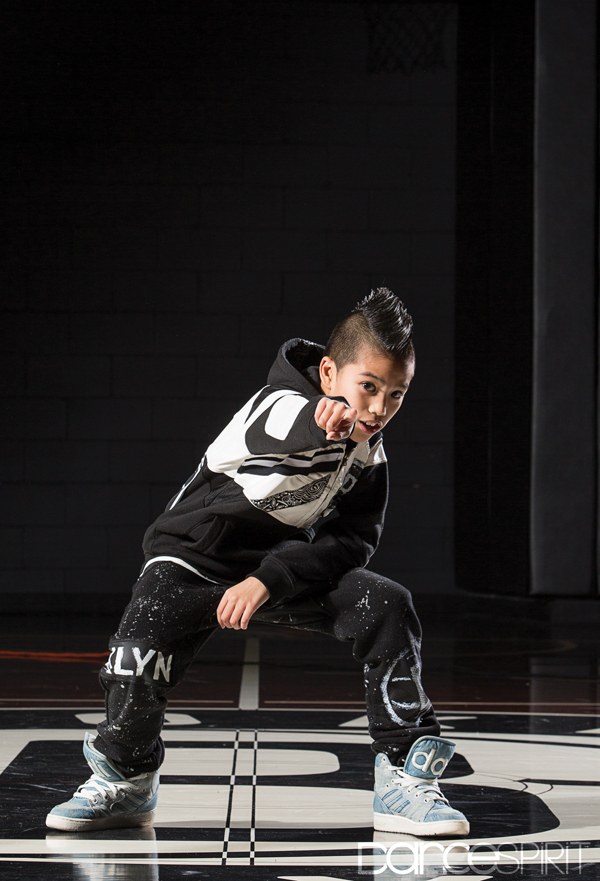 (Photo by Erin Baiano)
Alex Rubiano
Age: 11
Hometown: Manalapan, NJ
Favorite thing about being a BNK: "The fans! And the fact that I get to dance on the actual court."
Dream job: "I either want to be a Harlem Globetrotter—because they dance and play basketball—or a cool choreographer, like Ian Eastwood and Will 'WilldaBeast' Adams." (Alex is one of WilldaBeast's LilBeasts.)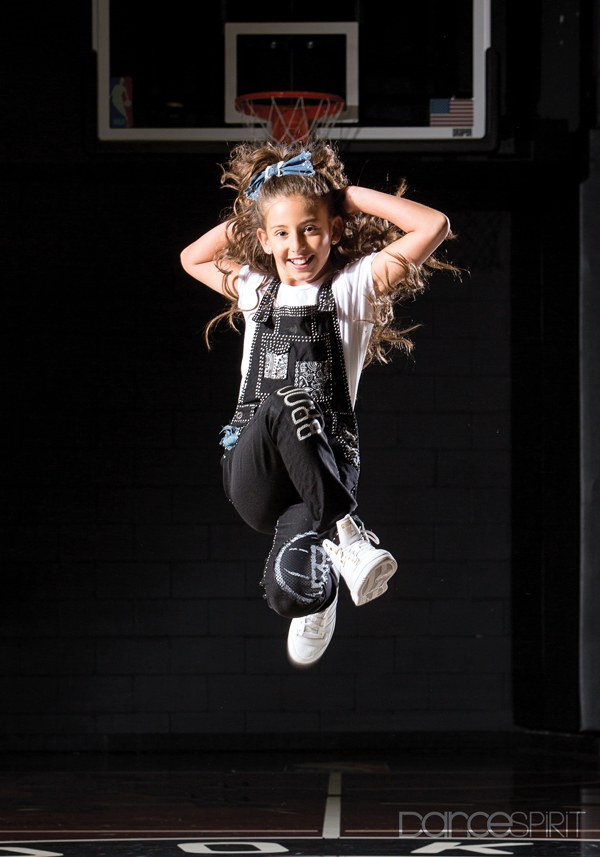 (Photo by Erin Baiano)
Fiona Krkuti
Age: 10
Hometown: Manalapan, NJ
Favorite thing about being a BNK: "When the fans cheer for you. It makes you feel so good inside!"
Coolest moment as a BNK: "We were on 'LIVE with Kelly and Michael'—and then a few days later, Kelly Ripa and Michael Strahan came to the game and danced right in front of us. Their moves were pretty good."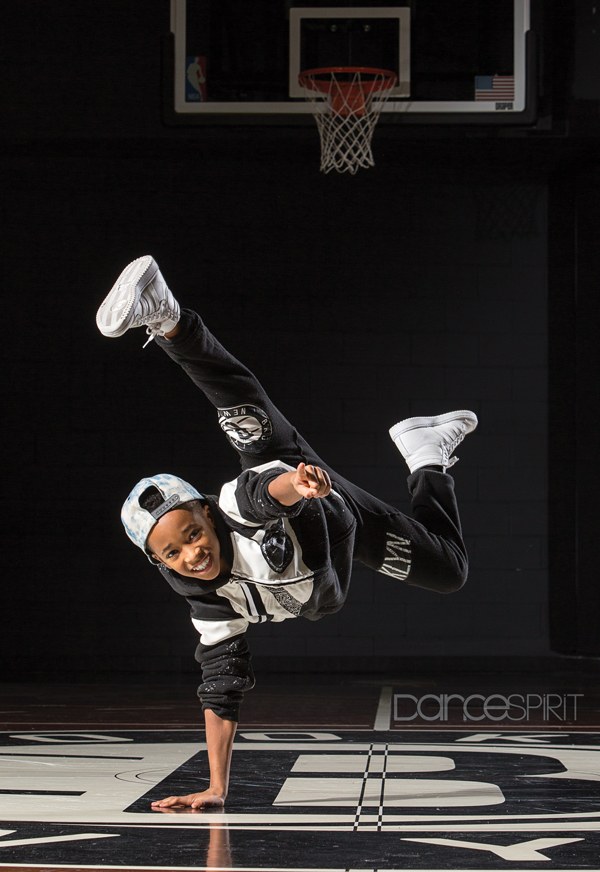 (Photo by Erin Baiano)
Devin Neal
Age: 11
Hometown: West Orange, NJ
Favorite thing about being a BNK: "I love getting the crowd amped up."
Signature moves: "I'm also a gymnast, so I get really happy when we do lots of flips on the court. I like to do back tucks and one-handed stuff."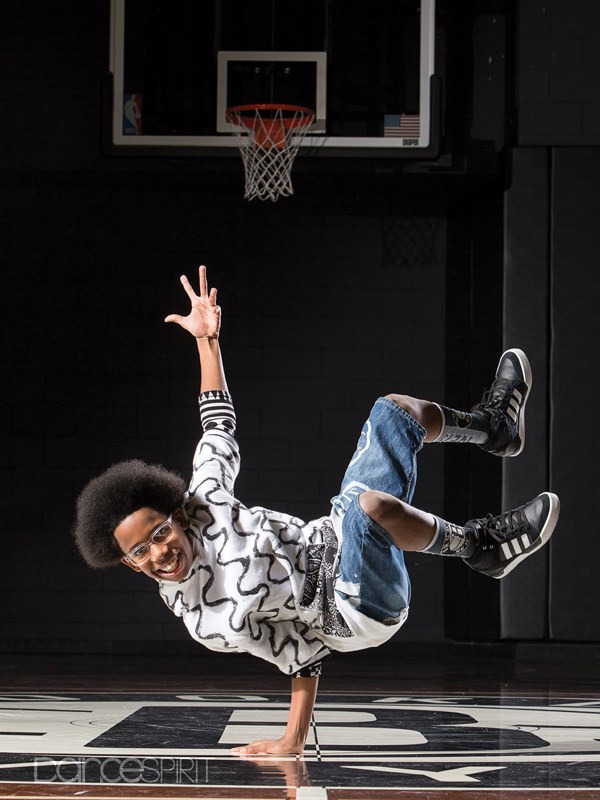 (Photo by Erin Baiano)
Mario Braxton Jr.
Age: 12
Hometown: Shirley, NY
Favorite thing about being a BNK: "Doing special appearances—like being in Dance Spirit!"
Dream job: "Right now, I'm part of a crew called Childz Play, and when I grow up, I want to be a professional b-boy, like B-Boy Gravity or B-Boy Morris."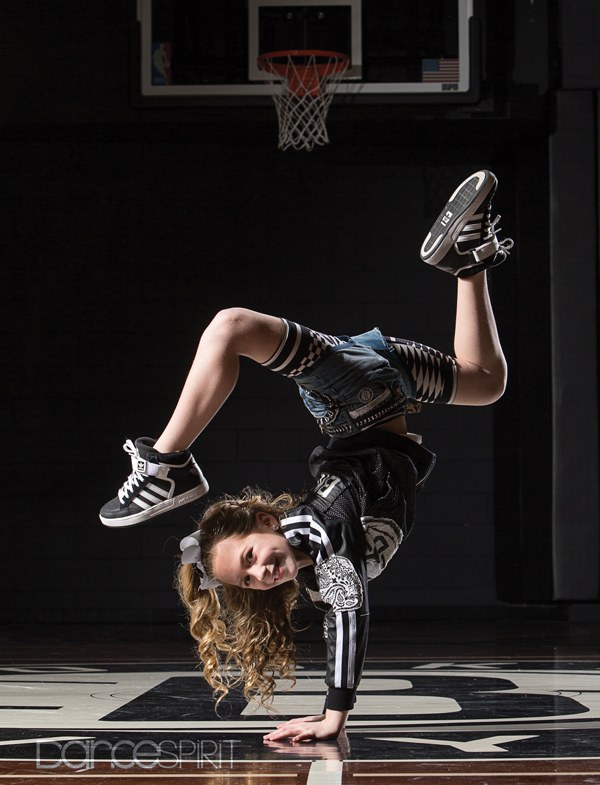 (Photo by Erin Baiano)
Serena Quadrato
Age: 10
Hometown: Staten Island, NY
Favorite thing about being a BNK: "Dancing center court with all the fans cheering you on. It's just an amazing experience, having a blast out there with your friends."
Coolest person she's ever danced with: President Barack Obama. "I danced backup for Mariah Carey at the White House Christmas tree lighting—and I ended up getting to dance with the President!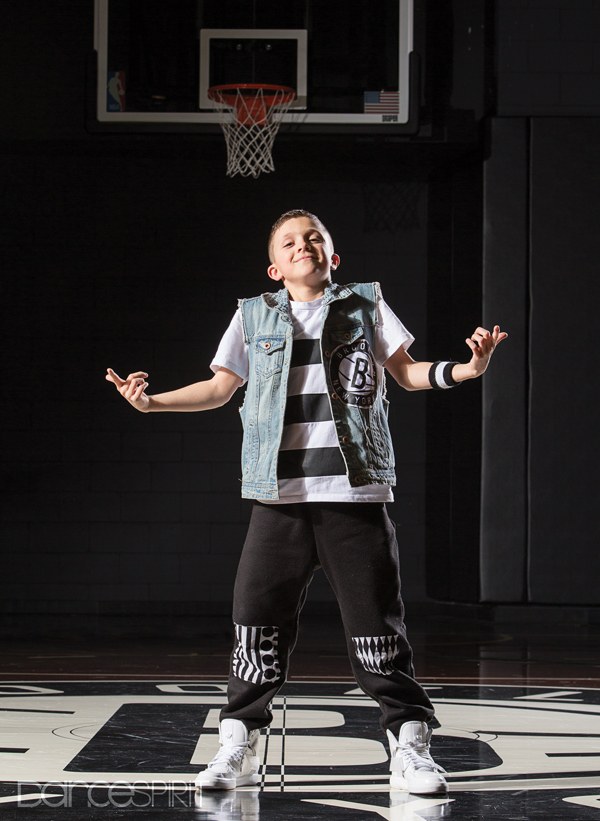 (Photo by Erin Baiano)
Frankie Signorelli
Age: 12
Hometown: Staten Island, NY
Favorite thing about being a BNK: "You feel like a celebrity out there. Sometimes you're dancing for celebrities, too."
Coolest moment as a BNK: "At one game, Jay-Z and Beyoncé were there—and we did a dance to Jay-Z's 'Hard Knock Life'! They were both laughing and having a good time. Jay-Z gave us a standing ovation."
Photo Galleries
Mar. 10, 2015 03:25PM EST
You already know the many reasons dance teams rock. And being on a professional basketball dance team is even better: Not only can it potentially lead to big things (like, Paula Abdul big), you also get to perform in jam-packed stadiums at major events around the world. Like seasoned members of the Knicks City Dancers have told us, it's a seriously sweet part-time gig.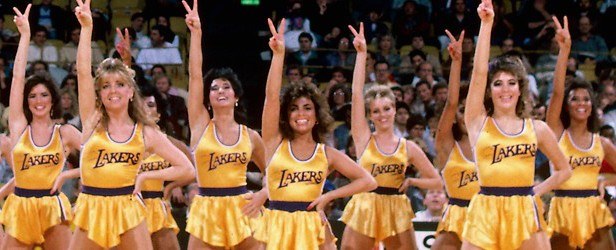 Paula Abdul, front and center. The 80s were awesome.
(photo via ultimatecheerleaders.com)
If you're over 16 and this sounds like your kind of thing (um, yes please!), get yourself to L.A. this weekend for the Laker Girls workshop. Laker Girls director Lisa Estrada and dance convention/competition Hollywood Connection are hosting an all-day clinic for dance-team hopefuls at California State University Long Beach on Saturday, June 14th. Participants will learn team choreography, experience mock auditions and meet, ask questions and hear feedback from Estrada herself.
The registration fees are a little steep ($110 if you register by Thursday, $120 at the door), but it does seem like a fantastic networking opportunity before the Laker Girls hold auditions in July.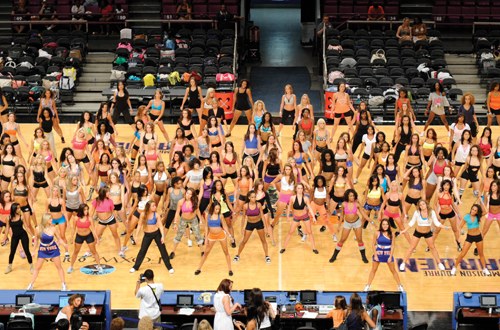 Hopefuls audition for the Knicks City Dancers—this year KCD auditions are June 21!
(photo courtesy Madison Square Garden)
Can't make it to L.A.? There may be a clinic for your city's dance team coming up verrry soon since audition season is now in full swing. The Brooklynettes in Brooklyn, NY, for instance, are hosting their second audition intensive on June 23rd before their auditions June 28th. And the Knicks City Dancers are holding four audition clinics (June 11th—that's tonight—and the 12th, 18th and 19th) before their audition June 21st.  Check out your city's team (or the city of your dream team's) website for info.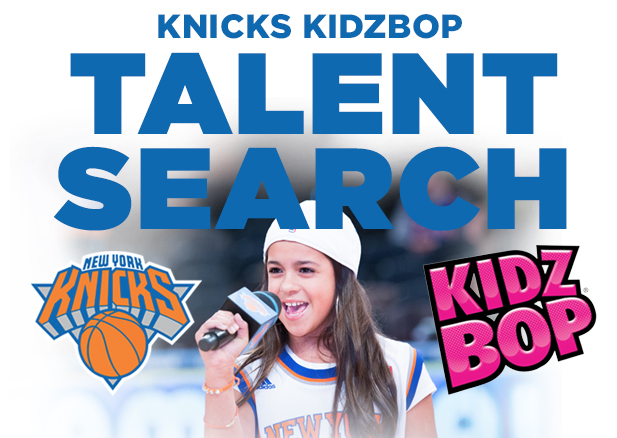 If you've got killer dance moves—and vocal chords to match—you need to audition for the 2013 Knicks Kidz Bop Talent Search! The winner receives a cash prize and the chance to perform during a Knicks game at Madison Square Garden in NYC.
Knicks reps are looking for singers/dancers between the ages of 6 and 14. It's super easy to audition:
1. Complete the form and sign the release.
2. Attach your resumé and headshot.
3. Upload a video of you belting your favorite pop song.
4. Send it all to auditions@msg.com by Monday, September 30.
Get more specifics here. Good luck!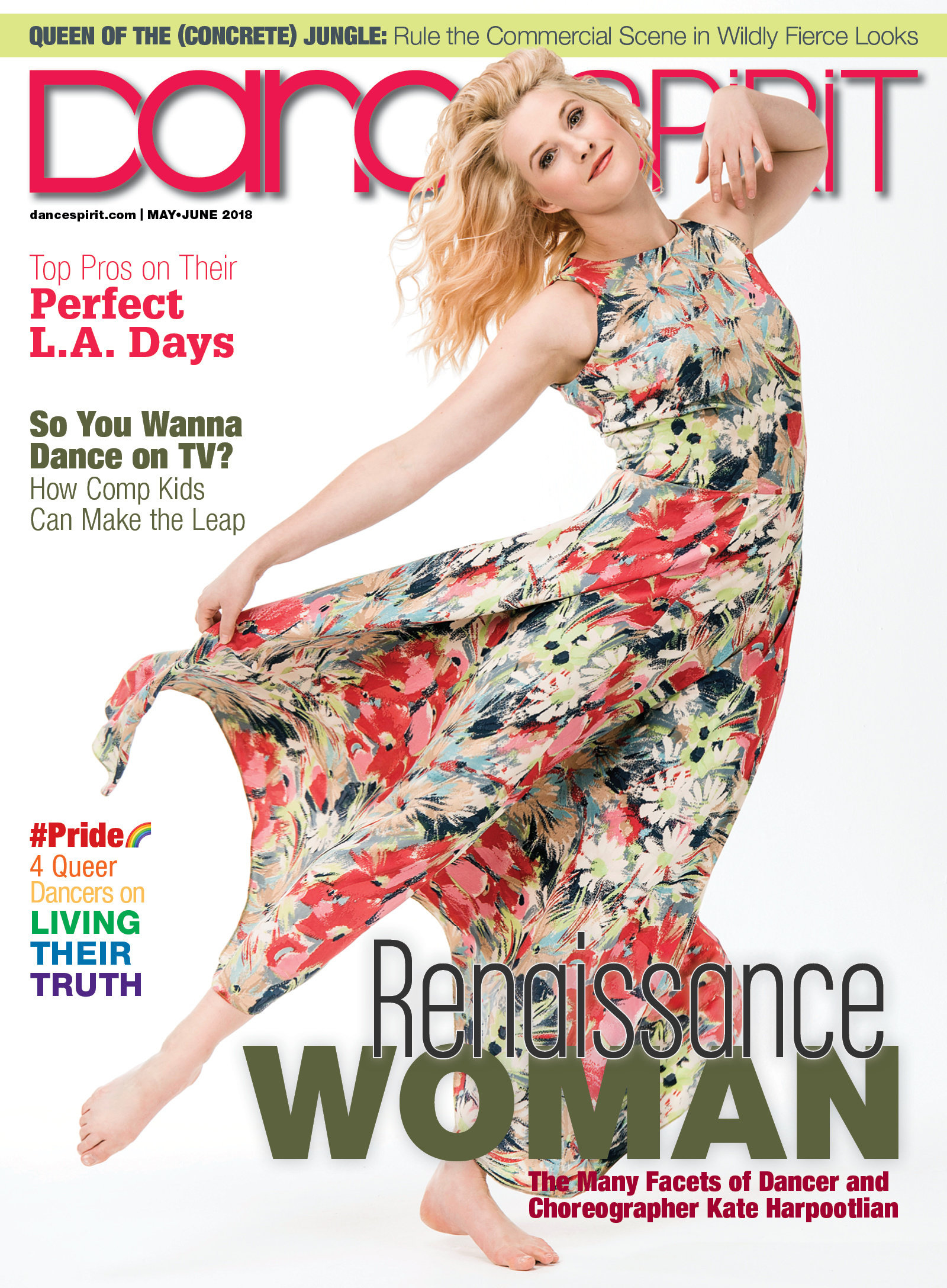 Get Dance Spirit in your inbox