Mar. 23, 2017 05:36AM EST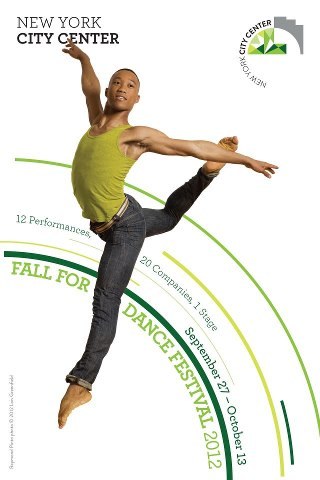 20 companies, 12 performances, $15 a ticket: By the numbers, New York City Center's Fall for Dance festival looks pretty impressive. When you add in the fact that the annual event often features troupes rarely seen in NYC, and that it seems to ignite the city's passion for dance—hordes of people line up every year to snag FFD tickets—the picture gets even better.
The festival opens tonight with a program featuring Jared Grimes, Martha Graham alum Fang-Yi Sheu, Nederlands Dans Theater and the BalletBoyz. (Enough bold-faced names for you?) But even if you weren't able to get tickets, swing by City Center this evening to hang out at Lounge FFD. Every night of the festival it'll offer great food, fun music—and, if you arrive at the right time, maybe even a chance to dance with some of the evening's performers.
Miraculously, there are still a few tickets available to the October performances—but we're guessing they won't last long. Get 'em while you can!
Dec. 15, 2016 12:36PM EST
Canada's Kaha:wi Dance Theatre in Re-Quickening, a collaborative work by multiple female artists (Nyberg Productions, courtesy Kaha:wi Dance Theatre)
Nederlands Dans Theater. Batsheva Dance Company. RUBBERBANDance Group. These companies top the dream-job list of many contemporary dancers, thanks to their amazingly inventive choreography and culturally specific approach to dance. They're part of the wider world of contemporary and all its innovations—a world that extends far beyond the U.S. We rounded up boundary-pushing troupes from different continents so you can sample what contemporary dance looks like the world over.
Keep reading...
Show less
Let's talk about dream companies. It's safe to say that for many of you, Still Motion Dance Company, Shaping Sound Dance Co. and Cedar Lake Contemporary Dance Company are at the top of your lists. They're all fantastic—but there's one thing they don't offer: a second company. And you know how much we love second companies.
So here's a quick question: Have you ever considered Nederlands Dans Theater 2? If you're like me (#obsessed), then you probably YouTube-stalk them on the daily. I mean, is it really too much to ask the mind-blowing contemporary dance troupe to put up new videos every week? But I digress...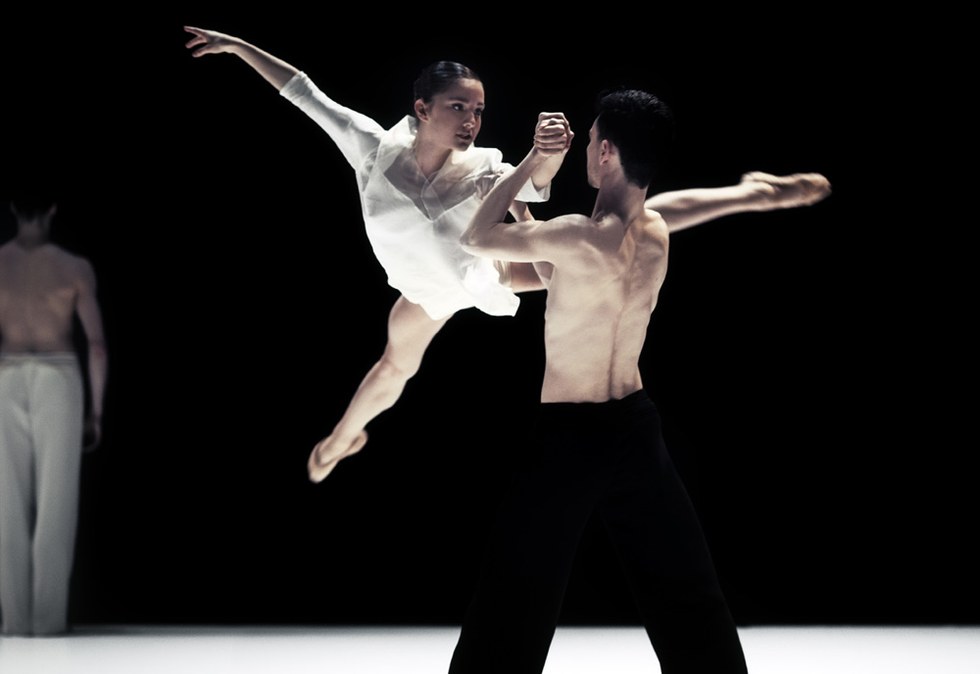 Katarina Van Den Wouwer and Gregory Lau in POSTSCRIPT (photo by Rahi Rezvani)
Nederlands Dans Theater is one of the top contemporary companies in the world, and there's no better way in than through the ranks of its little sister company, NDT2. These kids are good. And I'm not just saying that because basically all of the Americans in the company are Julliard alums and YoungArts or Princess Grace nominees (or awardees). I'm saying that because I saw them perform at the Joyce Theater on Tuesday night—and I had to scrape my jaw off the ground.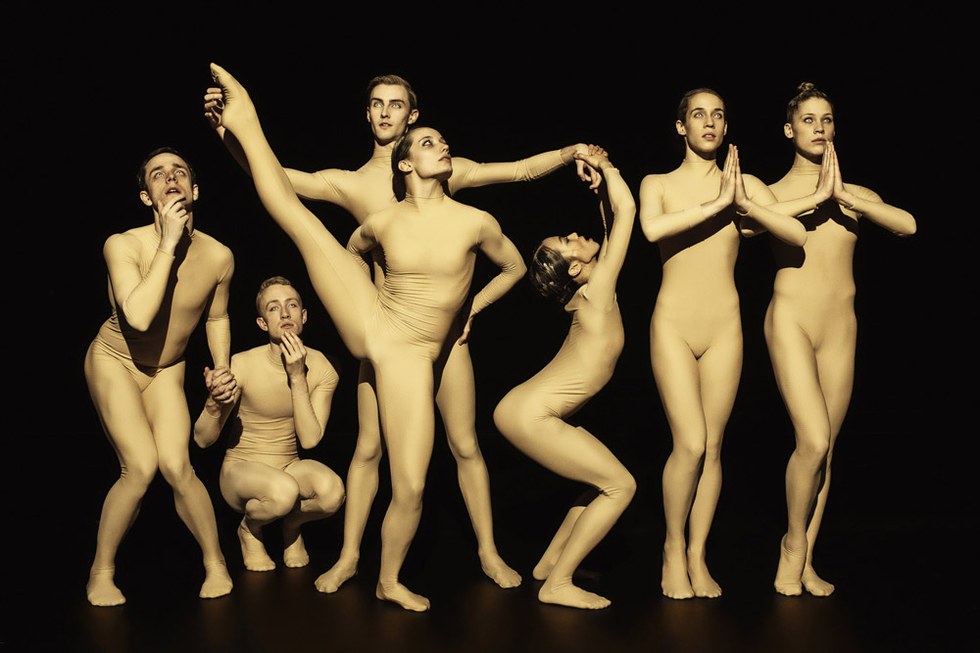 Dancers of NDT2 in Sara (photo by Rahi Rezvani)
The company performed four pieces, my favorite of which was the creepy, uncomfortable, amazing Sara, by Israeli choreographers Sharon Eyal and Gai Behar.  Want to get in on the magic? NDT's summer program registration is now open.
Apr. 08, 2013 10:50AM EST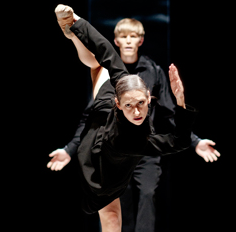 NDT photographed by Rahi Rezvani
There are two types of people in the dance world: Those who are obsessed with Nederlands Dans Theater, and those who haven't seen the troupe perform yet.
NDT is a dancer's company, and I mean that in two senses. First, its repertoire is chock-full of rich, calligraphic pieces that dancers just love to perform. Second, the company dancers themselves are gorgeous. They're rare beasts, those NDT-ers: They manage to be emotionally raw and technically polished at the same time. (Right now, by the way, their ranks include one of our all-time favorites, Drew Jacoby.)
This week, the Joyce Theater Foundation is bringing NDT to Lincoln Center's David H. Koch Theater. It's the company's first NYC visit in eight long years, which means a lot of Big Apple dance nerds are getting very excited right about now. While NDT is best-known for its Jiří Kylián repertoire—Kylián was its artistic director from 1975-2004—the New York program will give us a look at two works by dynamic duo Paul Lightfoot (the current artistic director) and Sol León.
Click here to find out more about the program, and get a sneak peek at the dancing below.
(A heads-up: The program does contain some nudity, though this video clip doesn't.)
Nov. 06, 2012 11:11AM EST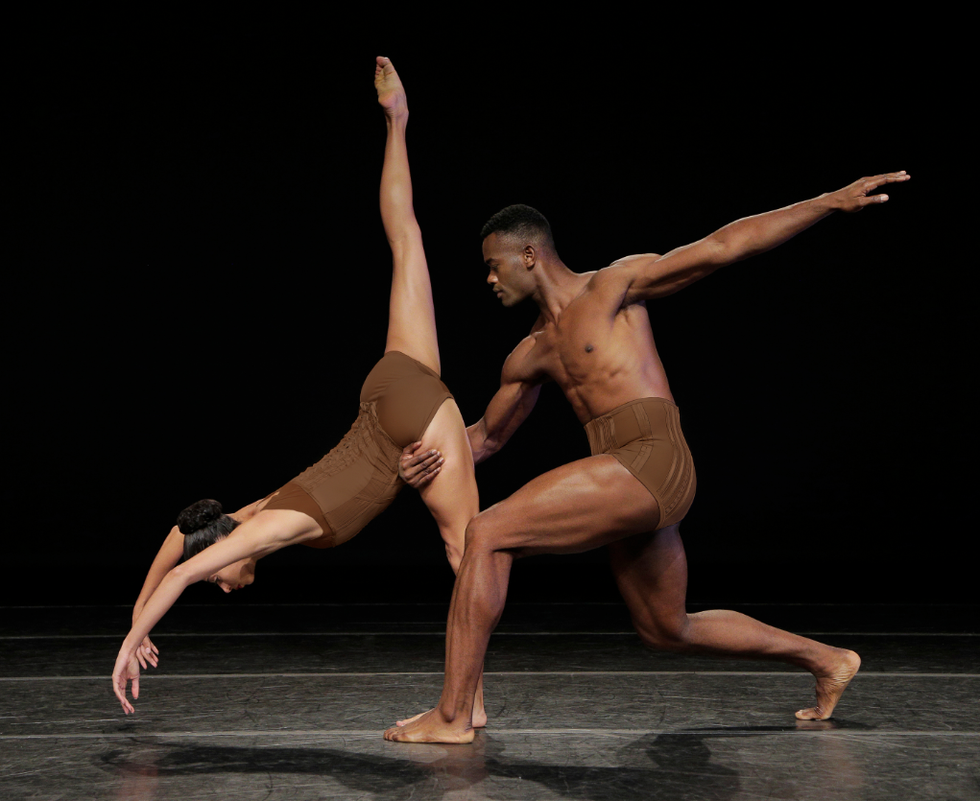 Last night, I was able to snag a ticket to Alvin Ailey American Dance Theater's "season preview" performance, a sampler of works from their upcoming New York City Center season. There was an excerpt from From Before, an earthy, polyrhythmic company premiere by legend Garth Fagan. There was the spankin' new Another Night by up-and-comer Kyle Abraham, set to Dizzy Gillespie's get-up-and-go jazz. Both pieces felt like classic AAADT fare: Vibrant, electric, seriously charismatic. Both, in other words, showed the audience a good time.
But when the company performed part of Jiří Kylián's Petite Mort, I almost lost my mind.
Are you already a Kylián fan? If not, it's time to get educated, and videos of Petite Mort are a fine place to start. (If you're a fan of "Breaking Pointe," it'll look familiar—the show included footage of Ballet West's recent performances of the piece.) Kylián, who was the director of Nederlands Dans Theater for decades, has a sleek, calligraphic style. He's especially gifted when it comes to partnering—his pas de deux are fantastically knotty and yet seamless strings of shapes. His path from point A to point B is never the obvious way, but eventually it feels like the only way.
Petite Mort is technically fiendish, and for that reason it's usually performed by top-notch ballet companies. Ailey dancers all have solid ballet training, but I wondered if this work might be a little out of their comfort zone.
How silly of me. The entire cast looked wonderful, with Jamar Roberts and Alicia Graf Mack shining especially bright. What a gorgeous, impossibly long-limbed, elegant dream team! Alicia used to be the star of Dance Theatre of Harlem, and Jamar has danced with Complexions Contemporary Ballet. Petite Mort showed off all their best classical qualities—those lines!—but they, and the rest of the Ailey cast, also brought a unique richness to the piece. These dancers weren't just taught how to move; they were born to move.
Ailey performs Petite Mort for the first time on December 7th. Get thee to New York City Center! (And for information about the rest of the season, click here.)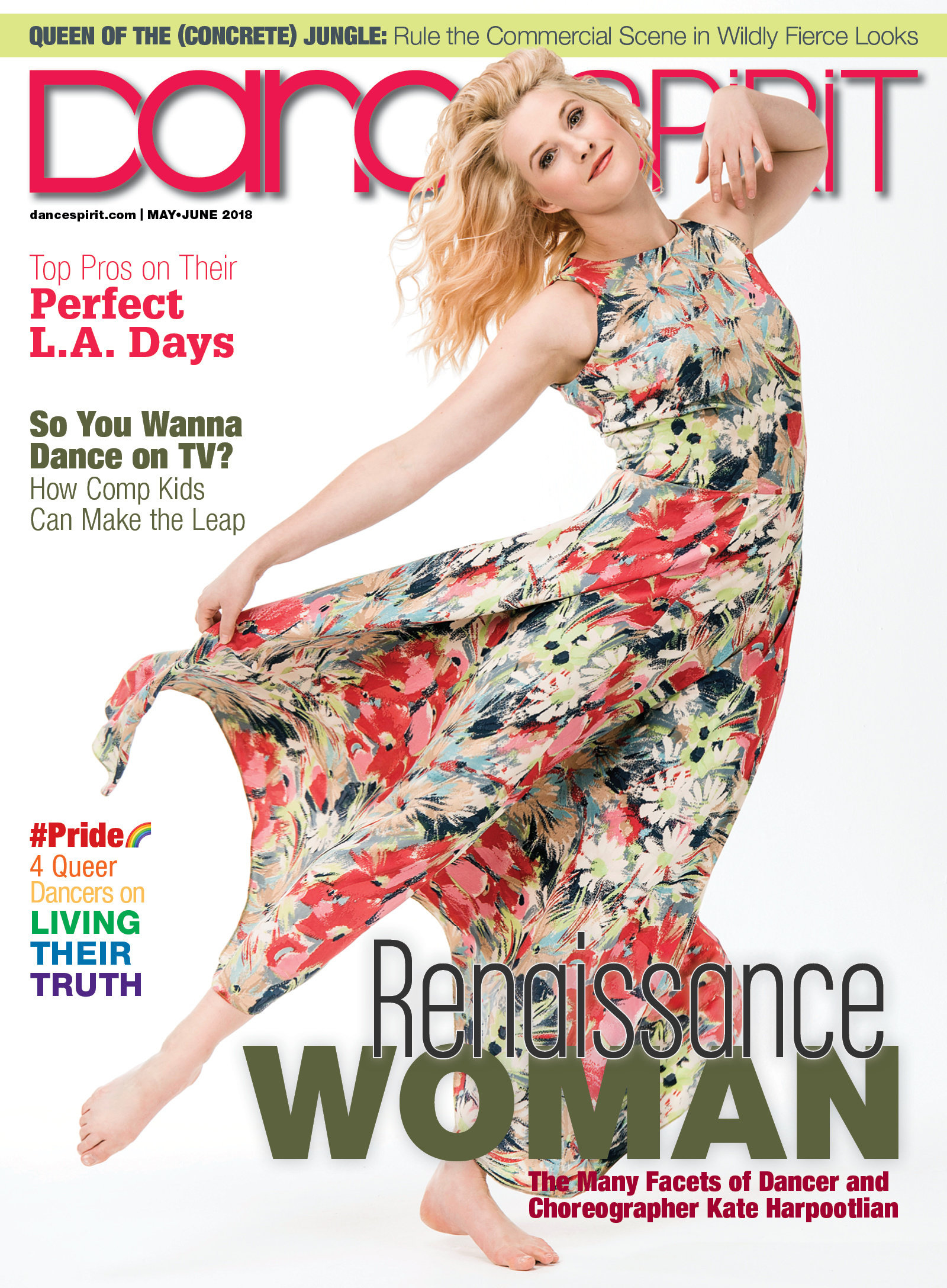 Get Dance Spirit in your inbox