How To
Jun. 27, 2018 03:43PM EST
Photo by NYC & Company, courtesy Kate Glicksberg
There's a reason (or a million reasons) so many young dancers set their sights on the city that never sleeps: NYC is an artists' haven, with opportunities to create and grow everywhere you look. But pursuing a dance career in NYC can also be downright expensive, and a steady company paycheck is basically a unicorn. "I really wish I'd sat down and mapped out all the expenses before making the big move," says NYC freelancer Krissy Harris. "After about a year or so, I got in the swing of things. But it was a process!" Here's advice from Harris and four other New York dance pros on how to survive the grind.
Keep reading...
Show less
Photo by Lucas Chilczuk
With several Shaping Sound tours and TV credits like "So You Think You Can Dance," "Dancing with the Stars," and "Boardwalk Empire" to her name, you wouldn't expect Kate Harpootlian to be refreshingly down-to-earth. But that's exactly how she is: As soon as you start talking to the gifted dancer and choreographer, it becomes clear that she doesn't take herself too seriously. And she's happy to tell hilarious stories to prove it. (Ask her about the time she did a Mr. Peanut impression when Mia Michaels asked her to improvise, or the time she starred in a Japanese makeup commercial and had to do grand pliés wearing one pointe shoe and one flat shoe.)
That mixture of humor and grace is evident in Harpootlian's growing body of choreographic work. Her one-act show Better Late Than Never, for example, which premiered last summer, has a jazzy, West Side Story vibe, offsetting heavier moments with touches of whimsy. "There's always a balance in my work," Harpootlian says. "I want to use humor to balance out the darker aspects. It's like one of my friends once said: 'You make me laugh, and then you make me feel bad for laughing.' "
Keep reading...
Show less
Rachel Quiner performs Clara in the Christmas Spectacular (courtesy Rachel Quiner)
Think the Rockettes are the only stars of the Radio City Christmas Spectacular? Think again. Each year, a few lucky girls share the role of Clara, who appears during the Nutcracker portion of the show. Clara gets to do some real dancing, too, including solos and pas de deux. (Past Claras include Juliet Doherty and Tiler Peck!)
Dance Spirit sat down with this year's three Claras—Emerson Alexander, JoseBella Morton, and Rachel Quiner, all 12 years old—to find out what it takes to play Clara in the Spectacular, and the best parts of sharing the stage with the world's most iconic precision dance company.
Keep reading...
Show less
Courtesy MSG Entertainment
For some it's a holiday tradition, for others its an iconic spectacle, but no matter the reason, more than 1 million people will watch the Rockettes perform in the Radio City Christmas Spectacular each year. And though the production has been around since 1933, much of what goes on behind those velvety curtains and intricate sets remains a mystery. To curb our curiosity and find out what ensues when these leggy ladies aren't doling out their sky-high kicks, we got a backstage tour from the legends themselves.
From hair and makeup, to warm-up exercises, and costume quick changes (the fastest quick change in the show is a #mindblowing 75 seconds, by the way) we got a glimpse into the glamorous (and sometimes not so glamorous) world of the Rockettes.
Keep reading...
Show less
Via @Rockettes on Twitter
Look, guys, we know: It is too darn early for holly-jolliness. But the Rockettes appeared on the "Today" show this morning to promote the Radio City Christmas Spectacular, and we can't help it—as soon as we see that iconic kickline, we start daydreaming about sleigh bells and mistletoe and gingerbread lattes.
Keep reading...
Show less
Popular
Oct. 10, 2017 12:42PM EST
K-pop boy band, Seventeen just released a jaw-dropping music video that we can't get enough of. Thanks to the intricacy and overall it-factor of the choreography, this boy band's taking things to a level that even professional dancers might have trouble keeping up with. In fact, these guys are so good that *NSYNC may have to say "Bye Bye Bye" to their unofficial title of Best Dancing Boy Band!
Keep reading...
Show less
You probably know Ava Cota as the lovely, leggy dancer who was rejected from the Abby Lee Dance Company, on "Dance Moms," because she was "too tall." Now, that lanky frame is propelling her career as a model. Ava just made her New York Fashion Week runway debut, and we're guessing it won't be the last time the six-foot beauty graces NYC's catwalks.
Keep reading...
Show less
Erin Carpenter as a Knicks City Dancer (David Saffran, courtesy Erin Carpenter)
The groundwork for Erin Carpenter's company, Nude Barre, began when she was a teenager. At 16, she earned a spot in the residency program at The Kennedy Center in partnership with Dance Theatre of Harlem. "We were required to wear nude—as in, our actual skin tone—tights and shoes," she remembers. Carpenter brought her "sun tan" tights and a pair of pink ballet shoes with her, because that was all she could find. But she wasn't allowed in class because her dancewear didn't match her skin. "I was so embarrassed," she says. "I looked unprepared. I just didn't have the right nudes." Her teacher explained that the dancers dyed their tights and pancaked their shoes.
Keep reading...
Show less
Gretchen Smith in rehearsals for The Most Incredible Thing (Paul Kolnik, courtesy New York City Ballet)
New York City Ballet soloist and resident choreographer Justin Peck is never not busy: This year alone, he's created works for San Francisco Ballet, Miami City Ballet and NYCB. But Peck's latest ballet for his home company, The Most Incredible Thing, is his biggest production yet. Based on the Hans Christian Andersen fairy tale, it features 50 dancers; a score by Bryce Dessner, of the band The National; and costumes and sets by popular artist Marcel Dzama. Dance Spirit caught up with NYCB corps de ballet member Gretchen Smith, a Most Incredible Thing cast member, to get the scoop on Peck's new work. —Olivia Manno

Keep reading...
Show less
Get Dance Spirit in your inbox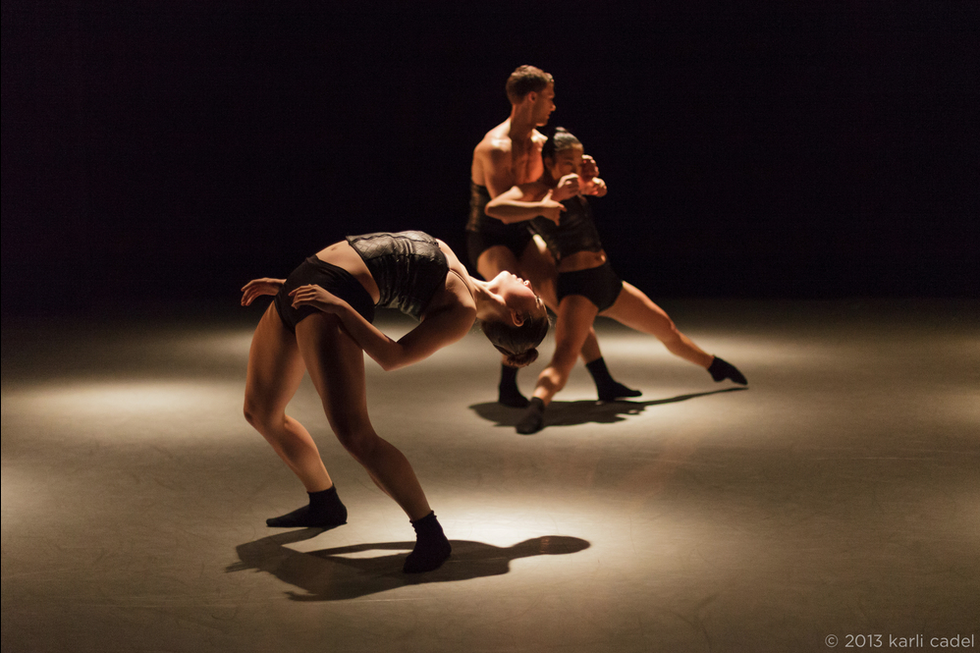 Peridance Contemporary Dance Company members (photo by Karli Cadel)
Being the savvy dancers that you all are, you already know it's a good idea to scope out hot, interesting choreographers, to discover who and what you really like—and what you like…less. Being informed about what's happening in the dance world will help you choose which auditions to go to and who to take classes from once you're on your own as a professional.
One of the best ways to see several different companies at once is to attend a showcase. This weekend, Peridance Contemporary Dance Company is sharing a program with three other NYC dance companies: SynthesisDANCE, Mettin Movement and :pushing progress. These companies are small but mighty—they regularly perform world premieres in some of NYC's coolest venues.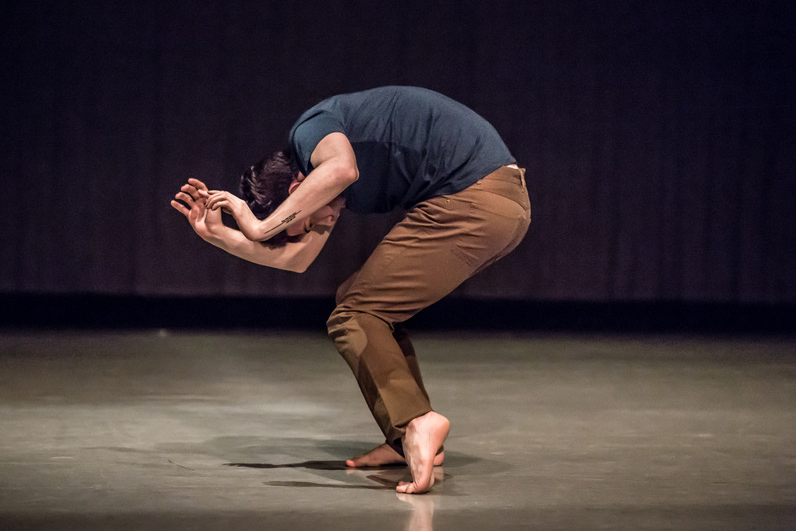 PCDC company member Eoghan Dillon (photo by Dekel Hamatian)
"Our group of dancers are all stand-outs, but during rehearsal we were pushed to our limits—both artistically and physically," says full-time Peridance company member Eoghan Dillon. "I feel really connected to this work, and I'm itching to get out and perform it."
If you're itching to see it, click here to buy tickets.
Rob Daly, courtesy Teddy Forance
Whether he's onstage with Shaping Sound—the company he helped co-found with Travis Wall, Nick Lazzarini and Kyle Robinson—or performing with artists like P!nk, Janet Jackson, Lady Gaga or Usher, contemporary dancer Teddy Forance never delivers anything less than jaw-dropping performances. His technique is flawless and he leaves everything he has on the stage, every single time. The Easthampton, MA, native grew up dancing at the Hackworth School of Performing Arts, which was founded by his great-grandfather and has been owned by his family for more than 80 years. At 17, Forance toured Greece as a dancer with pop star Anna Vissi. He later assisted on Céline Dion's Taking Chances world tour and was a lead dancer in Cirque du Soleil's Delirium. He's performed on and choreographed for "So You Think You Can Dance" and "Dancing with the Stars," and starred in the Step Up Revolution film. Currently, he choreographs for Shaping Sound and is on faculty with JUMP Dance Convention.
Keep reading...
Show less
Savannah Gaillard in tech rehearsal (courtesy Nancy Gaillard)
High school senior Savannah Gaillard has been attending the New York University Future Dancers and Dancemakers workshop at Tisch School of the Arts for the past three years. The uber-focused and dedicated teen chronicled the final three weekends of the 2016 program: Every Saturday, from February through April, she and her mom, Nancy, took the train from their home in Haymarket, VA, to NYC so Savannah could experience life as a BFA dance major at Tisch.
Keep reading...
Show less
Kaitlynn Edgar knew she was ready for a pro career. (Lee Gumbs)
It's a question every serious dance student has to ask as she approaches high school graduation: What's next? College, or a company gig? A full-time dance career, or…something else? You can't take this big decision lightly. But how can you know if you're ready to go pro after high school? What about at age 22, with four years of college dance classes under your belt?
Keep reading...
Show less
Oct. 15, 2015 07:35AM EST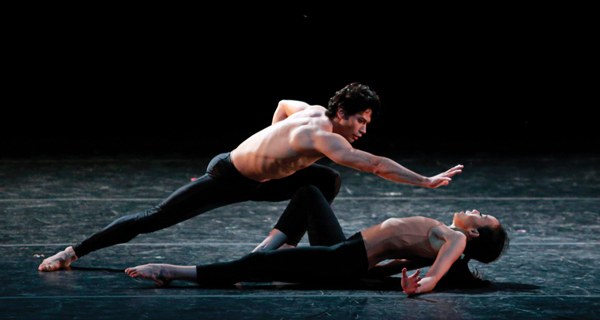 Herman Cornejo and Fang-Yi Sheu (photo by Erin Baiano, courtesy New York City Center)
Limón Lovin'
This year marks the Limón Dance Company's 70th anniversary season, and what better way to celebrate the iconic modern choreographer than with a big party? October 13–25, dance companies from around the globe—including The Royal Danish Ballet and the Bavarian State Ballet—will perform some of Limón's seminal work at The Joyce Theater. Nine student-dance companies will also take the festival stage, including dancers from Southern Methodist University, who'll perform Limón's There Is a Time. "It really speaks to the importance of the work when it's experienced on this level, with so many professional companies," says Patty Harrington Delaney, SMU's chair of dance. Will students get to mingle with company members? Longtime Limón Dance Company dancer Ryoko Kudo is hopeful for those kinds of interactions: "It would be wonderful if this opened more doors to collaboration and if we could continue to work together," she says.
Get more info: joyce.org
Choreography Gone Couture
New York City Ballet's 2015 fall season (September 22–October 18) features world premieres by choreographers Robert Binet, Kim Brandstrup, Justin Peck (his ninth for the company!), Troy Schumacher and Myles Thatcher. And for the fourth year in a row, NYCB's fall season is celebrating the dance–fashion connection. Six internationally acclaimed designers—including Zuhair Murad and, for Oscar de la Renta, Peter Copping—will create couture costumes, to be unveiled at the NYCB gala on September 30 at Lincoln Center.
Get more info: nycballet.com
Six Tappers at Sea...on Broadway
If you've never heard of the musical Dames at Sea, you're not alone. Those who have only know it as the off-Broadway show that put Bernadette Peters on the map in 1968. But this month, Dames at Sea finally gets its Broadway debut, with Randy Skinner at the helm as both director and choreographer.
Dames at Sea follows a day in the life of a girl from Utah who arrives in NYC with big Broadway dreams. Sound familiar? "The show pays homage to three old movie-musicals, including 42nd Street," Skinner explains. (He earned a Tony nomination for choreographing 42nd Street's 2001 Broadway revival.) Like 42nd Street, Dames at Sea is loaded with dance numbers, but it's surprisingly low on cast members. "There are only six performers," Skinner says. "We expanded a lot of the musical arrangements to add more dancing, so I had to find performers who could sing, act and really dance. They go from tap to ballroom to jazz. And there's no chorus to back them up!"
Get more info: damesatseabroadway.com
A NYC Tradition
Now in its 12th year, New York City Center's Fall for Dance Festival kicks off September 30. Twenty companies (and many freelance artists) will be featured in five carefully curated programs—and each ticket costs just $15. Highlights include a brand-new work by Michelle Dorrance and the NYC premiere of former Martha Graham Dance Company principal Fang-Yi Sheu's piece for herself and American Ballet Theatre principal Herman Cornejo.
Get more info: nycitycenter.org
Fall for Dance—one of the best offerings during NYC's packed fall season—has ended until next year. The whirlwind festival presents some of the world's best companies, first during two free evenings at the Delacorte Theater in Central Park, and then through a series of $15 performances at New York City Center. It's no surprise that tickets disappear like whoa. (And it makes us super happy to know that New Yorkers anxiously wait for their chance to go see some seriously good dancing.)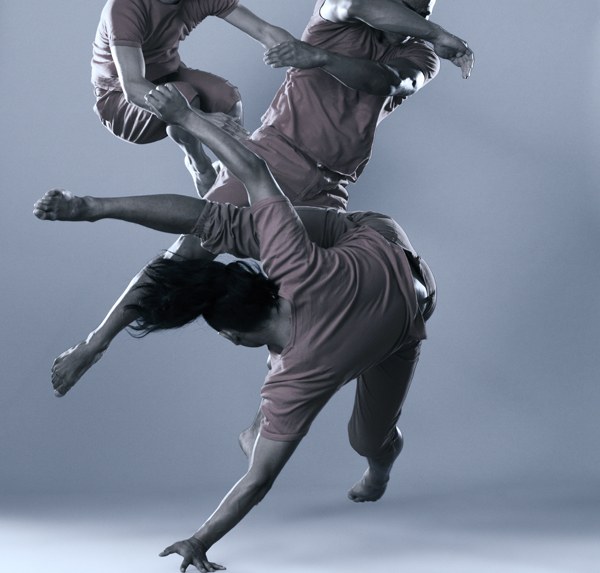 Black Grace (photo by Duncan Cole)
Here at DS, we love Fall for Dance because it gives us a chance to see some of our favorite American companies, along with international groups that don't come through very often. There are also always a few gems that we didn't already know about, but that completely blow us away. Read on for my top five pieces from Fall for Dance, 2014.
Black Grace is New Zealand's leading contemporary dance company. Their work pulls from traditional Samoan dance and storytelling, as well as contemporary movement. The two pieces they performed—Minoi and Pati Pati—showcased the company's powerful athleticism, perfect unison and mesmerizing cannon, along with some beautiful singing and chanting.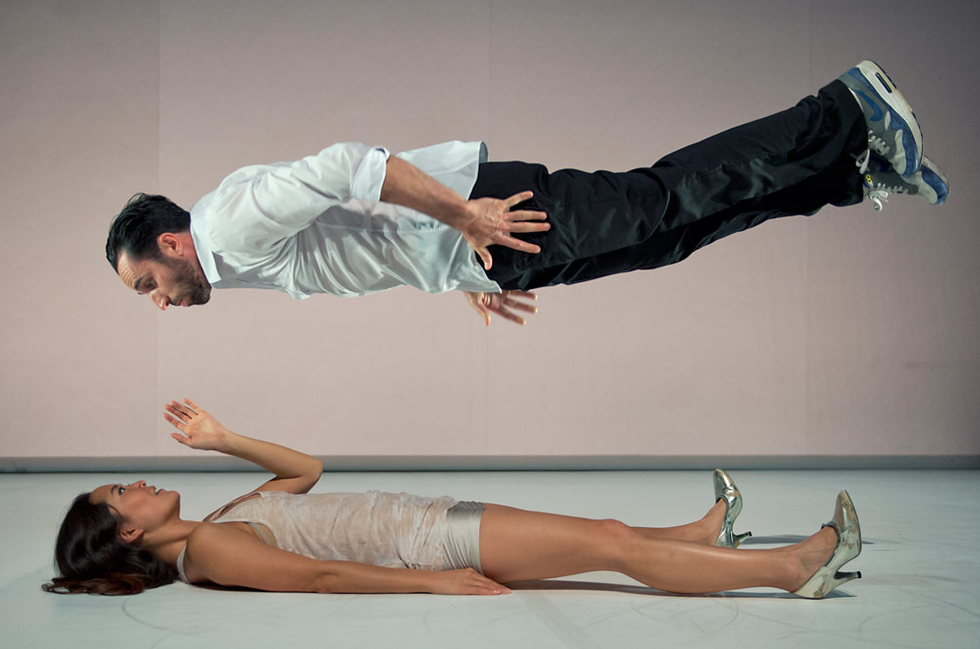 Sébastien Ramirez and Honji Wang (photo by Nika Kramer)
After I picked my jaw up off the floor, I was left wondering who the heck Sébastien Ramirez and Honji Wang are. It turns out they're a collaborative duo from Europe, under the name Wang Ramirez. Wang is a contemporary dancer with strong ballet and hip- hop training, while Ramirez is an award-winning b-boy. Their piece, AP15, was AMAZING, and pretty much defined fluidity and precision.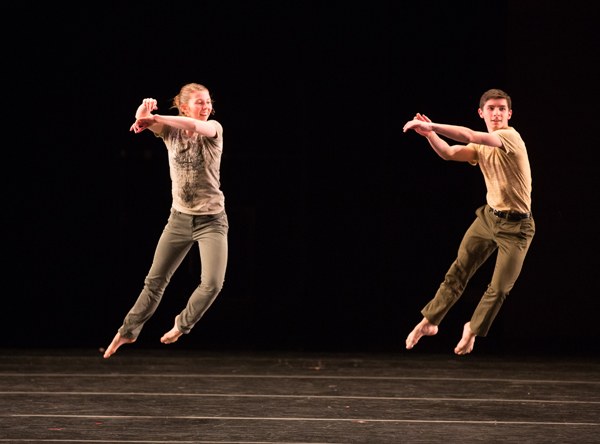 Cleo Person and Dean Biosca in Torrent (photo by Rosalie O'Connor)
The Brian Brooks Moving Company performed Torrent—commissioned by Julliard in 2013—with members of Julliard Dance. The performers poured on and off of the stage, assembling and reassembling to form groups and lines. Given the title, I was expecting something dark. Instead the piece was non-stop, joyous dancing. The best part? I couldn't tell the difference between the company members and the Julliard students.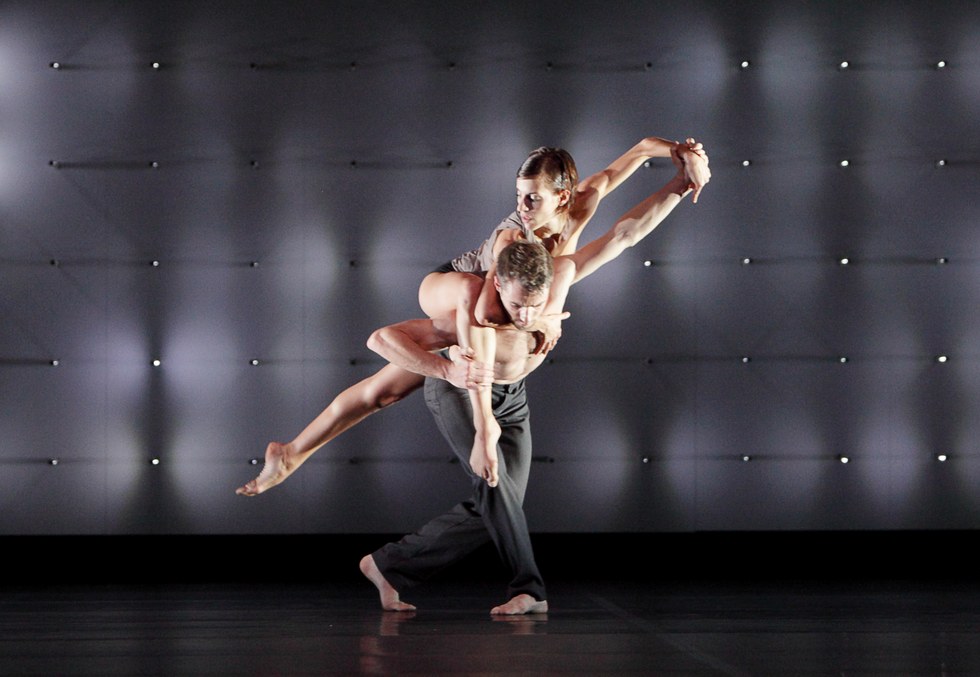 Catarina Carvalho and Alexander Whitley (photo by Ravi Deepres)
I'm not going to lie, I was very excited to see Wayne McGregor | Random Dance live—and McGregor's ferocious choreography and brilliant lighting for Far did not disappoint. I was especially impressed with the men. Besides having bodies cut from stone, they were also super flexible and expressive.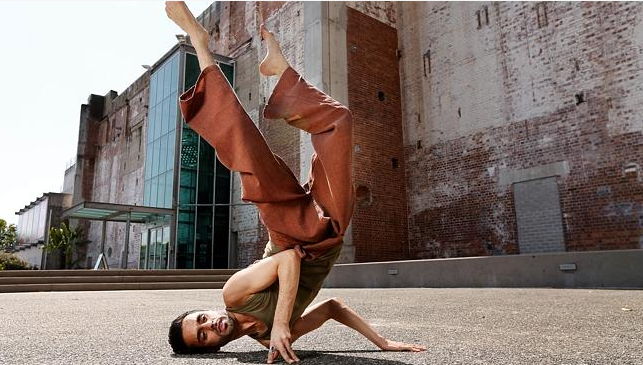 Aakash Odedra (photo by Jeff Camden)
Lastly, Aakash Odedra performed Nritta, a classical Kathak variation. Odedra also choreographs contemporary work, and often draws on his training in classical Indian dance. His performance was so fast and precise he seemed slightly otherworldly—but completely amazing.