Oct. 02, 2017 05:17PM EST
NYCDA executive director Joe Lanteri with dance legend Bebe Neuwirth on the red carpet (photo via @nycda on Instagram)
The annual New York City Dance Alliance Foundation fundraising gala, "Bright Lights Shining Stars," is usually a star-studded affair. But last night's 2017 event proved to be extra epic, thanks to tons of superb performances and appearances by some of Broadway's best—and most legendary—dancers.
Keep reading...
Show less
Fall means many things: stepping on really crunchy leaves (so satisfying, right?), piling on legwarmers and cozy warm-ups (check out our favorites in the October issue of DS!) and the return of the beloved pumpkin spice latte at Starbucks.
But this picture-perfect season—my personal favorite, if only for the McIntosh apples—also means the return of one very special annual event: New York City Dance Alliance Foundation's Bright Lights, Shining Stars.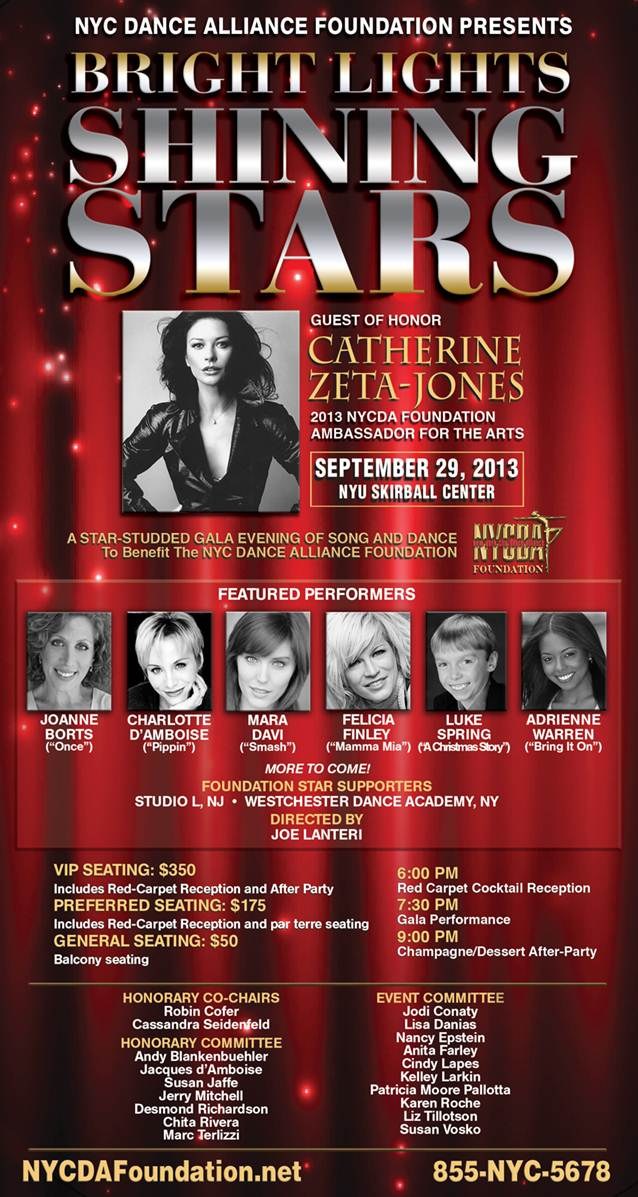 This year, the foundation is honoring mega-star Catherine Zeta-Jones, a longtime supporter of the arts and, of course, a performer herself! (Was she not to-die-for as Velma in the film version of Chicago?)
Not only will CZJ be there—surely wearing something spectacular—but there will also be performances by Charlotte D'Amboise, tiny tapper Luke Spring and Bring It On: The Musical's Adrienne Warren (loooove her).
The show will be held Sunday, September 29, at NYU's Skirball Center in NYC beginning at 7:30 pm. (But get there early for the red carpet entrances!)
Click here to get 25% off select seats.
See you there!
...and all that jazz.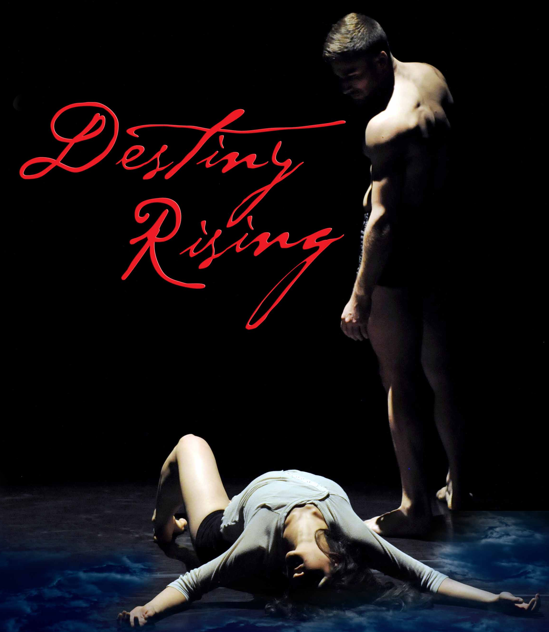 Here at DS, there's nothing we like better than a good gala. Actually, scratch that: There's nothing we like better than a good gala for an especially great cause.
The New York City Dance Alliance Foundation hosted its fourth annual Destiny Rising show last night to benefit the organization's pretty incredible college scholarship program. We would've watched paint dry if we knew it'd help NYCDA's super-talented kids achieve their college dreams. But we were treated to a world-class show instead—hosted by Complexions co-founder and fabulous dancer-about-town Desmond Richardson, no less.
Here's the great thing about the Destiny Rising gala: Every year, it features performances not only by professional companies filled with college graduates, but also by college dance groups. Over the course of the evening, the show offers dance students different visions of their futures—and all of them involve higher ed.
Last night was no exception. Are you dreaming of joining Alvin Ailey American Dance Theater? Southern Methodist University graduate Jamal White, now a member of  Ailey II, blazed through a powerful solo choreographed by Ailey II director Troy Powell. Hoping to keep performing innovative contemporary works in college? The Dean College Dancers showed that's definitely possible in Strange Invisible Perfume, a tribal-style showcase for its versatile performers. Obsessed with the ingenious dance-gymnastics blend of groups like Pilobolus Dance Theater? Alison Chase/Performance—led by Chase, a former Pilobolus director, and made up of very well-educated dancers—displayed superhuman feats of strength in Chase's Tsu-Ku-Tsu. Hoping to keep up your serious ballet training while you get a degree? The women of Mercyhurst University Ballet Theatre, who are doing just that, showed off strong pointe work in Terra Firma.
Long story short? Thanks to organizations like NYCDA Foundation, more and more talented dancers are choosing to go to college. And last night proved that that decision pretty much always pays off.
Here at DS, our love for all-things New York City Dance Alliance is no secret. We live for the competition's annual Nationals gala, we're in the audience cheering (possibly the loudest...) at each of the NYCDA Foundation's yearly shows and we have no shame telling the world about our crushes on Joe Lanteri (those blazers! that hair!).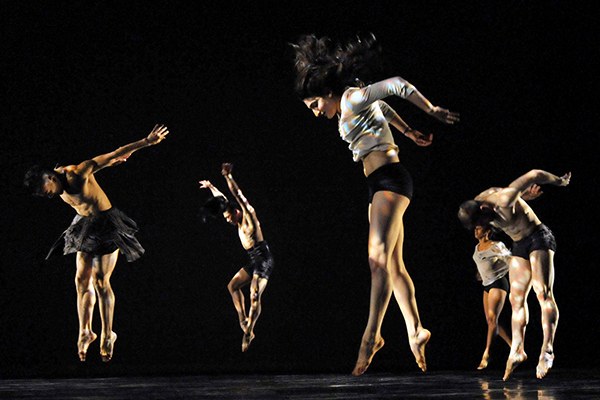 A shot from last year's Destiny Rising show. Who's that girl right up front? It's our former Cover Model Search winner and February 2014 cover girl, Ida Saki, of course! (Photo courtesy NYCDAF)
The New York City Dance Alliance Foundation was created a few years ago to provide scholarships to college-bound dancers—love that!—and has awarded $8.4 million to date so dancers can attend top schools such as University of the Arts, Marymount Manhattan College and Pace University.
Destiny Rising is a benefit performance, so your ticket money goes to good use (reminder, comp kids: these scholarships could be yours!), plus you get to see a stellar show boasting serious star power (NYCDA faculty favorites Joey Dowling and Andy Pellick will both be performing, plus the Houston Metropolitan Dance Company and tons of NYCDA alums).
We'll be there—the show is Monday, April 21, at 7:30 pm at The Joyce Theater in NYC—and we hope you will be, too. Click here to purchase your [very affordable] tickets.
Want more in the meantime? Here's a recap from the 2012 show.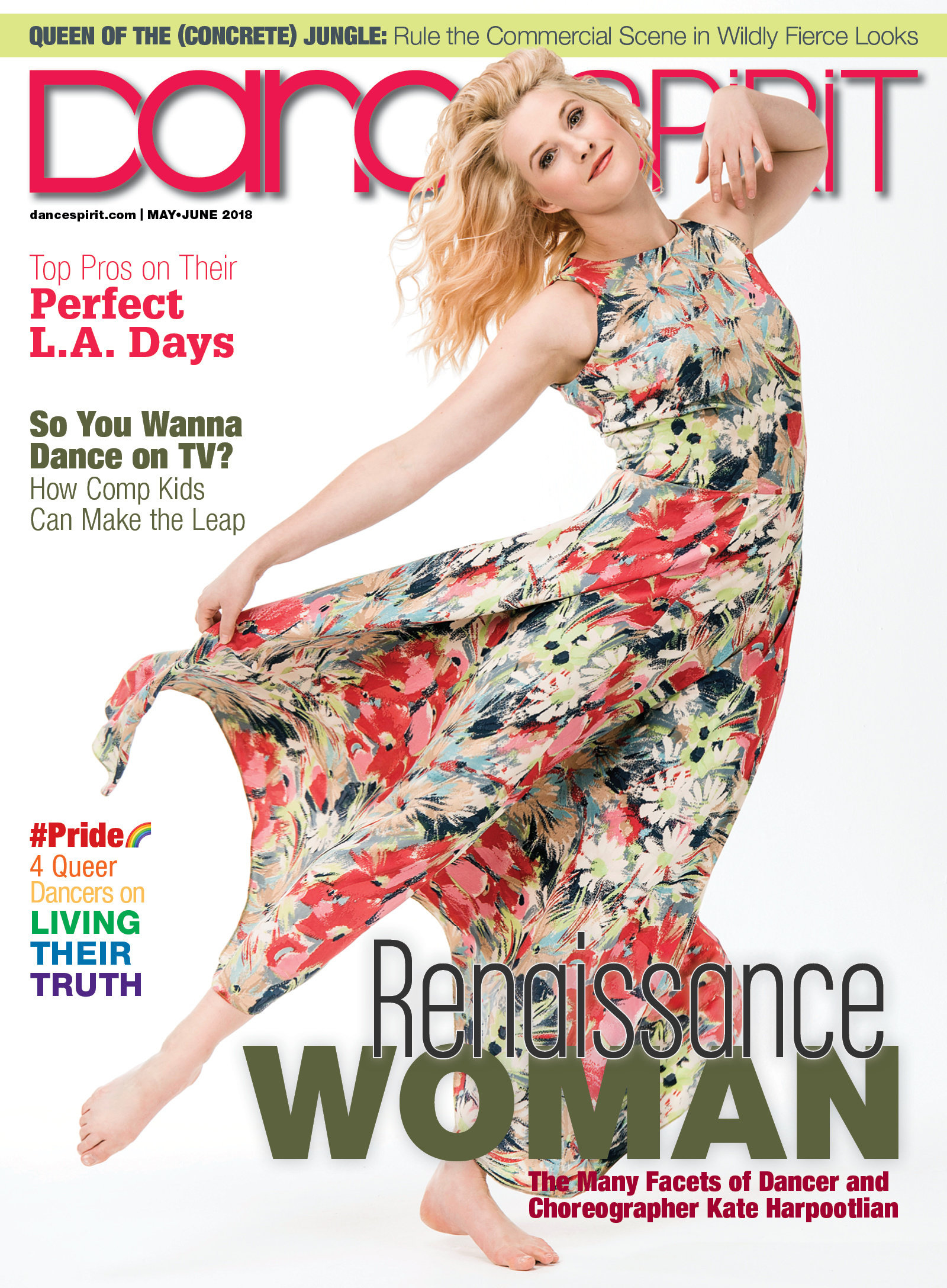 Get Dance Spirit in your inbox