Sep. 05, 2019 09:30AM EST
Courtesy Madison Goodman
Congratulations to the August Cover Model Search Editors' Choice video winner, Madison Goodman! Catch her solo below, and make sure to enter the Cover Model Search here.
Cover Model Search
Jan. 22, 2019 06:21PM EST
Every January, students, parents, professionals, and lovers of dance all gather for the New York City Dance Alliance Foundation's annual fundraising performance "Destiny Rising" at The Joyce Theater. And every year we fall a little bit more in love with the foundation's mission: "Investing in the next generation of professional performers by offering scholarships for secondary and college education." Since its founding in 2010, the foundation has awarded over 2.5 million dollars in scholarships. Because of the program (and its uber-generous donors), kids across the country literally get to attend college and pursue their dance dreams. What could be better than that?! Not much...
Dance News
Oct. 02, 2017 05:17PM EST
NYCDA executive director Joe Lanteri with dance legend Bebe Neuwirth on the red carpet (photo via @nycda on Instagram)
The annual New York City Dance Alliance Foundation fundraising gala, "Bright Lights Shining Stars," is usually a star-studded affair. But last night's 2017 event proved to be extra epic, thanks to tons of superb performances and appearances by some of Broadway's best—and most legendary—dancers.
Jul. 18, 2017 07:00AM EST
This Nationals season, Dance Spirit followed four talented dancers from The Dance Awards, NYCDA, Showstopper, and Starpower for an inside look at everything that goes into the biggest competitions of the year. First up: Isabella Torres from Mid-Atlantic Center for the Performing Arts in Baltimore, MD, who competed at New York City Dance Alliance Nationals for the first time this year. (All photos courtesy Shannon Torres.)
Dancer to Dancer
Mar. 23, 2017 04:32AM EST
The year 2011 was filled with show-stopping onstage moments and exciting offstage drama. Whether you were captivated by New York City Ballet star Sara Mearns' 32 fouettés in Swan Lake or danced along in your seat as Sutton Foster led the Broadway cast of Anything Goes through a series of time steps, there's no doubt you were entertained. Here are the people who kept us on the edge of our seats in 2011.
—Alison Feller
In Ballet
Sarah Lane. Photo by Gene Schiavone.

When Natalie Portman won the Best Actress Academy Award for her role as a twisted-but-talented ballerina in Black Swan, she neglected to thank her dance double, American Ballet Theatre's Sarah Lane, in her acceptance speech. Later, Lane stood up to the movie industry by demanding credit for her work.
New York City Ballet principal Jenifer Ringer danced the Sugar Plum Fairy role in the company's Nutcracker, last year, and while most gave her a standing ovation, New York Times dance critic Alastair Macaulay remarked in his review that it looked as though she'd "eaten one sugar plum too many." Ringer quickly became a role model for women everywhere when she went on "Oprah" this February to discuss the critique and proclaim that she thinks her body is just fine. So do we, Jenifer. Rock on!
As if Alexei Ratmansky wasn't already the busiest man in ballet, he just extended his contract as American Ballet Theatre's resident choreographer through 2023.
Company tours are a lot of work. This year Ballet Nacional de Cuba embarked on its first U.S. tour in five years, hitting four cities along the way.
American Ballet Theatre principal (and star!) David Hallberg became the first American dancer to enlist permanently with Moscow's Bolshoi Ballet.
The Broadway production of Wonderland. Photo by Paul Kolnik.

Everyone wanted to go down the rabbit hole: Productions of Alice in Wonderland popped up everywhere, from ballet stages (The Royal Ballet, The National Ballet of Canada and Royal Winnipeg Ballet all showed versions) to Broadway (Wonderland was short-lived, but the choreography by Marguerite Derricks was quirky and fun).
On Broadway
Apparently Harry Potter can sing and dance—or at least his real-life alter-ego can. Daniel Radcliffe drew massive crowds and rave reviews when he starred in How to Succeed in Business Without Really Trying. No magic wand needed.
The Book of Mormon. Photo by Joan Marcus.

The Book of Mormon was easily the most controversial debut on Broadway this year. The show, penned by "South Park" creators Trey Parker and Matt Stone with Avenue Q co-writer Robert Lopez and choreographed by Casey Nicholaw, may have offended some audiences, but it impressed the Tony Award voters and took home nine honors, including Best Musical.
On the Comp Scene
Joe Lanteri, executive director of New York City Dance Alliance, changed 44 young dancers' lives this summer when he presented $2.8 million in college scholarships. Go get those diplomas!
Selecting the DS Cover Model Search finalists is never easy, but this year there were three dancers who stood out: Kaitlynn Edgar, Maddie Swenson and Zoey Anderson. All three hail from the competition circuit, and all three were wildly impressive.
On TV
Melanie Moore won the title of America's Favorite Dancer on "So You Think You Can Dance" Season 8 and landed on the cover of DS!
When Beyoncé revealed her baby bump at the MTV Video Music Awards, she proved she runs the world—and so do her choreographers, Frank Gatson, Sheryl Murakami and Jeffrey Page. The trio won the VMA for Best Choreography for Beyoncé's "Run the World" video.
When Laurieann Gibson wasn't throwing together award-winning choreography for Lady Gaga, she was starring on her own TV shows on E! and BET. We're not necessarily on board with her screaming fits and harsh treatment of her dancers, but we do respect her moves.
Amanda and D'Angelo on "Live to Dance." Photo by Monty Brinton.

Paula Abdul's "Live to Dance" wasn't a hit, but it introduced us to D'Angelo Castro and Amanda Carbajales, who became the show's champions. These tiny dancers won us over with their personalities and technique.
Lil' Buck may have been the coolest guy to get us talking this year. He starred in Janelle Monae's "Tightrope" video and helped make jookin' mainstream. His "Swan" performance alongside Yo Yo Ma? Breathtaking.
On the Big Screen
Natalie Portman accepts her Oscar for Best Actress. Photo by A.M.P.A.S.

She may not have done all the dancing as Nina, but Natalie Portman's Black Swan performance was definitely Oscar-worthy. Plus, she met Benjamin Millepied, her boyfriend-turned-fiancé and father to her child, Aleph, on set.
While no one can truly replace Kevin Bacon, Kenny Wormald proved that he's a stud with smooth moves in this year's remake of Footloose. Plus, his onscreen chemistry with costar Julianne Hough made us want to drag our own boyfriends to dance class.
In First Position, audiences get a glimpse at the behind-the-scenes action at the Youth America Grand Prix finals in NYC. The documentary and its stars—Michaela DePrince, Joan Sebastian Zamora, Miko and Jules Fogarty, Aran Bell and Rebecca Houseknecht—received rave reviews at the Toronto International Film Festival.
In Modern Dance
Bill T. Jones + Dance Theater Workshop = New York Live Arts. We love a good collaboration.
When Judith Jamison retired as artistic director of Alvin Ailey American Dance Theater, Robert Battle was handed the reins to the prestigious modern company. We can't wait to see what he does with the group in 2012.
Apr. 19, 2016 01:15PM EST
If there's one thing NYCDA Executive Director Joe Lanteri knows how to do, it's make dreams come true. This was obvious at last night's New York City Dance Alliance Foundation Gala, "Destiny Rising," at The Joyce Theater. It was an evening of passionate performance by tons of crazy-talented dancers, many of whom grew up as self-proclaimed "NYCDA babies." We loved every minute of the evening, especially the touching moments when the foundation's college scholarship recipients spoke about all the doors NYCDA had opened for them (and it's particularly special since our sister publication, Dance Magazine, is a gold sponsor!). Check out some of our highlights below: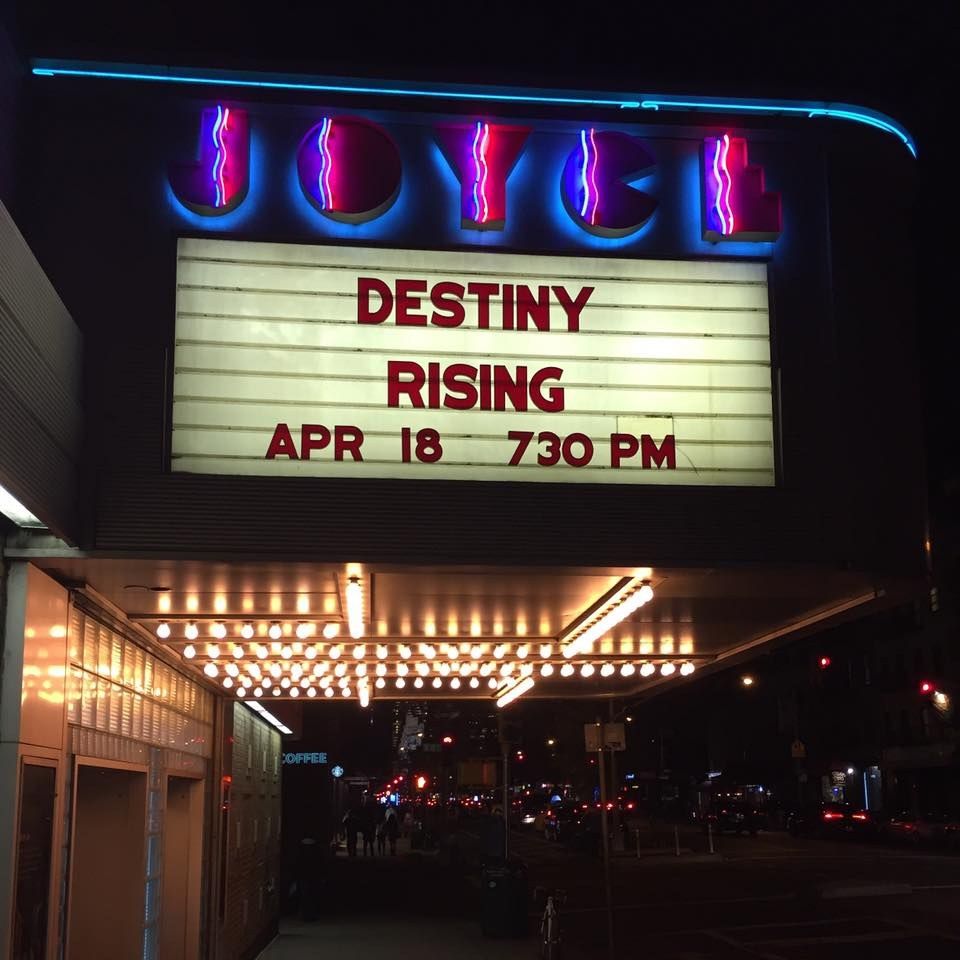 (via NYCDA Facebook)
Marymount Manhattan College Dance Company opened the show with a riveting piece, Under the Surface, choreographed by MMC's Dance Department Chair, Katie Langan. Each dancer was clad in a floor-length skirt and the visual effect was stunning—every développé, pirouette and jump sent the skirts flying through the air, catching the stage light in the process. When the piece ended, the audience was ready for more.

MMC in rehearsal. (via NYCDA Facebook)
NYCDA is all about providing opportunities for its dancers, and this mission was perfectly encapsulated by Inspire School of Dance from Naperville, IL, which made its professional stage debut—at the Joyce Theater, no less. The 14 girls—including 2014 NYCDA Teen Female Outstanding Dancer, Jacalyn Tatro—took the stage with confidence and gave a commanding performance.
Inspire Dance performing Love With Urgency (via NYCDA Facebook)
The evening continued with stellar performances from RIOULT Dance NY, The Francesca Harper Project, DS 2009 Cover Model Search winner Ida Saki and Austin Goodwin, New York City Ballet principal Robbie Fairchild, and the Point Park University Conservatory Dance Company. There were also tons of familiar faces gracing the stage, including 2015 CMS finalist Jordan Pelliteri, 2011 CMS winner Kaitlynn Edgar, Corey Snide and the dynamic Mattie Love, who, at the 2012 NYCDA gala, gave a speech about how excited she was to start her dance journey at MMC—and last night, in a very full-circle moment, took the stage to thank Lanteri and NYCDA for opening countless doors in her career. It was the perfect cherry topper for a magical celebration of this incredible foundation.
Dance News
Sep. 28, 2015 05:03PM EST
Not only do our friends at New York City Dance Alliance know how to have competitions and conventions, but they know how to have a top-notch celebration, too. Last night's 2015 "Bright Lights Shining Stars" gala was the perfect example of everything we love about NYCDA.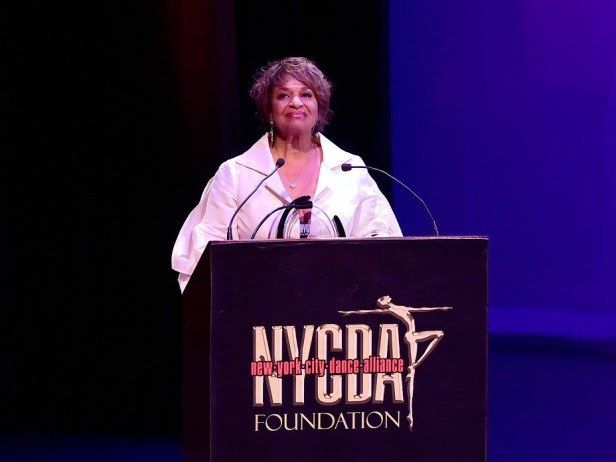 Debbie Allen making us feel all the feels. What a career and what a performer (photo Eduardo Patino, courtesy NYCDA)
Debbie Allen was the recipient of this year's NYCDAF Ambassador for the Arts Award, and NYCDA's scholarship recipients (as well as a whole slew of insanely awesome guest performers) paid tribute to Allen's incredible career through song, dance and the sweetest speeches. It was a night filled with love, dance and so much goodness. Watching all the deserving young dancers receive their scholarships is heart-warming, to say the least, and really shows what NYCDA is all about. Below are some of DS's highlights:
Chloe Arnold's Syncopated Ladies wowed us with their high-energy opening number set to some of our fav Beyoncé tracks.
Kolton Krouse performed a solo that was both technically stunning and artistically captivating. He was then presented with the Adele Astaire College Scholarship, by New York City Ballet principal and An American in Paris star, Robert Fairchild. Pretty much the definition of a win-win, we'd say.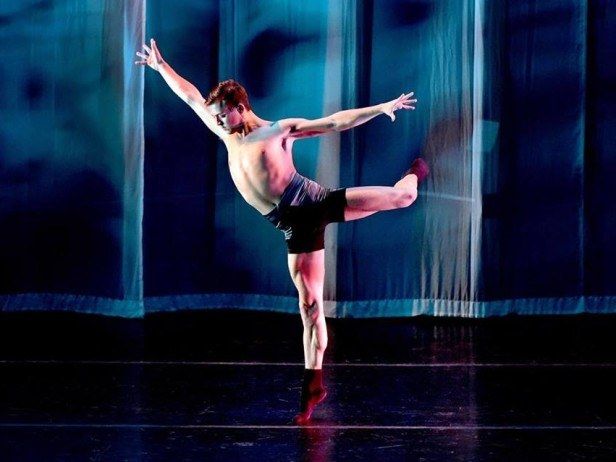 Kolton Krouse's stellar solo (photo Eduardo Patino, courtesy NYCDA)
A super special moment was when Allen's daughter, Vivian Nixon, surprised her mom by appearing onstage as Anita from West Side Story, a role Allen was known for absolutely rocking back in the day. You could practically feel the mother-daughter pride and love.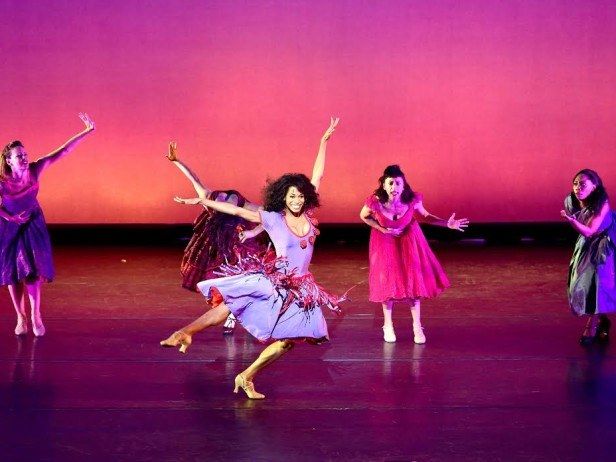 Allen's daughter, Vivian Nixon, channeling her mom and being all kinds of fabulous (photo Eduardo Patino, courtesy NYCDA)
And to close the show, the always-impressive girls from Westchester Dance Academy (a couple of whom you'll see modeling in our upcoming November issue—hey girls!) owned the stage for a beautifully choreographed (and danced) routine to Avicii's "Long Road Home."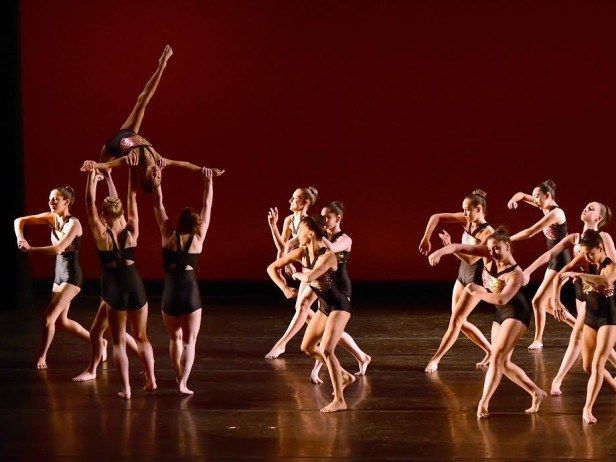 WDA girls absolutely #owning it (photo Eduardo Patino, courtesy NYCDA)
Dance News
Jul. 07, 2015 12:24PM EST
Holy sequins and aerials, Batman: New York City Dance Alliance knows how to put on a GALA. (Or two!)
NYCDA just finished up its week-long NYC Nationals with a pair of stupendous gala nights, celebrating the Mini, Junior, Teen and Senior Outstanding Dancers. And I'm still kind of recovering from the onslaught of talent.
First of all, let's congratulate the National Outstanding Dancer winners, shall we?
National Mini Outstanding Dancers
Madison Brown
Brady Farrar
National Junior Outstanding Dancers
Jasmine Cruz
Parker Garrison
National Teen Outstanding Dancers
Nina Bartell
Harrison Knostman
National Senior Outstanding Dancers
Sarah Pippin
Jake Tribus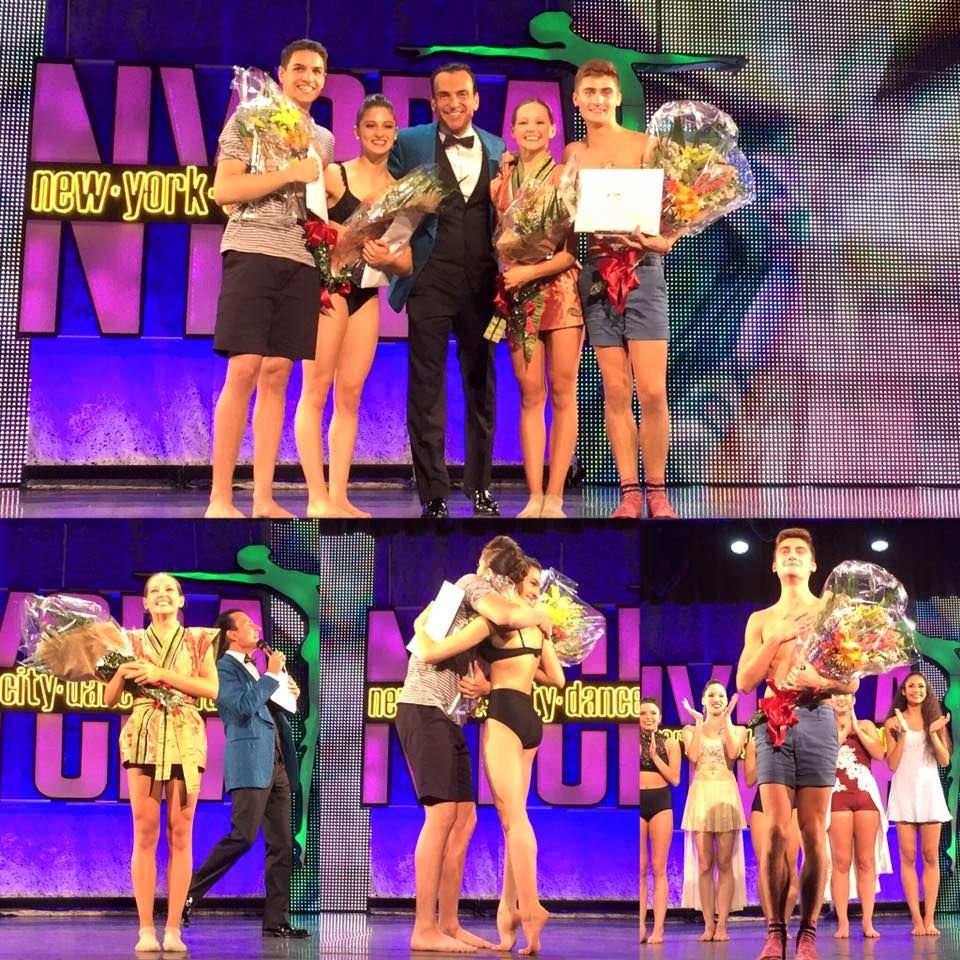 The wonderful Teen and Senior National ODs (via NYCDA)
Notice any familiar names in there? I bet you do—because a lot of these amazing artists are old Dance Spirit friends! We're so excited that Jasmine (who pulled off 32 fouettés on pointe in a group number—more on that later) is back as Junior OD after her reign as Mini a few years back, and we're thrilled to see Brady add a NYCDA title to his already impressive resumé. Huge congrats also go to Sarah and Jake, the heroes of our web series The Road to Nationals! Those besties are going to have sooooo much fun on the road with NYCDA this year. I'd say their new titles are the perfect excuse to (re–)binge-watch R2N, which follows their 2014 NYCDA journey.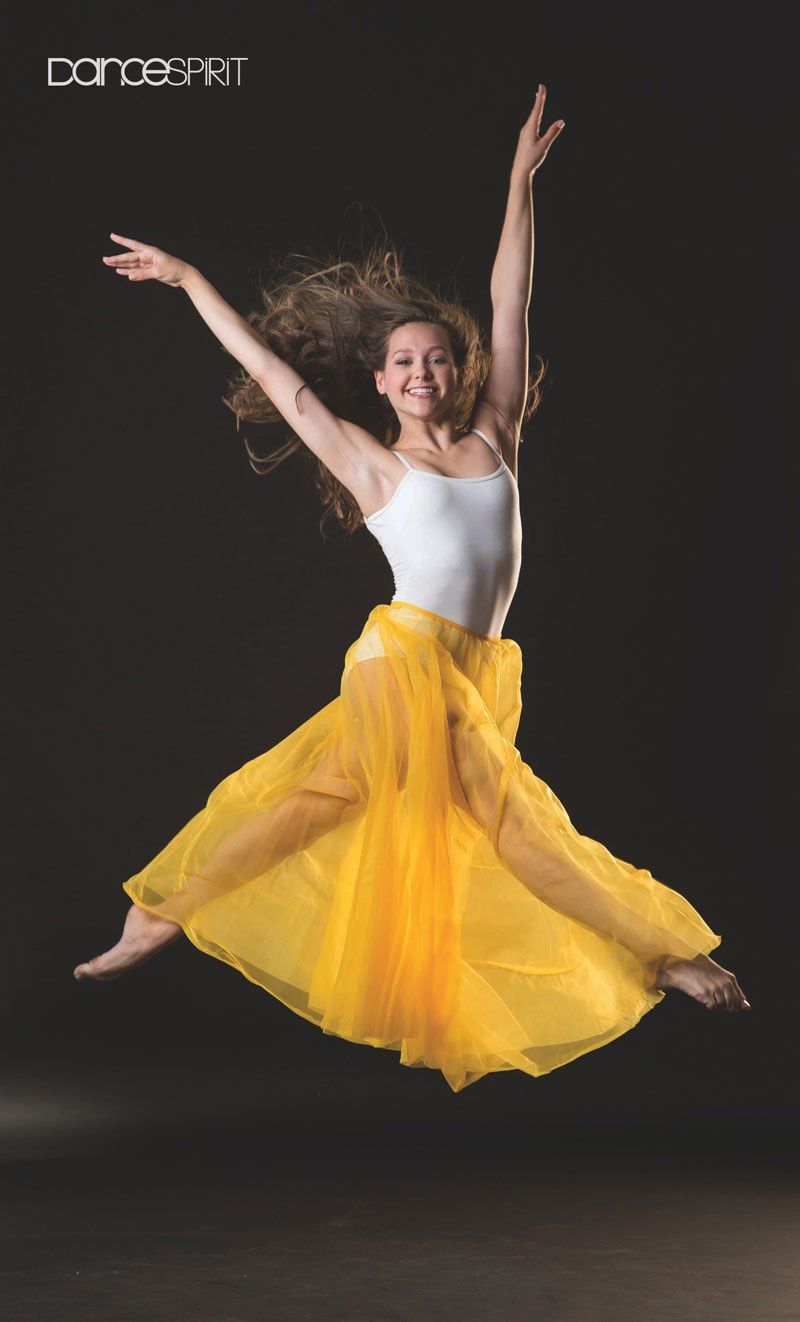 Sarah was also a 2014 Cover Model Search finalist! NBD. (photo by Erin Baiano)
As fun as it is to see talented individuals honored, my favorite part of NYCDA Nationals is the Critics' Choice competition, which highlights outstanding group numbers. Those proceedings are all the more exciting because DS sponsors the Mini and Junior Critics' Choice winners, and our friends at Dance Magazine sponsor the Teen and Senior champs.
I'm glad that we just hand out the trophies, though, and don't have to judge the darn thing, because the field is consistently stellar. And this year was no exception. Tempe Dance Academy earned National Senior CC with "I'm So Sorry," in which 2014 National Senior OD Kolton Krouse got pummeled by a group of glamorous ladies. (Don't cry for Kolton, though: He's going to Juilliard next year!) Westlake School for the Performing Arts repped #teamballet and earned the Teen CC award with its beautifully classical "Paquita"—featuring Jasmine's fantabulous fouettés, which were sprinkled with doubles and finished with a triple, naturally. (I'd like to remind everyone that she's 12. TWELVE.) The ladies of Westchester Dance Academy also showed off beautiful classical technique in "When the Last Angel Falls," which won Mini CC. And the crowd favorite of the year (the decade? the century?), Performance Edge 2's "Hello"—which put a pitch-perfect tap spin on the hilarious opening song from The Book of Mormon—took home the Junior CC award.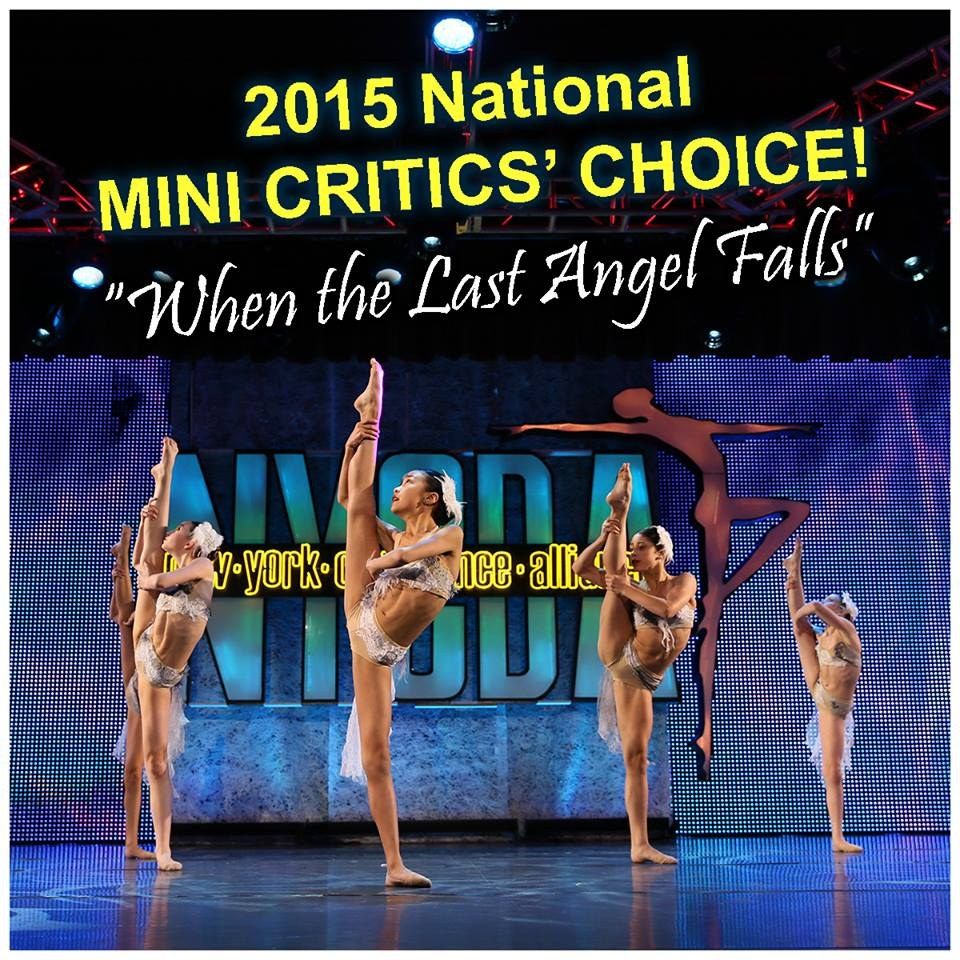 Look at those legs! (via NYCDA)
I'd also like to give a shoutout to Jordan Pelliteri, the 2014 National Senior OD, who relinquished her title last night with one final solo—a smoldering little number complete with her signature jaw-dropping, is-she-maybe-a-contortionist extensions. Jordan is also one of this year's Cover Model Search finalists (love, love, LOVE that the National Senior OD title was passed from one CMS finalist to another), so if you want to see her pretty face on our October cover, go vote for her now!
It's always wonderful to feel the warm NYCDA family love at the closing galas. And nothing embodied the organization's spirit of support and friendship better than this year's oh-so-happy Senior Outstanding Dancer number, choreographed by the great Suzi Taylor. So I'll close with an excerpt from that. See you next season, NYCDA!
Dance News
Oct. 14, 2014 11:49AM EST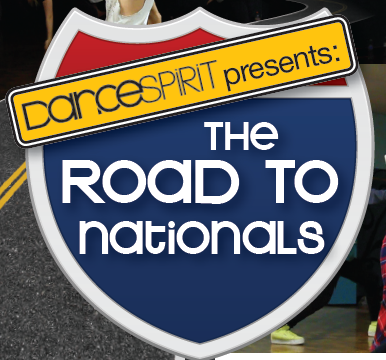 It's ALIIIIIIVE!
A couple of weeks ago, we let you know about "The Road to Nationals," Dance Spirit's brand-new reality web series following four dancers from North Carolina's CC & Co. Dance Complex as they prepare for some of the biggest competitions of the year.
Well, today's the day: All 10 episodes of the series are live, RIGHT NOW. And in my totally unbiased opinion, they are fantastic.
Not only does "The Road to Nationals" star four amazing dancers—Sarah Pippin, Jake Tribus, Tori Kent and Alexa Robertson—but it also features appearances by the likes of Travis Wall, Sonya Tayeh, Lauren Adams, Jason Parsons and Martha Nichols. And it takes you behind the scenes at both New York City Dance Alliance Nationals and The PULSE NYC. This is the real deal, you guys.
Watch every episode today at dancespirit.com//dspresents!
Dance News
Sep. 26, 2014 10:49AM EST
I have some especially happy "happy Friday" news for you all: Dance Spirit is about to launch a reality web series! "The Road to Nationals," which premieres October 14, follows four fantastic dancers from CC & Co. Dance Complex as they prepare to attend Nationals at two world-class competitions—New York City Dance Alliance and The PULSE.
Most of you know from experience just how intense—and exciting—that process can be. But the competitive dance world hasn't always been fairly treated by reality shows, which tend to create lots of weird false drama. We all understand that the real thing is dramatic enough—which is why we wanted to set the record straight with a series of our own, showing the pressures and amazingness of that world as it truly is.
We're guessing many of you guys are already familiar with CC & Co., too, since the Raleigh, NC-based school has trained tons of comp champions. "The Road to Nationals" follows four of the school's most talented dancers: Alexa Robertson, Tori Kent, Jake Tribus and Sarah Pippin (one of this year's Cover Model Search finalists!). You'll watch Alexa and Tori tear through The PULSE's classes; Jake get emotional as he gives up his Teen Male Outstanding Dancer title at NYCDA; and Sarah take the stage to compete for NYCDA's Senior Female Outstanding Dancer.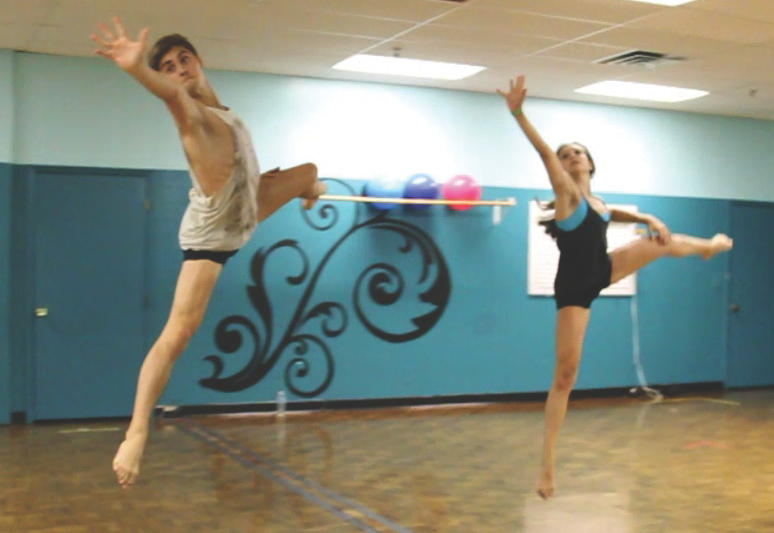 Jake and Sarah rehearsing one of their NYCDA duets in The Road to Nationals. These guys do not mess around.
The whole series—we're talking every episode—will drop on October 14th at dancespirit.com//dspresents. Mark your calendars, and in the meantime, take a look at these two teaser videos!
Dance News
Get Dance Spirit in your inbox
Jul. 08, 2014 12:46PM EST
Oh my goodness, you guys: What a crazy, jam-packed, INCREDIBLE week it's been here in NYC! New York City Dance Alliance finished up its Nationals last night with an epic closing gala, capping off nine days of workshop classes and competition. And talk about talent! I'm still kind of overwhelmed by all of the amazing dancers—many of them familiar faces. Here are some of my top moments from NYCDA Nationals.
-First of all, you guys already know that the NYCDA faculty lineup is fantastic. Tony Testa? Melissa Hough? Chloe Arnold? Taja Riley? Andy Blankenbuehler? Dana Wilson? Joey Dowling? Cindy Salgado? Insanity—and those are just the people who were sitting directly in front of me at the gala last night. I loved seeing them cheer on each and every one of the competitors. I especially liked watching ballerina Hough as she relished the ballet dancers—like last year's National Mini Female Outstanding Dancer, Jasmine Cruz—and I had fun looking on as hoofer Arnold got way into some of the tap performances. (Also: Everyone on faculty is ridiculously stylish. Goodness, do I wish I could pull off a crop top like Arnold, or a trumpet ballgown like Dowling.)
-As for the dancers: There were so, so many standouts! I'm having a hard time narrowing down my list. But I especially loved the ones who thought just as much about what they were conveying as how they were conveying it—who gave equal weight to artistry and technique. Mini Female OD finalist Tate McRae paired gorgeous ballet training with a powerful, emotive onstage presence. Teen Female OD winner (congrats!) Jacalyn Tatro wowed with both her incisive legwork and her smoldering, sultry demeanor—she dared you to look away. Two of our Cover Model Search finalists, Christina Ricucci and Sarah Pippin, gave super-strong performances in the Teen Female OD and Senior Female OD categories, respectively (both made the top four!). And tiny tapper Luke Spring showed off not just incredibly fleet feet, but also irresistible charisma in his solo to Michael Jackson's "Dangerous." He earned the National Male Mini OD title—and a comparison, by director Joe Lanteri, to one Mr. Corey Snide, who won his own Mini OD title 10 years ago doing a tap routine to Jackson's "Bad." It was almost too perfect.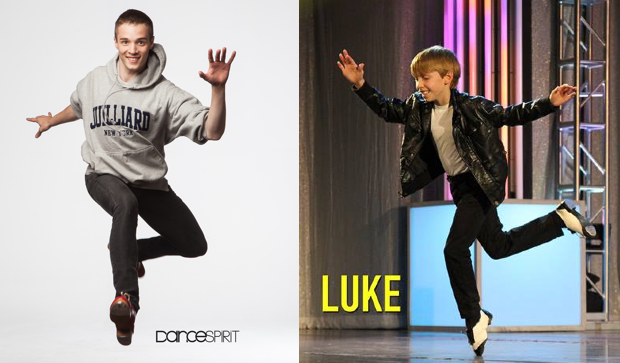 Twinning! (Left) 2004 National Mini Male OD Corey Snide, now a student at The Juilliard School, and (right) National Mini Male OD Luke Spring (left photo by Erin Baiano; right via NYCDA)
-As for the group routines: I love me some drama, but I have to say that my favorite numbers were the upbeat, hard-hitting ones, rather than the angstiest of the angsty. I was totally blown away by the take-no-prisoners ferocity (and the impressive unison) of the Westlake School for the Performing Arts dancers in their Teen group piece, "Royals."
-Let's talk about the college scholarships awarded at NYCDA this week, shall we? I was lucky enough to be part of the college scholarship audition process, so I can say from firsthand experience that the pool of college hopefuls impressed not just with their technique, but also with their eagerness and professionalism. Between NYCDA's college partners—which included the likes of Marymount Manhattan College, Point Park University and PACE University—and the NYC Dance Alliance Foundation, more than $4 million in scholarships were given to more than 50 deserving dancers. $4 million! That's a new record for NYCDA, and kind of a mind-boggling number.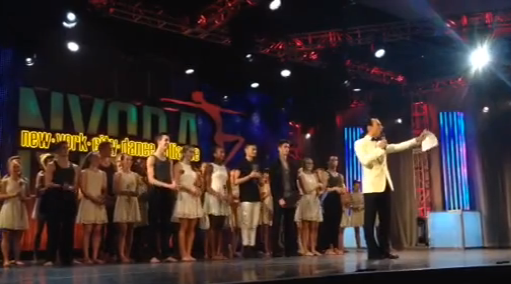 Lanteri onstage with all the scholarship winners (photo via NYCDA)
-Last but not least: NYCDA turned 20 this year! Naturally, they put together an adorable birthday video for the junior gala. But what really touched me was the number of NYCDA alums and former faculty who came out to celebrate the milestone. As Lanteri said last night, NYCDA is a real family—and once you're in, you're a member for life.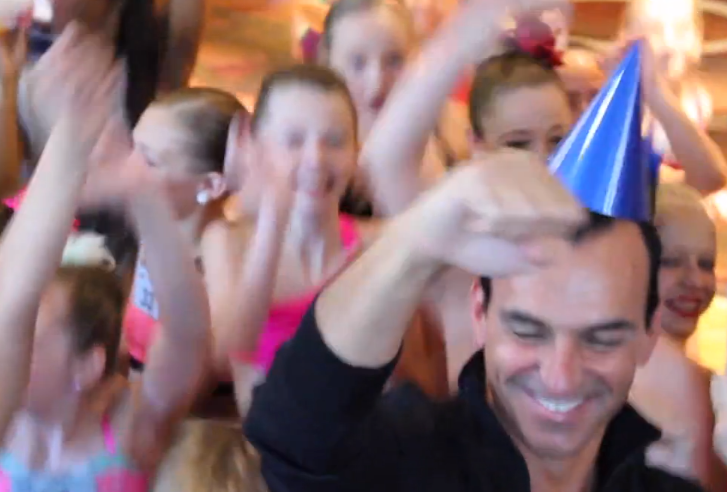 Few things make me as happy as Joe Lanteri in a party hat.
Dance News
Mar. 26, 2014 10:50AM EST
Here at DS, our love for all-things New York City Dance Alliance is no secret. We live for the competition's annual Nationals gala, we're in the audience cheering (possibly the loudest...) at each of the NYCDA Foundation's yearly shows and we have no shame telling the world about our crushes on Joe Lanteri (those blazers! that hair!).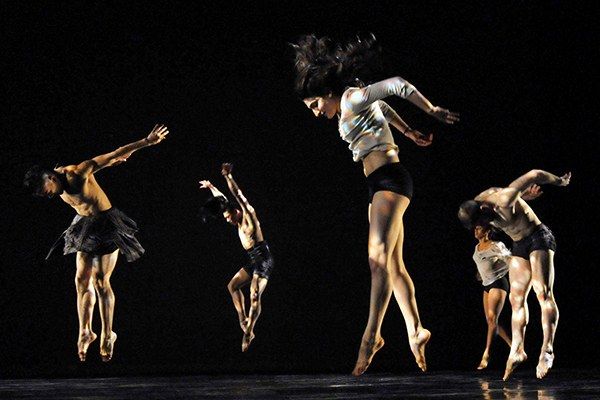 A shot from last year's Destiny Rising show. Who's that girl right up front? It's our former Cover Model Search winner and February 2014 cover girl, Ida Saki, of course! (Photo courtesy NYCDAF)
The New York City Dance Alliance Foundation was created a few years ago to provide scholarships to college-bound dancers—love that!—and has awarded $8.4 million to date so dancers can attend top schools such as University of the Arts, Marymount Manhattan College and Pace University.
Destiny Rising is a benefit performance, so your ticket money goes to good use (reminder, comp kids: these scholarships could be yours!), plus you get to see a stellar show boasting serious star power (NYCDA faculty favorites Joey Dowling and Andy Pellick will both be performing, plus the Houston Metropolitan Dance Company and tons of NYCDA alums).
We'll be there—the show is Monday, April 21, at 7:30 pm at The Joyce Theater in NYC—and we hope you will be, too. Click here to purchase your [very affordable] tickets.
Want more in the meantime? Here's a recap from the 2012 show.
Dance News
Mar. 14, 2014 07:00AM EST
When I find out there is a video on the internet featuring Jakob Karr that I somehow haven't seen, my day is immediately halted. Must. Watch. Jakob.
Choreographer Lauren Adams recently released a new project she had been working on (and hinting at heavily on Facebook!). A project including Jakob Karrrrrrr!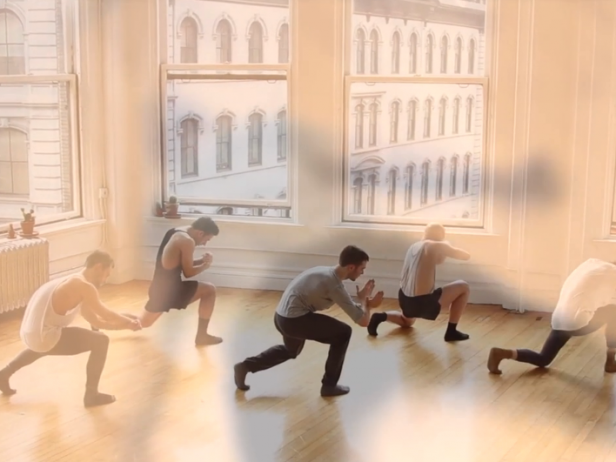 A shot from "Angel(s) on Fire"
But not just Jakob Karr. Also a whole handful of other awesome, strapping men: Jason Parsons (the bald, mysterious one), Joey Arrigo (the comp kid turned technical whiz), Corey Snide (the tapper who can also do everything else well, too), Austin Goodwin (the scruffy, captivating redhead) and Danny Tidwell (no intro needed, am I right?).
Adams directed and produced this piece, called "Angel(s) on Fire," and I keep watching it because there's so much to see. The video was filmed and edited by Allison Schultz, who does an incredible job shooting from crazy angles and layering the shots throughout the four-minute routine.
So yes, I have this love thing (from afar, of course) going on for Jakob, but I actually found myself most drawn to Corey Snide as I watched the "angels" in action. Corey, weren't you, like, just New York City Dance Alliance's Mini Oustanding Dancer? (You may also recognize Corey from our September 2013 cover—he's a Juilliard man now!)
The choreography seamlessly blends contemporary elements with tap-like movements, a boxing series and the guys playing with feathers.
Click here to watch "Angel(s) on Fire." I think you're going to like it.
Dance News
Nov. 01, 2013 12:00PM EST
After just five years of training at Artistic Fusion Dance Academy in Westminster, CO—only three of which were spent on the competition team—13-year-old Jonathan Fahoury currently holds two of the comp world's most coveted titles: New York City Dance Alliance's National Junior Outstanding Dancer and 24 Seven's National Junior Non-Stop Dancer. Once you see him move, that's not surprising: He has sinewy, long limbs and manages his ridiculous flexibility with great strength. But it's his musicality and commitment to each movement that truly captivates.
"I do competitions because they motivate me to improve and force me to set goals. Plus, I love making new friends from around the country. Those are the people I'm going to be dancing with when I'm a professional." --Jonathan Fahoury
FAST FACTS
Birthday: January 4, 2000
Favorite dancer of all time: Andy Pellick. "His movement is unique—he's just himself onstage."
Favorite food: eggplant parmesan
If he were a superhero, his power would be: "Transporting from place to place really fast. Then I wouldn't have to drive 30 minutes to the studio!"
Dance idols: "Julie Jarnot and Jennifer Owens, my studio owners. I wouldn't be the dancer I am today without them."
Advice for DS readers: "Do what you love, and don't let anyone get in the way. If you're being bullied, just ignore it. Stay strong, and remember: You have an amazing talent no one can break. Billy Bell, Will Loftis and Andy Pellick have really helped me see this."
Dancer to Dancer
Sep. 01, 2013 04:00PM EST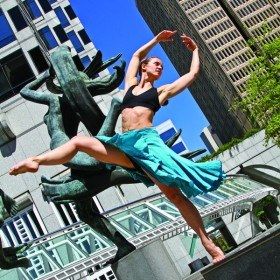 (by Allison Schultz)
Cindy Salgado's performance resumé reads like a who's who of today's contemporary dance world: Dee Caspary, Lauren Adams and Mia Michaels are just a few of the choreographers who have featured California-raised, Juilliard-trained Salgado in their pieces. But this contemporary queen, who's currently a member of Crystal Pite's acclaimed company Kidd Pivot, doesn't just perform. She's on faculty at New York City Dance Alliance, recently created a new work for an NYCDA Foundation benefit and has assisted big-name choreographers like Aszure Barton and Andy Blankenbuehler. Salgado's a do-gooder, too: She's taught dance to kids around the world with Artists Striving To
End Poverty. Read on for The Dirt!
If you could dance with any performer in the world, who would you choose: The hip-hop artist Macklemore or the poet Suheir Hammad because I'm motivated by their powerful voices for social justice.
Biggest guilty pleasure: Levain Bakery's dark chocolate cookies.
Something most people don't know about you: I'm a huge fan of freestyle street dance and Argentine tango! I've been known to go to a milonga, change into my sweats, and dance until 4am at my favorite house club.
If you weren't a dancer, what would you be? An activist for social and economic equality or a massage therapist.
Favorite city in the world: New York (I love my city) or Maui (where I married the man of my dreams).
Dance-wise, do you have any bad habits? I've elbowed a couple of salsa partners in the nose from not keeping my elbows down.
Where do you see yourself in 10 years? Hopefully I'll be using my art to motivate audiences to take care of the Earth and each other more, and building a family with my loving husband.
Dancer to Dancer