Um. So. The New York Times just kicked off a new section, "Men's Style." Which you wouldn't really care much about except that we mean "kicked off" literally.
One of the section's first stories, about suits that are more relaxed than buttoned-up, featured accompanying photos and video of two verrrrrrry pretty models: Zachary Catazaro and Joshua Thew of New York City Ballet. These are guys who look amazing in white tights and poet blouses, so you can imagine just how great they look in suits by Hermès and Dries Van Noten and Lanvin. And, since the article highlights suits you can move in, things got a little dance-y on set.
OK, very dance-y: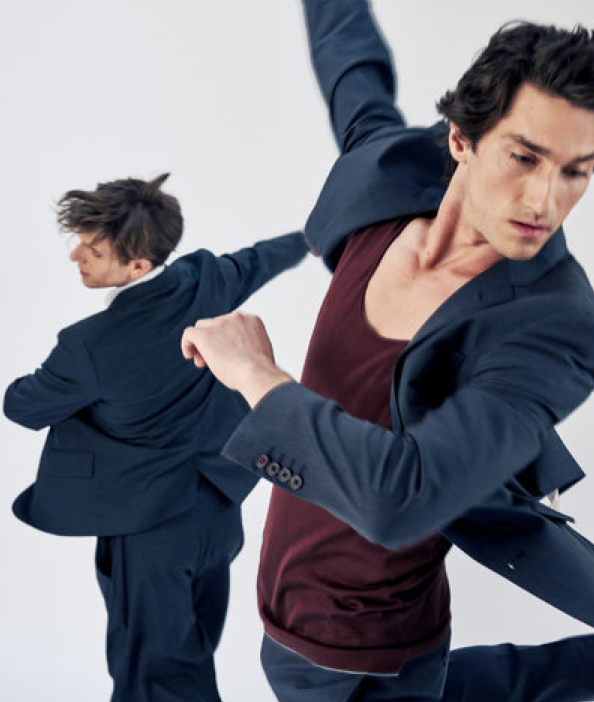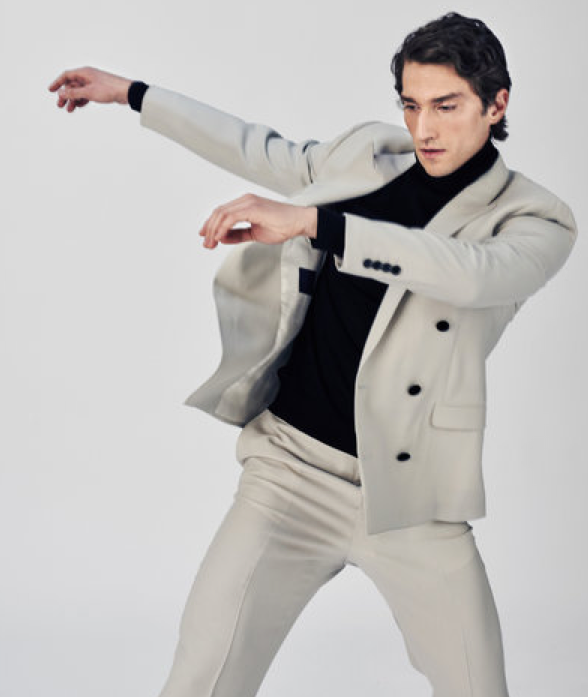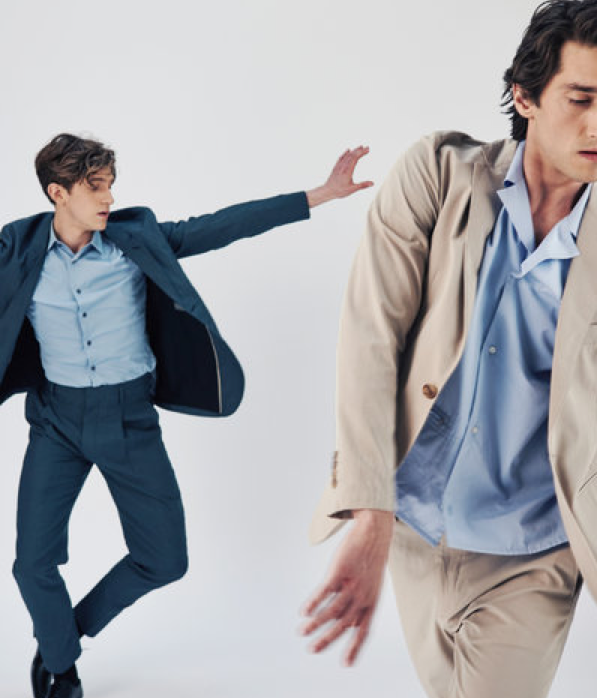 (All photos by Bon Duke for the New York Times)
There's nothing quite like a man in a suit. Unless it's a dancer man in a suit.
Dancers. Men. Suits. Mmmmmm.
Happy Monday!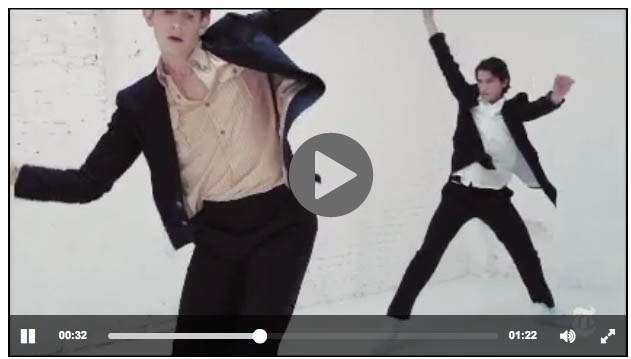 It's fascinating when you get a glimpse of a dancer's offstage life, and it's completely the opposite of what you'd expect based on her onstage presence. In a way it's even better, though, when you find out that an artist's non-dancer persona is exactly in tune with her dancer persona. There's the sense that this person just is who she is, whether she's relaxing at home or performing for thousands of people.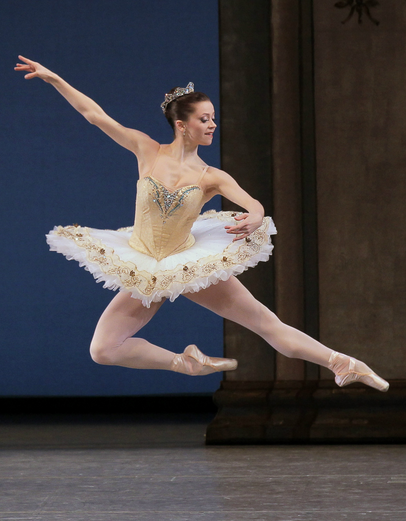 Fairchild in Balanchine's Theme and Variations (photo by Paul Kolnik)
Megan Fairchild, New York City Ballet principal and star of Broadway's On the Town, falls into that second category. When she's breezing through a Balanchine classic with NYCB or charming the pants off everyone as Ivy Smith in OTT, she comes across as sunny, polished and self-possessed. This weekend, the New York Times gave us a peek inside her Dobbs Ferry, NY, home—which she shares with husband and fellow NYCB principal Andrew Veyette—and the story made it clear that her offstage world is much the same: cheerful, elegant and totally put-together.
Seriously: We want this girl's life. Her gorgeous antique house came complete with an official plaque from the Dobbs Ferry Historical Society. There's a backyard for her two doggies to play in, and two spare rooms for her future kids to sleep in. Her decor is studded with  awesome little treasures, like a glass pitcher that was a wedding present from, ahem, Wendy Whelan. This is her living room...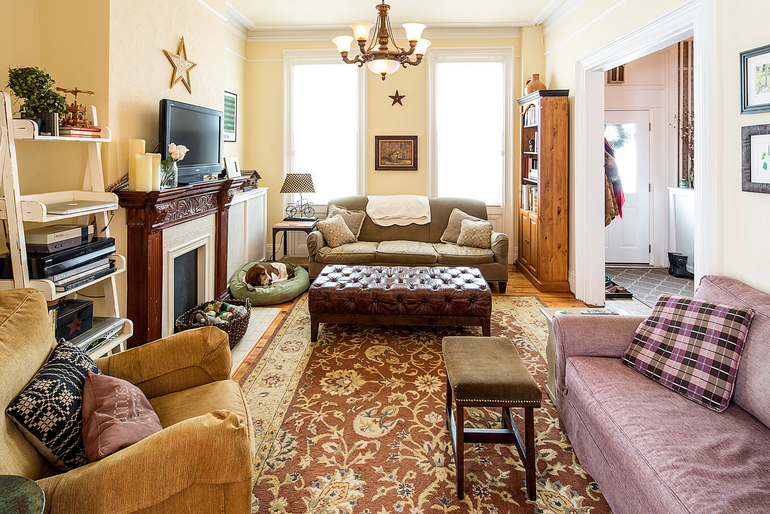 Tony Cenicola/New York Times
...and this is her husband...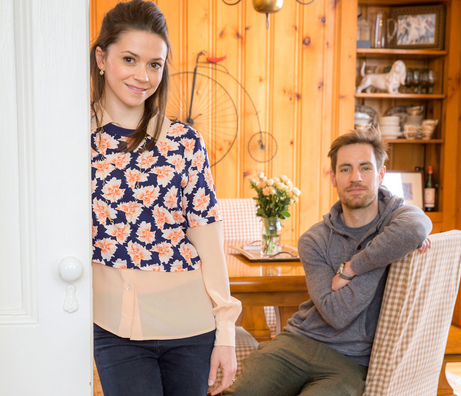 Tony Cenicola/New York Times
...and this is her puppy! (Well, one of two.)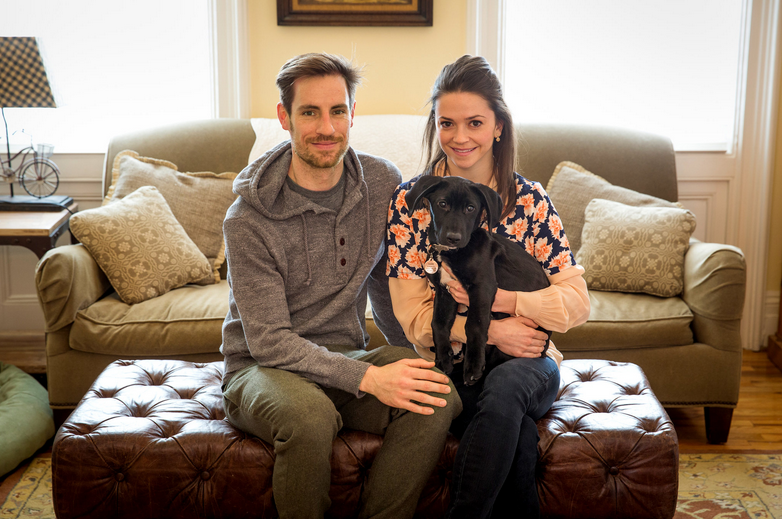 Tony Cenicola/New York Times
It's all beautiful and perfect—a modern fairytale that parallels the fairytales she stars in onstage. Click here to see the rest of the photos and read the whole story!
Nov. 04, 2013 10:52AM EST
Driving in NYC is the. absolute. worst. It's always traffic-y, and everyone is perpetually in a bad mood because, you know, bad moods are what New Yorkers do best.
But all that changes at one Upper East Side intersection—the one manned by 61-year-old traffic enforcement agent Mentoria Hutchinson. Because Ms. Hutchinson has made that intersection into her own personal dance floor.
"I've never seen anyone dance and be mad," she told the New York Times last week, in one of those great "unlikely heroes of New York" profiles the paper does from time to time. And here's the best part, guys: There's video of her dancing-as-traffic-directing, and she's got moves.
Take a look!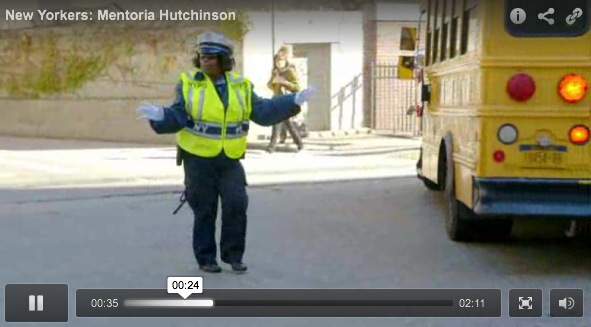 Jan. 24, 2013 11:14AM EST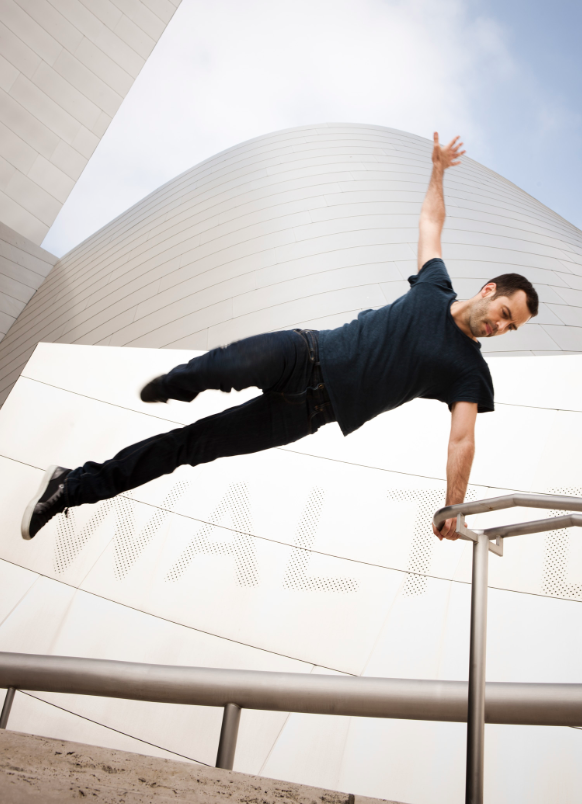 As you probably guessed immediately after hearing his amazing last name, Benjamin Millepied (seriously—could there be a better name for a dancer?) is a Frenchman, born in Bordeaux. But since he's spent most of his career in the States, dancing at New York City Ballet and choreographing all over, it was a shock to the ballet world when he was named the next director of dance at Paris Opéra Ballet this morning.
Millepied, who most people know as the choreographer of Black Swan, will take over POB  in September 2014. That means he'll be leaving his experimental L.A. Dance Project, founded just last year, and moving to Paris—with, yes, his wife Natalie Portman and their son Aleph.
Here's the other interesting thing about this unexpected transition: While Millepied has focused on choreography in recent years, he's apparently not planning to do so at POB. Instead, he told the New York Times, he wants to beef up the company's contemporary repertoire, particularly works with commissioned scores. He also wants to promote in-house choreographers.
What will a traditional classical company run by a rule-breaking contemporary choreographer look like? And what will Natalie Portman look like in berets? We'll find out next fall!
Feb. 10, 2012 11:53AM EST
First things first: Alvin Ailey American Dance Theater's Alicia Graf Mack is extraordinary. I initially watched this New York Times video without sound, and that was just fine: Mack's endless limbs and serene focus were enough to keep me glued to the screen. (There's some nice footage of AAADT performing Ailey's Revelations and Rennie Harris' new piece, Home, too.)
But then I plugged in my headphones and watched it again. And maybe I'm just in a bad mood today, but I couldn't stop myself from groaning (audibly—apologies to my cubemate!) at several points. Here's what bothered me: The heart of the video is a conversation between Mack and NYTimes sports columnist William C. Rhoden about how dancers are also athletes. I'm not usually one to hate on anything that gives good dancers good publicity, which this film certainly does. But really? Dancers as athletes? Is this news to anybody? It's been discussed again, and again, and again. (And those links are from a very, very superficial Google search.) We did a (great, if I do say so myself) story about it. There's even a Facebook page dedicated to it.
Why are people continually surprised by this idea? Of course dancers are athletes. Does anyone really NOT think about the physical aspect of dance as they're watching it? Even ballet, which is supposed to look effortless—part of the "wow" factor is seeing dancers conquer the sheer physical challenge ballet technique presents. In fact, companies like AAADT are sometimes accused of focusing on the athletic over the artistic.
I think we're all easily drawn in by the physical beauty of dance. (Myself included: See the first paragraph.) It's not hard to sell. And the positive thing about this video is that that superficial appeal might draw in sports fans who are otherwise intimidated by dance, who think they "won't get it." Fair enough. But as Mack says, dancers are more than athletes—so much more. And it's frustrating when dancers like Mack, who are deeply gifted artistically as well as physically, are featured in a way that essentially reduces them to beautiful shells. The famous Albert Einstein quote isn't "Dancers are athletes"; it's "Dancers are the athletes of god."
What do you think? Am I just crankypants? Or does this kind of thing bother you, too?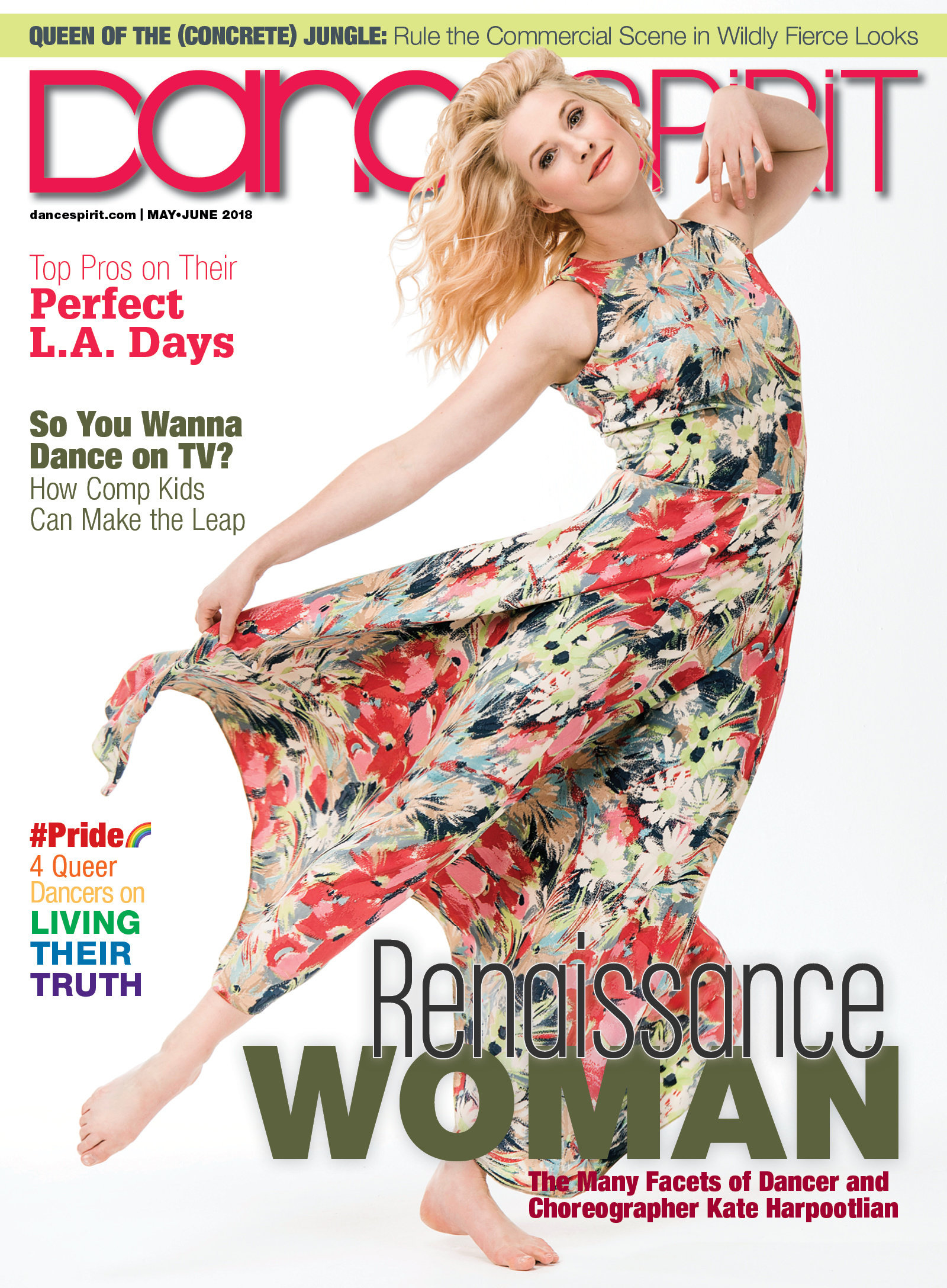 Get Dance Spirit in your inbox