Sep. 01, 2013 11:56PM EST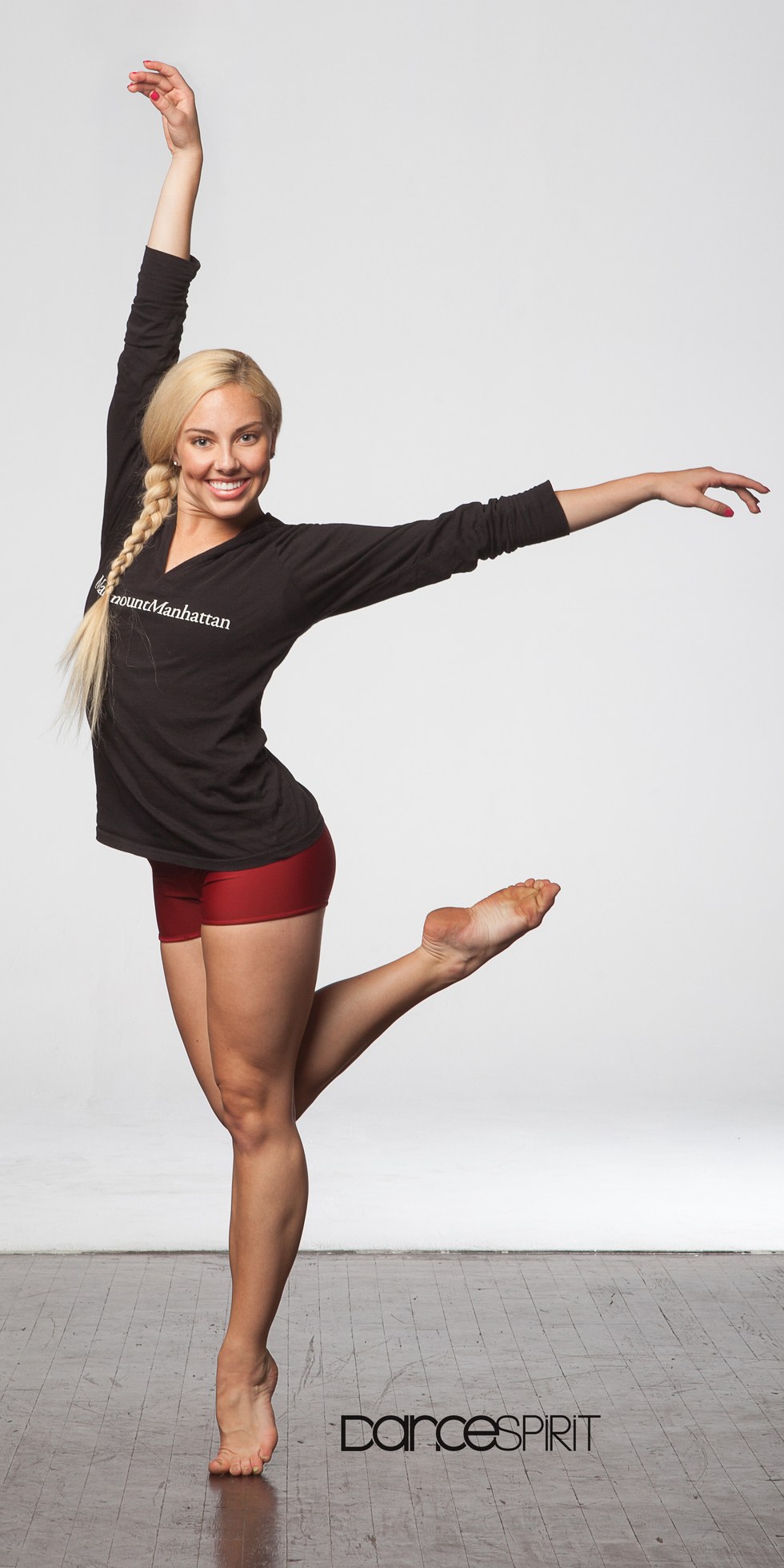 "When I came here, I was like, 'Have I ever danced before?' There was so much to learn, I felt like I didn't know anything." —Zoey Anderson, junior, Marymount Manhattan College (Photo by Erin Baiano)
My first Friday night at New York University, two second-year dance majors had some of us freshmen follow them through SoHo to a tiny triangular street corner. There was nothing there but a one-story building that looked ready for a demolition crew. I didn't know where we were or why. Then Savion Glover climbed onto the roof. He began tapping like a crazy man angry at his shoes—and my new classmates and I completely geeked out. Savion was jamming on a rooftop! For free! Just blocks from our school! Living in NYC was going to be awesome.
Some of the best college dance departments are located smack in the middle of the Big Apple, and for good reason. "If you want to immerse yourself in the center of the field, where the newest ideas about dance are being formed, where the best artists are practicing, where you can see a different show every night, NYC is the place to be," says James Martin, an associate arts professor in NYU's Tisch School of the Arts dance department. But going to college for dance in NYC is kind of like the Disneyland version of being a professional dancer in the big city: It's a larger-than-life experience and a much less risky option than arriving on 42nd Street with nothing but your resumé and dance shoes.
Not Your Normal Campus 
The first clues that NYC dance departments are unusual are the faces around the studio. These schools pluck the best of the best right out of the Big Apple dance scene: Allegra Kent teaches at Columbia University's Barnard College; Joe Lanteri is on faculty at The Juilliard School; and the dancers in the Ailey/Fordham BFA Program take class from a whole host of A-list instructors at The Ailey School. (Some students even have Alvin Ailey American Dance Theater company members as their mentors, which means you might find Alicia Graf Mack hanging around the dorms!)
Yes, colleges everywhere bring in high-profile adjuncts and guest artists. But NYC schools can do it more often because those people live just a few subway stops away. "Last year, Larry Keigwin, Chase Brock, Pascal Rioult and Pam Tanowitz set work on us," says Marymount Manhattan College junior Zoey Anderson. "These are big-time choreographers you want to know. We get to learn their movement and make a real connection with them." Some schools, including NYU, invite entire NYC-based companies for weeklong teaching residencies. Students meet not just the director but also the dancers, and start to build a network of industry professionals. "Seeing what these companies go through on a daily basis better prepares students for professional life," says Martin. "They know what's going to be expected of them."
And NYC's resources don't end there. Choreography and dance-writing courses might integrate local dance performances into the syllabus; dance-history classes can take students to museums or the New York Public Library for the Performing Arts. Through Juilliard's Educational Outreach programs, junior Corey John Snide has honed his performing and teaching skills in public schools. "It's not like I'm in a campus in the middle of nowhere," he says. "Juilliard is my gateway to NYC."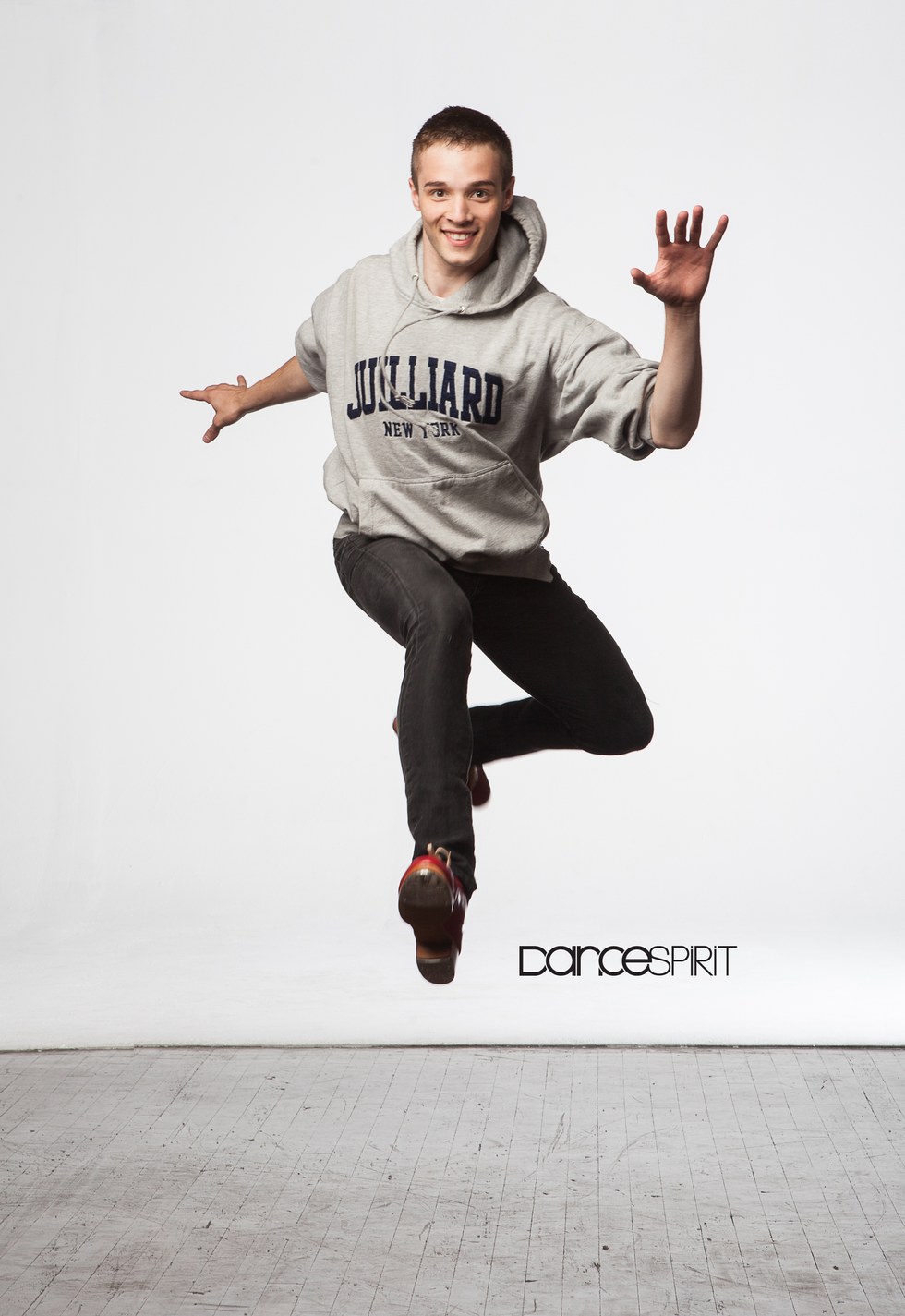 "I see as many performances as I can afford to. I've learned so much about what I like—and don't like—and where I might want to dance in the future." —Corey John Snide, junior, The Juilliard School (Photo by Erin Baiano)
Make Your Own Curriculum
In NYC, one of the best parts of going to school is leaving school. You can head to Broadway Dance Center to take the hip-hop classes your program doesn't offer, or load up on ballet at Steps on Broadway. (Just try not to gawk when you end up next to Wendy Whelan at the barre.) "I've been able to keep up my ballroom dancing and to take classes with people like David Parsons so I can learn his style before it's time to audition," says Zoey. Some classes can even take the place of an audition: After taking choreographer Marinda Davis' class at Peridance Capezio Center in 2011, Zoey performed with Davis in showcases around the city.
In addition to dancing, you can build your practical skill sets—and get an insider's peek behind the scenes. NYC college students' resumés might boast internships with The PULSE On Tour, American Ballet Theatre and Dance Spirit!
Intro to the Concrete Jungle
Moving to NYC can be overwhelming, even for people who love bright lights and bustling streets. But dancers who start off their big-city experiences in college have the support of a smaller community while they find their footing. "I'm so grateful to have a structured schedule set up for me, rather than just randomly picking up a class here and there," says Zoey. A college dance department helps guide dancers so they know where to find rehearsal space, how to set up auditions and what resources are available.
Being a student also hooks you up with all-important student deals. "Our teachers always have extra free tickets to see Ailey," says Ailey/Fordham sophomore Courtney Celeste Spears. "We also got to see Armitage Gone! Dance—and because it was through school, we met the choreographer, Karole Armitage." College classes may force you to see shows you wouldn't attend on your own—and possibly discover a company or new style you love.
The biggest perk for many dance majors is the chance to attend auditions while they're still in school, rather than waiting until after graduation. Fordham students, for example, are allowed to use professional experiences as credit toward their degrees starting junior year. And Juilliard even helps dancers network so they can be invited to auditions. Corey made it to the final round for Newsies last year, but decided to focus on school instead.
The kinds of auditions students go for might change over the course of their four years. "Being here has opened my eyes to possibilities that I didn't know about," says Courtney. She's not alone: The early exposure to NYC's dance scene often leaves students with entirely different goals than the ones they arrived with as freshmen. "Growing up, it was always just, 'I want to be famous,' " says Corey. "But I've realized I love teaching, and I want to use dance to help impoverished kids. College has given me options for how I can make a living and feel fulfilled artistically. I'm not just trying to kick my leg up to my face anymore."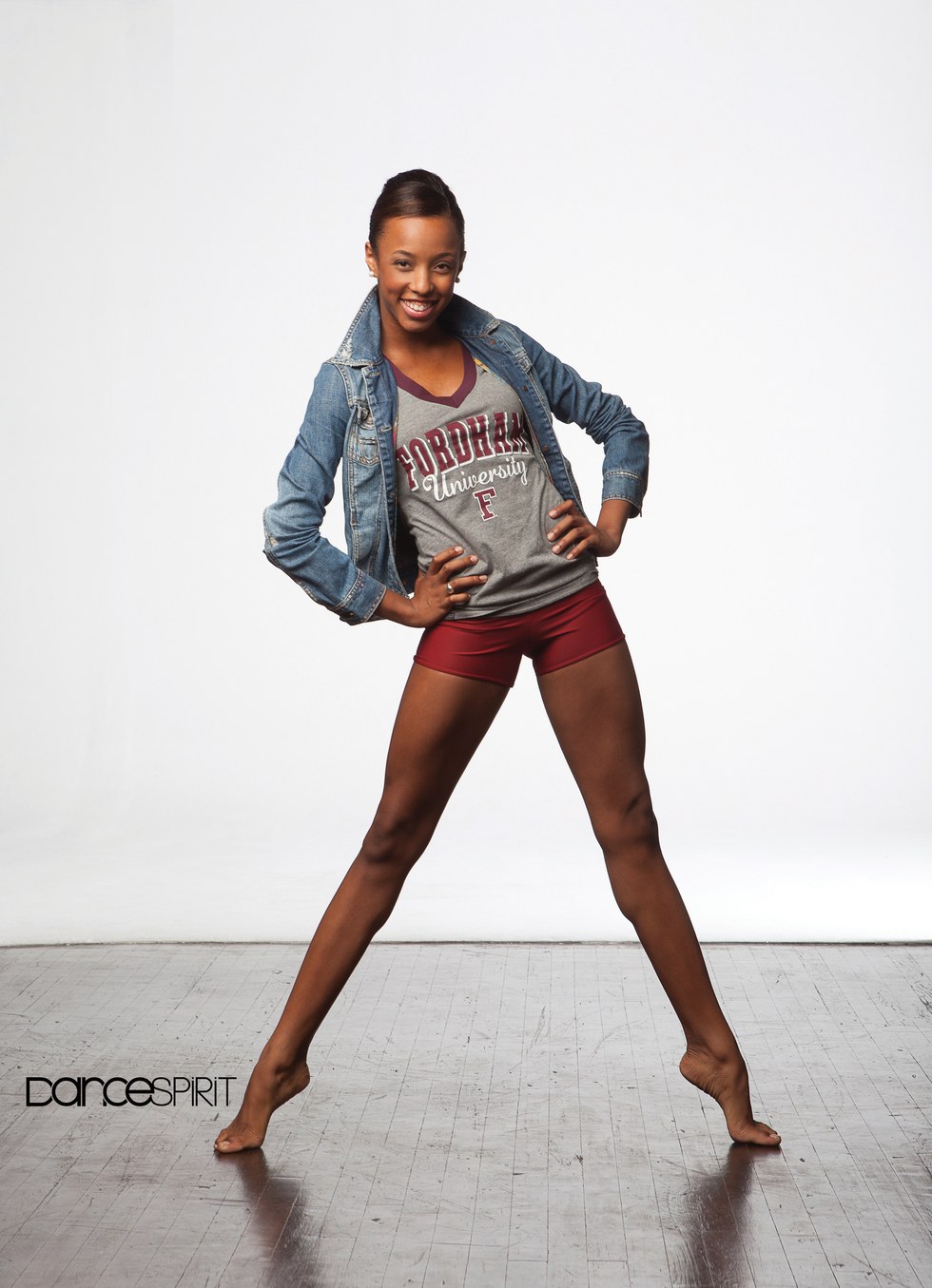 "I wanted to be in the middle of everything—see it all and be in it all—and surround myself with dancers who are just as driven as I am." —Courtney Celeste Spears, sophomore, Ailey/Fordham BFA Program (Photo by Erin Baiano)
Is NYC Right for You? 
Despite the unique advantages of dancing in NYC, going to college there means sacrificing many of the typical cornerstones of campus life. If you're looking for grassy quads, a big Greek culture or major sports teams to root for, NYC schools will be a disappointment.
And not every teenager is ready for the pressure or intense pace of day-to-day life in Manhattan. "Some students get overwhelmed and withdraw, and it's something that wouldn't have happened if they were in a different environment," says NYU Tisch School of the Arts associate professor James Martin. "If you need more time to find your confidence—and many artists do—New York can be hard."
It can also be distracting. Between the shopping, the nightlife and the entertainment, fun times are always just around the corner. Dancers have to resist the temptation to blow off classes or rehearsals for that party or film premiere.
For Courtney Celeste Spears, a sophomore in the Ailey/Fordham BFA Program who came from a small town outside Baltimore, the hardest part was not letting the amount of competition in NYC intimidate her. "It's easy to look at it and think, 'The odds are not in my favor,' " she says. Or you can take the approach that she's learned over the past year: "I use the competitiveness to help drive me more than I ever knew was possible."
The Stats
Ailey/Fordham BFA Program
Degree offered: BFA in dance
Number of applicants: 422 in 2013
Number accepted: 55 admitted and 29 enrolled in 2013
Focus: Core classes include ballet, Horton and Graham-based modern.
Location: Lincoln Center and Ailey's Hell's Kitchen headquarters
Training ground: Six current members of Alvin Ailey American Dance Theater came through the BFA program.
Notable alumni: Courtney Henry of Alonzo King LINES Ballet, Jacqueline Burnett of Hubbard Street Dance Chicago, Victoria Andrea Guajardo of MOMIX
Barnard College, Columbia University
Degrees offered: BA, minor or concentration in dance
Number of applicants: There is no separate dance department application or audition. 5,606 students applied to Barnard's incoming class.
Number in department: 36 majors and 12 minors
Focus: Emphasizes the intellectual and cultural exploration of
dance in a liberal arts setting
Location: Morningside Heights
Sister theater: The department partners with Bill T. Jones' New York Live Arts
Notable alumni: Michael Novak of Paul Taylor Dance Company, Jamie Scott of the Trisha Brown Dance Company, Anna Schon of Reggie Wilson/Fist & Heel Performance Group
The Juilliard School
Degrees offered: BFA, diploma in dance
Number of applicants: 550–600
Number accepted: 24 (12 men, 12 women) per year
Focus: Aims to produce contemporary dancers by training them equally in ballet and modern
Location: Lincoln Center
Subsidized summer travel: The summer grants program offers funding for student-driven outreach programs—anywhere from Cleveland to Kenya.
Notable alumni: Billy Bell of Cedar Lake Contemporary Ballet, Spenser Theberge of Nederlands Dans Theater 1, Frances Chiaverini of Morphoses
Marymount Manhattan College
Degrees offered: BFA or BA in dance
Number of applicants: 400 on average
Number accepted: 160 admitted; 75 enroll on average
Focus: Because the school emphasizes versatility, daily offerings include ballet, modern and jazz classes, plus tap, pointe or improv twice a week.
Location: Upper East Side
Scholarship help: More than 85 percent of MMC students receive some form of financial assistance.
Notable alumni: Jacob Michael Warren of Pilobolus' Shadowland, Abby Silva Gavezzoli of Parsons Dance
Pace University
Degree offered: BFA in commercial dance
Number of applicants: 207 in 2013
Number accepted: 57 admitted and 39 enrolled in 2013
Focus: Prepares dancers for professional work onstage, in television and in commercials
Location: Financial District
Showtime: Students have the opportunity to perform in over 50 departmental productions per year.
Notable alumni: Former Miss Teen USA Logan West; Miss Southern NY Madison Embrey; Megan Peterson of the Rockettes tour
Tisch School of the Arts, New York University
Degrees offered: BFA or MFA in dance
Number of applicants: 400–550 BFA candidates
Number accepted: 30
Focus: Trains students for careers in contemporary and classical dance
Location: Greenwich Village
In and out: The program is designed so undergrads can graduate in three years.
Notable alumni: Ian Robinson of Batsheva Dance Company, Christina Dooling of Complexions Contemporary Ballet, Jenn Freeman of Tayeh Dance
May. 17, 2012 11:30AM EST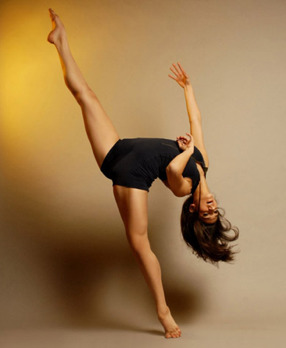 Back in October 2009, you met the lovely Ida Saki, who won our Cover Model Search contest thanks to her beautiful technique and irresistible smile. Though she was just 17 at the time, we already knew Ida was going to make it big. Not only was she a talented dancer, she also impressed us with her combination of ferocious drive and sunny optimism.
And we were right: Since appearing on our cover, Ida has been named YoungArts winner in modern dance, made it to Vegas week on "So You Think You Can Dance" and enrolled at the Tisch School of the Arts at New York University. Sound like enough to keep anyone busy? There's more: Ida recently joined the prestigious Cedar Lake Contemporary Ballet. (She's continuing her studies at NYU while dancing with the company.)
I was able to see Ida perform with Cedar Lake this week, tearing up the stage in Crystal Pite's high-octane Grace Engine. She looked right at home with the rest of the company's gorgeous dancers. Our CMS star, all grown up! Congratulations, Ida—and merde!
Dec. 08, 2011 02:41PM EST
"The first time I saw Chantel Aguirre dance was in a video," recalls choreographer Travis Wall. "My first thought was that she had crazy lines. My next thought was that I wanted to meet her." A few months later, Wall did meet Chantel, who was 18 at the time and working as an assistant at a convention. "She was quiet and reserved, but she was excited to learn," he says. "She was trained and hungry for work—she wanted to get her hands on any step, phrase or piece of choreography."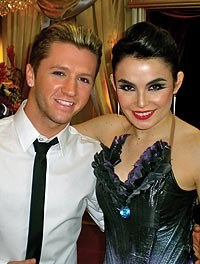 Travis Wall and Chantel backstage at "Dancing with the Stars"
Last year, when Wall was asked to choreograph a piece for the Macy's "Stars of Dance" segment on "Dancing with the Stars," he rounded up his go-to group of strikingly talented dance friends, including Jaimie Goodwin, Danny Tidwell, Nick Lazzarini and Tiler Peck—and he brought in newcomer Chantel. "Since that job, I've hired her for every single project I've done," Wall says. "Chantel does whatever you ask of her and more. She's the most professional dancer I know and she's always full-out. She has become my go-to person."
Wall isn't the only choreographer who has fallen for Chantel's quirky, ballet-based style. When Billy Bell formed his own company, Lunge Dance Collective, Chantel was one of his first members. "When I first saw her dance, I felt like I was stuck in one of those movies where everything around you freezes," says Bell, who met Chantel when she was assisting Sonya Tayeh on "So You Think You Can Dance." "She has this way of controlling a room with her focus that creates a timeless quality to her movement. It's like she's floating."
So what is it about this 22-year-old that has the industry's top choreographers dying to hire her? We sat down with Chantel to find out.
Ballet Beginnings
Chantel is one of those dancers who quite literally grew up in a dance studio. Her mother, also a dancer, owned Ballet Repertoire Theatre in Santa Cruz, CA, and Chantel was in dance classes by the time she was 2. It didn't take long for Chantel to become hooked on dancing. "My mom's studio was an amazing little competition studio, but I knew I wanted more—I wanted to do this forever," she says.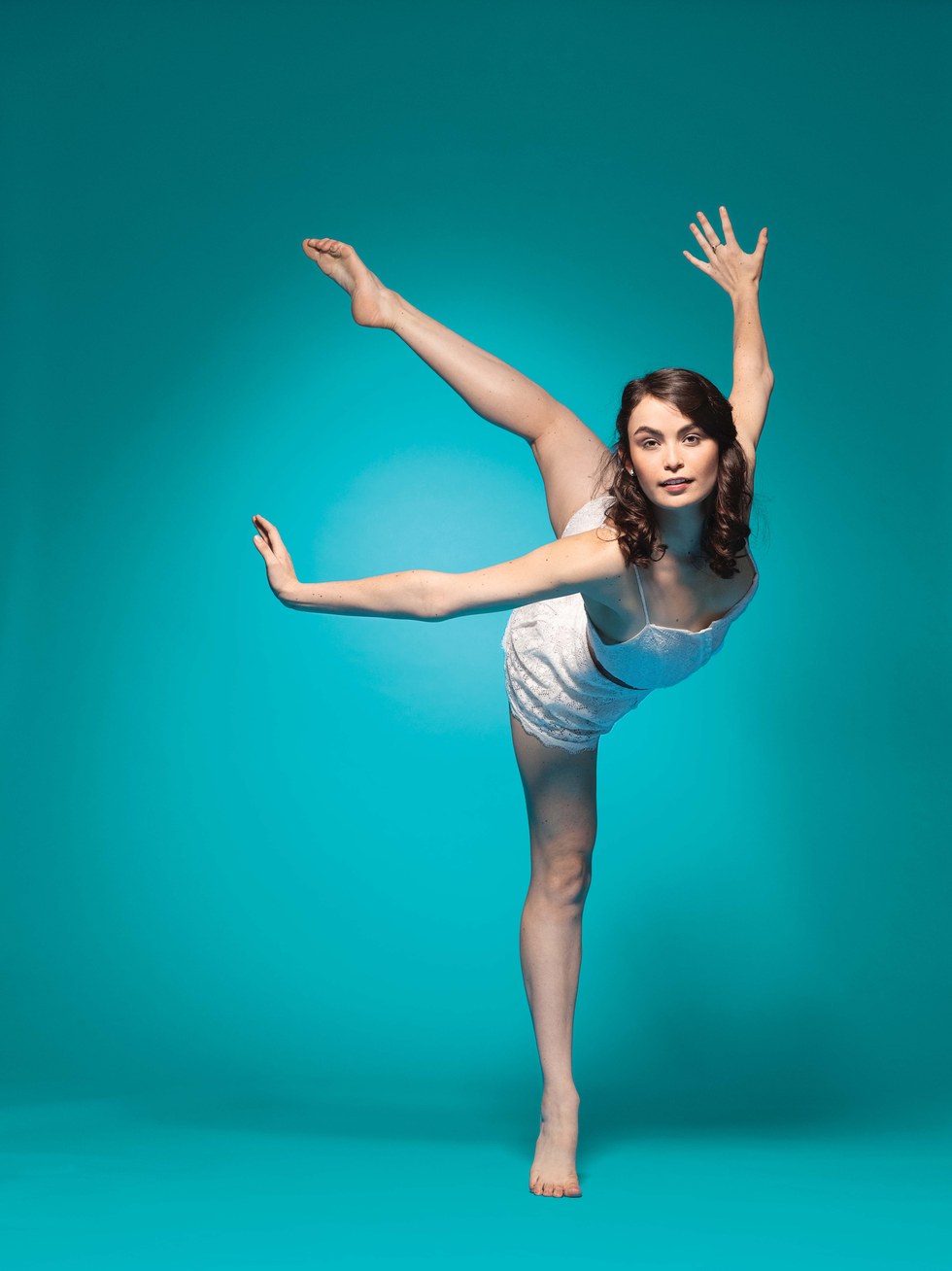 Photo by Nathan Sayers
She trained in all styles at Ballet Repertoire Theatre, but Chantel wanted to focus on ballet. At 11 she enrolled at The Studio of Classical Ballet, also in Santa Cruz. "It was always reiterated to me that you need solid technique and strong ballet skills no matter what sort of dance career you want to have," she says. In search of more intense training, Chantel auditioned for the San Francisco Ballet School during her freshman year of high school. "That's when everything changed," she says. "I was surrounded by the best dancers in Santa Cruz, but I was getting complacent. I wanted to keep getting better, and I knew I had to go beyond Santa Cruz for that to happen."
Chantel remembers being "totally terrified" at the SFB audition. "Everyone knew the combinations already because they had been in the school for years, and I wasn't even wearing the right color to the audition," she says. "I got corrected every time I did something and the teacher was on me during every exercise." To her surprise—"They must have seen potential or something," she says—Chantel was accepted to the school as a level-six student (out of eight levels).
Always Wanting More
Throughout high school, Chantel attended academic classes until 1 pm every day, and then she would commute three hours round-trip for four hours' worth of classes—all on pointe—at SFB. The work was challenging, but Chantel's drive and motivation never waned. In fact, she became more ambitious. "I didn't want to sacrifice my other training and just do ballet," she says. So on the side, the already busy girl performed with the Dance Company of San Francisco, a troupe of young artists that included future "So You Think You Can Dance" alums Nick Lazzarini and Melody Lacayanga.
The company, directed by Chris Jacobsen and Sonya Tayeh, entered local competitions, performing mostly contemporary routines. "Competing with the company taught me that competitions don't have to be all glitz, glamour and sequins," Chantel says. "We were really serious about performing, not about the awards."
Chantel did her homework in the car going to and from rehearsals, and she admits to getting "very little sleep" at the time. But this commitment to learning, training and latching on to every possible resource is what sets Chantel apart from other dancers. "My mom raised me with the belief that if you don't know exactly what you want to do, just do as much as you can. And I wanted to do everything possible," she says.
Chantel in the City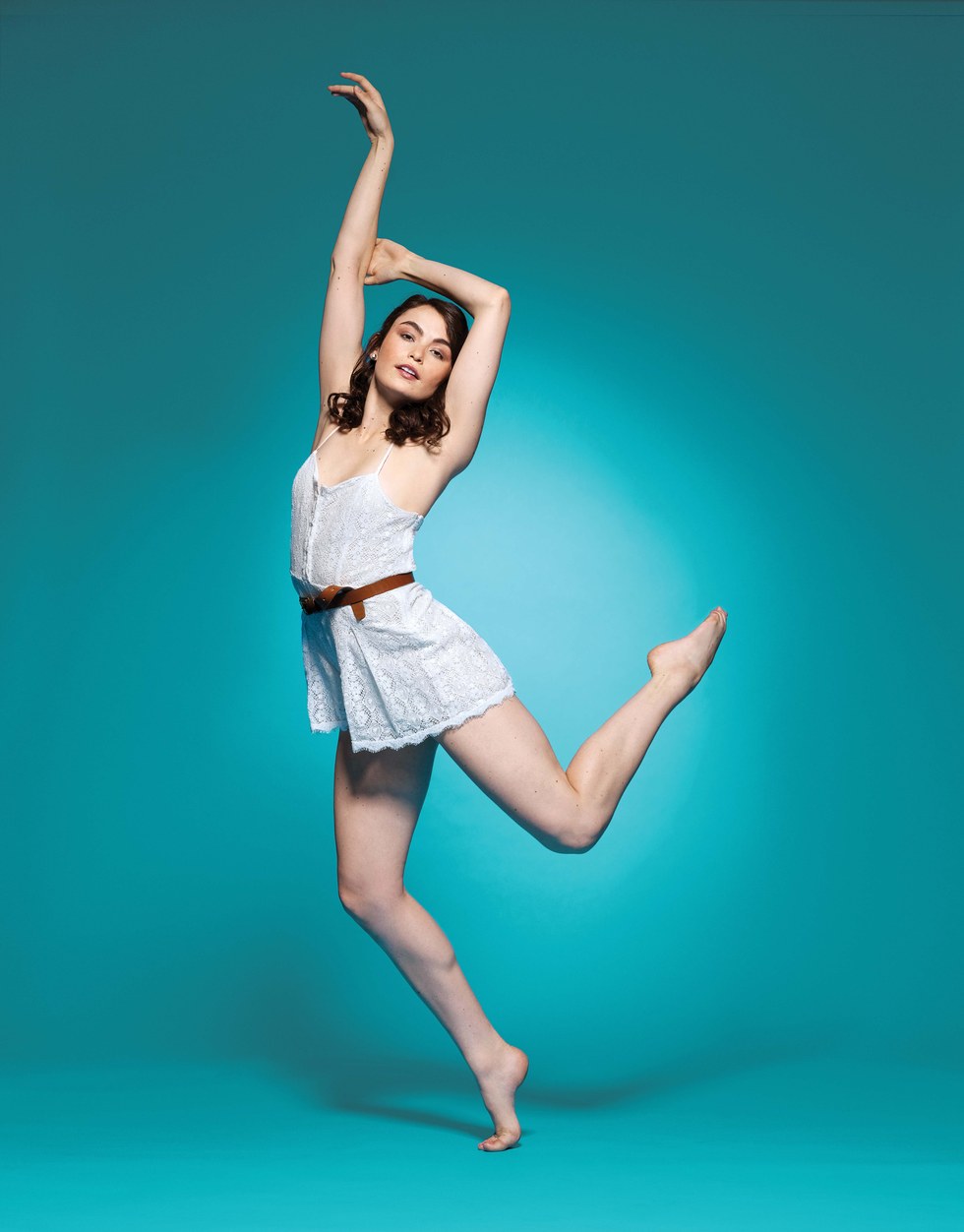 Photo by Nathan Sayers
After graduating from high school, Chantel was ready to conquer the professional dance world—but she didn't know where to start. "The hardest decision I've faced in my career was deciding where to go after high school," she says. She spent some time living with Tayeh in L.A. while she faced the ever-stressful "L.A. vs. NYC" debate. Though she says she was "too scared" to just move to NYC, ultimately that's what she did, enrolling at New York University's Tisch School of the Arts as a dance major, with a minor in business.
Chantel lived in the NYU dorms, took dance and academic classes and continued auditioning for commercial and industrial work through her Clear Talent Group agency representation. During her freshman year at NYU, she performed as a dancer in the televised Victoria's Secret Fashion Show and booked a two-week performance job at a film festival in Dubai. It was all good—but it was also too much.
"I was just going through the motions," Chantel says. "I loved school and I loved training, but I was missing jobs and auditions that I desperately wanted. I had so many conflicts, and I needed to make a decision." Chantel credits her year and a half at NYU as her "segue into NYC," but she didn't want to turn down paying jobs while her family struggled to pay for her to be in school. She took a leave of absence from college, moved into an apartment on the Lower East Side and began her full-time dance career. Soon she was performing at the MTV Video Music Awards with Taylor Swift and dancing with Justin Giles' SoulEscape company.
The Timeless Dancer
Without rigorous academic demands, Chantel fully immersed herself in dance classes and auditions. She spent another year and a half in NYC and then got a call from Tayeh, who was forming her own company in L.A. and wanted Chantel to be part of the group's first show. "Chantel is such a determined dancer—of course I wanted her with us," Tayeh recalls. "She's spirited and has so much heart, and her dancing is regal and lovely. She's well-rounded and eager. That's what makes a timeless dancer." For Chantel, the move came at the right time. "I loved NYC, but my lease was up, so I packed a few things, figuring I'd go out for the show and then come back to NYC," she says. But things didn't go according to her plan: Right after Tayeh's show wrapped, Chantel got a call to audition for the 2010 Academy Awards, and the L.A. job offers snowballed from there.
"Performing at the Academy Awards was unbelievable," Chantel says. "I remember standing onstage during a commercial break, waiting to perform, and Sandra Bullock was sitting right in front of me, looking at me. I stood on that stage and suddenly everything made sense. I knew I wasn't going back to New York."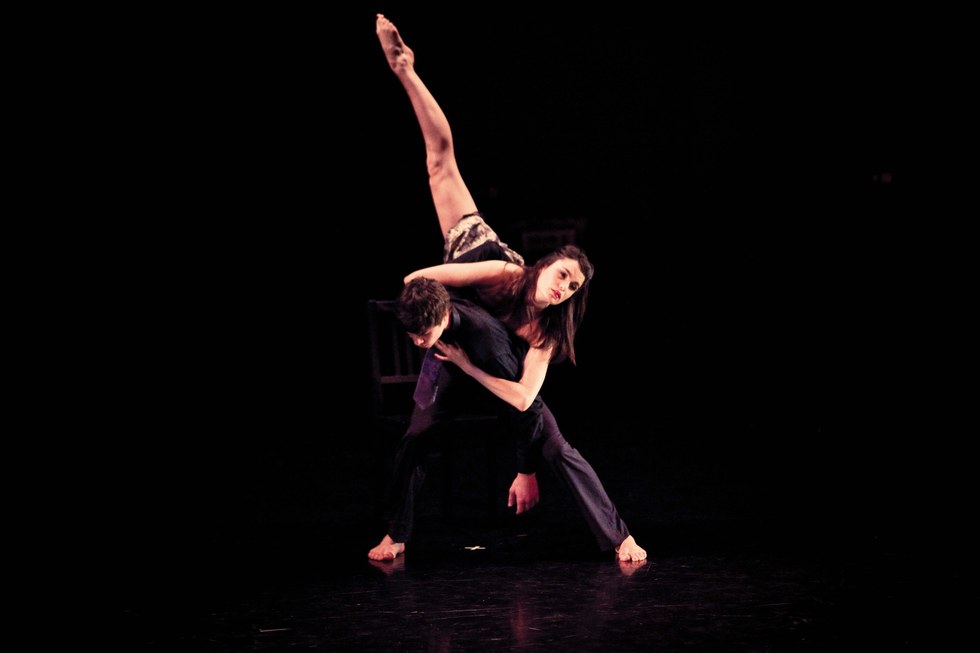 Chantel performing with Billy Bell's Lunge Dance Collective
Since moving back to California, Chantel has performed on "Dancing with the Stars" five times and at the Video Music Awards with Florence and the Machine. She is a member of Billy Bell's Lunge Dance Collective and Travis Wall's Shaping Sound Dance Company, was a featured dancer in Cristina Perri's "Jar of Hearts" music video, performed at the Billboard Awards with Beyoncé, danced at the Macy's Passport fashion shows and worked as a member of the skeleton crew for Step Up 4. Plus Chantel takes classes ("nonstop," she says) at EDGE Performing Arts Center and Millennium Dance Complex, and has started teaching at local studios and setting competition routines on younger dancers.
As Chantel continues to work hard and hone her ever-growing list of skills, the world is taking notice. When Wall held auditions for his company late last year, Chantel arrived amid hundreds of other dancers. "She stood next to Jaimie Goodwin—and everyone knows Jaimie is my favorite female dancer—but Chantel just roasted everyone in the room," Wall says. "She blew the audition out of the water. In the past year and a half, Chantel has come into a spot where everyone in L.A. knows who she is. All eyes are on her."
Chantel's Fast Facts
Birthday: May 6, 1989
Hometown: Scotts Valley, CA
Most-played artist on her iPod: James Blake
Favorite books: The Brain That Changes Itself, by Norman Doidge, MD
Favorite TV show: "Dexter"
Favorite movies: Kill Bill, Andre ("the one about the seal"), Inglourious Basterds and A Little Princess
Favorite food: Sushi
Favorite dance step: "Can I say the 'bend and snap'?!"
Dance crush: Robert Roldan
If you could work with any performer, past or present, who would it be? Dwight Rhoden. "I took a summer workshop with Dwight and Desmond Richardson, and they blew my mind. They are both such exceptionally talented geniuses. They teach
a way my body wants to move, but I'm not quite there yet."
If I wasn't a dancer I'd be… "A surgeon. It's incredible the way people can repair the human body. When I was younger I always wanted to be a doctor or a veterinarian. I used to put Band-Aids on my cat!"
Dance dream job: "I'd like to be in a professional contemporary ballet company someday, touring internationally. It's not about the money for me—it's about the creation and the positive environment."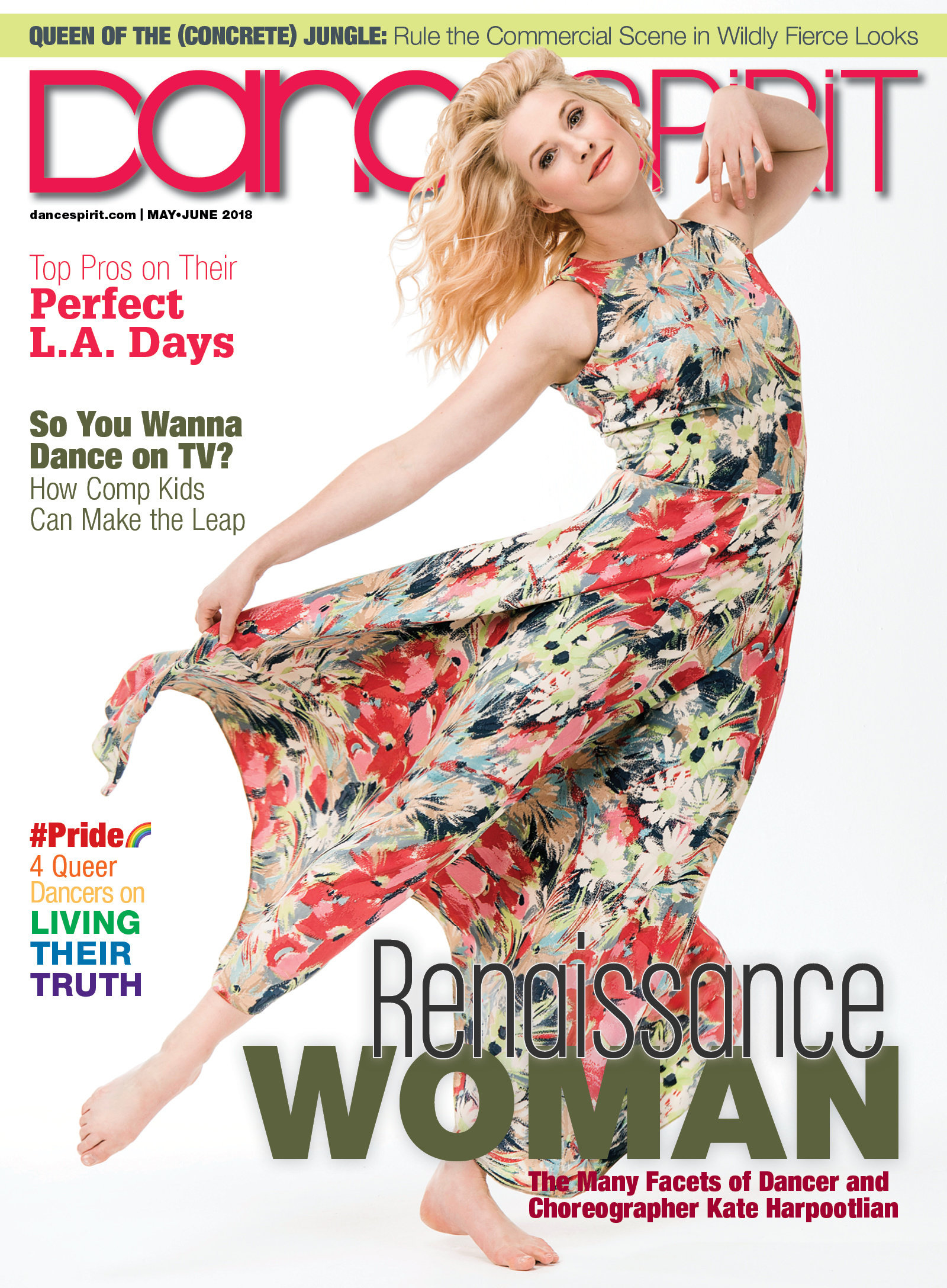 Get Dance Spirit in your inbox