You know, we're always in the mood for a good Romeo and Juliet–style dance movie: boy meets girl, boy dances with girl, girl gets mad at boy, girl and boy make up in an epic dance scene...you know the drill. But every once in a while, it's nice to mix things up—and John M. Chu, director of Step Up 2: The Streets and Step Up 3D, is about to do just that. You guys, he's planning a '90s-themed dance comedy!
There's not much info available yet, other than the title: Can't Touch This. So we thought we'd help Mr. Chu out a bit by suggesting some not-to-be-missed '90s dance moves. Naturally, we expect to see some serious Hammer Time-ing, since it was the signature move in MC Hammer's 1990 hit "U Can't Touch This." For your reference: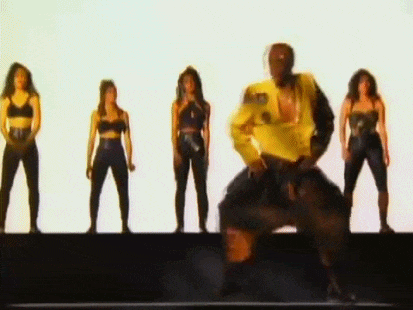 "Stop. Hammer Time."
After a bit of Google-ing, we've come up with a list of six other dance moves that simply must be included in Can't Touch This. Here ya go:
1.  Da' Dip, aptly named for the 1996 Freak Nasty classic.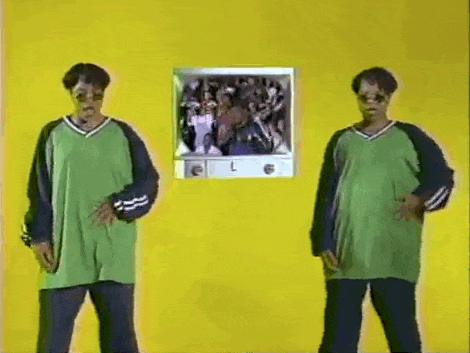 "I put my hand upon your hip. When I dip, you dip, we dip." —Freak Nasty
2. The Funky Charleston, as made famous by the early '90s hip-hop duo Kid 'N Play in their movie House Party. (Oh for the days when pop stars had their own movies...)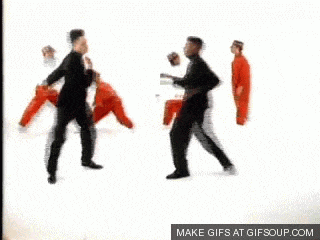 Welcome to Kid 'N Play's house party.
3. The Jiggy (aka "Gettin' Jiggy Wit It")—because when Will Smith does it, it's automatically cool.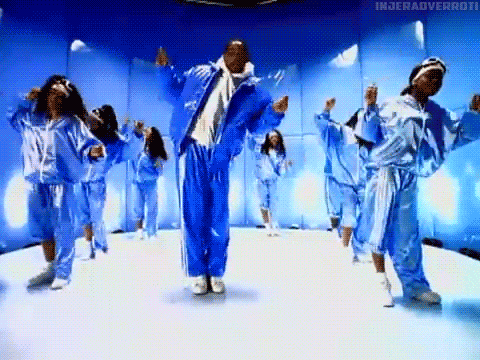 Dat blue track suit doe.
5. The "Bye Bye Bye"—technically a hit from 2000, but *NSYNC was soo '90s, we think it still counts.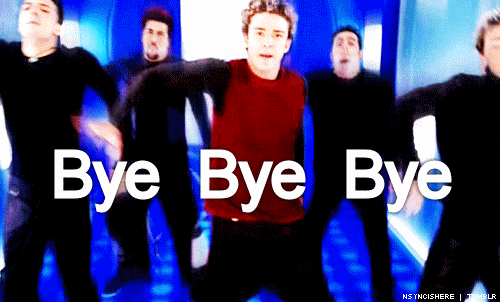 TBT to JT's mushroom 'fro, amirite?
6. You knew it was coming: The Carleton Dance! (We <3 Alfonso Ribeiro.)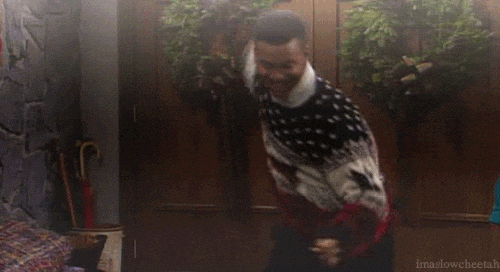 #dancelikenooneswatching
Alright, guys, it's your turn to get in on the fun. Google "90s dance moves" and see what historical gems you can dig up. Happy Saturday!
Sometimes, you have every intention of participating in #throwbackthursday, but then things get busy, deadlines pile up and the next thing you know, you're online shopping for a second pair of zebra-print workout pants...and the online holiday has passed.
Fortunately, there's always #flashbackfriday to fall back on. And just like "fetch," this is something I hope actually catches on.
So in the spirit of throwing back, flashing back and remembering all the good times, here are a few of my favorite dance videos that just never get old...
Britney Spears, "(You Drive Me) Crazy"
Baby, I was sooooo into this. It's got that somethin'...what can I do? See what I did there? Watching this brings me so much joy. The choreography was way fun and I definitely spent hours trying to learn it in my living room and in the dance studio with my friends. All I needed was that shiny green crop top and a cameo by Melissa Joan Hart. (I had the crimped hair going for me, so don't worry about that.)
'NSYNC, Live at the 2000 MTV VMAs
Before JT was JT, he was a member of the best boy band ever. And these dudes could move. The best part of this performance, in my ever-so-humble opinion, was when they danced behind the giant TV screens. Classic. Also the massive dance party at the end. I wanted to go to that dance party.
In the Heights at the 2008 Tony Awards
In the Heights is my favorite musical of all time. The show's creator, Lin-Manuel Miranda, is my idol. I saw this show on Broadway four times, and each time I cried the entire time, both out of sheer joy and out of sadness, because the second act was sad before it got happy again. Andy Blankenbuehler's choreography for this show was perfect, the cast was off-the-charts amazing and the music makes for a perfect running soundtrack. This show was perfect. (Bring it back, Broadway. Bring it back.)
Simrin Player, "My New Philosophy"
Four years ago, little Simi did a sweet musical theater solo at competition. Now, she's on the cover of our November issue. (Click here to read about Simrin and the six other rising stars we've dubbed "Hip Hop's Next Generation.")
And for something that's not-so-throwback, here's the latest from the Forever Queen of Pop, Ms. Britney Spears. She released a new music video this week, and while I personally don't think it's her best-ever work (She seems a little late on some of the choreography, right? And the baggy pants look just isn't my favorite, sorry, Brit.), I'm a big fan of dancing in the desert. Aren't we all?
Now get to work!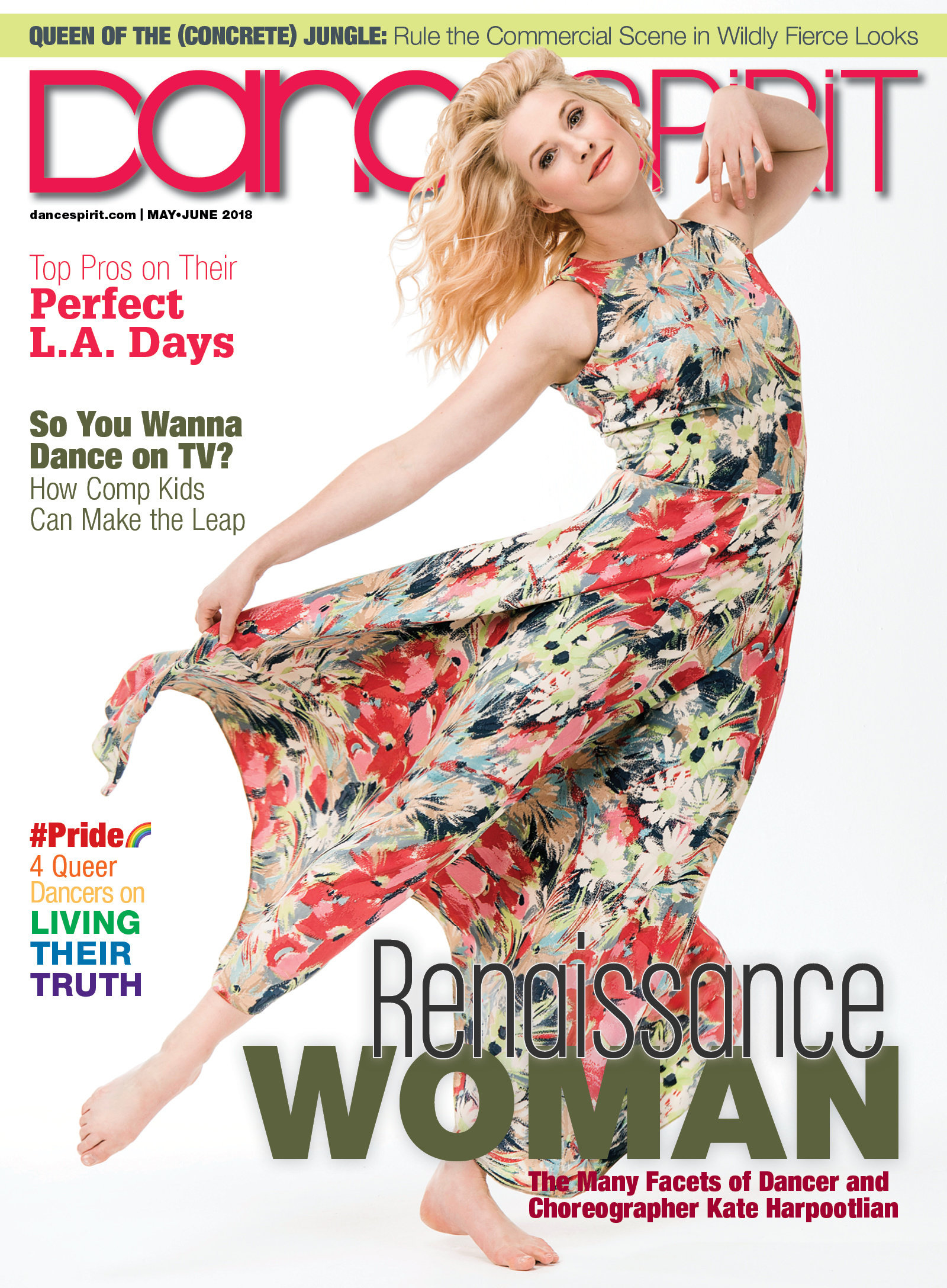 Get Dance Spirit in your inbox