It all started with a question in an old issue of Pointe magazine: "I feel bad sending all of my dead pointe shoes to a landfill. Is there any way to recycle them?" When Katarina Jakimier read the answer—"Currently, there are no specific pointe shoe recycling programs"—her mind started to churn.
"I really care about the environment," says Katarina, 13, a student at Texas Ballet Theater School in Dallas. "And since dancers go through so many pairs each year, I was pretty surprised they didn't have a way to recycle them." After all, "they're basically made out of cotton, satin and jute. Those are all natural fibers, so they're excellent candidates for recycling."
Katarina, then 12, decided to take matters into her own hands. In February 2014, she began working on the Dallas Pointe Shoe Recycling Project. Now, thanks to her work, the Dallas dance community can breathe easier knowing it's doing its part for the environment: Instead of sending worn pointe shoes to the dump, dancers in the area can drop them off in recycling containers around town. From there, the shoes get picked up, broken down and eventually made into something else.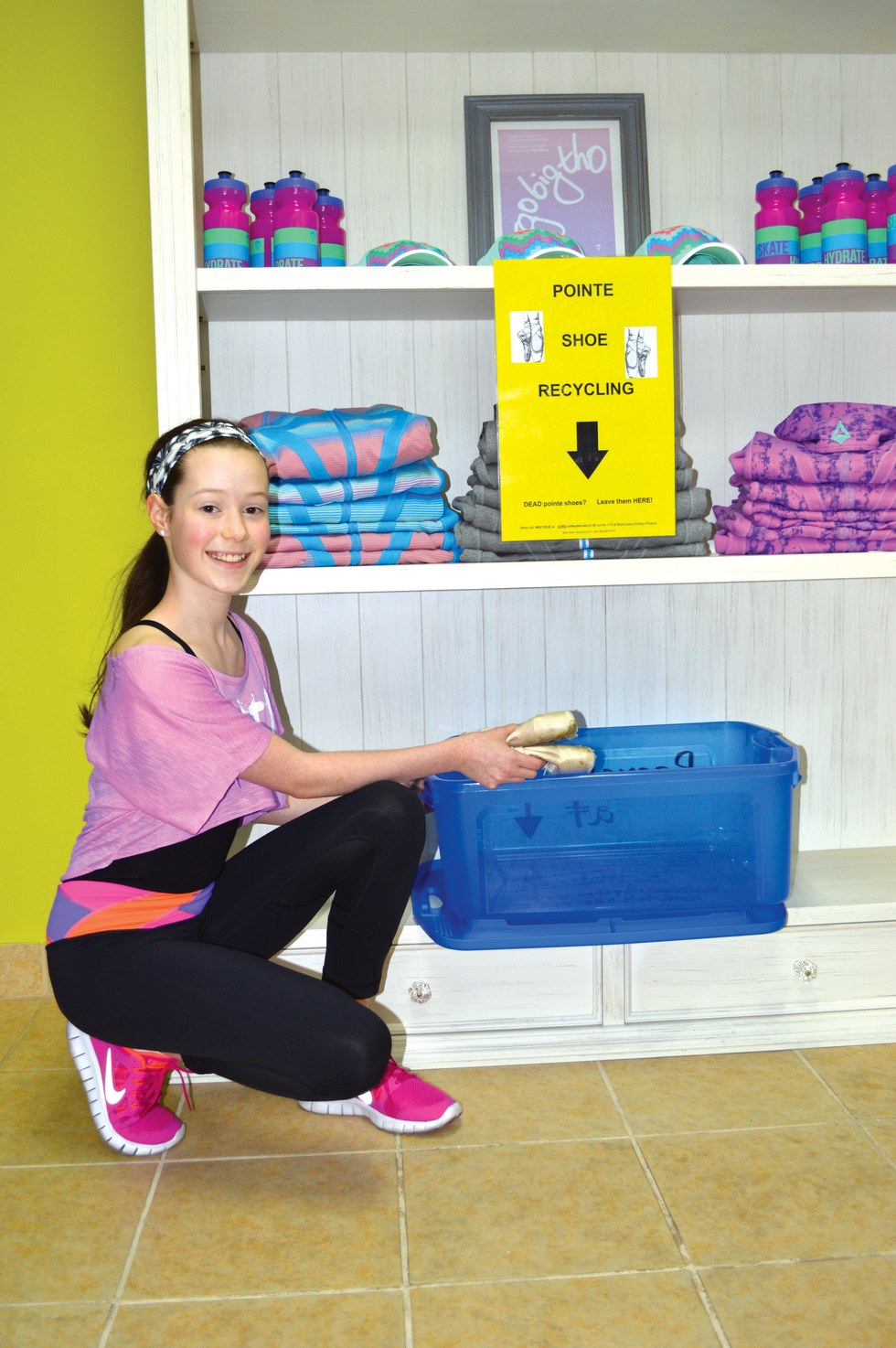 Katarina shows off a pointe shoe recycling bin at the Ivivva by Lululemon showroom in Dallas, TX (photo courtesy Mary Jakimier)
Putting a Plan in Place
Katarina knew starting a recycling initiative wasn't
going to be easy. But she had another driving factor. A longtime Girl Scout, she had been searching for the right project to submit for the Girl Scout Silver Award, the most prestigious prize for Scouts in sixth through eighth grades. And because the rules state that candidates must spend at least 50 hours on their projects, Katarina wanted to choose something related to her passion: dance. A pointe shoe recycling project seemed to be the perfect fit.
"My first step was visiting the major dance companies, dancewear stores and studios in town to find out if any of them had recycling programs," Katarina says. "They didn't—but they all said to let them know if I found anything. So I became even more convinced our community really needed this."
A Test of Perseverance
Katarina began calling recycling centers, but finding a local company that recycled textiles—not just glass, plastic or metal—proved challenging. "It was even harder to find a textile recycling plant that accepted shoes," Katarina says. Many times, she'd reach out to a representative who would, in turn, tell her to call three other people—who would then point her in other directions. And each time, she'd have to start at square one: explaining the pointe shoe cycle. "A few people thought 'Oh, well, all shoes can be reused,' " she says. "I really had to be clear that once pointe shoes are dead, they're dead."
By March, Katarina had started forming a backup plan. "I got in touch with a company called World Wear Project," she says. "They don't quite recycle—the plan was to collect old but still wearable ballet slippers and redistribute them." But the reuse idea wasn't really what Katarina was hoping for. She also thought about collecting worn pointe shoes and mailing them to a center across the country for recycling, but that system was faulty, too. "I didn't like the idea of asking a dance studio to package the shoes and pay for shipping," she says. "It would've been a big burden."
The Pointe Shoe Recycling Project
Just when she was getting desperate, Katarina received an email from American Textile Recycling Services. Its representative was able to point Katarina in the right direction: a recycling bin in Dallas that would accept pointe shoes. "My project was back on!" Katarina says. "Even better was that the ATRS collection bin wasn't far from my house or the dance studios I'd reached out to initially."
Katarina set her plan in motion. She placed pointe shoe collection containers—with posters and information sheets about pointe-shoe recycling—in three dancewear stores and two studios. "The containers are airtight, so the smell of old shoes won't leak out," she says. Once the containers are full, the store or studio owners take them to the recycling bin, empty the contents and bring the containers back to their businesses to reuse.
Later that summer, Katarina found out that her project had earned the Silver Award. But she's not done yet: She wants to spread her green toes even farther. "I really hope people will see the project and contact me," she says, "or start recycling projects of their own. I'm happy with how this turned out and I'm excited to help in other areas, too."
Makenna Miller (photo by Chris Stark, @starkphotoproductions)

A year ago, 12-year-old Makenna Miller was living every young dancer's dream: She was dedicated to training at The Loudoun School of Ballet in Leesburg, VA, and was becoming a consistently successful competition star. She's been the overall scholarship winner at conventions like NUVO and 24 Seven, and placed in the top 10 at the 2014 Dance Awards, in the top 8 at New York City Dance Alliance in 2014 and was last year's second runner-up for NYCDA's National Outstanding Dancer award. But a nagging pain in her knee led to a devastating diagnosis: She had a tumor, and it was most likely cancerous. Here's her harrowing—yet ultimately triumphant—story.
Keep reading...
Show less
Courtesy Tio Von Hale
In many ways, 23-year-old Cassandra Naud is a typical commercial dancer on the rise. She trained in a variety of dance styles from a young age, attended the American Musical and Dramatic Academy's L.A.-based College and Conservatory of the Performing Arts and hit the ground running after graduation, signing with The Movement Talent Agency (MTA) and jumping into the audition circuit. But Cassandra has something that makes her stand out from her peers: a birthmark that covers her right cheek. Cassandra opened up to Dance Spirit about how her birthmark has affected both her life and her dance career. —Kathryn Holmes
Keep reading...
Show less
David Hoffmann, courtesy Christina Ricucci
Two years ago, Christina Ricucci, then 15, was living every dancer's dream. She was training intensively at Dmitri Kulev Classical Ballet Academy, Westside Dance Project and Murrieta Dance Project in Southern California. She earned top awards at competitions, including Teen Best Dancer at The Dance Awards Nationals in 2013. (She even landed on a cover of Dance Spirit as the 2014 Cover Model Search winner.)
As Teen Best Dancer, Christina spent a year traveling to conventions every weekend. But her grueling schedule started taking its toll—or at least that's what she assumed when she started feeling out of sorts after a few months. As it turns out, Christina wasn't just tired or rundown: While on a family trip to Mexico in the fall of 2013, she'd unknowingly contracted Lyme disease. Here's the scary—and ultimately triumphant—story of Christina's battle with the illness. (As told to Alison Feller)
Keep reading...
Show less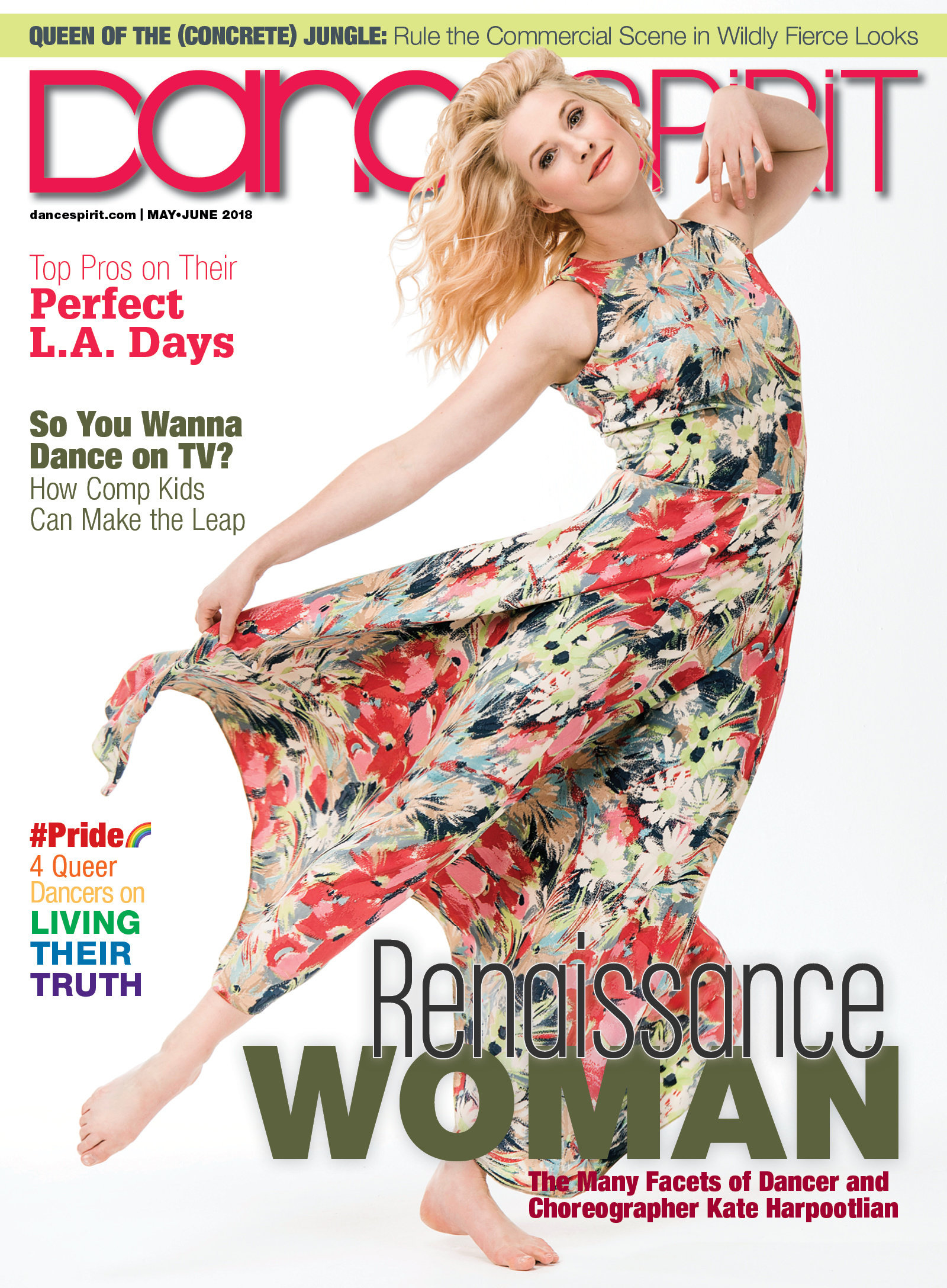 Get Dance Spirit in your inbox