Makeda Crayton as the African Queen in Cirque du Soleil's Zumanity (Eric Jamison, courtesy Zumanity)

For dancers who've spent their lives in pink tights, signing a big ballet company contract can seem like the be-all-end-all goal. But ballet-trained dancers aren't one-trick ponies, and many end up leading successful dance careers outside the ballet world. Before you say "ballet or no way," get inspired by dancers who traded in their pointe shoes for something a little different.
Makeda Crayton, Soloist in Cirque du Soleil's Zumanity
I trained under former Dance Theatre of Harlem principal Homer Hans Bryant, and always dreamed of following in his footsteps. But when DTH went on hiatus in 2004, I decided to look for other jobs, and I ended up finding my dance home at Cirque du Soleil.
I love Cirque's storytelling aspect. It reminds me of performing story ballets, but you're given a lot more freedom to develop your character. Right now, I play the African Queen in Zumanity—I have a solo that opens the whole show. It's up to me to pull the audience into our world, and I'm constantly reinventing my character to find new ways to connect. I still do a floor barre before every performance, and I'm thankful for my ballet training. The show's acrobats are always shocked at how quickly I can pick up movement. Before DTH reopened in 2013, I was invited to take class with its traveling repertory ensemble. While it reminded me how much I missed ballet, I realized my path as a dancer had changed. I love what I do.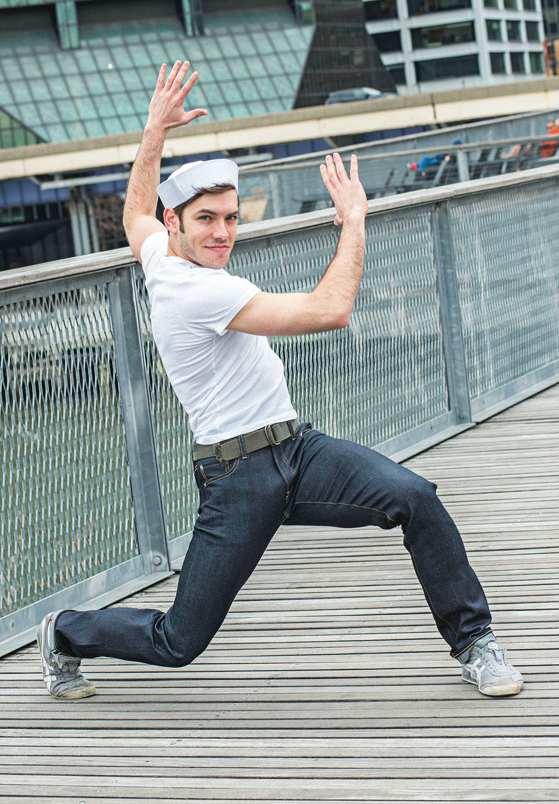 Brandon Leffler in costume for "On the Town" (Monica Simoes, courtesy Leffler)
Brandon Leffler, dancer in Trip of Love, off-Broadway
I was on The Performing Arts Center in L.A.'s commercial track when I first fell in love with ballet. The school's director helped me switch around my schedule so I could do a classical concentration, and I ended up booking a job with Ballet Austin II after attending the company's summer program.
I spent a year there, and it was an amazing experience. Ballet Austin is a small company, so we got to dance in the corps for larger ballets. Once
I got used to the day-to-day rigor of ballet company life, though, I realized I needed a bit more freedom. That's when I set my sights on Broadway. I moved to NYC to take a job with Nai-Ni Chen Dance Company, and began auditioning for musical theater jobs. About a year later, I booked a national tour of Cats, and haven't looked back since.
The greatest gift ballet gave me is my solid technical base. In musical theater, you're doing the same movement eight times a week. Unless you're using your body properly—and ballet teaches you how to do that—you're going to get injured.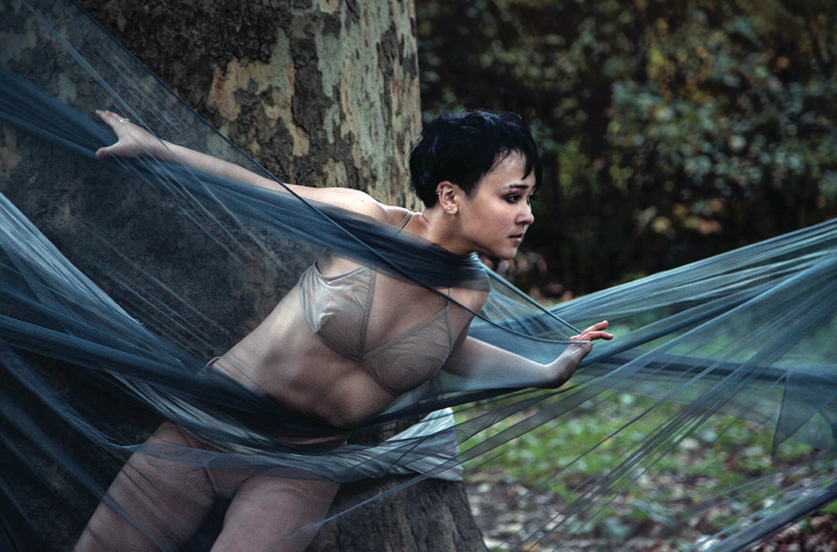 Wada as a member of Sidra Bell Dance (David Flores, courtesy Sidra Bell Dance)
Madison Wada, Sidra Bell Dance New York
Growing up in the small town of Lancaster, CA, I studied many styles at a local studio, but I fell in love with ballet. I looked up to ballerinas like princesses. When I decided ballet was my dream, my mom started driving me an hour each way every day to train at Los Angeles Ballet Academy. It was a rigorous school, with graded exams at every level. But after spending a summer at Alonzo King LINES Ballet post-graduation, I decided I wanted to go in a more contemporary direction. As much as I loved classical dance, I knew even if I gave 125 percent, I still probably wouldn't make it—I just don't have the feet or the stature. When I started to explore contemporary dance, first at LINES and then with Sidra, I began to appreciate the value of my movement quality, beyond the height of my leg or the number of pirouettes I could do.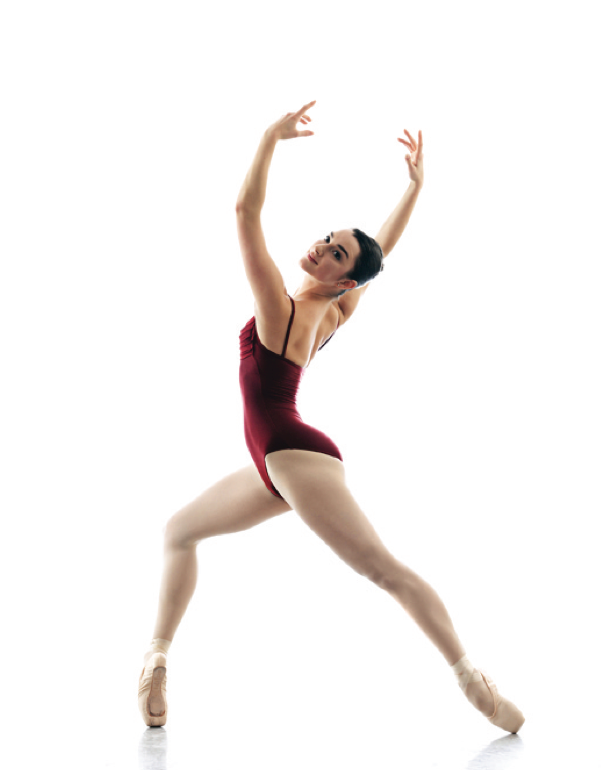 Usborne in her bunhead days (Patrick Baldwin, courtesy Usborne)
Georgia Usborne, Gallim Dance
My second-year ballet teacher at Central School of Ballet in London told me I didn't have the facility to join a company—and that I needed to learn to maximize what I had. Ballet was my passion, but with the limitations of my body, I knew classical technique would always be a struggle. I ended up spending three years at Bern Ballet in Switzerland, which has a more contemporary repertoire and allowed me to further explore that kind of movement. I had to break down a lot of mental walls to find my artistic voice, and taking Gaga class in Bern helped me find that freedom of expression. Now, at Gallim, I've found the perfect balance of ballet and Gaga.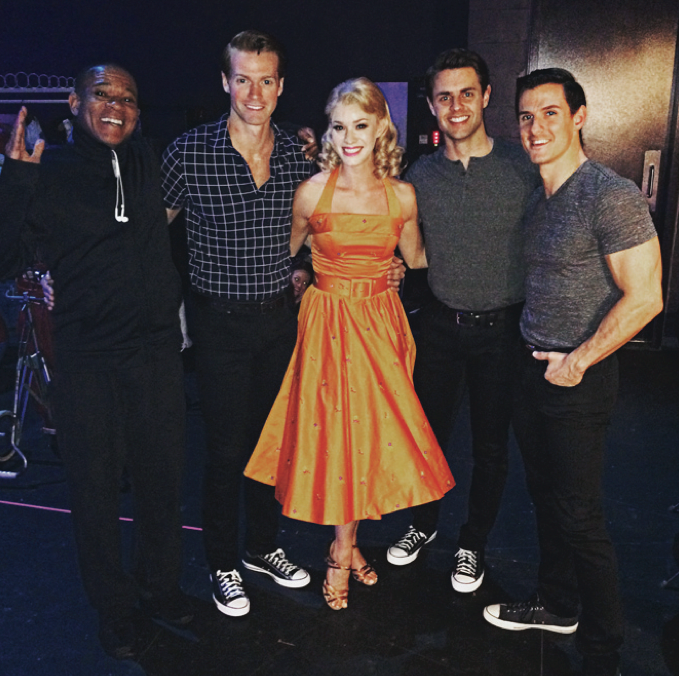 Prominski backstage at "Dirty Dancing" (courtesy Prominski)
Katelyn Prominski, Broadway dancer
I started off on a pretty successful ballet track: I trained at San Francisco Ballet, toured with The Suzanne Farrell Ballet, spent four years in the Boston Ballet corps and then joined Pennsylvania Ballet. Shortly after moving to Philadelphia, I got very sick. I didn't know what was happening to my body—ballet became miserable. I was diagnosed with Type 1 diabetes and decided to retire.
My boyfriend at the time (now my fiancé) was touring with Billy Elliot, and as I started to get better, I realized musical theater could be a great way for me to return to performing, because it's a slightly less grueling, more flexible environment than the ballet world. I just finished touring with Dirty Dancing, where I used my ballet training every day. Broadway choreographers love ballerinas—they know I'm going to give them a six-o'clock penché, sky-high leaps and can-can kicks to my face.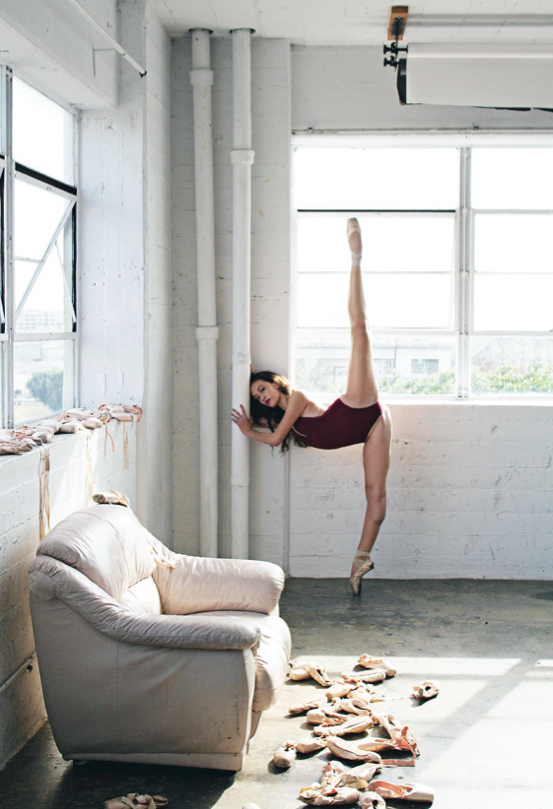 Emnace in her ballet days (Oliver Endahl, courtesy Emnace)
Ariana Emnace, Commercial dancer
I trained intensively in ballet, going to summer programs at San Francisco Ballet and American Ballet Theatre and competing at Youth America Grand Prix. ABT was always my dream. I was fixated on joining a ballet company and becoming a principal—it's what I thought I deserved after training so hard.
When I started auditioning, my ballet teacher convinced me that joining an agency might be a better fit. I signed with Bloc and began looking for commercial and ballet jobs. For a while, nothing really happened. Then Mystic Ballet of Connecticut offered me a spot in their training program—right as I booked a private audition for Chris Brown's BET Awards performance. I told myself if I didn't book the Chris Brown job, I'd move to Connecticut and recommit to ballet. But I got the gig, and I took that as a sign. Since then, the commercial world has really opened up for me. I've realized this is my path.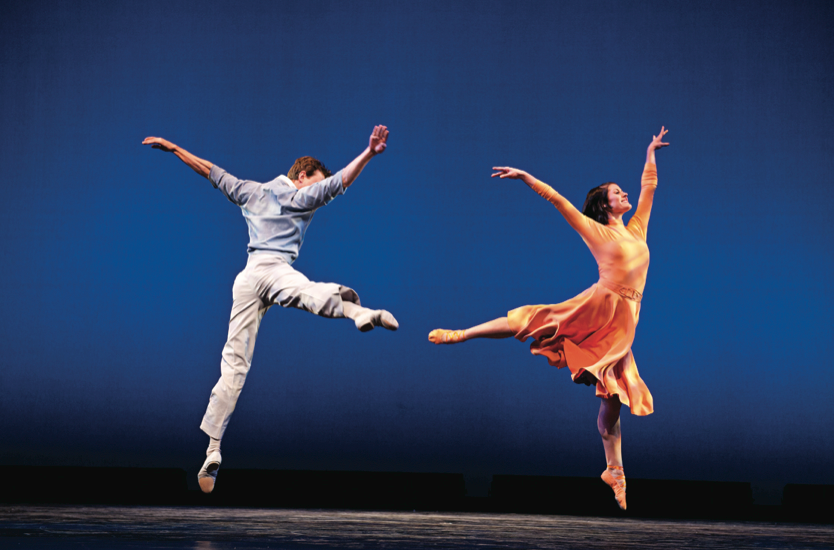 Rutledge (right) with Reid Bartelme in Lar Lubovitch Dance Company's "Elemental Brubeck" (Nan Melville, courtesy Lar Lubovitch Dance Company)
Laura Rutledge, former dancer with Lar Lubovitch Dance Company
I danced at Indianapolis Ballet Theatre, California Ballet Company, State Street Ballet and Ballet San Jose, and I thought ballet was my home. But when I was a member of Company C Contemporary Ballet, I was introduced to Lar Lubovitch's choreography. From day one of rehearsal, I totally fell in love with the movement. I felt my whole body sigh. I decided to make the cross-country move to NYC to dance with the company.
It was a huge transition for me—no more pointe shoes, and I really had to learn to drop my weight. But all of Lar's movement is based in the ballet vocabulary. You always have to find clarity in your lines. Honestly, I don't think he would've hired me if it weren't for my solid ballet foundation.
It's no secret we were pumped when we heard the official announcement: Ricky Ubeda is joining the cast of On the Town on Broadway. You may recall, we were so excited, we couldn't wait to see him in costume—so we got a little Photoshop-happy with the pictures from Ubeda's DS cover shoot...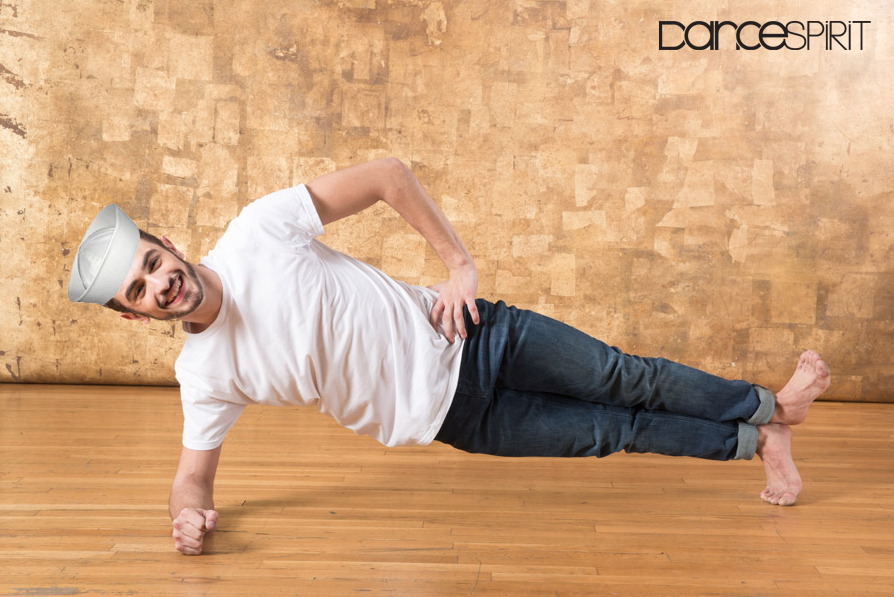 LOL. (Original photo by Lucas Chilczuk for Dance Spirit)
Judging by Ubeda's Twitter, it seems like "America's Favorite Dancer" has fallen in love with life on Broadway. Plus, on Friday, Playbill released 43 glorious photos of the men of OTT  at NYC's South Street Seaport, and Ricky looks right at home among these "hunky sailors." Here are a few of our favorites:
All photos by Monica Simoes for Playbill.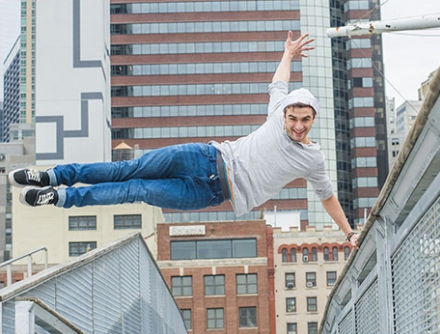 Looks kinda familiar, don't you think?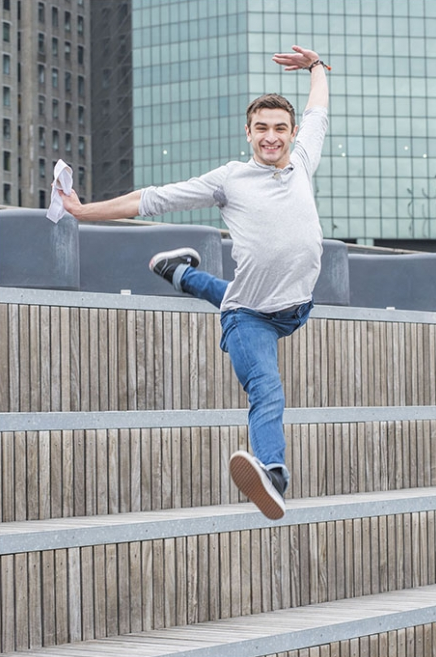 Classic.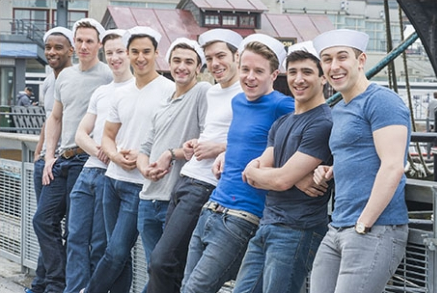 Adorbz.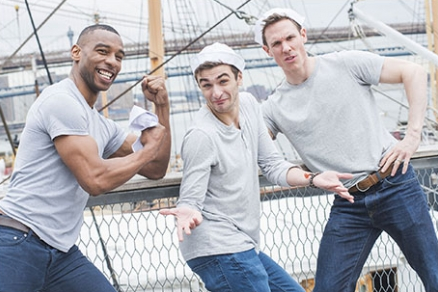 Not sure what's going on here, but we love it.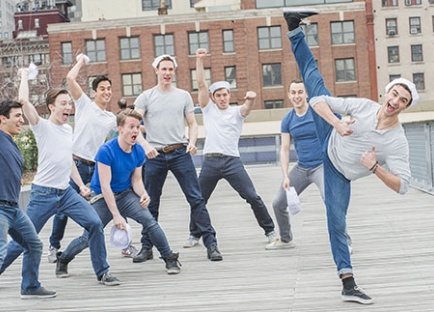 @RickyUbedasLegs
So perfect, right?! Click here to see the full gallery, and for even more Ricky-in-OTT action, check out this behind-the-scenes video from the shoot: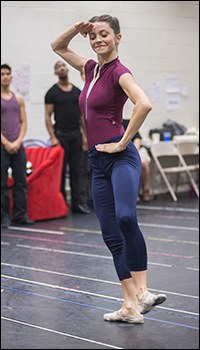 Fairchild in rehearsal for the "Miss Turnstiles" number in On the Town (photo by Monica Simes, via Playbill)
Back in June, we shared the exciting news that New York City Ballet principal Megan Fairchild will play Ivy Smith in the upcoming Broadway revival of On the Town. If you're not familiar with the show, New Yorker Ivy Smith is chosen to represent the NYC Subway for a month as "Miss Turnstiles" (smh at odd 1940s customs...). Ivy's picture on the subway comes into play later, when the show's protagonists—three sailors on a day off from the Navy—embark on a quest to find her.
Recently, Broadway.com shared a rehearsal video of the "Miss Turnstiles" routine. Watch it once, and you'll know exactly why the NYCB principal was chosen for the role. Much like the rest of the show, this number is packed with difficult choreography. Everything from crisp petit allegro to some seriously intense lifts, from an epic menage to about a bazillion fouettés, choreographer Joshua Bergasse did not go easy on her. And quite frankly, we're thrilled—because watching one of our favorite ballerinas completely nail an action-packed Broadway number makes us feel happy inside.
Check it out!
On the Town officially opens October 16, but preview performances have already begun at Lyric Theatre on Broadway. For tickets, click here.
Mar. 23, 2017 05:03AM EST
It's Fleet Week here in NYC—that one magical week when the city is flooded with cute sailor boys. Here at DS, that means it's time for:
Pick Your Favorite Musical Sailors!
In the running:
South Pacific's rowdy mariners. There ain't nothin' like 'em!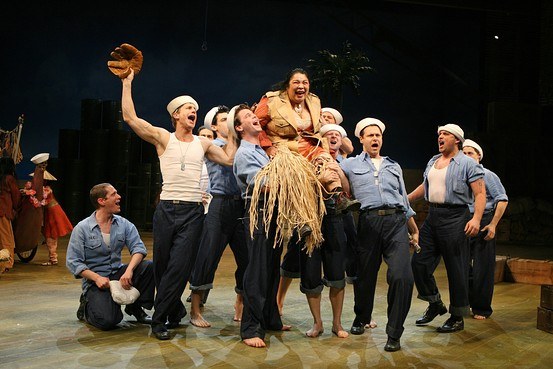 Anything Goes' tapping tars. They're the top!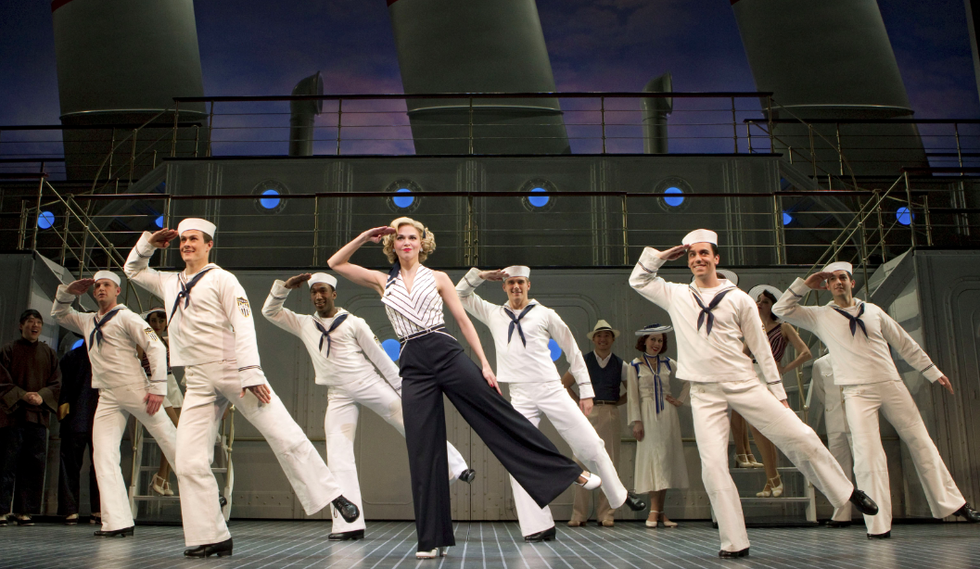 The old-schoolers: Frank Sinatra, Jules Munshin and Gene Kelly in On the Town. They make New York, New York a wonderful town!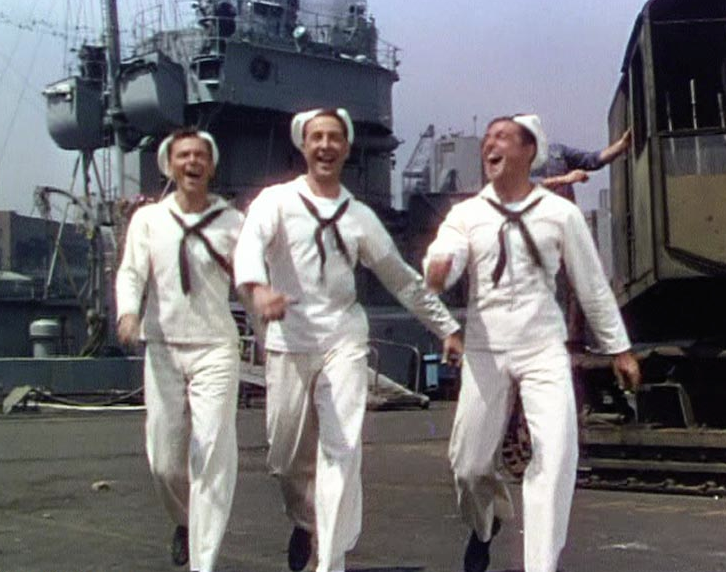 Cast your votes in the comments, mateys.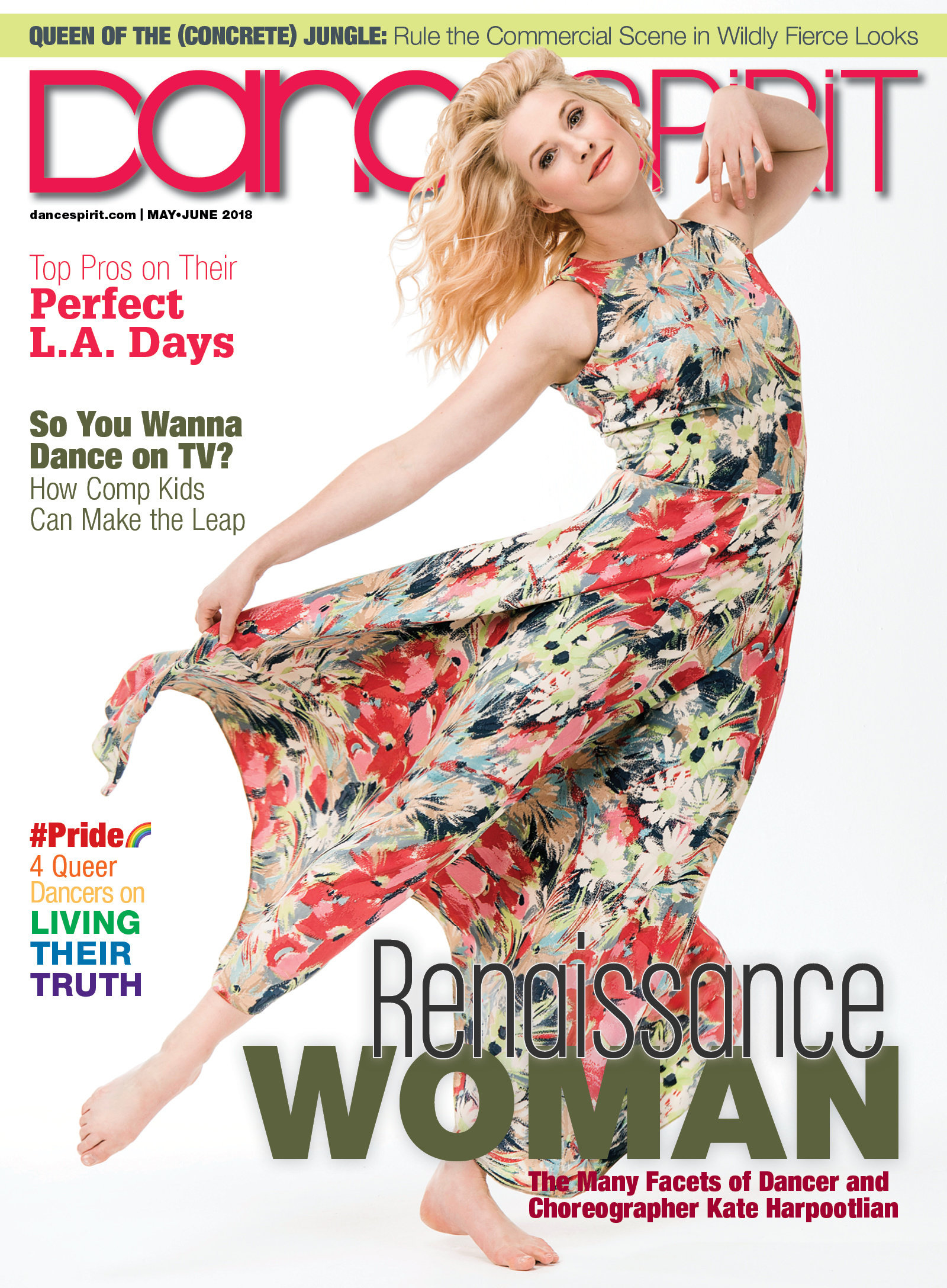 Get Dance Spirit in your inbox