Students fly in Dorfman's class at Connecticut College (Adam Campos, courtesy Conn. College)
Packing for college is thrilling and nerve-racking at the same time. You're finally ready to be an undergrad, but before you leave home you have to stuff your dance life into just a few suitcases. To make that process easier, Dance Spirit asked the experts to put together an insider's list of campus must-haves for dancers.
Keep reading...
Show less
Nov. 01, 2013 10:00PM EST
On the one hand, life on tour as a dancer with a pop star is incredibly glamorous: You get to perform for thousands of fans on some of the world's greatest stages. On the other hand, going from hotel room to hotel room over the course of several months can get a little draining. So the creature comforts that tour dancers pack to make each town feel a bit more like home are especially important.
Amanda Cleghorn, Mason Cutler, Mallauri Esquibel (a former DS cover girl!) and Caitlynn Lawson just finished the U.S. leg of Taylor Swift's Red tour. We got them to share what they brought with them on the road—from a mini-keyboard to a stuffed teddy-moose.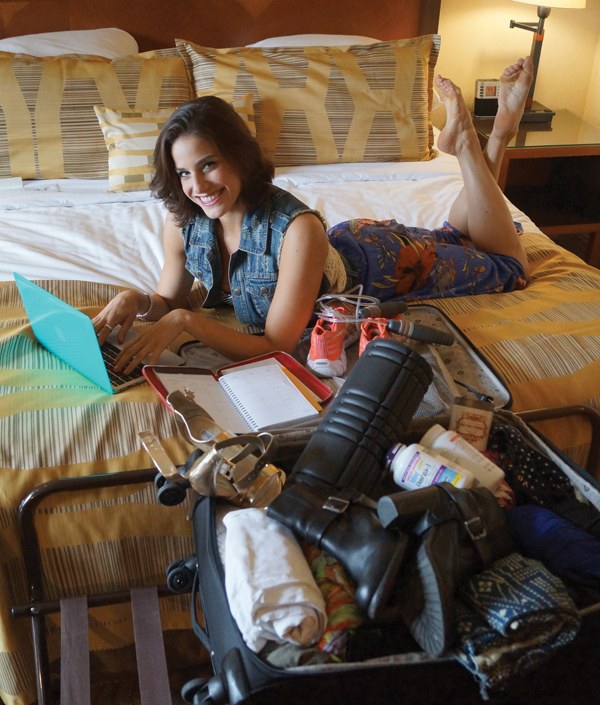 (by Mason Cutler and Mallauri Esquibel)
Packing advice: "If you pack lighter, you'll be happie—especially when you're flying city to city. This is a time when you can get creative about switching up your outfits. It's fun trying to find different layers and options that go together."
Most useful item: "My travel-size body roller. I bought it right before the tour and never thought it would get as much use as it does. It's basically communal now, and definitely comes in handy on show days."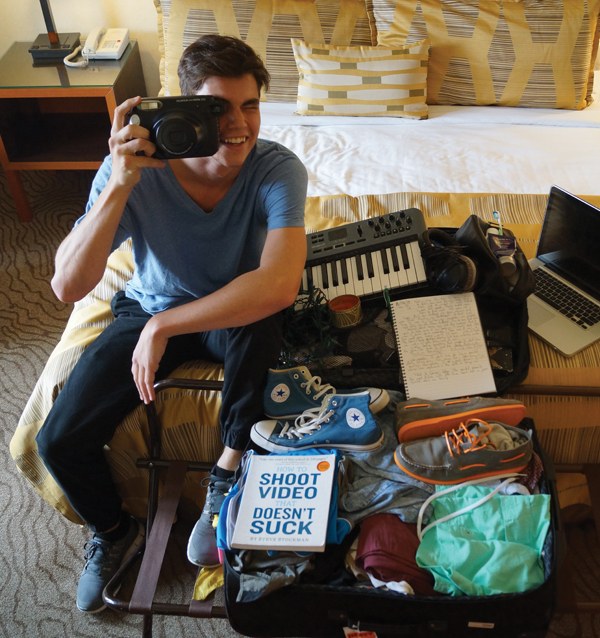 (by Mason Cutler and Mallauri Esquibel)
How his packing style has evolved: "I've learned little tricks from other dancers on tour. Stuff your shoes with socks to help them keep their shape while they're in your bag, for example. And get a bag that can take wear and tear. Even if it's pricey, it'll end up being cheaper than having to buy bag after bag.
Packing philosophy: "I don't want to put my hobbies on pause while I'm on the road. I bring books, photo equipment, a small keyboard...anything to help me create or keep me entertained."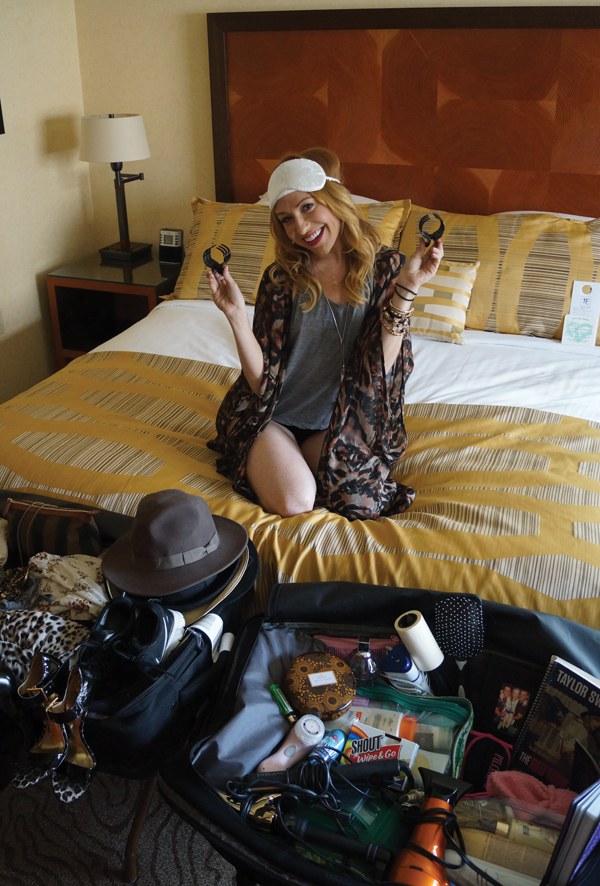 (by Mason Cutler and Mallauri Esquibel)
Packing advice: "Bring little pieces of home with you. There's something comforting about having a picture and a candle to put in your hotel room. And travel with as much underwear as possible. You can never have enough!"
Items she can't live without: "I travel with a bunch of hair clips, which I use to clamp the curtains closed at hotels. I'm a morning person, which is hard with the late-night tour life schedule. As soon as it's light out, I'm usually up—but these clips have been life changing. I also have my suitcase scale, so I can weigh my bag to see if it's over the airline limits. It's a $10 gadget that has saved me hundreds of dollars in overweight bag fees."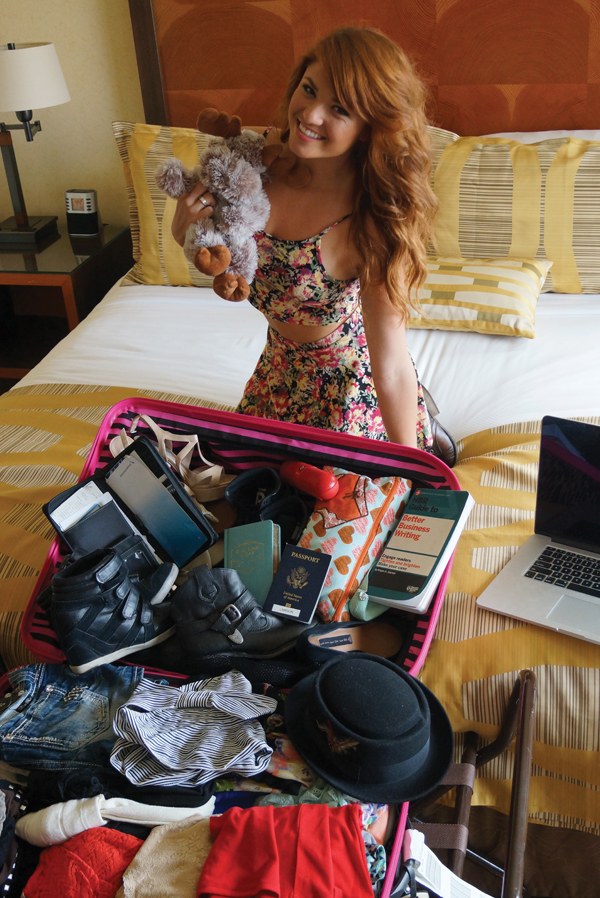 (by Mason Cutler and Mallauri Esquibel)
Packing philosophy: "Bring it all! I've tried the less-is-more tactic, and I always end up hating everything I brought after a week or two. Being on tour, you give up a lot of normalcy—your fridge full of food, your comfy bed, seeing your friends every day. Why give up your closet too?"
Strangest thing in her suitcase: "For a 20-year-old, I'd say my teddy-moose is probably pretty strange. But since I can't fit the person who gave him to me in my suitcase, I just bring him everywhere I go instead. He's a fantastic travel companion."
Competition
Apr. 20, 2012 09:23AM EST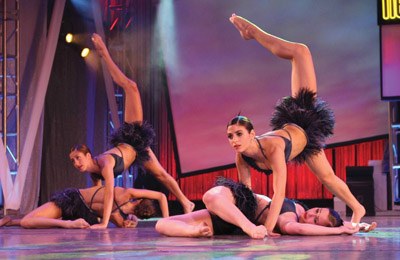 Dancers perform at New York City Dance Alliance Nationals in NYC (PROPIX/NYCDA)
The week leading up to Nationals can be nerve-racking. You're about to perform in front of an audience of peers from across the country—not to mention that panel of industry-expert judges! So how can you make sure you're ready to compete, without psyching yourself out? DS spoke to three competition veterans to get their week-before-Nationals advice.
IN THE STUDIO
Don't skip class. "Being in class prior to competing is the key to performing your best," says Jenna Johnson, a high school senior who trains at Center Stage Performing Arts Studio in Orem, UT, and has won numerous titles in ballroom and jazz, including Teen BreakOut Artist at NUVO in 2010. "At competition, you want the technique to come naturally."
Go over—and over—your routines. Know your choreography inside and out. Sixteen-year-old Shannon Corcoran, who trains at Melissa Hoffman Dance Center in Hudson, NH, schedules private lessons prior to Nationals to run her solo. She also zeroes in on her lyrical number's emotions. "I listen to the song until I understand the storyline and can convey the emotion," she says. "I'm not just doing the steps."
Rehearse your brain. Mental rehearsal can be just as valuable as physical rehearsal—and it's less exhausting. High school senior Niki Kesling, who has competed with Southern Strutt in Irmo, SC, since age 4, watches her dance videos before Nationals. "Watching yourself on video is so different from seeing yourself in the mirror," she says. "Plus, you have the judges' critiques from past competitions." Jenna's Nationals prep includes listening to her music at home and going through each routine in her head so it becomes second nature.
BODY BASICS
Fuel with food. Jenna recommends eating fruits and vegetables before competition to get the nutrients your body needs to perform. Shannon adds, "You don't want a lot of sugary foods, because you'll crash at Nationals. Sugar can also make you feel shaky and off-balance." A proper diet includes hydration—drink plenty of water in the week before competition.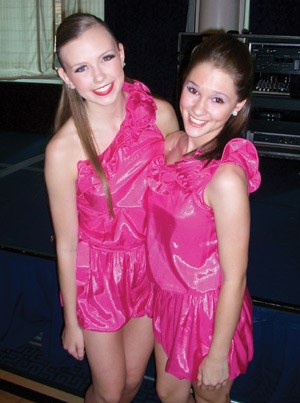 Shannon Corcoran and Jessica Falconer at NYCDA Nationals
Rest up. "When you're rehearsing all day, you have to make sure you get enough sleep at night," Niki says. Shannon adds, "Go to bed at a reasonable time so you aren't tired the next day."
Listen to your body. Are you feeling achy or tired? Your body is telling you something. Take a warm bath. Get a massage. Ice. Take ibuprofen. Sneak in a catnap. "Make sure you're taking care of what's going to be performing onstage," Jenna says.
PACKING PREP
Make a checklist. Before Nationals, Jenna goes through each routine and writes down every item she'll need, from costume pieces to shoes to hair products and accessories. Then, she packs based on that detailed list. Don't forget must-haves like a first-aid kit, safety pins, super glue and warm-up gear.
Use your carry-on. If you're flying to Nationals, the last thing you want is to have your costumes, makeup or dance shoes lost in transit. Stick items you can't live without in your carry-on bags.
Bring extras of everything. Pack your own extras, or designate one dancer or mom to be in charge of extra tights, leotards and accessories for the group. As Niki points out, "If someone forgets something, you'll be prepared." Shannon adds, "Even if you dance barefoot, bring dance shoes because you never know what the floor will be like."
MENTAL MAGIC
Trust your training. "Walking into competition, you see so many intimidating dancers," Niki says. "But if you're prepared to do your best, you'll be confident. If you've been practicing, you're ready."
Think positively. "Negativity will stress you out more," Jenna says. "I try to remember that I will have off days. Some days I won't hit my turns or feel stretched, but I need to keep my chin up and prepare for the next day."
Remember why you dance. Chances are, it's not strictly to win titles. "Don't let the competition get to your head," Shannon says. "You're there because you love performing."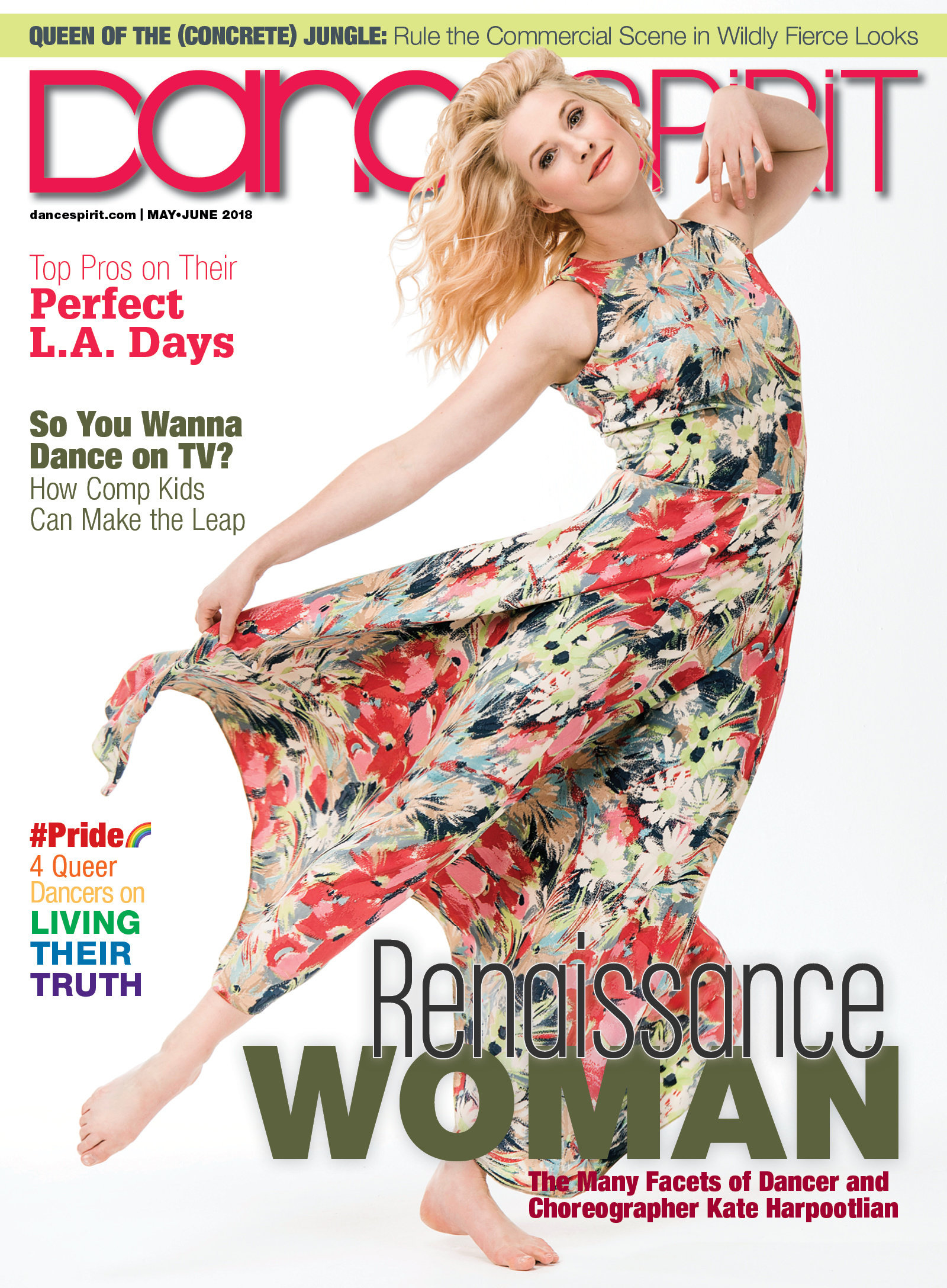 Get Dance Spirit in your inbox