Mar. 15, 2019 11:33AM EST
Paloma Garcia-Lee (center, in gold) and the cast of "Fosse/Verdon" (FX)
The extraordinary Paloma Garcia-Lee, who's danced in no fewer than five Broadway shows, can adapt to any choreographer's style. And before heading back to Broadway this summer in Moulin Rouge! (choreographed by Sonya Tayeh), she's tackling the work of one of the most iconic choreographers of all time: Bob Fosse.
Garcia-Lee plays Adrienne in the new FX limited series "Fosse/Verdon," premiering April 9, which follows the romantic and creative relationship of Fosse (Sam Rockwell) and his muse Gwen Verdon (Michelle Williams). Hamilton's Lin-Manuel Miranda, Thomas Kail, Steve Levenson, and Andy Blankenbuehler serve as executive producers, with Kail directing and Blankenbuehler choreographing.
With the exception of performing on The Tony Awards, "Fosse/Verdon" marks Garcia-Lee's TV debut. "I'm really setting my sights on more on-camera work," she says. "Getting the chance to flex my muscles as an actress in this different medium, but still have the dance part, is all really exciting." (She's got real acting chops, too: While a student at the North Carolina School of the Arts, she actually quit dance briefly to study acting instead.)
Dance Spirit spoke to Garcia-Lee about "Fosse/Verdon"'s epic final callback, how she got cast, and the transition from stage to screen.
Dancer Voices
May. 03, 2018 11:22AM EST
Aaron Tveit! Chandeliers! Mysterious fog! SWOON. (via YouTube)
How excited are you for the musical version of Moulin Rouge!, choreographed by Sonya Tayeh and set to begin a pre-Broadway run in Boston next month? 💃💃💃 excited?
Well, you'll be 💃💃💃💃 excited once you see the very swoon-y new trailer for the show, starring the very swoon-worthy Aaron Tveit (possibly the only person who could make us forget about Ewan McGregor's Christian). And you'll be 💃💃💃💃💃💃💃💃 excited after seeing the full cast list—because it includes a ton of talented dancers.
Dance News
Nov. 01, 2014 04:00PM EST
Think classic Broadway, and the tune "New York, New York" from On the Town probably comes to mind. Based on Jerome Robbins' ballet Fancy Free, On the Town, with music by Leonard Bernstein, hit the Great White Way in 1944 and was later made into a movie starring Gene Kelly. This fall, On the Town returned to Broadway with choreography by Joshua Bergasse. We asked Bergasse to walk us through the "New York City dance" with the help of swing Paloma Garcia-Lee. All photos by Travis Magee.
About the Phrase
"The 'New York City dance' is done three times throughout the show—twice in the opening number, 'New York, New York,' and again in the 'Times Square Ballet,' the Act 1 finale," Bergasse says. "It signifies the foot traffic of busy New Yorkers, the mayhem of Times Square."
See it in action!
This 15-count phrase is extremely fast. To get a feel for its precise musicality, click here to see Joshua Bergasse and Paloma Garcia-Lee break down the steps.
Begin in a parallel second position demi-plié with your weight over your left leg and your right leg beveled. Twist your upper body to the left, placing your left arm, slightly bent, out to the side and your right arm, fully bent, in front of your stomach.
Using your right leg, do a piqué turn to your right on forced arch, with your left leg in a high parallel passé and your arms over-crossed at the wrists.
Finish the turn facing the upstage left corner (about 1 1/4 rotations). Open your arms to the side as you piqué onto your left leg, lifting your right leg high to the side in parallel. Reach your upper body to the left, gazing over your left hand.
TIP: Although your right leg lifts in parallel, your supporting leg is turned out.
Counts 4, 5
Keeping your body facing the back corner and your gaze steady, contract, pulling in your arms and drawing your right leg to a high parallel passé as you plié on your left leg.
Counts 6, 7
Step out to the side with your right leg (count 6), then cross your left leg over your right (count 7), pulling your hips so far to the right side that your right foot rolls inward. Reach your upper body to the high left diagonal in opposition, with your arms extended overhead and your fingers spread wide.
Count 8
Pivot to the right to face forward, arriving in a parallel second position on demi-pointe. Twist your torso slightly to the right, and curve your right arm upward and your left arm downward.
Plié, and twist your torso to the left, switching your arms so that your right arm curves downward and your left curves up. Draw your focus to your left hand.
TIP: Most of your weight should be in your left leg as your right knee bevels.
Crossing your right leg behind your left, do one full turn backward around yourself and jump off your right foot. Hit the height of your jump on count 4, with your left leg in a turned-out passé, your right arm extended straight up and your left arm in a high side diagonal.
TIP: Push your hips to the right so your body makes a "C" curve in the air.
Counts 5–7
Land the jump (count 5), cross your left leg in front of your right (count 6) and finish the phrase by lunging to the side on your right leg, dragging your left foot along the floor (count 7). Spread your arms into a wide "L" position.
Jan. 01, 2014 09:01PM EST
For six seasons, online reality show "Dance212" has shown us what it's really like to be a dancer living, training and working in the heart of NYC. Now, the show is catching up with more than 20 former cast members for an all-new season, "Dance212: Where Are They Now?" If you dream of making your way to the Big Apple, read on: Dance Spirit asked each of these dancers, "What one piece of advice would you give to DS readers?"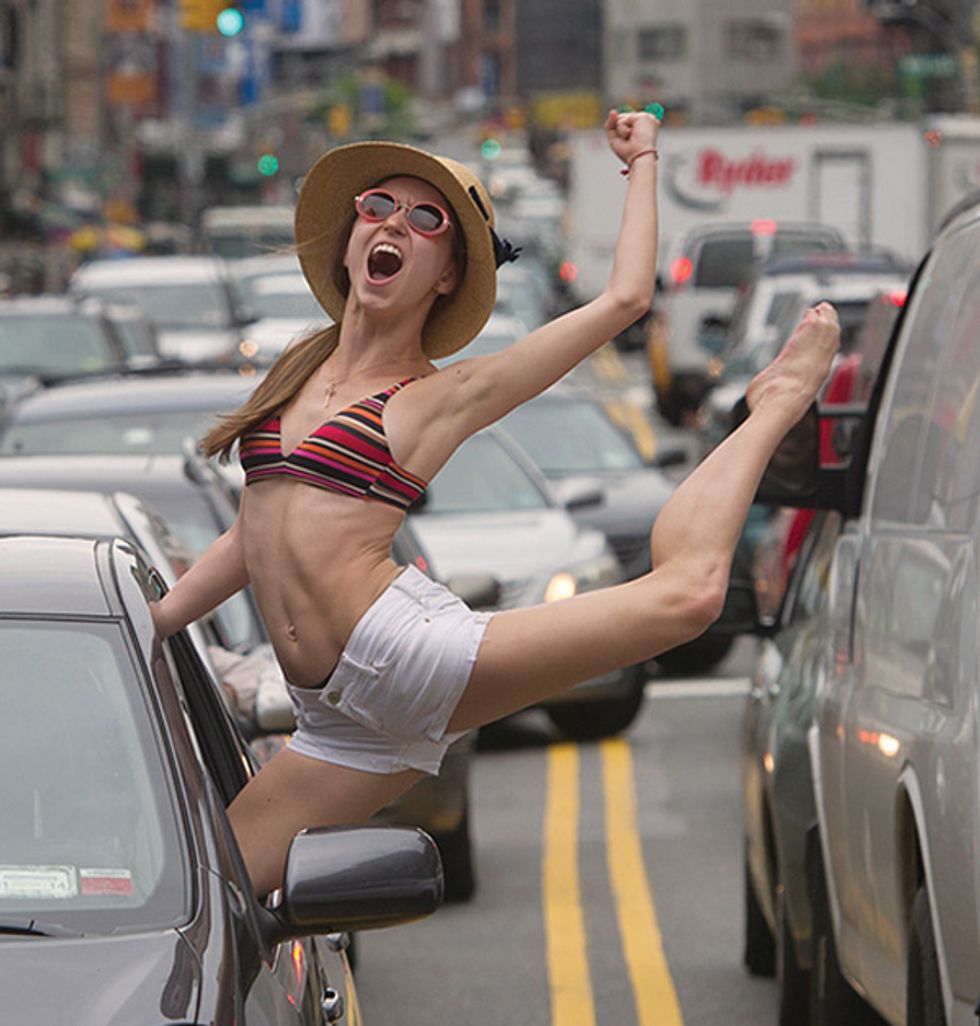 (Photo by Jordan Matter)
Skylar Brandt
Since Season 3: "Second Companies," Skylar has moved from ABT II to the corps of American Ballet Theatre. This past year, she won a Princess Grace Dance Fellowship Award and performed her first principal roles in Alexei Ratmansky's Piano Concerto #1 and MarkMorris's Gong.
Her advice: "Have fun throughout your journey. Though we try to make it look easy, a dance career is difficult, so it's important to never lose sight of why you started in the first place. When you're having a good time onstage, the audience can tell."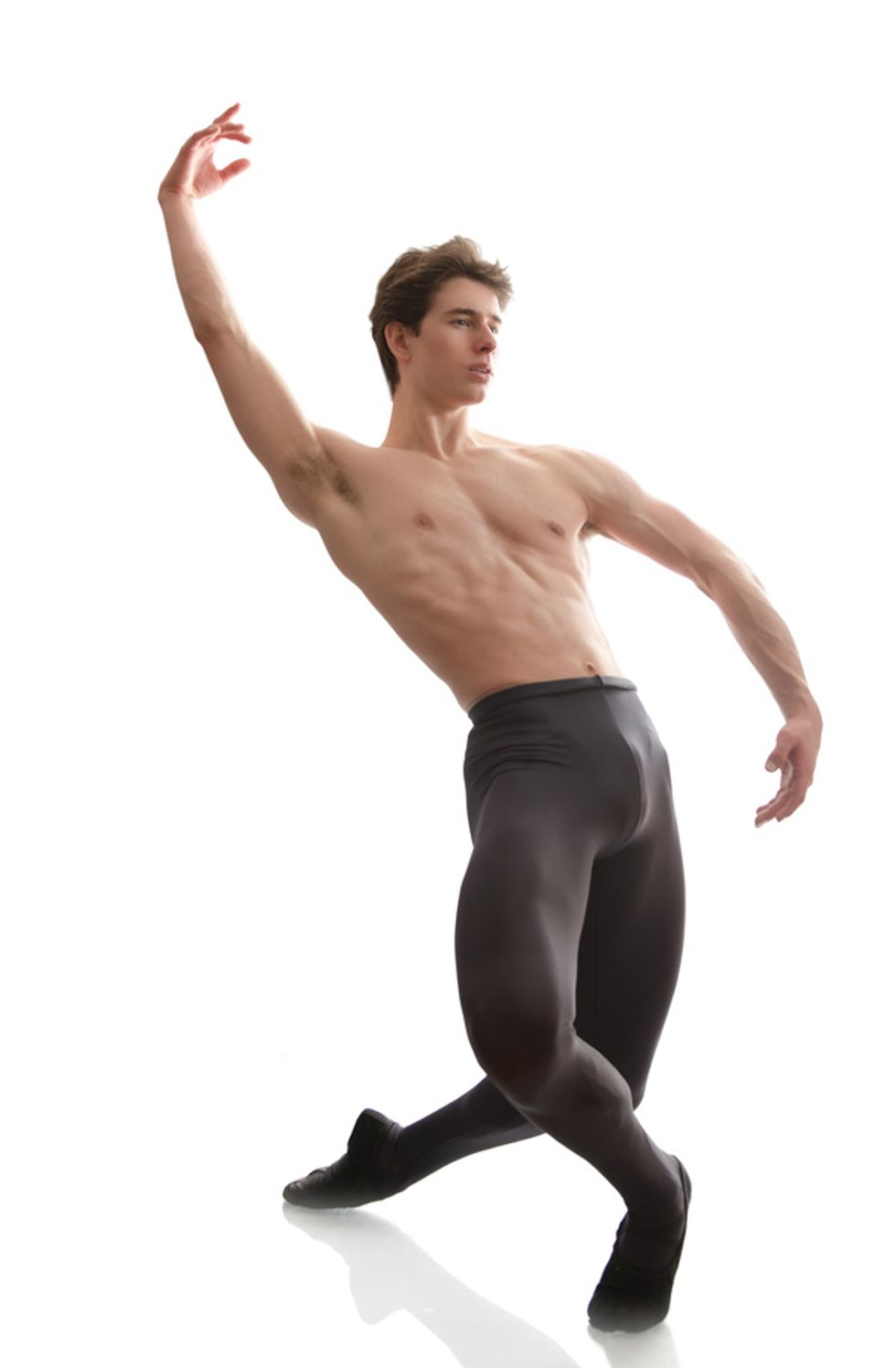 (Photo by Alfonso Sjogreen)
Sterling Baca
After appearing on Season 4: "Summer Intensives," Sterling moved from the Jacqueline Kennedy Onassis School at American Ballet Theatre into ABT II. In May 2011, he joined ABT as an apprentice; he became a member of the corps de ballet in December 2011. He's since received multiple soloist opportunities in works including Twyla Tharp's Bach Partita and Alexei Ratmansky's The Tempest.
His advice: "Explore other ways to express yourself outside of dance. I've done this by writing and drawing, and by attending poetry clubs and plays. To excel in any art form, you must have respect and understanding for all kinds of human expression."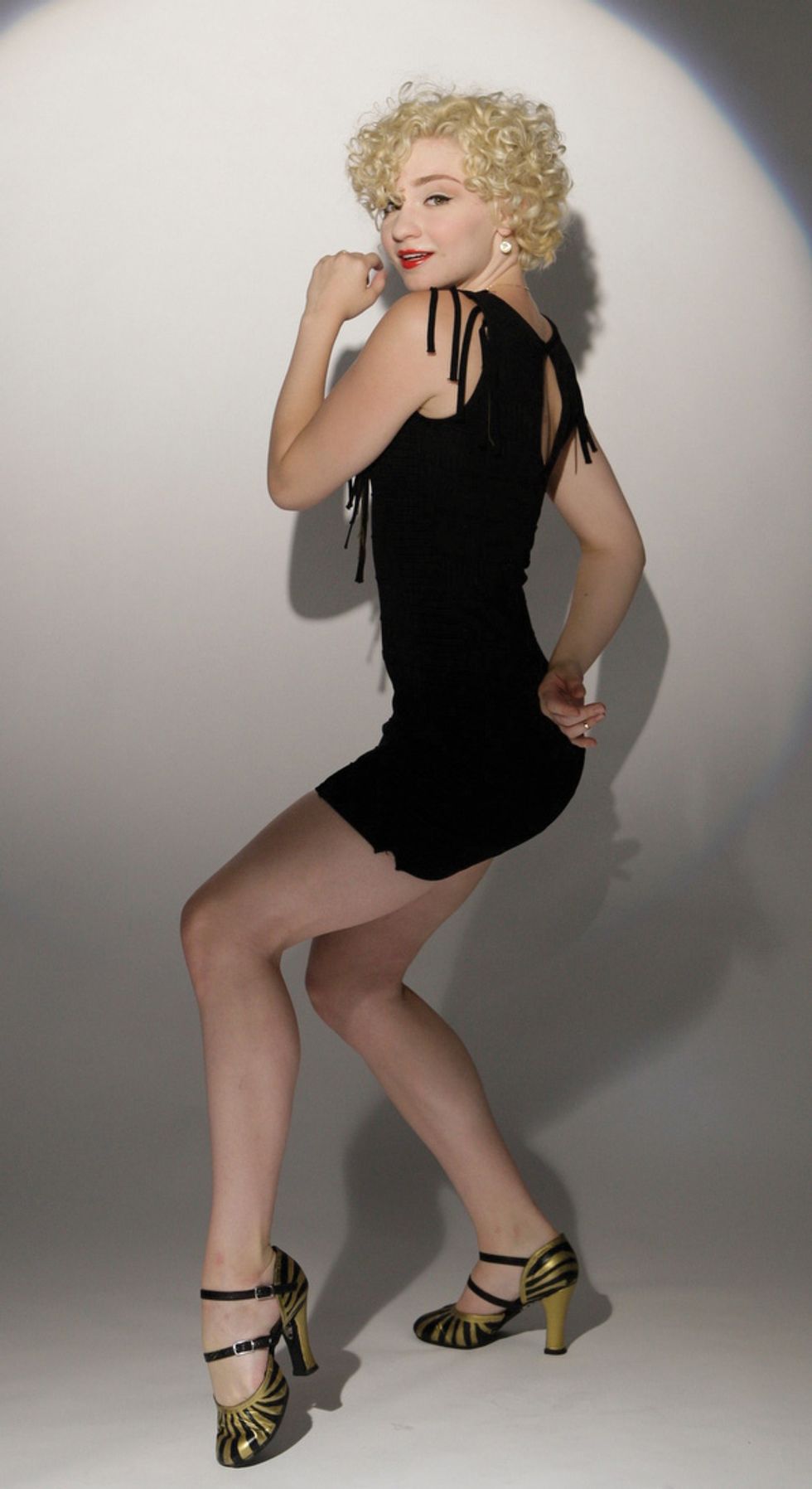 (Photo by Jayme Thorton for Dance Magazine )
Paloma Garcia-Lee
During Season 5: "Professional Aspirations," in 2011, Paloma was in the cast of The Phantom of the Opera on Broadway. Since then, she's danced in Nice Work If You Can Get It, in the Broadway Bares fundraising gala and at the Fire Island Dance Festival.
Her advice: "Know that you're unique. No one in the world is like you, so sometimes a project will be right for you and sometimes it won't. When things don't go your way, take a deep breath, smile and know you're exactly where you need to be."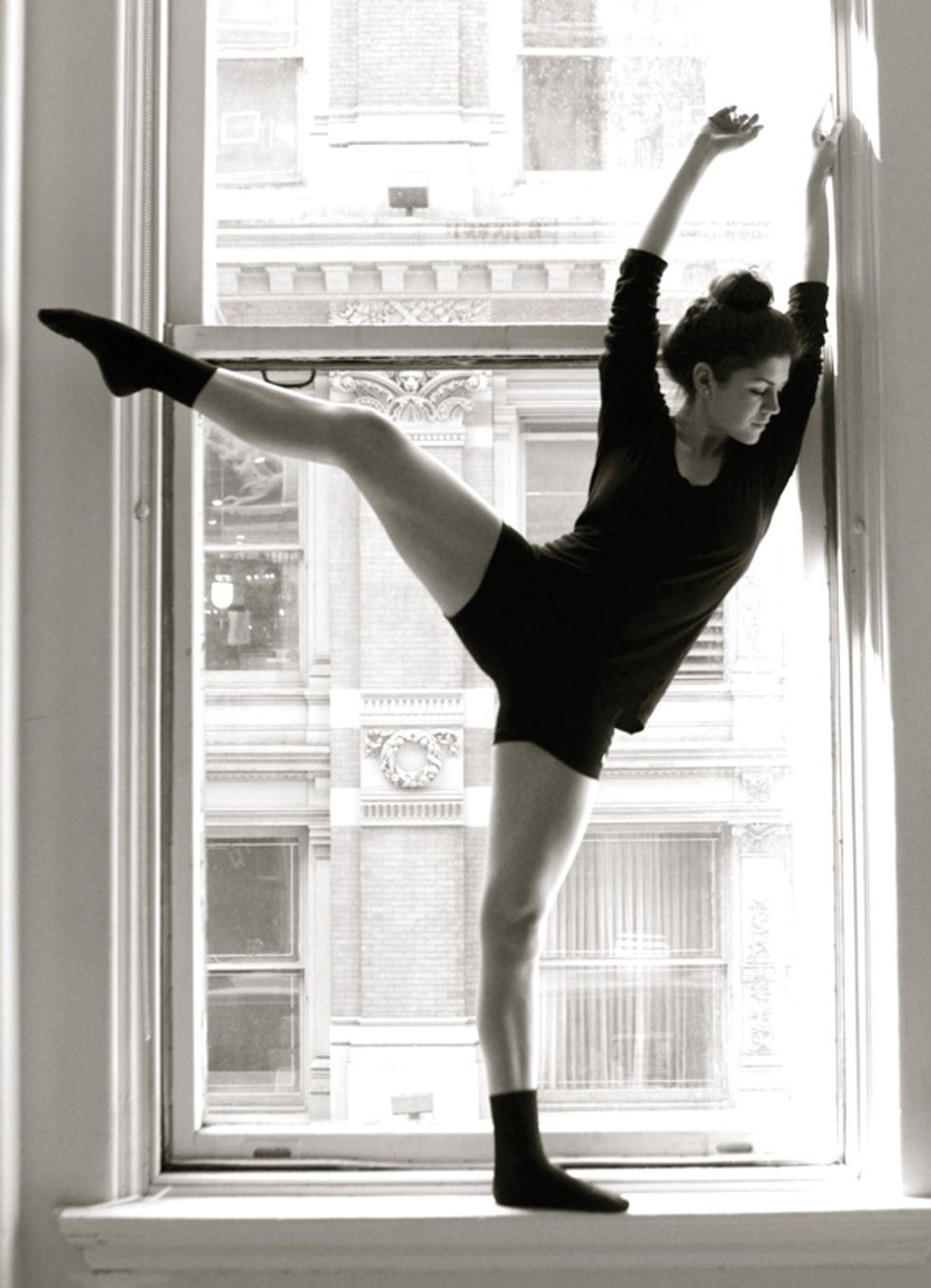 (Photo by Jade Young)
Simone Gunderson
On Season 6: "Spring Season," Simone was part of The Professional Semester at Broadway Dance Center. Since then, she's performed with the Buglisi Dance Theatre and M.O.V.E, and was the lead in a short film called Gloria. She spent the summer of 2013 teaching in upstate New York before returning to NYC for BDC's Work-Study Program this year.
Her advice: "It's OK to dream big and think outside the box. Try to create a company, dance project, concept, movement or video that no one has ever thought of before!"
Get Dance Spirit in your inbox