Lealand Eve
As a teenager, contemporary dancer Eveline Kleinjans felt like nothing she did was good enough. Auditioning for university dance programs paralyzed her: "I was so focused on every move I made and what people would think that I wasn't able to be free, to be myself," she says. And her intense perfectionism had real repercussions. "I'd get negative feedback saying, 'We don't see you.' "
Perfectionism is extremely common in the dance world, because dancers hold themselves to terrifically high standards. It's easy to get a little discouraged when you aren't improving as quickly as you want. But there's a difference between healthy self-criticism and an unhealthy obsession with perfection. How can you tell when your drive to be better has crossed the line—and what can you do to get back on track?
Keep reading...
Show less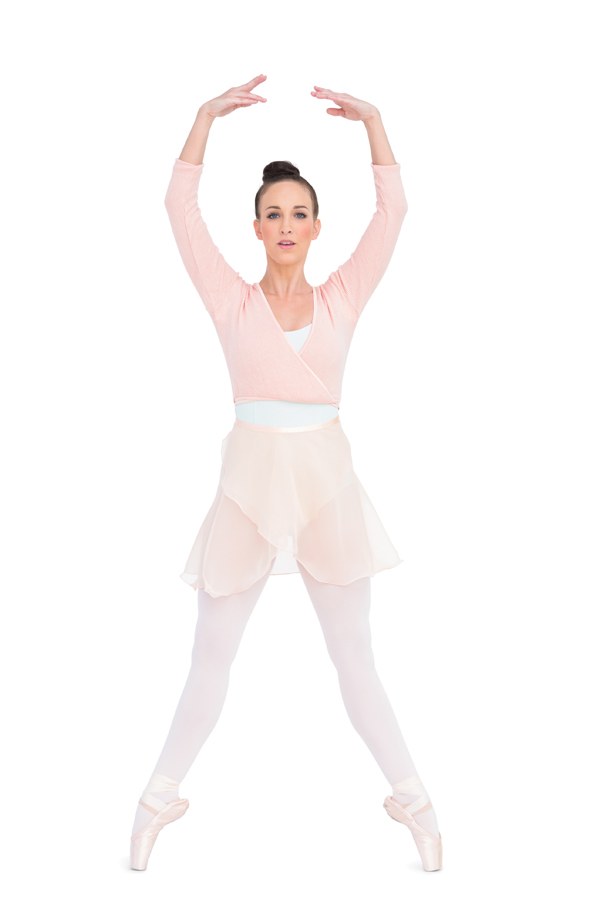 (Photo courtesy Wavebreakermedia LTD/Thinkstock)
Excellence > Perfection
The annual post-holiday self-help craze is upon us—cue the gym memberships, health books, relationship advice columns and extra pointe classes. While committing to a New Year's resolution can be a positive choice for many, it starts being harmful when taken too far. Perfectionism "becomes destructive striving when the goal, or resolution, is unattainable," says Dr. Sharon A. Chirban, a sports psychologist and consultant to Boston Ballet company members.
Perfectionists come in all shapes and sizes, but certain dancers are more susceptible than others. Perfectionism is most common among what Chirban calls "precision dancers"—dancers involved in styles that require strict adherence to a set of standards, like ballerinas or dance-team dancers. "Forms that prioritize spontaneity and expression are less likely to breed perfectionist dancers," Chirban says.
Try ringing in the New Year with an excellentist mentality, instead. Whereas a perfectionist seeks absolute perfection, an excellentist strives to be her most excellent self, which is an ever-changing target. (Are double pirouettes tricky for you? Be proud of yourself when you nail 'em, and don't obsess over triples until doubles are no longer challenging.) An excellentist works toward self-improvement, understanding that the process—including mistakes and setbacks along the way—is more important than any end result. Instead of fearing criticism, an excellentist seeks it out, knowing that the only way to improve is to understand her weaknesses. "Excellentist dancers are usually more successful in the long run," Chirban says. "They're less likely to burn out or succumb to self-hate."
Are you a perfectionist? Take this quiz to find out.
True or false:
1. You're very worried about what others think of you.
2. You don't enjoy the process of reaching your goals.
3. You criticize yourself when assessing your progress.
4. Even after you achieve a goal, you're still afraid of failing.
5. When it comes down to it, you feel like you're just not good enough.
If you answered "true" to most of these questions, it's time to get your perfectionism in check.
Did You Know?
Crying can be good for your health. Beyond the obvious cathartic release of emotions, crying also flushes out built-up chemicals—such as manganese, a mood-altering mineral—leading to reduced stress and improved mood.
It can also boost your friendships. According to a study published in Evolutionary Psychology, tears are an evolutionary response, designed to draw others to you for compassion and support. So while you probably don't want to become that girl who always cries in class, when the feelings hit, don't be afraid to have a good sob.
Massage Tips
Soreness in the ischial tuberosity, or sitz bone, is (literally) a pain in the butt. In dancers, it's often caused by a hamstring strain, and it can make it difficult to lift your leg to the front or side.
Try this self-massage trick: Sit on the floor with a tennis ball centered on one of your sitz bones. Use your feet and hands on the floor to balance as you swivel your hips in a circular motion, releasing any knots in the muscles and ligaments that attach to that area (including those oh-so-important adductor and  abductor hamstring muscles).
Eat This, Not That: The Common Cold Edition
When you're dealing with a stuffy nose, sore throat and cough, you probably don't feel much like eating. But your body needs fuel to fight off that pesky bug. Here are five foods to reach for—and five to avoid—when battling the common cold.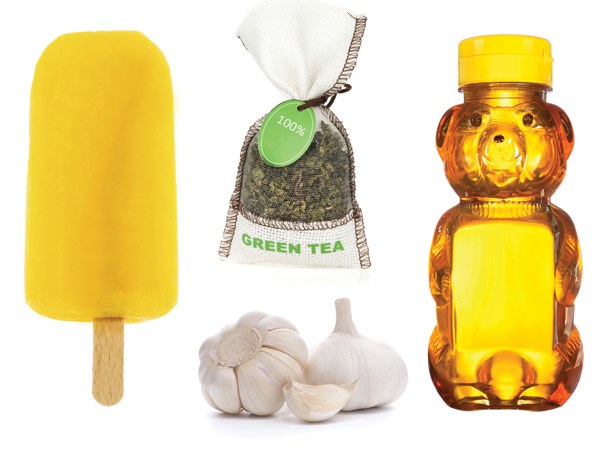 (Photos courtesy Thinkstock)
The Nice List
These foods will soothe your cold symptoms and get you back on your feet:
Chicken soup has a whole lot to offer. An electrolyte-dense fluid, it'll keep your body hydrated. It also contains the amino acid cysteine, which relieves mucus buildup in your lungs. Most important, it's easy to digest.
Garlic has antibiotic properties, and it's been shown to lessen the severity of cold symptoms.
Green tea contains infection-fighting antioxidants, and its warmth can relieve a sore throat and ease congestion.
Honey has antibacterial and antimicrobial properties and can serve as a cough suppressant.
All-natural fruit popsicles can help you stay hydrated, and the coldness can help numb a sore throat. They're also a great way to get some extra vitamins when fibrous whole fruits are too tricky to digest.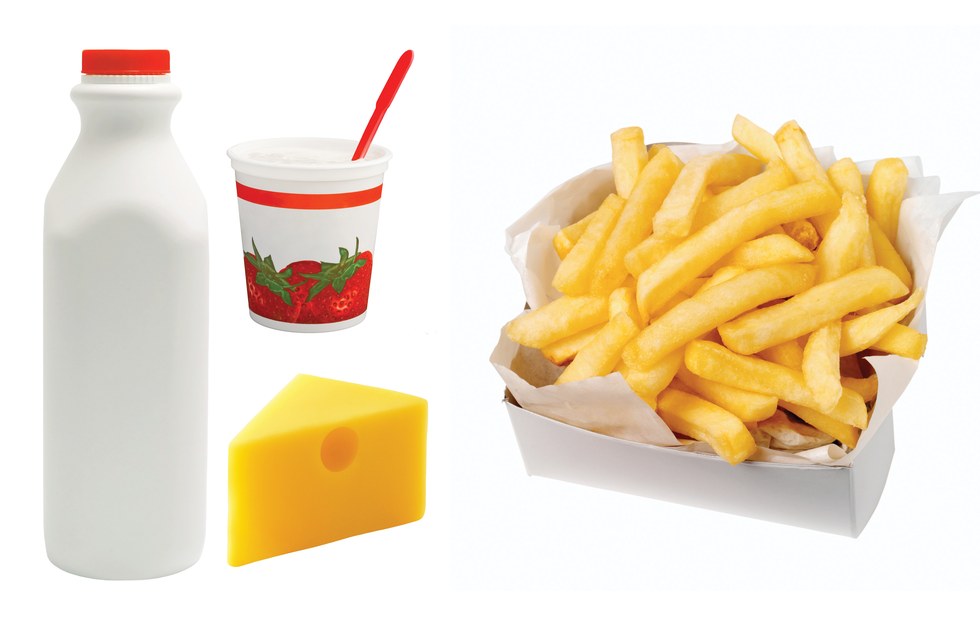 (Photos courtesy Thinkstock)
The Naughty List
These foods may irritate your cold symptoms or hinder your recovery:
Spicy or acidic foods may temporarily clear your sinuses, but they can also irritate your mucous membranes, leading to increased pain and discomfort in your nasal passages, throat and lungs.
Juice and other beverages with lots of added sugar can cause inflammation and weaken your immune system.
Fatty meats and deep-fried foods are difficult to digest, and your body can't spare the extra energy. Plus, they can lead to increased inflammation.
Caffeine is a diuretic and a stimulant. What you need is hydration and rest, so steer
clear of soda.
Dairy may thicken the mucus in your throat, adding to your discomfort.
The jury's still out on whether dairy is a true member of the naughty list. Some doctors say its protein and vitamin D can help boost the immune system.
Can't Sleep? Take a Breather.
After a day jam-packed with school, dance and homework, you probably feel exhausted by bedtime. But that doesn't always mean sleep comes easily. Insomnia—persistent difficulty falling asleep and/or staying asleep—can be incredibly frustrating and stressful, especially for busy dancers.
While the age-old trick of counting sheep may be effective for some, others can get to sheep 1,000 and still be wide awake. The key is to quiet your thoughts so you can begin to drift into dreamland. Different tricks work for different people, but for many, breathing patterns are important. Next time you find yourself burning the midnight oil, try this simple breathing exercise:
• Exhale completely through your mouth.
• Close your mouth and inhale through your nose for four counts.
• Hold your breath at the top for seven counts.
• Exhale through your mouth for eight counts.
• Repeat the entire sequence three times.
Why Focus on breath?
When you're stressed or anxious, deep breathing can activate the parasympathetic nervous system, which calms you down. Plus, focusing on counting the length of your breaths can distract you from whatever's on your mind.
For years, New York City Ballet corps member Megan LeCrone wanted her dancing to be absolutely perfect. She worked hard and was incredibly focused. But instead of concentrating on how much she was improving, she obsessed over her mistakes. "I constantly saw my weaknesses and flaws as something wrong with me," she says. "In class, I'd be so busy thinking about the last mistake I made or the things about me that needed 'fixing,' that I would miss corrections from the teachers or would be slow to pick up the combination. This affected my confidence and focus."
Sound familiar? If so, you may be suffering from a kind of perfectionism that is impeding your progress and making you feel bad about yourself. DS spoke with clinical psychologist Dr. Linda Hamilton (who specializes in the performing arts) and sports psychologist Dr. Caroline Silby (who works with elite athletes and dancers) to get you the scoop on how to deal when perfectionism has got you down.
What is neurotic perfectionism—and how different is it from perfectionism?
Most dancers are perfectionists, which is a good thing. We have a strong work ethic, high standards and are often organized. "A lot of what we do is about perfecting our physique and technique," Megan says. "We are constantly making adjustments and improvements."
But when this is taken to the extreme, it becomes neurotic, or maladaptive, perfectionism. "Neurotic perfectionism is the need to succeed taken to the extreme," says Maryland-based Silby, who has worked with dancers at The Kirov Academy in Washington, DC, and American Ballet Theatre. Maladaptive perfectionism is characterized by a constant need for approval, the setting of unreasonable standards and endless anxiety about meeting those expectations. On the other hand, "People with a healthy drive to succeed understand that there are ups and downs," Silby says. "If they fail to meet expectations, they're able to negotiate through it in an effective way and use it to move forward. For neurotic perfectionists, it's either success or failure, and typically, it's failure because the standard is so high it's almost impossible to meet."
Why is it dangerous?
Maladaptive perfectionism can cause a host of psychological problems, like disordered eating, anxiety and substance abuse. It can make you lose your love for dance and make you feel depressed. It can also lead to burnout—a maladaptive perfectionist might "continually over-practice or never take a day off," Hamilton explains. "She might add cross-training, thinking she's doing something good for herself when she needs to rest."
What are the signs?
"If a dancer is unusually critical, is focusing on her mistakes, not seeing all the good things she has done, or is setting very high standards that no one could meet, my antennae go up for perfectionism," Hamilton says.
Neurotic perfectionists tend to…
…overemphasize PRODUCT, and underemphasize PROCESS. Dancers who fixate on the final outcome—say, not being cast in a particular role—dismiss the ways in which they have contributed to their success. "They don't say, 'I had a great audition today and here's why: I visualized my variation, I took a deep breath and told myself to trust my training,'" Silby says. This makes performing even more anxiety-provoking because they don't give themselves any credit for contributing to the outcome! (In fact, when asked how they have contributed to their success, nine out of 10 perfectionists will say they don't know.)
…set unrealistic standards that make them feel like they're constantly failing, which can lead to depression.
…procrastinate. The sheer thought of failing keeps them from trying at all, so they put it off.
…be indecisive, which can be problematic on or offstage. "In performance, if you can't decide whether you're really going to go for it or kind of going to go for it, it wreaks havoc on performance," Silby explains.
…feel shame and guilt about letting others down and worry about the sacrifices their parents or teachers have made for them.
…say "should" a lot instead of focusing on what they can do or have already accomplished.
What are the contributing factors?
Teachers and the studio environment also play an important role. Does your teacher put emphasis on effort or only on outcome? Does she pay attention to all the students or just the most talented ones? "You need to be able to dispute the negative thoughts with fact, logic and reason," Hamilton says. Look at the bigger picture. The teacher may have ignored you today because she worked with you yesterday, or because you have a cold and you weren't at your best.
This is hard to do on your own. Hamilton recommends thinking of what you'd say to your best friend if she was complaining of being ignored. You wouldn't tell her she was a complete loser! You'd probably give her a slew of factors—mostly circumstantial—that have contributed to her feeling down.
How do you treat it?
Hamilton focuses on both the physical and psychological issues, starting with whether the dancer is getting enough sleep. (Being sleep deprived can make anyone feel awful.) Then she uses cognitive behavior therapy to help a dancer cope.
First, she uses a technique called "thought-stopping": When you feel a negative thought coming on, you stop it early. Then you reframe the situation by treating a mistake as a learning opportunity. Let's say you fell out of a turn at a critical dress rehearsal. Instead of beating yourself up, ask yourself why. "Maybe you're exhausted," Hamilton says, "or maybe it's an awkward step. It doesn't have to mean you have no talent."
Hamilton asks dancers to become aware of their own "self-talk." What are you (unconsciously) telling yourself? Are you berating yourself for being untalented, or do you feel proud of doing a step well? Hamilton asks dancers she works with to keep a "stress diary," where negative self-talk is disputed with facts, logic and reason.
Final Thoughts
You can learn to turn maladaptive perfectionism around so that it doesn't negatively affect your dancing and self-esteem. "After a huge injury forced me to take a break, I realized that I focused too much on my imperfections and on the things that went wrong," Megan explains. "I was stressing myself out and overworking in this unrealistic attempt to be perfect." What did she do? "I started accepting myself and the things that I couldn't change. I'm committed and disciplined, but now I try not to put unnecessary pressure on myself."
She also advises staying positive for the sake of your fellow dancers. "The worst thing is working with a dancer who has a negative self-image. Now I work hard on my weaknesses, but they don't affect my focus and stress level—and they don't hold me back. It's because I'm aware of my strengths, too."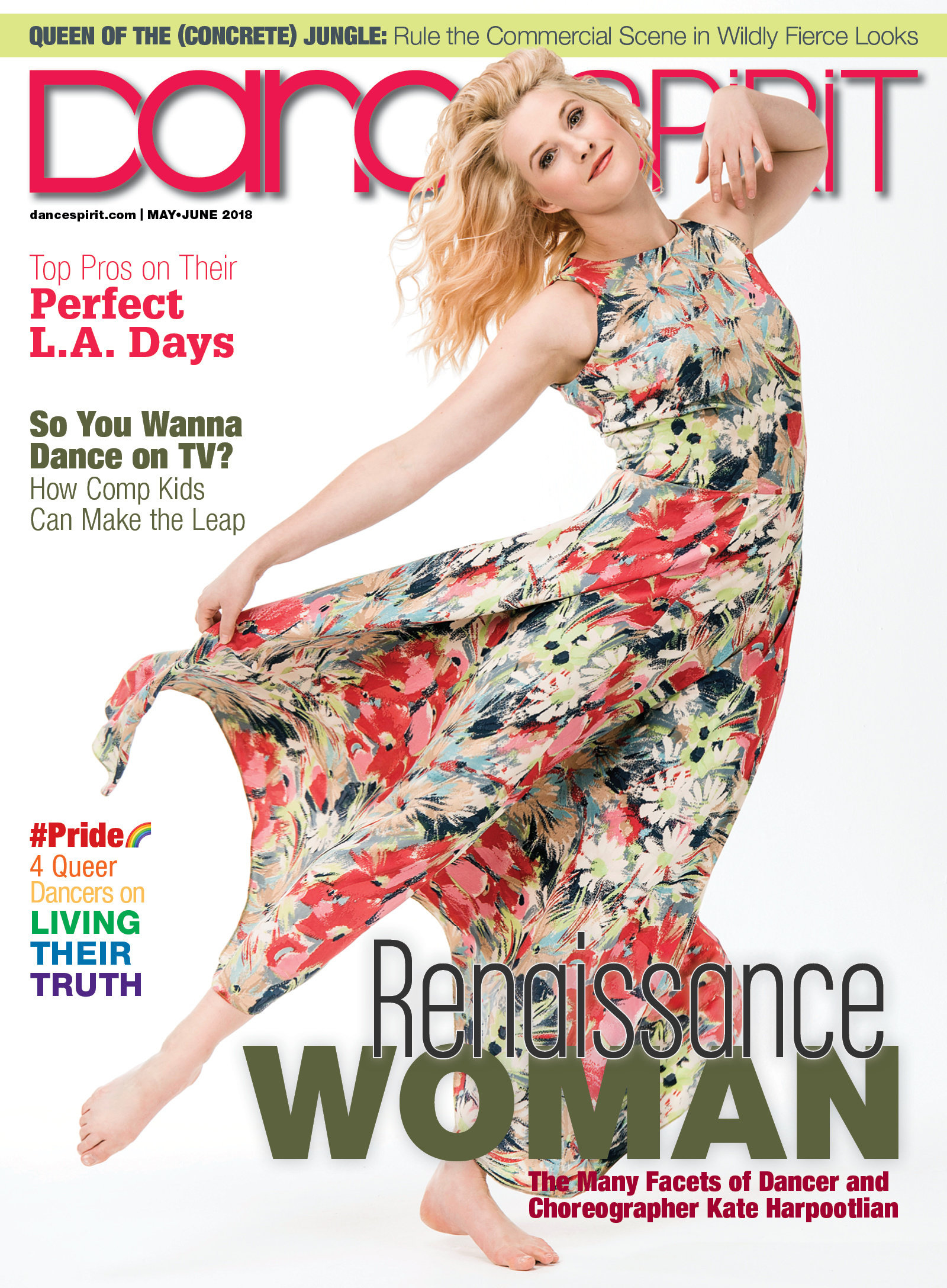 Get Dance Spirit in your inbox