Mar. 18, 2018 07:00AM EST
(From left) Val Chmerkovskiy, Peta Murgatroyd, and Maksim Chmerkovskiy (Jerry Metellus, courtesy Nicola Phillips)
Dance News
Aug. 24, 2017 11:00AM EST
Mar. 23, 2017 05:03AM EST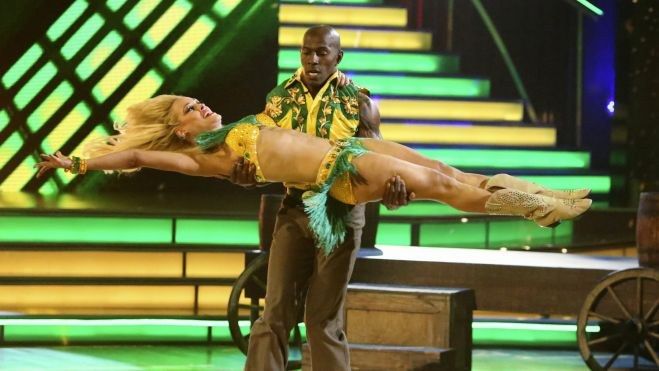 Congratulations to the newest "Dancing with the Stars" champs, Green Bay Packers wide receiver Donald Driver and his pro partner Peta Murgatroyd!
In the end, the final three stars—Driver, Katherine Jenkins and William Levy—were all earning perfect and near-perfect scores for their full-out routines. (Dare we say this has been the most-talented season yet?) But when America weighed in, Driver had stolen the hearts and votes of viewers around the country and was awarded the coveted mirror ball trophy.
Now you tell us: Did the right star win? Who was your favorite? Who do you want to see dance again in the upcoming all-star season? We want to know!
Dance News
Dec. 07, 2015 02:58PM EST
"Dancing with the Stars" pro Maksim Chmerkovskiy officially put a ring on it when he proposed to girlfriend and fellow "Dancing with the Stars" pro Peta Murgatroyd this past Saturday night—basically cementing the pair's cutest-couple-of-all-time status.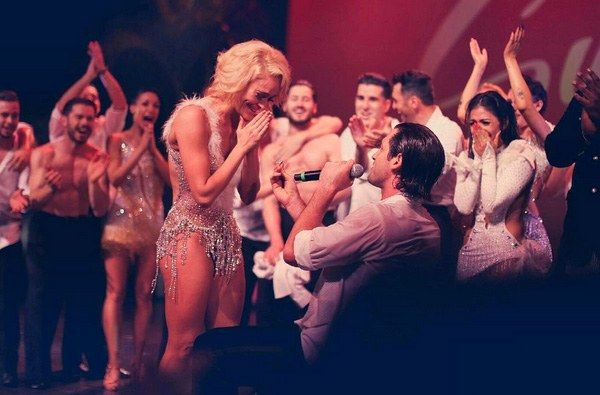 Audience members captured the magical moment, which Maks later posted on Instagram. (Photo by @maksimc)
The proposal story has us swooning, and, quite fittingly, took place on the dance floor. During a performance of Sway: A Dance Trilogy at the Olympia Theater in Miami, Chmerkovskiy surprised the audience and his cast mates by getting down on one knee and popping the question, telling his future bride "I'm in love with you, and I will be in love with you for the rest of my life." OMG.
The pair later posted more adorable love notes and photos of the moment on Instagram, Chmerkovskiy's captioned as "She said 'yes'" and Peta's with the caption "I said yes!!!!!! You have my heart forever my love. Love always wins."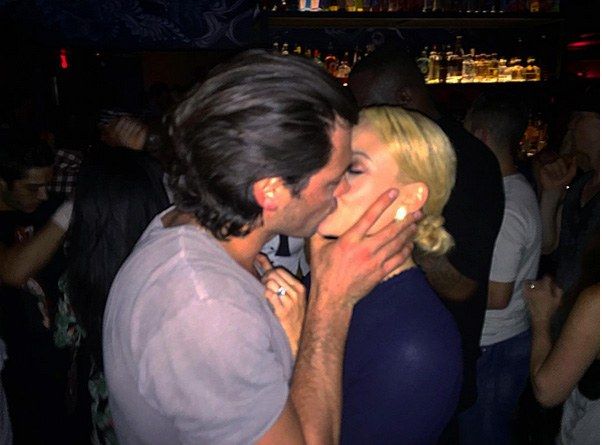 AWWWWWWW. (Photo by @petamurgatroyd)
Later that night, Peta was spotted flashing her new bling and posing with her future sis-in-law at the Sway Alfalit Gala.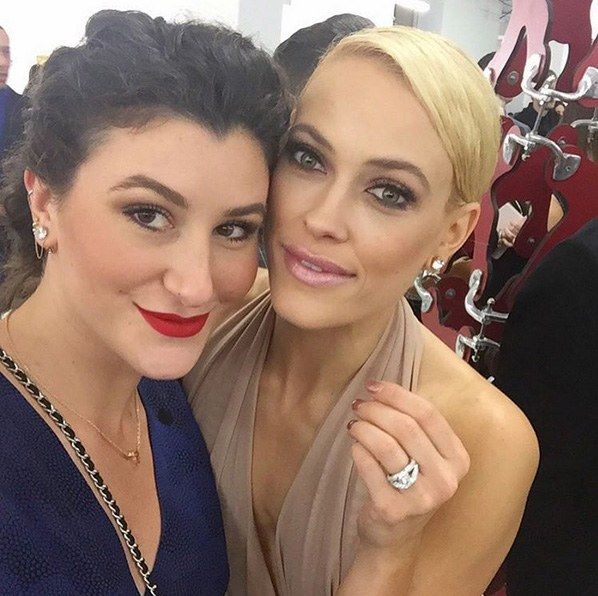 Just look at that rock!!! (Photo by @petamurgatroyd)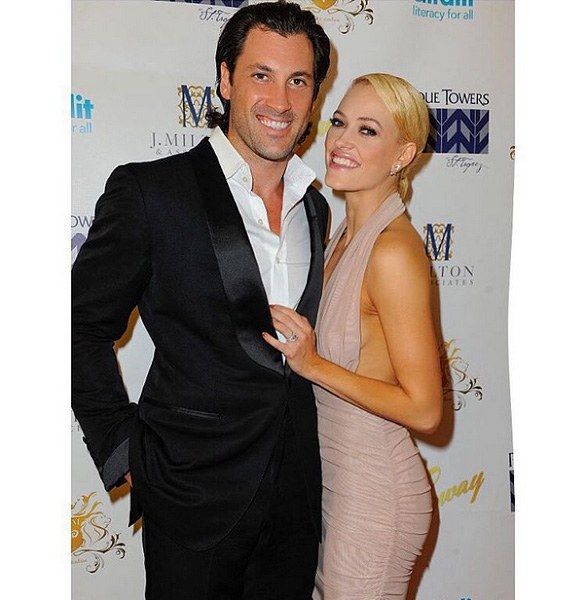 They're SO happy! (Photo by @petamurgatroyd)
Congrats you two lovebirds!!
P.S. We're gonna need wedding details, NOW!
Dance News
Nov. 11, 2015 11:00AM EST
Oh, dance #pranks!
Maksim Chmerkovskiy and Peta Murgatroyd, as if it needs to be said, are incredible ballroom dancers with multiple "Dancing with the Stars" championships to their names. (They're also a smokin'-hot offstage couple.) But what if Maks and Peta were just two not-so-talented olds trying to shuffle their way through an open dance class?
That's the question "Good Morning America" posed this week. For a special "GMA Undercover" segment, the show put Maks and Peta in some pretty effective disguises—fake bellies and aggressive wigs were involved—and dropped them into a musical theater class at NYC's Steps on Broadway, where the duo did their best bad dancing.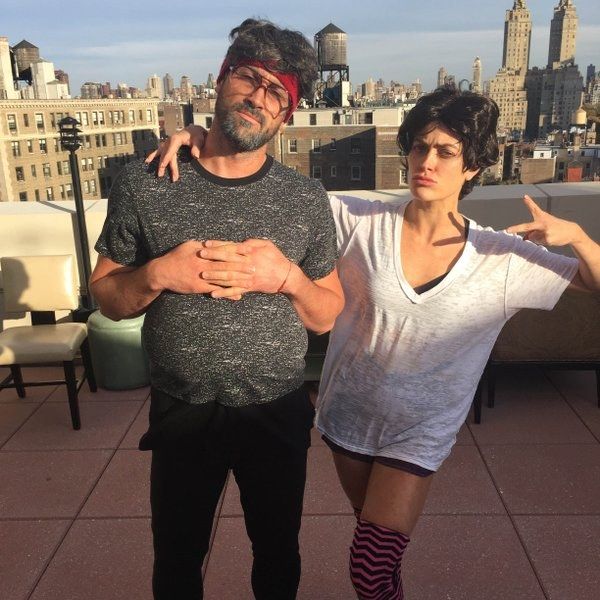 Maks and Peta's alter egos (via @petamurgatroyd)
Basically, they tried to look like Aunt Linda and Uncle Jerry* on the dance floor at cousin Ashley's wedding—and because they're overachievers in everything they do, they were darn convincing. Not that it was easy for them to go against all their better dance instincts. "I was trying not to laugh at the people who were laughing at me," Murgatroyd said. "It was kind of hard to be off beat, actually."
Eventually Maks and Peta couldn't help but bust out a fabulous little salsa number, cluing in their legitimately clueless classmates. You just can't keep world-class dancers down.
Enjoy all the delightful awkwardness:
*For the record, their official code names were Bob and Ronda. Which is amazing.
Dance News
Aug. 22, 2015 11:00AM EST
Pretty much the entire universe can agree that Mondays are #theworst. But Mondays starting September 14th? Nope, Mondays are gonna be the best. Why? Season 21 (!!!) of Dancing with the Stars! And to get you even more pumped than you already are, the list of returning "DWTS" pros was just announced—it's as good as it gets, people.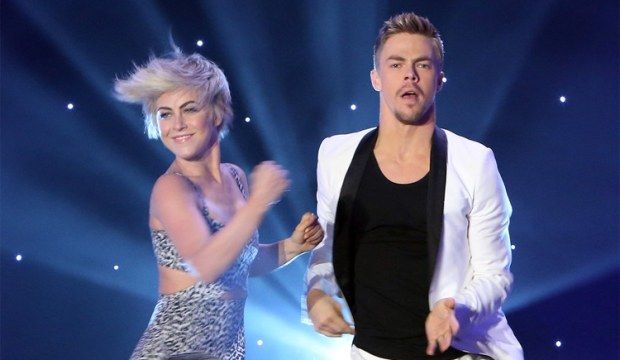 Derek's baaaaack (screenshot via EllenTV)
First of all, we've got Derek Hough, Karina Smirnoff, Witney Carson and Mark Ballas, all of whom have previously won the coveted Mirror Ball. Already, the stakes are HIGH. Throw defending champ Val Chmerkovskiy into the mix and things get even more interesting. To round out the insanely talented field, we've got Allison Holker, Sharna Burgess, Peta Murgatroyd and Artem Chigvinstsev. Omg.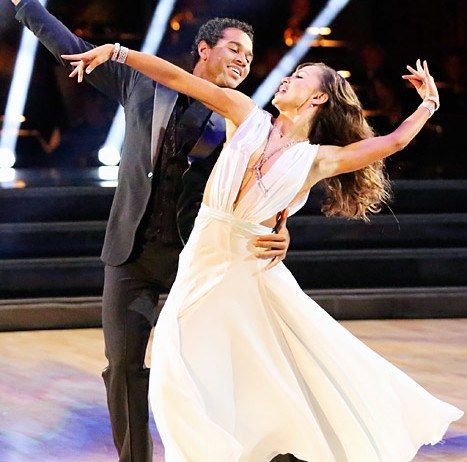 Dancing with the Stars pro Karina Smirnoff, with her Season 17 partner, Corbin Bleu, shows us how it's done (Photo ABC/Adam Taylor)
We'll anxiously be awaiting the announcement of the celebrity cast on September 2nd, but in the meantime, relive some of the more jaw-dropping moments of last season here.
Dance News
Apr. 14, 2015 10:52AM EST
Last night was Disney night on "Dancing with the Stars," and it left me somewhere between gleeful and totally creeped out.
On the gleeful side: DISNEY! So much happiness, so many childhood memories, so many fabulous princess dresses!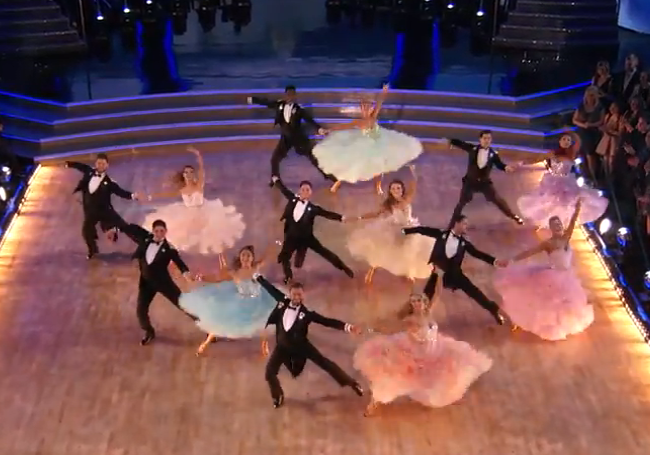 Just look at all the pretty princess dresses in the opening number! (screenshot from "DWTS")
On the creeped-out side: Ballroom is crazy sexy, and it is weird to see sexed-up versions of characters originally designed to charm people under the age of 10. (Also: there was a lot of lip-syncing. STOP LIP-SYNCING, EVERYBODY.)
Ultimately, though, the "DWTS" competitors won me over with their sheer enthusiasm. If there's one thing Disney does well, it's energy, and that's something that every ballroom number can use.
When did things really get supercalifragalisticexpealidocious? Not, unfortunately, in Robert Herjavec's underwhelming Mary Poppins–themed number. But Rumer Willis immediately got our attention by deciding to embody a deliciously evil, deliciously seductive Disney villain, rather  than donning a princess-y hoop skirt, and her risk paid off. She made an eerily good Ursula—props to the hair and makeup team—and I love that Val Chmerkovskiy's Samba choreography was super-duper-technical. Rumor had it Rumer could handle it, and that rumor was true. (Sorry, I've been holding on to that one for a while.)
Also fantastic: Riker Lynch channeling Johnny Depp in a fantabulously intense Pirates of the Caribbean–themed Paso Doble. I'm not really sure who Alison Holker was supposed to be playing—an especially gorgeous pirate wench?—but the two of them looked amazing together, so I'm not complaining.
We also need to give a shoutout to the RETURN OF THE DANCING CRABS, who appeared in a Little Mermaid filler number alongside Peta Murgatroyd's Ariel. Way to get a ton of mileage out of those borderline-disturbing crab costumes, "DWTS."
In the end, we said goodbye to Suzanne Somers and Tony Dovolani—which, much as I worship Ms. Somers and her leeeeegs, was about right. Who'll be next to face the chopping block? Will Julianne Hough's pink Coachella hair survive to see another taping? (PLEASE KEEP IT IT'S AMAZING.) We'll be back after next week's ep with all the details!
Dance News
Mar. 04, 2014 10:55AM EST
"Dancing with the Stars" announced its cast for Season 18 earlier this morning, and holy moly we're excited. Not only did our suspicions about Olympians competing for the mirror ball trophy come true, but the list of athletes involved is even better than we had hoped.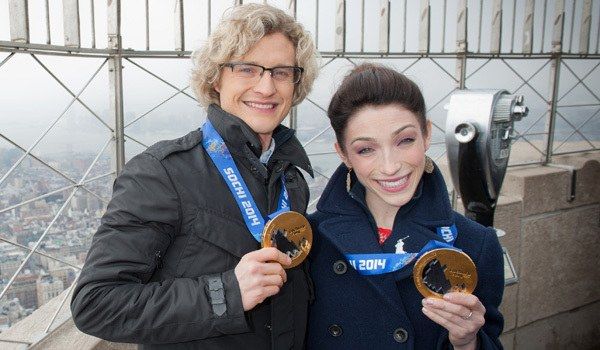 Charlie White and Meryl Davis sport their gold medals at the Empire State Building last week. Photo via OK! Magazine.
First up is Meryl Davis and Charlie White, Sochi's ice dancing gold medal winners (USA! USA! USA!), though they won't be paired together—Meryl will dance with Maksim Chmerkovskiy (#TeamMaksyl ...eh, we'll work on that one) and Charlie will dance with Sharna Burgess. Next is Paralympian Amy Purdy, a snowboarding champ who is also a double amputee. She'll be paired with the unstoppable Derek Hough (is there anything he isn't doing these days?).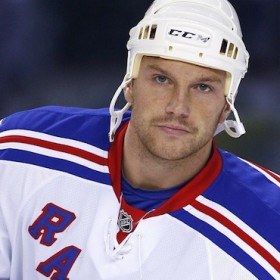 Sean Avery, before he retired from hockey. Photo by Larry MacDougal/The Canadian Press
Dancing with Karina Smirnoff is Sean Avery, the NHL dreamboat who's played for the New York Rangers, the Detroit Red Wings, the Los Angeles Kings and the Dallas Stars. Rounding out the sports category is Diana Nyad, a long distance swimmer who is the only person in history to go from Key West to Cuba—that's 110 miles—without stopping and braving sharks, jellyfish and exhaustion. Let's just say her partner, Henry Byalikov, better bring it.
Of course, what would the show be without a smattering of TV celebs? This season does not disappoint. Two words: Winnie Cooper. Another two words: D.J. Tanner. That's right, Danica McKellar from "The Wonder Years" and Candace Cameron Bure from "Full House" will be going neck and neck in just two weeks. Winnie Danica will dance with Val Chmerkovskiy and D.J. Candace will work with Mark Ballas.

(R to L) Kevin Arnold (Fred Savage) and Winnie Cooper (Danica McKellar) in "The Wonder Years"; D.J. Tanner (Candace Cameron Bure) in "Full House"
Cheryl Burke will be paired with Drew Carey, whom I can't believe hasn't been on the show yet. And Real Housewife of Atlanta NeNe Leakes (also known as Roz Washington on "Glee") will be swept off her feet by Tony Dovolani.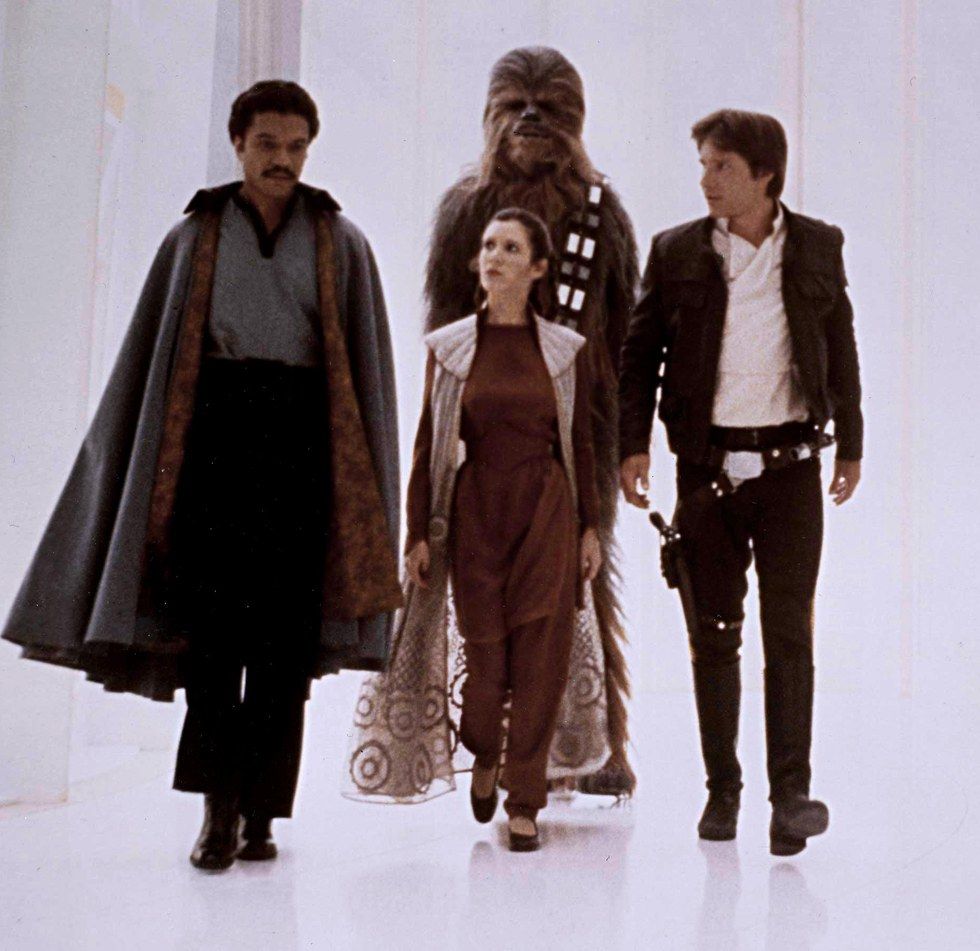 (L to R) Lando (Billy Dee Williams) with Princess Leia (Carrie Fisher), Chewy and Hans Solo (Harrison Ford)
Star Wars nerds rejoice: Billy Dee Williams (you know him as Lando Calrissian) will also dance, paired with British musical theater vet Emma Slater.
Cody Simpson is the youngest competitor. At 17, the Aussie pop singer will dance with Witney Carson, the Season 9 "So You Think You Can Dance" bombshell from Utah. And James Maslow, the 23-year-old sweetheart from Nickelodeon's "Big Time Rush" will be competing with Peta Murgatroyd. From the looks of this picture of the duo out on the town earlier this February, it may be a match made in "DWTS" heaven: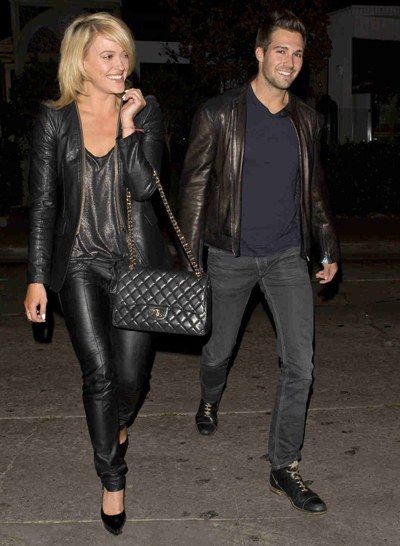 Peta and James leaving a restaurant in West Hollywood in early February. Photo by SPW/Splash News
All in all, it's going to be a great season. Who are you most excited to see? Any early predictions? Don't forget to set your DVRs (or just tune in!) for the two-hour season premiere, March 17 at 8 pm ET on ABC.
Dance News
Aug. 14, 2012 12:28PM EST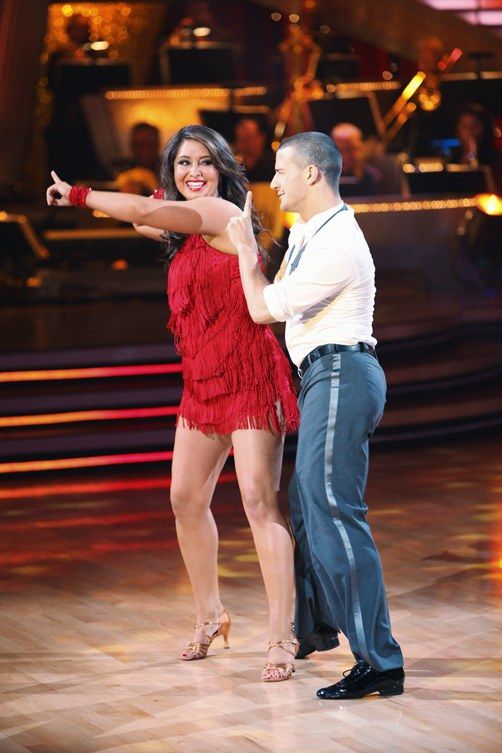 A few weeks ago, we told you about the All Star cast for Season 15 of "Dancing with the Stars." Well, there's more news from the Land of the Mirrorball Trophy: The star/pro pairings have been announced!
And the list has raised a few eyebrows. Interestingly, five of the 12 All Star contestants are going to take the floor with their original partners. Does that give them a bit of an edge over their freshly-paired competitors? What do you think?
Here's the full list:
Kelly Monaco and Valentin Chmerkovskiy

Emmitt Smith and Cheryl Burke

Joey Fatone and Kym Johnson
Kirstie Alley and Maksim Chmerkovskiy

Bristol Palin and Mark Ballas

Pamela Anderson and Tristan McManus

Apolo Anton Ohno and Karina Smirnoff

Gilles Marini and Peta Murgatroyd

Drew Lachey and Anna Trebunskaya

Helio Castroneves and Chelsie Hightower

Melissa Rycroft and Tony Dovolani

Shawn Johnson and Derek Hough
(As we mentioned in our last "DWTS" post, the 13th cast member—either Carson Kressley, Sabrina Bryan or Kyle Massey—is being chosen in an online vote, which ends August 24.)
See how this all plays out when "DWTS" premieres on Monday, September 24!
Get Dance Spirit in your inbox