Hello all you lovely, creative people! Are you possibly the world's next choreographic genius? Do you want $15,000 to produce your very own show? Of course you are—we've seen how much talent y'all have!—and of course you do. Which makes us especially happy to announce that the 2016 Capezio A.C.E. Awards competition is now accepting submissions.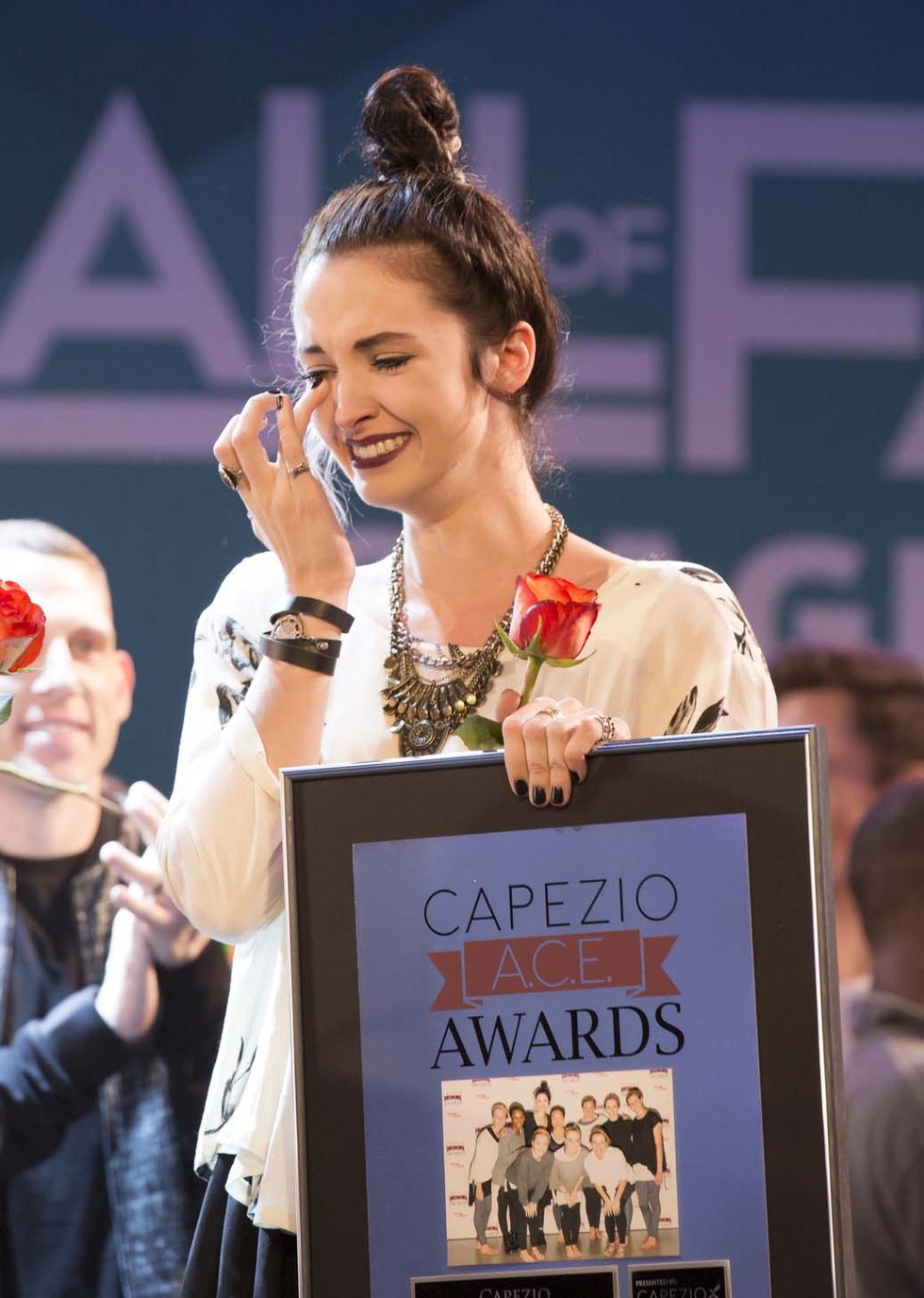 Here's last year's winner, Kirsten Russell, receiving her prize. YOU WANT TO BE THIS HAPPY! (photo by Joe Toreno)
A little background: Each year, the A.C.E. (Award for Choreographic Excellence) Awards invites 15 gifted dancemakers to present their best work at the Dance Teacher Summit. Three winners from that group, chosen by reps from Capezio and Dance Teacher magazine, receive funds to produce a full-length show, with $15,000 being the top prize. And in case you're wondering just how legit the A.C.E. Awards are, please note that past winners include Travis Wall, Peter Chu, Al Blackstone, Melinda Sullivan and Talia Favia. BOOM.
Anyway, entering the contest is easy: Just upload your best choreography video to dancemedia.com anytime between now and May 2. 15 semifinalists will get to present their choreo at the NYC Dance Teacher Summit, which will be held July 29–31; winners will be announced there. Questions? You can find all the rules and regulations (plus more delicious details about the prizes) here.
Get uploading, everybody. And if you need a little inspiration, take a look at last year's winning entry, Kirsten Russell's brilliant "Islands":
Sep. 17, 2015 09:40AM EST
While it may seem like four years spent training on campus means four fewer years of professional life, that's not the case. Because as college graduates Allison DeBona, Peter Chu, Cat Cogliandro and Miguel Zarate will tell you, dancing in college doesn't just give you extra technical training. It can also provide opportunities for self-discovery, networking and planning for the future. Here, they share why they chose college, and how it affected their careers.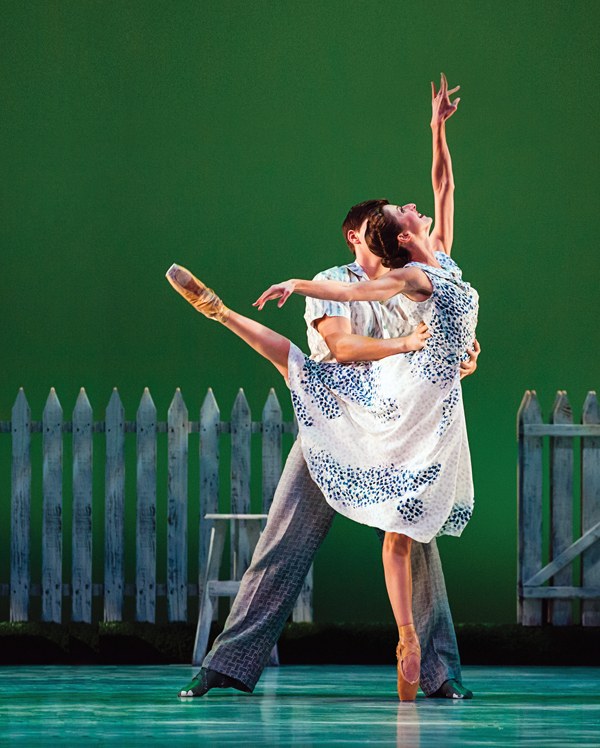 With Ballet West's Trevor Naumann in Val Caniparoli's The Lottery (photo by Luke Isley, courtesy Ballet West)
Allison DeBona
First soloist with Ballet West; received a BS in ballet from Indiana University
College wasn't really a choice in my family—everyone pushed me and my siblings to get a degree. Plus, I'd taken eighth grade through my sophomore year of high school off from ballet, so I didn't think I was ready for a company contract.
I applied to Indiana University, Butler University, Mercyhurst University and New York University's Tisch School of the Arts. Indiana was my first choice out of the ballet-heavy programs, and I got in. It was the perfect place for me. Julie Kent came to set a lot of our classical pieces; to have her coaching me in Swan Lake was mind-blowing. And Violette Verdy and Susan Pilarre taught us so many Balanchine ballets. What more could you ask for?
When I got into Ballet West, I felt very prepared. My days at Indiana were similar to my new schedule with the company—even the rep was similar. In college, I danced from 11 am until 5:45 pm every day, but I also had academic classes from 8 in the morning until late at night. It was almost harder to dance in college! I learned how to handle stress, which really pays off now that I'm dancing with Ballet West and juggling extra benefit performances, teaching appearances and even starting a summer program.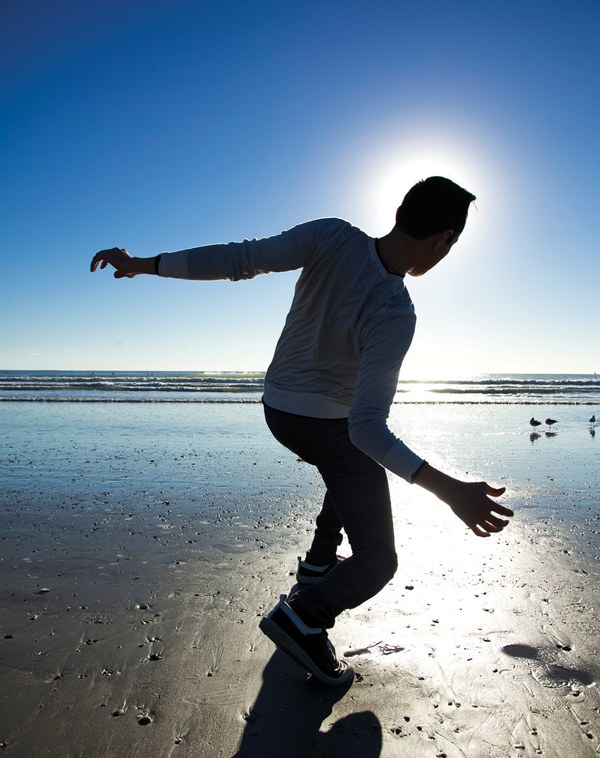 (Photo by Michelle Novak, courtesy Peter Chu)
Peter Chu
Director of chuthis.; received a BFA in dance from The Juilliard School
I graduated from a high school with top honors. At the time, I was really into cheerleading as well as dance, and I thought I might want to end up in sports medicine. I was set on going to Ohio State University, but at the last minute, I realized I wanted to dance, so I applied to Point Park University and got in with a scholarship.
A year later, I transferred to Juilliard, though I had to retake my freshman year. The first four semesters at Juilliard were very intimidating. I went through a lot of ups and downs—I felt like a child at the beach, riding the waves for the first time. I learned how to take initiative for my own career and work really hard.
I also made a lot of professional connections. (So far, I've only been to one cattle call audition in my life—and I'm very grateful for that.) I worked with a huge range of choreographers, from Ohad Naharin to Jacqulyn Buglisi. And when I graduated, I took a contract with another company I'd discovered while in school.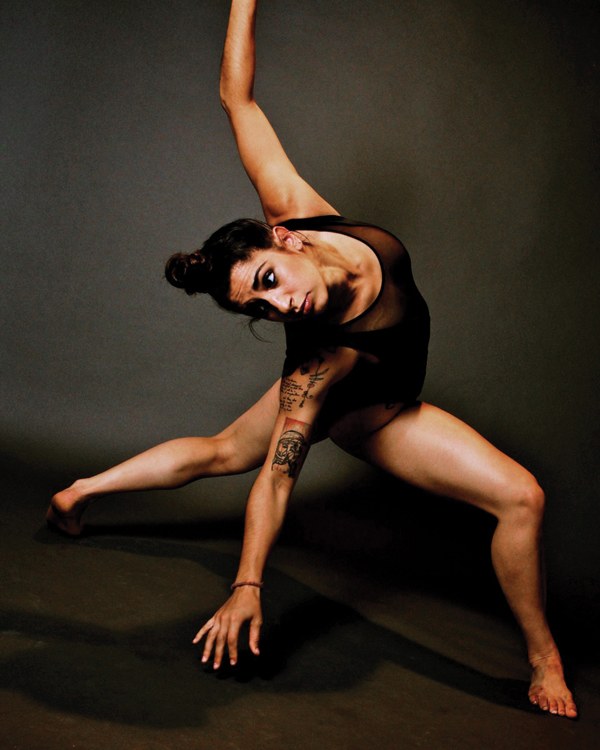 (Photo by Joseph Spelman, courtesy Cat Cogliandro)
Cat Cogliandro
Freelance choreographer; received a BFA in dance from SUNY Purchase
Growing up, I never considered not going to college. I graduated in the top 10 percent of my high school class. But I also knew I wanted to dance, so I auditioned for several conservatory programs, including the University of Arizona, Fordham University and, on a whim, SUNY Purchase. I was only accepted to Purchase.
The first two years of school were difficult for me. I was never chosen for any of the main-stage performances. I always felt overlooked. That said, not being cast in the school's concerts did help me mature. I had more time to devote to my own choreographic process, and I learned how to deal with heartbreak and disappointment—a skill that comes in handy after graduation when jobs aren't easy to get. Rejection is difficult to deal with. But I learned how to get let down, get back up and just say "OK, it'll happen the next time," or, "I'll get the next one."
My junior year, I got to work with Sidra Bell, and she reignited the fire in my gut. Her work showed me choreography could be something other than "Hit this movement on this note," "Hit that on that note." Her gestures were so intricate—she forced me to be more creative. I'd always known I wanted to be a choreographer and it was amazing to be in the studio with her.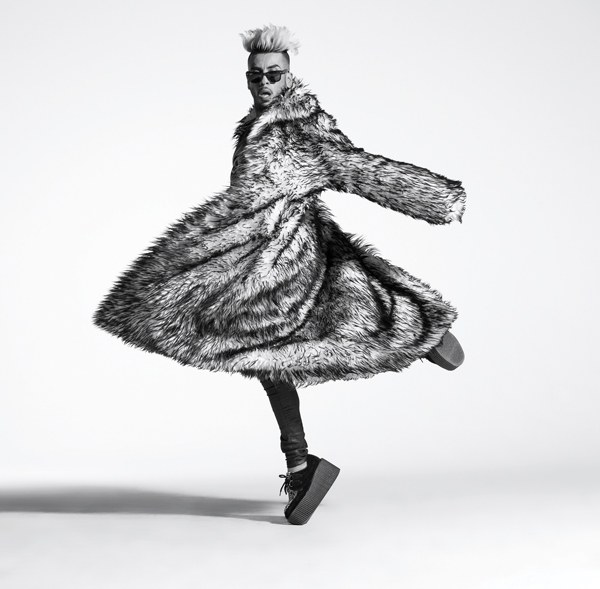 (Photo by Rob Daly, courtesy Miguel Zarate)
Miguel Zarate
Choreographer and faculty member at The PULSE on Tour; received a BFA in dance from University of California, Irvine
I was very active in high school and took academics seriously. In my senior year, however, I asked my parents if I could move to L.A. to take part in EDGE Performing Arts Center's scholarship program instead of going to college. My parents said absolutely not. So I looked for a school with a great dance department.
I applied to University of California, Los Angeles, and UC Irvine, and I got into both. UCI offered a better ballet program, and at the time I was a really technical dancer. I saw myself performing with a company like Alvin Ailey American Dance Theater or the Limón Dance Company.
That changed in college. One night I went to a house party, and when I heard a Kylie Minogue song and started freestyling, something clicked. In that moment, it felt like I'd discovered my voice. Soon after, I began experimenting with my own movement style in the dance department's student choreography showcases, and I joined a dance team on campus, Kaba Modern. It introduced me to hip hop and breaking, and I felt encouraged to blend my technical background with funkier movements.
The technical training I received in UCI's dance department sticks with me, and it's a huge asset to my work as a jazz-funk choreographer. College also empowered me to be a better teacher. I'm able to connect with the whole class and articulate the movement. When students ask me about their next steps, I'm a big advocate for college. NYC and L.A. aren't going anywhere. There's no rush.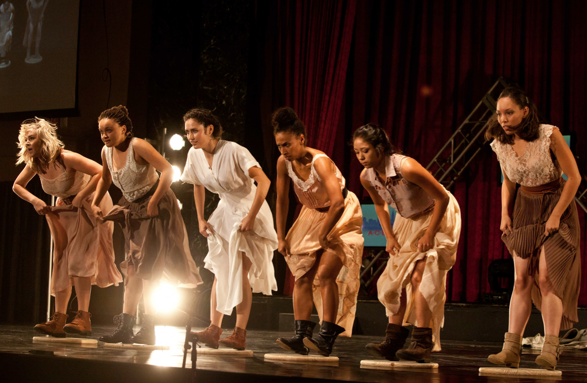 Winner Melinda Sullivan (third from left) at the 2012 Capezio A.C.E. Awards (photo by Matthew Murphy)
We've been getting super pumped up about this year's Capezio A.C.E. (Award for Choreographic Excellence) Awards for the past several months: We've been reminiscing about past winners—like Travis Wall, Melinda Sullivan, and Peter Chu—and encouraging you to put your stuff out there.
Well guess what guys, the deadline for submissions is May 28...just 20 days away! But never fear: That's still plenty of time because the submission process is so darn easy. Here's all you've gotta do:
Select one video of your choreography (no longer than five minutes and featuring at least five dancers, ages 16+).

Click here to register for dancemedia.com (if you haven't already).

Go to the submission page here, and then click "Enter Contest."

Upload your video!
Pretty easy, huh? Now here's the fun part: Fifteen finalists (selected by Capezio and Dance Teacher reps) will travel to NYC and present their work at the A.C.E. Awards during the Dance Teacher Summit this summer. The competition is August 2, when a distinguished panel of judges will pick the winners of three fantabulous awards:
The Capezio A.C.E. Award (the big'un): $15,000 production budget toward your very own show in NYC (!!!)

First Runner Up: $5,000 production budget

Second Runner Up: $3,000 production budget
Quick! What are you waiting for! Submit your choreo now, and you can get in on all of this fun:
And who knows, maybe next year at this time we'll be reminiscing about you. Good luck!
Jan. 10, 2013 12:34PM EST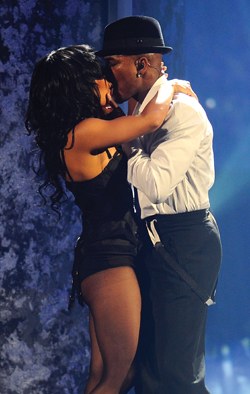 Galen Hooks and Ne-Yo at the 2010 American Music Awards (Kevork Djansezian/Getty Images)
When Galen Hooks danced with Ne-Yo at the 2010 American Music Awards, they paused mid-routine—and kissed. "It was the first time I had to kiss somebody onstage," Hooks says. "Not only was it televised, but I was really shy about it!" Plus it was, you know, Ne-Yo.
Performing a passionate duet is one thing—but having to kiss your partner in the middle of the choreography can be awkward and nerve-racking, especially in front of an audience. Read on to see how some of your favorite dancers handled their first onstage kisses.
Galen Hooks
Hooks played two characters in Ne-Yo's music videos and was on the creative team that choreographed the AMA number. "It was my idea to have the kiss happen," Hooks admits. "It made sense for the story. When my character kisses him, she goes from being nice to being evil. It was all in fun."
They didn't rehearse the kiss during the tech run-through, though. Instead, they stood without making eye contact and waited a few seconds before moving into the next segment. "We only did it on the actual show," Hooks says. "It was just part of the choreography. There was no romance to it." Watching the kiss, you'd never guess it was so polite. Ne-Yo grabbed her face and pulled her close. "But there was no tongue or anything!" Hooks laughs. "He's a true gentleman—very respectful."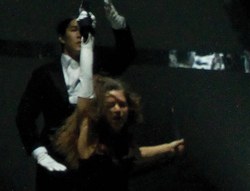 Tiffany Maher and Cole Horibe in Mia Michaels' routine for the Top 14 on "So You Think You Can Dance" Season 9 (Adam Rose)
Tiffany Maher
Tiffany Maher, runner-up on "So You Think You Can Dance" Season 9, calls her first onstage kiss—in the Top 14 routine choreographed by Mia Michaels—her "Spiderman kiss": Cole Horibe hung upside down, spinning, while Maher swung by a rope attached to her wrist. "I had to grab him and smack his lips to mine," she says. "In rehearsal, we'd smack heads, or I'd end up kissing his nose, or he'd end up kissing my eyeball." Plus, Maher and Horibe weren't star-crossed (spinning) lovers: "He's like my brother," she says. "It was the hardest kiss of my life!"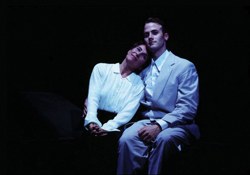 Bret Shuford with Andrea Marcovicci in Lady in the Dark (courtesy Bret Shuford)
Bret Shuford
As Prince Eric in The Little Mermaid, Broadway veteran Bret Shuford kissed Ariel countless times onstage. But his first professional kiss happened years before in a regional theater production of Lady in the Dark, featuring cabaret star Andrea Marcovicci. Shuford played Marcovicci's high school sweetheart and had to kiss her during a flashback scene. "She's twice my age," says Shuford, who was 22 at the time. "When we got to that part, I was supposed to be the one kissing her," he remembers, "but she was the one kissing me! I just went with it."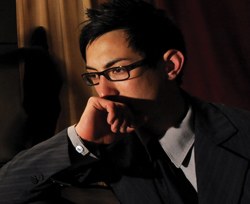 Peter Chu in Dark Matters (Eric Beauchesne/Kidd Pivot)
Peter Chu
Peter Chu was going over his choreography before the premiere of Crystal Pite's Dark Matters at the National Arts Centre in Canada. Pite, who was also his partner for the work's last duet, gave him a note. "By the way," she said, "I think you should kiss me."
Chu was so nervous that he ran back to his dressing room and started practicing the kiss on the back of his hand, all the time worrying that someone was going to walk in on him. "It's a beautiful show with amazing dancers," he says, "but I was more stressed about how to kiss her! You don't want to bump teeth or anything." So how did it go during the performance? "It was a passionate, desirable kiss," Chu says. "Very honest."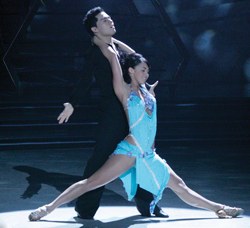 Lauren Gottlieb and Dominic Sandoval performing their rumba on "So You Think You Can Dance" (KELSEY MCNEAL/FOX)
Lauren Gottlieb
On Season 3 of "SYTYCD," Lauren Gottlieb and Dominic Sandoval wowed the crowd with their rumba. But it wasn't their dancing that got all the attention—it was their kiss (the first ever on the show)! "When we practiced it in front of the choreographers, they flipped out," Gottlieb says. "They thought it was way too much."
Gottlieb and Sandoval decided to run with it. "We went for the shock factor," Gottlieb says. "But I was young—19—and my boyfriend and whole extended family were in the audience!" Gottlieb was also overwhelmed by the millions of people watching at home. Her nerves caused an awkward moment at the end when they were both breathing so hard their lips came apart. "He tried to go back in and my head was moving away," she says.
The Juliets|For some ballerinas, the first onstage kiss is a gentle peck on the lips in
The Sleeping Beauty or an innocent smooch in La Fille mal gardée. But these ballet dancers were thrown into the deep end, having to bring the passion in Romeo and Juliet.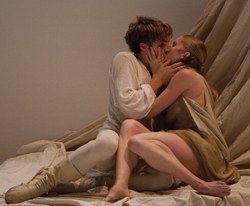 Carla Körbes with former Pacific Northwest Ballet principal Lucien Postlewaite in Roméo et Juliette (Angela Sterling)
Carla Körbes
In Jean-Christophe Maillot's Roméo et Juliette, Pacific Northwest Ballet principal Carla Körbes has to do more than just kiss her partner. "There's a section where we're rolling around in bed kissing," Körbes says. "Then we go under the covers." She and her partner, Lucien Postlewaite, rehearsed it in the studio so they wouldn't feel awkward later. "It was more like acting than a ballet kiss," she says. "It felt like a movie experience."
Luckily for Körbes, what shows on film doesn't always show onstage. "The first time, my nose was kind of running and I was crying during the second act," she says. "We were kissing and all of a sudden there was snot everywhere! At that point we didn't know what was happening, but when we got offstage, we were dying laughing."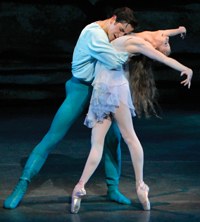 Sterling Hyltin and Robert Fairchild in Peter Martins' Romeo + Juliet (Paul Kolnik)
Sterling Hyltin
"When you're doing something like Romeo + Juliet, everything from an arabesque to the kiss is full of meaning," says Sterling Hyltin, a principal with New York City Ballet. Hyltin was 21 when Peter Martins choreographed the tragic love story for her and NYCB's Robert Fairchild.
"I didn't know if he would kiss me in rehearsals," she says. "But it happened from the get-go. It was happening in the music, so that's what we did." Six years later, Hyltin says she and Fairchild save the kiss for the stage. "All that matters is the moment," Hyltin says. "If you really believe what you're doing, there's nothing strange about kissing somebody you don't kiss in real life."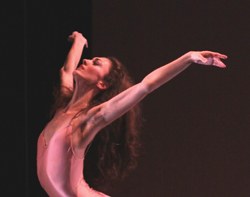 Victoria Jaiani in After the Rain (Herbert Migdoll)
Victoria Jaiani
At 18, Victoria Jaiani danced her first Juliet with Joffrey Ballet. "They hired Jason Reilly, then a principal from Stuttgart Ballet, to come dance with me," she says. "He was an incredible partner and everything worked out well, even though we only had a few days to rehearse before we got onstage."
The first time they rehearsed full-out in the studio, Jaiani felt comfortable. "You get so involved and live in the moment," she says. "It felt natural to kiss him. It would've been weird not to. I wanted to be kissed." Jaiani remembers the first show, at the end of the balcony scene, when her Romeo unexpectedly gave her an extra goodnight kiss. "I was surprised because we hadn't rehearsed it that way," she says. "It just happened."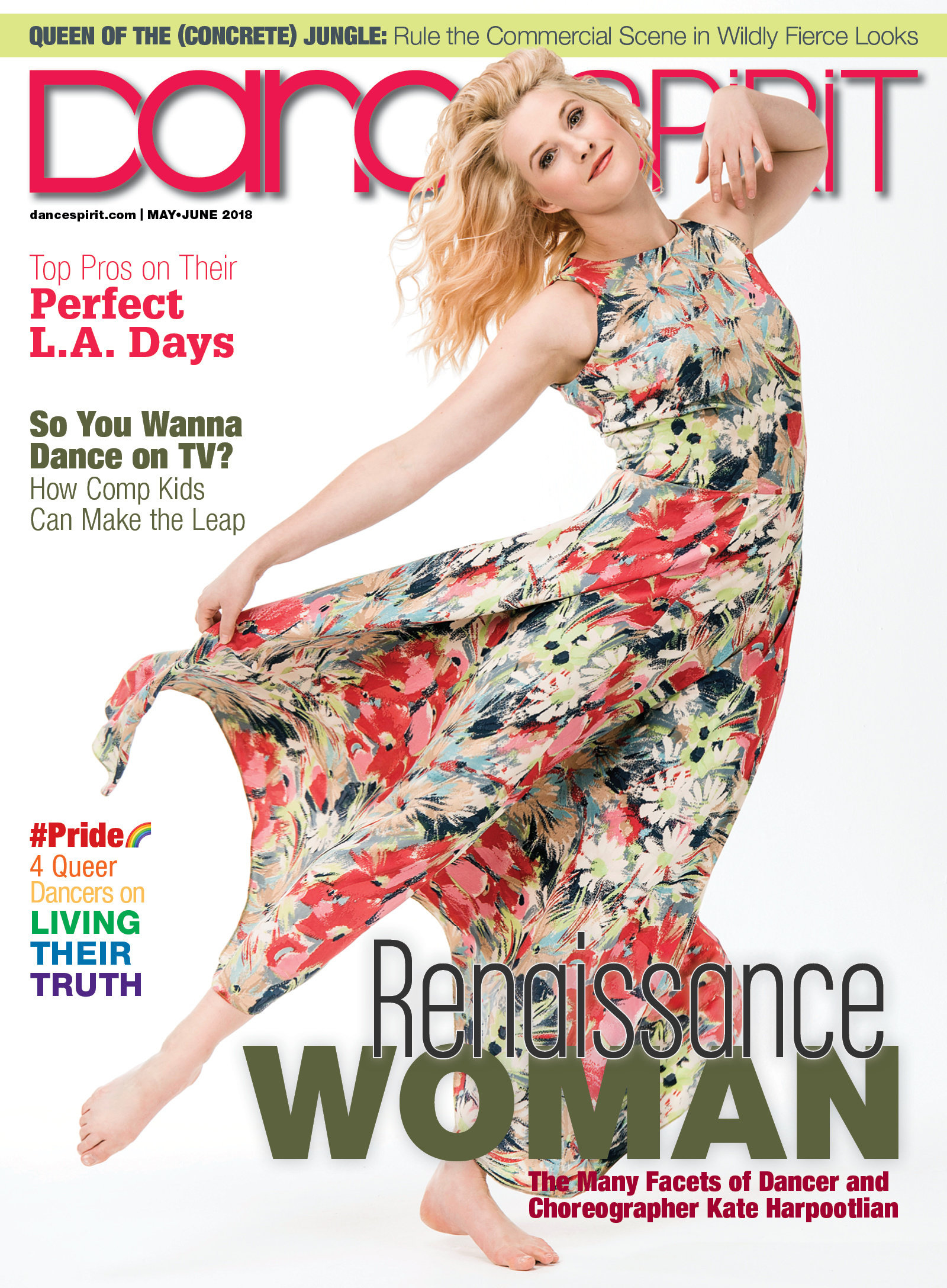 Get Dance Spirit in your inbox